Mega-Guide to Fisting and 26 Huge Dildos, Compared!
❝My vagina is made of the same material as Mary Poppins's purse.❞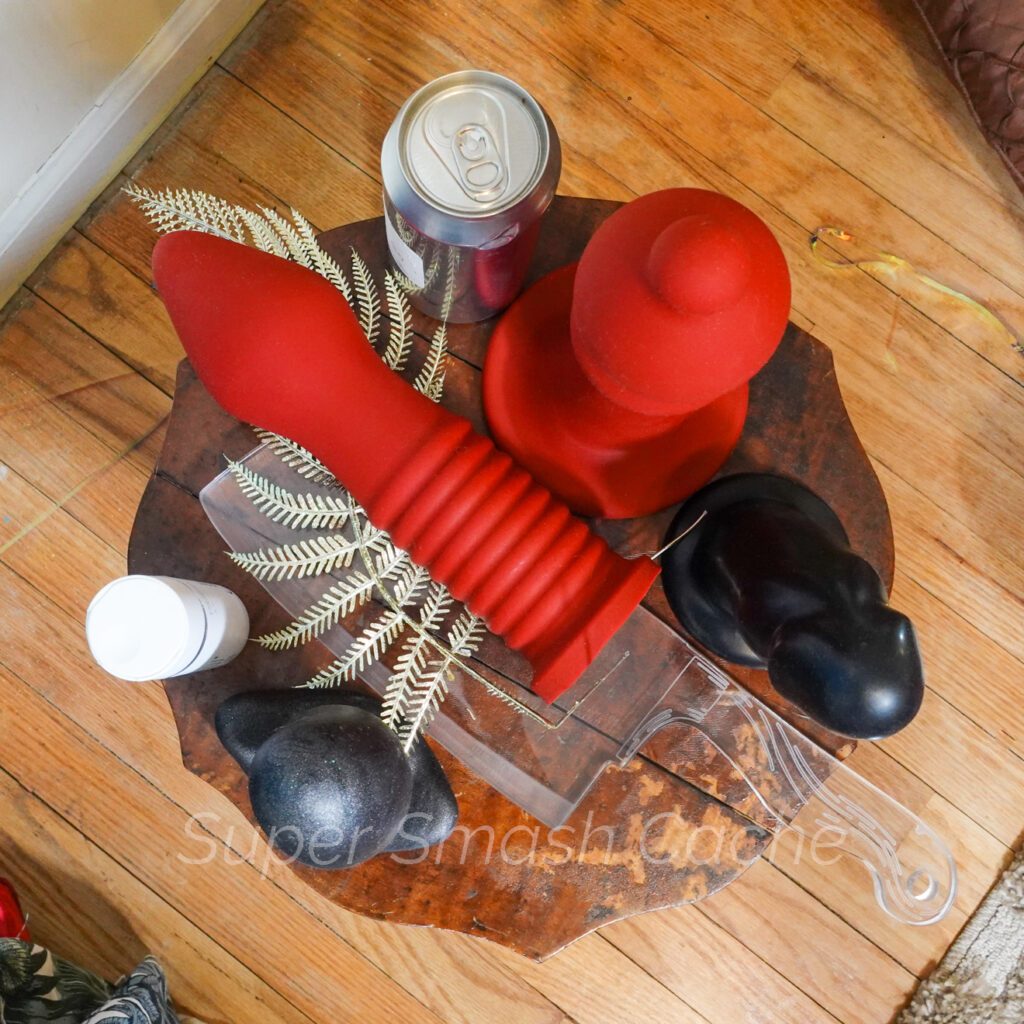 My vagina is made of the same material as Mary Poppins's purse. A soda can fits inside. Yet, a recent partner had a mere single finger inside me when he said, "Wow, you're tight."
He had no idea that he was about to have his whole hand inside me.
---
How I personally feel about vaginal fisting
Fisting gives me some of the most intense orgasms my body is capable of, back-to-back, seemingly indefinitely. Pillows for screaming into are highly recommended.
I've walked the talk so many times that I keep forgetting how this heteronormative culture views fisting.
To me, it's not about hole-punching and destruction as an extreme sport. Instead, it's a natural and highly intimate progression of fingering. My vagina doesn't "take" a fist; it consumes as it goes into "crush and cum" mode.
And I want others to experience the marvel of fisting as well.
❝My vagina doesn't 'take' a fist; it consumes as it goes into 'crush and cum' mode.❞
---
What to expect in this guide to fisting and giant body-safe dildos
This guide to fisting will discuss the optimal mindset for fisting preparation, undoing the stigma and shame, technique, and, of course, body-safe silicone fisting warm-up dildos!
My focus is on vaginal fisting, but those seeking information on butt stuff may nevertheless find parts of this post helpful. I'm also not going to delve toooo too deep into the fantasy dildo realm; that's a topic that merits a whole other post.
It's a looooong guide, so be sure to pause and read through the table of contents if it's your first time here.
The modifiers, "silicone" and "body-safe" are important here.
Silicone is nonporous for our purposes, and you can boil and bleach such toys to sanitize them. While silicone dildos are more expensive upfront (compared to PVC and jelly), nonporous dildos made of glass, steel, and silicone are far easier to care for.
More importantly, with proper maintenance, silicone dildos will not cause you gynecological harm for something like a chemical burn or microbial infection. Yeah, jelly dildos can leech toxins, and porous materials can house germs under the surface. Silicone dildos are inert for our purposes. I care about your health and well-being.
---
Combating the stigma around fisting
Let's lay down the foundation.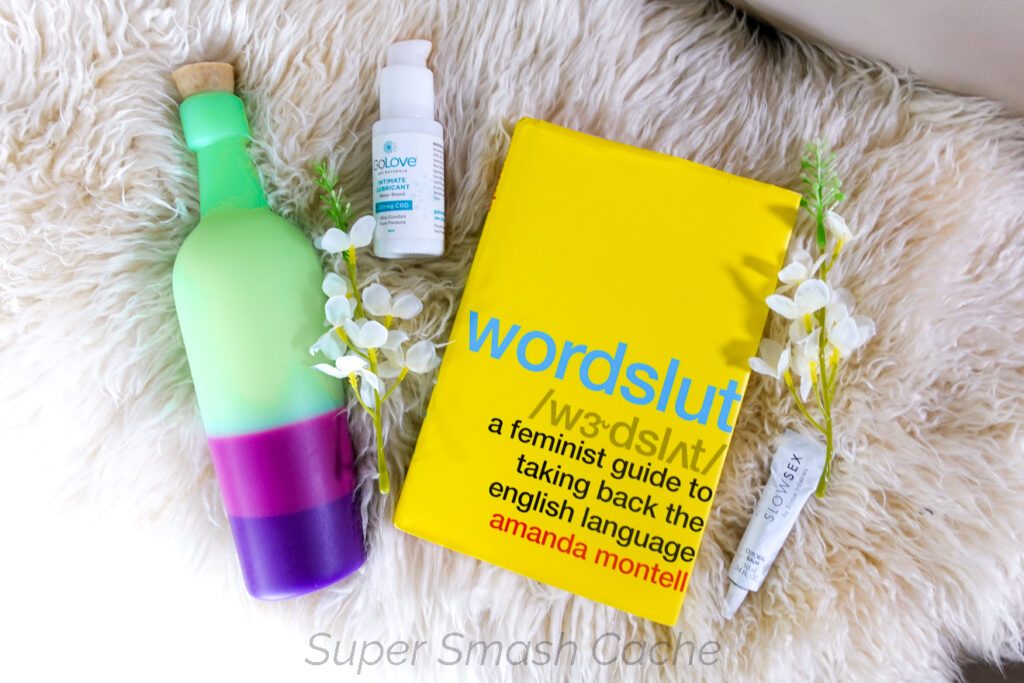 How can someone feel emotionally safe when trying fisting? I don't mean concerns about physical damage (though we'll get to that, too).
I'm talking about the shame and stigma, as someone familiar with the unsolicited commentary about the presumed state of my holes.
"Let's just say she's 'open' to new things."
"How does her partner even feel pleasure after being stretched out like that?"
I've heard it all before.
My current philosophy around big dildos and fisting is, "I say nothing [to the haters]. I just keep having a good time."
Really, it's okay. I've had vaginal intercourse immediately after fisting or using a huge dildo. My vagina has (unintentionally) cracked a partner's finger. And I know that the pelvic floor, as with any other muscles, can be strong and flexible.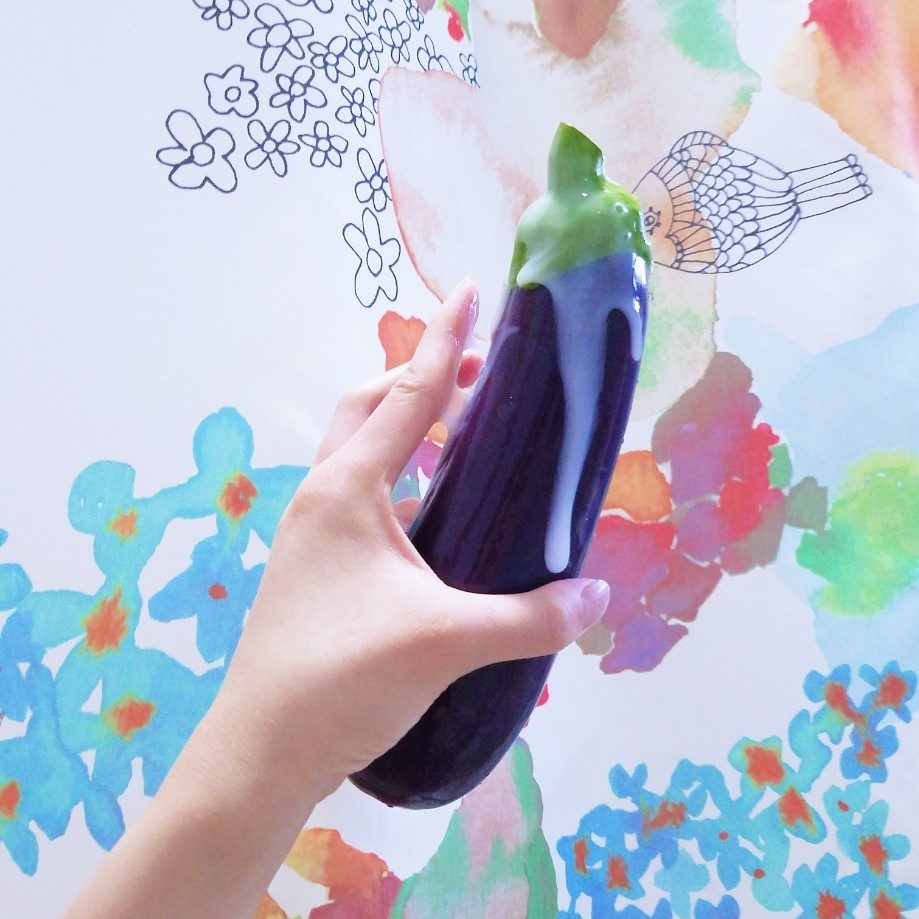 All good times and no harm done; my vagina is still "tight" after fisting.
But I understand that the insensitive comments may cut deeper for my readers. On that front, I'd like to remind you that fisting isn't all-or-nothing.
---
Long-term habits for fisting preparation
Use progressively girthier dildos or more fingers, little by little — not just for physical preparation, but to ease your mind and gather evidence that your vagina is highly resilient.
Try a slightly bigger dildo for some sessions. Use your usual dildo or have intercourse for other sessions. Mix it up, and observe for yourself over time that, "Yeah, I'm actually not getting loose from using this big dildo." Then rinse and repeat with more massive sex toys at the speed of comfort.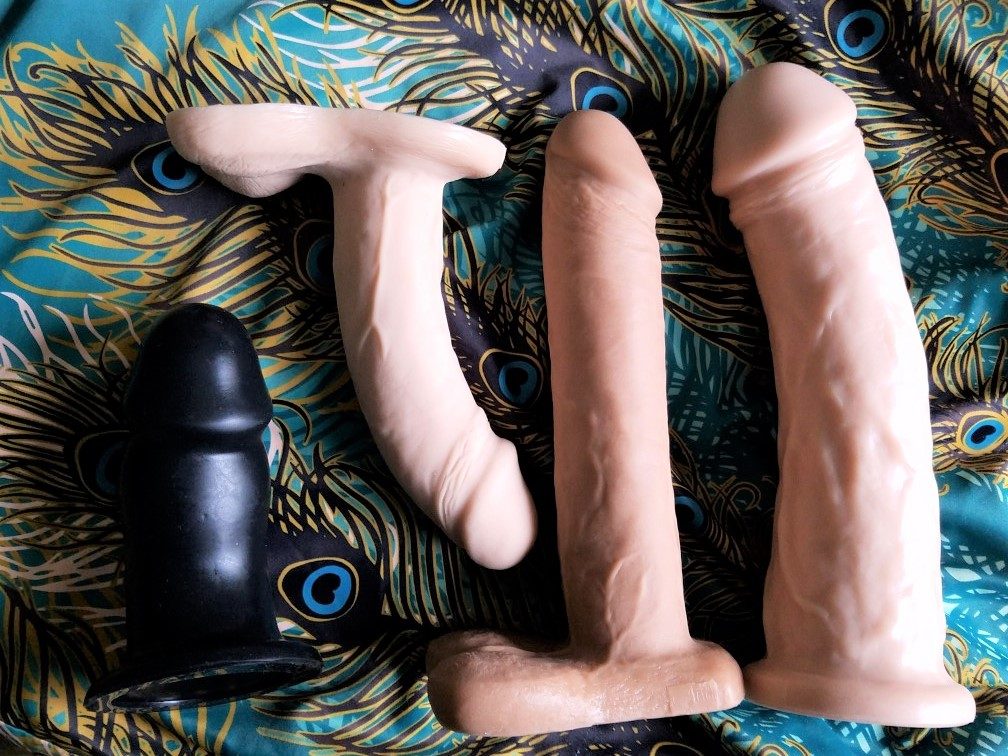 Your state of mind is one of the most critical parts of getting ready for fisting. The same applies if you're scared of being desensitized by strong vibrators. Been there and done that.
I'd also encourage you to do pelvic floor exercises. Cycles of clenching and relaxing your vagina are both useful for fisting preparation. This suggestion isn't just about staying "tight," but also:
Conscious awareness and control of what your pelvic floor is doing
The linked article is about hamstrings, but I hope you see my point about the elasticity of the pelvic floor in fisting preparation.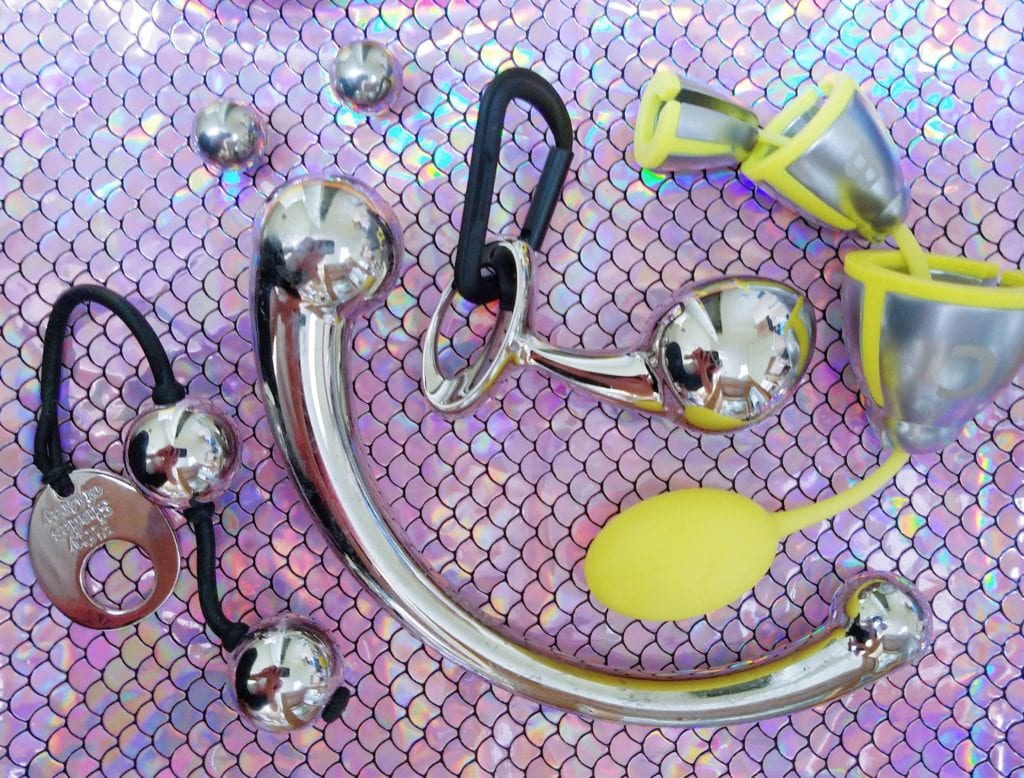 ---
Mindset reminders when you're about to be fisted
Flexibility is cultivated over time; your body and mind learn that it is safe to unwind. That applies to the pelvic floor muscles during fisting, too.
Relaxation is the name of the game:
Don't try fisting on a stressful day
Schedule more than enough time
Maybe try some CBD lube
Give yourself a serene environment
Go slow
Have a full-body massage and a few orgasms first, if you can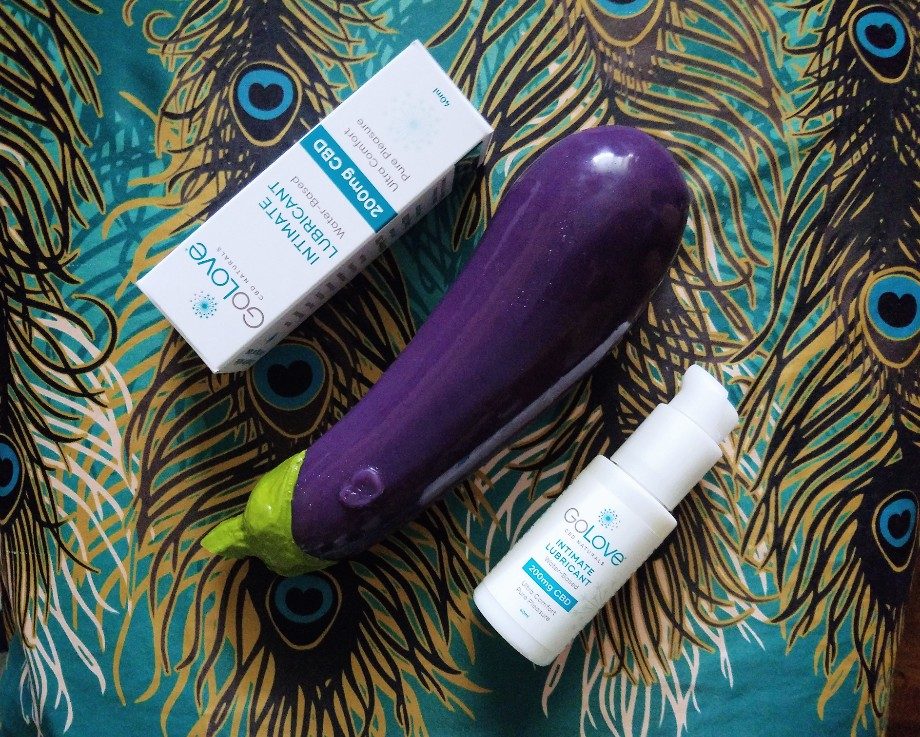 Also, remember that if you can't go all the way, that's cool, too. While I understand that being fisted for the first time is a significant milestone, I think having fun (and staying safe!) throughout the process should come first. Listen to your body's cues about what you can handle.
Slight discomfort is normal, but shooting pain isn't. If it's hard for you to decide where to draw the line, remember that you can pull the fist or dildo back to your comfort zone. Pause. Attempt to increase depth again later. Again, having fun should be the top priority.
Reserve fisting for solo sessions and partners attentive to your comfort and pleasure. Vaginally consuming a hand is a big deal.
---
Fisting techniques and general guidelines
Now we're getting to the fisting technique. It's probably what you originally came here for, yeah?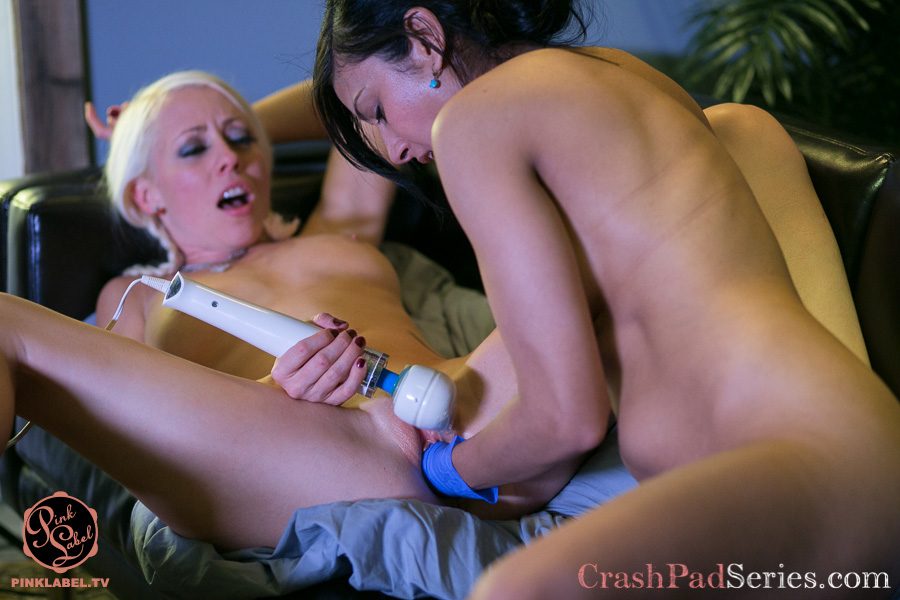 Porn to learn about fisting
If you're looking for somewhat-educational porn, CrashPad's Guide to Fisting is a great place to start. I can't spread enough positivity about it (but I certainly tried in my review)!
CrashPad's Guide to Fisting gives you:
A visual overview of how to transition from fingering to fisting
Clips of multiple fisting scenes of varying intensities, like a pornception
Fisting depicted as a reciprocal act of intimacy
Beautiful humans enjoying themselves!
Fisting can be as sensual and sweet as you want it to be, and I think Lorelei Lee, Beretta James, and Shine Louise Houston do a beautiful job demonstrating that.
Renting for $5.95 for 48 hours
Buying it for $8.33 to stream indefinitely
Subscribing to PinkLabel.TV, which allows you access to a vast library of other indie porn flicks, with or without fisting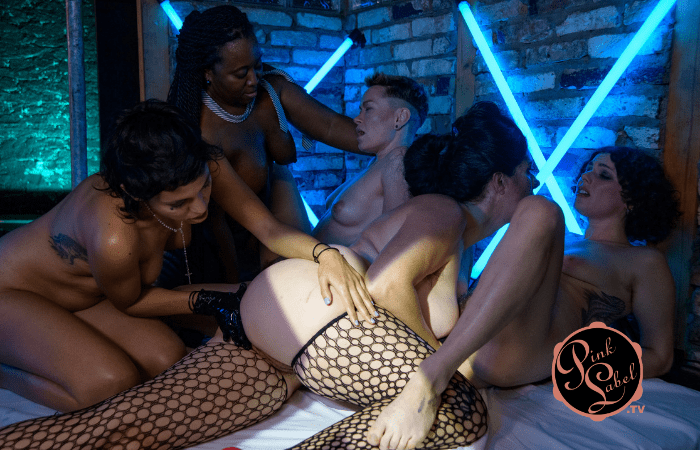 Bellesa Plus also has a few ethical porn flicks featuring fisting. They've dubbed themselves "the Netflix of porn."
---
Before stretching the limits
I recommend incorporating clitoral stimulation before and during giant insertions. Have a few orgasms first, if you can.
Ideal candidates for pairing internal and external stimulation include:
They're especially remarkable because they don't take much space on the vulva, leaving plenty of room for a big insertable.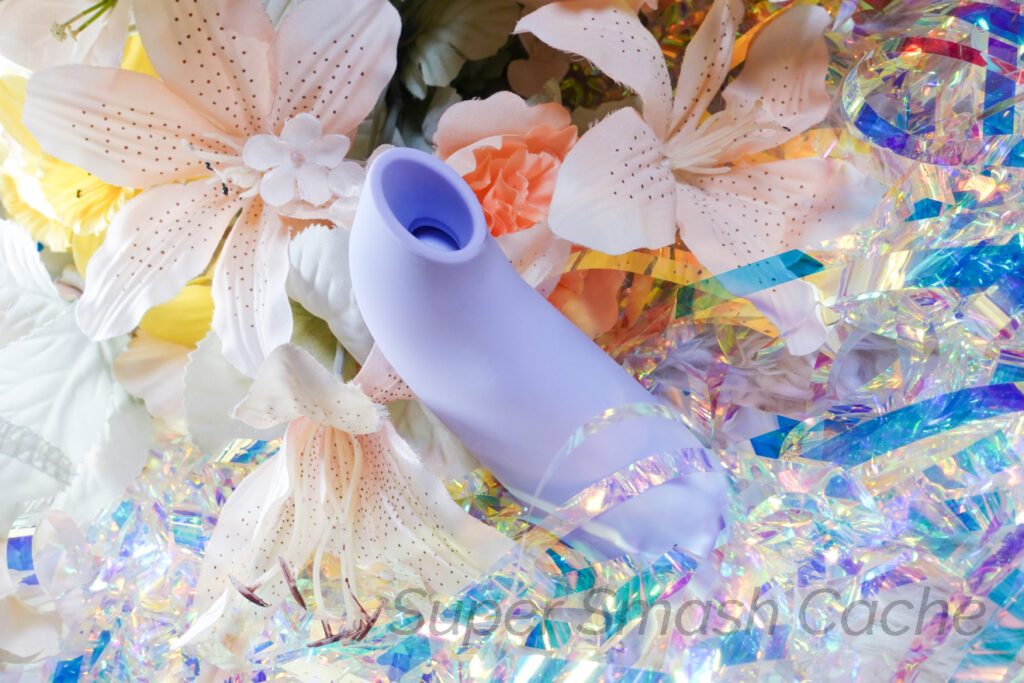 If you'd prefer to use a full-sized wand like the Doxy Die Cast or Magic Wand Plus, a vulva massage can still increase blood flow and help you relax.
Then, use your line-up of big dildos to warm up to fisting. I'll save that part (the best part!) of the guide for last.
---
Best lube to use for fisting
You'll want to use a lot of lube for fisting, especially along the front wall, to reduce friction on the urethra.
The ideal personal lubricant for fisting is probably water-based with a thick, gel-like consistency. Hybrid lubes (which have a bit of silicone) also fit the bill. They're a nice balance between long-lasting and easy to wash off.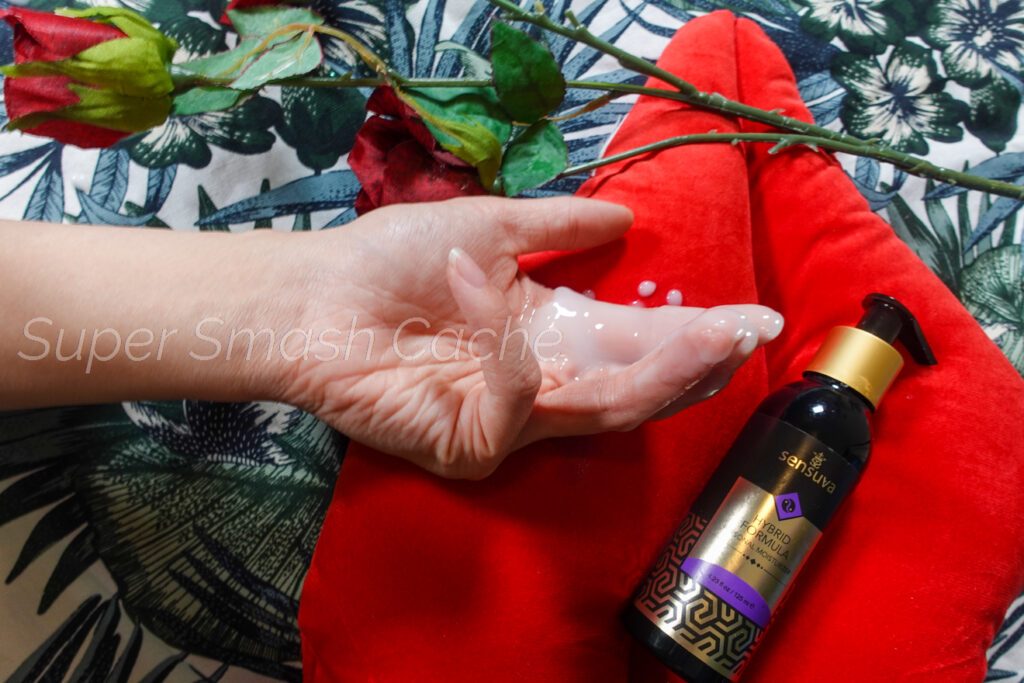 Some of my favorite fisting lubes include:
While you can use oil-based lube internally, I wouldn't put it in my vagina. Everyone's vaginal microbiome is different, though some users may find that an oil-based lube is more compatible with theirs. As for silicone lube, I find it too thin for fisting, and even worse, it can degrade the integrity of my favorite (silicone) fisting warm-up dildos. Plus, it's on the pricey side.
Lotions & potions for relaxation and arousal
On another note, CBD lube can help for fisting warm-up, but I don't think it's thick enough for the main event. Try rubbing some CBD-infused lubricant (I like GoLove and Dani Pepper) on the vulva 10 minutes before you start penetration.
Also, consider an arousal balm on the outside. I like the one by Bijoux Indiscrets a lot; it's slightly warming but nothing too wildly tingly.
---
Hand position for fisting
Fisting starts one finger at a time and ramps up to a duck-billed hand.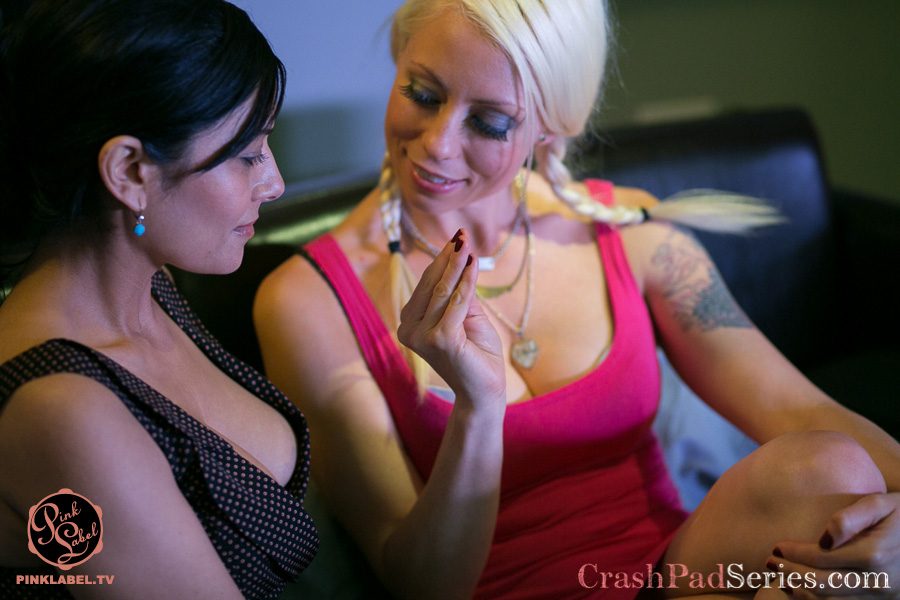 The fister's fingers are straight while their thumb is tucked against the palm. Hand size matters when fisting, but so does folding and streamlining it.
(The receiver's body size also matters, but probably not as much as you think. I'm merely 5'1" tall.)
Once your hand has been inside your partner's hole for a hot minute, closing the fist is optional. Bex Caputo had more to say about it on The Dildorks podcast. I don't particularly care for a closed fist inside me.
---
Go slowly. Stop when you need to
However slow you think fisting preparation needs to be, go even slower. We're talking mere millimeters at a time and sometimes not even moving one's hand at all.
It goes a long way to keep the hand or fisting warm-up dildo stationary while the receiver clenches and relaxes. Go in a few more millimeters. Pause. Twist and swivel slightly for a bit. Make teeny, tiny thrusts. Repeat the cycle. Hold. Push. Swivel and rotate. Pause. Hold. And so on.
While the fister is doing that, I'd recommend the receiver do cycles of clenching and relaxing. Squeeze the pelvic floor muscles while the hand is motionless to reaffirm to your body that it's safe and can handle the stretch, and relax while the topping partner pushes or turns their hand. Also, remember to take big, slow breaths through the whole process.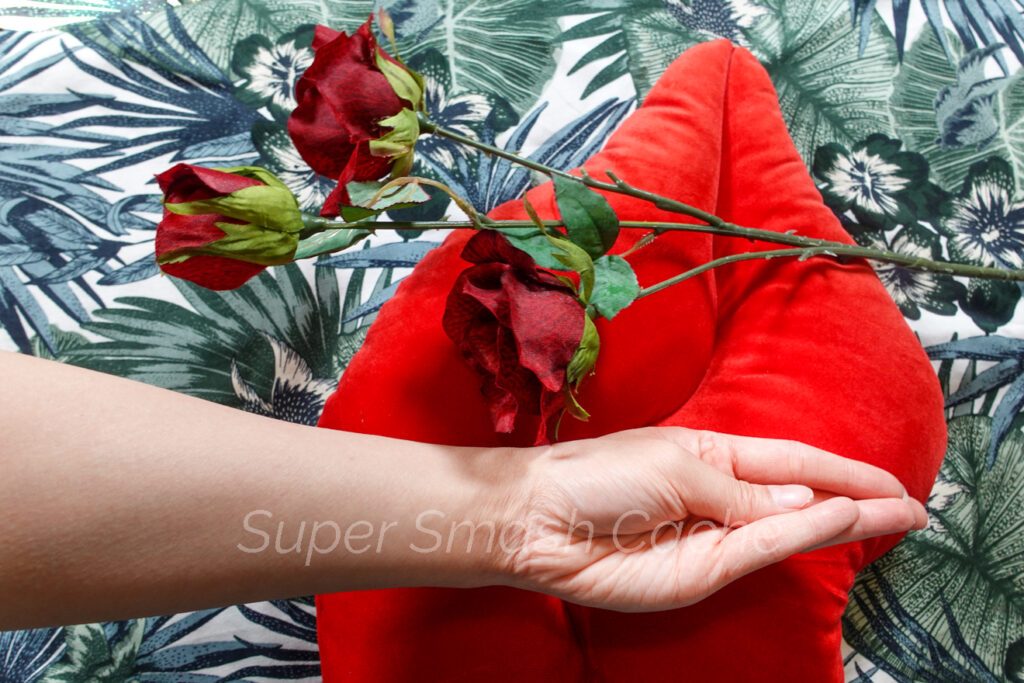 Many readers also asked how to handle pressure on the urethra when fisting. I don't have a real solution for everyone dealing with it, but I'll share what helped me:
Using softer dildos with more tapered tips (nothing super firm or blunt) for warm-up
Tilting toward the back wall (and away from the front wall)
Ceasing movement at the first sign of discomfort. You don't have to end the scene right away, but if you proceed, at least hold the insertable in place and clench around it for a while. Then push in slightly further while relaxing.
Recognize that leveling up to girthy dildos and fists may take months or even years. It used to be that a 2.1" thick vibrator would pull against my urethra on the way in, but that's not the case anymore. Give it time.
Getting knuckles past the pubic bone is the most challenging part. Again, hand size matters, but the ability to fold one's hand and straighten knuckles is even more critical. After that, everything more or less gets sucked in.
---
Okay, we're in. Now what?
Continue doing small movements for as long as it feels good to both of you. Slowly expand the range of motion, whether that's thrusting, turning, or "come hither" bending.
One suggestion: fist with your palm facing their front wall. Bend your fingers back and forth. Or revolve them in circles to play with the cervix or A-spot.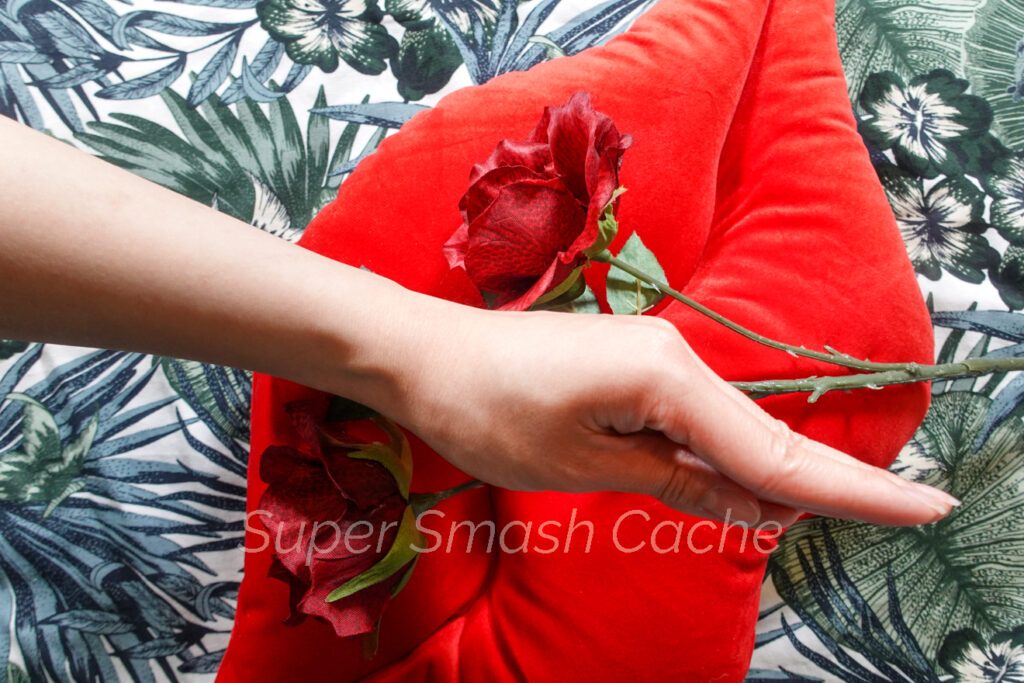 If they prefer G-spot stimulation, turn your hand in the opposite direction: palm towards the backside. Focus on the "out" stroke and pull your knuckles against the G-spot. (Think of this erogenous zone as the dip just slightly past the pubic bone.)
If you close your fist, remember to straighten your hand again before pulling it out.
Congratulations! Now you know the basics of fisting techniques. Let's start shopping for fisting preparation dildos!
---
Using a big dildo to prepare for fisting
For experienced players, fisting might be a straight shot from 1-2-3-4 fingers, then thumb.
If you're new to fisting, though, the giver's hand more than likely will get cramped and sore from all the squeezing around it. Let's give credit for their athleticism, too.
Fisting warm-up dildos literally take off the pressure.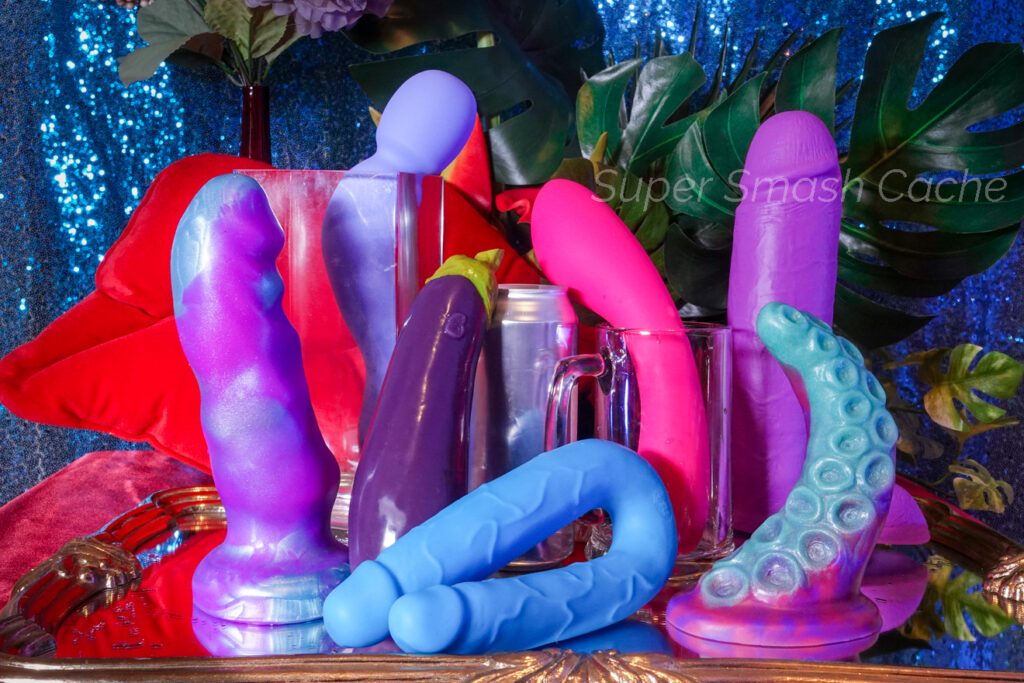 Here's my categorization of the best dildos for fisting preparation:
Pre-warm-ups – Thick dildos that are above average but still very much in the realm of a normal human penis
Tapers – They're more pointy and start super slim but ramp up
Off-label use – Wands and plugs probably weren't initially made for vaginal insertion, but I do what I want.
OMGs – Bigger dildos with roughly soda can thickness. These can feel good against my cervix, depending on squishiness.
OMFGs – A self-explanatory next step up
"Okay, too much for me, but you do you" – Dildos that make me want to be nice to mothers everywhere for giving life.
Happy shopping! And be sure to check out my sales and discounts page for coupon codes!
---
Factors in choosing a big dildo: size, firmness, and more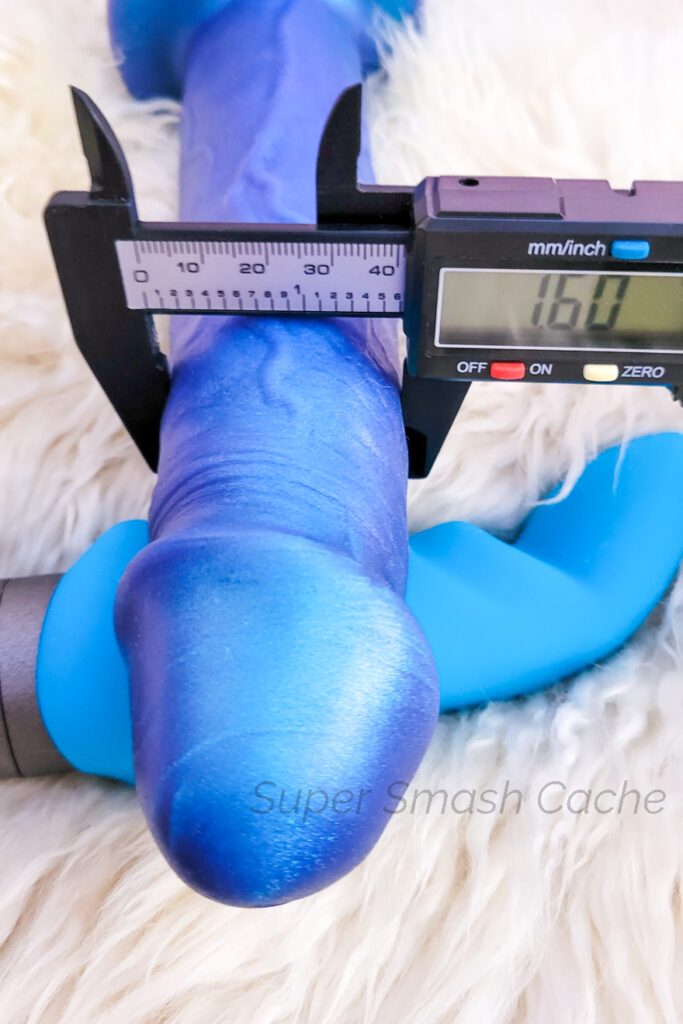 Here's how I'd sum up picking the right dildo size:
1.25" diameter is on the small side of average
1.4 to 1.5" is about standard
1.75" diameter is where a lot of shops would say size queen territory starts
2" tends to be the cutoff after which big dildos are considered a fetish
2.1" is the diameter of the top of a soda can
2.6" is the diameter across the middle of a soda can
Shown to the right is a pair of calipers measuring the shaft diameter of the Uberrime Amante, which is slightly bigger than average in girth.
Extreme big dildos are super intense, as you can imagine.
Once I go past the 2.1" diameter mark, my G-spot and internal clitoris are bullied. I must orgasm when there's that much pressure against them. Sometimes, with softer or more tapered models, I can get cervix or A-spot stimulation, too.
Girth isn't the only thing that matters in a fisting warm-up dildo, though.
So does curvature. Bent toys, for example, tend to target the A-spot and G-spot. That's ideal for having some fun before you even attempt to insert a whole hand.
Length also matters in dildo selection. Even if you're not inserting all of a dildo's shaft, it's still useful. You get more control of where the tip is angled. So if you want ample front wall stimulation or you want more of a handle for reach, a dildo longer than 6" is ideal.
I've also used a cheap shore durometer to measure silicone's hardness.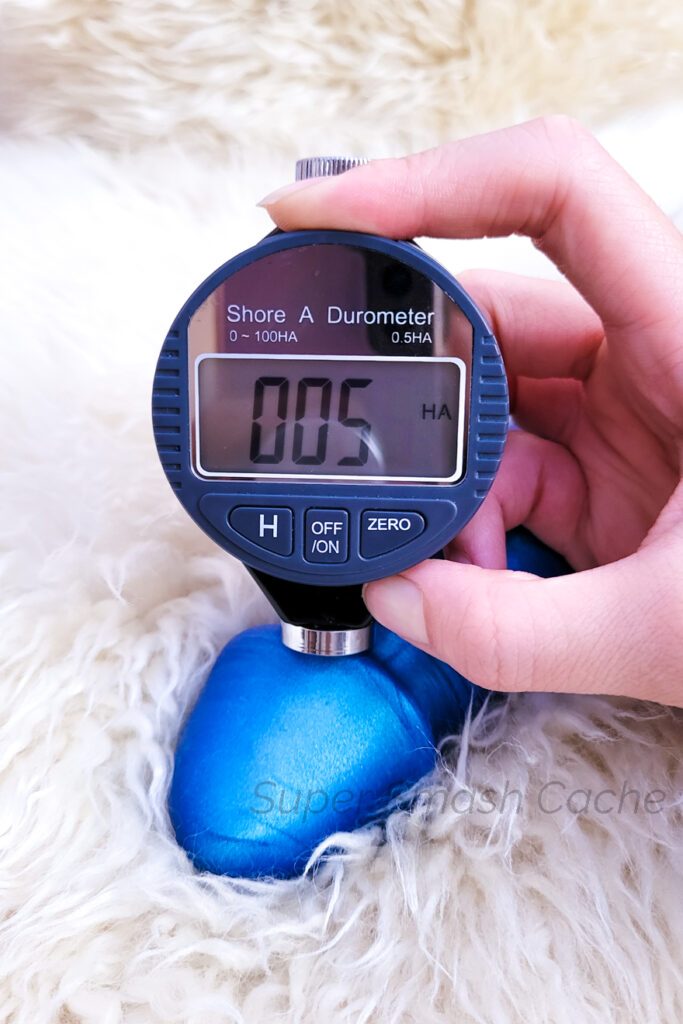 Firm single-density dildos feel more intense than squishy ones, and dual-density dildos offer you the best of both worlds. They have a firm core for aiming, but their soft tips are gentle against the cervix. Also notable: softer dildos won't drag against the urethra as much.
These shore hardness readings I took weren't an exact science. The durometer I used doesn't register the full spectrum of silicone densities I have on hand. Readings also varied depending on the contours where you stuck the durometer's pin. As such, take these firmness ratings with a pinch of salt. They're not exact; they're a general guideline for comparison.
Got it? On to the actual toys themselves.
---
Best sex toys for fisting preparation
These are my all-around favorites and go-to sex toys to prepare for fisting, now that I've already gotten comfortable with using huge dildos vaginally.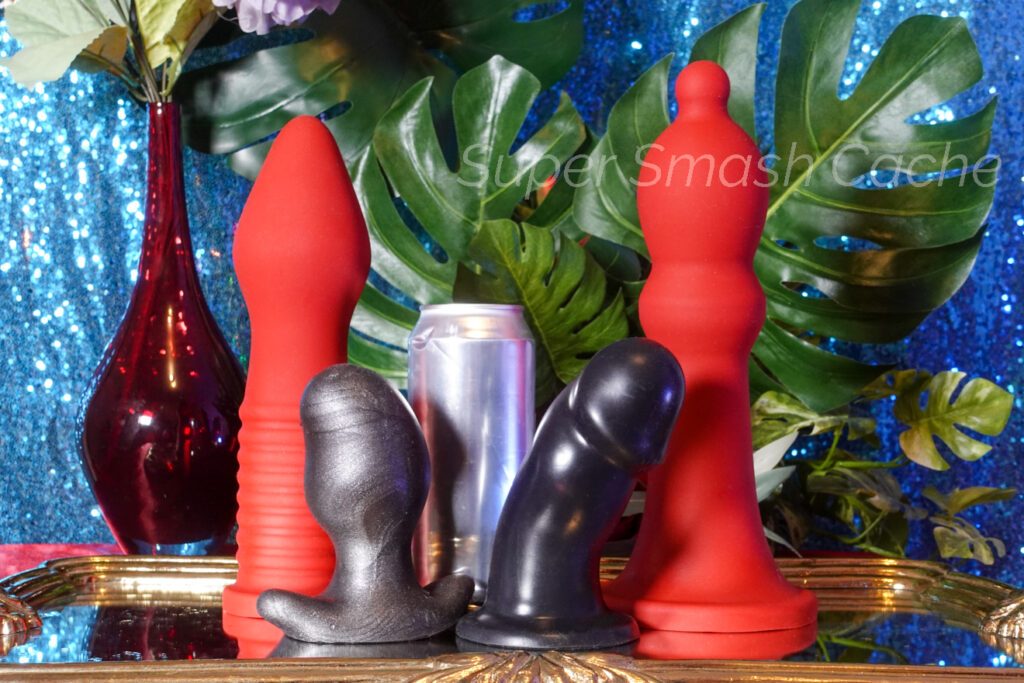 Dildos and plugs for fisting training
If you're not quite size royalty yet and need a little help rising through the ranks, keep reading.
---
The pre-warm-up dildos
These dildos are a bit girthy but not quite extreme or beyond-human. They're a great place to dip your toes in the water and see if huge dildos are suitable for you.
Shown in the picture below, from left to right:
Luminous Stud dual-density dildo by Evolved Novelties
Squeeze-It Squeezable Thick Phallic dildo by XR Brands
Vixen Creations Outlaw 2" thick dual-density dildo
Vixen Creations Colossus squishy extension sleeve
Njoy Eleven stainless steel dildo
Uberrime Aqua-King Aquaman-themed dildo
My top picks: the njoy Eleven and Uberrime Aqua-King.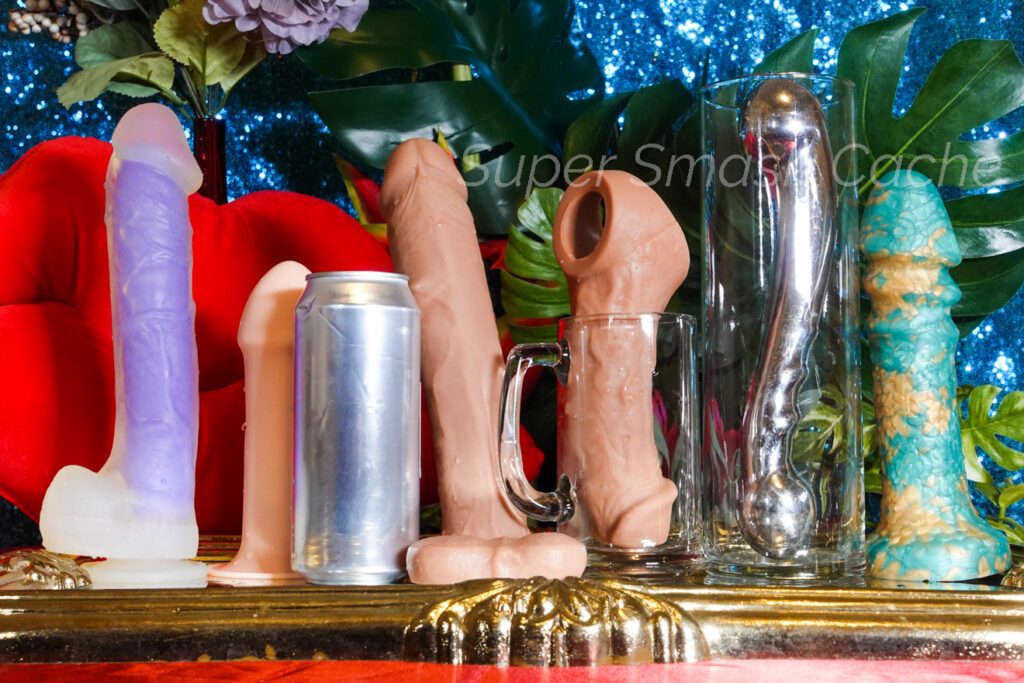 Affordable thick dildos
At the beginning of your size queen exploration, you may want to try a few different diameters to see what works for you. And budget-conscious options make that a lot easier.
The Luminous Stud dual-density dildo by Evolved Novelties is lovely. Its squishy outer layer and firm core make it feel more realistic, and it's quite affordable at $49.99. Also, 8.5" of insertable length! It's comparable in size to the VixSkin Outlaw, and I have nothing negative to say about its penetration sensation.
There's one cosmetic downside: the translucent white silicone turns yellow over time. I wish it wasn't the case, but at the price? Eh. I'm willing to deal with it.
If hard materials are more your thing, consider also the Glas 8″ Pure Indulgence slider dildo.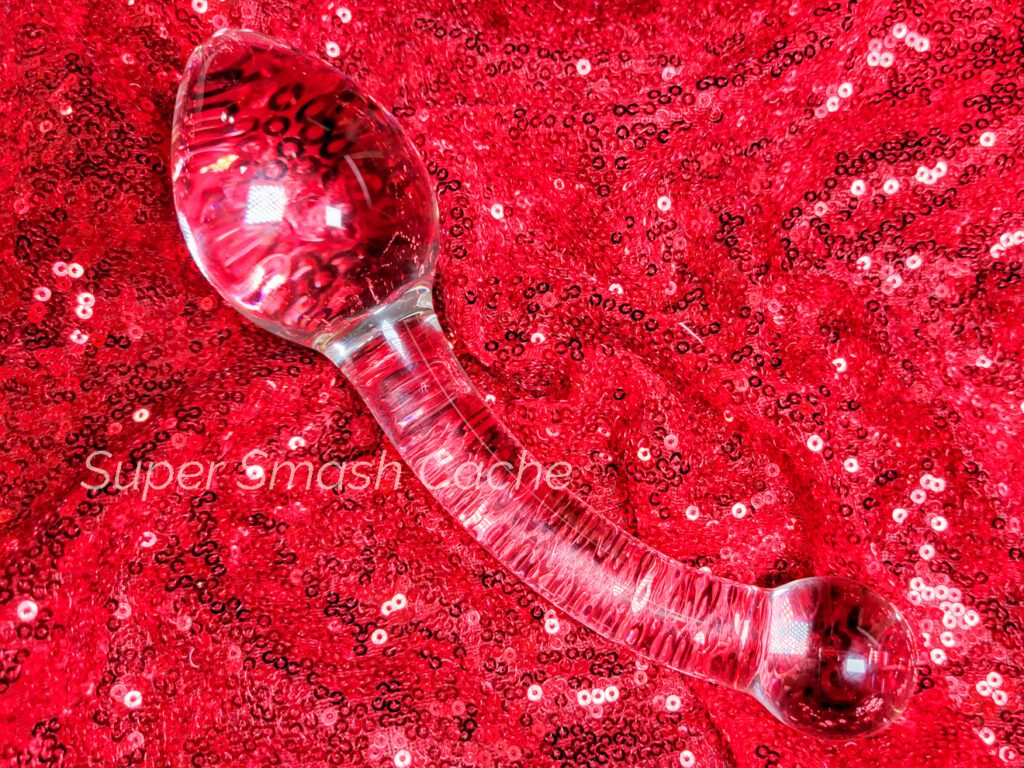 It's gently curved and bulbous on both ends — one end 1.25″ across and the other 2″ across. Another way to frame it? A "lite" trial run of the njoy Pure Wand and Eleven.
It won't find your hot spots for you, but it'll give you everything you need to explore your internal zones without breaking the bank. It's $13 with a Romantic Depot VIP Club membership (which is $15 per month).
Vixen Creations VixSkin
The VixSkin Johnny was my first foray into big dildos and is still one of my all-time favorites. Its bigger sibling, the VixSkin Outlaw, is a bit thicker but soooo squish, delightful against my walls and cervix.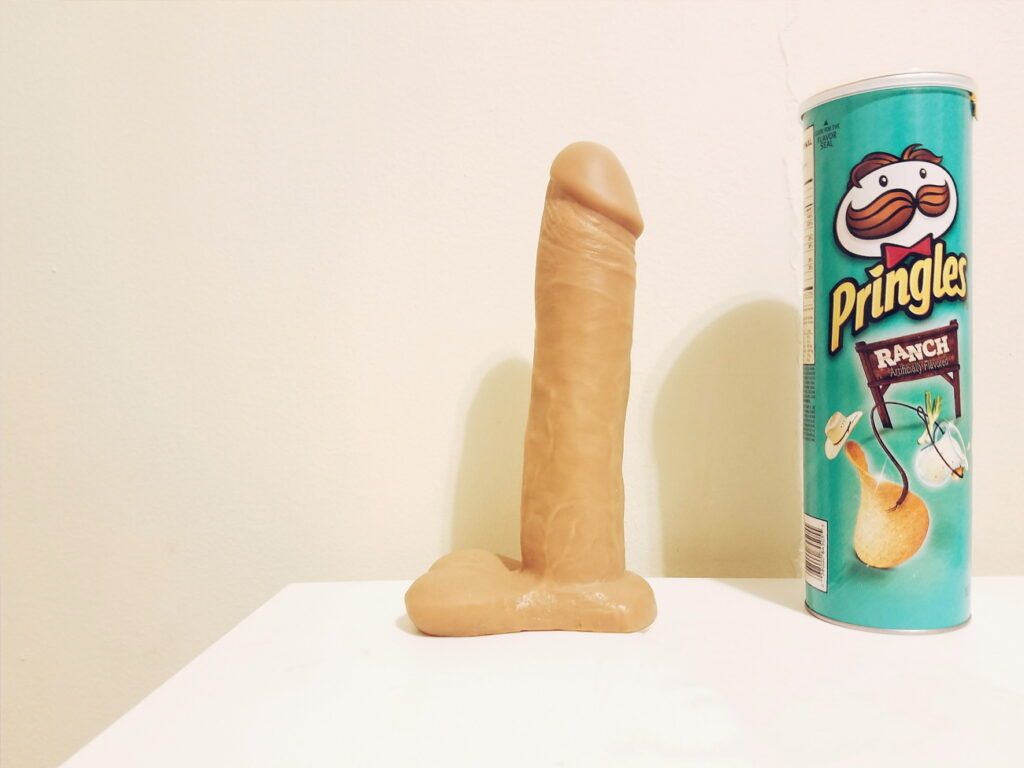 And the VixSkin Colossus can be slipped over an average-sized cock to add some meat. I like using it on the Velvet Thruster.
Uberrime Aqua-King
I've tried many Uberrime Dildos, but the Aqua-King is probably my favorite one for a moderate stretch. Its triple-crowned head digs into my A-spot and G-spot at the same time for what I've called "orchestral dopamine magic."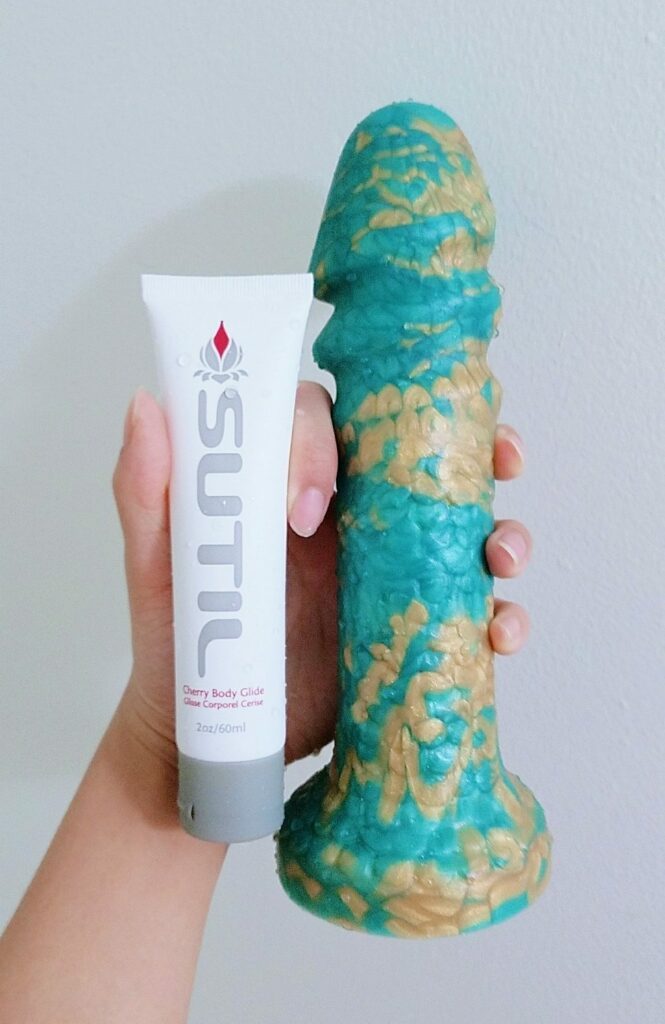 (Uberrime's A-Spot Avenger is basically Aqua-King 2.0. The former is softer for cervix stimulation and depth play, while the Aqua-King is firmer for the stretch.)
This bludgeon is my all-time favorite A-spotter. It's expensive, but the combination of heft, curvature, and head shape are some heart-eyes-emoji witchcraft. If I had to keep only one dildo, it would be the njoy Eleven.
I'll have to direct you to my full njoy Eleven review to do justice to it.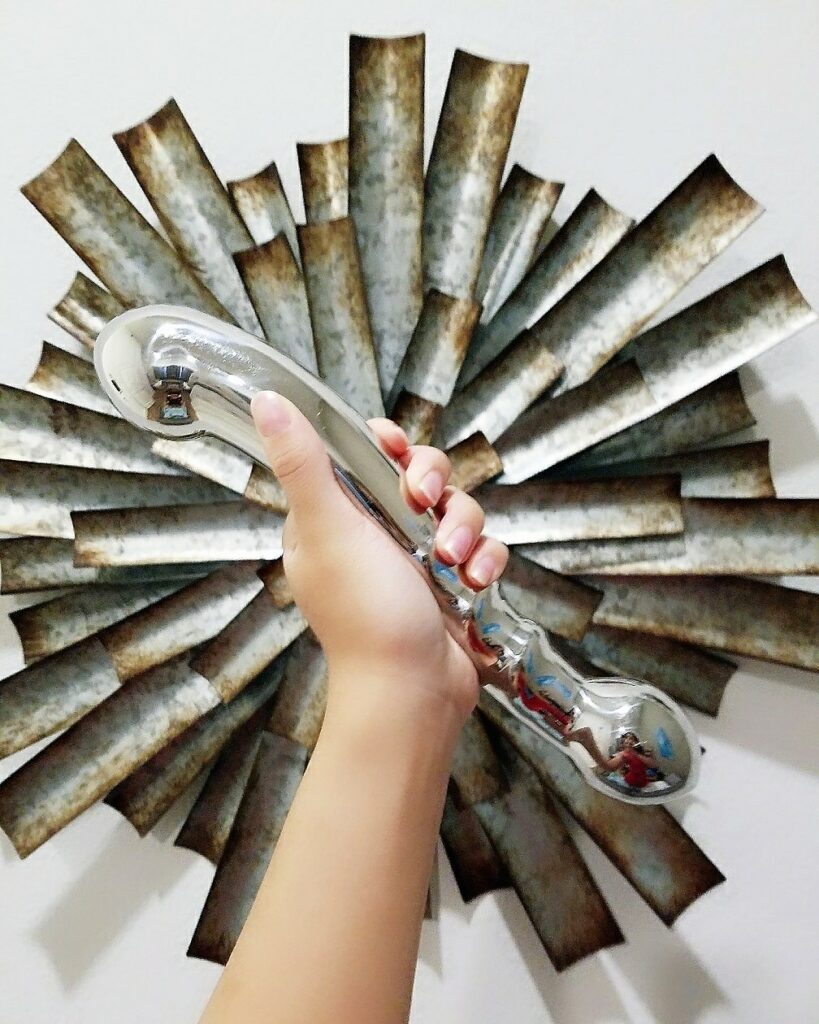 Come As You Are usually has the best price on the njoy Eleven. Take advantage of the conversion rate from CAD to USD! But they don't always have it in stock.
Comparison among these thick (but not too thick!) dildos
*Since the Colossus is a sleeve with some stretch, its circumference is slightly dependent on what you slip it over.
We have a range of hardnesses, from VixSkin's plush outer layer at a 2 and stainless steel being off the charts. (The shore durometer I used was meant to measure soft rubbers.)
As such, the Outlaw would be the most gentle-feeling among them. The Evolved Luminous Stud would be next, then the Aqua-King with its firmer silicone, and then the njoy Eleven.
Consider also head shape. Evolved Novelties' Luminous Stud dildo's glans juts out more than, say, the Outlaw's does. The former has a starker contrast between the corona and shaft measurements.
Uberrime's Aqua-King feels the most intense of the silicone dildos in this section due to the combination of:
Head-to-shaft contrast
The pointed, sawtooth-like crowns
The firmer silicone
But it can't, of course, pummel my G-spot or A-spot with the njoy Eleven stainless steel dildo's directness and sheer force.
---
The big tapered dildos
These dildos have pointy tips and ramp up in circumference for a gradual stretch. They're still challenging to consume in their entirety, but you can start with just the tip and ease into it.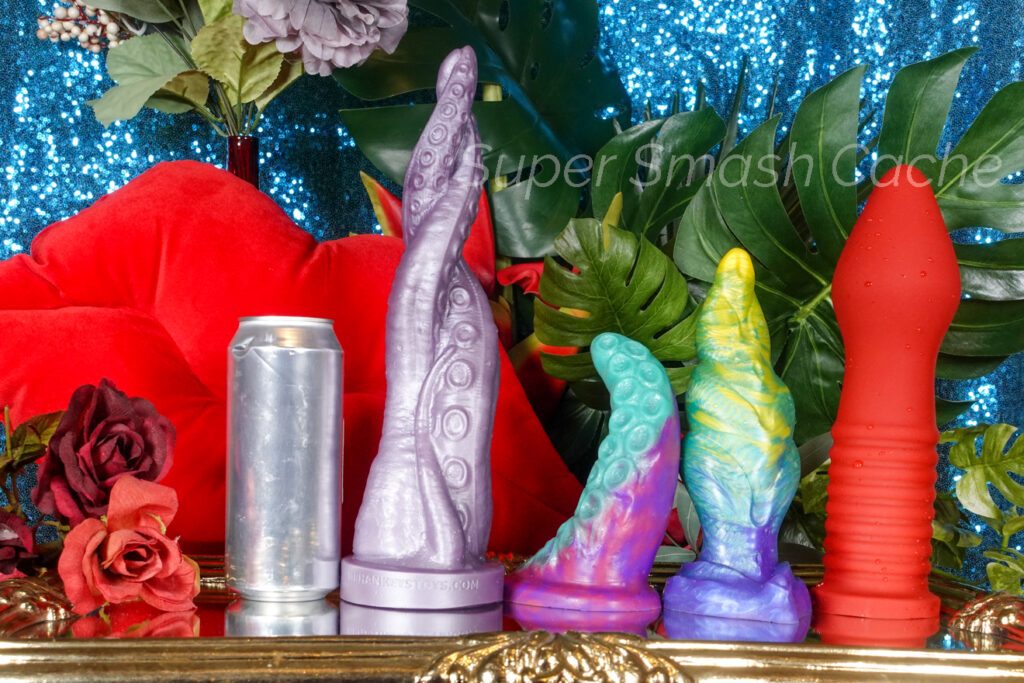 It looks intimidating, but it's made of suuuper soft silicone. As such, it's gentle to use just the top half, but you can also fold it for a more considerable stretch.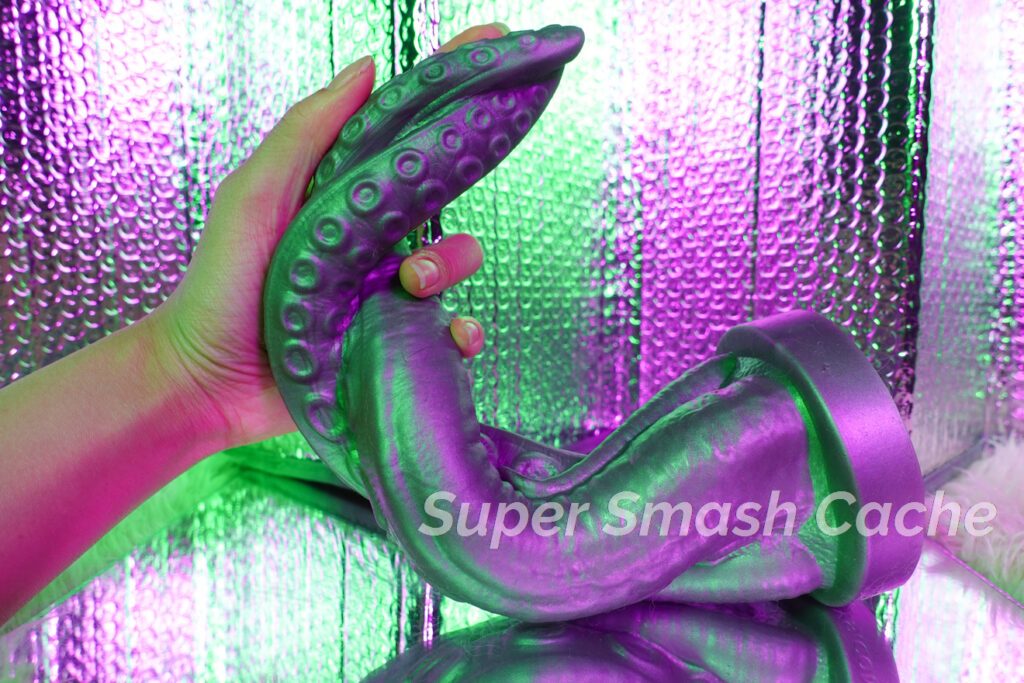 This tentacle dildo is firmer and curved, great for G-spot stimulation before attempting to consume the entire shaft.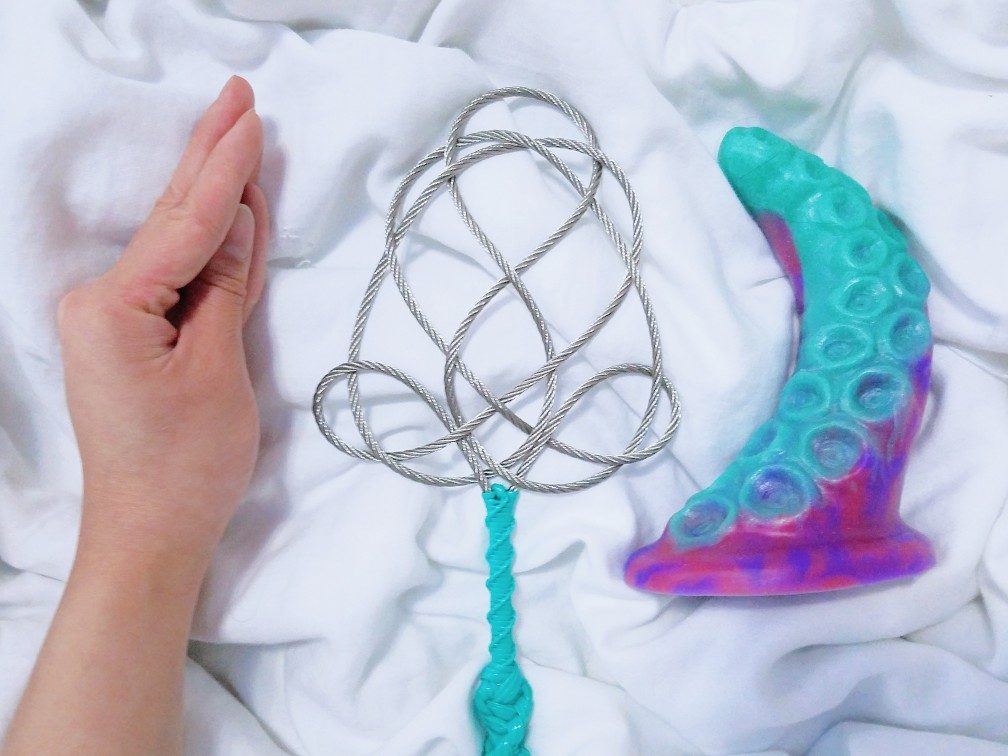 This floral fantasy dildo is almost plug-style with a distinct knot. Get the widest part of the bulb past your pubic bone, and let the tightest section of your vagina wrap around the Flora's "neck." It's soft and fun to squeeze against the G-spot.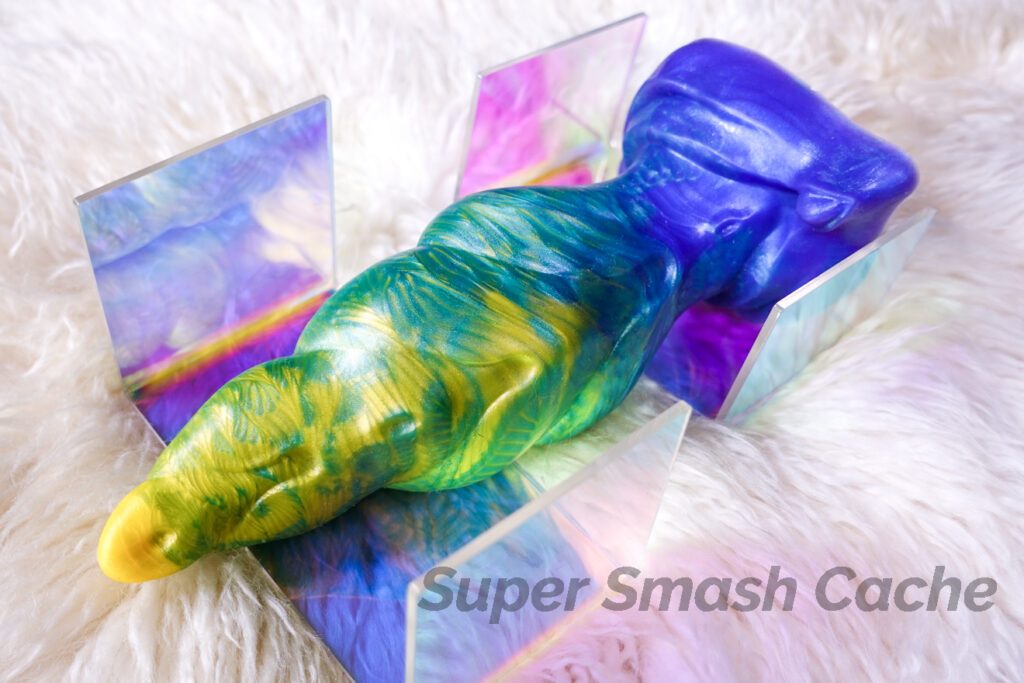 I mainly included the Fist Trainer for size and shape comparison. Make no mistake: it is severe and far more advanced than the others in this section.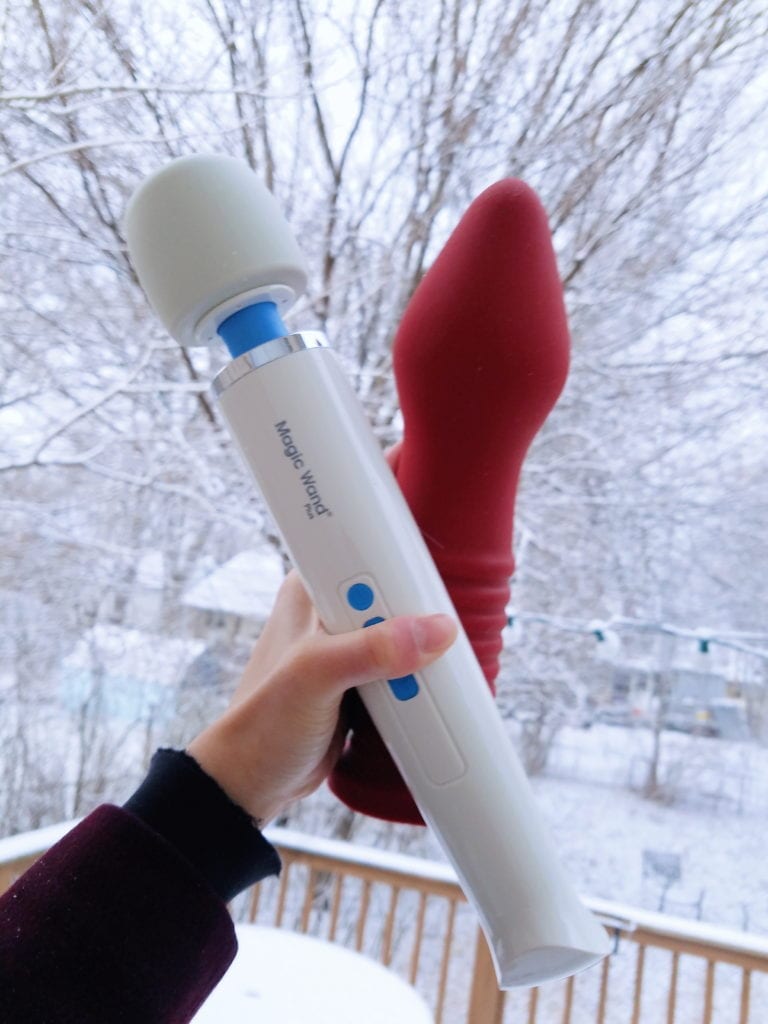 Tantus's "Super Soft" silicone is a "medium" firmness on other makers' scales. And that's not common knowledge, but it should be in Toyland.
Comparison of these girthy tapered dildos
First things first: the Tantus Fist Trainer is among the firmest in this section, and it ramps up in girth the quickest. In contrast, the Deep Diver's strength lies in its curvature and gradual gauge.
For a satisfying "popping" sensation against the G-spot or short-term vaginal plugging, I highly recommend the Uberrime Flora's shape.
Finally, Davy's Tendrils is the softest. Again, fold it in half for more girth. Tentacles upon tentacles upon tentacles. Or don't.
---
Plugs and wand massagers inserted vaginally
A.K.A. The "Off-Label" Uses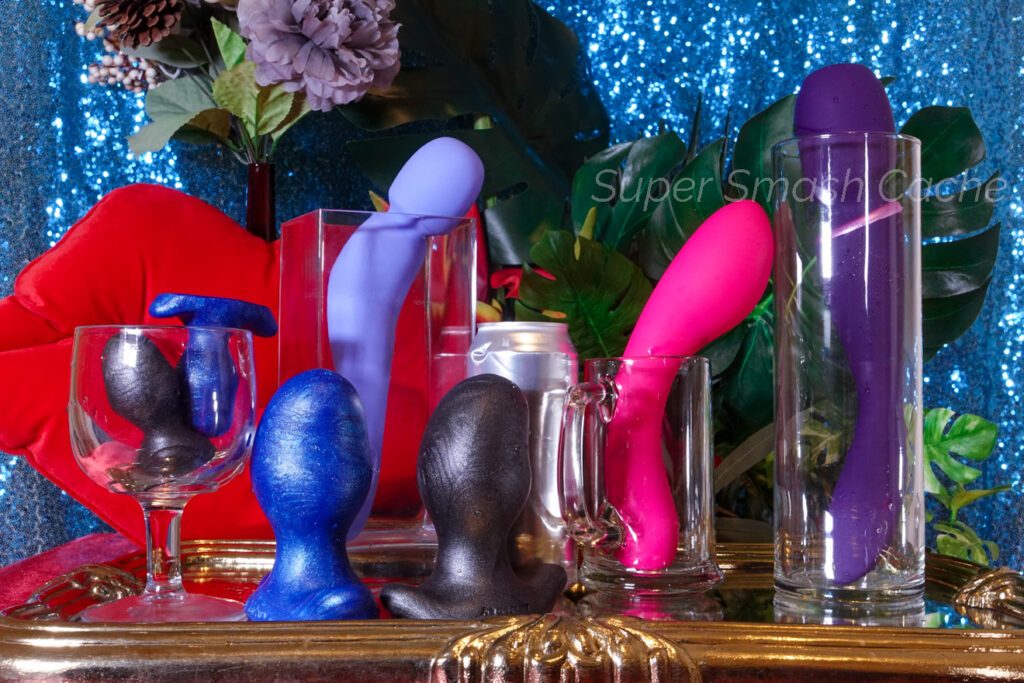 The Oxballs Ergo plugs come in a wide range of sizes for long-term wear — whatever your experience level with giant dildos or fisting. And they're just fun to clench around.
Here's how the Oxballs Ergo plugs I have measure up:
Ergo XS – 1.3″ max width and 2.75″ insertable length
Ergo L – 2.3″ max width and 5.75″ insertable length
Yeah, the Large is a huge butt plug, but my shore durometer barely registered the hardness at a 1. That's how soft Oxballs' super soft silicone is.
I've said it before: yes, you can use a huge butt plug vaginally, depending on the shape.
Slightly off-center
Not too pointy
Nice and squishy
That way, it won't irritate your cervix too too much, and you can focus on the good part: enjoying the stretch and preparing for what's next.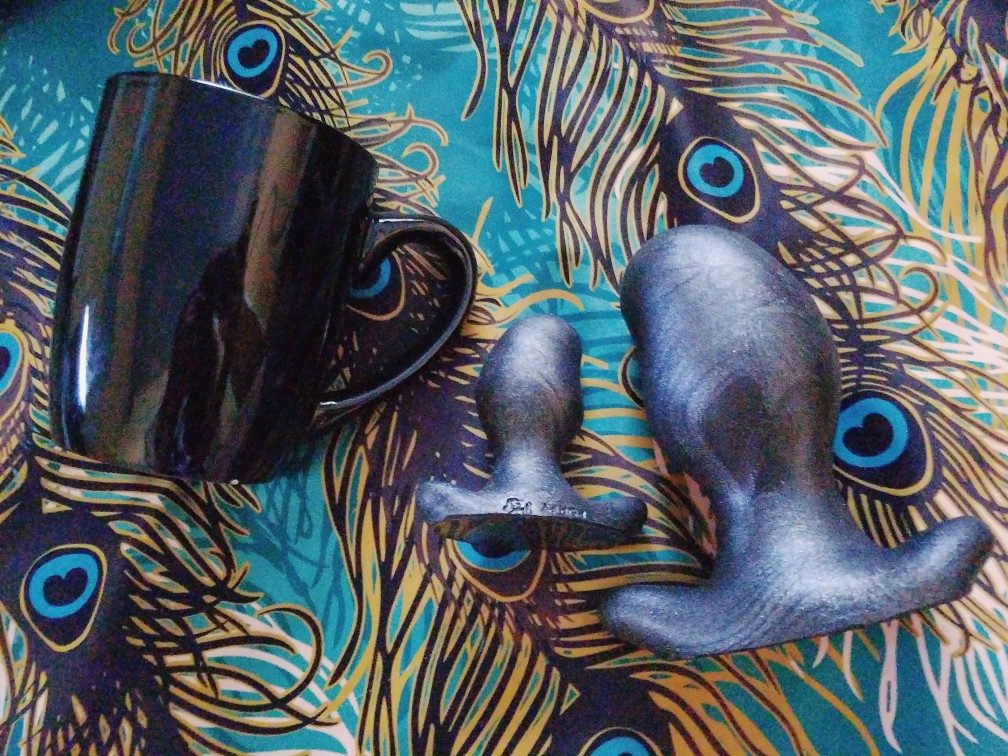 Wand massagers used vaginally
Who looks at a fully silicone-coated wand massager and thinks, "Yeah, that looks yummy for sticking in my vagina"? Me. That's who.
My favorite wands for insertion are the Dame Com, Swan Wand Classic, and We-Vibe Wand, all for different reasons.
Dame Com wand massager
The Dame Com is the most compact of the three but the most A-spotty and G-spotty. Between the girth, curve, and moderately-rumbly vibrations, I audibly insta-came the first time I tried the Dame Com internally.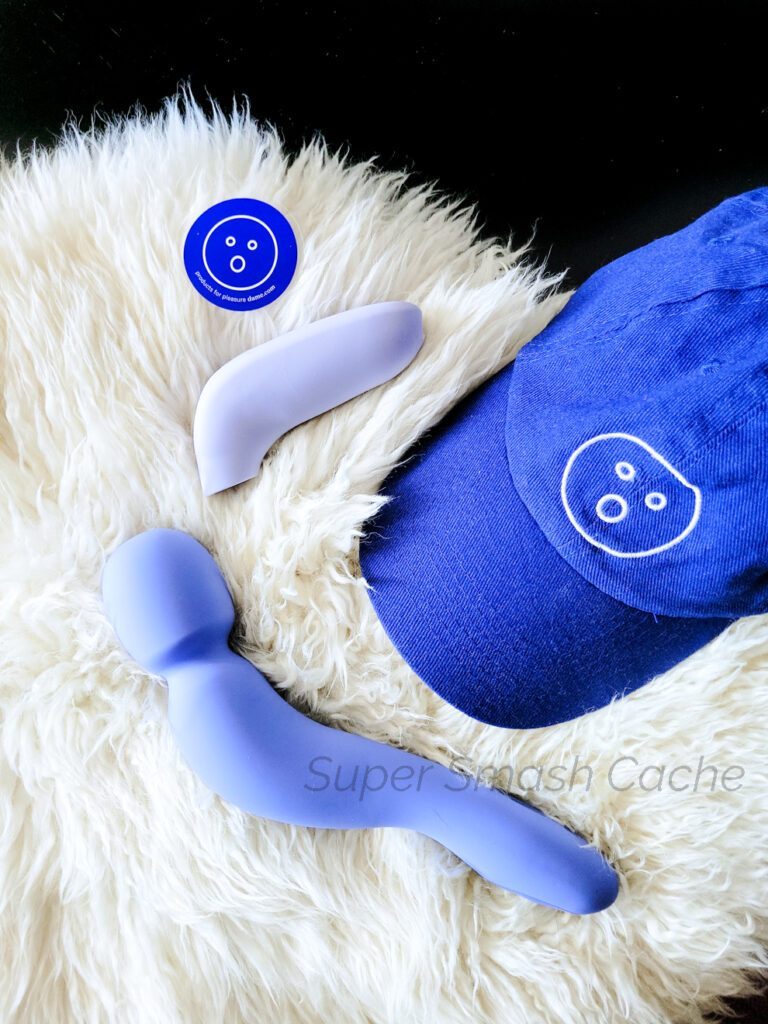 Use it on a partner who craves huge dildos and watch them either beg for more or for you to stop because it's so overwhelming. Review coming soon.
BMS Factory Swan Wand
Meanwhile, the BMS Factory Swan Wand is even girthier for a more extensive stretch and suuuper powerful. We're talking like Hitachi-level. So if you've ever wanted to insert the Magic Wand, the BMS Factory Swan Wand is for you.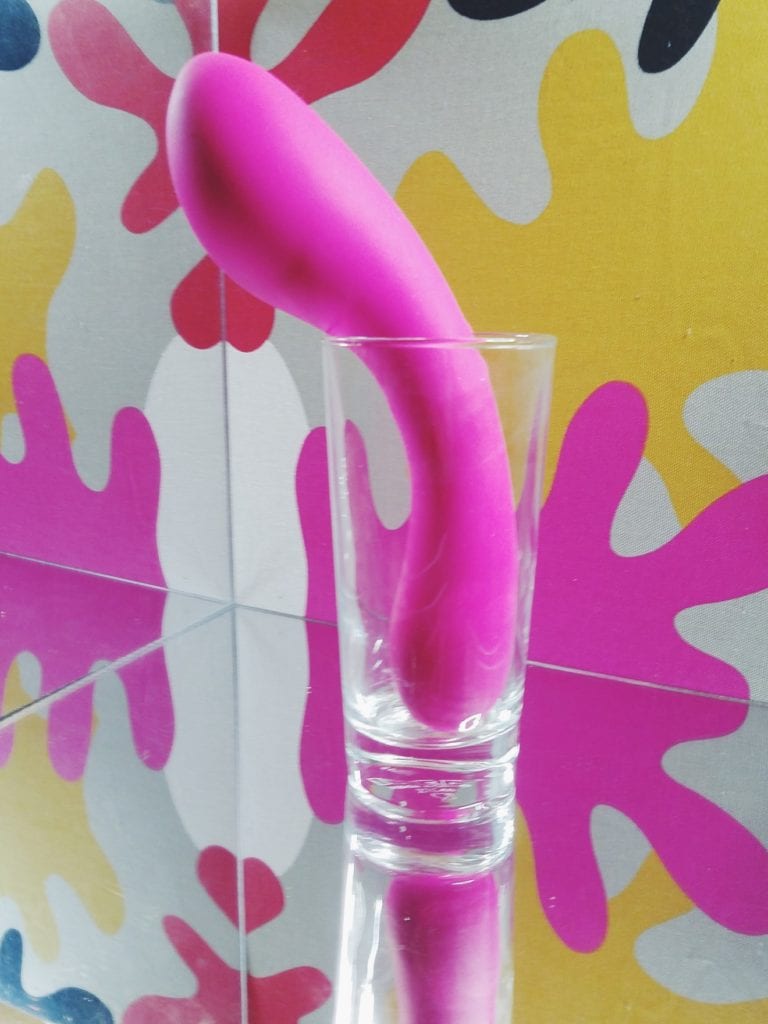 We-Vibe Wand
Finally, the We-Vibe Wand is even THICCer but has a more tapered tip, meaning it can help you prepare for fisting without nearly as much urethral irritation. It also offers We-Connect capability, and its low, bass-like purr makes it the rumbliest rechargeable wand I've ever tried. Not the strongest, but the deepest for sure.
---
The OMGs – big but squishy dildos
These dildos give a more significant stretch than the "Pre-Warm-Ups" but are still quite squishy on the outside.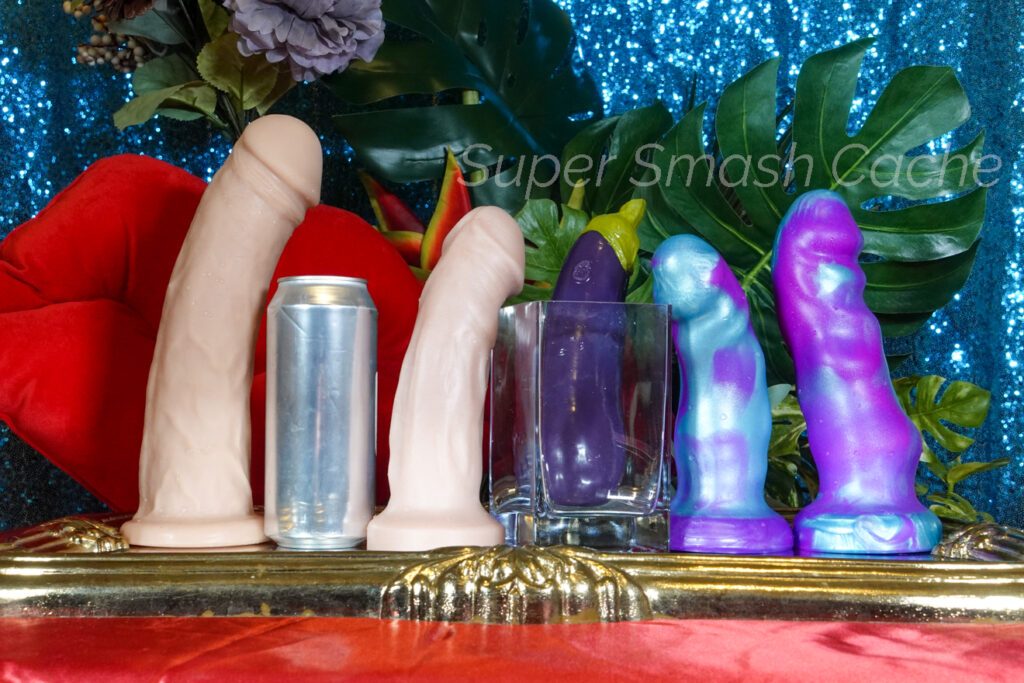 Remember when I said that, above 2.1" thickness, it's exponentially harder to find big dildos? Yeah, we're now veering further away from prominent manufacturers and more towards indie makers.
Uberrime Maxime
The Maxime is among the amplest of Uberrine's dual-density offerings, and its corona is one of the most defined I've encountered in a big dildo. In other words? It's pretty soft, but you'll get quite a bit of focused pressure on your G-spot.
The result? A long, indefinite orgasm and a resounding yes, yes, YES, from me!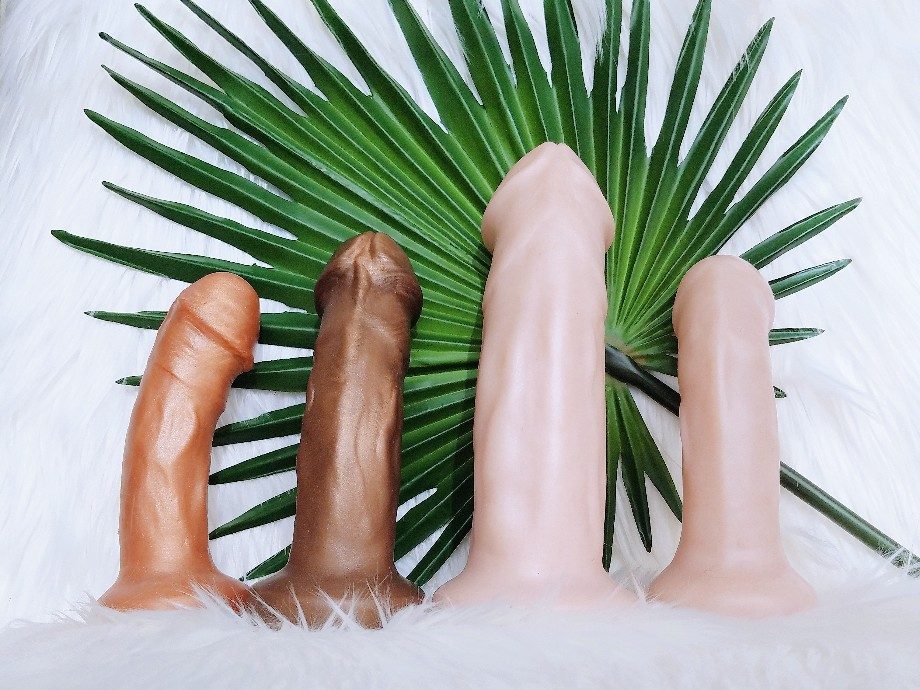 SelfDelve Aubergine / Eggplant dildo
Silly? Sure. Sensual? Hell, yeah.
It's bluntly voluminous for sure […] Once the broadest part is past my pubic bone, however, its glossy silicone is all smooth sailing and endless, intense orgasms. […]

It's squishy enough to conform to my pubic bone's dip and tessellate against my G-spot, while fat and firm enough to give my G-spot intense resistance. […] And for deep penetration? My A-spot and cervix are pleased.

— my full SelfDelve Aubergine / Eggplant dildo review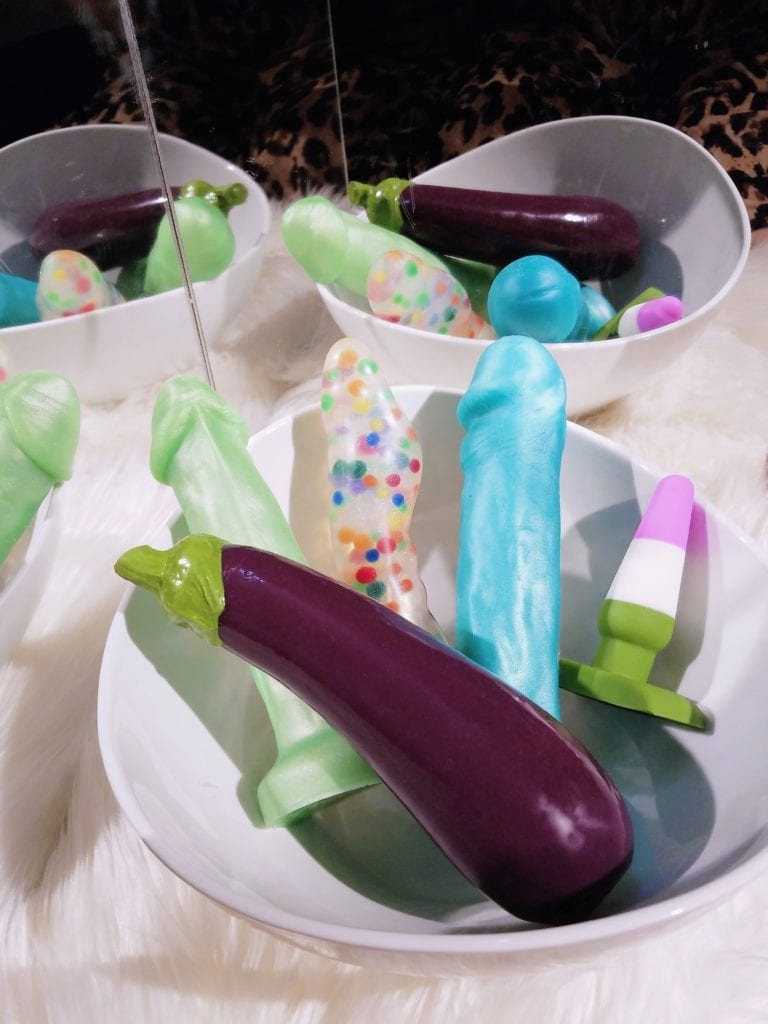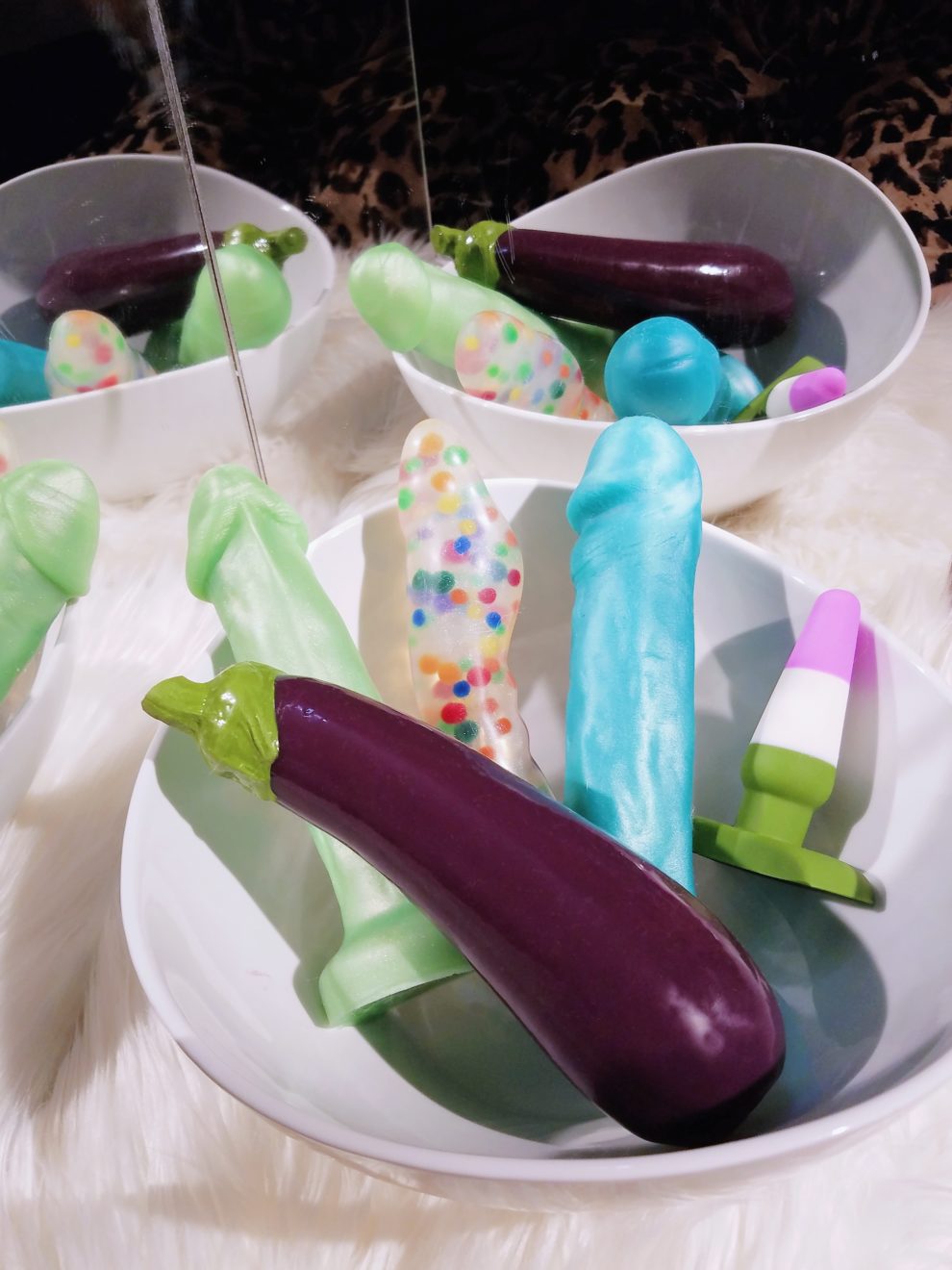 Vixen Creations VixSkin Gambler
I'll just quote my Vixen Creations VixSkin Gambler review here:
Buying a VixSkin Gambler is like paying once for a lifetime of access to altered states of consciousness […]
"One more orgasm," and some light thrusting quickly turns into ten more minutes straight of screaming and shaking. And another ten minutes. And another.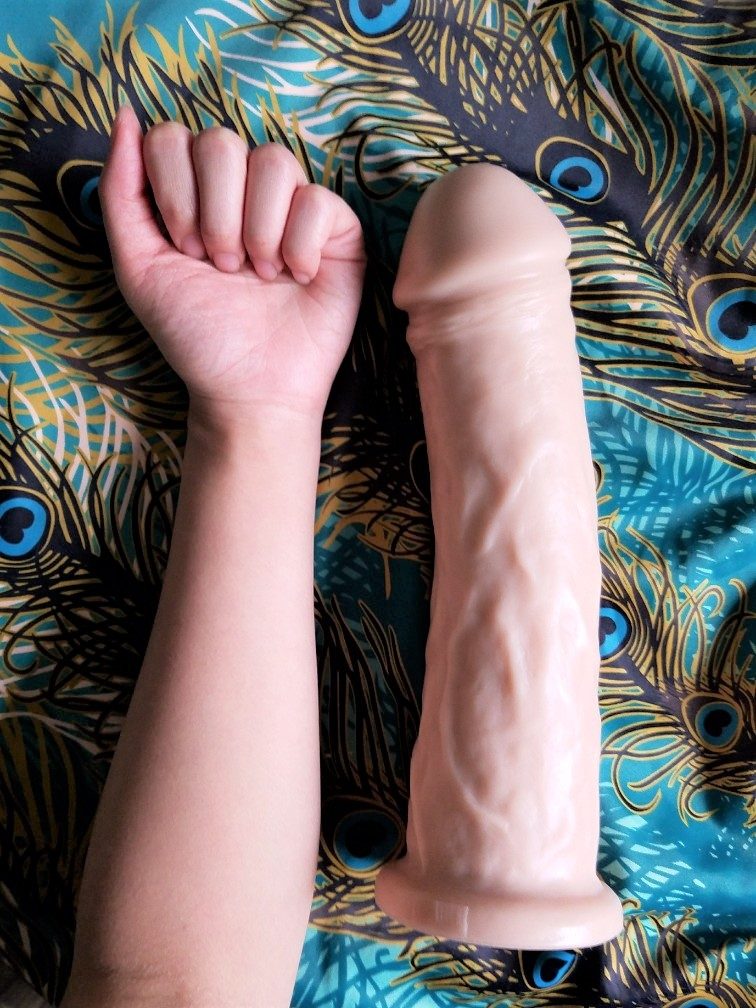 Pris Toys Sentinel
My vagina goes into a primitive "CRUSH OBJECT INSIDE" mode — a self-perpetuating loop, where squeezing around the undulating head is in itself stimulating, even with the most minimal thrusts.
As long as I have the Pris Toys Sentinel inside me, the oxytocin keeps flooding.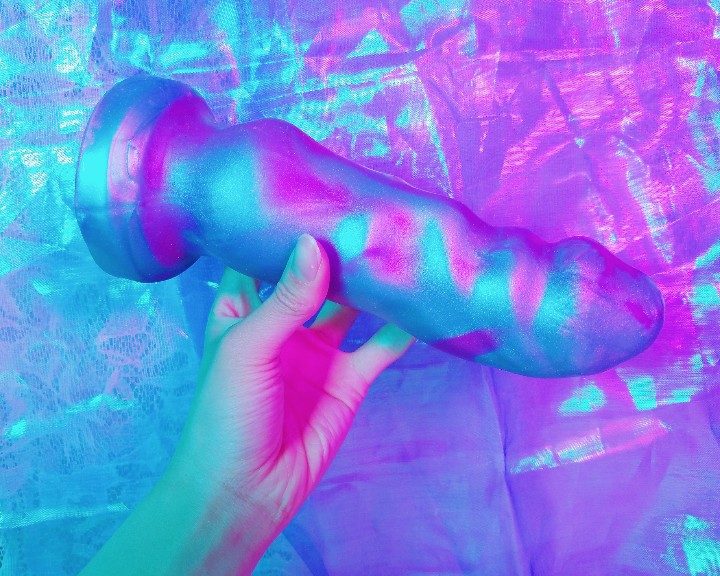 With indie silicone dildos, you'll find different color schemes at different shops. At early2bed, you can get Cosmic (pink and blue) or Green Slime. At SheVibe, you'll find the Horizon (gold and white) color scheme.
Comparison among these big but squishy dildos
Once again, firmness measures a lot when it comes to perceived intensity. The VixSkin Gambler looks flashy next to my arm in photos — and it certainly is magical to sit on it and feel the biiiiiiiiiig stretch. But its head is all squish.
Depending on what you're looking for, that may or may not be a good thing. If something a little firmer would do it for you, get the Pris Toys Sentinel.
As well, the Uberrime Maxime isn't nearly as THICC, but its head shape feels the most G-spotty. So don't go for size alone. Consider the other features you like in a giant dildo.
---
The OMFGs – huge realistic dildos
Cue ahegao hot drooling face emoji. These big dildos will definitely prepare you for fisting. Or enjoy them on their own. If you can rise to the challenge, explosive orgasms abound — same deal as in the above section, but take it to the next level. I don't need to make the rest of this post pornographic, do I?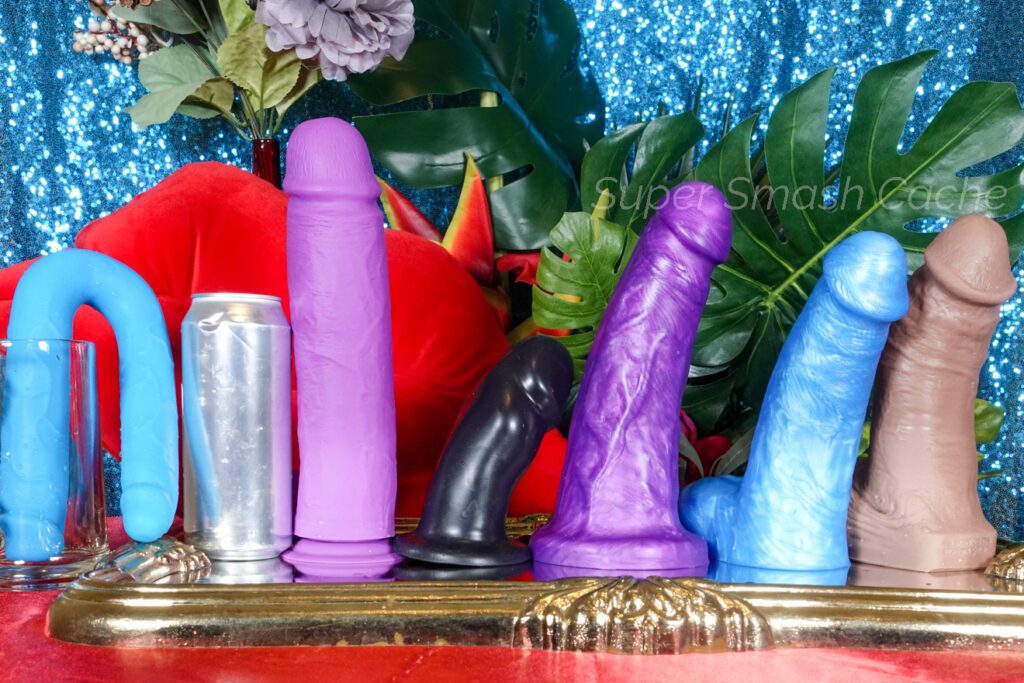 Colours DP Pleasures double dildo by NS Novelties
Fisting and double penetration in one hole involve the same skill set, yeah? The NS Colours DP Pleasures is kind of like inserting two average-sized cocks.
This huge realistic dildo with balls measures a whopping:
8″ total
6″ insertable
2.4 inches across the widest part of the shaft
8A Shore density (a little firm and quite intense!)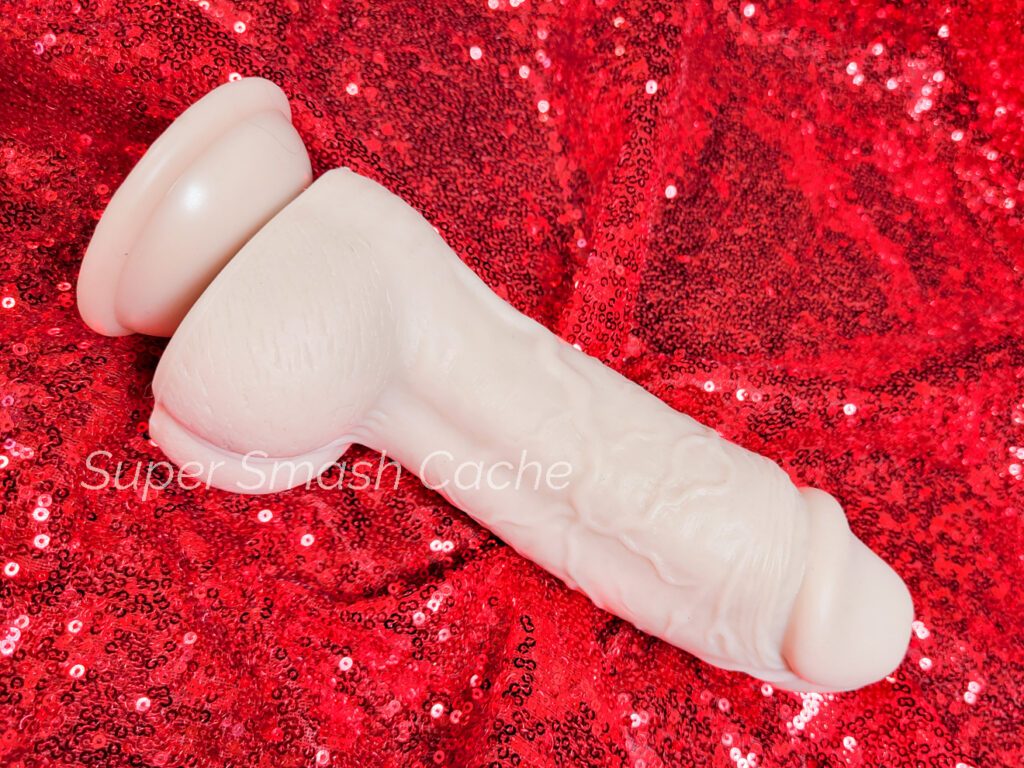 The Addiction Roman is just another member (hah) of BMS Factory's affordable realistic dildo line. As with all its siblings, the Roman dildo is body-safe silicone and an utter steal for the price.
It's $27 online if you're a Romantic Depot VIP, which is $15 per month to join. If you looove collecting sex toys, the savings with your VIP Club membership will certainly add up!
Blush Novelties Neo Elite 10" dual-density dildo
The Neo Elite 10" and 11" are also among the best huge silicone dildos you can get for the price.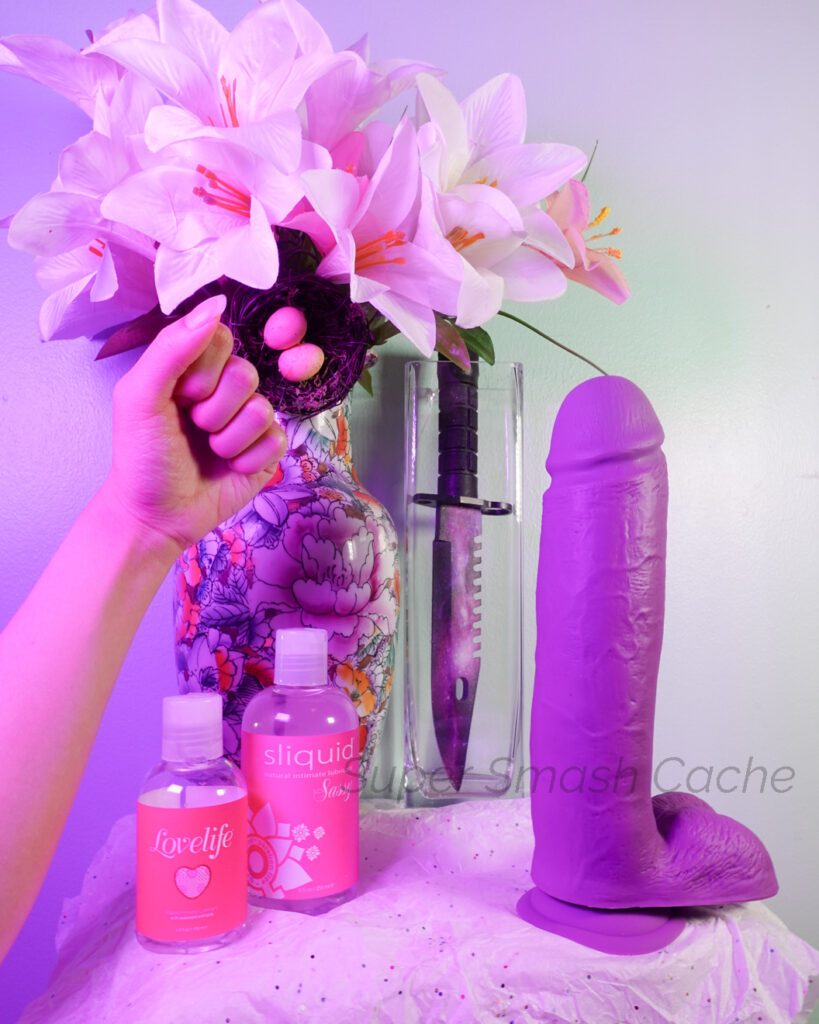 Vixen Randy (single-density)
I deeply respect how sumptuous dual-density dildos feel, but the Vixen Randy's defined head and OG firmness feel fantastic against my G-spot. The Vixen Creations Randy curved girthy dildo is shown below on the left.
(Don't worry, it's not the center thing, lmfao.)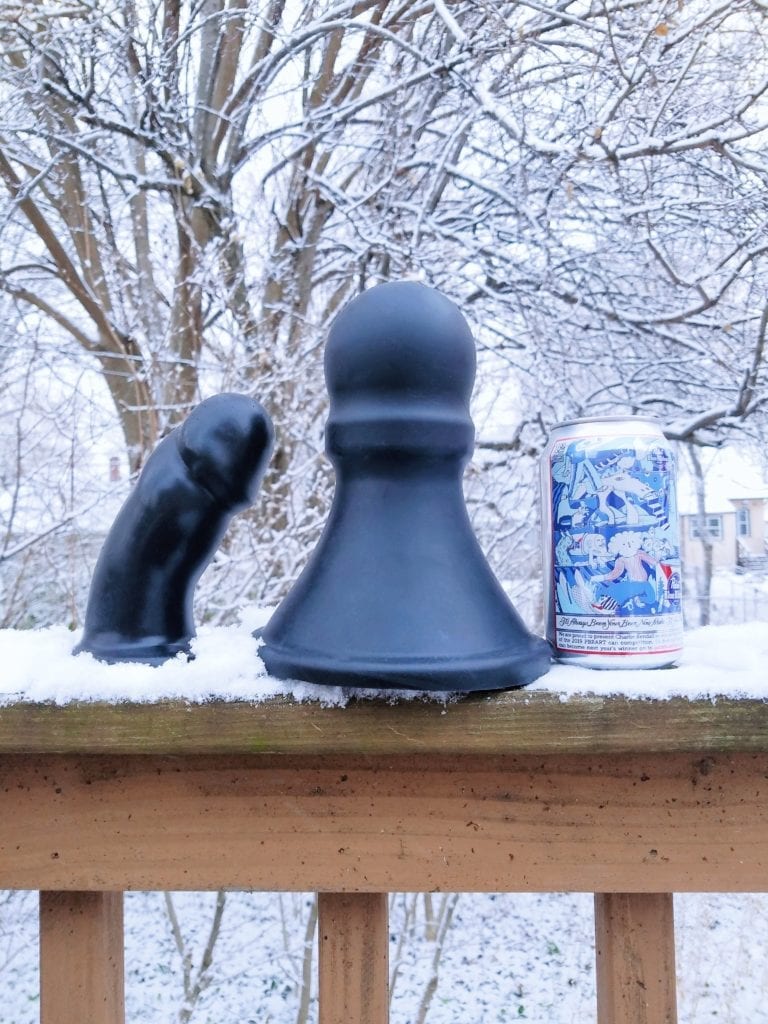 Uberrime Uberron (without balls) and Uberous (colossal dildo with balls)
These dildos are both veeerrry soft, with defined coronas and some vein and foreskin texture.
While they ramp up to similar diameters near the base, the Uberron has more of a taper to it. It increases from 2" wide at the head to a whopping 2.9" at the bottom. Meanwhile, the Uberous's shaft diameters range from 2.1" to 2.6" wide.
Hankey's Toys Topher Michels
There's a reason I simply refer to it as "the big, wrinkly ball sack dildo." But also, it's possibly the best extra large dildo for G-spot stimulation that I've tried.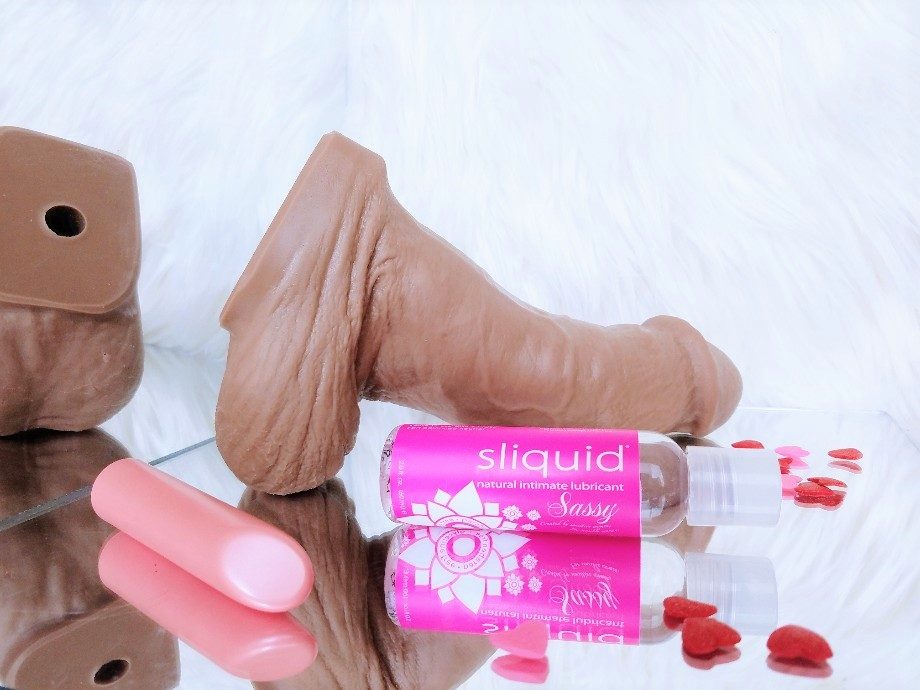 There's so much skin-like surface grain and veinage, especially highlighted by the glossy silicone surface. […]

One of the most noticeable traits (besides the balls) is the engorged head. […] Combine that with the curved shaft for the seriously targeted stimulation that my G-spot sometimes craves.

Even with shallow penetration, I'm practically a 3-pump chump when using Mr. Hankey's Toys' Topher Michels.

— my full Hankey's Toys Topher Michels Medium review
The Moonshiner silicone dildo is for anyone who's wanted to insert a wine bottle, but safely. Enough said.
Comparison of these yuuuuge dildos
All of the dildos in this section are adored and demi-godly. I refuse to choose my favorite. However, if you're very specific in your behemoth dildo preferences, here are some considerations:
For G-spot stimulation with a vast, flared mushroom tip dildo, get the Hankey's Toys Topher Michels (HUGE) or Vixen Randy (still huge. But not wildly so).
If you want something that ramps up more slowly for deeper penetration, get the Uberrime Uberron or Uberous.
Not for me, but you do you
I can admit my limits — no shame in that.
The Split Peaches Screw You Large sounded manageable on paper, but its firmness and intense textures were too much for me. And the Tantus Pawn XL was way bigger than expected — 3" across the head instead of 2" across, and it only ramps up from there.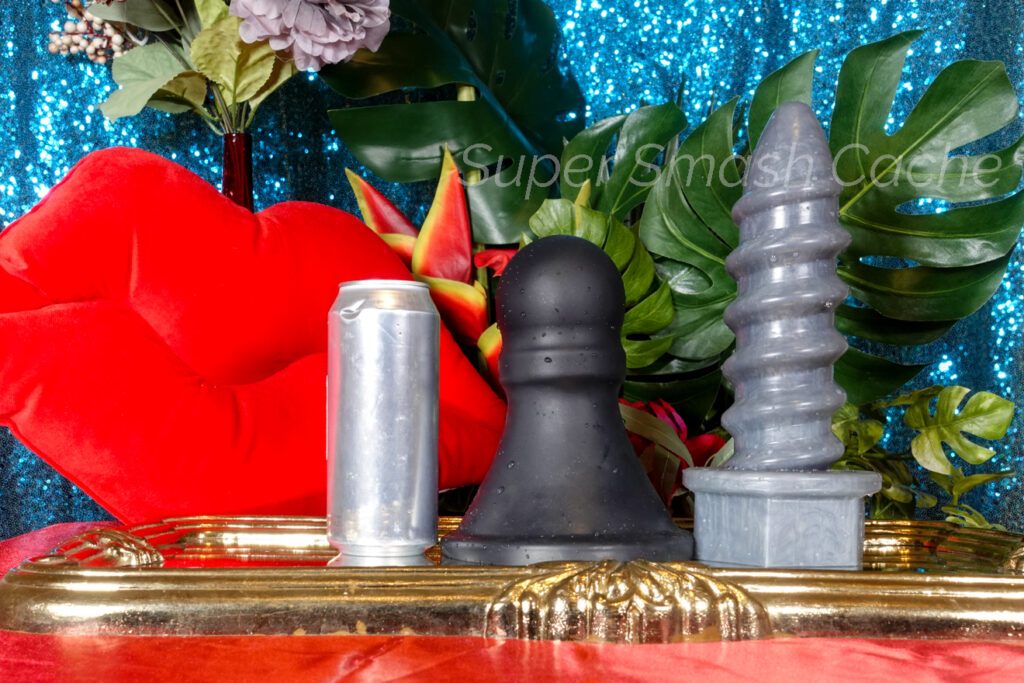 ---
Key takeaways from this mega-guide to fisting and giant dildos
1. Fisting can be a beautifully intimate act.
2. The pelvic floor muscles can be both flexible and strong. You don't have to explain that to anyone.
3. Relaxation is of the utmost importance when preparing for fisting. Pair external stimulation with penetration. Work through a challenging girth by pausing, breathing slowly, then cycling through long phases of clenching and relaxing. You don't have to push the insertable deeper continuously.
4. The hand is duck-billed while fisting. Once you're inside, you can close the fist if you want, but it's not necessary.
5. While you don't NEED big dildos to prepare for fisting, having toys makes it easier for everyone involved. Thickness certainly matters in choosing a fisting warm-up dildo, but so does firmness.
6. Huge dildos can cause intense sensations and uncontrollable orgasms with even the smallest thrusts.
And I want more people to experience the pleasure of fisting.
Nowadays, I don't even count how many people I've slept with anymore; I just count how often I've been the first person someone fisted.