"Oops, That's My Kink": 2 turn-ons I've discovered on accident
Do you ever jack off to something unorthodox and then, in the post-nut clarity, think, "Oh gosh, what have I done?" Sometimes, a kink catches you off guard. And sometimes, you own it. The human brain is a funny place.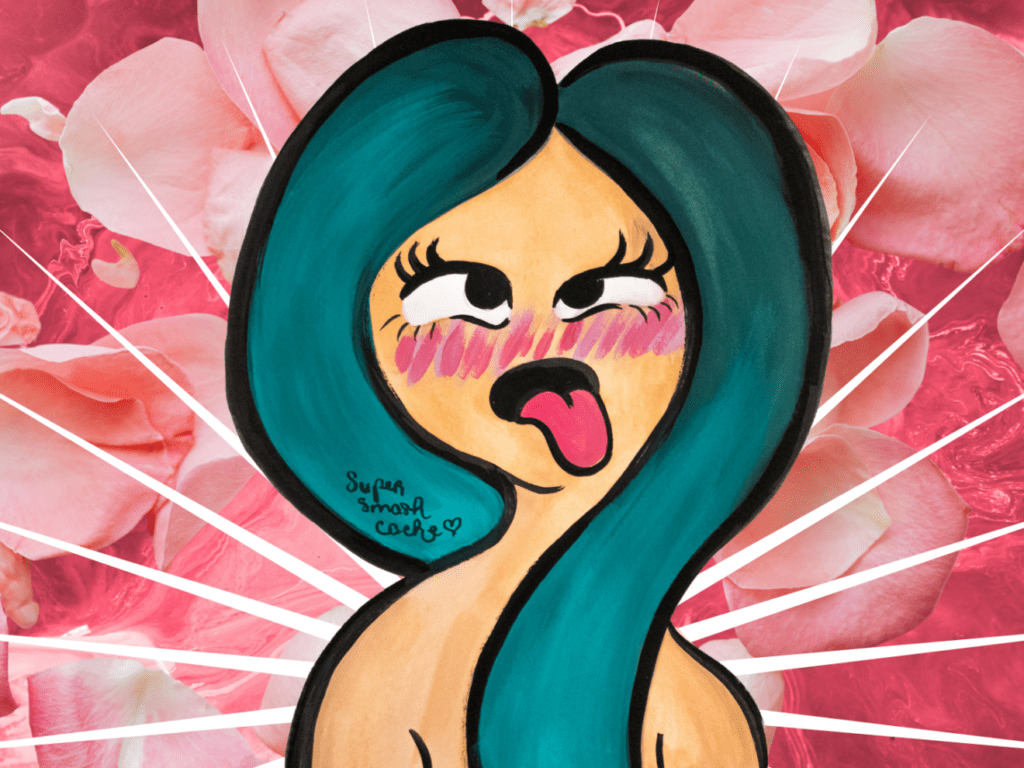 I have countless tales of times I accidentally discovered a kink, but here are just a couple.
---
Ahegao orgasm face
The OnlyFans pages that I've checked out disproportionately involved a certain silly orgasm face:
Rolled or crossed eyes
A flushed face
Tongue sticking out
(Sometimes) sweating or drooling
I'm probably telling on myself about the kind of smut I was drawn to, but I digress. I didn't know the term, "ahegao," until I started my blog post about what women wanted more of in porn.
Or less of. One of my readers said she didn't want to see so many "stupid, crazy faces" — immediately conjuring the mental image mentioned above. (I agreed at the time; I didn't quite understand this plurality.) Another reader replied, "I'm not a fan of ahegao, but it's a niche to make easy money from if it doesn't bother you."
I later asked my then-boyfriend, "Is it a far-off internet thing, or do you know people who actually like it?"
"I don't think anyone would admit to liking it."
"Your friends seem like they would like it," I pointed out. They're capital-B, Boys™, who wield multiple computer monitors, light-up keyboards, and VR headsets for gaming and probably cosplay porn. You know the type.
"I like it a little," he hesitated.
Ah, I thought. So you like it a lot but are afraid to say how much. Got it.
The next time we had sex, I asked, "Do you want me to go cross-eyed?"
"A little…" A little. There it was again.
I indulged him to see how he would react. Rolled eyes during orgasm weren't unusual for me, but I took my performance to the next level with crossed eyes and patent panting with my tongue extended.
He came not too long after that.
"It's one of those things where you think, 'Who would be into that?'" he confessed, "And then you stare at the computer screen and think, 'Fuck, I'm into it. It's an exaggerated expression of pleasure."
Honestly, it's starting to grow on me, too. It feels animalistic. When your orgasms are extra AF and involve four-octave screaming of four-letter words while a hand is inside you, the ahegao orgasm face befits the hyperbolic hedonism. It seems like a natural progression.
Lesson learned: don't even jokingly kink-shame — you might find out your partner's into it. I posted about it again on my Instagram stories, and multiple readers responded with variations of, "I love this happy ending."
That makes a nice segue into my next turn-on.
---
Roleplaying virgins
Hell yeah, my type is the guy with the two monitors and an RGB keyboard who looks like he'll blow away in the wind.
I outright told the ex from the previous story, "My greatest fantasy is a dude dressed up as Milo Thatch," on our first date.
And I know that the Sims 4 fandom hates Strangerville, but have you seen Erwin Pries? I'm not above admitting that I've installed the Wickedwhims mod because of him.
My point is: geeky guys are sexy. They have active imaginations that feed their fantasies, both inside and outside the bedroom. And the internet has given them a more extensive playground to explore their eccentricities.
Nerds can hyperfocus (#ADHDlife) and want to learn every encyclopedic facet of a topic — which can sometimes include sex. (Case in point: the existence of this blog, where I've reviewed over 300 sex toys.)
I also find nerds and geeks eager to please. Many weren't appreciated in high school and sometimes early college, but make up for it. (I, for one, couldn't take a hint. I still can't.)
Some of the hottest roleplay scenes I've ever done were when my then-boyfriend doubled down on the nerdiness and worshipped me. The gist:
"Why would a girl like you even give a guy like me a chance?"
"You're so beautiful. What can I do to earn and keep your attention?"
"Teach me what you want. I'm so clueless and have so much to learn from you."
In some cases, pretending we were strangers studying bIoLoGy in the library.
Pretending he's never seen pussy before and re-enacting the awe and fluster
It started as a joke, but we realized: it's also a delicious recipe for a Pillow Princess + service top situation.
Then there's the flip side.
I do think virginity is an outdated concept. Sometimes, though, kink is less about your ethics and more about the subconscious's desire to explore other possibilities.
For me to roleplay being a virgin is to say, "I'm tired of the expectations and assumptions about sex educators, and I want a space to subvert that and take a fucking break."
But also, let's relive the excitement of exploring the bases with someone without expectations of hitting a home run. Fingering is so underrated.
(Hey Siri, play Hummingbird Heartbeat by Katy Perry.)
---
This post was sponsored. Opinions expressed are my own.