4 SILICONE double dildos for body-safe DP play, compared!
Horny level: "Show me all your double penetration dildos."
Yep! All of my picks from SheVibe this quarter are silicone double dildos — and my vagina eagerly engulfed them.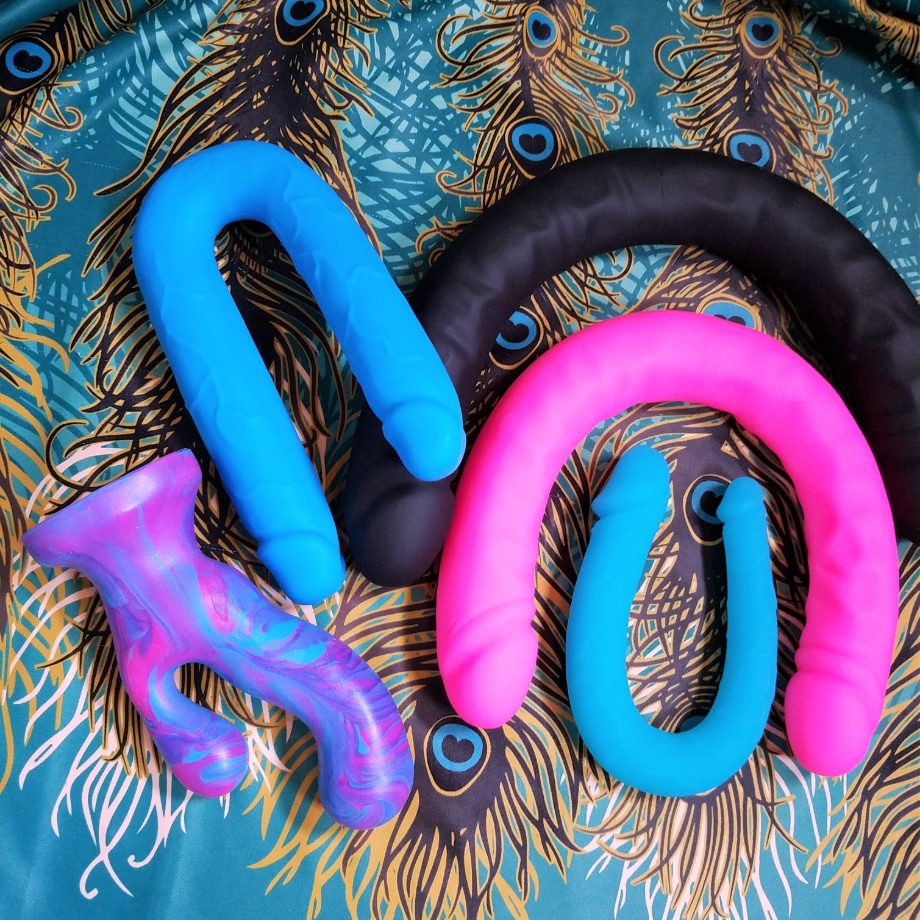 In order from the smallest to biggest double-ended dildos pictured above:
I also got the Pris Toys Gemini (the marbled one on the far left), which isn't marketed as a double penetration dildo, but I can (and do) use it that way. Likewise for many "rabbit" vibrators. 🙂
Back to the others, though: what makes them so special?
---
Double dildos made of body-safe materials
Double dongs are hardly a new concept. If anything, sex toy snobs might view them as cheap, low-class relics of the 90s, when toxic materials like jelly were more rampant. Therein lies the issue.
When people think of double dildos, they usually imagine the transparent, giant gummy worm-looking ones that melt and smell like shower curtains. Such a combination doesn't exactly scream "luxury."
Your first line of defense? Know the properties of toy materials.
All of the double dildos mentioned in this review are made of silicone — non-porous, easy-to-clean, and sanitizable by boiling or using a 10% bleach solution. The same is true for glass and metal toys, but silicone is top-tier in hygiene as far as soft sex toy materials go. Just make sure to use water-based lube with it since liquid silicone can degrade solid silicone.
And that's before even unpacking the stigma and misinformation around large insertions.
You can do double penetration safely if you're savvy and well-prepared:
---
---
Size isn't the only important factor for comfort
Consider shape and silicone firmness, too!
I've had two partners' cocks simultaneously stuffed in my vagina before. Hot? Yes. Intimidating? Not anymore, despite both phalluses being above average girth.
Surely, inserting similarly thick dildos wouldn't be that much more effort, right?
W R O N G !
That experience didn't translate to ease double-stuffing myself with toys — for two big reasons.
First, the firmness. The smaller options (the AC/DC and Colours DP Pleasures) were quite stiff for maintaining their steep U-shapes.
In particular, the Cal Ex AC/DC was FUCKING HARD — more than twice as hard as the Blush Rusé double dildos and almost twice as hard as the Colours DP Pleasures. And even the softest of the bunch was harder than a flesh-and-blood cock.
That's not necessarily a bad thing. If your goal is to use one end vaginally and the other anally, a firmer double dildo can better retain its shape for thrusting. The stable curvature also gives it way more potential for G-spot focus.
And though all these silicone double dildos can bend, some were easier to squeeze the ends together than others. That's a matter of firmness and the dildo's default shape at rest.
I'll note which ones are best for what purpose in the following mini-reviews. Some are better for use in different holes, while some are nice for solo play and others for partner play.
---
Slim and sturdy — best for simultaneous vaginal and anal penetration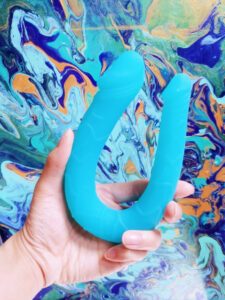 Based on size alone, you'd think the AC/DC would be the most comfortable double dong for double vaginal. The small end is slimmer than some bullet vibrators I've tried, and the big one is only a little wider than two of my fingers. (And I'm quite thin.)
Indeed, the AC/DC wasn't tough to insert. The agony started when I pulled it out while not paying attention to keeping the prongs squeezed together. They sprung and splayed apart near the mouth of my vagina, like the speculum from hell.
Again, this dildo has some flexibility but FEELS FUCKING HARD and stubborn. "Ultra-soft and pliable," said the packaging. LIES. I would not recommend using both ends for one hole. The Cal Exotics AC/DC silicone double dildo is best used as a one-handed tool for penetrating both holes simultaneously.
However, the design could also be fun for beginners!
You can also enjoy the Cal Exotics AC/DC double dildo by inserting just one of the ends while using the other as a long, firm handle for added reach. Those with mobility issues may especially appreciate such a feature. The two different head sizes and low price ($23!) also make it beginner exploration-friendly.
AC/DC double dildo measurements
Total length: 12″ (30 cm)
Insertable length: 4.60″ (11.7 cm)
Head max diameters: 0.85″ (2.2 cm) and 1.36″ (3.5 cm)
Shaft diameters: 0.65″ (1.7 cm) to 1.00″ (0.7 cm)
Distance between ends: 1.15″ (3 cm)
Estimated Shore hardness: 25 A

About as firm as a pink pencil eraser
Available in teal and hot pink.
---
Versatile for one-person DP — double vaginal, double anal, or both holes
The Colours DP Pleasures double dildo is juuuust right in so many ways. Its girth is about average, and the silicone is neither too squishy nor too firm. As well, I can easily squeeze the ends together to fit in one hole, and it's flexible enough to pull apart for two holes if you don't mind the angling.
My cervix couldn't be happier with this double dildo combo. The Colours DP Pleasures slips into both my anterior fornix (A-spot) and posterior fornix, simultaneously massaging my cervix from in front of it and behind it. I don't have to be super careful to hold it just the right way — the elongated "U" shape is quite easy to work with.
The only potential downside is that the head shape isn't as defined or G-spotty as the AC/DC double dildo's.
Despite that, NS's Colours DP Pleasures is my top choice for a solo double vaginal penetration dildo. Solo use, partner use, and three-way use (one thruster, two receivers) during group sex are all options with this toy.
NS Novelties Colours DP Pleasures Measurements
Total length: 17″ (44 cm)
Insertable length: 6.50″ (16.5cm)
Head max diameters: 1.36″ (3.5 cm) and 1.2″ (3.1 cm)
Shaft diameters: 1.20″ (3.0 cm) and 1.15″ (2.9 cm)
Estimated Shore hardness: 10 A

Firmer than gummy candy but softer than a rubber band
Available in blue, purple, and pink.
---
Rusé 18″ Slim silicone double dong by Blush
Moderately thicc, versatile, and great for sharing with a partner
Don't let the name fool you: at 1.5″ across, this dildo isn't exactly slim. It's actually quite filling, considering it's firmer than penises of a similar size.
Both ends of the Rusé 18″ Slim double dildo can fit in my vagina, but it's not the easiest option for that. The gentle curve makes it better for use as a handle or for sharing with a partner.
Since the U shape swoops throughout the toy, it's quite intuitive to rock the Rusé 18″ Slim double dildo back-and-forth along the front wall — alone or for both parties. Cervix massage is effortless.
Why I don't like this dildo for double vaginal
What happens when I squeeze the ends together for double vaginal penetration, though? It's fine, at first, until my hand ends up either:
Too tired to grasp the Rusé in a vagina-friendly shape
Too slick and lubed up — the toy then rotates and contorts into uncomfortable positions
The tl;dr version
The Rusé 18″ Slim double dildo is adaptable for many ways to play, but double vaginal penetration isn't one of them. If sharing a silicone double-ended dildo is on your radar, though, it's a fantastic choice. All of my vaginal deep spots sing for it.
Rusé 18″ Slim measurements
Total length: 18″ long (46 cm)
Maximum diameter: 1.5″ (3.8 cm)
Shaft diameter: 1.5″ (3.8 cm)
Estimated Shore hardness: 10 A
Available in purple and hot pink.
---
Rusé 18″ silicone double dong by Blush
Same as the previous section but squishier and DUMMY THICC
Given my issues using the "Slim" model for double vaginal, I decided not to consume both ends of the thicker Rusé 18″ double-ended silicone dildo. However, using just one end is divine. It bottoms me out while squishing ever-so-slightly against my cervix and pulling on my front wall with its satiny surface.
Overall, it's an 11/10 replacement for sketchy jelly dildos of yore. This silicone double dildo is BIFL — with proper care, it will last a lifetime. I sure wish I had something like it when I was younger!
Rusé 18″ Slim measurements
Total length: 18″ long (46 cm)
Head max diameter: 1.7″ (4.3 cm)
Shaft diameter: 1.75″ (4.5 cm)
Estimated Shore hardness: 8 A

Firmer than gummy candy but softer than a gel shoe insole
Available in black and cerise red.
---
Silicone double dildo measurements table
Total Length
Insertable Length
Head Max Diameter
Shaft Diameter
Firmness
CalEx AC/DC
12"
(30 cm)
4.60"
(11.7 cm)
0.85" (2.2 cm)
1.36" (3.5 cm)
0.65" (1.7 cm) to 1.00" (0.7 cm) 
25 A
Colours DP Pleasures
17"
(44 cm)
6.50"
(16.5cm)
1.36" (3.5 cm)
1.2" (3.1 cm)
1.20" (3.0 cm) to 1.15" (2.9 cm)
10 A
Rusé 18" Slim
18"
(46 cm)
18"
(46 cm)
1.5"
(3.8 cm)
1.5" (3.8 cm)
10 A
Rusé 18"
18"
(46 cm)
18"
(46 cm)
1.7"
(4.3 cm)
1.75" (4.5 cm)
18 A
Shop these double dildos and more at SheVibe!