The 4 Commandments For Size Queens With Vaginas
"Let's just say she's 'open' to new things," someone commented on a viral video of my sex toy collection.
Big dildos are among the most polarizing and stigmatized toys for women. Strangers have made all sorts of rude remarks and assumptions about the state of my holes because of them.
Why should I pay the haters any mind?
I know how tightly my vagina still squeezes, despite easily inserting dildos bigger than my fist. I know I can use a VixSkin Gambler and go straight to penis-in-vag intercourse with no negative impact on my partner's nor my pleasure. I know how my pelvic floor muscles have won a vaginal weightlifting contest.
That self-assurance didn't come naturally, though.
Like many young women eager to please their partners, I used to fear being stretched out by toys.
It took me years to fully appreciate what I know now: that fisting and using big dildos only ever adds to and multiplies my pleasure and my partners' — as long as we do it right, of course.
---
Here are the four commandments for size royalty with vaginas:
Love your vagina for how powerful it is.
You come first.
Appreciate the existence of good lube.
Care for your vagina and listen to its limits.
---
1

Love your vagina for how powerful it is.

Vaginas are among the most versatile things in existence. Mine can crack a partner's knuckles and lift dumbbells tied to vaginal exercise balls and consume a dildo as fat as the top of a soda can. Contrary to the narrative of vaginas either being pure and tight or used and loose, one can be both strong and flexible.

There's a reason I say my vagina "consumes" dildos rather than "takes" them: it reframes the action so that I'm not in a passive role. Sex isn't something done "to" me, nor is it something that "destroys" me. Sexual pleasure can be a creative and healing force.

When squeezing and relaxing my pelvic floor muscles during the crescendo of an orgasm, it feels natural and invigorating. It's something my body was made to do, like working my leg muscles during a hike or relaxing them doing yoga.

Imagine how ridiculous it would be to tell half of the population, "Don't do yoga — it'll stretch out and use up your legs. Keep your legs tight for your partner." Leg muscles can be strong and flexible. So can the pelvic floor surrounding the vagina.
View this post on Instagram
---
2

You come first.

If you're not here to have fun for yourself, what are you doing? Your ecstasy is not secondary to your partners'.

The vagina is one of many pleasure pathways, helpful for stimulating not only a penis's erectile tissue, but also a clitoris's.

Big cocks and dildos provide deep, intense pressure on the clitoral bulbs and crura — for many, resulting in longer, stronger orgasms than external stimulation alone.

As long as big dildos feel pleasurable to you and you're listening to your body, that's what matters. Liking small and average dicks is normal. So is enjoying big phalluses.

There's no such thing as one ideal size — if large insertions do it for you, focus on your pleasure first. The right partner for you will appreciate it.
---
3

Appreciate the existence of good lube.

Using big dildos takes a lot of preparation: warm-up toys, external stimulation, and of course, artificial lubrication can all help!

Lube is just another tool for pleasure; there's nothing wrong with using it! It decreases friction, keeping penetration smooth and slick even during extended sessions — and the bigger the toy, the more time you might need to get relaxed and comfortable. Reapply as you wish.

A lubricant infused with CBD makes the experience even cushier, releasing the pelvic floor of unwanted tension and calming the mind. Most CBD-infused lubes use a coconut oil base, which breaks down condoms and doesn't interact nicely with many users' vaginal microbiomes.

GoLove is water-based with clean ingredients, making it more vagina-friendly and compatible with latex barriers. It contains 2mg of CBD in every pump, allowing for easy but potent dosing. Take 20% off GoLove CBD with discount code SUPER20

That's just a starting point for lube, though. If you're moving on to full-on fisting, consider trying a thicker gel lube like Wicked Aqua Jelle or Sliquid Silk.
---
---
4

Care for your vagina and listen to its limits.

If you're feeling pain or discomfort, it's time to slow down, take a break, or switch activities. While pelvic floors can be strong, like other muscle groups, they can also get sore if you train them too hard or stretch them too fast.

Take similar precautions when going deep and trying to evade your cervix — there's no need to rush! Even I, a cervical orgasm connoisseur, need to start slow sometimes, taking my time as my vagina expands.

Comfort and relaxation are key. Going slowly means working WITH your body to make room to enjoy more, and for longer.

Build up the anticipation when climbing up the roller-coaster before releasing the best part of using big toys: the endless waves of back-to-back spellbinding orgasms. That's one of the ultimate forms of self-love.
---
Further reading on how to enjoy big dildos
This post was mostly about the mindset side of enjoying penetration. For more practical tips and tools, read my review of the Tantus Bishop XL, Fist Trainer, and Pawn — three big dildos that pushed my limits!.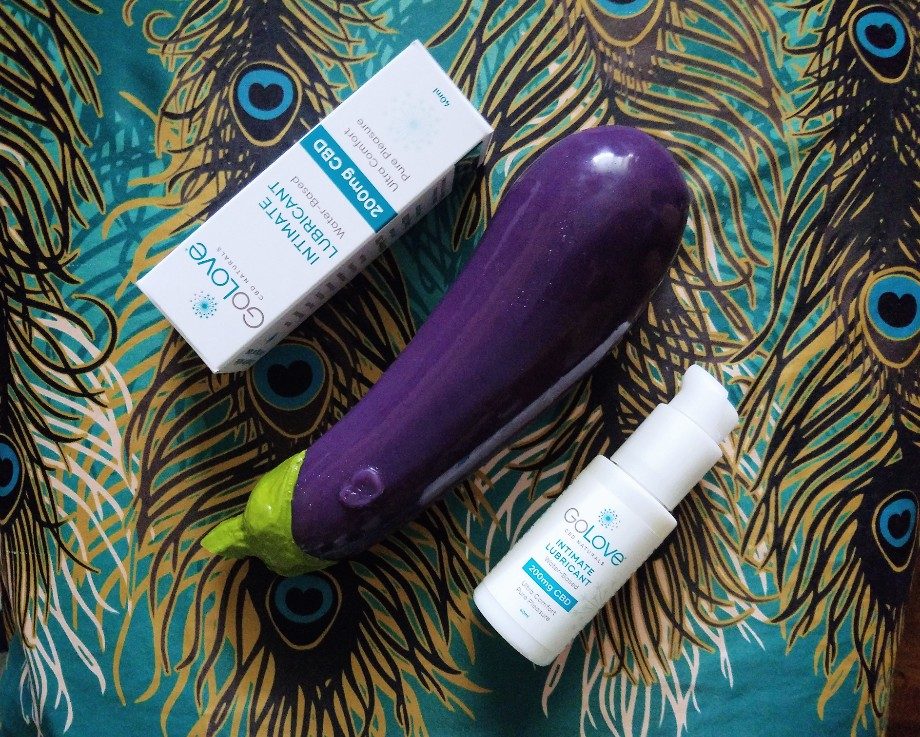 ---
This post was sponsored. All words written here are my own, as always!