Review: Uberrime Flora, Hankey's Toys Davy's Tendrils, Uberrime Teuthida fantasy dildos
Why get a bouquet when you could have a huge, lily-shaped vaginal plug? Or a super soft tentacle dildo — or perhaps better yet, one shaped like four tentacles wrapped among each other?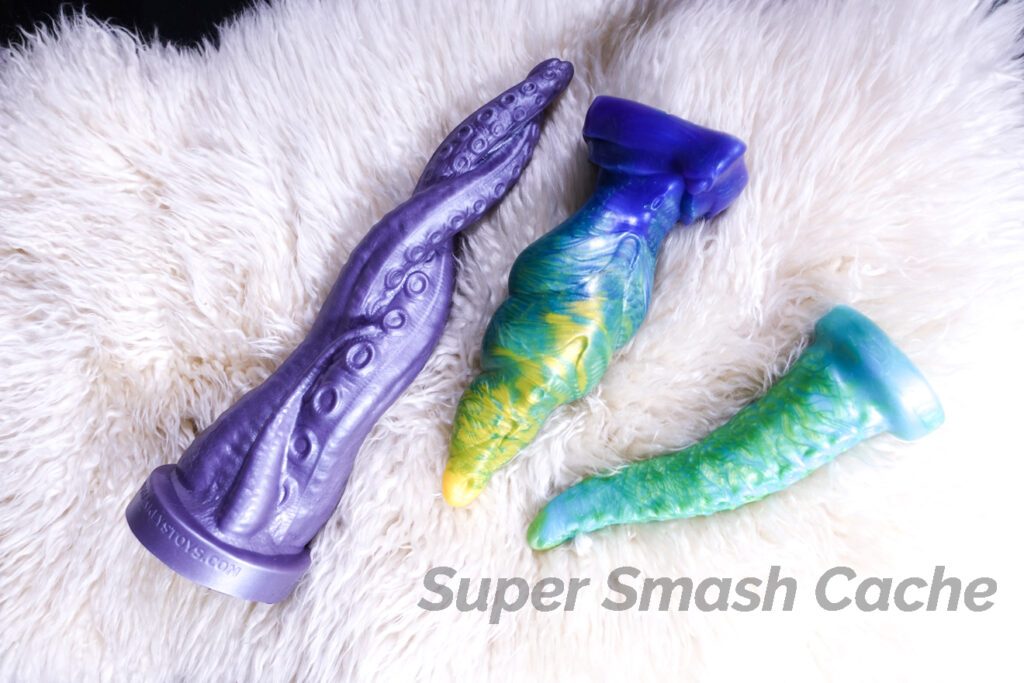 Every day is Spooky Day in this house, with the Uberrime Flora, Uberrime Teuthida tentacle dildo, and Hankey's Toys Davy's Tendrils.
---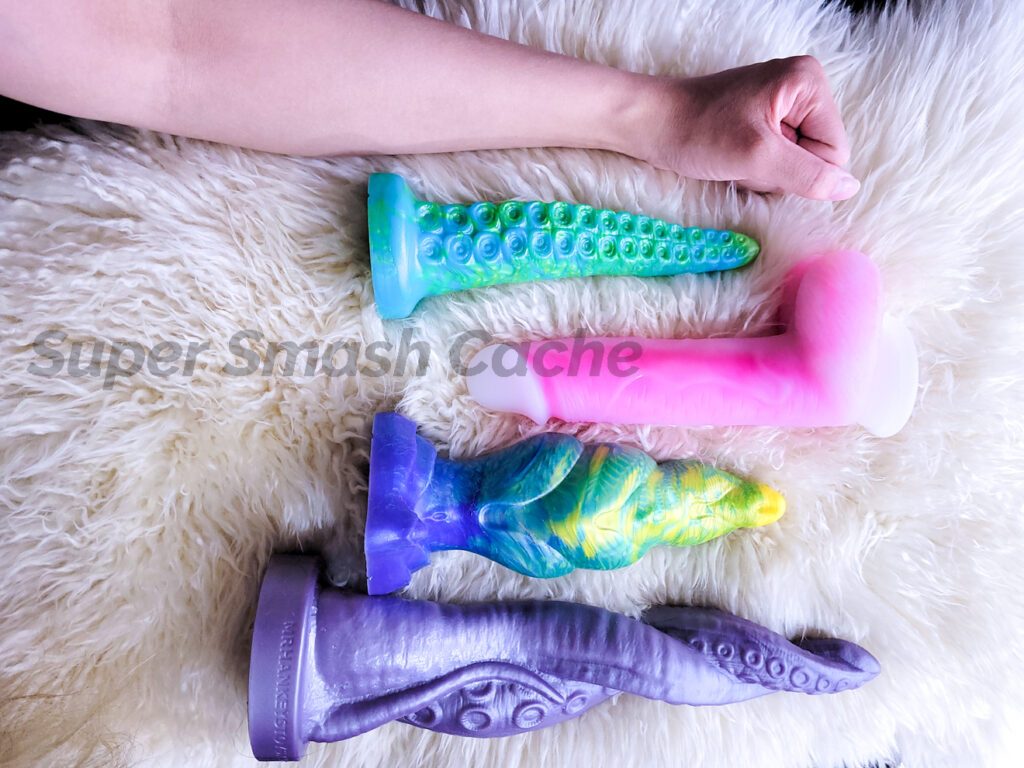 ---
Uberrime Flora huge vaginal plug and dildo
"If I can handle this, I can probably handle a newborn's head," I captioned on a Snap of the LORGE Large Uberrime Flora.
It's great for fisting prep. Plus, the Uberrime Flora is everything I wish the Tantus Ringo was for vaginal plugging.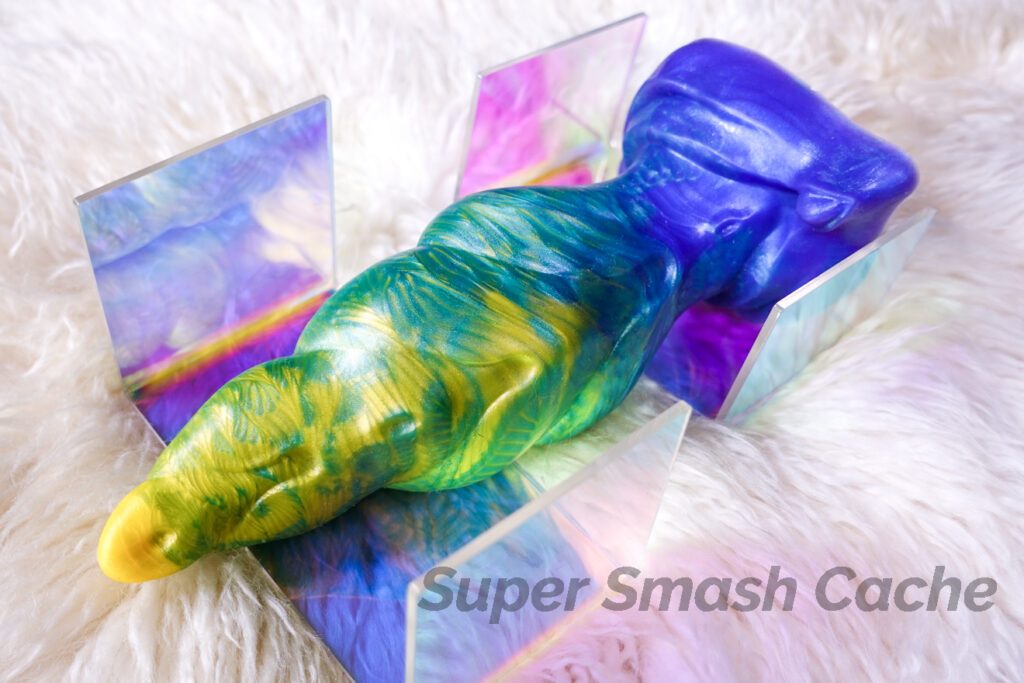 Uberrime Flora measurements
6.5″ total length
5.5″ insertable length
0.8″ diameter at tip
1.91″ maximum bulb diameter
1.1″ neck diameter
8.5″ total length
7.25″ insertable length
0.95″ diameter at tip
2.62″ maximum bulb diameter
1.67″ neck diameter
How the Uberrime Flora feels in use
Flower petals sweep down its bulbous shaft and converge around the blatantly yonic base. Its big and bold floral design is simultaneously stunning and scary; the large Uberrime Flora is not for the faint of vagina or anus.
With a maximum diameter of 2.62", this dildo is one of the thickest toys my vagina has ever consumed. It's fatter than the top of a soda can, and its girth has nowhere to go but bulge against my G-spot.
The Uberrime Flora is best for stationary stimulation and slow, small jiggling motions. Once I get past the hump, it somewhat snaps into place, akin to a plug. Hold in place the Uberrime Flora and pair it with a focused oscillator or bullet vibrator to take orgasms to the next level. Cue the clench, come, repeat cycle — if you can get the Uberrime Flora all the way in, to begin with.
All things considered, its Shore 0050 silicone softness makes it comfortable to play with for its girth. It's about the size of my hand when duck-billed but quite manageable due to being even softer than gummy candy. (Tantus's Super Soft Fist Trainer and Bishop XL are quite firm in comparison.) And the taper is just the right shape and size dildo for warming up to fisting.
There is a smol small Uberrime Flora, too, that might actually be practical as a longer wear plug, like a bigger and more ostentatious Sensi. Whereas the Uberrime Sensi measures about 1.6" across, the small Uberrime Flora is 1.9" at its widest and a loooot longer.
With how soft and off-center the Uberrime Flora's tip is, there's little concern about poking the wearer's cervix. If you have a higher-set cervix, like me, it's not particularly hard to get all 5.5" insertable length in, especially if you fold down the super slender and bendy tip.
(Of course, if your vaginal canal is shorter than mine, your mileage may vary. I'd suggest sticking to the Sensi as a vaginal plug, in that case.)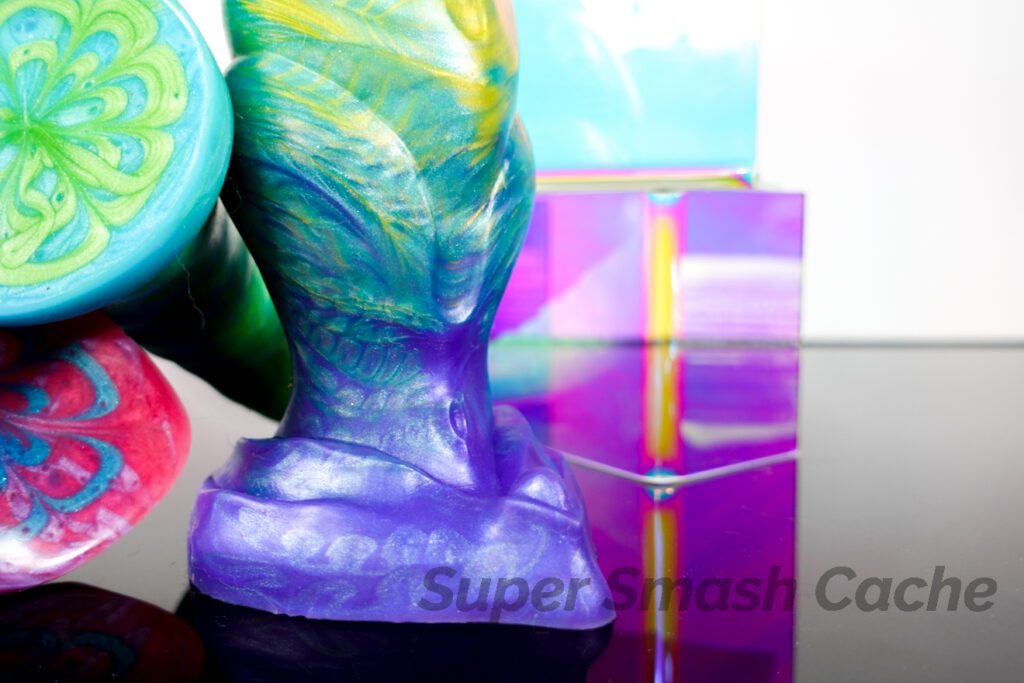 In any case, I'm excited to see Uberrime expanding to more fantasy models designed after vulvas. The beautifully filling Uberrime Flora dildo is just the beginning.
---
Hankey's Toys Davy's Tendrils super soft tentacle dildo
If you want a tentacle dildo the size of your forearm, I'm here to support your hopes and dreams.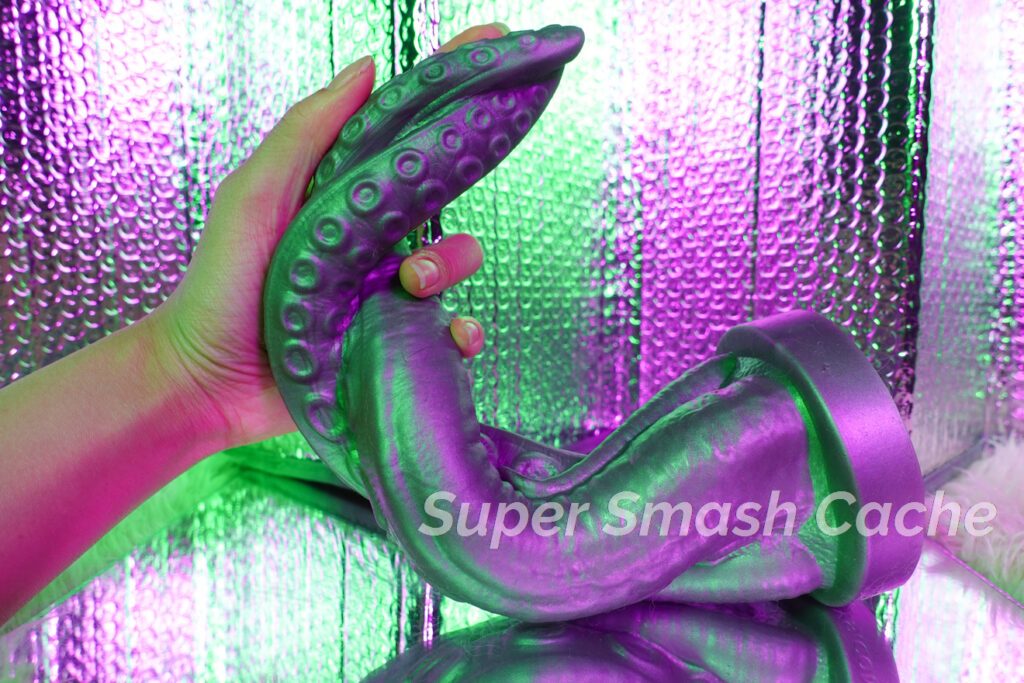 The Hankey's Toys Davy's Tendrils dildo design features two big, entwined tentacles and two small ones for added girth near the base. It's super squishy and comes in four (!!!!) sizes.
Davy's Tendrils dildo sizes and differences
Their maximum insertable diameters range from about 1.83" for XS to 3.54" for the XL. In other words, "Plausibly the size of a big human penis" to "Fist me like an endless Pringles can."
Consider the soda can dildo size comparison photos below and choose your Davy's Tendrils carefully.
Also, bear in mind that the S/M and M/L options include a Vac-U-Lock hole in the base. You can lock them on to full-sized fucking machines or insert a 0.9" wide bullet for vibrations. Or, if you're feeling particularly wild, put it on a Realm sword hilt.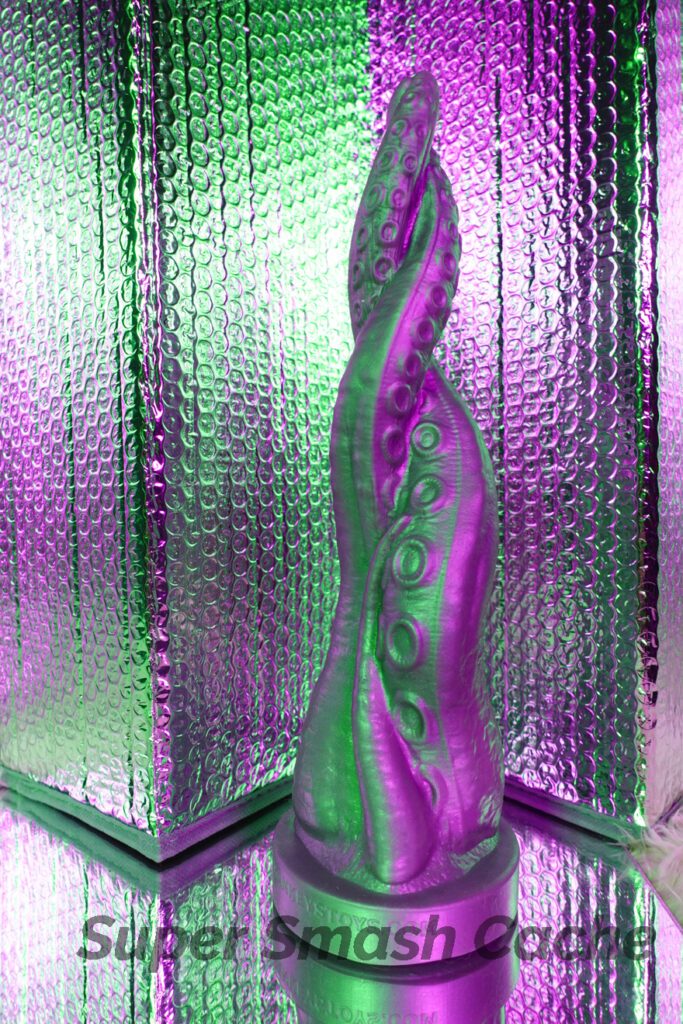 I opted for the Medium/Large Davy's Tendrils, which measures:
1.2" diameter near tip
2.15" diameter near middle
2.95" diameter near base
11.75" insertable length
12.75" inches total length
3" strap-on ring size
How the Hankey's Toys Davy's Tendrils feels in use
The Hankey's Toys Davy's Tendrils are quite faint, mostly there for visual purposes. In use, they take a backseat to the tentacles' spirals.
Think of it as a way to sample a double penetration dildo, but starting super small and ramping up. Yes, you can twist it, but I don't think that's the main appeal of the Hankey's Toys Davy's Tendrils.
Alternatively, you could fold down the thin tip to double up and get straight to double stuffing.
If you're using the Davy's Tendrils tentacle dildo vaginally, consider how much length you could actually insert, and decide which girth you'd like accordingly.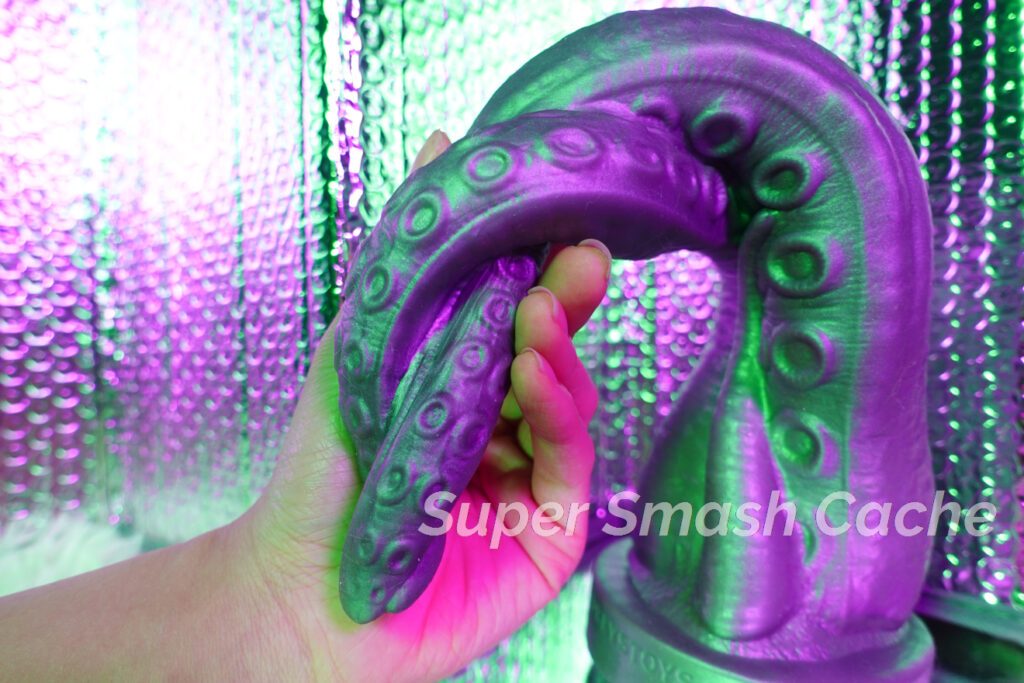 The larger Davy's Tendril size options are far more cost-effective for anal depth play. The rectum can tolerate more length than a vagina can, so if you're using this tentacle dildo anally, you're far more likely to enjoy the girth near the base. That's not my thang personally, but I understand the appeal.
If you're looking for a double penetration-like dildo, it's hard to beat the squish of the 75% soft Hankey's Toys Davy's Tendrils. The pliability is substantially easier for exploring that kink than any representational silicone double dildo I've tried. Whichever hole you play with, go forth, get stuffed, and be merry.
---
Peepshow Toys Discount code!
Take 10% off your first order at Peepshow Toys with code SUPERSMASHCACHE — restrictions apply. The discount doesn't apply to items on clearance.
---
Uberrime Teuthida soft silicone tentacle dildo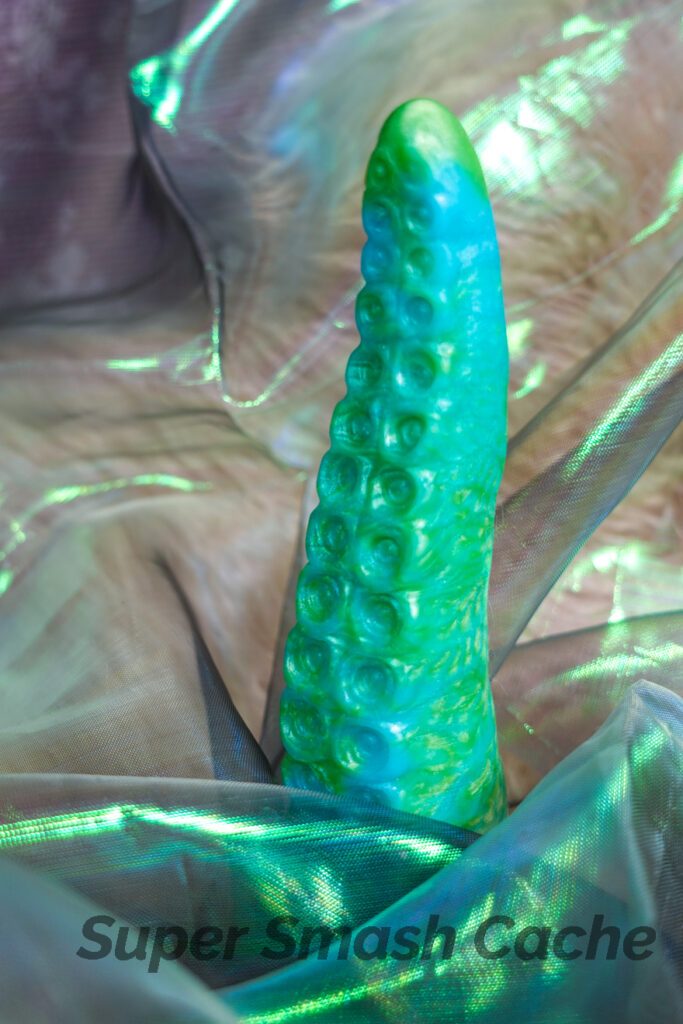 Not everyone wants a tentacle dildo the size of their forearm. Sometimes, you just want to play with textures and depth.
For those dipping their toes in fantasy Toyland, the Uberrime Teuthida is a fantastic, barely-beyond-basic choice for a tentacle dildo. It comes in two sizes, one 7" long and one 8" long.
Uberrime Teuthida measurements
0.75″ diameter at the tip
1.75″ diameter at the bottom of the shaft
7″ insertable length
8″ total length
0.875″ diameter at the tip
2.07″ diameter at the bottom of the shaft
8″ insertable length
9″ total length
How the Uberrime Teuthida tentacle dildo feels in use
My favorite way to use the Uberrime Teuthida? Inserting it all the way in and twisting, of course! It's too soft and slender to make me come via cervix massage alone, but I much appreciate that defined edge where the suckers' flat face meets the rest of the toy's curvature.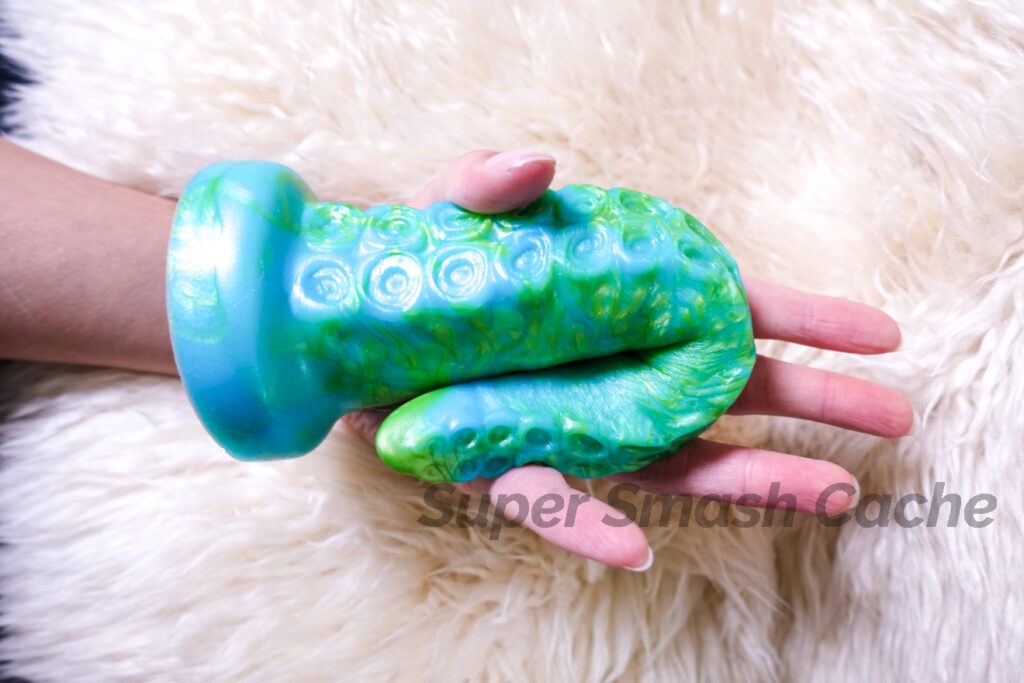 The suckers feel quite gentle against my front wall while the edge ever-so-slightly digs into where my urethral sponge recedes on either side. I often don't discuss stimulating the lateral pockets around the cervix, but you can certainly do that with the Uberrime Teuthida's apex.
Beyond that, the Uberrime Teuthida doesn't have much pizazz or intensity, but maybe that's what you're looking for in a tentacle dildo. Plenty of users crave that squish, opting for dildos even softer than gummy candy.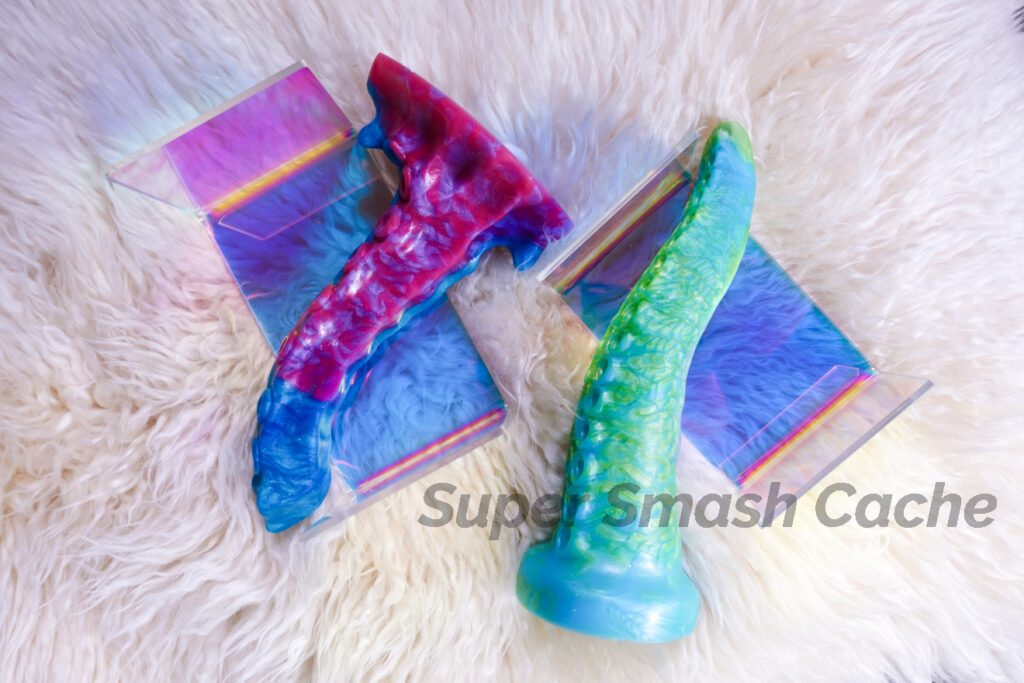 If you're built like me, you want something with more focus and near-severe intensity. In that case, consider the denser and even sharper Uberrime Xenuphora.
---
More fantasy dildo reviews!