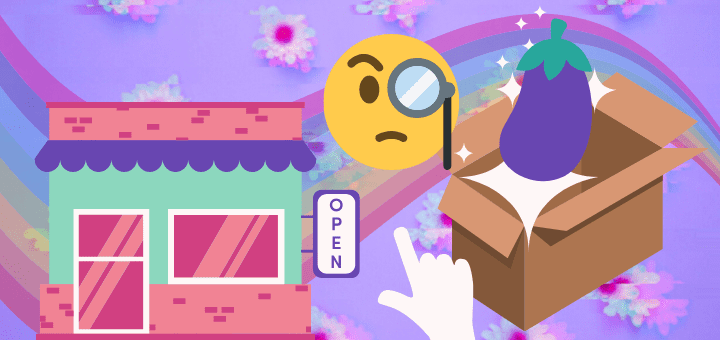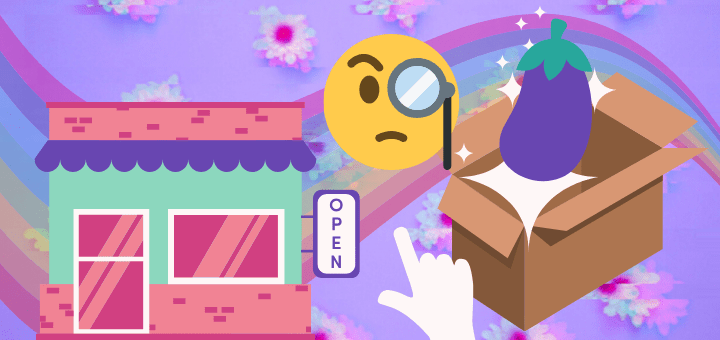 About these amazing online sex shops:
Every shop in list below is an excellent place to get body-safe sex toys, but they each have a little something-something that makes them unique. I'd rather you didn't buy sex toys from Amazon because of the chance that you'll get a knock-off/counterfeit — or worse, something toxic to your health.
I also earn a commission at no extra cost to you when you use my links. Clearing your cookies before clicking helps make sure the commission goes to me. Thank you!
---
Spectrum Boutique: hand-picked by sex educator & artist Zoë Ligon

Spectrum has beautifully curated toys, a huge variety of sex ed books, and some hard-to-find dils by Luz Arte. Get 10% off your first order at Spectrum with coupon code SUPERSMASH10
---
Peepshow Toys: curated, quality sex toys for every body and budget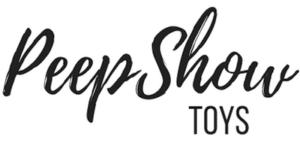 Quickly find affordable toys and luxury toys, all made with high-quailty materials. Yes, that includes artisan dildos by Uberrime, Squarepegtoys, Hankeys' Toys, and more!
Free shipping on orders over $70. Or upgrade to Fedex 2-Day shipping on select items for just $6.
Save 10% off your order with coupon code SUPERSMASHCACHE
---
SheVibe: low prices, vast selection, kick-ass artwork


Seriously, they're the first shop I check when looking for a specific product. Along with basic NoFrilldos, they have a great selection of unique toys from Funkit, plus other hard-to-find brands like BS Atelier and Hole Punch Toys. Plus, free shipping on orders over $75.
---
Good Vibrations: an oldie but goodie with an easy-to-use interface

The original Good Vibrations shop was founded in 1977. Though plenty of sex shops refuse to stock toys with phthalates, Good Vibrations was one of the first. I highly recommend using Good Vibrations' website if you're easily overwhelmed by choices— their filters are super helpful.
---
Early to Bed: another oldie but goodie indie shop
Early to Bed is a Chicago-based indie shop that's been around for a very long long time. They were established in 2001, and they're run by some of the warmest people in the industry. The website is very personable— Early to Bed writes their own pros, cons, and helpful usage tips in every product description.
---
The Pleasure Garden: UK-based, inclusive & disability-friendly

I highly recommend the Pleasure Garden shop if you live in Europe! They place heavy emphasis on accessibility, AND you can ask them for personalized sex toy recommendations relating to disabilities and medical conditions. Free shipping on orders over £50. Get 10% off with coupon code SUPER
---
Betty's Toy Box (and their Canadian sister site, Naughty North)
Betty's Toy Box is another fantastic online sex shop, with a great selection, seeking to educate their buyers. They're super nice people to work with, and I've written quite a few sponsored posts for them:
---
Sex toys straight from the manufacturer
---
Porn
---
Phone sex and sext chatting
Spicy text with me on Niteflirt or browse other phone sex operators and flirts. Your choice. <3
---
At-home health tests
(STIs, fertility, and more)
---
Adult-friendly web hosting
Sign up for Dreamhost and get $50 off a shared hosting plan (the most affordable one) or pick your own plan!