Magic Wand Plus review: rumbly corded wand vibrator / Hitachi upgrade by Vibratex
The Magic Wand Plus is the first external wand-style vibrator I love. I could tell from the moment I turned it on and heard the motor's gloriously low purr that it was meant to be.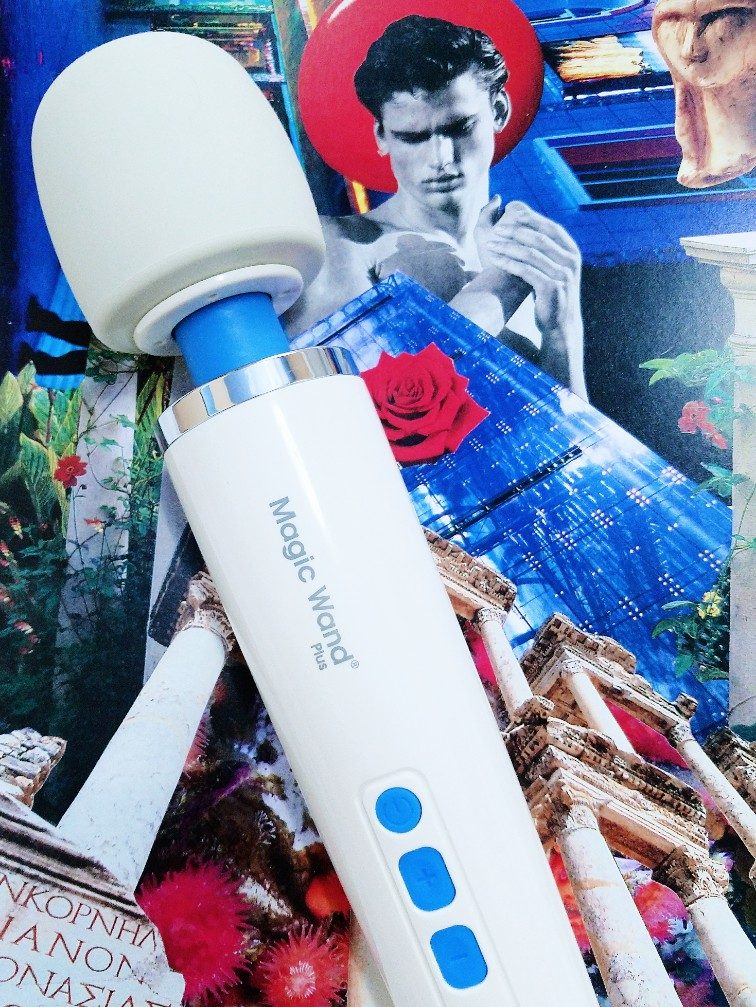 I stan it. I have only one whole complaint about the Magic Wand Plus, and even that isn't a deal-breaker.
That's saying a lot, considering I'm a pinpoint princess who usually doesn't fuck with wands. Here's the thing, though: if you're a sex toy reviewer, it's just rude to turn down an upgraded Magic Wand, especially with the knowledge that the Magic Wand Rechargeable is considerably rumblier than the Magic Wand Original. The Magic Wand Plus is an in-between where you have the Rechargeable's four settings and vibration quality, but at a price closer to the Original's.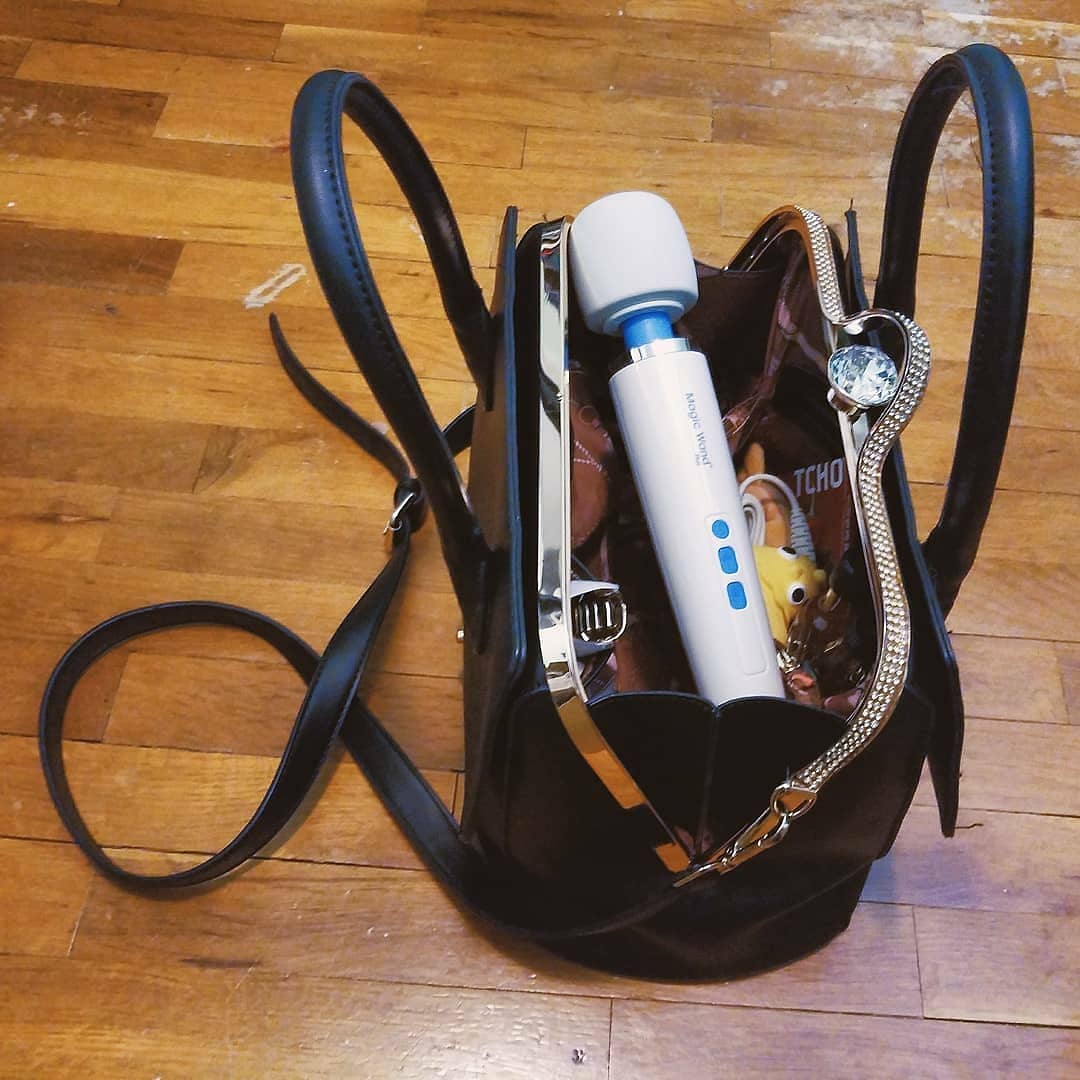 When not in use, my Magic Wand Plus rests not on my nightstand, but in my purse. Condoms? Check. Coconut-flavored Hathor/SUTIL lube? Check. Magic Wand Plus? Check. If I remember, I'll add a toothbrush, make-up remover, brow pomade, and an angled brush, and that right there is my sexy date kit. I wouldn't be without my Magic Wand Plus in my bag nowadays.
Update: Sorry, Magic Wand Plus. You have been overthrown by the Doxy Die Cast.
Why the (formerly Hitachi) Magic Wand is a must-have for many
I usually hesitate to make sweeping generalizations like, "Everyone neeeeeds this sex toy!" There's no such thing as a sex toy that works for everyone. However, the Magic Wand Plus comes closer to that than anything else I've ever owned.
Update: I still stand by that — the Magic Wand Plus's speed range suits many people, whereas the Doxy Die Cast is for diehard power queens wanting their internal clitoris shaken and bones rattled.
Okay, so it's not pinpoint, but it's rumbly and defined enough for me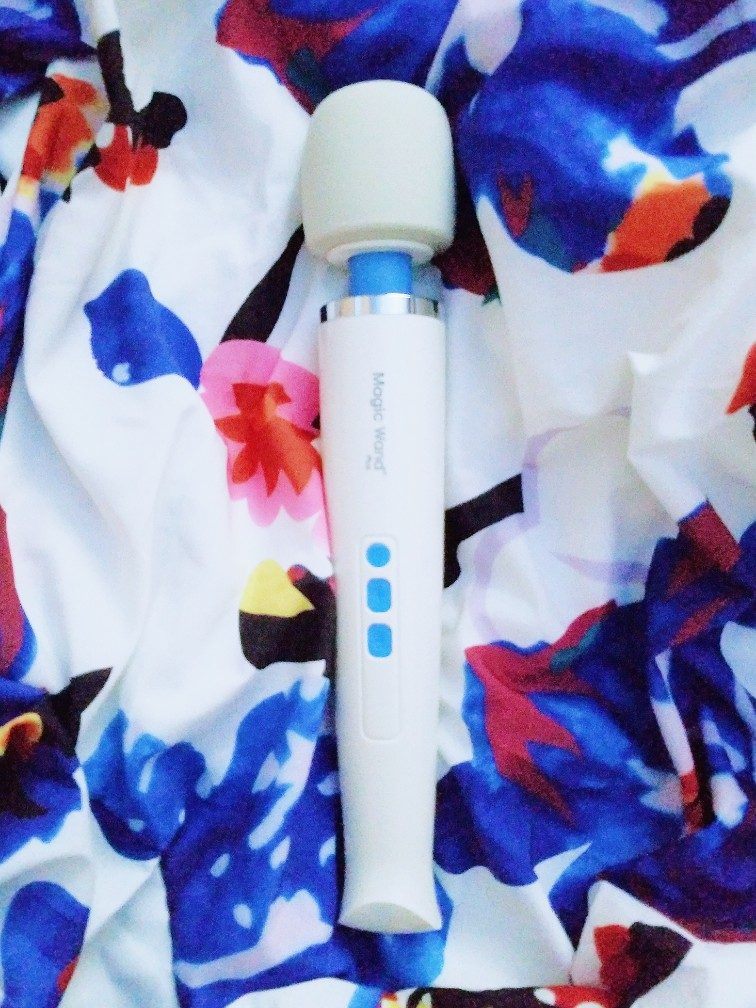 The rounded "edge" around the top of the Magic Wand's head is about as defined as the side of a mid-sized G-spot vibe. Consider, for example, the Mona 2 or BMS Factory Pillow Talk Sassy's sides. Pinpoint? No, but combined with the rumble of the Magic Wand Plus's lower settings, it's nevertheless the right type of power for me. And the three buttons allow me to turn the intensity up and down as my orgasms ebb and flow, and my sensitivity wavers.
That brings me to a perk of broad stimulation: when I'm oversensitive after orgasm, I press the Magic Wand Plus's head against one of my labia and let the thuddy vibrations travel through my internal clitoris. Yes, if you like indirect stimulation or want your whole CUV complex shook to oblivion, this is for you.
(The Magic Wand Plus might not be as powerful as the Doxy Die Cast, but it's only in second place. Plus, it's far more affordable and a steal for the price.)
Impressive as a vibrator for penises
The side of the Magic Wand's head is also broad enough that I'd happily hold it against a partner's dick through his pants. And, let's not forget: there is no shortage of pinpoint or penis-oriented attachments to use with it. All of these perks apply to every iteration of the Magic Wand.
Magic Wand Plus vs. Magic Wand Original
But now we're getting to the good stuff: what sets the Magic Wand Plus and Rechargeable apart from the original. Unlike the Magic Wand Original's two speeds, the Magic Wand Plus features four speeds. Think of the Original's power, plus two lower settings. But deeper and richer in timbre and substantially quieter.
Though the Plus's highest setting is loud, it's not at the level of a generator or a thousand simultaneously whining Squidwards, unlike the original. As well, the Magic Wand Plus's cord detaches for easier storage.
The Magic Wand upgrades feature lower-pitched vibrations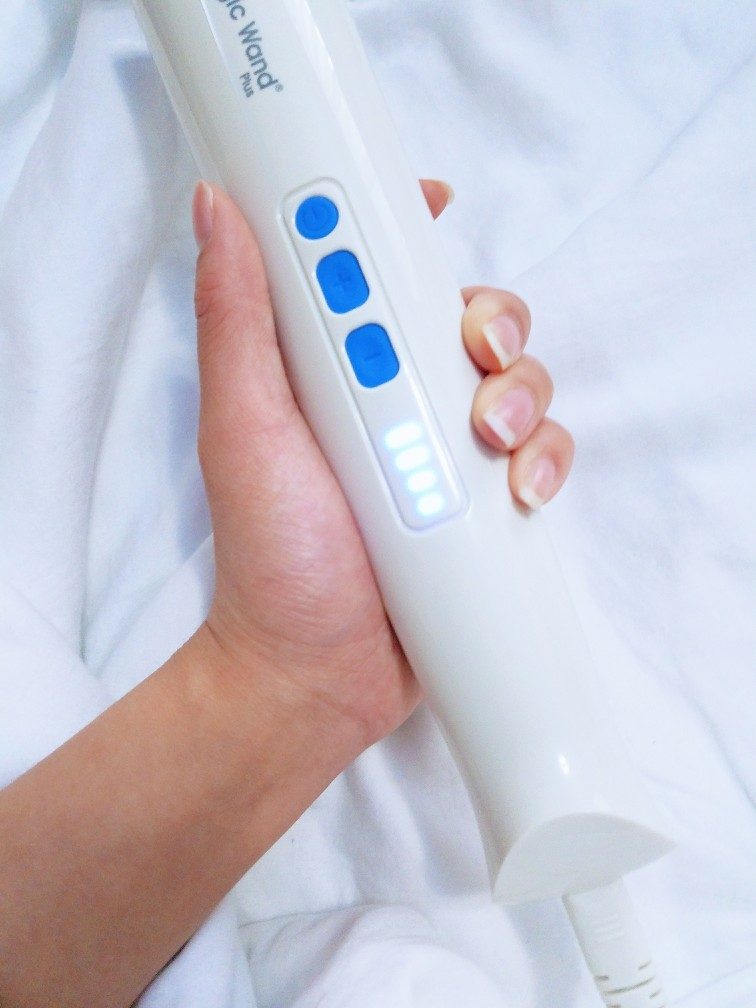 My favorite speed on the Magic Wand Plus is the lowest one, which I feel enhances rather than veils the amplitude. Mostly, I alternate between that and the second speed. The result: mindless self-indulgence. Coming without taking my pants off. Rapid cycling between plateaus and peaks. Back-to-back multiple orgasms that blur together. Just the way I like it. Coming for 20 minutes straight isn't unusual for me with this wand, putting it on the same godly tier as the Eroscillator. As well, along with the Eroscillator and Zumio, the Magic Wand Plus is one of the few toys that can make me squirt.
The Magic Wand Plus and Magic Wand Original splash about the same amount when their heads are in water. SO MUCH SPLASHING. SO MUCH MOVEMENT. But subjectively, the Magic Wand Plus's silicone head feels deeper and more kneading. I reserve the highest speeds for when I want to kick it up a notch and turn it back down. Or if I feel like coming and crying and dying and resurrecting.
I don't love the original Hitachi Magic Wand, and that's okay
It's not even that I can't handle the higher settings or that they're painful. They're "insta-come or insta-numb" for me, which reminds me of why I wasn't head-over-heels for the original. For one, liberal use of the highest speed makes my vulva itchy. But also, if I try to use only speeds 3 and 4 without warm-up, I either come instantly, or I'm numb and stuck trying to for fifteen minutes.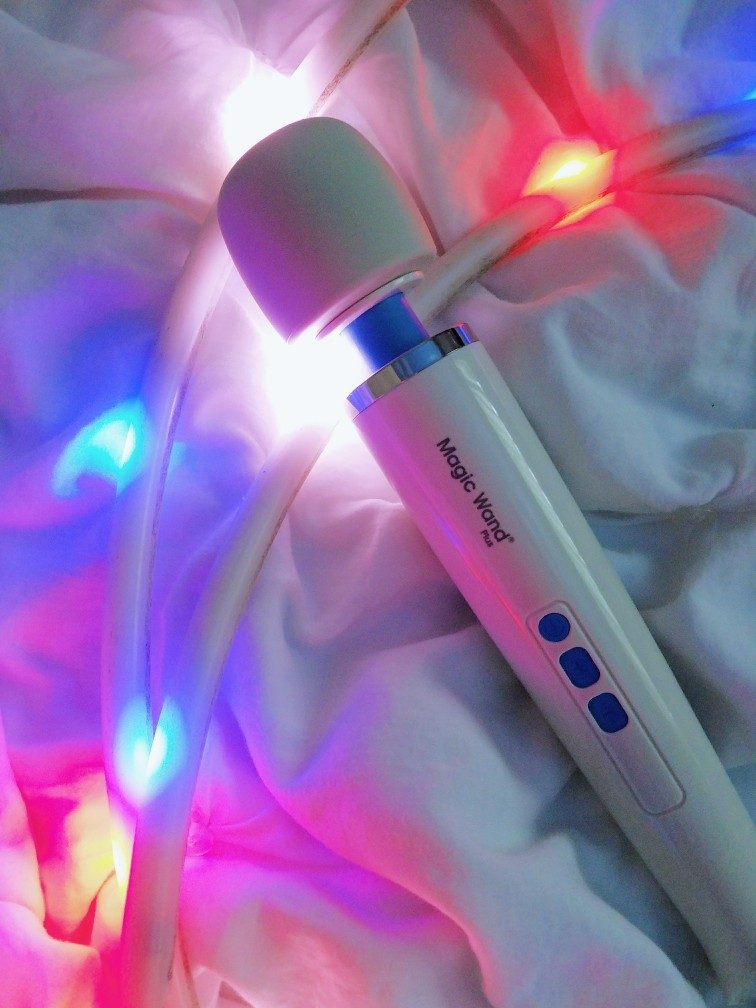 The most annoying downside of the Magic Wand Plus
Maybe that doesn't sound like a lot to you, but it's distracting to know that I'm at the mercy of the 20-minute automatic shut-off timer. Yep, it turns off after 20 consecutive minutes of use, regardless of what speed setting you're using. That is A Thing with the Magic Wand Plus and Magic Wand Rechargeable. Ostensibly to prevent the wand from overheating. But neither of the Magic Wand upgrades heat up— only the Original does.
And I can immediately turn the Magic Wand Plus back on????? What's the point??? If the so-called "feature" were of any use to prevent the damn thing from breaking, it'd let the wand chill before turning back on. So at best, the Magic Wand Plus's automatic shut-off is useless, and at worst, it's a curse.
It's been four years since Vibratex released the Magic Wand Rechargeable. With the new Magic Wand Plus, they had a chance to nix this nuisance— to bring it closer to perfection. But no, they ignored the feedback. What's up with that, Vibratex?
My verdict on the Magic Wand Plus by Vibratex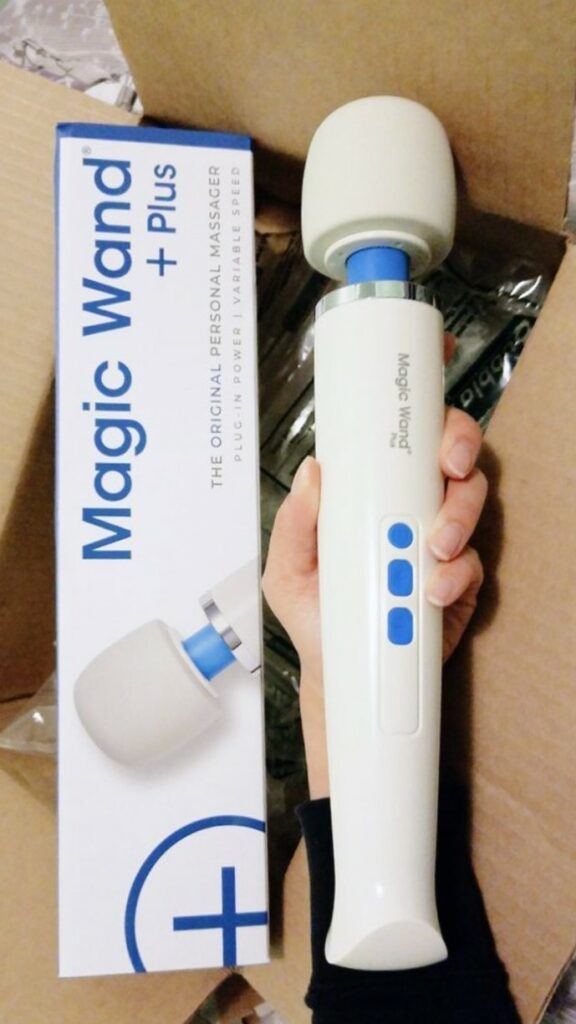 My annoyance lasts at most 30 seconds before I come again, though. The trade-off is worth it to me. This vibrator is a perfect sweet spot between the Magic Wand Original's price and the Magic Wand Rechargeable's lower speeds, purring vibration quality, and non-porous silicone head. And I'm all for that. There are plenty of pricey toys that are well worth it, but the Magic Wand Plus is one of the best sex toys you could get for under $80. Its quality-to-price ratio is hard to top.
The Magic Wand isn't for everyone…
For those who need or strongly prefer pinpoint stimulation, none of the Magic Wands can replace a trusty We-Vibe Tango or Zumio. If you seek a less severe wand that you can gradually ramp up, don't get a Magic Wand. Save money and get a Pillow Talk Cheeky instead. If inserting the Magic Wand's head appeals to you, maybe consider a BMS Swan Wand (oof, check out its splash).
And maybe the Magic Wand isn't powerful enough for you. In that case, get a Doxy Die Cast — the strongest wand vibrator I have ever tried.
The Doxy Die Cast's six intensities, in contrast, range from "OMFG!" to "EXCUSE ME WHILE I EXTRACT MY SOUL FROM MY BODY?!?¿?!"
…but it's a fantastic fit for many, including me
Let's say you're looking for a dependable power tool. If the Magic Wand Original intimidated you because you didn't want to be stuck with only "holy fuck" and "HOLY FUCK" settings, yes, get the Magic Wand Plus Separate light dimmer not required.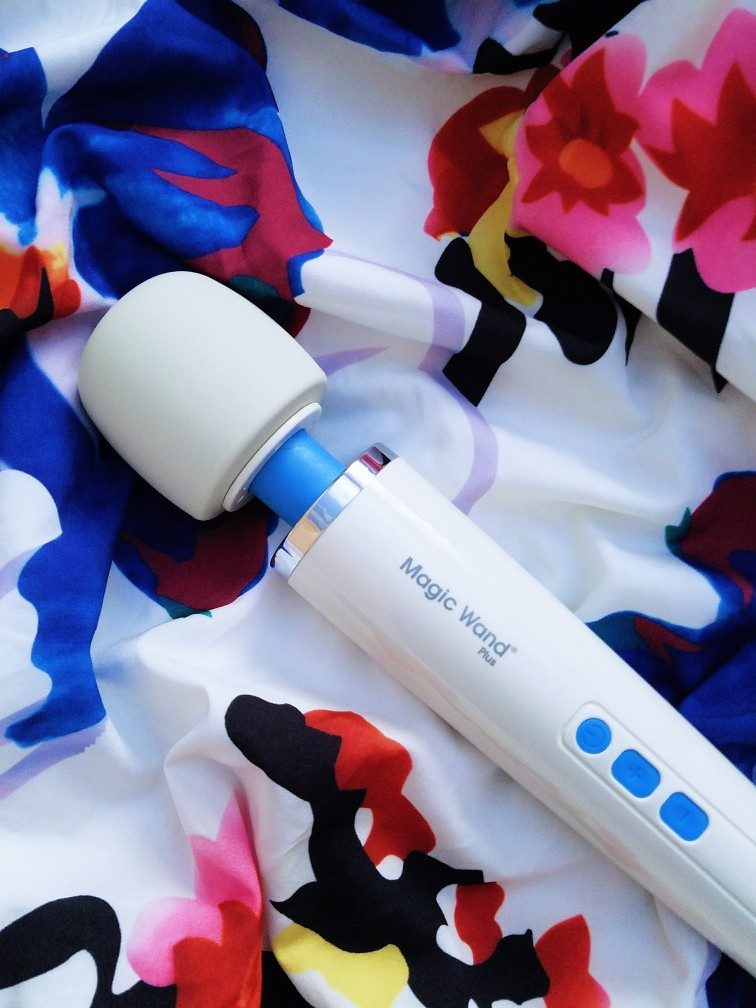 The Magic Wand Original felt like something I "should" worship because I'm a sex geek, instead of something I personally enjoyed. But once I checked up the upgrades, the Magic Wand Plus had become a staple in my emergency kit— as essential as condoms and lube.
---
You heard me. Get it.
I do make a commission when you clear your cookies and buy from my links. But even if I didn't, I'd still tell all my friends about the Magic Wand Plus, with its quirks and all. It's a vibrator that everyone deserves to be at least aware of.