Doxy Die Cast review: wand better than Hitachi!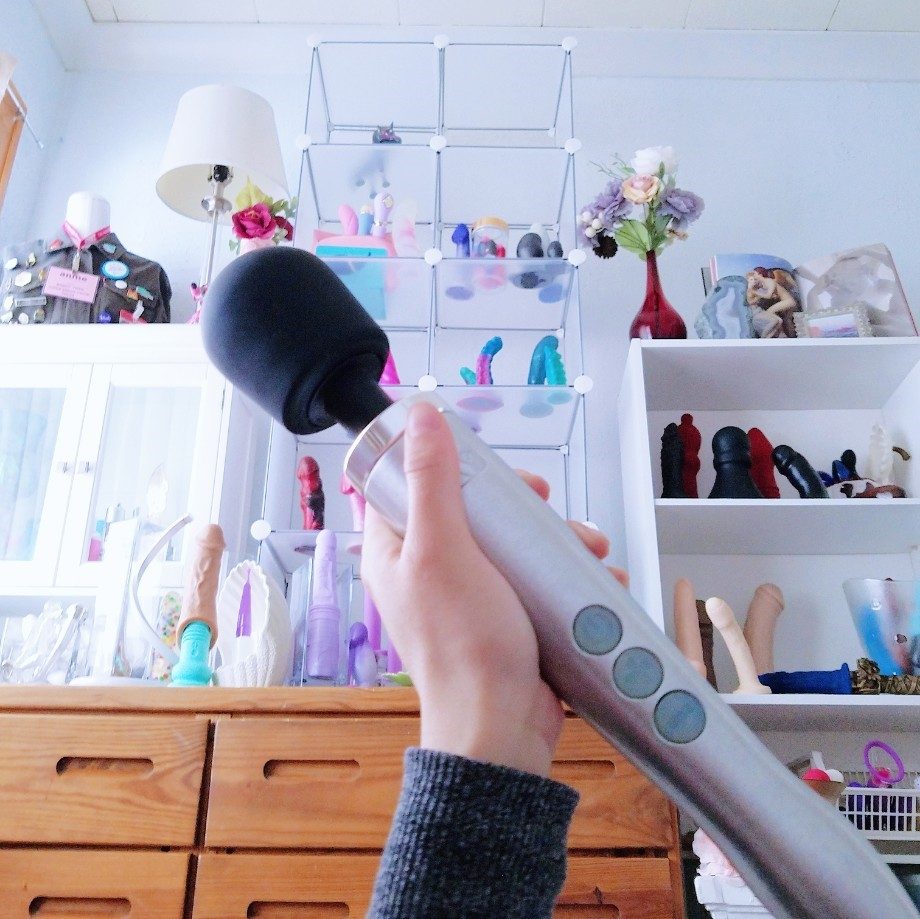 The Doxy Die Cast is the absolute most powerful wand vibrator I've ever tried, dethroning every current iteration of the Hitachi Magic Wand.
When I orgasm with the Doxy Die Cast, my pelvic floor has one primary objective: DESTROY. Crush anything that might be inside my vagina.
If you've heard me grunting when lifting weights, you've heard a sampling of what I sound like with my Doxy Die Cast. It's the most enthralling workout-turned-exorcism, leaving me breathless. There's pumping iron, and then there's wielding the Doxy's metal alloy body.
The plateau phase is pure bliss. It feels like any time I'm riding the wave is the right time to die — like a perfect moment to have a flux of DMT and celestial out-of-body visions. How many octaves do you think I could scream and gasp, "God" and "fuck" over and over again? THIS IS WHAT IT MEANS TO BE ALIVE.
I don't know if I can go back to any other wand massager!
---
In this Doxy Die Cast review
---
Doxy Die Cast massager vs. Magic Wand Original and Magic Wand Plus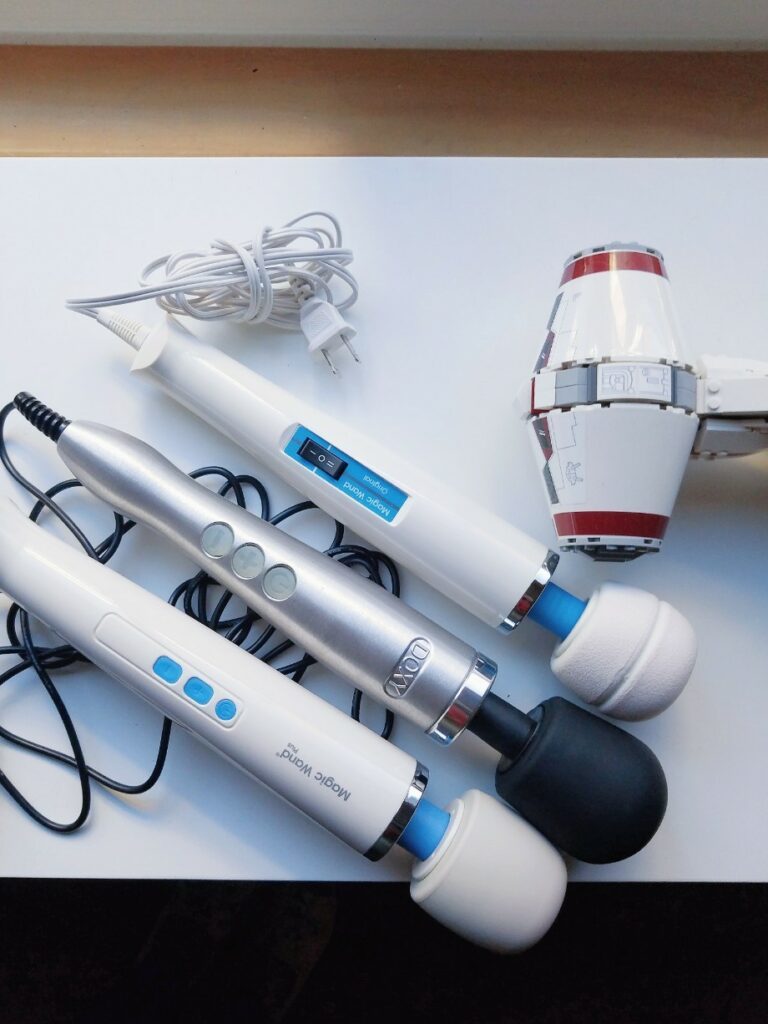 The grandmother of power tool-level vibrators, Hitachi Magic Wand Original, has two settings: "OMG" and "OMFG!"
The Doxy Die Cast's six intensities, in contrast, range from "OMFG!" to "EXCUSE ME WHILE I EXTRACT MY SOUL FROM MY BODY?!?¿?!"
Though I've lauded the upgraded Hitachi Magic Wand Plus's and Magic Wand Rechargeable's thuddy rumble, they can't compare to the Doxy Die Cast. They really, really, can't.
When I hold my Doxy's head in my hand, the vibrations travel up to my bicep, even on the first setting. Yes, it's as uncomfortable as it sounds. I don't recommend doing that.
The Magic Wand Plus's only go a little up my forearm, once the wands are turned up to comparable frequencies. I'm super scrawny, so take that with a pinch of salt.
Nevertheless, there's a noticeable difference in vibration depth.
Doxy and Magic Wand speed settings: RPM comparison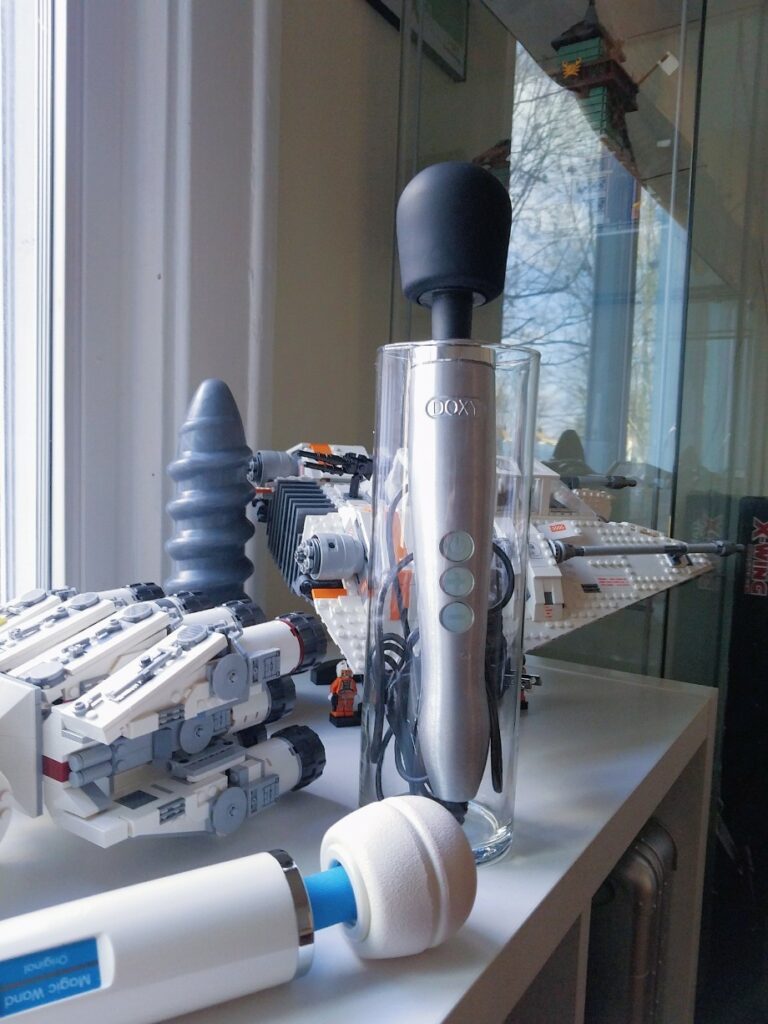 While it's true that the Magic Wand Original is extremely powerful, it's also high-pitched to compensate for the relatively shallow vibrations. (Emphasis on "relatively" — they're still deep compared to some other vibrator types, but not to wands!)
The Doxy Die Cast's 6th and highest setting is 9,000 RPM. It surpasses even the Magic Wand Plus's 6,300 RPM (and the Original's 6,000) by a long shot, BUT it maintains thuddiness.
I want to re-emphasize that last part. Any powerful wand vibrator that goes up to super-high frequencies can feel buzzy— the speed veils and overpowers the depth. BUT! Doxy's Die Cast massager has so much weight to its vibrating head that it doesn't feel nearly as shrill to me as the Magic Wand Original does.
The latter (and the Magic Wand Plus's higher speeds) can feel itchy or numbing sometimes, especially if I'm not already aroused. Thank goodness the Doxy's lowest setting is 3,000 RPM (a sub-bass 50 Hz), and the Magic Wand Plus's is 2,700.
The Doxy Die Cast's vibration quality is more refined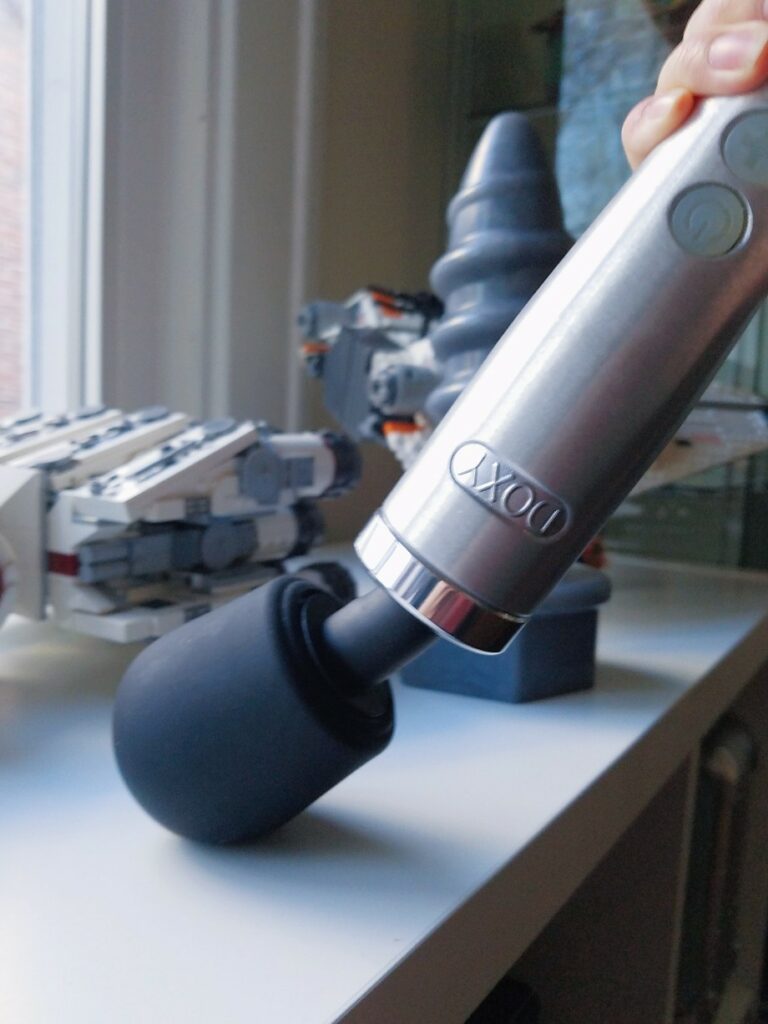 With the Doxy Die Cast, this irritation doesn't happen anywhere near as quickly nor as often. I always come quickly — nearly instantly— when using the Doxy. Always, always, always.
With the Magic Wand Original, I can orgasm, but usually resentfully. I don't enjoy the journey, and the destination is fleeting. It's sharp and biting, lacking refinement. I'm not exactly a fan if you couldn't tell.
The Magic Wand Plus and Rechargeable feel more luxurious than their predecessor, but they still have nothing on the Doxy Die Cast.
That's not to say that everyone should get a Doxy — far from it. I think of the three powerhouses in this review, the Magic Wand Plus (and its fraternal twin, the Magic Wand Rechargeable) is the most versatile. It's plenty rumbly and has options for lower intensities than the others. For many people, that's a good thing.
Not everyone wants to remotely feel like their wand massager could sand their clit off. I'm exaggerating, but you know what I mean.
Doxy Die Cast vs. Doxy 3 and Doxy 3R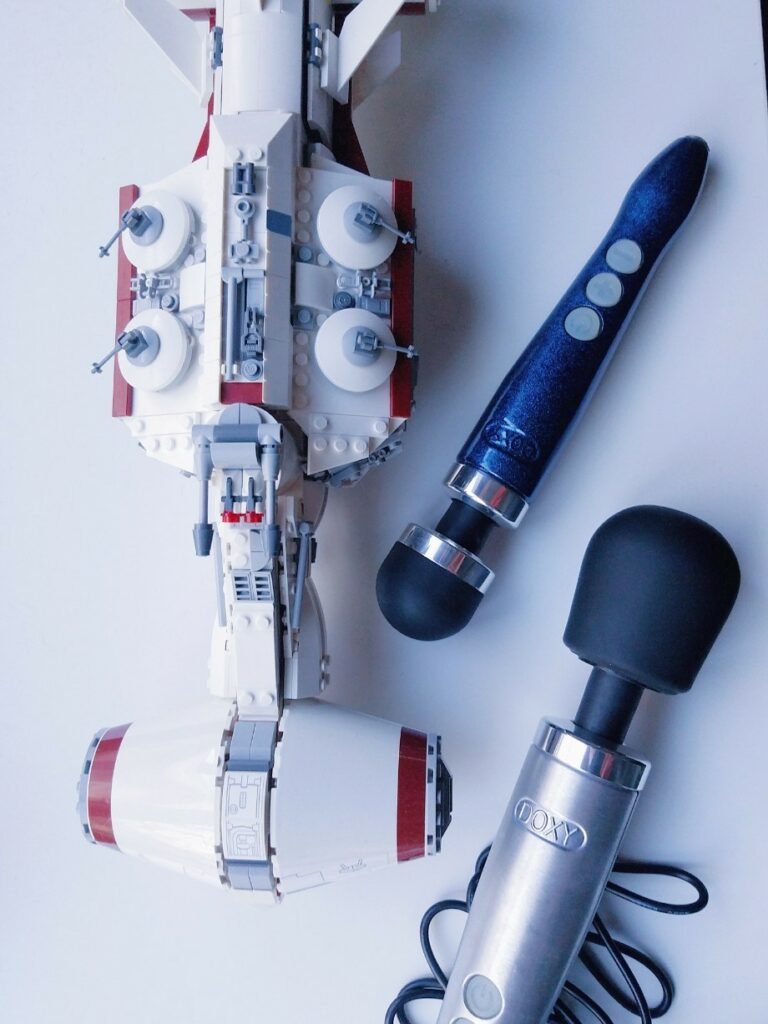 The Doxy Die Cast is a must-have if and only if you're a diehard power queen. It does not have any subtlety. If you want something less hardcore and more compact, the Doxy Number 3 and 3R (rechargeable) are also fantastic options.
I call them the "Doxy Smols" and the Doxy Die Cast the "Doxy Lorge." The Doxy Smols are substantially smaller, measuring 11 inches long and 1.75″ diameter (compared to the original Doxy's 13″ long and 2.38″ wide) and about half the weight of the Doxy Die Cast (350 g vs. 500 g).
Recommended wand + dildo pairings for dual stimulation
The smaller Doxy wands are targeted enough for powerful clitoral stimulation during penetration, even when I'm using the njoy Eleven or THICC AF Tantus Bishop or Fist Trainer. A mini-wand is a must if you're looking to level up in dildo size!
In contrast, the Doxy Die Cast is best paired with a small-to-medium dildo. I'm partial to firm sex toys, so I'd recommend something like the NS Novelties Glass G Wand, njoy Pure Wand, or Désirables Dalia.
If you want more flexibility, consider a Svakom Keri, BS Atelier Max, VixSkin Mustang (squishy, realistic, and mid-sized all-arounder), or Blush Neo Elite.
Difference between Doxy Die Cast and Doxy 3 Rechargeable in use
At first glance, it doesn't seem like there should be much difference between the Doxy Smol and Doxy Lorge Die Cast. In use, it's a whole other ball game.
The bigger Doxy Die Cast presses against and shakes my internal clitoris's "legs" more.
Which brings me to an interesting side effect of using the Doxy Die Cast wand often: it's made my vulva more sensitive to stimulation.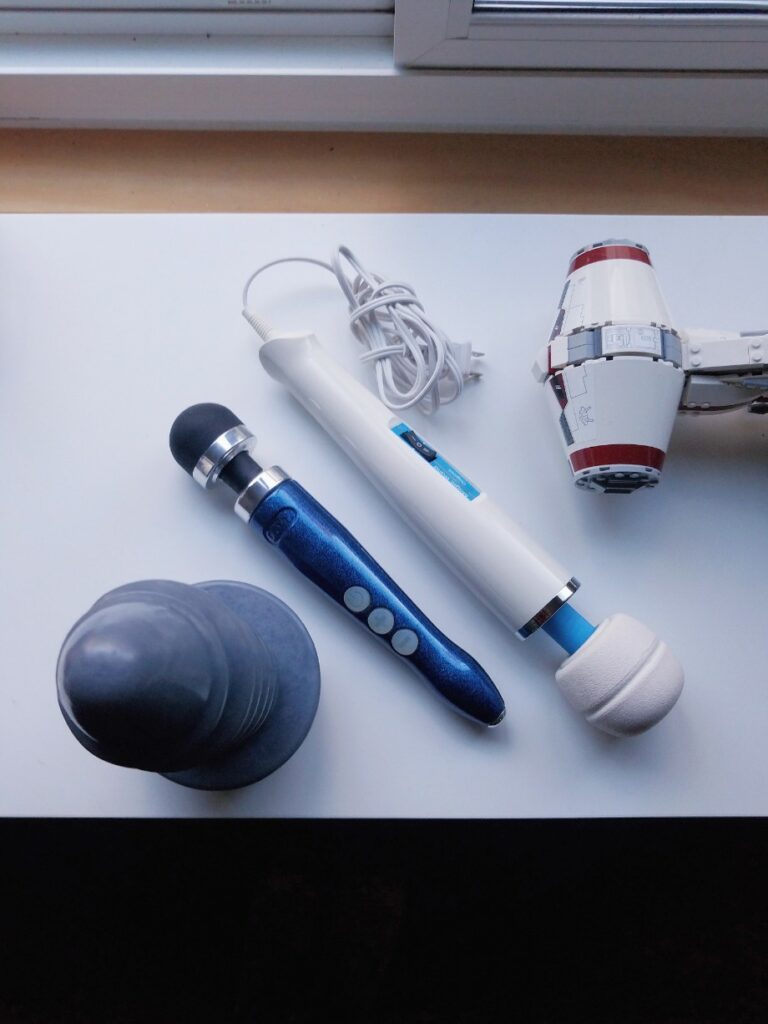 Part of that goes back to the strong contractions this vibrator induces during orgasm — exercising the pelvic floor and increasing blood flow.
The orgasmic contractions almost feel violent.
They're way more forceful than anything the MyStim Sizzling Simon or Cal Exotics Impulse E-Stim Wand has induced. It's a workout for sure, further intensified when I squeeze around a bulbous dildo like the LuzArte Jollet.
But also, the deep and rumbly vibration has made me hyper-aware of my clitoral crura's precise positioning, wrapping along either side like a wishbone in my labia majora.
The Doxy Die Cast feels even better than the Hitachi Magic Wand for me
Usually, with the Magic Wand Plus, I push the head's rounded "edge" against my glans — the external portion of the clitoris. With the Doxy Die Cast, though, I finally feel — not just understanding intellectually and saying, "I see where you're coming from," but fully experiencing — what diehard wand queens live for.
My whole vulva is shook, and my entire CUV complex is rattled. I get it now. I have seen the light.
I could spit RPMs and specifications on paper at you all day. In practice, no other vibrator has done that for me like the Doxy does, nor made me sweat this much. Not the Magic Wand Original. Not the Magic Wand Plus.
It's like the difference between reading romance novels and falling in love after you thought you had given up.
In the words of Taylor Swift, "You understand now why they lost their minds and fought the wars. And why I've spent my whole life trying to put it into words." That's a surefire sign that the Doxy Die Cast is the absolute most rumbly wand vibrator I have ever tried.
Don't get me wrong — I still like pinpoint vibrators, like the Fun Factory Volta and Eroscillator. However, the Doxy Die Cast is the best of its broad-bodied class.
It's my Pareto principle workhorse, nowadays used far more often than any other wand I have.
Using the Doxy Die Cast vibrator with a partner
I'm also usually a deep penetration princess, but video chatting with my boyfriend while using the Doxy Die Cast feels intensely intimate.
The combination of looking into his eyes and using the wand on my vulva can set my soul on fire. We're social distancing in this pandemic, but the sheer ferocity of the experience brings us closer.
Once quarantine ends, though, you bet I'm using my Doxy Die Cast on his penis. Teasing him while he's reading, or while I'm straddling with the massager against both of us at the same time — wands are more versatile than people give them credit for.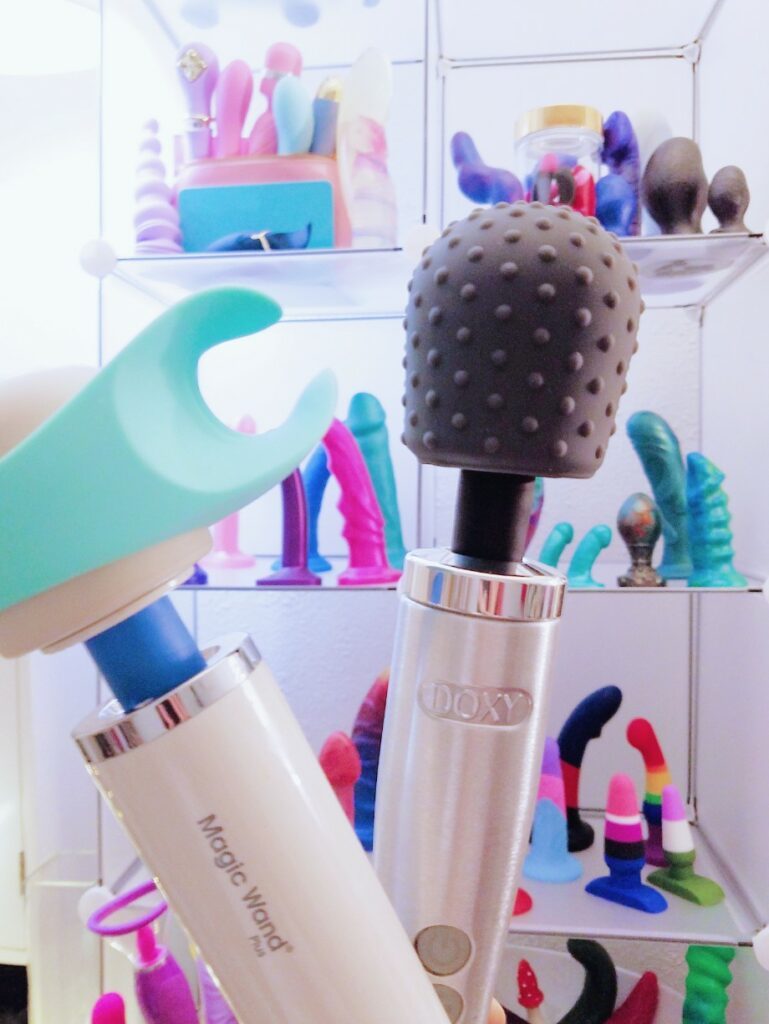 Compatible with Magic Wand attachments!
The Doxy Die Cast's 2.38″ diameter head is only a little bigger than the Magic Wands' and classic Le Wand massagers'. Thus, it's compatible with the same attachments!
Turn your Doxy Die Cast into a powerful dual stimulating rabbit vibrator, a guybrator vibrating stroker, deep tissue massager, or fluttery teaser.
If you find your wand vibrator too powerful, try a thick silicone attachment to dampen the vibrations.
The buffer allows you to use a broader range of intensities. Or pop on a wand-compatible version of the LuzArte Jollet for stationary G-spot stimulation.
(Pictured is the Magic Wand Plus with the We-Vibe Wand stroker and a Le Wand dot textured cover on the Doxy Die Cast.)
The only downside to the Doxy Die Cast: its weight
At 13″ long and a pound and a half, it's almost as bludgeonly as my njoy Eleven stainless steel dildo — potentially a source of forearm cramps. If you have mobility problems or just want hands-free clitoral stimulation, I highly recommend a toy mount, like the Liberator Wanda or Bonbon. (Personally, I lay mine on a Dame Pillo sex cushion/wedge.)
Other great features of the Doxy Die Cast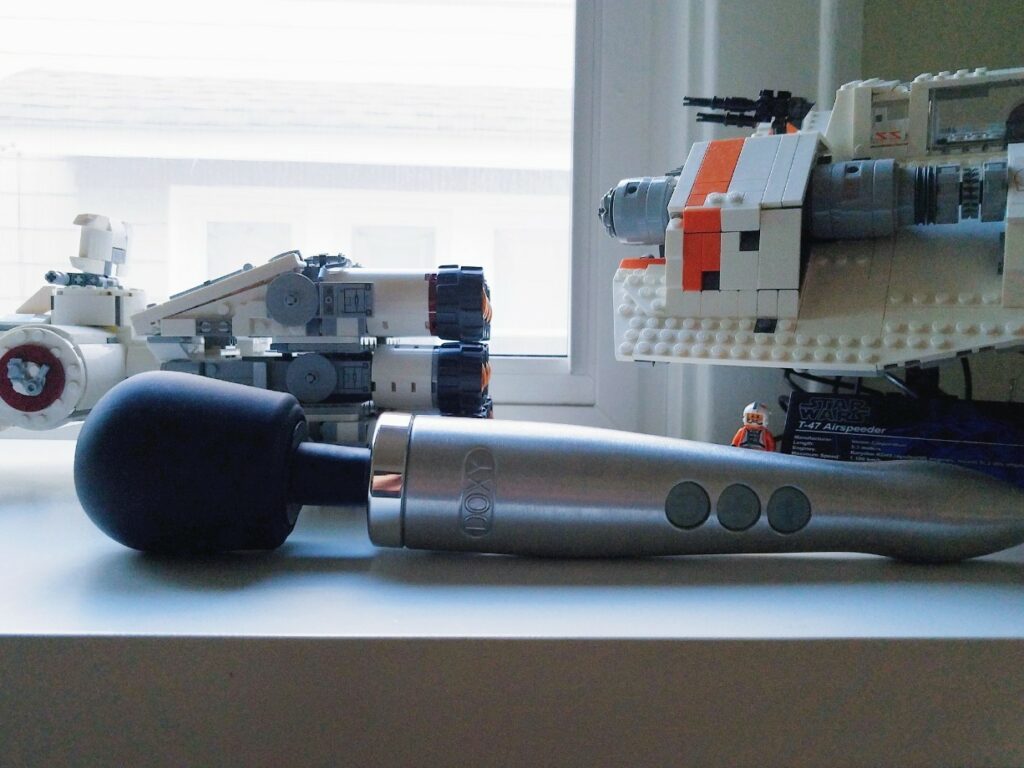 Once the aluminum and titanium heft is out of the equation, though, there are plenty of features that make the Doxy Die Cast easy to use.
For one, it has three big, soft buttons. If you struggle with grip, Doxy's relaxed control panel design is far more comfortable to work with (than, say, the Magic Wand Plus or Le Wand). The translucent buttons also glow when turned on and feature distinctly engraved + and – signs for use in the dark.
As well, the Doxy Die Cast's head is body-safe silicone, meaning that you can adequately sanitize it with bleach solution. Plenty of other wands also have silicone heads, but not the Magic Wand Original, original Doxy, or Bodywand.
I suggest putting an unlubricated condom or a reusable silicone cover on those. (If you don't want texture, you can flip the ribbed or dotted caps inside out!)
My verdict on the Doxy Die Cast: FUCK YEAH!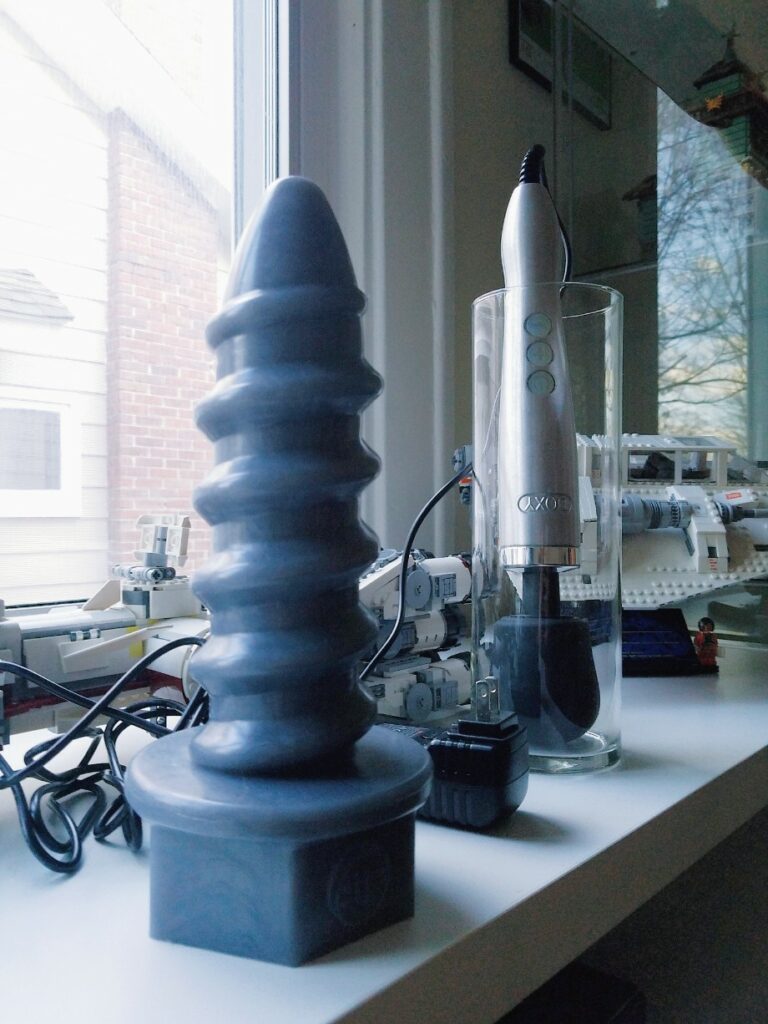 Yes, it's heavy and expensive, but is anyone surprised that I love metal objects with massive impact?
When I die, I want to be buried with my njoy Eleven and Doxy Die Cast for sure. Both are beautiful and timeless. I'm ready to kill zombies during the apocalypse, and I'll come back as a zombie prepared to kill anyone in my way.
I deeply respect the Magic Wand Plus, but it has been dethroned. Times have changed, and I can't imagine any other wand topping the Doxy Die Cast. Some would argue that, since it's on a tier all its own, it doesn't need any more reviews, but disagree.
I have to get the word out there: the Doxy Die Cast is a way better wand than the Hitachi Magic Wand Original. If you want the rumbliest wand-style vibrator, look no further. The Doxy Die Cast is it.
After I convert the Hitachi Magic Wand fanatics, I can die happy. And I know they'll die happy, too.
Get a Doxy Die Cast from Spectrum Boutique!
Take 10% off your whole order at Spectrum Boutique with my coupon code, SUPER
Doxy Die Cast key features
Silicone head and flexible neck
Aluminum and titanium alloy
Mains-powered
Not waterproof
13″ long
2.38″ diameter
3 buttons
3,000 to 9,000 RPM (50–150 Hz)
6 speeds
Available in 5 colors: black, purple, silver, white, and red