Mr. Hankey's Toys Topher Michels Medium review: soft but HUGE silicone dildo
Despite its average-sounding name, Mr. Hankey's Topher Michels medium dildo is anything but that.
Don't be fooled: with a 2.68″ diameter near the shaft, this dildo looks gargantuan next to my other "realistic" toys.
I put "realistic" in quotation marks because I hesitate to call the Topher Michels dildo that. Yes, it's a highly representational lifecast of its eponymous porn star. Complete with vasculature, a distinct corpus spongiosum, frenulum, urethral meatus, and scrotum.
There's a reason I simply refer to it as "the big, wrinkly ball sack dildo."
(One of my friends inspected the testes and said to his twin brother, "My balls look like that. Don't your balls look like that, too?" And a fellow sex blogger commented, "Wow, that's really the Shar-Pei of dildos, isn't it?")
Mr. Hankey's Toys Topher Michels lifecast dildo sizes
Topher Michels' actual penis, though significant, isn't quite the beast that Mr. Hankey's Toys' "medium" is.
This big dildo comes in three sizes at Peepshow Toys:
Original size
5.83" circumference (at ridge)
5.6" circumference (mid-shaft)
6" circumference (near base)
4.9" insertable length
6.4" total length
Medium
6.75" circumference (at ridge)
7.75" circumference (mid-shaft)
8.5" circumference (near base)
6.75" insertable length
8.5" total length
L/XL
8.5" circumference (at ridge)
9.75" circumference (mid-shaft)
11.25" circumference (near base)
8.6" insertable length
10.75" total length
Size info source: Mr. Hankey's Topher Michels product page at Peepshow Toys
(Fun fact: a friend of mine once hooked up with a guy whose dick is the same size as the Topher Michels medium. The dude was 4′ 5″. As in, FIFTY-THREE INCHES tall. Talk about having three legs…)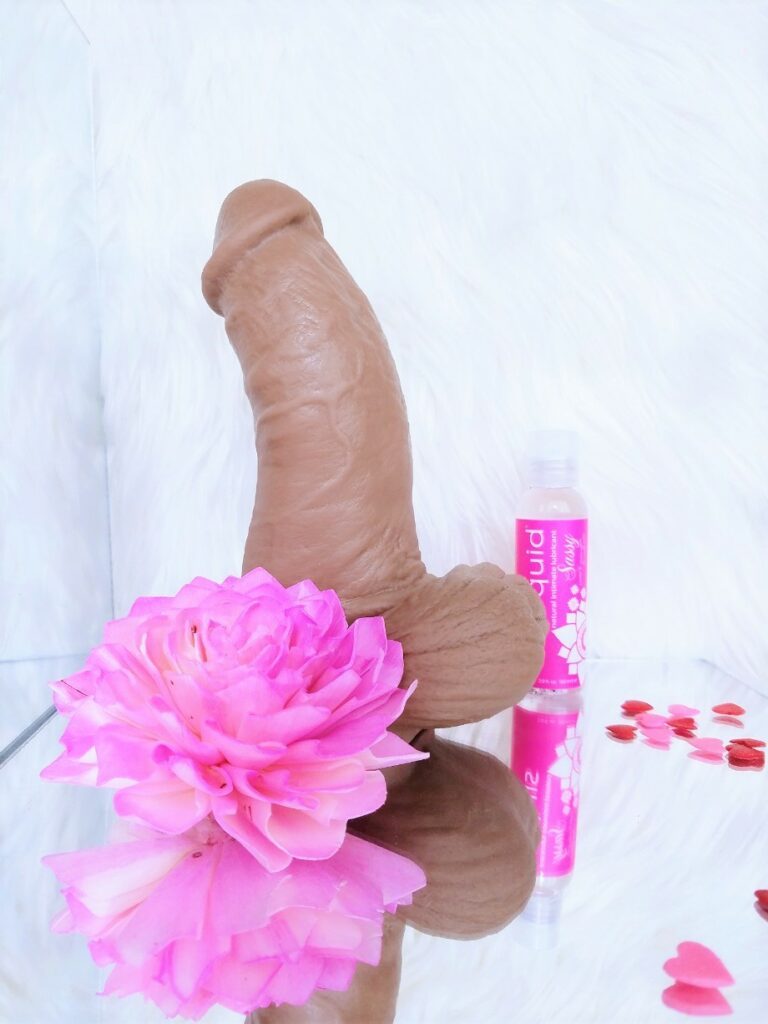 It's literally larger-than-life. Mr. Hankey's Topher Michels is more like photos on a cereal box with the fine print, "Enlarged to show texture."
Key features of Hankey's Topher Michels medium dildo
Hooo boi, even on the tactile level, there's a lot of texture! There's so much skin-like surface grain and veinage, especially highlighted by the glossy silicone surface.
Defined head and curved shaft
From a structural standpoint, one of the most noticeable traits (besides the balls) is the engorged head. The corona on Mr. Hankey's Toys' Topher Michels doesn't only flare out — it's sharp and curls slightly upward on the dorsal side. Combine that with the curved shaft for the seriously targeted stimulation that my G-spot sometimes craves.
Even with shallow penetration, I'm practically a 3-pump chump when using Mr. Hankey's Toys' Topher Michels.
Bullet cavity/lock-on hole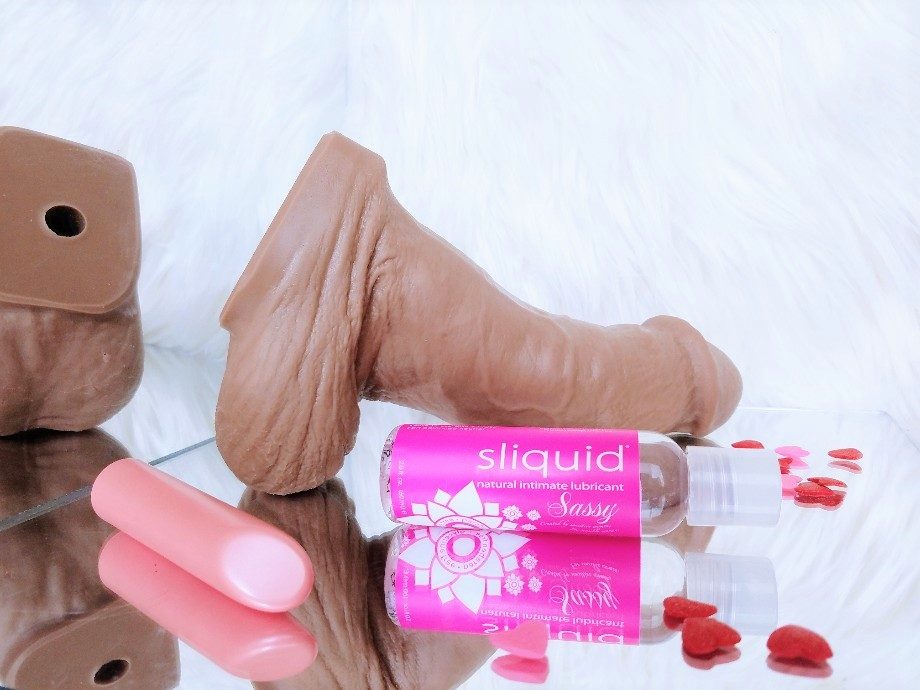 To maximize pleasure with it, I like inserting the Blush Exposed Nocturnal bullet inside the Vac-U-Lock/Lock-On hole, which is slightly bigger than the "standard"-sized We-Vibe Tango.
One would think that the Topher Michels dildo's THICC, squishy silicone dampens the vibrations, but the Exposed Nocturnal packs such a punch that it doesn't matter. I can still come by holding the bottom half of the vibrating dildo's shaft against my clit.
As far as big vibratables go, the Topher Michels and Exposed Nocturnal pairing is one of my favorites, maybe second only to the (far firmer and rumblier) Swan Wand Classic.
My partner also finds that putting his finger inside the bullet cavity makes it easier to hand-thrust. Other users may want to use Vac-U-Lock holes for attaching to fuck-saws, "sword" dildo handles, or added strap-on harness stability. (Otherwise, you're going to need a BIG, 2.5″ O-ring!)
Balls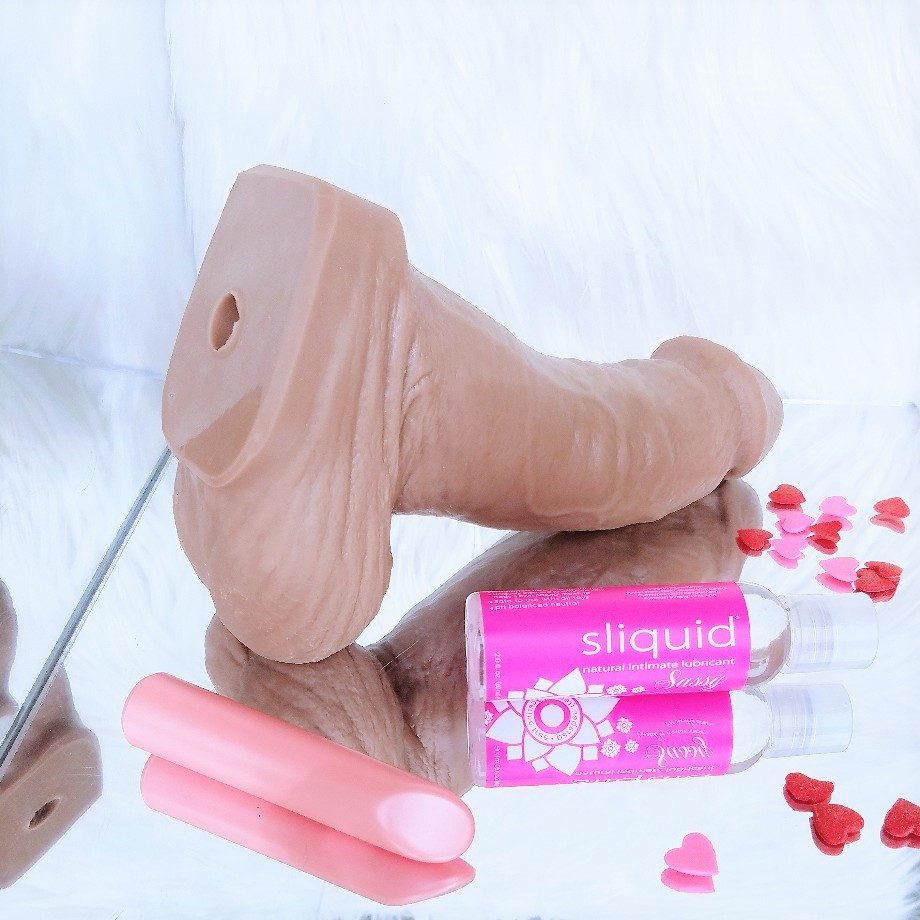 Yeah, I can't not mention the Topher Michels dildo's testes again. They're conspicuous.
If you like realistic dildos, you'll like feeling the balls smacking against you. My boyfriend finds that they make it easier for him to hold and thrust — which is understandable when there's otherwise such a big circumference.
(Myself, I'm not a fan of how the lube drips on them and gets all over my butt.)
For those who want extreme anal stretching, though, the balls on Mr. Hankey's Topher Michels dildo serve as a "stopper." You won't have to worry about this toy getting lost in your rectum.
A big dildo for those looking to push their limits
What do the following scenarios have in common?
A cat waking up from a nap

Someone comparing COVID-19 lockdowns to fascism

Me using the Topher Michels
A BIIIIIG STREETCHHHH!!!!!
The Topher Michels Medium dildo starts (relatively) thin, measuring 2.13″ diameter around the ridge at the top, and gently ramps up to the final 2.7″ near the base. It's an excellent fit for if you're looking to level up, without going from 0 to 100.
If a more distinctly conical dildo to prepare for fisting is what you're looking for, consider the Tantus Fist Trainer. I didn't like it for vaginal use, however, because of how pointy it is.
Me? Struggling to fit a dildo inside my vagina?
The first two attempts, I seriously couldn't fit the Hankey's Toys Topher Michels medium inside me. It hurt too dang much.
We're talking like back in November 2019 or so.
At the time, I had used the suuuper-squishy VixSkin Gambler before but not the Tantus Bishop or Fist Trainer. While Mr. Hankey's soft silicone could be used in stress balls, it has nothing on VixSkin's outer-layer pliability.
Be realistic about what you can handle. I enjoy using the medium Topher Michels' firmness for intense and overwhelming G-spot stimulation, but inserting it all the way isn't for the faint of vagina. It takes dedication.
When I am relaxed enough to insert this colossal dildo all the way, though, my cervix adores it. As always, your mileage may vary. (If you're looking for tips on using thicker toys, definitely check out my Tantus Super Soft XL round-up.)
My verdict on Mr. Hankey's Topher Michels medium dildo
I'm not usually a fan of realism for the sake of realism in dildos, but I can appreciate the level of detail in this exaggerated lifecast. I didn't use the Topher Michels dildo (solely) for bragging rights, though — I must come on it again and again. My vagina almost feels empty without it.
Until my boyfriend comes over and his fist remixes my guts, my walls are ready to C R U S H the Mr. Hankey's Toys Topher Michels.
---
Get the Topher Michels or check out other BIG dildos by Mr. Hankey's at Peepshow Toys.
Take 10% off storewide with coupon code SUPERSMASHCACHE