Oxballs Ergo Large (squishy butt plug used vaginally) and XS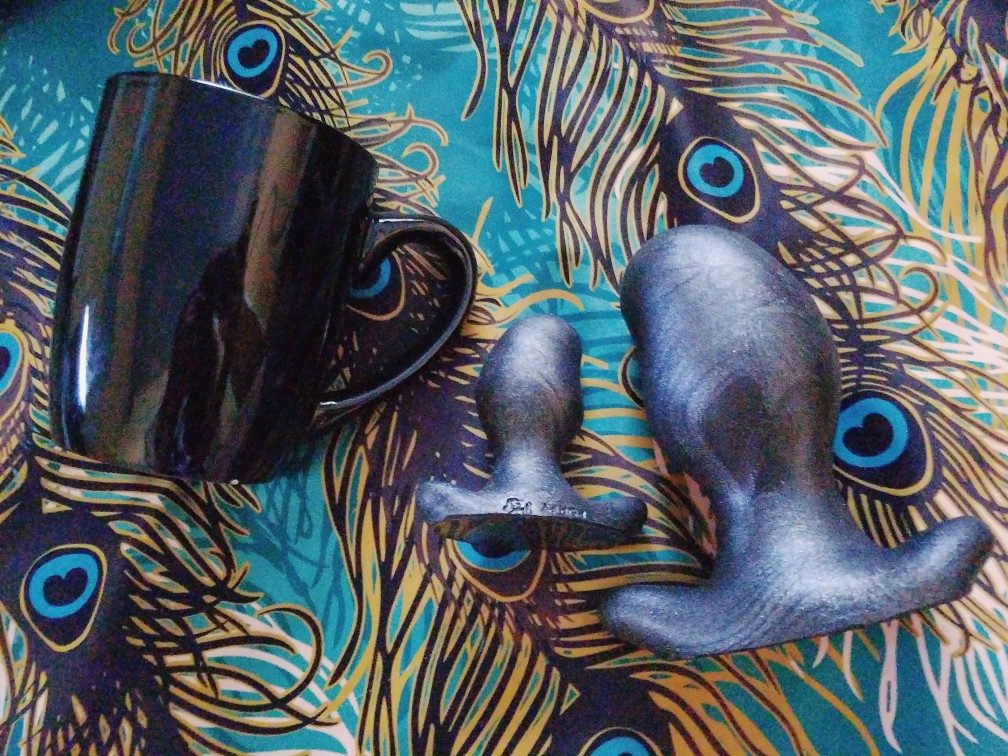 About a year and a half ago, I learned the hard way what I didn't want in a vaginal plug. I just wanted to be stuffed all day, not understanding the pitfalls of using the fat AF Tantus Ringo for that particular purpose. Now my blog post about that mistake is infamously the first relevant search result when someone Googles, "huge butt plug used vaginally."
I am glad, though, that it allowed others to learn from my experiences. As the sales stats for Uberrime's Sensi would suggest, there is much demand for vaginal plugs. That's part of why I am excited to announce that the Oxballs Ergo Large plug is everything my vagina hoped the Tantus Ringo would be. And if you're curious how the Oxballs Ergo XS feels anally, I gotchu too.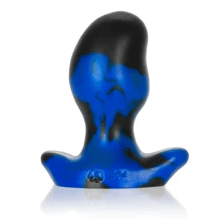 UPDATE: There's are other Oxballs Ergo plug color options available!
View this post on Instagram
Oxballs Ergo Large plug dimensions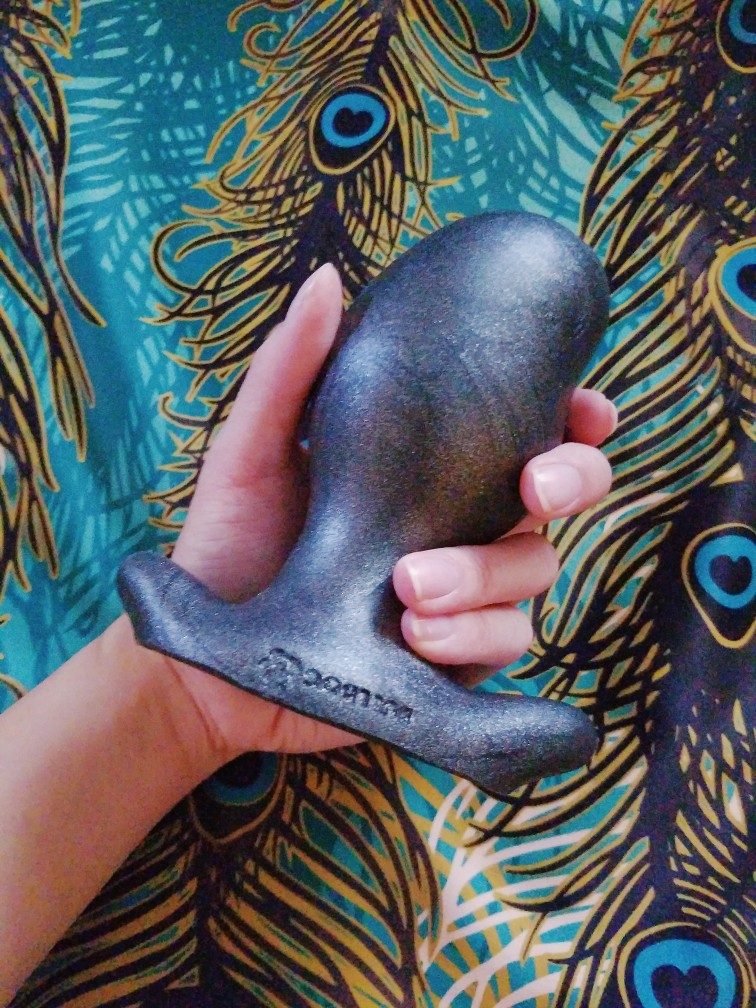 The Oxballs Ergo Large is 2.3″ at its max diameter and 1.35″ at its thinnest. For comparison, the Tantus Ringo is 2.25″. Even my ex who had inserted the (way fatter) VixSkin Gambler inside me raised an eyebrow at the Ergo. Oxballs' Super Soft silicone, though, is a bit springier than fresh gummy candy— far softer than Tantus's Super Soft silicone. It's comfortable by my standards, though your mileage may vary. With 4.75″ of insertable length, you might find it irritating if you have a low cervix.
Best vaginal plug ever?!?!
For me, the Ergo has the optimal combination of features for vaginal use. For one, its tip is round. It's also slightly off-center, meaning that I can wear this plug with the tip tilted forward and not directly pointing towards my cervix. Alternatively, the Ergo's curved "kidney" shape leans toward the prostate. And finally, SQUISHY!!! I already said that before, but it's still key to the Ergo's appeal. Unlike the Tantus Ringo, I find that it comfortably squishes in front of or behind my cervix without jabbing it.
I can't emphasize the squish enough. Like the Uberrime Sensi, the Oxballs Ergo is a delight to clench and squeeze around, feeling it get longer and narrower as it conforms to my walls. And, of course, when I relax, it springs back to its original width. There's stationary resistance to squeeze round during orgasm. The flared base is long but flexible, allowing room a clit toy. YAY FOR GETTING DOUBLE STUFFED.
Oxballs Ergo XS plug (used anally)
Dimensions and features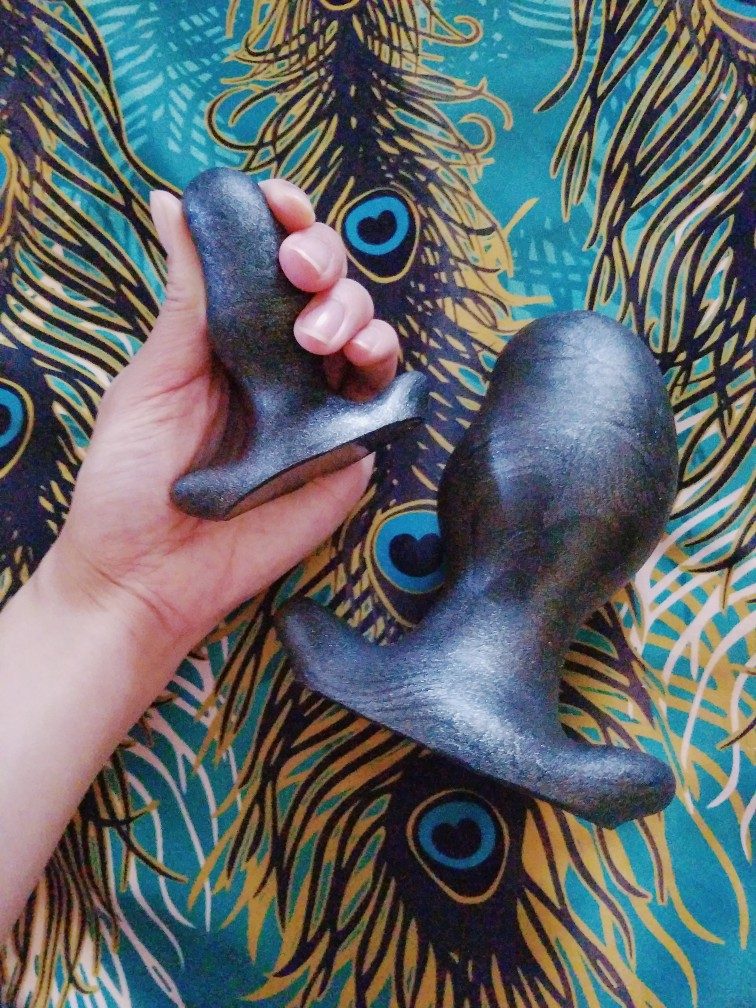 On the complete opposite end of the Ergo's size range, the XS plug is 1.3″ across at the widest, 0.8″ at the narrowest, and 2.75″ of insertable length. And the base fits comfortably between the cheeks. Hell yes. Side note: inscribed on the Ergo L plug's base is, "BULLDOG," in all caps, and the XS's says, "PUPPY."
The potential downside of a squishy butt plug
One of my Twitter followers was skeptical about the squish. Wouldn't the less definite shape make the plug more challenging to insert? In short, yes. I thought to myself, "How the hell is my butt going to cooperate?" The butthole has two sphincters— you can consciously control the outer one, whereas the inner one does its own thing. I couldn't COMMAND my internal sphincter to relax; I had to wait patiently. Once it did, the squish made the rest of the insertion super comfortable.
Oxballs Ergo vs. b-Vibe Snug Plug— both among the best butt plugs
I wrote in my notes, "SO FILLING. CONSTANT PRESSURE." The Ergo's movement isn't as intense as the b-Vibe Snug Plug's, but I like them for different reasons. Whereas there's some sphincter stretch while wearing the Ergo, the Snug Plug's neck is barely there. Which one to get comes down to whether you'd prefer more internal pressure or at the opening.
My verdict on the Oxballs Ergo squishy plug for vaginal and anal use
The Oxballs Ergo is comfy AF in either orifice, but I don't recommend it as a first or even second butt plug. Not least because the XS isn't extra small by my butt's standards, but also because it's bulbous.
(Yes, the njoy Pure Plug is bulbous as well, and rigid, but its surface is far slicker.) The Oxballs Ergo is blunter than a traditional tapered plug, though you could squish it near the tip to start small.
It's more for those who are already comfortable with plugs but want a yielding one for long-term wear. If you're a butt beginner, I'd suggest getting the Blush Luxe Beginner Kit or Doc Johnson Mood Naughty.
As a vaginal plug, though? Oh, hell, yes. The Oxballs Ergo is perfect for the fullness you seek.
Get it from Peepshow Toys in one of five sizes, from just below the average penis's girth to just below that of a soda can. And get it fast— the Oxballs Ergo is part of Peepshow Toys' 2-day shipping collection.