Uberrime Aqua-King Aquaman-themed silicone fantasy dildo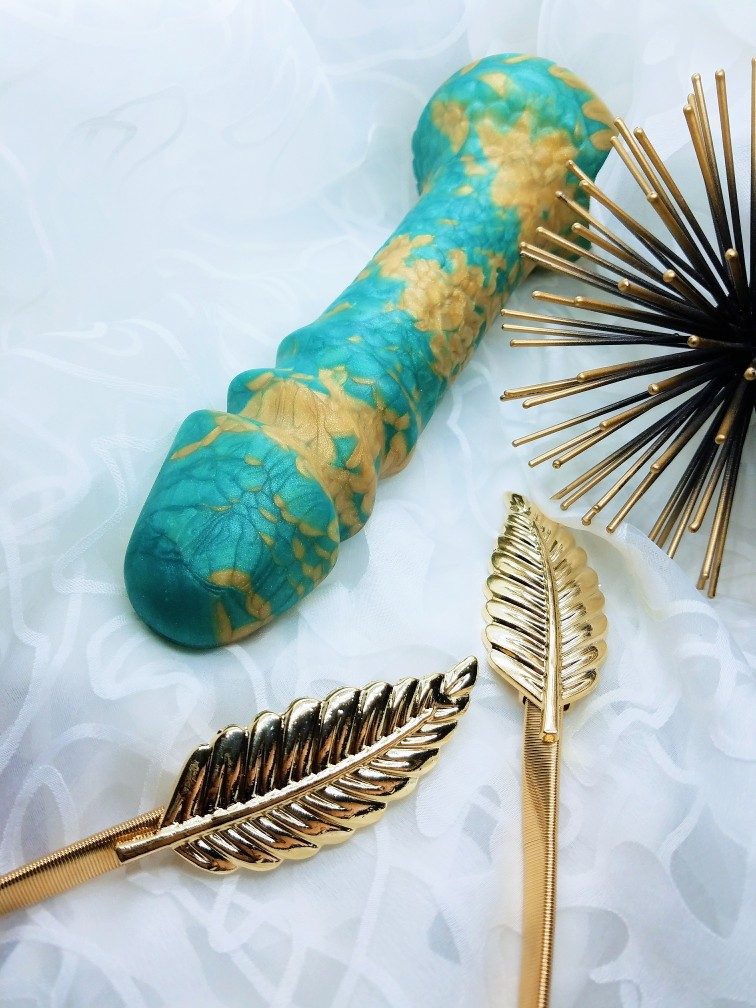 Ever wanted to cry immediately after a cathartic orgasm? Because that's how the Uberrime Aqua-King makes me feel. And not necessarily crying during an intense orgasm, or feeling depressed afterward. I mean on a visceral level thinking, "Ah yes, I am still an earthly being."
Even merely pulling out the Aqua-King's triple-crowned head is a shock. Question marks and exclamation points fill my mind, followed by "No, I need it back in me!" The popping sensation against my front wall is hypnotic. I want another round. I can't stop. How could I so abruptly deprive my vagina? Especially when removal of the stimulus is in itself stimulating.
For the first time, I understood what people meant when they said that anal beads feel especially amazing when pulled out quickly during an orgasm. I'm not much of a Butt Stuff fan, but my vagina gets it. It's about the dramatic pressure shifts against my walls, putting me in a trance as I anticipate the next ridge. Like the gasp of the initial insertion, over and over again. Because that's what the Uberrime Aqua-King's bumpy design is: sliding back-and-forth an exaggerated corona, on repeat.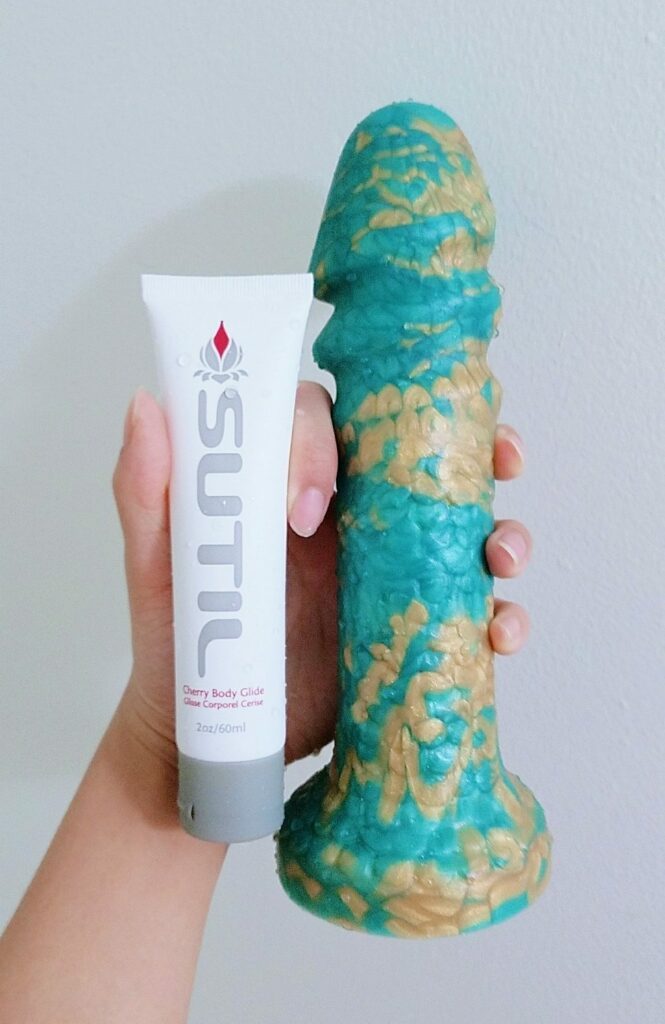 By exaggerated, we're talking about 6.5″ around (2.07″ across) widest parts of the head and 5.6″ around (1.78″ across) the dips and shaft. There's an asymmetry where the notches are more aggressive on one side. The undulating waves dip more drastically on that side. But also, if you sliced the Aqua-King into cross-sections, they'd be egg-like, with one side slightly pointy. The peaks are sharper and vaguely remind me of fingers and knuckles.
UPDATE: Want something similarly-sized but just a liiiiittle more gentle? Try the Uberrime A-Spot Avenger, which is basically Aqua-King 2.0!
I remember sending a Snap to a friend of myself holding the Aqua-King, and he replied, "…it's bigger than your arm…" Yes, I know. Isn't its girth great?!
The Uberrime Aqua-King isn't big and bold solely for the sake of adding more, more, more, though. Its macro-textures' placements are strategic. And though the scales are nothing to scoff at from an artistic standpoint, they're hardly discernible when thrusting.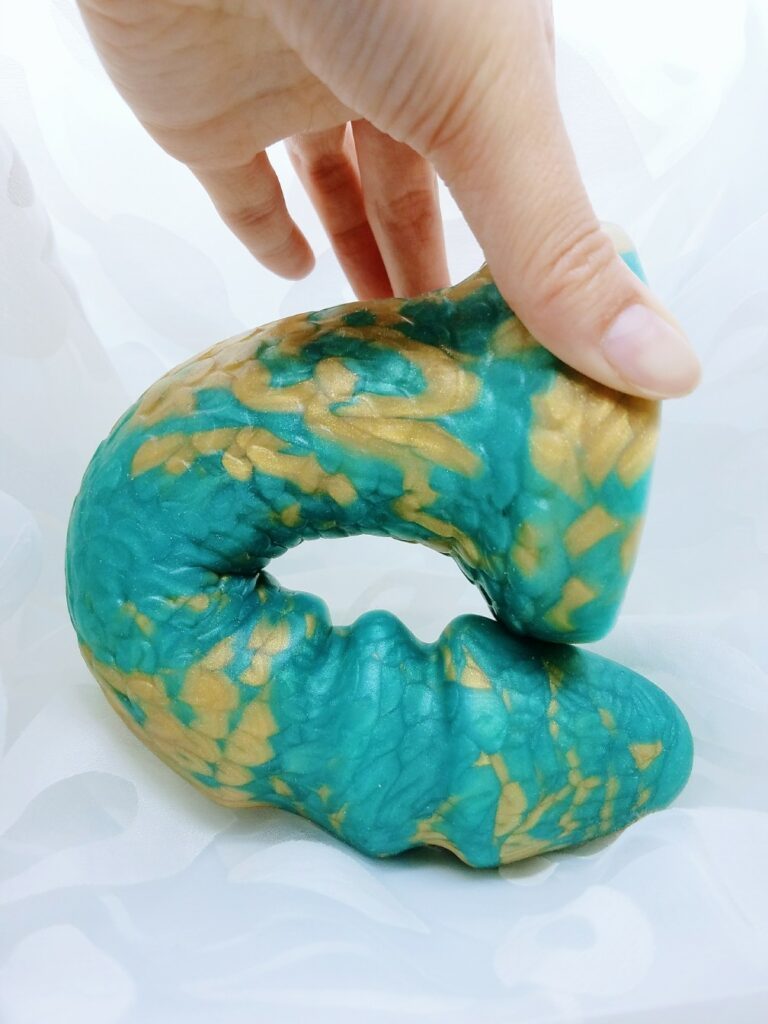 Unless you want to bend the flexible (Shore 5A) shaft and grind your external junk against it. That's cool too. The Aqua-King is indeed long enough for external stimulation while the ridges press against my G-spot.
A long fantasy dildo for deep penetration and cervix stimulation
But as an avaricious swine for cervical orgasms, why would I waste any of that precious length? No. I want to devour all of the Uberrime Aqua-King. How beautifully it aligns with my internal anatomy!
There's a slope on one side of the Aqua-King's head, easily inserting and feeling unexpectedly at home in front of my cervix. For that reason, it has a critical feature in common with the Blush Novelties Avant D3 / D4. My A-spot and cervix can't ignore the head and the first corona's girth. I'm in heaven.
Putting it all together simultaneously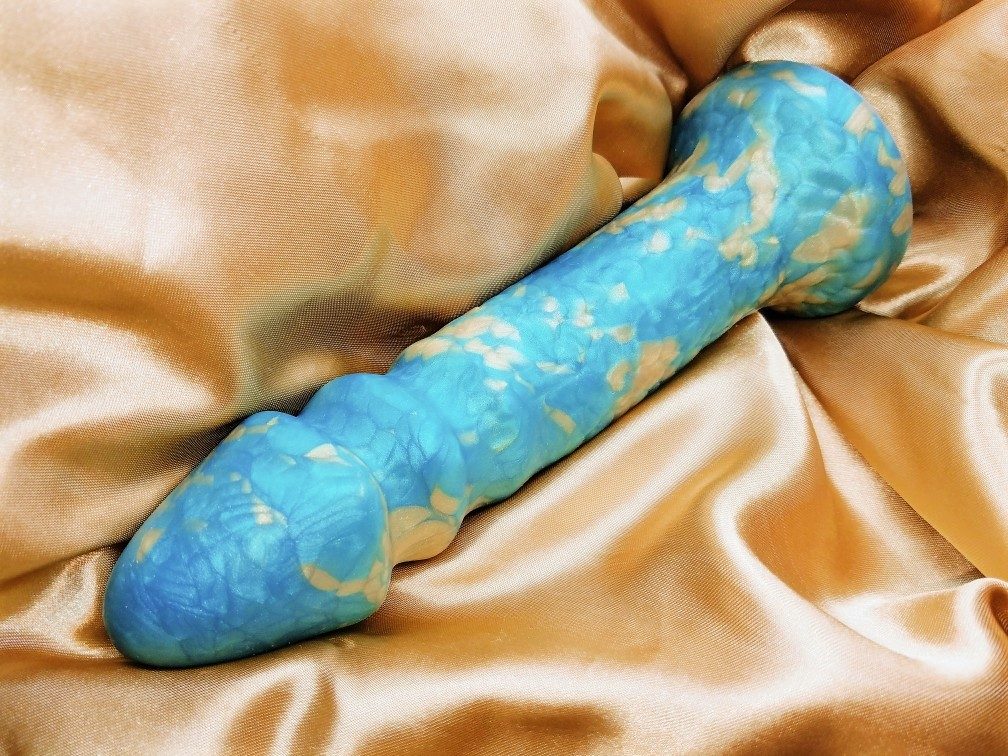 Now combine that with the sensory symphony of the second and third "dorsal fins." It's a highly methodical melange on my front wall:
second crown sinking into my pubic bone's dip
the last (and mildest) wave a bit shallower against my urethral sponge
It's beautiful, but not overwhelming to me. Why? Because the Aqua-King is squishy and the saw-tooth ridges don't occupy all of the shaft. They're right where they need to be. No more and no less.
And all that sounds incredibly clinical, but that doesn't take away from the orchestral dopamine magic.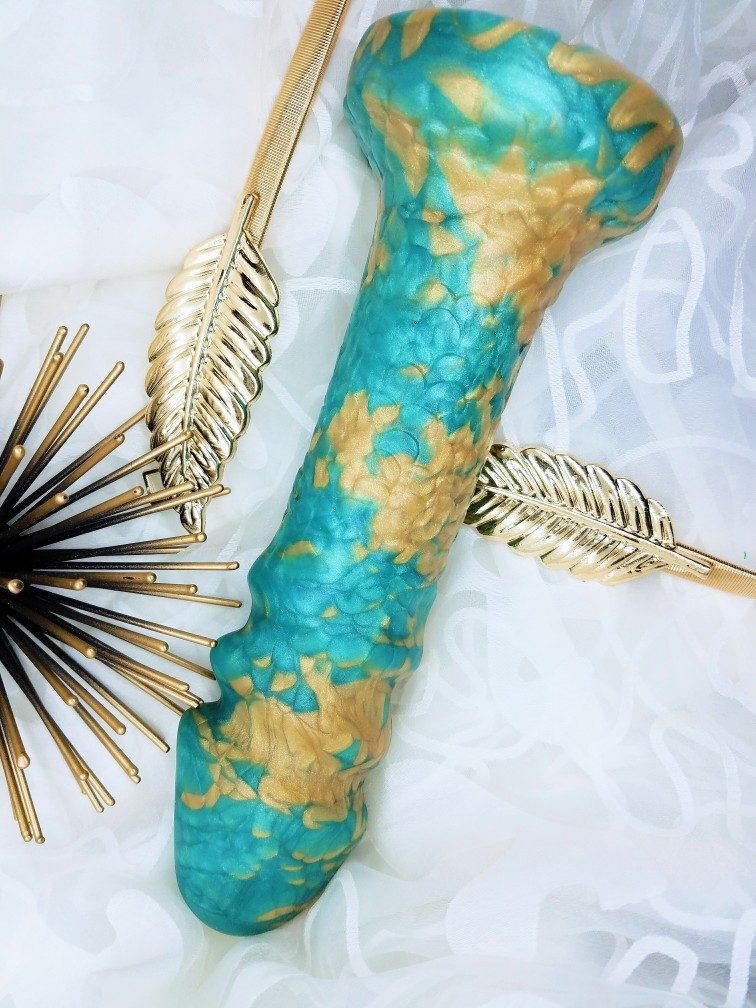 I would advise avoiding the Uberrime Aqua-King while a roommate is at home, except it's too delicious to ration like that. If I start screaming while using it, hopefully, I can smoothly transition into the beginning of The Lion King opening song.
Invest in good lube and wash some nicer-than-usual sheets. Get comfortable before using the Uberrime Aqua-King. You might find yourself glued to the bed in a puddle of lube, wetter than Atlantis, eyes transfixed and staring at the ceiling. If you're of size royalty and love deep penetration and sharp textures, you'll be feeling the love. Or like you're about to cry. Same difference in my world.
---


Thank you to SheVibe! They sent me the Uberrime Aqua-King silicone fantasy dildo in exchange for my honest and freely-given review. Unfortunately, I'm not familiar enough with Aquaman to do justice to him, but I love this dildo all the same! As always, I'm truthful about whether I enjoy a sex toy or think it feels like putting my clit in Satan's butthole.