Uberrime A-Spot Avenger girthy superhero silicone dildo review

Marvel at the maker's metallic marbling. Let the (Captain America-inspired) Patriot spangle you until you see stars. Marco Uberrime's latest creation, the A-Spot Avenger, strikingly resembles the Aqua-King, which I named #5 on my best sex toys of 2019 list.
There's no such thing as a bad Uberrime dildo. There are only some that fit my body more amazingly than others.
Many of the flattering things I said about the Uberrime Aqua-King still apply to the A-Spot Avenger:
Sensationally "beautiful, but not overwhelming"
"Orchestral dopamine magic"
"A highly methodical melange on my front wall"
"Hypnotic. I want another round. I can't stop."
There's much to love about this new creation — some of it inherited from the Aqua-King, some not.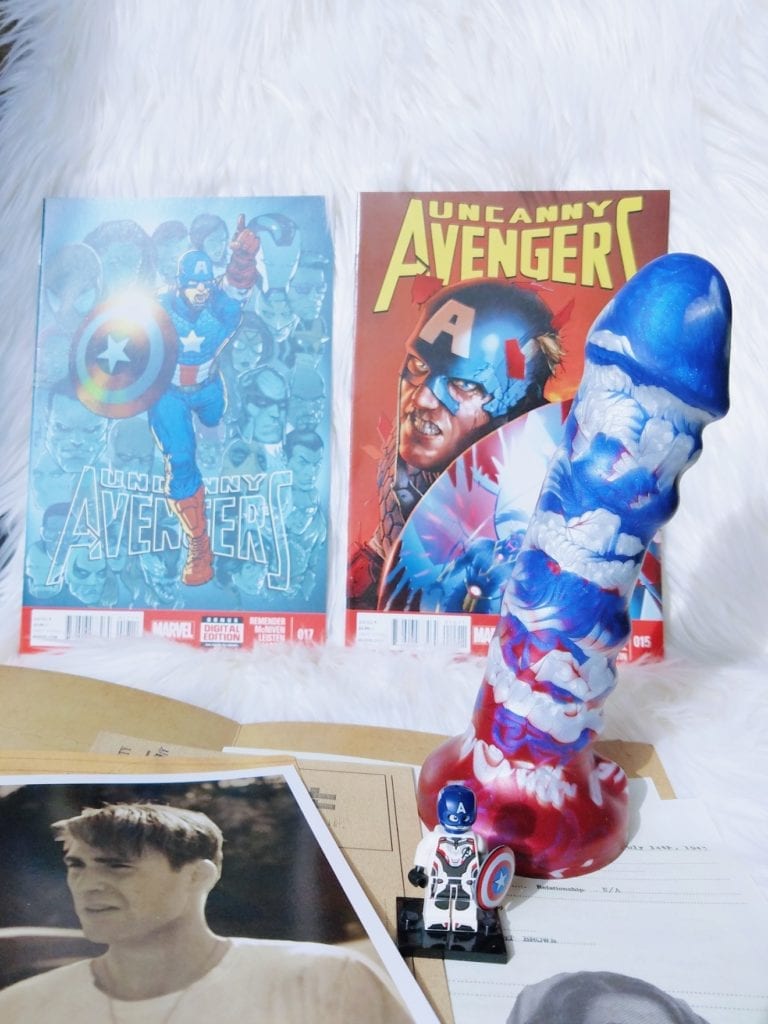 The Uberrime A-Spot Avenger is Aqua-King 2.0!
With either dildo, it's hazy exactly when a jack-off session ends. Getting up to wash it feels Herculean when I've become accustomed to its girthy presence in me, where it belongs. I don't want to come down from the post-peak plateau of pleasure. Falling asleep with an Uberrime dildo inside feels as second nature as snuggling with a partner before ordering pizza together.
Given the pandemic lockdown and my hermit tendencies, I may have spent more time coming on the Uberrime than waiting at traffic lights this year so far. (I've made that joke in a past review, but this time might not be an exaggeration!)
---
In this A-Spot Avenger silicone dildo review:
---
Both dildos are "super" in every sense of the word.
For one, their tapered mushroom heads are a filling 2.07″ diameter at maximum, with not one, but three crowns. They stand straight up and 8.5″ tall, on their harnessable bases. And, not least, the Uberrime A-Spot Avenger and Aqua-King dildos come in some epic color schemes!
The shimmery palettes are inspired by some of your favorite comic book heroes: Captain America, Iron Man, The Hulk, and of course, Aquaman.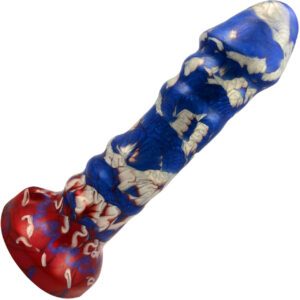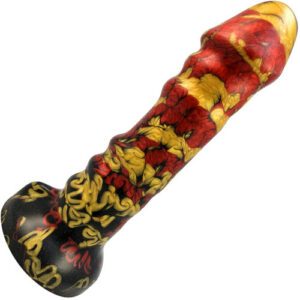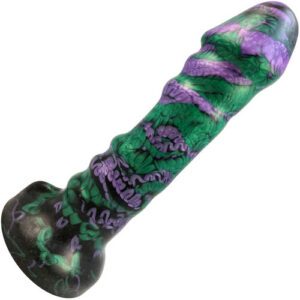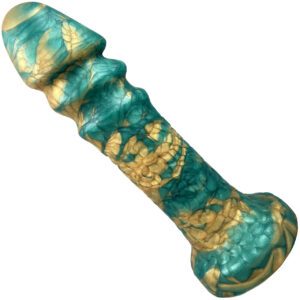 Despite the A-Spot Avenger's vagina-centric name, I very much appreciate that there's no gendered marketing here.
There's glitter but no Pepto-Bismol pink in sight. The only purple among the A-Spot Avengers is part of The Incredible. And if you want to use either dildo for prostate stimulation, it's safe to do so, thanks to the flared bases.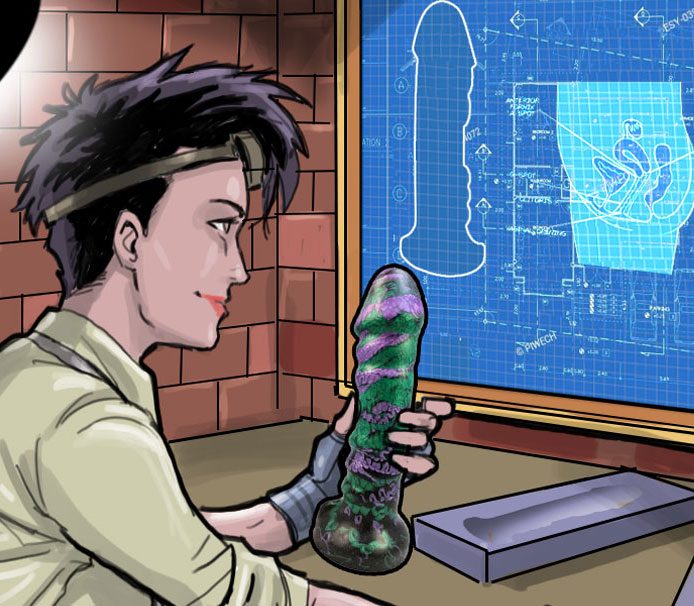 Dildos aren't just for cishet femmes, and comic books aren't just for boys. On the contrary — from the start, Sandra from SheVibe wanted the shop to have Big Goddess/Heroine Energy. "The whole genre had really begun to take hold in Hollywood, and we felt the world could use some intelligent, powerful, sexually self-possessed females."
And the comic-style artwork that SheVibe is known for? You can credit Marvel and DC illustrator Alex Kotkin for that.
Differences between the Uberrime A-Spot Avenger and Aqua-King superhero dildos
I'd forgive you if you thought the shapes were the same at first glance.
Probably the first thing I noticed in use, though, was the A-Spot Avenger's flexibility. Its silicone is the same 5A shore density as the Aqua-King, but its shaft bends more. That's because the A-Spot Avenger dildo's shaft dips down to 1.67″ wide in the middle, while the Aqua-King's is a thicker 1.78″. The former's base is also thinner and more bendy, making it far easier to fit into my underwear strap-on's O-ring.
From the side view, the difference is even more apparent. The Aqua-King has a higher concentration of pizzazz at the top.
The crowns protrude more all-around and are pointier, to resemble Aquaman's Atlantean armor accents. In contrast, the A-Spot Avenger's sub-coronal terrain is comparatively tame. The ridges are rounded off in the front and barely there in the back. And since A-Spot Avenger was explicitly designed for deep penetration, it features three additional waves closer to the bottom of the shaft.
The A-Spot Avenger's lack of aquatic influence extends, of course, to its relatively smooth surface.
The Aqua-King has tactile, micro-level "scales" all over its shaft, while the Avenger has structural bumps and no fine textures. Another superficial modification is that the A-Spot Avenger dildo has an orientation bump on the top front of the base so that you can always know which way the shaft's waves are facing.
Overall, I find the A-Spot Avenger's bendier shaft less aggressive, especially on my cervix. What's more, the
Aqua-King
's pointier notches reminded me of fingertips and knuckles. It's a dildo made for prying me open, but thank goodness its most intense stimulation is quarantined to the top half. The
A-Spot Avenger
's waves, in contrast, feel like a more diffused massage on my front wall.
When deciding between the Uberrime A-Spot Avenger and Aqua-King dildos, ask yourself three questions:
How much girth do you want?
What erogenous zones are you looking to stimulate?
How do you usually prefer to thrust?
…but it's easier to work with the A-Spot Avenger's flexibility. Its lower shaft peaks feel delicious against my urethral sponge and pulling on my internal clitoris, too. I find that it feels best when I use long, fast thrusts and let the waves slide over my pubic bone. And if there's a little "extra" length I'm not inserting, I can undoubtedly bend the shaft to grind against my external clitoris.
The Aqua-King is even less for the faint of vagina.
Most users will find it better suited for savoring short thrusts. I don't want its points repeatedly dragging over the mouth of my vagina much. Between the shape and girth, that's too much for me sometimes.
(The Uberrime Night King meets a delicate balance if you like borderline scraping textures without as much stretching pressure.)
What I do like about the Aqua-King more, though, is its ridges sliding against my perineal sponge (which is another way of saying "massaging my butthole through my back vaginal wall").
I'm so happy when I have the house to myself — I can scream while coming on the A-Spot Avenger to my heart's content.
The dildo's defined head and delectable ridges make my cervix just as happy as the Aqua-King does, but its shaft offers more pliable pressure. That may be a good or bad thing for you! Do you want the waves to overtake you with intensity, or do you want a more subtle but sophisticated medley of sensation? Choose your weapon.

---
Other fantastic Uberrime artisan dildos I liked!
Big & girthy toys
Small-to-moderate-sized toys