20+ Best Clit-Sucking, Air Pulse, Pressure Wave Vibrators, Compared!
"It is efficient at extracting orgasms, yes."
"That sounds about right for a German-made sex toy."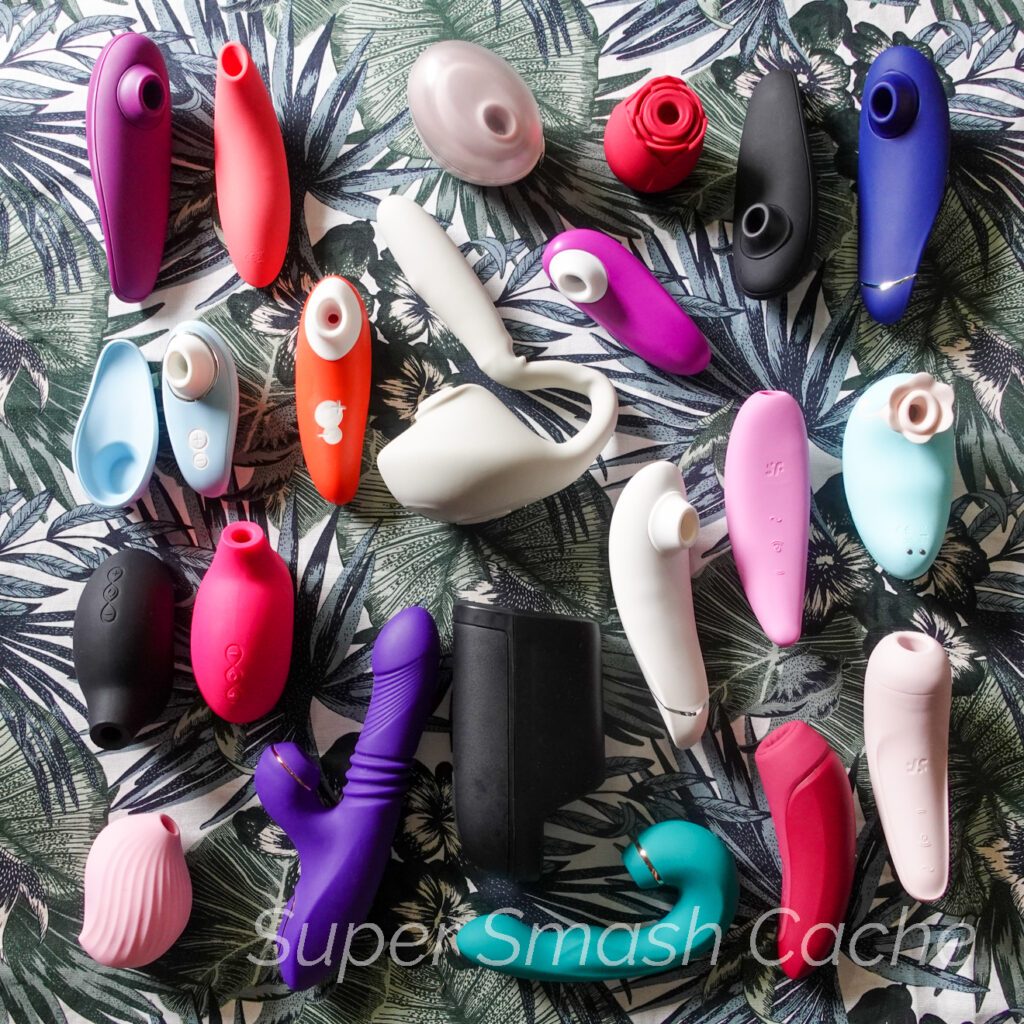 It's hard to overemphasize Womanizer's influence in the sex toy industry.
Their eponymous clitoral air pulse massager was the first of its kind. Rather than vibrating or delivering one-way suction, the membrane inside the nozzle thumped back and forth, like a robotic pair of lips raspberrying against you.
The original model looked about as sexy as that last sentence sounded. And the name sucked. But users like myself were willing to overlook that if it meant mind-blowing, precisely controlled clitoral sucking and blowing.
It was baffling. Air pulse vibrators can be fluttery yet deep and rumbly at the same time. They're localized but don't directly touch the part they're stimulating. And they're (usually) stealthy but deliciously powerful.
(What is rumbly or buzzy? Rumbly vibes are lower-pitched with bigger movements, while buzzy ones tend to be more mosquito-like and surface level.)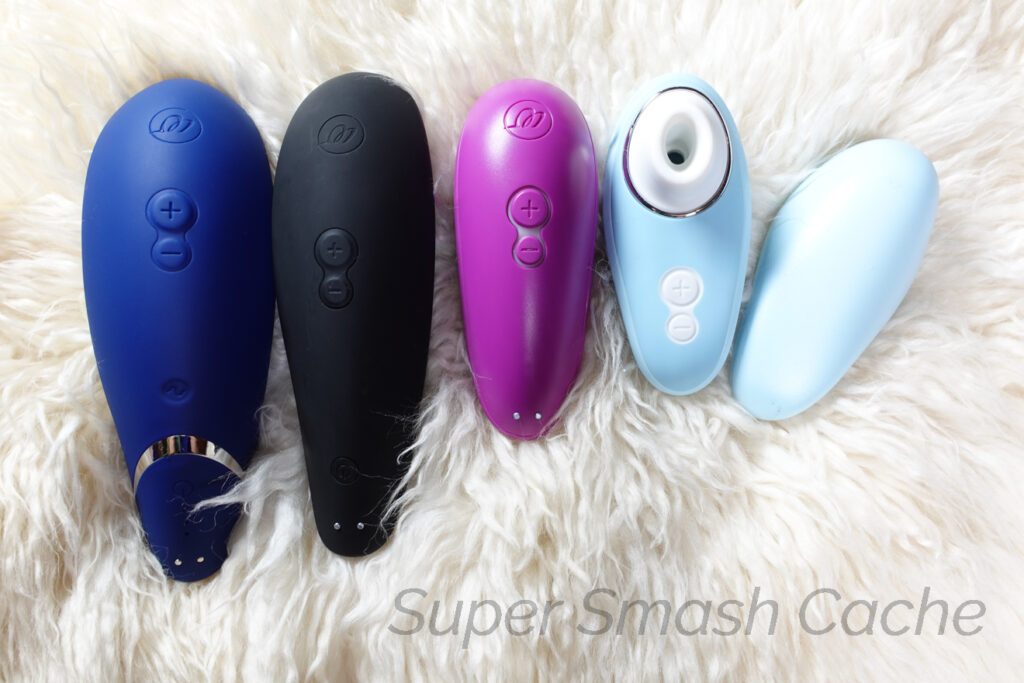 Lucky for me, almost every clitoral air pulse massager I've tried feels lovely for my body. But there certainly are differences among the different manufacturers' renditions since then.
---
Clitoral air pulse massager intensity and feature comparison
I've compared 23 different air pulse vibrators to help you decide which one is right for you. Since there are so many, I've divided them into a few key categories to consider:
I'm rating the intensities on a scale of 1-14, with the Womanizer Premium 2's 14 speed settings as the standard.
Because, yes, the Womanizer Premium 2 has the widest intensity range, encompassing what the other pressure wave stimulators can do, and then some.
It's hella rumbly. And its top speed puts it at the most powerful clitoral air pulse massager I've tried. Yes, more potent than the LELO Sona 2 Cruise and Lora DiCarlo Baci and the Inya Rose (more on alllll of those later).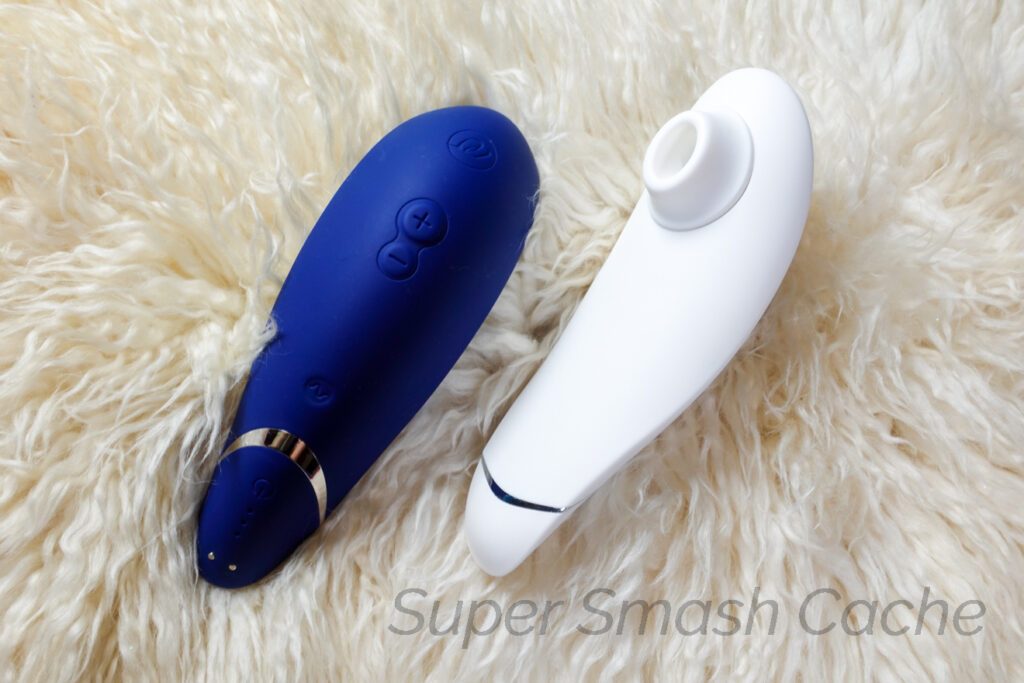 While I have my favorites, every body is different. Let's discuss the features that might give my readers a better experience with pressure wave stimulators.
---
Most powerful clitoral air pulse massagers
Womanizer knew what they were doing with their Premium 2. To recap differences between the Womanizer Premium and Classic models, the former comes with way more options:
A more comprehensive range of intensities
Patterns — rhythms, waves, escalation
Smart Silence technology — the motor stops pulsing when you pull the nozzle away from your body. Useful for roommate situations
Auto Pilot modes — "journeys" that automatically ramp up and down for a tease before the explosive build-up
The most notable difference between the Womanizer Premium and Premium 2? The new version has a broader range and more powerful speed settings.
More specifically, the old Premium has 12 speed settings, while the Premium 2 has 14. The former's bottom speed is about 2.5, and the top is about 11 out of 14 on the new Premium 2's scale. Meanwhile, the old Classic model goes from a 4 to a 10.5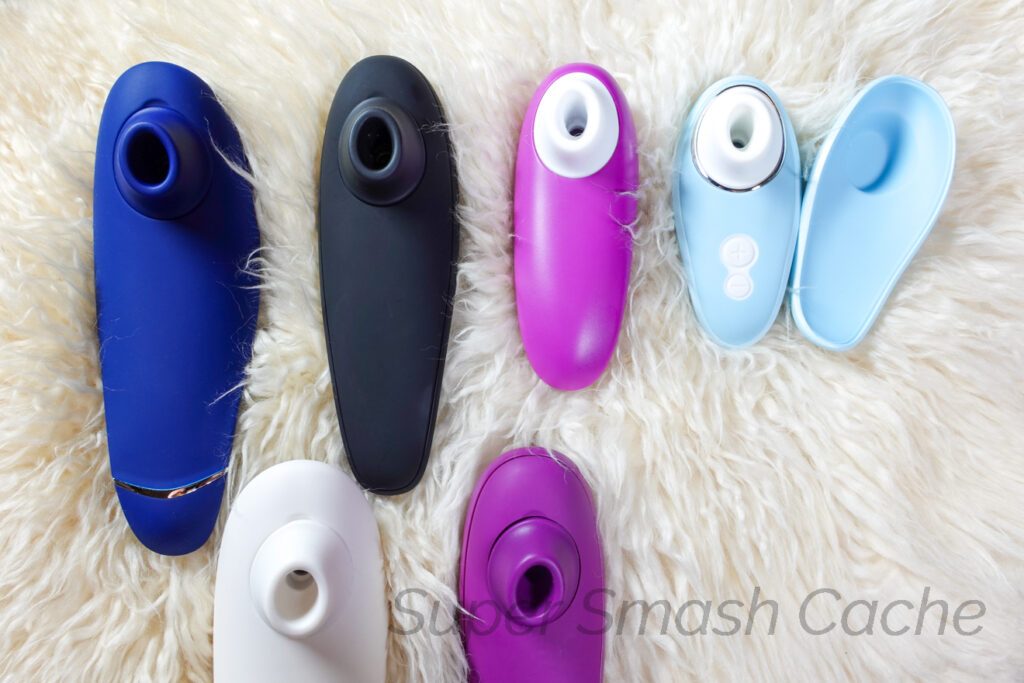 Tl;dr, the Womanizer Premium 2's combination of intensity and fantastic control panel makes it my top choice for the best pressure wave massager. That doesn't mean it's for every body, though.
The Womanizer Premium 2 has more settings and a wider speed range, but just how much does it differ from the other Womanizer models?
| | Settings | Intensity | Controls | Price |
| --- | --- | --- | --- | --- |
| Premium 2 | 14 steady, 3 autopilot | 1 to 14 | 4 buttons + Smart Silence sensor | $189 |
| Classic 2 | 10 steady | 3 to 12 | 3 buttons | $123 |
| Liberty | 6 steady | 2.5 to 8.5 | 2 buttons | $94 |
| Starlet 3 | 6 steady | 2 to 7.5 | 2 buttons | $75 |
Let's start with the new (also recently revamped) Womanizer Classic 2 and Starlet 3.
Compared to the Premium 2's 14 settings, the Classic 2 starts at about a 3 and ends at a 12 out of 14. You won't get all the frills, but the price makes it a fantastic compromise. (To be frank, I never used the Womanizer Premium's Auto Pilot settings.)
The Womanizer Starlet 3, in contrast, starts at about a 2 and ends at a 7.5 out of 14. Finally, we have the Womanizer Liberty, which is only a little stronger, with a range of 2 to 8.5.
All of the Womanizer external clitoral toys come with detachable silicone "mouths" measuring about 16 mm by 12 mm. (They supposedly come in two sizes by default, but the difference is minor.)
Inya Rose, Dame Aer, We-Vibe Melt, and Lora DiCarlo Baci
Before the Womanizer Premium 2 came out, I used to recommend the:
Lora DiCarlo Baci as the most rumbly pressure wave stimulator
NS Inya Rose as the strongest
LELO Sona 2 Cruise and We-Vibe Melt as the most suction-intensive
More recently, I also tried the Dame Aer, per a reader's request, and I was pleasantly surprised. All of the aforementioned clitoral air pulse toys are hella powerful.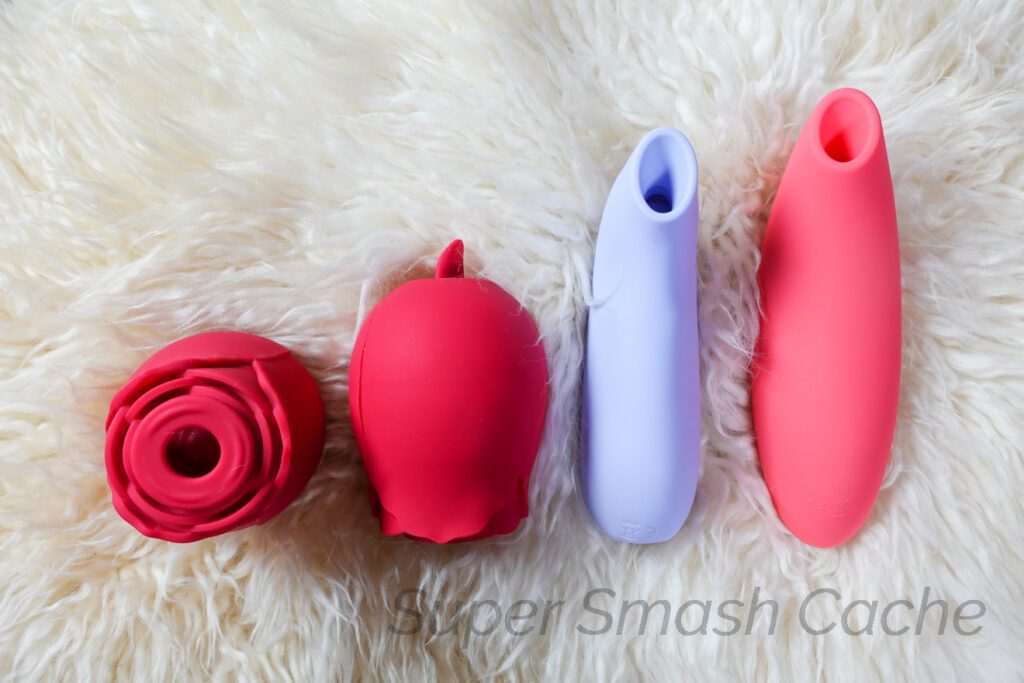 Here's how the other popular picks measure up to the Womanizer Premium 2:
And there are real reasons why someone might choose them over the Womanizers.
For one, the Premium 2 is expensive. But that's not unwarranted: it comes with a bounty of speed settings and patterns. And that's important if you're highly multi-orgasmic or sensitive after orgasm.
But not everyone needs that. The Womanizer Classic 2 or Starlet 3 is enough range for plenty of users. And for other users, another brand entirely may be a better fit.
First, I'll compare the Inya Rose, Dame Aer, We-Vibe Melt, and Lora DiCarlo Baci. Then, I'll leave the LELO Sona 2 for the "please avoid" section.
| | Settings | Intensity | Controls | Opening | Price |
| --- | --- | --- | --- | --- | --- |
| Womanizer Premium 2 | 14 steady, 3 autopilot | 1 to 14 | 4 buttons + Smart Silence sensor | 16 x 12 mm | $189 |
| NS Inya Rose | 3 steady, 7 patterns | 9 to 14 | 1 button | 13 x 13 mm | $40 |
| Womanizer Classic 2 | 10 steady | 3 to 12 | 3 buttons | 16 x 12 mm | $123 |
| Dame Products Aer | 5 intensities, continuous speed range, 5 patterns | 7.5 to 11 | 3 buttons | 20 x 14 mm | $95 |
| We-Vibe Melt | 12 intensities, continuous speed range, customizable patterns | 3.5 to 10 | 2 buttons + remote control app smartphone app | 17 x 11 mm | $142 |
| LELO Sona 2 Cruise | 6 intensities, 10 patterns, 1 random | 4.5 to 10 | 3 buttons | 11 x 11 mm | $139 |
| Lora DiCarlo Baci | 10 steady | 5 to 9 | 3 buttons | 20 x 15 mm | $160 |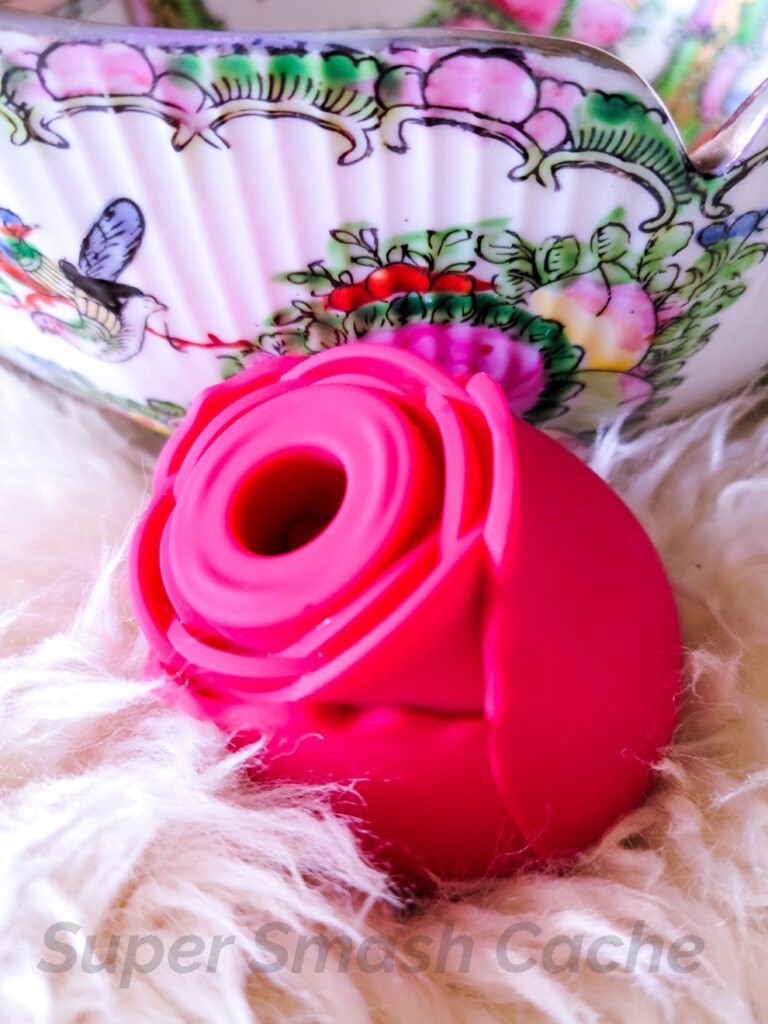 NS Novelties Inya Rose clitoral suction vibrator: best bang-to-buck ratio
If it's straight-up power you want, then yes, the infamous TikTok "soul snatcher" rose sex toy is worth the hype for you personally. It's the most powerful clitoral air pulse toy for the price. For better or worse, you won't get any subtlety with it.
The NS Inya Rose massager is also elegant and discreet, which you might care about more than I do.
Downsides to the rose sex toy: again, the controls and settings are lacking. You only have three steady but buzzy intensities: "OMG," "OMFG," and "OMFG!" and you can't quickly turn the speed down. That's a dealbreaker for me personally. And, par for its strength, this toy is quite loud.
Dame Aer: strongest air pulse massager for pairing with intercourse
Dame Products started with sex toys for couples to incorporate into intercourse, and their Aer design fits right in with that pursuit.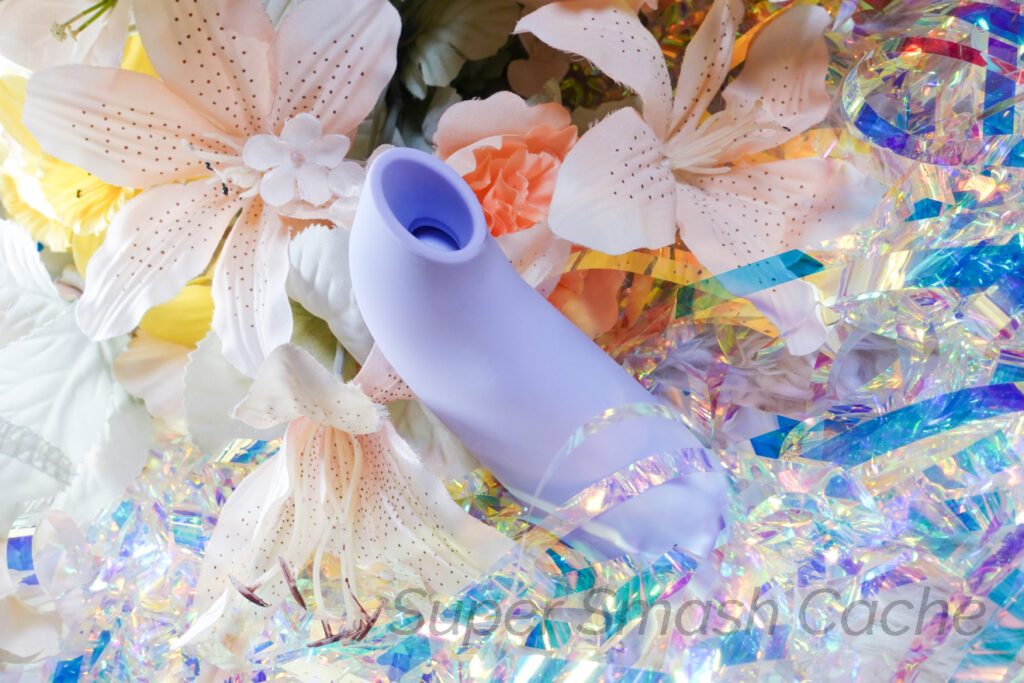 The Dame Aer's nozzle is skewed, so there's no overhang hogging vulvar real estate. In other words, it leaves plenty of room surrounding the vagina to insert a penis or toy.
But it's not for the faint of clitoris; if you need some gentle settings on a quiet sex toy, the Dame Aer isn't it. It's quite loud and proud, though it carries Dame's signature flutter.
Its three-button control panel is fantastic (up, down, patterns), and its air pulses are shockingly intense, making the Aer the strongest massager by Dame Products I've ever tried.
Plus! Take 10% off your first order at Spectrum with coupon code SUPERSMASH10
We-Vibe Melt: best air pulse massager for couple play
The We-Vibe Melt has a similar profile to the Dame Aer, and for the same reason: to leave room for a partner's penis during intercourse (hence the name, We-Vibe).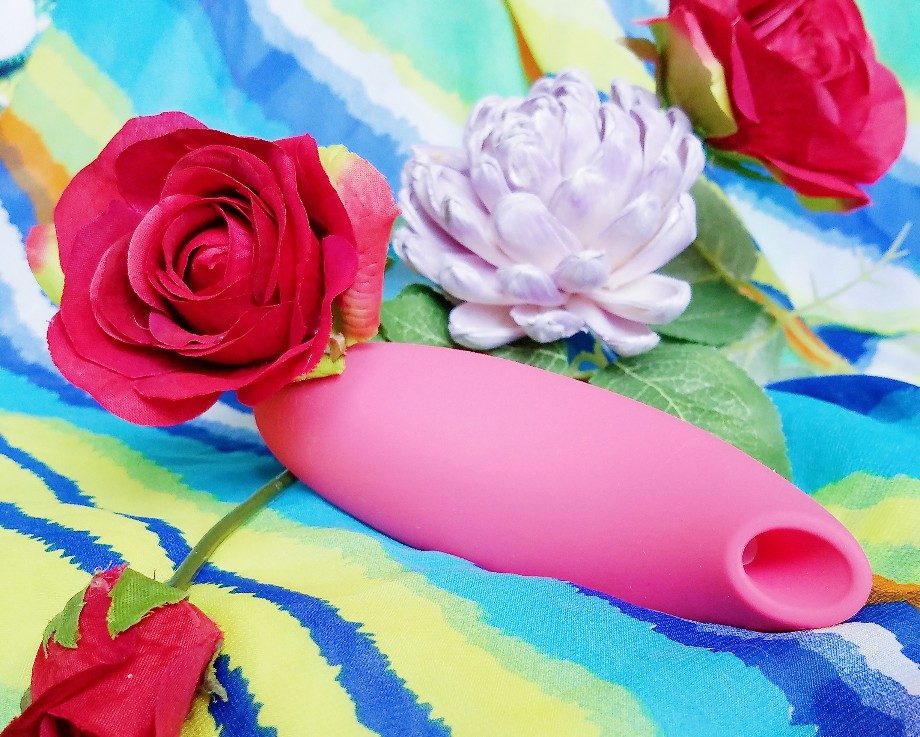 Its highest speed is only a tad less powerful than the Dame Aer's (10 vs. 11 out of 14), and it's a bit stronger than the Lora DiCarlo Baci's. Indeed, the We-Vibe Melt is also one of the most powerful clitoral air pulse massagers. And the low end of its speed range is quite gentle, too. (3.5 out 14).
But that's not the only thing that makes it unique; you have access to the continuous speed range, custom-make patterns, and control a We-Vibe Melt via Bluetooth. And yes, the smartphone app includes long-distance play with a built-in video chat function. My ex-partner and I used the We-Connect app together quite often while quarantining in separate houses in 2020.
The We-Vibe Melt isn't the absolute strongest, but it's up there — robust with intense suction and hella features. The others just can't top the We-Vibe Melt as the most versatile clitoral air pulse massager.
Take 10% off at Peepshow Toys with coupon code SUPERSMASHCACHE
Lora DiCarlo Baci: best for massaging the whole vulva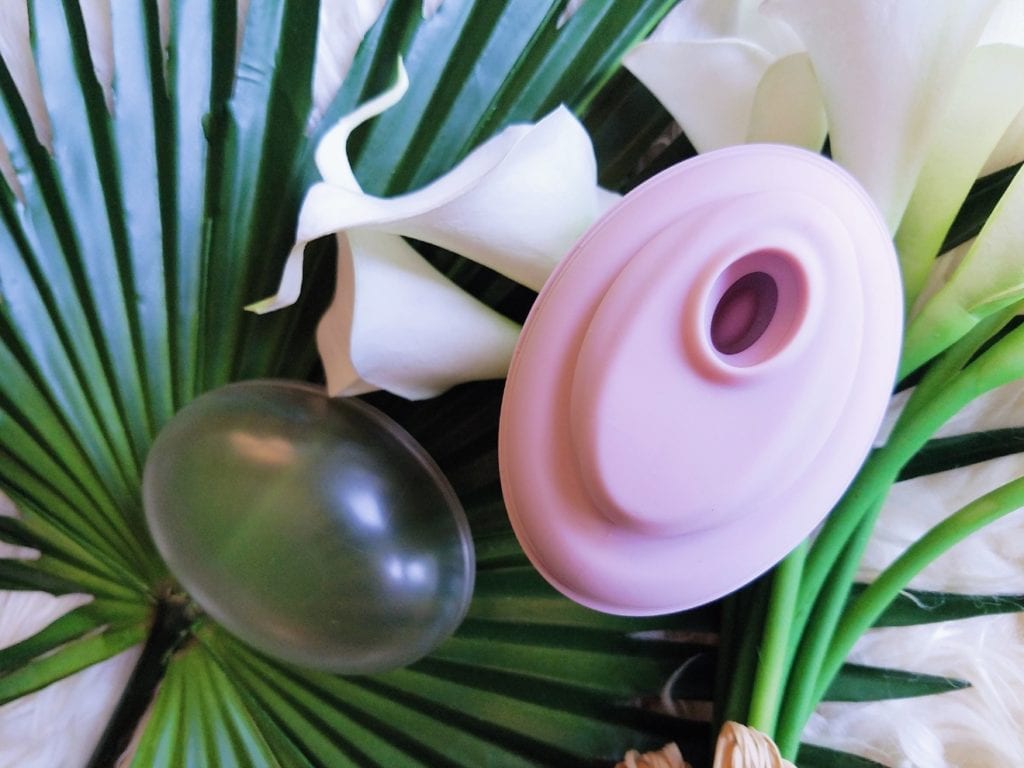 Meanwhile, the Lora DiCarlo Baci owns its space on the user's vulva, opting to vibrate against the labia while blowing air on the clitoris. Its flat base effortlessly lays stationary on a flat surface while riding and humping it.
The controls and speed range are great, the air pulses are rumbly, and it comes with a hygienic travel cap. While it's not as strong as the clit-sucking toys mentioned above, the Lora DiCarlo Baci's lower settings have delicious depth to them.
Plus, the Baci's oval opening is wider than some other air pulse toy nozzles, making it a slightly better fit for someone with a broader external clitoris. (More on that later).
The downside: the "lips" around the opening are thin and sharp, meaning they might not be as comfortable as a fuller, softer silicone nozzle. It doesn't bother me, but you may want to keep it in mind if you plan on sitting on top of the Lora DiCarlo Baci to ride it hands-free.
Overall, though, I think the Baci is worth it for the rumble and labial massage.
---
Best for pairing with penetration
| | Settings | Intensity | Controls | Opening | Price |
| --- | --- | --- | --- | --- | --- |
| We-Vibe Melt | 12 intensities, continuous speed range, customizable patterns | 3.5 to 10 | 2 buttons + remote control smartphone app | 17 x 11 mm | $142 |
| Dame Products Aer | 5 intensities, continuous speed range, 5 patterns | 7.5 to 11 | 3 buttons | 20 x 14 mm | $95 |
| Satisfyer Curvy 3+ | 3 speeds, 7 patterns | 0.5 to 5 | 3 buttons + remote control smartphone app | 18 x 18 mm | $34 |
We-Vibe Melt, Dame Aer, Satisfyer Curvy 3+
I'll keep this section short since I already waxed poetic about the We-Vibe Melt and Dame Aer above.
The best clitoral air pulse massagers for partner play are as follows:
We-Vibe Melt – great controls and speed range, option for Bluetooth app and long-distance remote control, versatile AF
Dame Aer – low-profile design, 3-button control panel, powerful AF
Satisfyer Curvy 3+ – also takes up minimal vulvar real estate and is affordable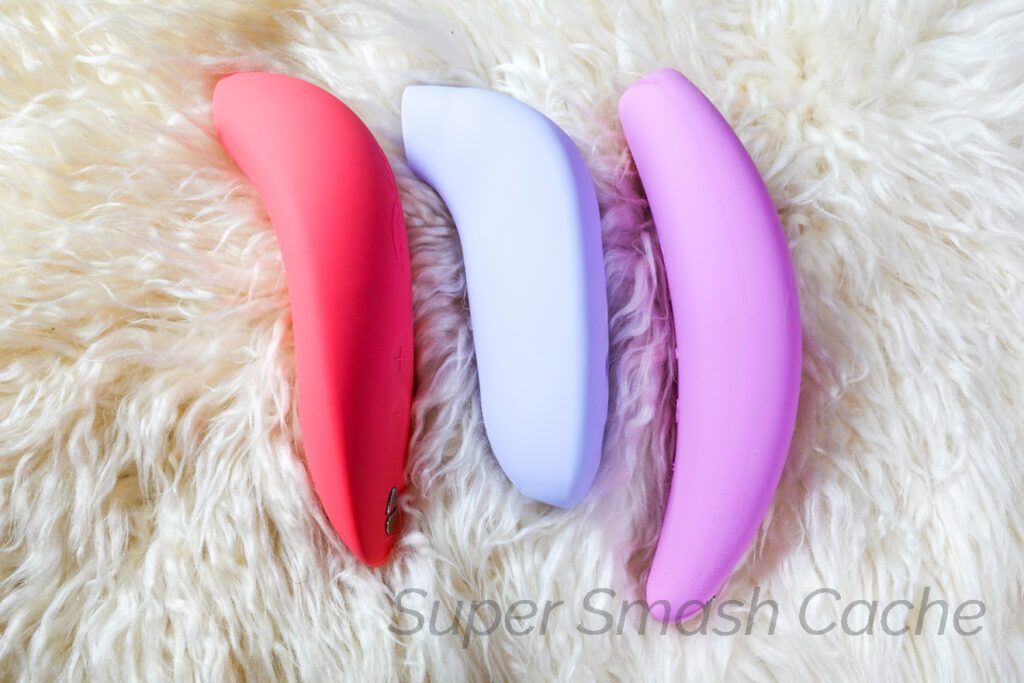 The Satisfyer Curvy 3+ is weaker and surface-level, with an intensity range of 0.5 to 5 for air pulses. Its vibrations are also quite buzzy, but they're at least focused due to the nozzle's thin rim. The Satisfyer Curvy line also features 3-button control panels and a Bluetooth remote phone app.
For under $40, it's hard to complain about that. Just bear in mind that Satisfyer app connection problems may be especially prevalent if you have an older smartphone.
My old Samsung Galaxy S7 connected fine with my Satisfyer toy for solo play. Long-distance couples' play with the Satisfyer app didn't work for me until I upgraded to the Galaxy S21. (And yes, I tried iPhones, too. See my Satisfyer Curvy comparison review for further details on different combinations I've tried.)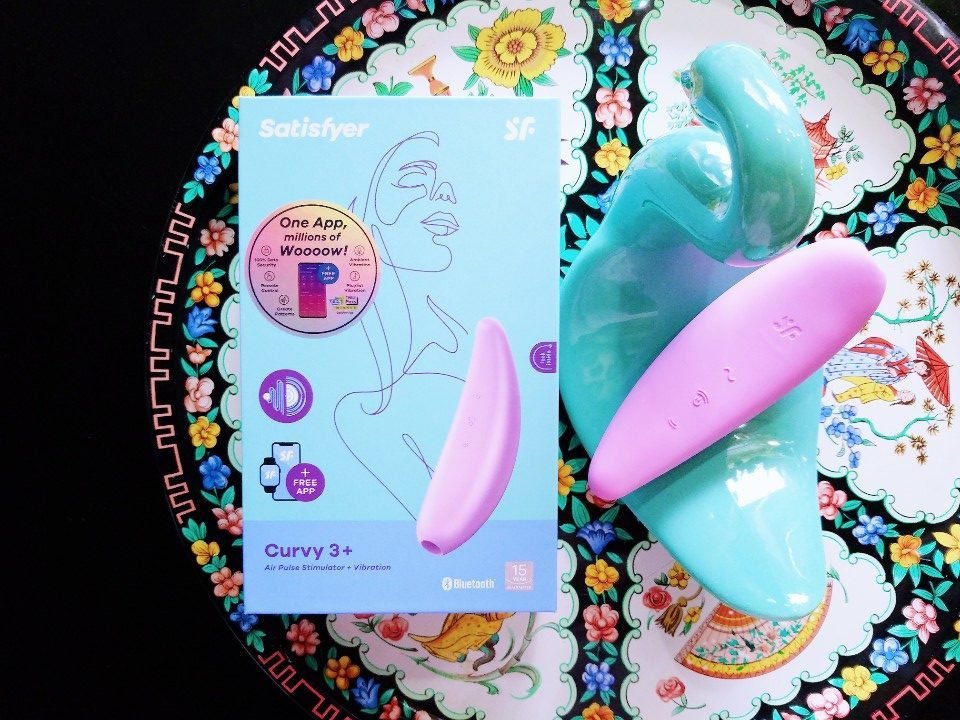 My verdict on which clit-sucking toy to use with a partner
Overall, the We-Vibe Melt is my top choice for:
A remote control clitoral air pulse massager
Pairing pressure waves with penetration
However, those who don't care about the frills and just want intense air pulses for a fair price would do more than fine with the Aer by Dame Products. Consider also that the Aer's opening is larger than the Melt's and Curvy 3+'s and will fit a broader range of users' anatomy.
Finally, Satisfyer's Curvy 3+ is more of an entry-level sampler of what this category can do for you. It's substantially weaker but also way cheaper. The air pulse quality is quite shallow and sub-par, but it is really cheap, and that definitely counts for something.
---
Widest openings among air pulse toys
Let's say your clit is on the bigger side, or you have some T-dick growth action going. Clitoral air pulse stimulators work under the assumption that the nozzle can fit over your junk, so measurements are essential here.
LELO Sila, Dame Aer, and Lora DiCarlo Baci
Notably, the LELO Sila and Dame Aer's openings measure 20mm by 14mm wide. And that's a big win for inclusivity since clits come in many sizes.
You don't have to take my word for it; here's a trans masc person's LELO Sila massager review at Spectrum Journal.
LELO designed the Sila in response to complaints about the Sona models' "mouths" being too small. More on that later.
The Lora DiCarlo Baci's mouth is the teeniest bit wider, measuring 20mm by 15 mm. However, its tunnel is relatively short compared to the others mentioned in this section. I'd recommend using it over the hood rather than with it retracted.
Satisfyer Curvy 1+ and 2+
Maybe it's the length that you're looking for. The Satisfyer Curvy line's air pulses are gentle, ranging from 0.5 to 5. But their tunnels are also among the longest I've encountered in pressure wave stimulators:
Curvy 1+ – 16 mm wide by 16 mm by 42 mm deep
Curvy 2+ – 15 mm wide by 15 mm by 48 mm deep
(I find that the Curvy 2+'s rim aligns better with my clitoral crura, but your mileage will vary.)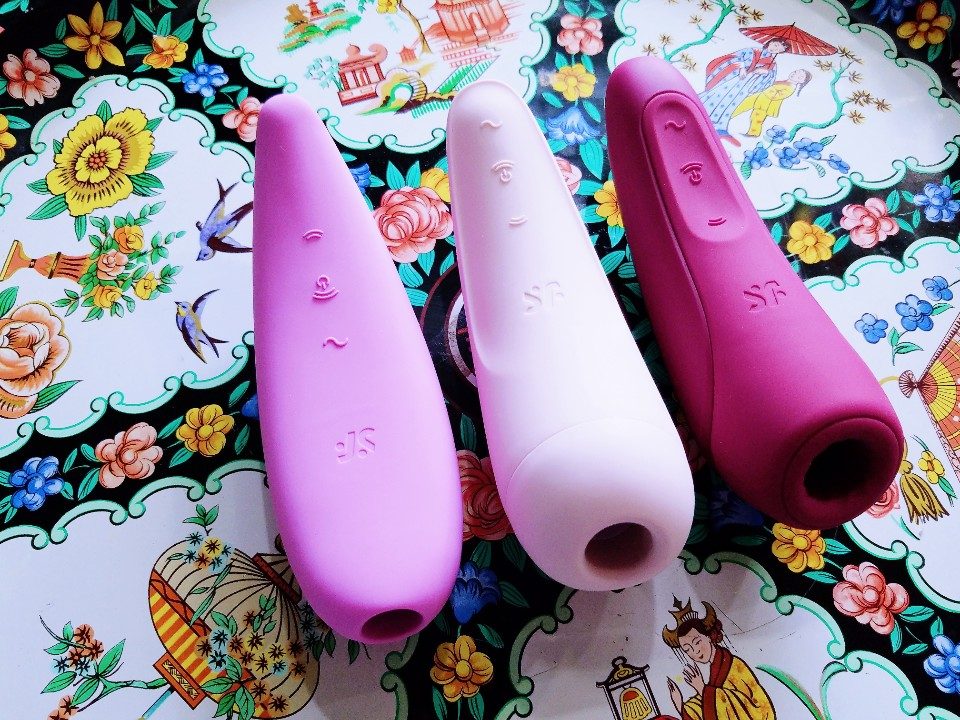 ---
Best affordable clitoral sucking massager
So let's say you're willing to sacrifice some features in the service of cutting costs. These budget-friendly clitoral air pulse massagers are the way to go.
| | Settings | Intensity | Controls | Opening | Price |
| --- | --- | --- | --- | --- | --- |
| Womanizer Starlet 3 | 6 steady | 2 to 7.5 | 2 buttons | 16 x 12 mm | $75 |
| ROMP Switch | 6 steady | 3 to 7.5 | 2 buttons | 17 x 13 mm | $50 |
| BMS Pillow Talk Dreamy | 7 steady | 3 to 8 | 1 button | 16 x 13 mm | $50 |
| Satisfyer Pro 2 | 11 steady | 1 to 6.5 | 3 buttons | 17 x 14 mm | $69 |
| Satisfyer Pro Penguin | 11 Steady | 0.5 to 5 | 2 buttons | 14 x 14 mm | $50 |
| NS Inya Rose | 3 steady, 7 patterns | 9 to 14 | 1 button | 13 x 13 mm | $40 |
What can I say? I like Womanizer products. The Womanizer Starlet 3 offers the same rumble as the Womanizer Classic 2 and Premium 2, but for a far smaller price tag: $75.
For that, you get 6 speed settings. The lowest compares to a 2 on the Womanizer Premium and ends at 7.5. It's sturdy and well-made, and the control panel allows you to turn the speed up and down with ease.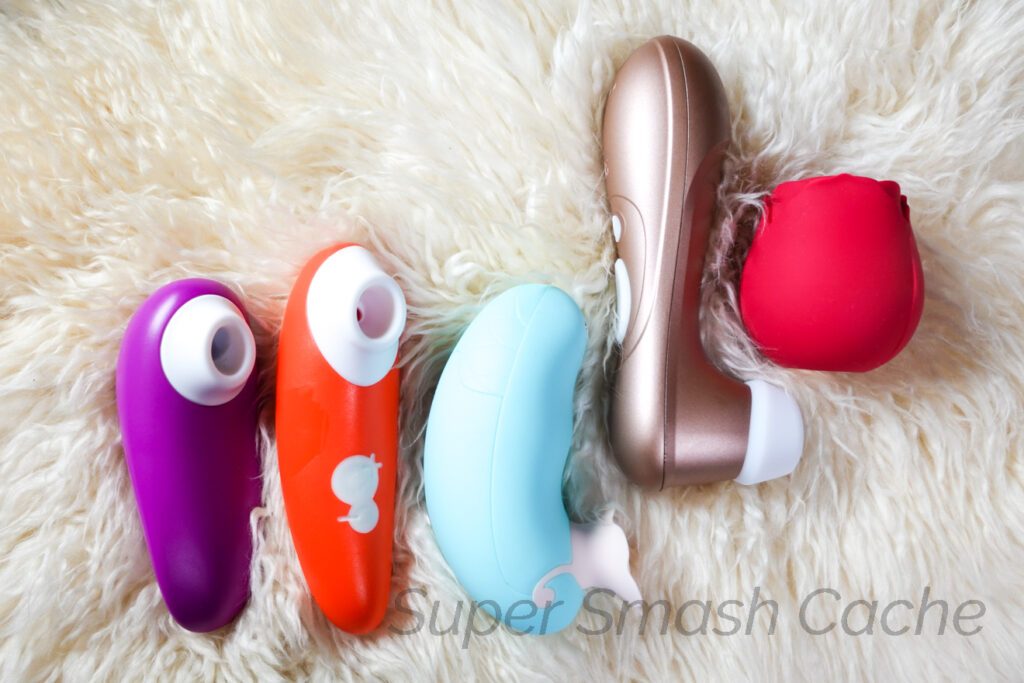 ROMP Toys pressure wave stimulators
Womanizer, We-Vibe, and ROMP Toys are all under the same parent company. ROMP Toys, the newest subsidiary, offers more affordable pressure wave stimulators, ranging from $30 to $50.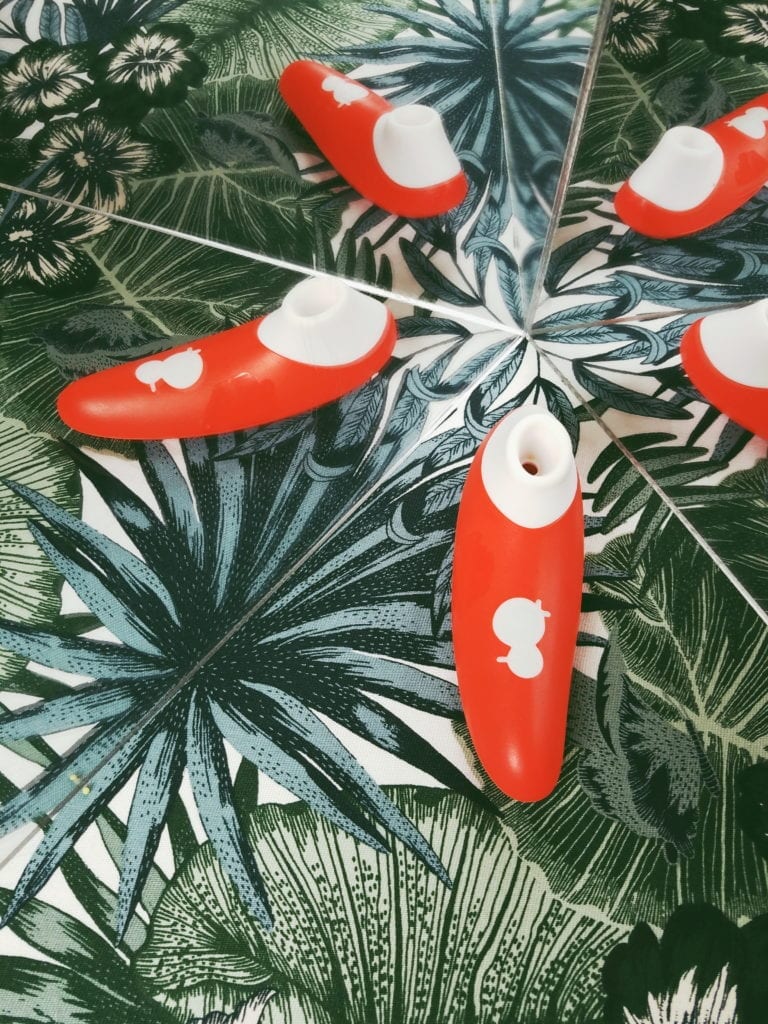 From lowest to the highest price, that's the ROMP Switch, Free, and Shine. The cheapest one, the ROMP Switch, uses AA batteries. The other two are rechargeable.
Their motor strength is decent, with settings ranging from a 3 on the Womanizer Premium scale to a 7.5ish. The main (major, glaring) downside of the ROMP Switch is that the battery plate is hard to take off if you don't know how to.
Long fingernails are recommended. Stick a nail or guitar pick under the cover at the apex of the handle. Then, with the nail or pick still inserted, slide it up along the sides of the seams. You'll hear a "pop" once you get halfway up, after which you can open the ROMP Switch.
Or just save yourself the hassle and get a ROMP Free or Shine instead.
The Pillow Talk Dreamy air pulse massager's design has some femme flair. And that's not purely for aesthetics; the flared "lips" on the opening deliver vibrations all around, getting at part of the clitoral crura.
Its air pulses are on the buzzy side, starting at a 3 and ending at an 8 out of 14. On the whole, though, I love combining the PIllow Talk Dreamy's fluttery and diffuse vibrations with the pressure waves' zingy focus.
Satisfyer Pro 2 and Satisfyer Pro Penguin Vibration affordable air pulse massagers
The Satisfyer Pro 2 runs about $69. As with other Satisfyer toys, this one is on the gentle end, with intensities from 1 to 6.5. It's not as versatile as the Curvy 3+ but has a lippier "mouth" and is a tad stronger.
Satisfyer's Pro Penguin (to me) also runs from a 0.5 to a 5. It's buzzy and has a sharp quality to it, which some users might like. It's also cheaper compared to the Pro 2.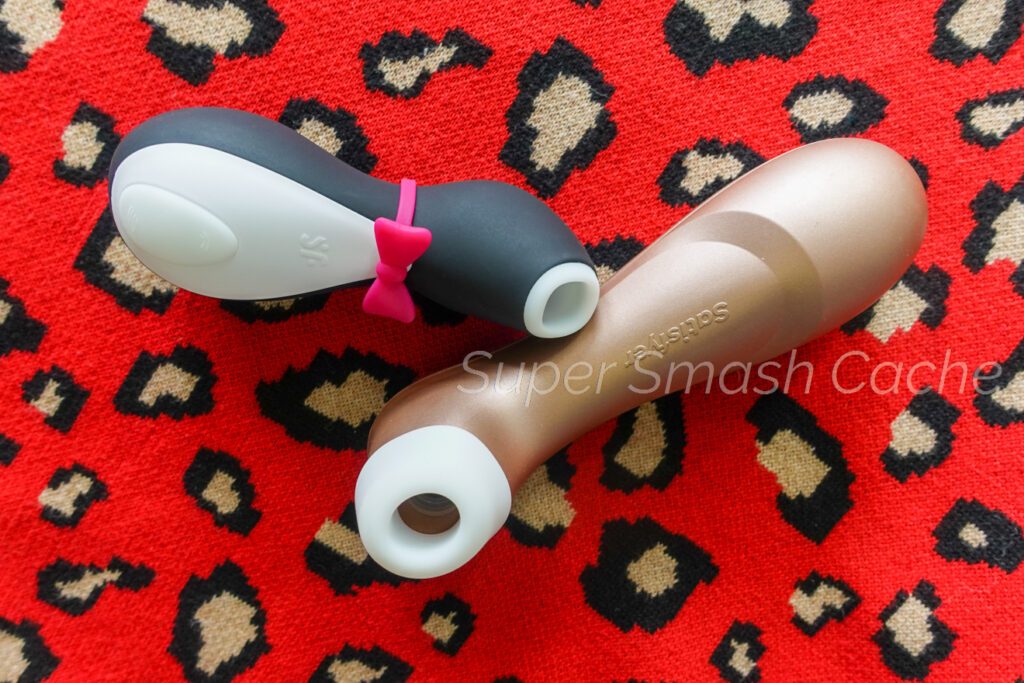 The Satisfyer Pro 1+ vibration is pretty okay, too. The vibrations are mosquito-like, but the air pulses get the job done. And I can't complain about the controls. The Satisfyers work, and they're OK for the price, but they're too buzzy to "wow" me.
Inya Rose
I wrote about this one in more detail in an earlier section. The main factoids you need to know: it has 3 speeds, it's super strong, and it has no subtlety. Get a 14/14 in intensity for just $40. Proceed only if you're sure that's what you want.
---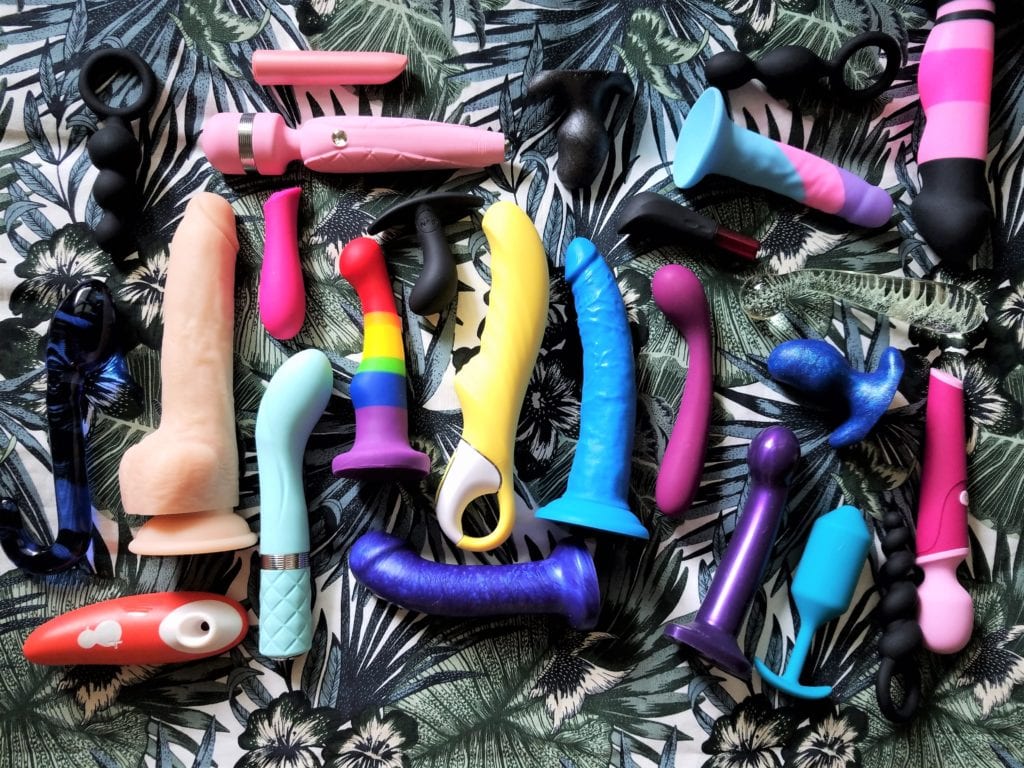 ---
Beware of these clitoral air pulse massagers
LELO Sona 2 and Sona 2 Cruise
I fucking hate the LELO Sona 2 and how its power stalls with pressure, but I can't deny that the Sona 2 Cruise has decent vroom.
The elephant in the room about the LELO Sona 2 Cruise, though, is that the tunnel inside the air pulse chamber is hella short. That translates to a greater risk of repeatedly bumping up against the clitoris, especially when paired with the toy's strong suction.
Proceed with caution. Use it over the clitoral hood only. Have one hand on the handle and one hand at the ready, near the nozzle, ready to pry it off if it starts to hurt you. If you have a bigger-than-average clit, I suggest entirely steering clear of the LELO Sona models.
(I also don't appreciate how they handled the PR disaster surrounding these products and dismissed users who had been injured. Yes, injured. Clitoral blisters, hospital bills, and all.)
Biird Obii / OSUGA Cuddly Bird massager
The Obii / Cuddly Bird has the same issue as the LELO Sona series: the tunnel is too damn small. Worse, the Obii and Cuddly Bird's opening is the absolute smallest I have ever encountered in an air pulse massager. And yes, it has injured a fellow toy reviewer.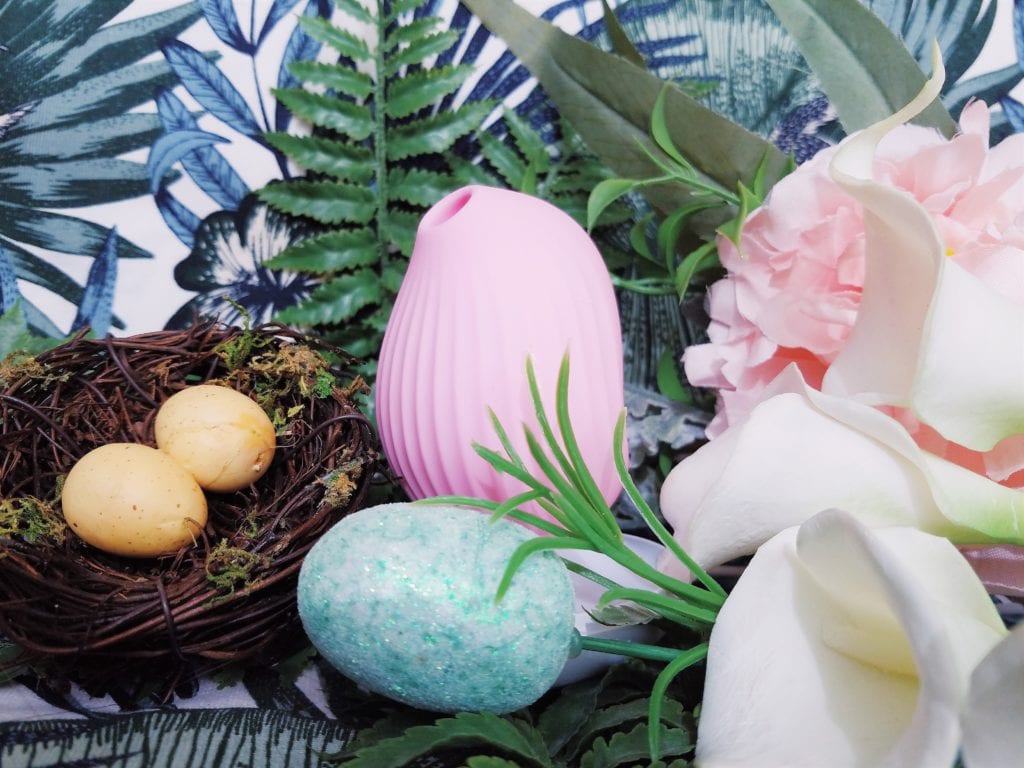 There are only three speeds, and they're all pathetic. And the vibrations? Look, if they're so wimpy that it's hard to discern where the motor is, we have a problem.
Read my full Biird Obii review and watch me eviscerate this fucking thing. Then, check out Girly Juice's post about the murky ownership of the design. Spoiler: Biird ripped off OSUGA.
Satisfyer Pro 3
Your mileage may vary, but this one just didn't latch on or stay in the right spot or deliver enough power to do much for me. 'Nough said.
---
Beyond clitoral stimulation alone
Want a little something-something different? This section is for rabbit vibrators and a penis stroker with air pulses.
The caveat to any review about dual stimulators, though, is that they're very anatomy-specific, so what works for me might not work for you, and vice versa. Read the linked air pulse rabbit reviews very thoroughly before buying.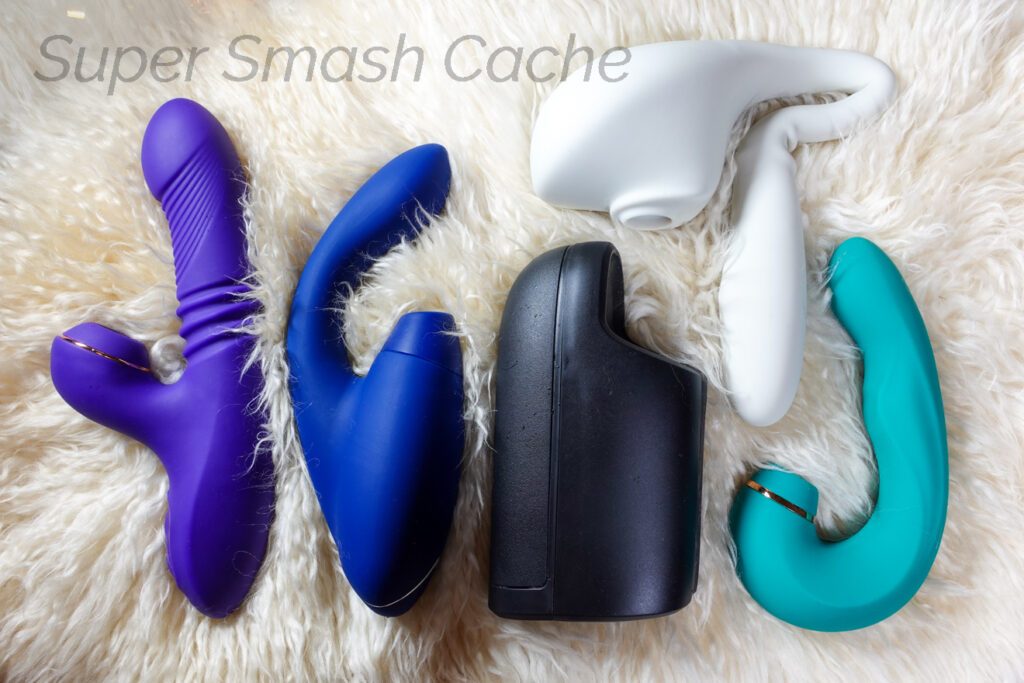 Lush Iris by Blush Novelties
I love this thing! The clitoral stimulation is quite gentle, but the Lush Iris's gyrating shaft gives me the glory of fingers swirling behind my cervix while the external massager blows air.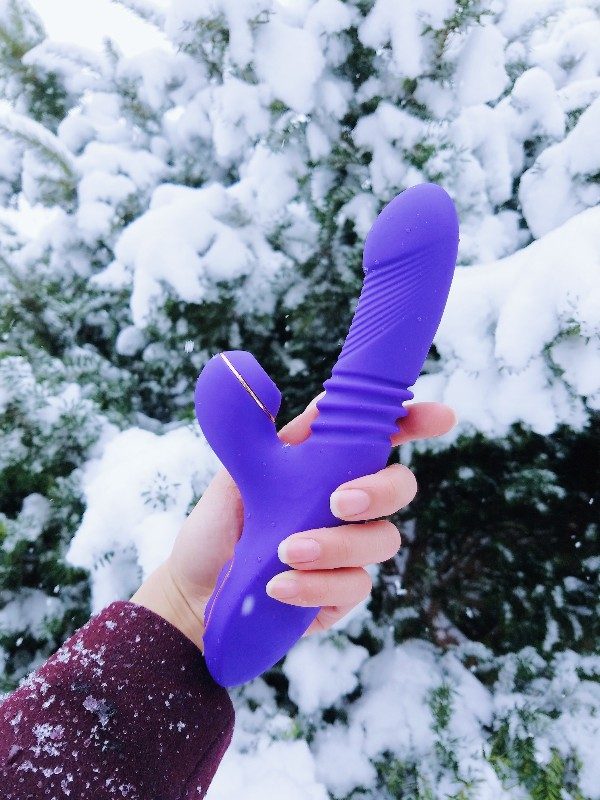 Read my full Blush Novelties Lush Iris review.
Arcwave Ion
Yaaaass, a silicone masturbation sleeve for penises with a built-in air pulse motor. It's best for penis-owners who know they like focused stimulation on the frenulum.
Read my full Arcwave Ion review.
Womanizer DUO
I'm so glad I didn't promise to write a full review for the Womanizer DUO rabbit vibrator. The air pulse stimulator is potent, and the G-spot vibrations are rumbly, but the shape just doesn't work for me.
The internal and external prongs are just too bendy, spaced too far apart, just too noncommittal to push up where it matters. Pity. The price is too much of a gamble for me to recommend anyone try the Womanizer DUO.
Lora DiCarlo Osé 2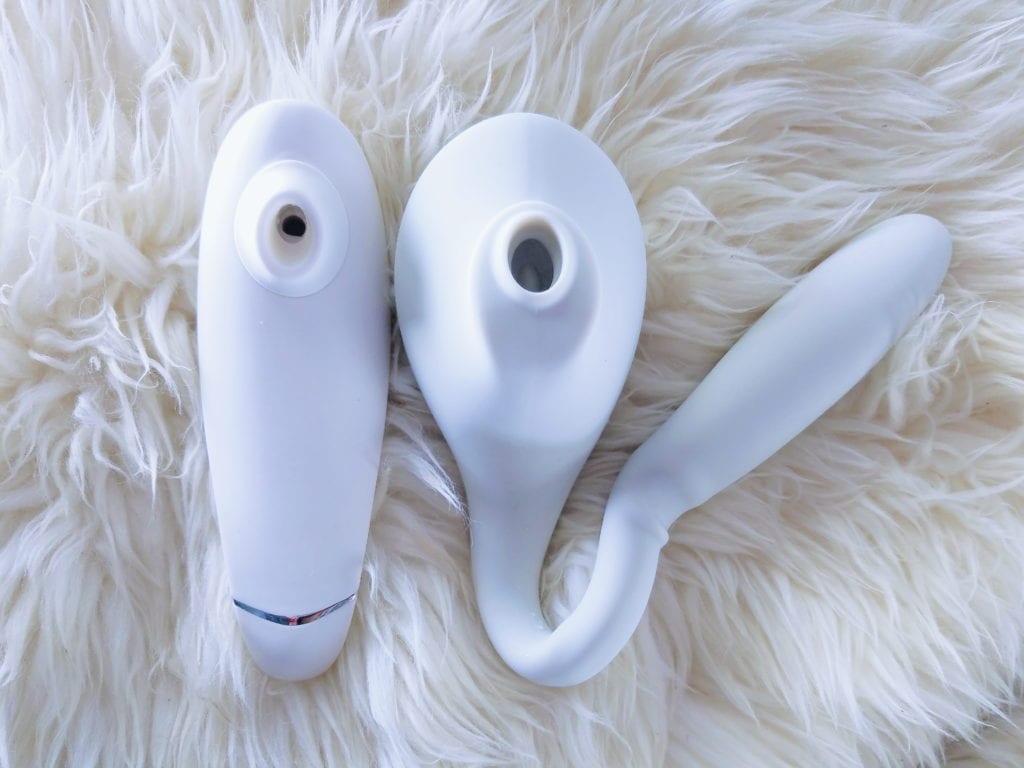 I have one word to describe the Lora DiCarlo Osé 2: overrated. If it's going to claim to deliver mind-blowing orgasms, it better be able to handle the physiological consequences of mind-blowing orgasms. Which it can't. The moving bead stops when I clench. $290 for this? Nah, dude.
Read my full Lora DiCarlo Osé 2 review.
---
Let's wrap it up!
There are so many clit sucking sex toys that it's easy to get overwhelmed. A few tried-and-true favorites stand out, though.
Here are the main takeaways from this clitoral air massager comparison: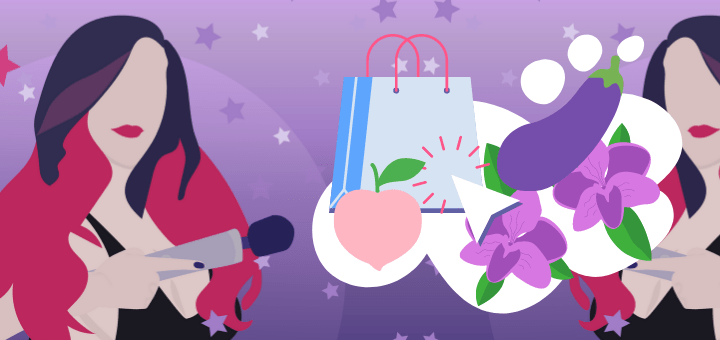 Disclosure
You may have noticed that I linked to multiple different shops in this post. When you shop via these links, I get a commission at no extra cost to you.
These retailers sent me most of the products in exchange for my honest review. In general, I link to whichever shop sent me the item, though sometimes, I'll link to a different one that has an especially good price. They're all fantastic shops that I'd recommend to any of my closest friends, though.