Review: Tantus Bishop, Fist Trainer, & Pawn XL Super Soft dildos
"I am struggling to get them in, and it will probably take a while," I emailed to the CEO of Spectrum Boutique. "Looks like I've met my limit."
"How exciting!!! Love it," she replied.
As the name would suggest, these dildos are for serious players who love pushing their boundaries with big, body-safe toys. There's a good reason why the Tantus Bishop's product info page says, "Boilable, but good luck finding a pot big enough."
At 2 pounds and 12 ounces, the Bishop is one of Spectrum Boutique's biggest dildos. Its weight is about the same as the stainless steel njoy Eleven's, allowing it to double as a thuddy impact toy.
My vagina was ready for the challenge. Both the Tantus Bishop and Fist Trainer are thinner than the 2.88" wide VixSkin Gambler, which I had used before without much discomfort. And the Pawn, at 3" wide, didn't seem like that drastic of a gauge up.
However, the outer layer of Vixen Creations' dual-density dildos is far more plush and pliable than Tantus's Super Soft formula. I knew I was in for a challenge.
Preparing to consume bigger toys
You might be thinking, "HOW DO PEOPLE DO THAT?!"
So I'll start with a crash course on leveling up your penetration game. Listen to your body and take your time every step of the way, of course. Six years ago, the 1.75" diameter Tantus Cush O2 was the thickest toy I had ever inserted vaginally. I've come a long way since then, but I wasn't in any rush!
Wetter is better
Lube is essential in this endeavor! I used Sliquid Sassy, a water-based personal lubricant with a gel-like consistency. You'll probably want to get the biggest bottle (8.5 ounces) and lie down on a towel— it's better to use too much lube than too little.
Kegels and reverse Kegels
Yep, the pelvic floor exercises that allow it to squeeze more tightly are actually helpful for safely and comfortably using big dildos. That's because, with a strong pelvic floor, your body has more trust that big insertables will not harm it, and can relax more easily. So rest assured: they will not ruin penetrative sex with more modest phalluses!
Incorporate external stimulation
I liberally used my Magic Wand Plus clitorally before inserting any of the XL toys. Arousal is key to getting it in for more than one reason. On a physical level, a massager increases blood flow to the area. Mentally, excitement is far more conducive to a good time than fear and tension!
Once insertion starts, though, I found that the dildo took up a lot of vulvar real estate, and I switched to a smaller wand: the BMS Pillow Talk Cheeky. An ultra-powerful bullet like the We-Vibe Tango, Hot Octopuss Digit, or Blush Exposed Nocturnal would suffice, too.
Tantus Fist Trainer XL: a pointed dildo for tapered insertion
I went for the Fist Trainer XL first. Out of the three Tantus XL dildos I tried, the Fist Trainer's girth ramps up the most gradually. I was hardly new to having an actual fist inside me, but assuming that this 2.6" thick dildo would be the easiest of the trio was a mistake.
A difficult start
When I got to the fullest part of the Fist Trainer's hump, I had to take it slow, as it applied unpleasant pressure to my urethra. That was the most challenging part for me— the vaginal stretch seemed minor in comparison. My friction reduction strategy: drizzle more lube on, twist to distribute, lube, twist, repeat. Lamaze breathing optional.
I used small thrusts. When I pushed my limit the right amount, I held the toy in place, just to get comfortable there, and had a few orgasms using the wand massager. Thrust a little. Push in farther. Hold in place. Massage. Repeat.
The first time I got the Fist Trainer's head in, I wasn't entirely ready. My vagina "sucked" in the rest of the bulb with a pop, and my urethra had hell to pay. NOPE, NOPE. I took the Fist Trainer out, had a few more Magic Wand orgasms, and tried again. No shame in taking a break.
Here's where the fun begins
Once I got past that, and the Fist Trainer's head was situated, came the non-stop orgasms. Indefinitely blissed-out, "I don't think I can be quiet," possibly waking up housemates, "shuddering for 15 minutes (or whatever I could handle)" type of orgasms. "I found something that synergizes with and multiplies the Magic Wand's contribution" orgasms.
Better for anal use than vaginal use
Unfortunately, there's another major downside to the Fist Trainer's shape. Akin to the Tantus Ringo, it's pointy and centered against my cervix! Yes, I love deep penetration, but that's under the assumption that a toy's tip can slip into the pockets in front of or behind my cervix, instead of jabbing it directly.
During orgasm with the Tantus Fist Trainer, I have to be mindful to pull the dildo out a little, lest my vagina squeezes and sucks it in deeper. For this reason, I would more readily recommend it to someone who likes anal fisting than vaginal fisting.
Tantus Bishop XL: G-spotty and easier on the cervix
The Tantus Bishop gave me everything I loved about the Fist Trainer and more, without nearly as much strain. Its rounded head has just the right amount of tapering for me— not too blunt, but also not so pointy that it irritates my cervix. And at 2.5" max diameter, it's not as thick as the Fist Trainer, but the curvaceous and rounded silhouette tessellates more tightly against my G-spot.
In short, the Tantus Bishop XL is more defined in the right places and gentle in others. Both dildos are front-loaded, but part of why the Bishop feels more forgiving is because the dips between each bulb give it flexibility when aiming. The Fist Trainer's cone-shape is far more structurally stubborn.
As such, the Bishop's head slides behind my cervix more readily than expected. I shouldn't be that surprised, considering my posterior fornix adored the also-thick and rounded SelfDelve Eggplant and VixSkin Gambler.
Thrusting with this dildo feels natural to me; its shape allows for long strokes that knead my cervix and my G-spot at the same time. Orgasms with it feel as intense as with the Fist Trainer, but more diffuse and full-bodied. So of the entire Tantus XL line, the Tantus Bishop is easily my favorite. Trying it was like finding out that my dear Blush Novelties Avant D4 had a distant cousin.
Many of the other Tantus XL dildos were designed primarily for anal use or for a fantastic stretching sensation. And I respect that, but I'm not their target audience. The Bishop XL makes the most sense for the vaginal erogenous zones — both deep and shallow— on top of being the most visually elegant.
Tantus Pawn XL: "there's no way she inserted that!"
Upon seeing my sex toy collection for the first time, a cis male friend immediately eyed the Tantus Pawn XL. "I'm getting anal fissures just looking at that," he commented. Even I all but gave up upon seeing the Pawn XL in person.
See, based on the manufacturer's given measurements (2" top diameter and 5.5" base diameter), I thought the Pawn XL's head would be manageable. My beloved single-density Vixen Randy is 2.25" across, for comparison.
On paper, it sounded fun to find out how much of the Pawn's shaft I could consume. In reality, the diameter of the Pawn's head is 3". That's quite a difference! It's bigger, firmer, and blunter than my VixSkin Gambler. "Time to die by impalement," I thought as I lowered myself on the Pawn XL.
To my credit, I did insert maybe an inch of its length. Beyond that, my vagina was not having it— especially my fourchette, the flap where my labia meet in the back. How do I say this nicely? I wasn't so much concerned about blowing out the room's walls, as tearing the curtain on the doorway.
And if I went past the bulb, what would I have to say beyond bragging rights? Nothing. Maybe later this decade, that will change, and I'll fully conquer the Tantus Pawn XL. In the meantime, it's merely a silicone art piece for the eyes only.
Closing thoughts on some of the biggest silicone dildos I have ever tried
After writing this post, I wanted to be extra kind to my mom for her bravery in bringing me into the world. I wouldn't tell her the reason I thought about that, but the Tantus Pawn gave me a glimpse into how childbirth would feel.
The Fist Trainer sounded fun on paper, but in practice, it's too pointy for my tastes. With an actual fist, it's easier to move one's fingertips out of the cervix's way. On days where my vagina craves something big and more front-loaded than the Eggplant or Gambler, I'll definitely reach for the Bishop. Its striking appearance was what drew me in, but its buxom bulges have earned a special place in my heart.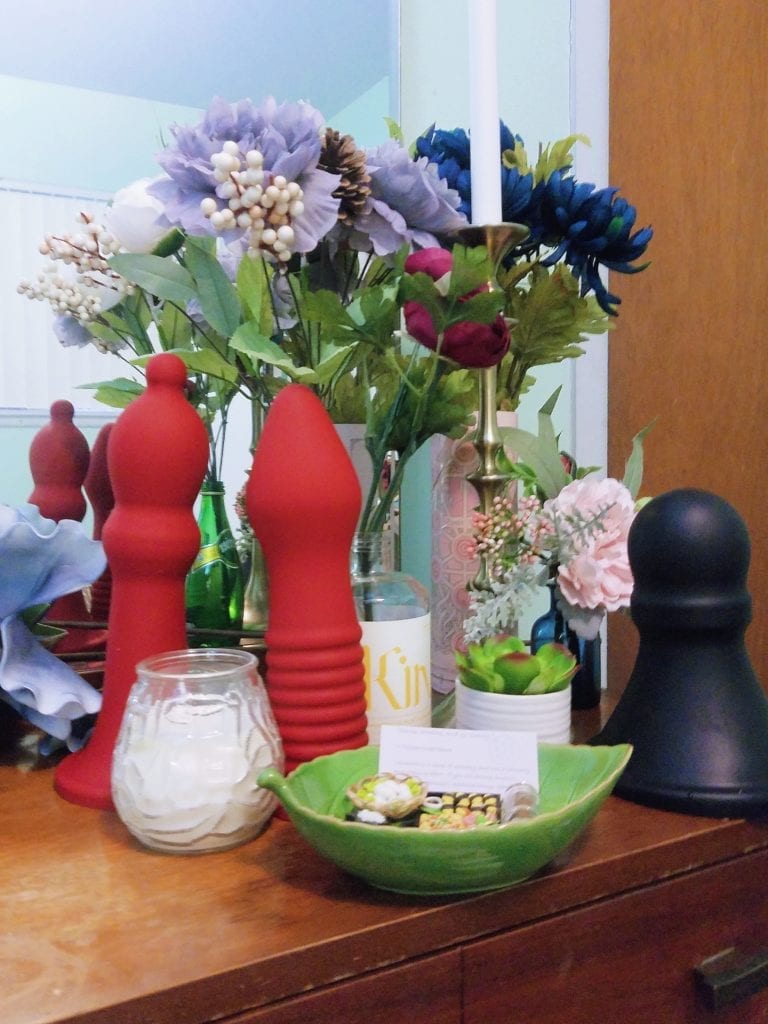 ---
[This review is a repost. I originally wrote it for Spectrum Journal.]