5 ways to optimize sex toy storage and organization!
If you don't have the freedom to display a metric fuckton of sex toys, could you say you're living life to the fullest?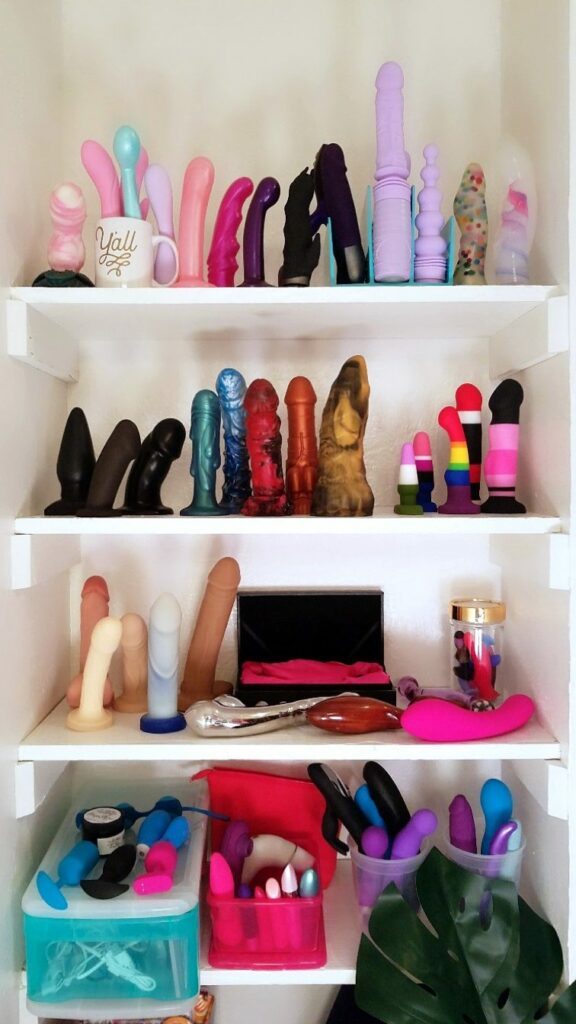 Upon moving into an apartment with my boyfriend, it's the first time in YEARS that I've had that option. The cherry on top is the built-in bookshelf in the walk-in closet. Naturally, I reserved it for my ample and meticulously arranged sex toy collection.
Update 1/3/2020:
My sex toy storage doesn't look like this anymore! You can find more recent pictures of my collection on my Instagram or in my blog post about my top 10 best sex toys reviewed in 2019 and year-end recap.
In the meantime, everything else in this post is about my fall 2018 collection. Enjoy!
Why spruce up your sex toy storage?
I'm not a naturally neat person, but I am a believer in the benefits of strategically sorting my belongings. It makes me horny just looking at my organized array of dildos and vibrators.
When I crave a specially shaped or textured dildo or type of vibration, all it takes is a quick glance and grab to get the right tool. And when I've finished, it's easy AF to put it back into the right place.
It's not much different from how you'd arrange a bookshelf. Books stand up tall to save floor/desk/tablespace. You can add more shelves for more books, without taking up any more floor space. Your favorites are at eye level. The colorful books' exposed spines allow you to scan.
Many of these tips sound like common sense, but they go a long way. Heck, you could apply these tips to practically anything in your household.
1

Maximize visibility and accessibility

I'm able to see all of my toys at once. That means I'm much more likely to remember every single one and use a variety. And for a cock connoisseur like me, that also means satisfying my particular cravings and having more fun in the long run!

In my new apartment, none of the dildos on my shelves block any of the others from my line of vision. That doesn't mean that they're perfectly lined up in a row, though. I staggered them in a zigzag to save some space while maintaining visibility.

If you're using deep drawers instead of shelves, you can still apply this principle by standing your toys up like you would with pencils in a cup. My clit vibes stand are an example of this on a smaller scale, in a clear bin. The only clit vibes that stay outside of the container are my Eroscillator and Zumio, because of their unique and powerful oscillation.

In my old apartment, I initially placed most of my dildos in a network of shower caddies and over-the-door hooks from the dollar store. Others, I displayed on my bookshelf. When my sex toy collection got way too big for that system, I laid them down in shallow, translucent drawers into which I could easily see.

The last image below is of the drawers when I temporarily put my sex toys in a storage unit rental.
2

Make vertical space your best friend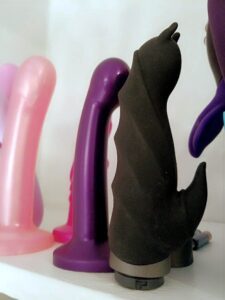 Making flat-bottomed books and dildos with harnessable bases stand is easy enough. Insertable vibrators and dildos without bases need a little extra help. But only a little help.
For one, if a vibe uses separate batteries and isn't super top-heavy, you can unscrew the cap and let it stand on the edge of the battery compartment. That's what I've done with my Fun Factory Darling Devil. The cap and batteries are out of sight directly behind it, but still very close when I need them.
A cheap magazine/letter organizer comes in handy for vertical storage, as I've demonstrated with my Velvet Thruster, its attachments, and my Fun Factory Stronic pulsators. Mugs also can hold a few slender vibes, plus one can lean up against the handle. And on the bottom shelf, I used some tall food storage containers to stand more insertable vibes.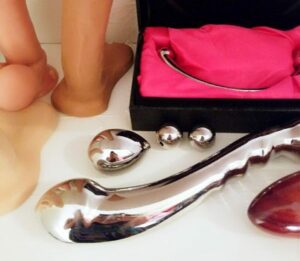 As a disclaimer, using vertical space is not an absolute! I wouldn't want to stand my super heavy njoy Eleven or njoy Pure Wand up, for example. The Swan Wand and Nobessence Intrigue are also clunky.
Plus, if anything's going to occupy the most shelf space, my beautiful stainless steel and finished wood deserve it.
3

Group similar items together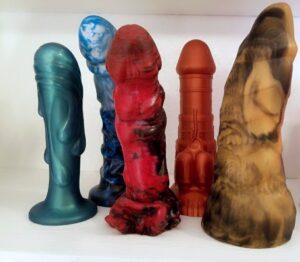 The categorization of my sex toys is very loose, but there's a method to my madness, I promise! Group your sex toys however it makes sense to you. Use whatever combination of brand, color, squishiness, or power you please.
For starters, the dildos I find most interesting are in the center. The things I was most excited to display. Most sex toys are solid black, blue, pink, purple, or fair flesh-toned, so I showcased the shimmery peacock green, copper, gold, marbled blue, and so on. I arranged them in a rainbow pattern because it just seemed like the natural thing to do.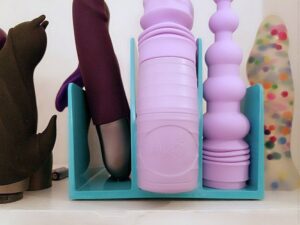 The next elephant in the room was the Velvet Thruster, which was too long to stand up on any shelf but the top one. And unlike most of my other vibes, I think my Fun Factory toys were unique enough to deserve their own space outside of the plastic containers.
My sex toy collection's other significant categories
Sex toy categories on the top shelf:
Other categories on the second shelf:
Categories on the third shelf:
Contents of the bottom shelf:
This shelf contains mostly small things like cords, vag balls, butt plugs, clit vibes. There are also some miscellaneous insertables, which are defined by what they're not.
They're what's left when you take out:
This elimination pretty much leaves handheld insertables in average sizes, with average vibrations, and in generic colors. No disrespect to my Blush Gaia Eco— it's an absolute steal for $10, and I do find myself reaching for often, but it's as bare-bones as an insertable vibrator can get.
4

 Everything else: put dainty objects into bigger containers

In my experience, a bunch of small things makes space look more visually crowded than a few big things. As well, playing with height gives your eyes something more interesting to trace. The key is to group your small items in a container; this tricks your brain into thinking they're one big thing.

A jar or platter of tiny dildos, for example, looks more unified than if the teeny weenies stood by themselves. And a jar of teenies with a stylish, bold lid looks more interesting to me than a plate of tiny dildos.

Another prominent example is gathering my clit stuff in a colorful container. I also tucked my otherwise unsightly cords away in a roomy drawer. A shallow box from the thrift store holds my tiny pins, buttons, and locks.

And condoms are the only sex-related thing I have in an opaque container. Let's face it: I don't care about the wrapper when I want a condom.
5

Adorn your space— add a pop of color here and there!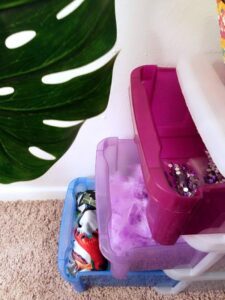 Closets don't have to be entirely practical! There are plenty of reasonably affordable ways to make the space yours, like colorful containers, bold wrapping papers, artificial plant parts, or that mug in the thrift store that says "Y'all."
I even have a set of colorful drawers that I'm now using to store props for future photos. Historically, I haven't often had open and well-lit spaces to have fun with my pictures in.
And at the end of the day, that's what it's all about: collecting sex toys is fun. Sex blogging is fun. Having a well-organized showroom not only looks good but is fun for everyone who gets to see, including my readers.
---
Heads up! I used affiliate links for some of the products mentioned in this post. They help support my blog by bringing me a commission at no extra cost to you. You can also support me by buying me a coffee.