Vixen Creations VixSkin Outlaw review: huge, realistic silicone dildo
It's no mystery that I love VixSkin's orgasm-inducing voodoo. Back in the day, my rave review of Vixen Creations' VixSkin Johnny was the most popular post on my blog.
Sizing up and making the straight-shafted, 2″ thick Outlaw dildo my next VixSkin sex toy was a no-brainer. Johnny is a meaty 1.75″ thick, curved dildo, which is great for G-spot stimulation, but I pretty much only ever use it for deep, cervical stimulation. As such, I didn't care to try the pronounced head or curve of the VixSkin Maverick (also 8″ x 2″) or VixSkin Buck (6″ x 2″), and I wasn't sure if the Buck would sometimes be too short. I wanted something long with a straight shaft.
And gosh, I'm happy with that decision. When my VixSkin Outlaw first arrived, I was terrified letting it sink in just HOW big it is. I had taken the big end of the BMS Factory Swan Wand, which had a 2″ thick hump, but was relatively narrow beyond that. Outlaw is 2″ thick aaaallllll the way down. But it's a very gentle 2″, in part because it's squishy and in part because it's straight-shafted.
Vixen Creations Vixskin Outlaw vs. Johnny
I was, in all honesty, surprised at how quickly it popped in after using Johnny as a warm-up toy. I hadn't even re-applied lube! Johnny yields a little more resistance and irritation when I insert the tip because it's bent and has an exaggerated head. Outlaw goes in smoothly, despite being bulkier.
Another thing that makes Outlaw surprisingly gentle is the thicker outer layer. Outlaw is fatter than Johnny but squishier. The head is also pretty much all squish, so while 8.5″ length sounds excessive, it's very yielding. If you can take a firm 1.75″ thick dildo (such as the Tantus Cush O2), you can probably take the Outlaw's girth.
Johnny's curve means there's a lot of pressure on my cervix and the front wall of my vagina (my A-spot). The curve has more potential to be painful during certain times of the month. Outlaw also delivers a lot of A-spot stimulation, but the pressure is more uniformly spread, and there's more pressure on the wall behind my cervix than the front. It's less targeted and more general, but still very much intense, in a different way.
But how are the orgasms with the VixSkin Outlaw?
The bigger girth all the way down makes me come harder. There's more resistance to clench around to induce each orgasm, and once I get the ball rolling, the clenching is enough to perpetuate it.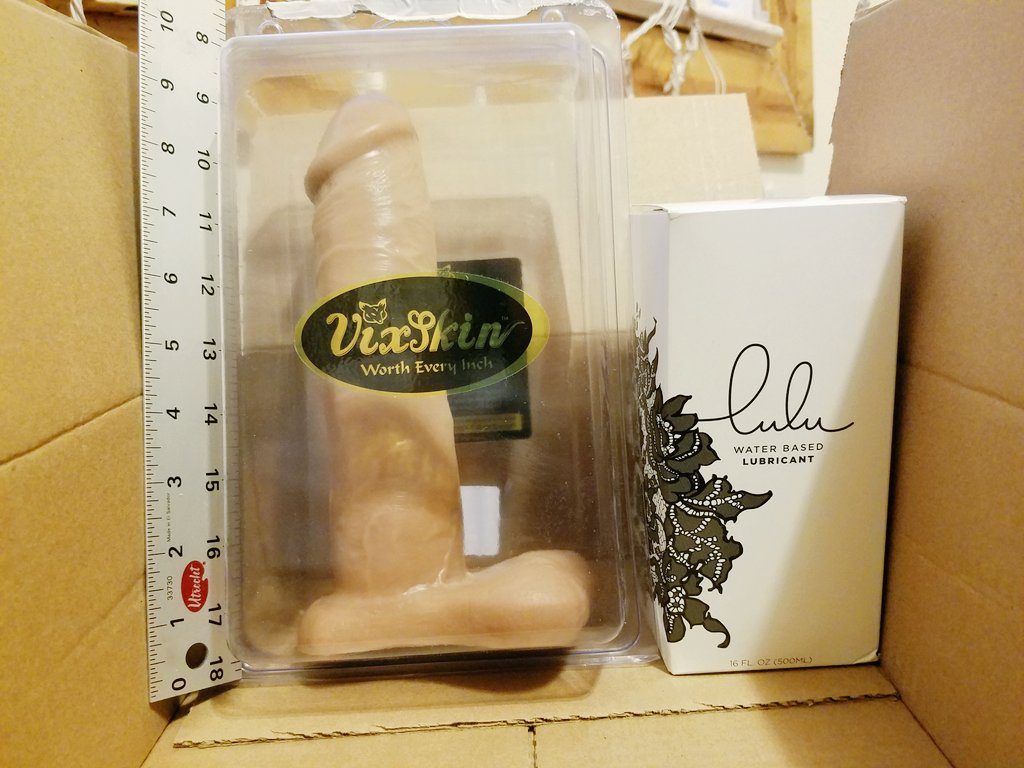 Clench, come, repeat. Back-to-back orgasms for way longer than I've experienced with Johnny, and without thrusting. WITHOUT. THRUSTING. The orgasms from Johnny are still rave-worthy, but I generally push it all the way in, hold it there while clenching, and give 2 or 3 thrusts when my plateau starts going down. I stay on the plateau of heaven for longer with the Outlaw, with much less effort.
Also, let's get real: I ADORED Johnny as my #1 dildo for the longest time, so nothing in this review is saying that Johnny isn't great. It's just that Outlaw is even more fantastic for me: lengthy, cervix-oriented, and forgivingly thick, whereas Johnny is designed for G-spot stimulation. Johnny is like my meat-and-potatoes for every day, while Outlaw is like my dessert.
Which VixSkin dual-density dildo should you get?
At 8.5″, it's one of the longest dildos in the collection. It's thick and it demands more material than most VixSkin toys. If you're sure you don't need the length, the Lonestar is also straight-shafted with a minimally protruding head, but 6″ x 1 7/8″ and $10 less at SheVibe.
My vagina, though, is made of the same material as Mary Poppins' purse. As such, I keep craving more, voracious for the likes of the VixSkin Gambler.
There's a VixSkin dildo for every penetration-loving orifice. Know thyself, and you'll find one you adore, whether it's big and curved, small, long and lean, or in-between.