Blush Novelties Temptasia Elvira / Luxe Mio review
The Temptasia Elvira is one of the best body-safe dildos under $25. Its silicone is buttery-smooth with very little drag, it's girthy, and the coronal ridge is well-defined.  The design is in many ways minimal, but enough to stimulate my G-spot and sometimes A-spot.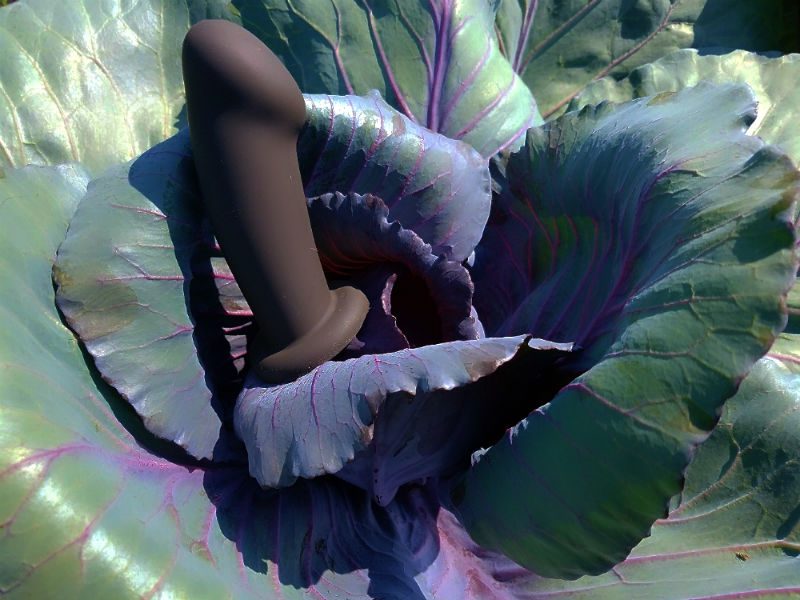 I consider the Temptasia Elvira (and its purple counterpart, the Luxe Mio) the "lite" version of one of my favorite dildos: the Avant D4. These dildos have the same firmness, same silky matte finish, same max girth. Along with the Avant D5, they also have very similarly shaped heads. The most apparent differences are that the Elvira is smooth-shafted, angled, and shorter.
Whereas the Avant D4 is the standard 7″ of insertable length, the Elvira is 5.5″. And sometimes, that's all you need. After all, most people's G-spots are less than 5″ inside (mine is about 2″ inside my vagina).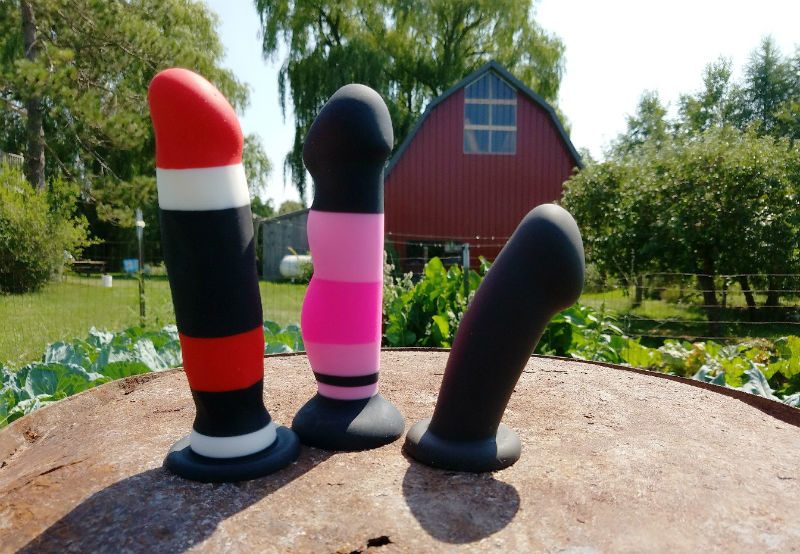 Temptasia Elvira's G-spot head
The Elvira's head pops out just as much as the Avant D4's but isn't as sharp; it hugs my G-spot slightly more gently.
Most of the G-spot pressure comes from the corona as I jiggle or slide the Elvira back and forth. Because the head is so flat, it's more a toy that I pull against my G-spot or knead it with, than a toy that I thrust directly into it. The head shape is much appreciated when combined with the full girth, perfect for tilting even more steeply at my G-spot and clenching around when I come.
It gives me that gorgeous kind of orgasm where I keep coming and coming back-to-back as long as pressure is maintained, with minimal thrusting. The shape, size, and rigidity are great for that, without being too overwhelming for frequent use.
However, using the Elvira on myself isn't effortless.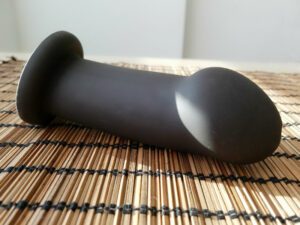 Downsides to Temptasia Elvira and Luxe Mio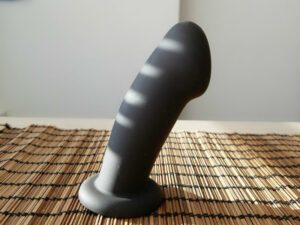 For one, it doesn't have much of a G-spot curve. Though the shaft is at an angle relative to the base, it doesn't make much of a difference when thrusting. I still have to tilt the head forward and base back A LOT for my G-spot to get something intense out of it.
If I want to take advantage of the angle, I put the Elvira on a flat surface or sex toy mount to ride. Otherwise, I think it's best as a partner toy. My partner has an easier time thrusting it in me than I do. Plus, I could see angle being handy for easy G-spot aiming when in a strap-on harness.
And, let's face it: if the head is flat and there isn't much curvature, the length does make a difference when trying to target the right spot. Consider that the Vixen Randy is about the same length as the Elvira, but its head is more rounded, and its shaft is a bit more bent.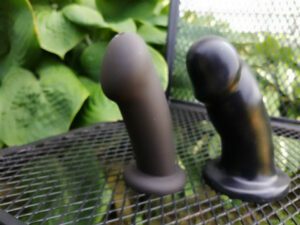 Even if you're not taking the entire length, angling the toy demands something to hold on to and push. I have a shallow G-spot, so this isn't a huge deal to me. However, I wouldn't recommend this dildo to people with short arms (unless they're flexible), or to plus-sized people who need more reach.
An entirely fair trade-off for an affordable dildo
For riding or partner use, I really can't complain about the quality-to-price ratio. Even though the Elvira is too short and blocky for cervix stimulation (my favorite kind), I can appreciate a good deal when I see it.
I get it: if this toy were longer, that would demand using more silicone and drive up the cost. When plenty of people care more about girth than length, having a slightly shorter toy for $24 is a fair trade-off. The less silicone you use, the more the manufacturer saves money and passes the savings on to you.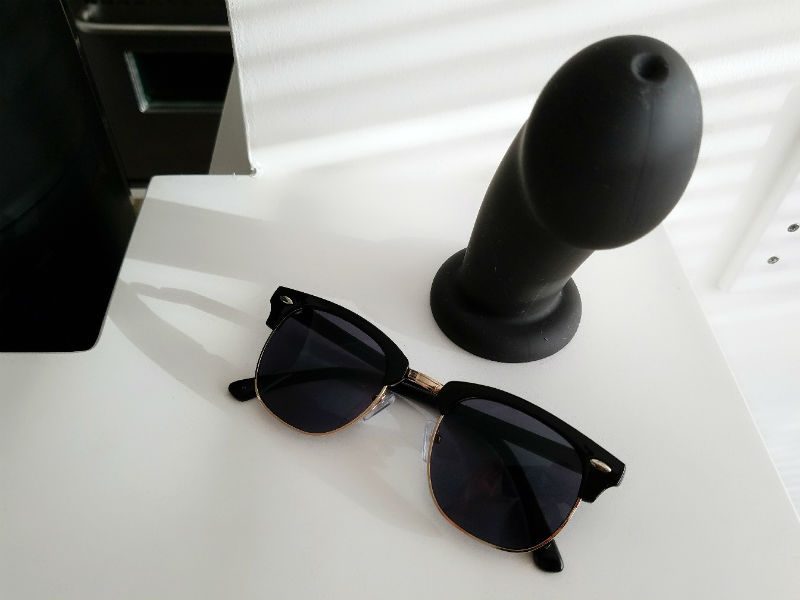 This also goes for other toys in the Blush Novelties Temptasia line:
Temptasia Reina– $24 for a slender dildo with stylized balls. 1.3″ diameter and 5″ of insertable length.
Temptasia Jezebel – $21 for a 1.5″ wide dildo with 5.25″ of insertable length. Gently curved— good for someone with a shallow cervix to explore their A-spot and posterior fornix.
You can find these at Peepshow Toys AND take 10% off with coupon code SUPERSMASHCACHE. That's $21.60 for the Elvira and Reina, and $18.90 for the Jezebel. The coupon code works sitewide, so feel free to take 10% off anything you want!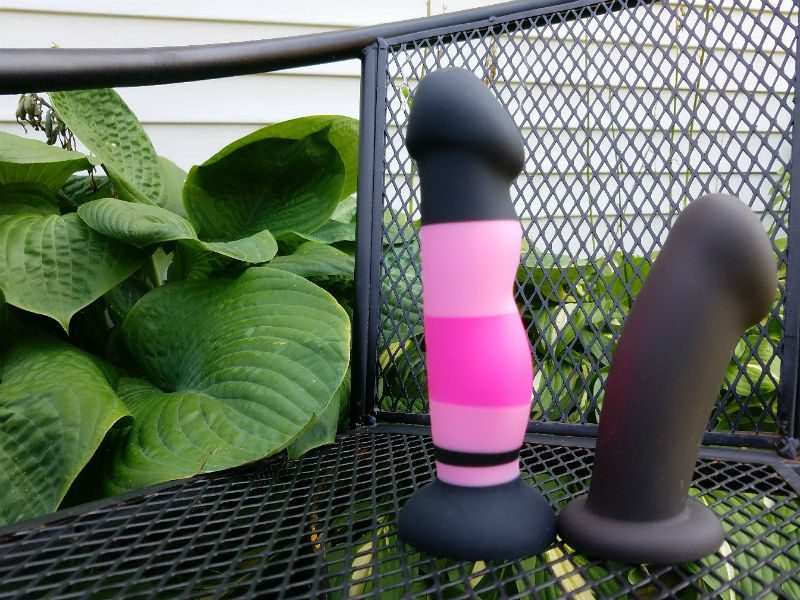 Peepshow Toys sent me the Temptasia Elvira in exchange for my freely given and honest opinion. Thank you, Peepshow Toys!