5 Reasons Why I Like the Eroscillator More Than the Hitachi Magic Wand
Sometimes, it feels like everyone loves the Hitachi Magic Wand Original except me.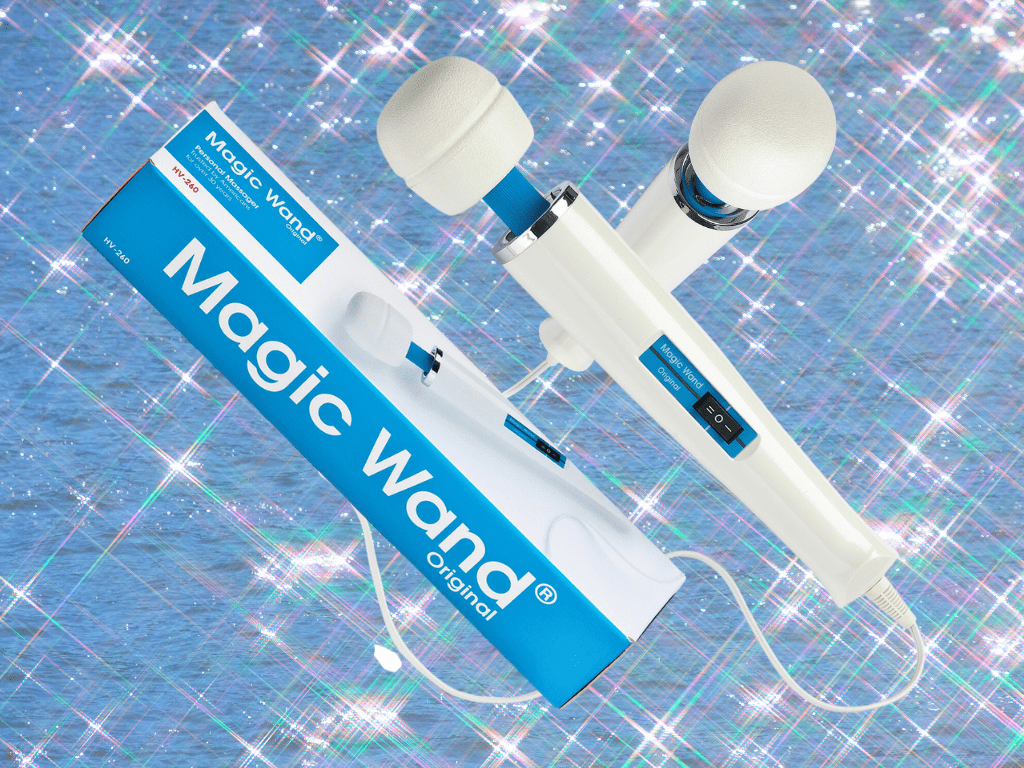 "May I introduce you to the Hitachi?"

"You NEED a Hitachi!"

"It's the Cadillac of Vibrators!"

"It can make anyone orgasm!"
I'll be the combo-breaker and say that the Hitachi Magic Wand Original1 isn't for everybody, and not just because it might be too powerful.2
I get it: the Hitachi Magic Wand Original has been around since April 1968. Betty Dodson popularized it literally almost half a century ago. Even clinical researchers have found that it's a great option to get past anorgasmia. And at $60, it's so affordable for something so powerful and undoubtedly an important historical icon for female pleasure.
Super important update/disclaimer: this post is about the Magic Wand Original only!
This post is from two years ago, and I still don't like the Magic Wand Original. I stan the Magic Wand Plus and Rechargeable, though. Find out why by reading my Magic Wand Plus review.
If you want to save yourself some scrolling and get the absolute rumbliest and most powerful wand vibrator I have ever tried, read my review of the full-sized Doxy Die Cast and get one here.
I've also compiled a list that includes some of the best rechargeable wand massagers besides the Magic Wand. ANOTHER UPDATE: I haven't added the Lovense Domi to the list yet, but it's great. It's no Magic Wand Rechargeable, but it's damn close in a smaller package — easily the best compact cordless wand.
…and back to the original post
The Magic Wand has rightfully earned its respect. It's one of the best sex toys in existence, but I find it a travesty that so many recognize the Hitachi Magic Wand, and so few know the Eroscillator. Yeah, Dr. Ruth endorses the Eroscillator, but most of my friends had never heard of this other powerful mains-powered toy. I must end that. Here's why:
I use the Eroscillator more often than any other toy
Update: the Magic Wand Plus now claims the title of Most Used Toy in my collection.
Still, for much of my sex blogging career, the Eroscillator stayed faithfully plugged into my wall socket most nights, accessible from across the room with its extra-long cord.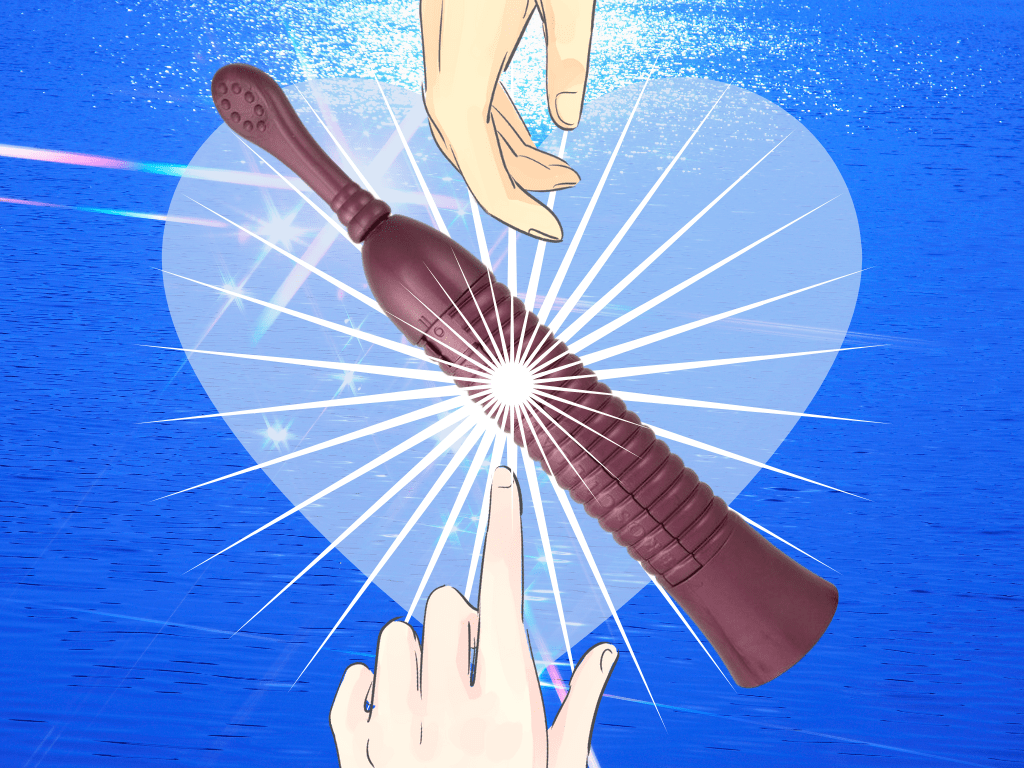 It's rumbly, it's targeted, it can be subtle or powerful, and it features a unique back-and-forth oscillation that you can't find in other vibrators. It rubs rather than rattling against.
There's so much I love about the Eroscillator. It makes my other vibrators feel irritating in comparison, including, yes, many wands. You might be wondering what I have against the Magic Wand Original and whether my dislike is just because it's popular, so I'll go into that first.
1

The Magic Wand Original numbs me out temporarily

The revered Hitachi Magic Wand Original is very hit-and-miss for me. Either I insta-come, or I quickly start going numb for the rest of the session (no long-term desensitization, though) and it takes forever to orgasm. Even if I turn it up. Especially if I turn it up! By the time I've managed an orgasm, I've already trudged through the itchy irritation from the wand's buzziness and just straight up can't feel anything afterward.

There's no reason for that when there are smaller and quieter vibrators that provide the right type of power for me. Wands might have more power in absolute terms, but in the Magic Wand Original's case, that's because of their sheer speed; the power isn't deep or targeted like the Doxy Die Cast's thuddy head.

There's nothing wrong with disliking the Hitachi Magic Wand. Full stop. Despite the praise I've heard about the Hitachi Magic Wand being "The Cadillac of Vibrators" and able to make anyone orgasm, I'm not alone. Even Dangerous Lilly, a sex-blogging veteran with almost polar opposite preferences, agrees with me in her review of the Magic Wand Original:
Orgasms with the Magic Wand are finicky with me. It's either a record-breaking 1:47 seconds the-crowd-is-cheering sort of thing, or it's just too much and my clit won't break and submit to it.
Her experiences very much mirror mine.
2

There are wands better than the Magic Wand
No other wand I've tried tops the Doxy Die Cast in sheer strength. Nothing. Nope, not even the Magic Wand Plus or Rechargeable.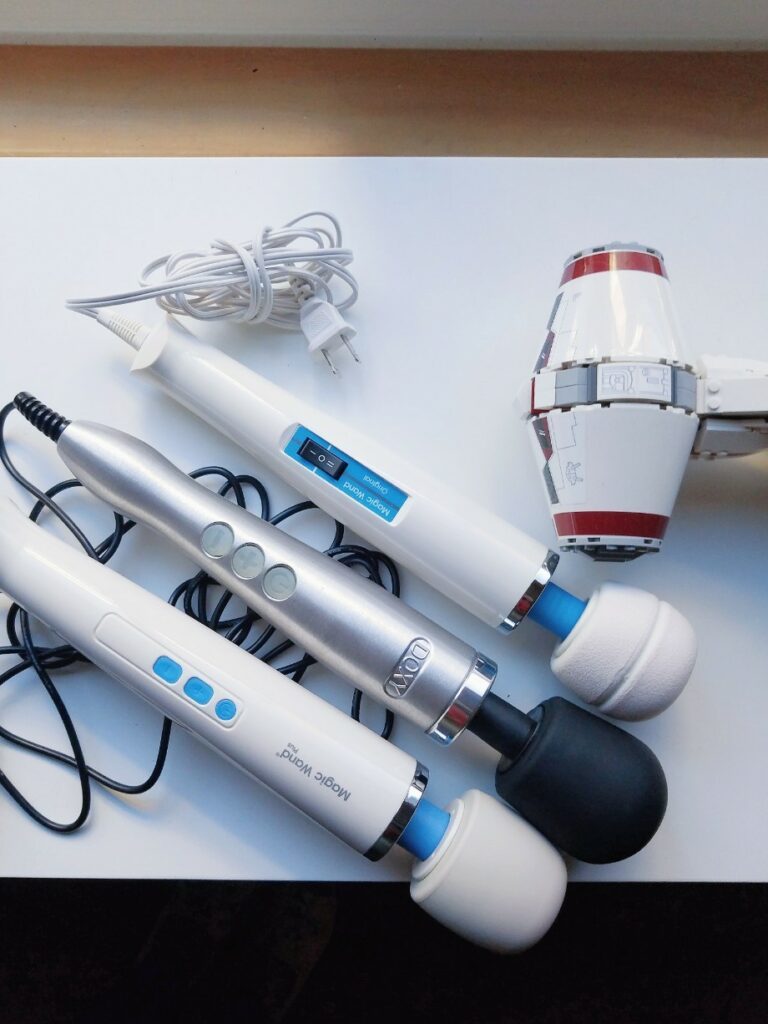 The Magic Wand Rechargeable is the most powerful rumbly and rechargeable wand vibrator I've tried, though. And if you've ever wanted an insertable vibrator almost as powerful as the Hitachi Magic Wand, you'll want to read my wand massager round-up — find out how the BMS Factory Swan Wand compares.
Not all wands are created equal, so my intention isn't to say that I'll dislike every wand I ever try. However, I don't particularly adore the vibrations on the Hitachi Magic Wand Original, the Tokidoki x Lovehoney rainbow unicorn wand, or either version of the Bodywand.
I find the Magic Wand Original "meh." The Magic Wand Plus and Rechargeable upgrades, though, come with more speed settings (on the low end!) with deeper vibration quality. And that is a beautiful thing.
3

The Eroscillator delivers better orgasms for me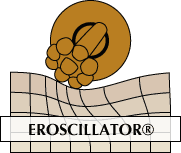 I can only speculate why the Eroscillator is so much more conducive to orgasms for me. I know that, unlike most vibrators, its head swivels side-to-side, rather than just shifting in pressure. It's also a less irritating, lower pitch.
Perhaps it's the back-and-forth motion. Or probably my brain wants to filter out the more constant input from the Magic Wand's faster vibrations. Maybe the rumbliness is that much more pleasurable and makes me come so much quicker that there's not enough time for my brain's filter to kick in.
I think the last potential explanation is less relevant since the Eroscillator can still give me orgasms after a session of extended use. With most vibrators, I need to turn the speed up more the longer I use it as it numbs me, but it's not so with the Eroscillator. An orgasm 5 minutes into the session takes the same amount of power as an orgasm 15 minutes in.
4

The Eroscillator is was the only clitoral toy that could consistently bring me to squirting

Orgasms from using the Eroscillator sometimes take time, but it's not because I can't reach orgasm. It's because I'm deliberately holding back an orgasm until I can't anymore. It's one of the few clit vibes that can give me the "have-to-pee" feeling of being close to squirting, and the only vibe to consistently do so. I usually have a few orgasms and stop before I get to the point where I squirt.3

Update: It's not just the Eroscillator now! The Fun Factory Volta is the one other external vibrator to get me to push me over the edge to squirt.

When the orgasms with the Eroscillator do arrive, they feel fuller and deeper than my clitoral orgasms usually do. They last longer than with, say, the Tango. For me, it's easier to have more in one session with the Eroscillator than with any other clitoral toy. Nowadays, the Doxy Die Cast, Eroscillator, Zumio, and Magic Wand Plus are on the same godly tier for me, despite all being very different toys.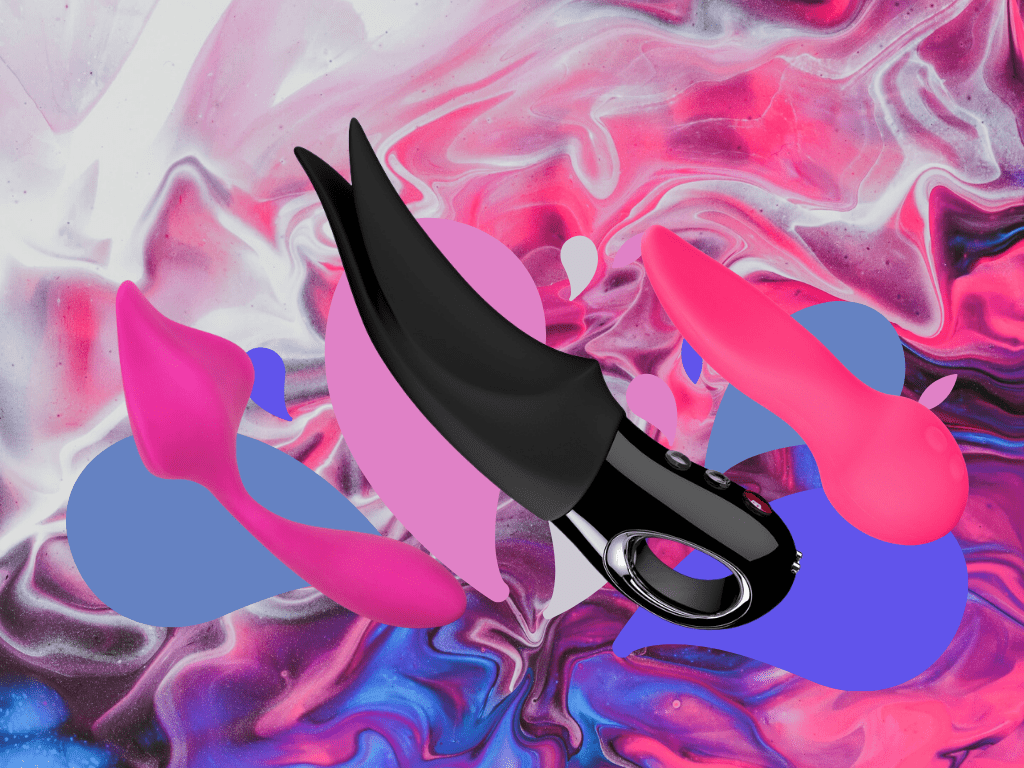 5

I like precise, pinpoint vibrations

With the Eroscillator's small head, I can apply pressure to specific spots on the sides of my clit. Many sex bloggers like love applying vibration to their entire vulva. Maybe you like broad stimulation, but that's not me. Update: nowadays, I love vibrators of all shapes and sizes!

Once I understood that I liked targeted stimulation, I realized why I've actually enjoyed some buzzy clitoral vibrators. One example is the VeDO Bam Mini. It's weak as fuck, but rigid with a pointy tip, allowing me to apply the vibrations to my clitoris with targeted pressure. That feature allows it to exceed my minimum standard of, "it gets me off," even on a pattern.

The Eroscillator, by contrast, is pinpoint but also one of moderately high intensity. If you want to try the Eroscillator but are unsure about using a precise tip, fear not! There are several different attachments, the most pinpoint being the Seven Pearls, and the most diffuse being the marshmallow ultra-soft fingertip attachment.
Combination of precision, speed, range, and rumble
In truth, I'm still trying to learn and understand what vibrations my clit likes with more consistency. However, I know that the Eroscillator's combination of features is a perfect fit for me:
Can be gentle or powerful
Rumbly enough to not need speed to compensate
Fast enough for me to orgasm, but slow enough that I don't get numb
Motion yields multiple long and robust orgasms
Precise and rigid enough to press into the side of my clit
I LOVE the Eroscillator. I don't even feel the need to justify how ugly it is. Nowadays, I rarely say that I love any toy, but saying that I love the Eroscillator is entirely fair to my beloved VixSkin Johnny.
Other recommendations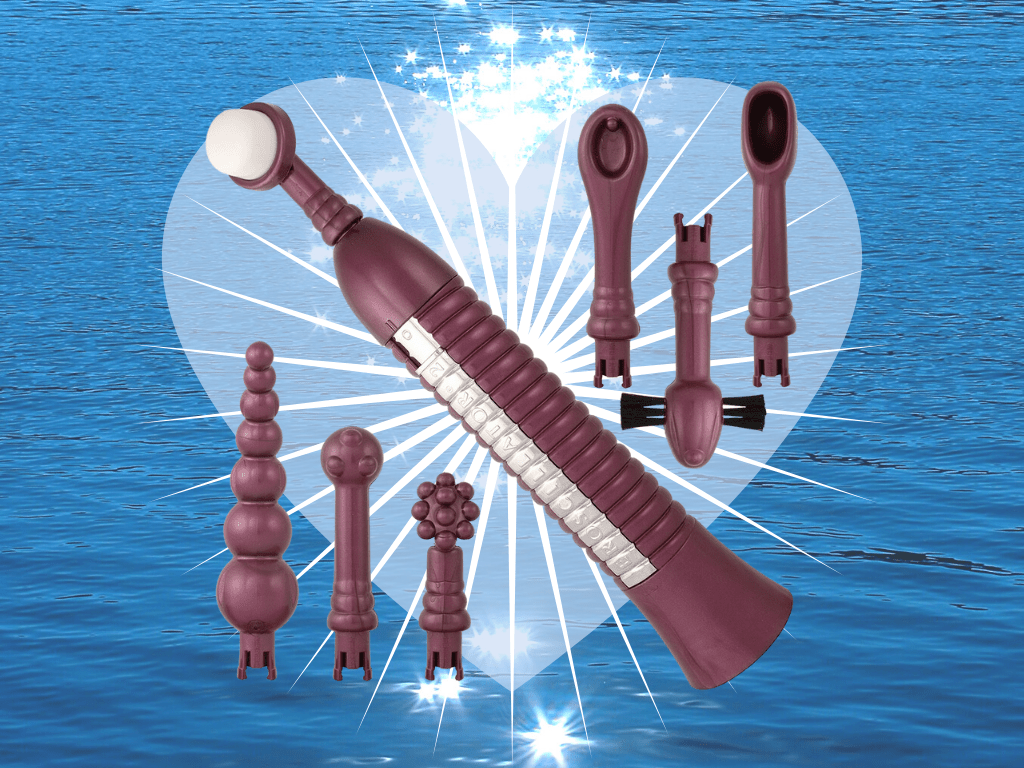 It can be overwhelming to decide which Eroscillator to get. I personally use the Eroscillator 2 with the G-point attachment. It's subjectively one of best attachments for transferring the Eroscillator's power. The G-point attachment can get loud if you turn on the Eroscillator without pressing it against a surface, but that's something I work around by using it under a blanket and making sure it's already on my clit when I turn it on.
The marshmallow ultra-soft fingertip attachment is squishy and rubs with a more delicate touch. So if you need power, this attachment works best atop the more powerful Eroscillator Top Deluxe. Pretty much any Eroscillator is good, but it comes down to which one works best for you.
Price is a factor, and I totally understand
I think spending an extra $20 for the Magic Wand Plus is well worth the money because it's rumblier and you get more speed settings. If you want even deeper, richer quality vibrations, also consider the We-Vibe Wand.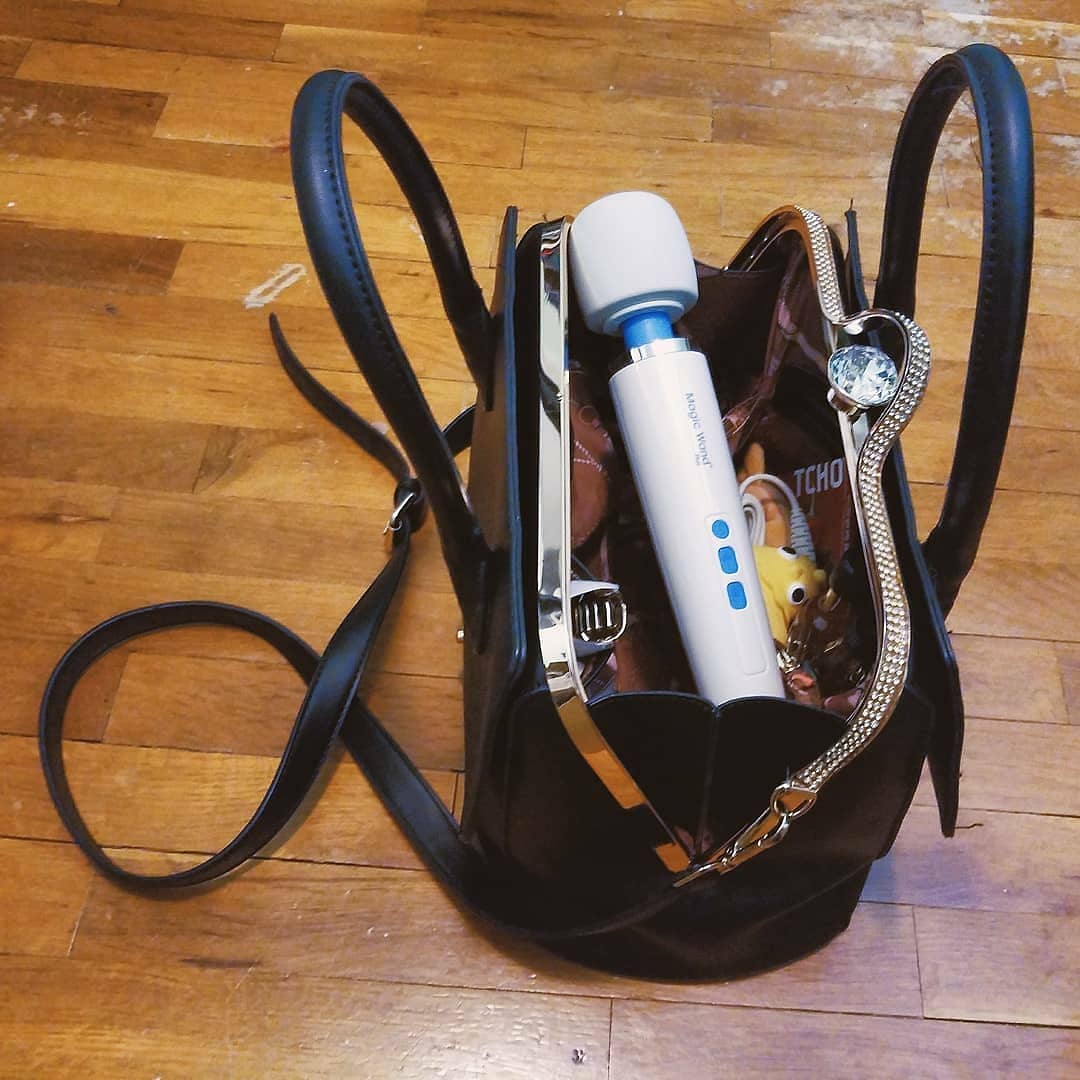 However, if you just want something powerful for the price, I'm still entirely in support of getting the Magic Wand Original ($60) or Bodywand ($49) as a first mains-powered toy. The Bodywand's highest speed is about the same as the Hitachi's slower speed.
No, seriously. Just get the Magic Wand Plus if you're on somewhat of a budget.
I initially gave the Bodywand a positive review. I still think it's a good toy, but not for me. The vibrations for the Magic Wand Original and Bodywand are very powerful but surface-level and loud, a combination that I found hit-or-miss.
Final thoughts
All the mains-powered vibrators I mentioned in this post are good toys, but the more sex toys I try, the more specific my preferences become. For 2015 me, the Magic Wand Original and Bodywand would have been satisfactory. 2019 me knows better what she wants, and finds the Eroscillator, Magic Wand Plus, Doxy Die Cast, and Lovense Domi to be much more reliable toys.
Yeah, $140 might sound pricey, but consider that I've been using it multiple times a day, every day, for a year and a half. That comes out to less than $0.10 per use and even less per orgasm so far. The Eroscillator is a genuinely cost-effective investment in happiness and stress relief for years to come.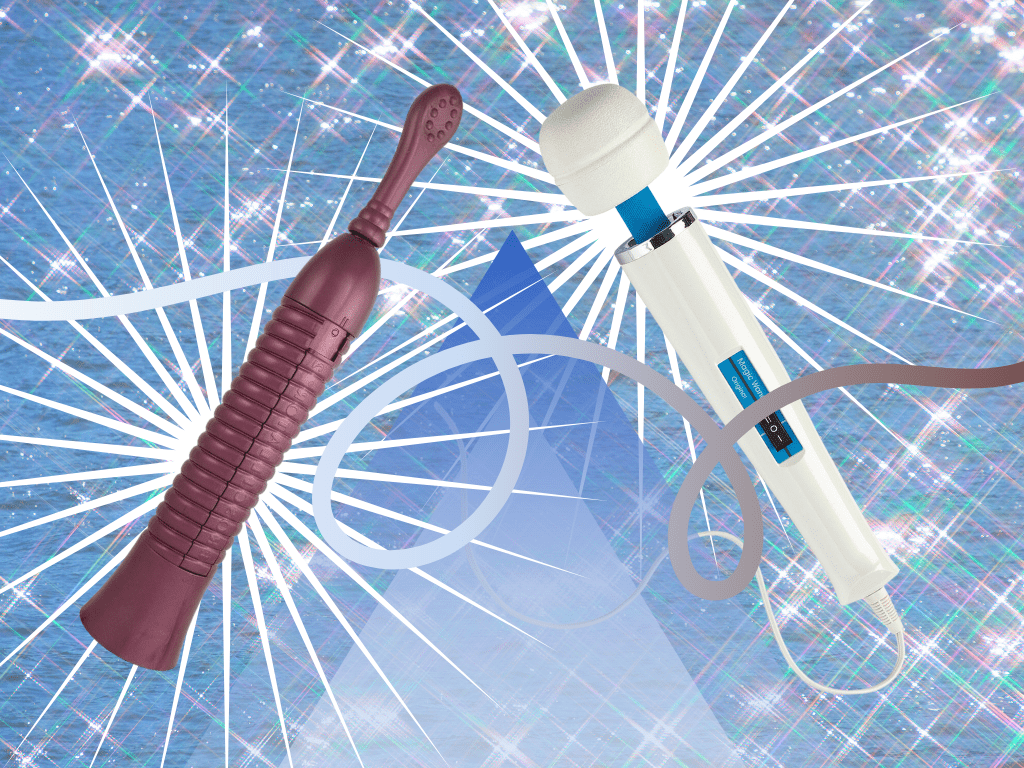 Footnotes
Basically, Hitachi (the company) got too embarrassed about their name being associated with a sex toy, so they dropped it from the product's name.
Full disclosure: I'm one of those people who can come in 45 seconds via finger-rubbing, but I've tried enough vibrators to know that vibrator preference is more nuanced than the sheer amount of power.