Review sampler: Jopen Comet Wand, Kinklab Neon Wand, LuzArte Jollet, MyStim Sizzling Simon
2014 was the year of my sexual awakening. It was the year of:
my first orgasm from breathing and clenching alone
refining my cervical orgasms
my first time trying electrical stimulation
having a consistent, long-term friend with benefits for the first time
Not coincidentally, it was the year my sex toy collection seriously started expanding. It wouldn't have been an exaggeration to say that by the end of 2014, I had a little over $1,000 worth of sex toys. And when you have that many sex toys, it's natural to develop picky preferences and have favorites.
What about now, four years later? Did the toys I loved in 2014 stand the test of time?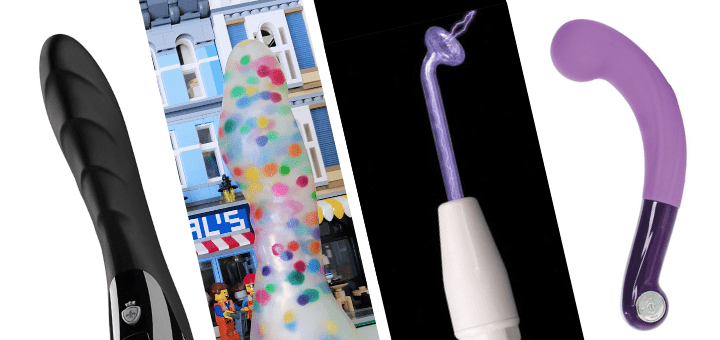 ---
1

Jollies Jollet by LuzArte
Damn near perfect dildo for simultaneous G-spot and cervix stimulation
Shape and features of the Jollies Jollet
Legend has it that the Jollies Jollet was cast from the inside of a vagina, that they who wield this mighty dildo will have their orifice filled perfectly with firm pressure. There's a bump that's 1.9″ at the fullest part and presses into the G-spot while the tapered tip slides behind the cervix. There's also a bullet cavity into which the user can insert a powerful bullet vibe and make the whole thing vibrate.
The bump's position perfectly thrusts to stimulate both of my favorite internal erogenous zones resonating split-time. When I pull, it presses into my G-spot, and when I push, it presses into my posterior fornix, all with just enough room for me to make the small thrusts my cervix likes. And when I orgasm and clench, it pushes the bump into my G-spot even more, making me come nonstop for a few minutes straight if I'm really in the mood.
You can embed practically anything you want in the clear silicone!
As if the sexy shape wasn't enough, the aesthetic color and pattern possibilities are endless. The particular Jollet I have has little rainbow pom-poms suspended in it for polka dots, but you could customize it with whatever you want. Just email Luz and order via the LuzArte Products website.
You could put lavender and herbs in it. Dungeons and Dragons dice. Silk flowers. False eyelashes and glitter. Barbie hands. Confetti. Monopoly game pieces. Let that sink in. In the picture to above is a closely related vaginal plug called the Jollie, with embedded rhinestones.
(Hey! You can get 30% off any LuzArte Products order, including totally customized Jollets, with coupon code SUPERSMASHCACHE.)
I still love the Jollies Jollet, and…
I wish I had known more about how to take care of clear silicone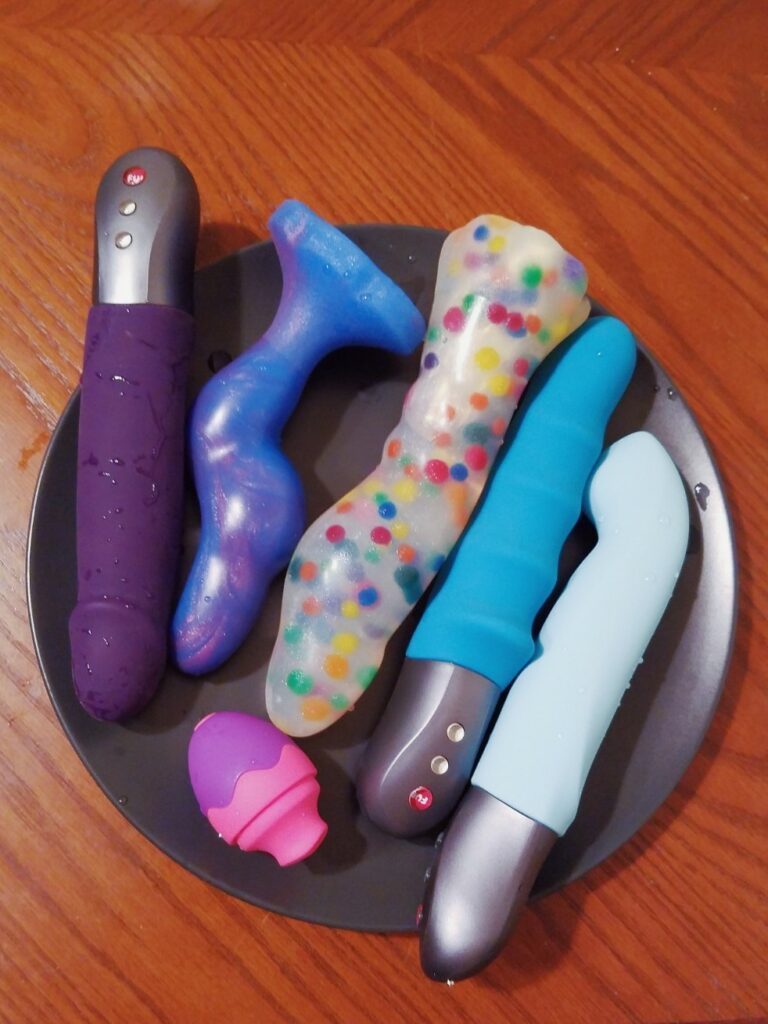 2014 was a time when I was a lot more draconian about disinfecting my dildos, often using a bleach solution. Bleach doesn't affect the body-safe nature of clear/translucent silicone, but it can react and discolor it yellow.
The change is chemical, so you can't scrub it off. That was something that nobody ever told me when I started collecting sex toys, so it's a bummer that my old Jollet didn't stay clear.
To keep your clear silicone colorless, I suggest you use something gentle like Dr. Bronner's unscented soap and if you need to disinfect, boil for 5 minutes. With proper care, clear silicone will stay clear.
I'm excited that Chavez Dezignz / Jollies is now back as LuzArte!
I had never been so excited to announce a discontinued product's revival! The maker I got my Jollet dildo from closed shortly (but temporarily) after I bought it. Almost four years later, they came back under a new name: LuzArte products. I long anticipated the day that I could spread the gospel of the Jollet, and other people could experience just how glorious its G-spotting is!
If you don't want something custom-made, you can also get a polka dot or purple flame Jollet from Spectrum Boutique. Take 10% off with discount code SUPERSMASH10
---
2

KinkLab Neon Wand + Power Tripper
Electrify your body!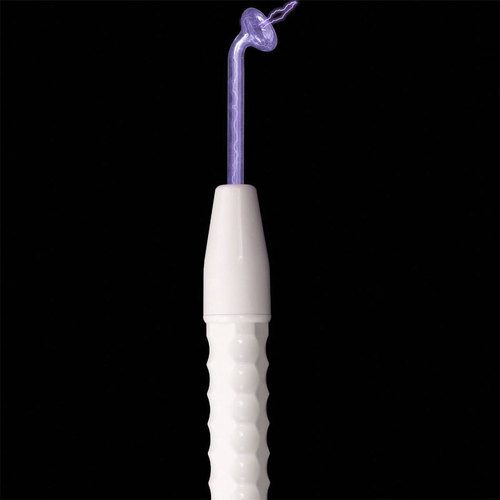 Imagine that every time you got close to someone, they'd feel a spark. Literally. It's a reality with the Neon Wand and Power Tripper attachment. The attachment plugs into the wand on one end and tucks into your bra or waistband on the other, and that's when the magic happens: you can shock people with any part of your body.
It can feel like a slight tingle with surfaces like the pads of your fingers or focused like tattoo needles if you use your fingertips or tongue, or better yet, a metal implement. Forks, tweezers, and Wartenberg wheels are all ways to intensify the electric feel.
My favorite for torturing people has to be a metallic cheer pom-pom, though. Think about it: the strands are randomly aligned, so the person receiving the sensation doesn't know exactly where the next shock will be.
The Neon Wand comes with glass electrodes that glow a gorgeous purple or red, but if you haven't tried the Power Tripper attachment (sold separately), you haven't tried the Neon Wand.
Fun at vanilla parties as Pikachu for Halloween
That's right: I didn't just dress like Pikachu, but I also could shock people like Pikachu at Halloween parties. People gathered around me to have their turn playing with me, even though it was in a non-sexual context.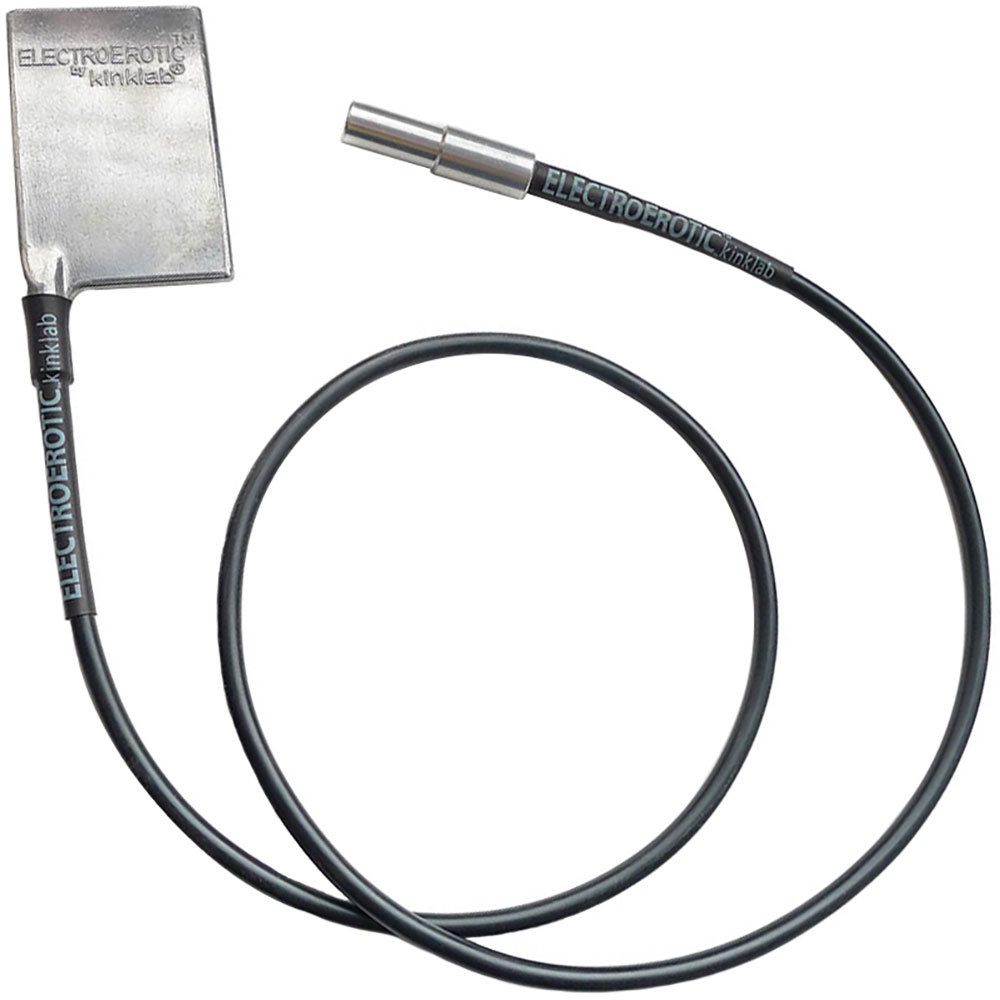 I could also hold hands with people and, as long as we maintained physical contact, they could shock people too.1 We continued with a chain of people until it seemed relatively innocuous to someone just arriving: a person quite far away from me could shock others.
The Neon Wand is marketed as an erotic fetish device, but don't let that limit your imagination! It's fun for non-sexual play, too.
How did I feel about the KinkLab Neon Wand in 2018?
I wish I still had it! A friend borrowed it a few years back, and I never saw it again. If my boyfriend lived nearby, I might consider buying another one. However, since he's long-distance and I don't go to parties as often as I used to, the Neon Wand isn't a priority… even if I do get nostalgic thinking about being Pikachu for a day.
I missed it so much that I bought a new one! Fuck yeah.
The Zeus Twilight Violet Wand works the same way as the KinkLab Neon Wand does. If you still have questions about violet rays, be sure to check out that post for my answers to frequently-asked questions!
---
3

Jopen Comet Wand
G-spot assailing vibrator

This vibrator will bash your G-spot so hard that you won't give three fucks about four fucks. Imagine the njoy Pure Wand's big end in vibrator form, and that's the Jopen Comet Wand. The critical difference, however, is that it's made of hard plastic and silicone, making it more lightweight.2 Because of its materials, it's also about $20 less.
It's one of the absolute most direct G-spot toys you can get, especially for this price. The bulbous head is of moderate girth on an abruptly narrowed, steeply C-curved neck and shaft. It was effortless to stick in the Comet Wand and feel the bulb thrust against my G-spot with the slightest pushing on the handle. Every jiggle and twist drives me wild.
If your G-spot is a little past your pubic bone (which is the case with most vaginas), your G-spot deserves to have the Jopen Comet Wand (or the njoy Pure Wand) annihilate it. It's not a toy for the faint of the vagina.
How do I feel about the Jopen Comet Wand now?
The Jopen Comet Wand is worth every penny for its G-spot pounding. Its vibrations are powerful, so buzzy and loud that they're more there for "oomph" than as an essential feature.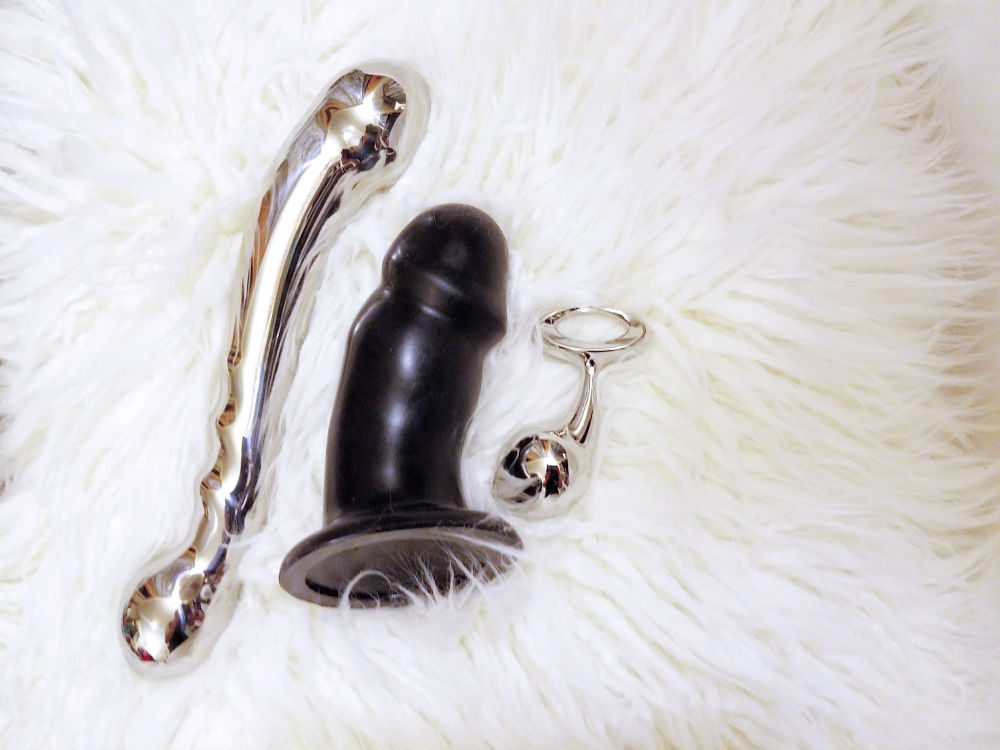 I ended up giving the Comet Wand to a sex-positive friend. While it was an essential part of my sexual self-exploration at age 19, I've since found G-spot toys I like way more. The njoy Eleven and Vixen Creations Randy, for example, might be less direct on my G-spot, but they're girthier and fill me up more intensely.
The Jopen Comet Wand is still one of the best G-spot missiles if you're into that, but since I love deeper penetration, it was a toy that I used less and less over time.
---
4

MyStim Sizzling Simon
Self-contained E-stim vibrator
This vibrator shocks the inside of my vagina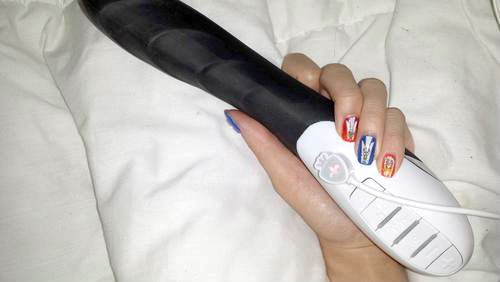 What makes the MyStim Sizzling Simon so unique is that it's a vibrator that delivers electrical stimulation via built-in plates on either side.3 You don't need to plug it into a separate unit, making it far less expensive than the alternatives. The shocks feel like something between tingling, prickling, and pulsing, depending on which setting I use.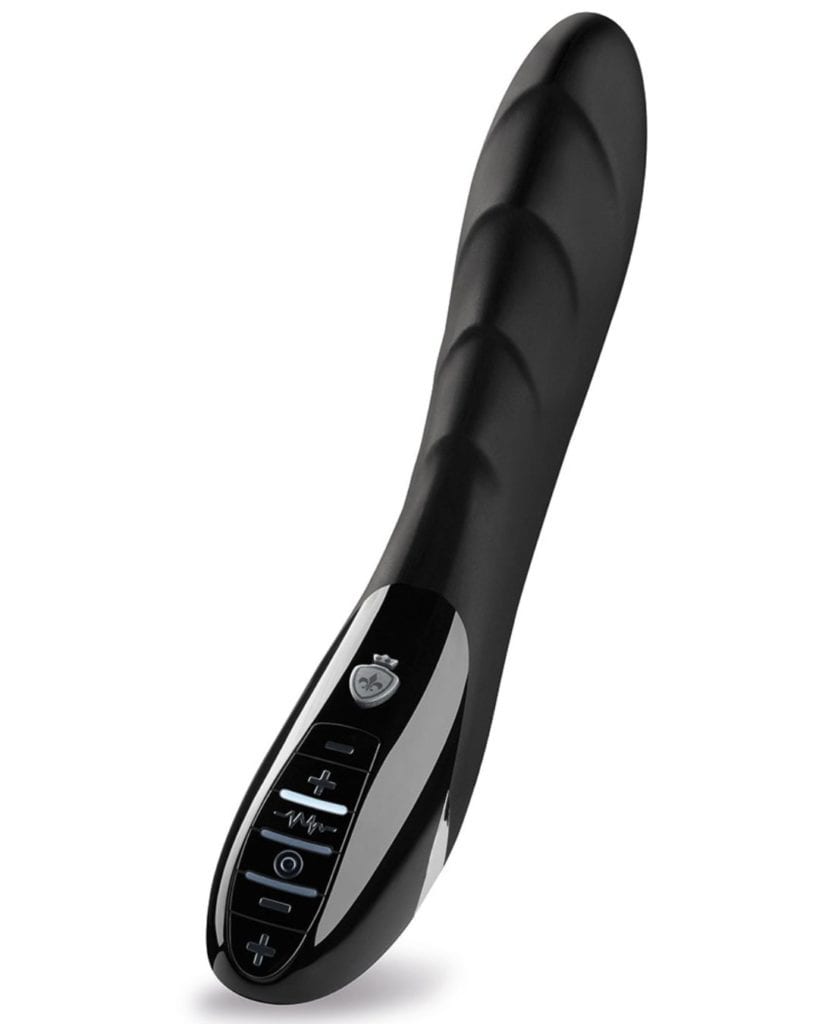 The electrostimulation turns me the fuck on. It's enough to make me come, but I can't use the e-stim on this vibrator without wanting to pound my pussy hard.
I wouldn't recommend this device for e-stim anywhere but your orifices, though. I find that the shocks are too temperamental that way. In the same vein, make sure you insert the device entirely before you turn on the e-stim.
Passive kegel exerciser
The kegel exercise settings' electrical surges feel a lot deeper. It makes sense, considering they're designed to penetrate your pelvic floor muscles, instead of just cause sensation on the surface. My favorite way of using this setting is to passively kegel while reading.
I wouldn't buy the Sizzling Simon or any of MyStim's self-contained e-stim vibrators just for the kegel settings, but I do see where they would be especially useful. For example, people who have recently given birth would undoubtedly benefit from fun ways to do Kegels.
However, some might struggle with isolating the pelvic floor muscles, and that's where having an electrostimulation device can come in and show the user which muscles to squeeze.4
Moderately rumbly range of vibrations
MyStim Sizzling Simon vibrator has two motors: one in the shaft, and one in the tip. Between the two, there are at least six speed settings and six patterns of waves, pulses, and escalation. The throbbing rhythm of vibrations alternating between motors gives this vibrator a sense of movement, even when it's stationary.
How do I feel about the MyStim Sizzling Simon now?
Though the vibrations don't impress me as much anymore, the Sizzling Simon could have been among my favorites if it could hold its battery life over time. Seriously, if I charge it all the way and don't use it for three weeks, it won't turn on after having been set aside. Even if it doesn't touch anything metal. That's how much the battery sucks, and I seriously don't get it.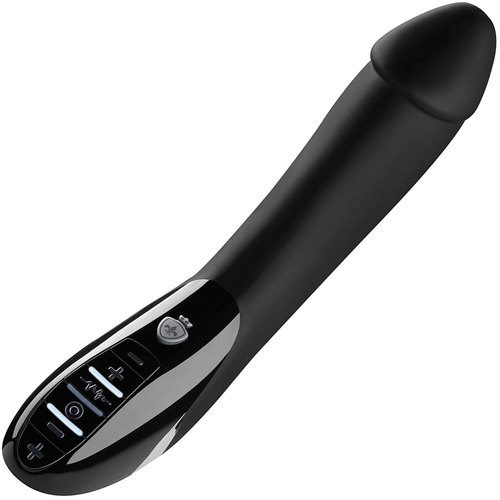 I've also since learned that I like girthier, smoother toys. If I had to do it all over again, I'd still buy a MyStim vibrator, but instead, I'd get the Tickling Truman. At 1.7″, it was girthy enough to intimidate 2014 me. Looking back, I think I could have consumed it. The Tickling Truman would fill me up better and been more suitable for thrusting.
---
The more I think about it, the more I want to buy a Tickling Truman.
Some things never change; 4 years after I started collecting sex toys, I still haven't reached a saturation point. I still want to explore more and not just try new toys, but also revisit what I liked about past toys to make my experiences even better, come harder, and scream louder.
Footnotes