Tantus Ringo review: huge butt plug used vaginally
I'm a 5'0 tall, 110-pound femme who has used dildos with the circumference of a soda can. My enjoyment of huge sex toys is so much more than a Napoleonic "Fuck you. I'll show you"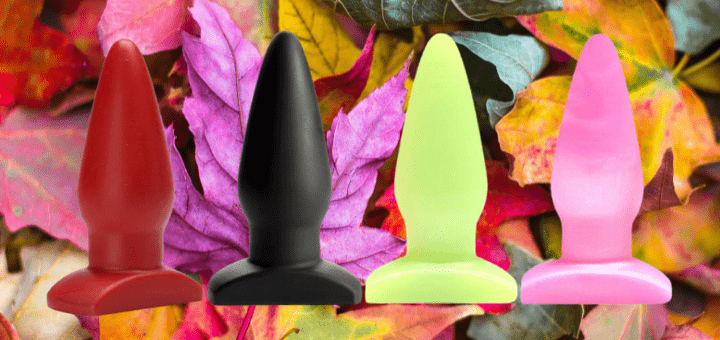 Fisting and girthy sex toys make me come uncontrollably. And with the Tantus Ringo and its whopping 2.35″ max girth, I went bigger than I ever had before.
UPDATE: the Oxballs Ergo Large is about the same thickness but WAY more comfortable plug to use vaginally. It is an absolute delight for that purpose. Also, I've gone even bigger than the Tantus Ringo with the SelfDelve Eggplant and Vixen Creations VixSkin Gambler.
What exactly is the Tantus Ringo?
The Tantus Ringo is a HUUUUGE, matte plug made of medium-firm silicone, with a bit of flex at the tip. I wanted to feel the stretch vaginally and walk around wearing it, even though it's marketed as a butt plug.
For either purpose, the rectangular base makes a lot of sense; the shape allows it to rest between the cheeks or labia, far more comfortably than conventional round bases.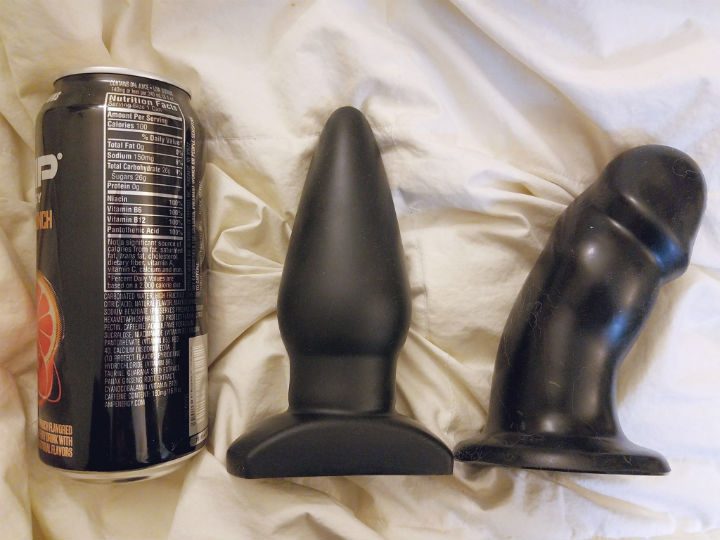 UPDATE: This principle of design assumes that all else is equal, of course. The Uberrime Sensi pussy plug has a round base, but it's super soft silicone. Therefore, it comfortably flexes over the vulva. The Oxballs Ergo is another squishy plug with a squishy and T-shaped base. Fuck, yeah!
How does this huge butt plug feel to insert vaginally?
UPDATE: A lot has changed since I originally this Tantus Ringo review, including reviewing even flatter and blunter dildos for vaginal insertion. Even with the Self Delve Eggplant and VixSkin Gambler, the friction doesn't bother me that much anymore. Nevertheless, use lots of lube!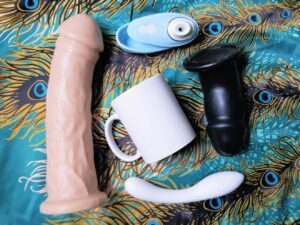 Here's what I originally wrote in my review:
As with many other fat, not-quite-squishy silicone toys, the Ringo drags on my urethra a bit on the way in. It's not that I can't handle the internal stretch, but my external bits are spaced closely.1 Use more lube than you think you'll need.
However, once I get past that, I do think the silicone has enough give to make it comfortable. The Tantus Ringo doesn't feel all that much more difficult to take than the rigid 2″ diameter njoy Eleven or the medium-firm 2.25″ wide Vixen Randy.
What was I hoping the Tantus Ringo would do?
I wanted a wearable plug to stuff my vagina and tease me throughout the day. When I, say, got home from work, I wanted something to give my vagina hands-free, girthy resistance to clench around when I come.
For that, the Oxballs Ergo Large is my dream pussy plug.
Tantus Ringo fucking hurt.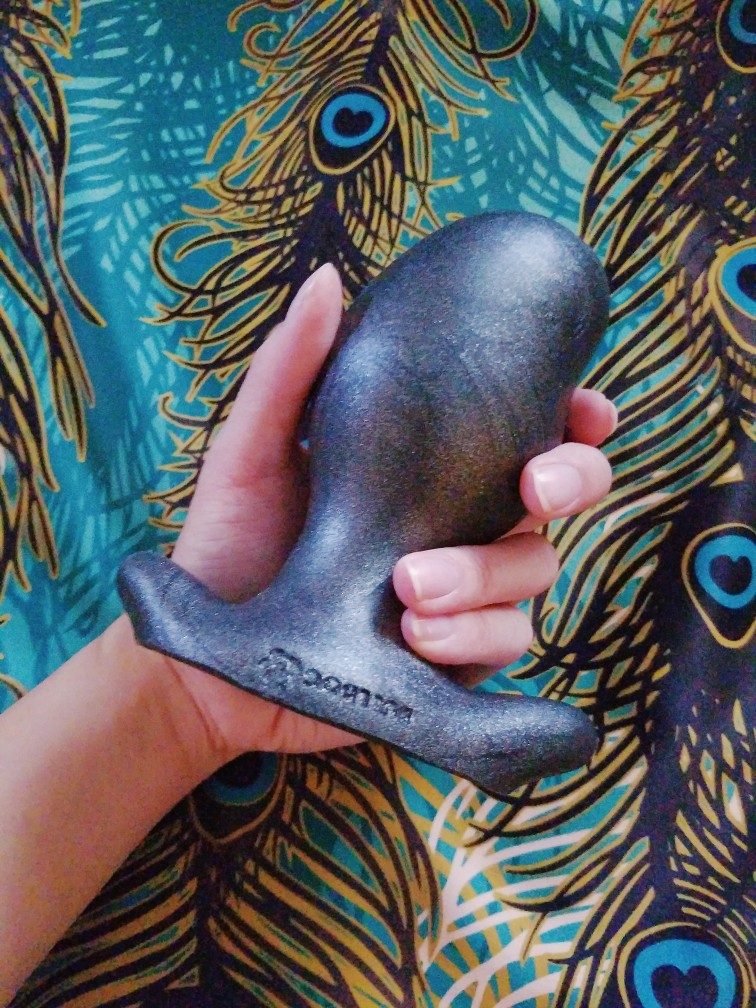 What actually happened with the Ringo?
When the Tantus Ringo is resting, it doesn't bother my cervix all that much. It turns me the fuck on that I can feel it with every little movement I make. And as a long-term wearable, it's surprisingly comfortable to wrap my walls around the neck of the plug once it's already in.
However, when I apply vibration or clitoral stimulation, any hope of a great orgasm is trampled when I clench. Clenching, a crucial part to orgasms, sucks the Ringo deeper into my vagina. And if I'm towards the end of my cycle, this pokes my cervix.
Why the Tantus Ringo excels as a butt plug but fails as a pussy plug
Here's what should have been the most obvious factor: the Tantus Ringo is a very tapered and traditional cone shape. The long taper is excellent for starting from a cold start and slowly working up to the max girth during anal use. Because a rectum can take the length, it's not a hindrance.
A vagina, meanwhile, is a more limited length, and the way the pointy tip is centered directs straight toward my cervix. With traditional dildos, I can precisely aim behind my cervix. The Tantus Ringo, though, doesn't serve as what I was hoping for: a hands-free, stationary object to clench around. I can use this anal toy vaginally, but that doesn't mean I should. In this case, it's not an arbitrary division; the design for the ideal butt plug isn't suitable for a pussy plug.
What would I recommend for a big vaginal plug?
UPDATE: Seriously, get the Oxballs Ergo instead if you want the best plug for vaginal use. Fear not if you're not size royalty like me— the Ergo comes in a variety of sizes. The smallest is 1.3″ across, and the largest is 2.9″.
Here's what I originally wrote in this post. It's still a useful resource if you want more options.
From my experience with plugs used vaginally, I'd say the following features are useful for a pussy plug. I've included examples of different sizes up to 2″ wide, which is quite a bit bigger than pretty much any set of kegel balls you could find. I've bolded my top picks.
As always, your mileage may vary: a plug with a longer neck may be useful if you have a deep G-spot.
1

Round and bulbous

If you're already comfortable with vaginal penetration, you might not need a slow, tapered entry. A bulbous tip is easy for me to take and less likely to poke my cervix, so I'd prefer that the entrance is a little blunter.

As well, bulbous shapes in a rigid material like steel are especially conducive to intense G-spot stimulation, should I thrust the toy.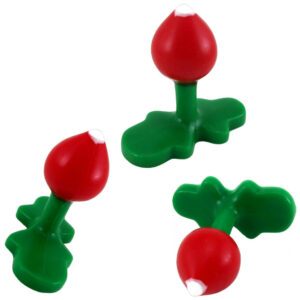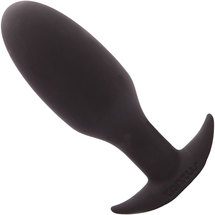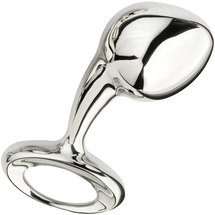 Shown in this gallery:
Hole Punch Toys Radish butt plug – 3.5″ long and 1.5″ wide with an adorable leaf-shaped base.
Tantus Ryder – 4″ long and 1.5″ wide with a long, slim base
njoy Pure Plug large – 2.75″ long and 1.5″ wide.
Of course, with the njoy plugs, they're more for if I'm standing up while working. Standing up would do more justice to the Pure Plug 2.0, which is about 1.25 pounds of steel! With a metal weight in, I always feel like I'm about to cream myself. The Pure Plug 2.0 is probably the one plug I'd occasionally choose for vaginal use over the Oxballs Ergo, to be honest.
2

Off-center tip

When using a butt plug vaginally, consider designs that are asymmetric. That way, the toy's tip can easily slide behind the cervical os if it needs to, instead of jabbing into it in the center.

These are just a few examples of butt plugs that can be used in a vagina. The maker of the first one outright says that it's not necessarily a butt plug — it can be used in any hole, so it's just a plug.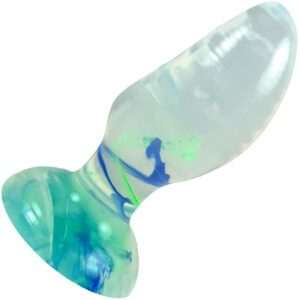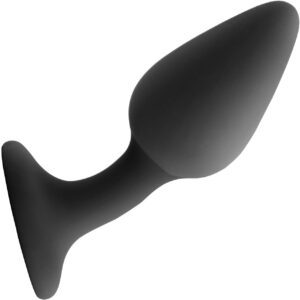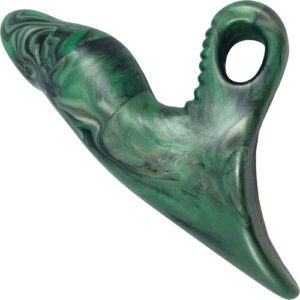 Shown in this gallery:
3

Just not super pokey!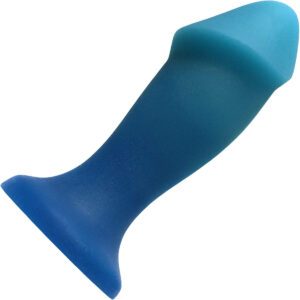 The Hole Punch Toys Fluke is a bit of an outlier on this list. Most notably, at 5.25″ of insertable length, it's longer than the other plugs. It's also a girthy 2″ long. The junction between the head and neck is a more gradual taper, which in this case is a plus.
That means that when I clench, and the tightest part of my vagina wants to wrap around the narrowest part, it doesn't aggressively suck the plug in. I can aim the tip behind my cervix and, for the most part, it stays there.
Final thoughts on the Tantus Ringo
I swear, I'm usually not that easily annoyed with items touching my cervix. This plug was just the right combination of pointy and centered to irritate me when I clenched.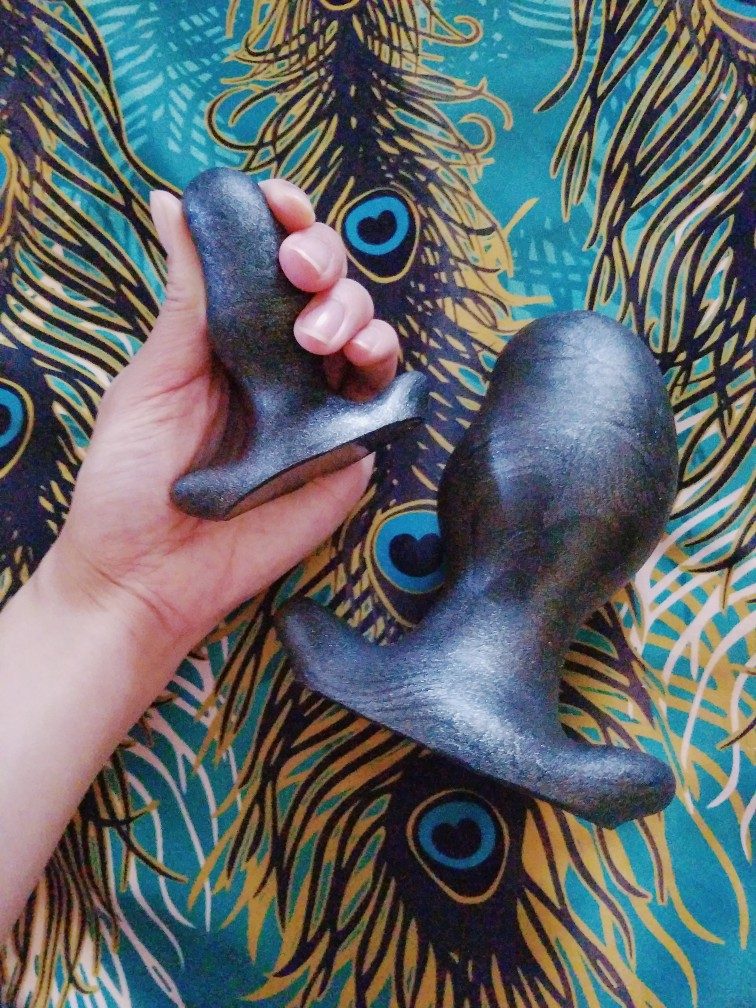 The Tantus Ringo has nothing but good reviews for anal use on the Tantus website. However, I can't recommend it for the way I would use a plug: wearing it in my vagina. If Tantus were to make an equally girthy but rounder, off-centered plug, I'd be all over that. Luckily, Oxballs has!
---
Disclaimer
I received the Tantus Ringo butt plug from Tantus, Inc. in exchange for my honest and freely-given review.
Tantus is a silicone sex toy manufacturer based in Nevada. Their commitment to body-safe, medical-grade sex toys and inclusiveness can be summed up in three words: "Good. Clean. Fun." Thank you, Tantus!
Footnotes