Blush Novelties Avant D4 review: "Sexy in Pink" striped silicone dildo

The Avant D4 by Blush Novelties is the dildo analog of Marge Simpson's pink Chanel suit: elegant, bold, and a steal for how gorgeous it is.
With the voluptuous curves feeling as fun as they look, this striped silicone dildo is an instant classic. It quickly goes down in history as one of my favorites, masterfully massaging my A-spot and G-spot with its girthy (1.9″ average diameter) goodness.
This dildo features pink and black stripes along its undulating shaft and ridiculously strong suction cup. Aside from the color, everything I love (and don't love) about the Avant D4 also applies to its counterpart in Blush Novelties' Avant line: the Avant D3.
Both have the same slopes and sinuous curves as the Real Nude Suko but in a firmer, single-density silicone. The Avant D3 (named "Summer Fling") boasts a sunnier purple, pink, and orange palette.
And they're all fucking sexy.
---
In this review:
---
How does the Avant D4 feel?
For me, it's just a solid all-arounder; the boxy head and the shaft's bumps feel like many penile heads massaging my A-spot and G-spot at the same time. Pressure changes give my walls a thoroughly satisfying pop with every thrust.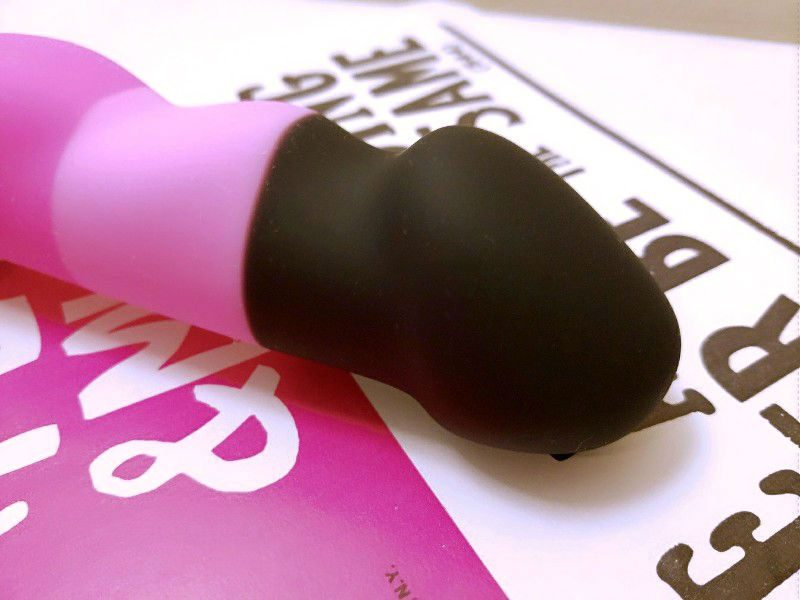 A-spot stimulation
While I've been BFFs with my posterior fornix (the area behind my cervix) for years, the Avant D4 truly awakened my A-spot (in front of my cervix).
For A-spot stimulation, I credit the Avant D4's girth, angled head, and the solid shaft. I can easily tilt the toy so that the tapered tip slips in front of my cervix. The prominent coronal ridge digs into— and seizes the attention of— both my front vaginal wall and the front of my cervix.
Other toys have left that erogenous zone feeling relatively neglected, but now I utterly cannot ignore it. And even though I know I'm always on a learning journey, the memory of a time when A-spot stimulation did nothing for me feels so distant.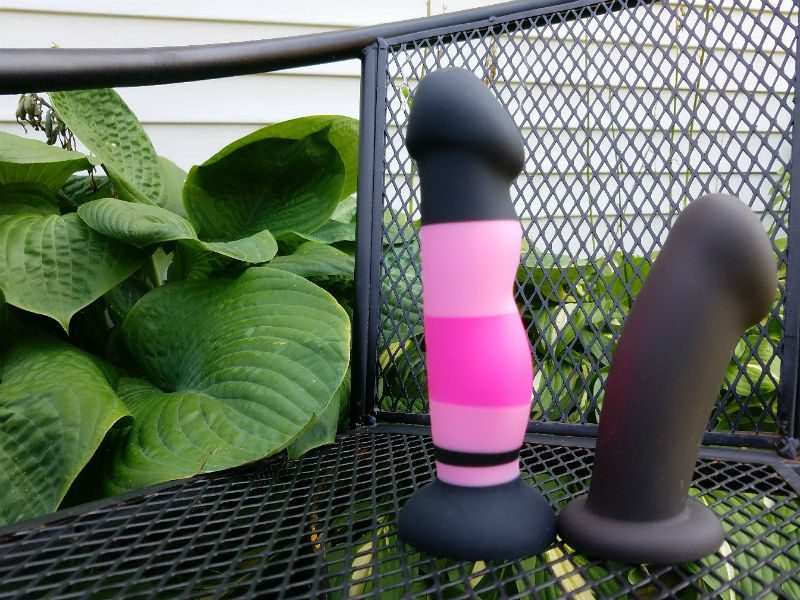 G-spot stimulation
When it comes to G-spot stimulation, jiggling the head in place just past my pubic bone works wonders. I still love my bulbous toys; the Avant D4's head is still too flat to do much when thrusting into my G-spot. However, the coronal ridge is very pronounced, pulling on and digging into my G-spot instead.
I don't care for gradually tapered G-spot toys that pull, and the head on the D4 is quite the opposite of gradual; it just juts out so sharply that it inevitably into my urethral sponge. I say "dig" instead of press because it's very sharp and specific.
And that's nothing short of magical when I come and clench around the tip, pressing it into my G-spot even more, coming harder, clenching more, coming harder, clenching more, and so on. Indeed, tiny thrusts are all I need to keep that orgasm plateau going.
Pssst! If you want the shorter, "lite" version of the Avant D4, consider the Temptasia Elvira. It's shorter but has a similar head shape and is only $24.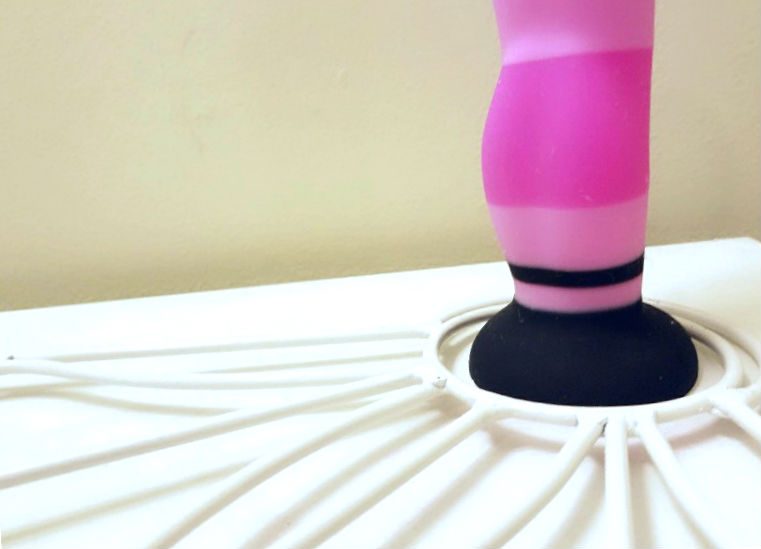 Vertical ridges
The two up-and-down ridges on the hump closest to the base are heaven to twist against my front wall. I know I said that about the Avant D5, but I'm much more emphatic about the D3 and D4.
The Avant D5 was pleasant to twist and add to external stimulation, but it couldn't get me off by itself. The Avant D4, however, actually can make me come just by twisting if I'm already turned on. It's like the dip encapsulates my urethral sponge and the raised areas gently nudge the legs of my internal clitoris.
The girth and intensity aren't for everybody, though
For better or worse, the Avant D4 does not mess around!
I have to be aroused to appreciate this dildo's intensity. With 6″ in circumference (an average of 1.9″ diameter) around the fullest part, I didn't expect the Avant D4's chunky girth to challenge me. After all, I've taken toys far larger, with nearly the circumference of a soda can.
Yet, it took me a few tries to get consistently comfortable with inserting the severe head, for a combination of reasons. If I put the Avant D4 in with the ridges facing front, the angled head disproportionately places pressure on the front wall of my vagina and my urethra. The firm silicone and its draggy matte finish don't help. However, I did find ways to reduce the discomfort.
Handling the intensity of the Blush Novelties Avant D4
Turn the dildo sideways!
From the front view, it's 1.75″ wide, but it's 2″ from the side view. I find that when I turn the dildo sideways so that the bumps face the side of my vagina, entry is a lot smoother. Turn it whichever way you want once it's inside.
And turn it sideways again to take it out! I find that if I don't, the pronounced head snags on my pubic bone and I struggle to get it out.
Use more lube (and better lube) than you think you'll need!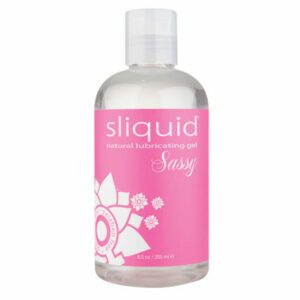 Apply it to yourself, a huge glop to the tip before you insert, and a huge glop to the shaft after it's already in. Then let the thrusting distribute the lube further. It sounds like common sense, but really: the bumps and ridges demand a lot of lube for me, and I can't emphasize that enough.
Invest in a thicker formula if you can. I recommend:
Sliquid Sassy – it contains extra cellulose to thicken the consistency, so it's extra slippery
Sliquid Silk – hybrid lubes like Sliquid Silk are mostly (~90%) water-based and contain a small amount of silicone… not enough to damage the toy's silicone surface, but enough to stay slippery for way longer. Essentially, it has the consistency of snot or jizz.
The Butters – a simple oil-based lubricant that's whipped, creamy, and lasts way longer than water-based lube. It's a good option if you plan on using the Avant D4 anally.
It's not for the faint of orifice.
This dildo is very intense, even for me. If you consider yourself faint of vagina (or anus, if you're looking for an anal toy), then absolutely do not get the Avant D4. I'd steer you towards the Blush Novelties Real Nude Suko instead. The Suko is made from the same mold as the D4 and has the same enticing curves, but its dual-density body is much more forgiving.
Who would like the Blush Novelties Avant D4?
I recommend the Avant D4 to people who…
love girthy and filling toys
enjoy big structural bumps
like deep penetration with some G-spot stimulation at the same time
like exaggerated, non-representational heads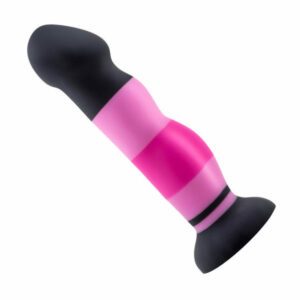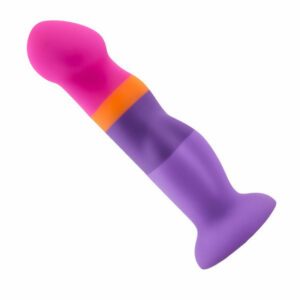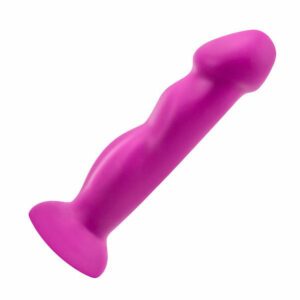 I don't recommend the Avant D4 to people who…
If your tastes are like mine, though, you'll absolutely love the Avant D3 (costs slightly less) and Avant D4. You can buy either one from Spectrum Boutique and get 10% off with coupon code SUPERSMASH10
---
Disclaimer
I received this product in exchange for my freely-given, honest review from Spectrum Boutique, an inclusive sex shop based in Detroit. Thank you, Spectrum Boutique! All views expressed in this post are entirely my own. Believe me, if I don't like a toy, I'll tell you (even if the dildo is really pretty, like the Avant D5).
If you want to see more reviews, you can help support me at no extra cost to you, by clearing your cookies and buying sex toys via my links.