Choosing the Best Anal Toys (for Beginner & Intermediate Play)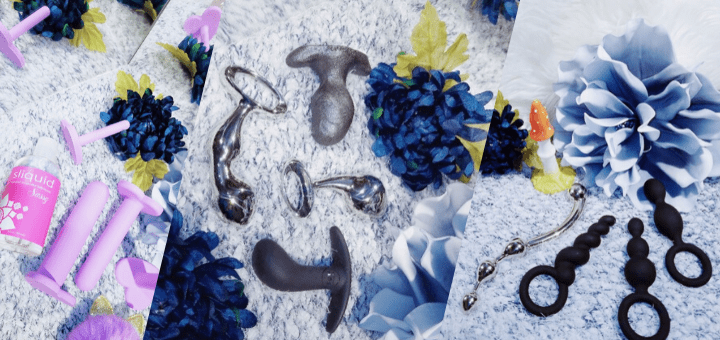 My vagina is size royalty, but my butt is a plug plebeian. Even if I hadn't mentioned that before in a review, you might have noticed my relative lack of posts about anal play.
It's not because I haven't put many toys in my butt— I have. Not often enough to do them justice in full-length reviews, but enough to know the principles of good design. This list distills my experiences for just about anyone seeking anal toys, but especially for beginners looking for a place to start.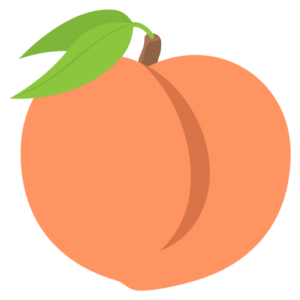 In this guide to butt stuff:
Tips for choosing a butt plug
There are many reasons why someone might use a butt plug. The fullness and weight can feel good on their own but are also fun to pair with other forms of stimulation. Think vaginal intercourse with an anal plug in or vice versa. Or internal fullness and external vibration.
They also, of course, serve as a warm-up for bigger insertables or anal intercourse. Whatever the reason for using one, there are a few characteristics that the best butt plugs often share.
Butt plugs with small, slender bases are generally the most comfortable to wear.
Think about it: a T-bar base rests between the cheeks. It makes sense to have a base that's flared enough to stop the toy from getting sucked in, but also narrow. Butt cracks aren't round! There are times where a round base might be helpful, though, like when doing double penetration. One that's too long might block the other hole. Otherwise, here are some thin butt plugs with barely-noticeable bases to try.
Firefly Prince Small
The Firefly Prince Small by NS Novelties ticks the boxes for a beginner plug. It's body-safe, as is everything else on this list. The plug's bulb slowly tapers up to a very modest 0.8″ max-width. (For comparison, the average man's ring size is 10, about 0.78″ wide). And the slim base is 2″ long by 0.8″ across, a comfortable shape and size.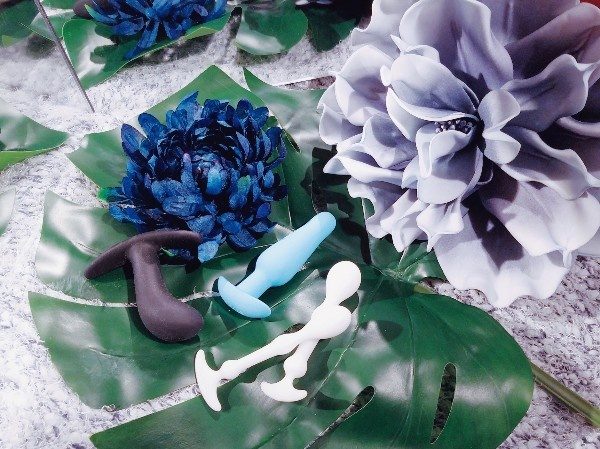 [In this picture: Fun Factory Bootie, the small plug in b-Vibe's Anal Training and Education kit, and Aneros Peridise]
Aneros Peridise
Aneros' Peridise set comes with two hard plastic plugs: one measuring 0.75″ across at the widest and the other 1″. There are also small beads along the shaft for getting comfortable with bumps and textures. If you've never had anything in your butt before and are getting used to a finger, you might like the Peridise.
VeDO Bump
The VeDO Bump vibrating butt plug is a bit bigger, at 5″ long by 1.18″ wide— but thin and tapered enough to still be appropriate for a beginner. Plus, the perk of a butt toy that vibrates is that the massaging helps relax the sphincter. And when inserting anything anally, relaxation is vital.
A long, narrow neck & bigger bulb is comfortable to retain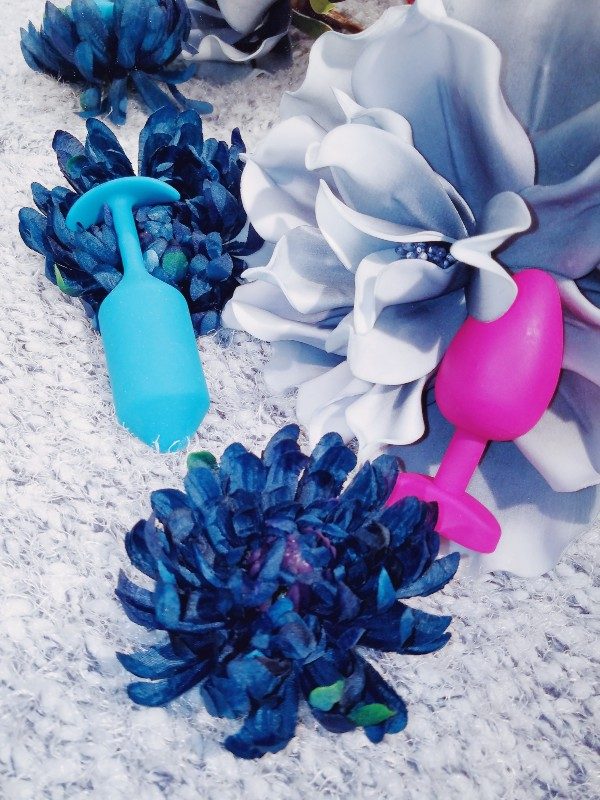 When a butt plug's neck is barely-there, the sphincters can close up around it for comfortable long-term wear. Some reviewers like plugs that prop open the sphincter (more on that towards the end of this post), but I'm not among them. It's no coincidence that many plugs I liked are voluptuous with a big bulb-to-neck ratio.
[In this picture: b-Vibe Snug Plug 3 and FT London Bioskin Gplug]
b-Vibe Snug Plug
Among them is the b-Vibe Snug Plug, torpedo-shaped to (as the name would suggest) stay snug inside the rectal canal. Its fit provides deep internal pressure akin to anal sex— without the sphincter stretch during wear.
This plug also has jiggling metal weights inside for a light tapping sensation as they bounce against the hard plastic inner shell. It's easily one of the most unique I've tried, and its sizes range from 0.8″ to 2″ wide. I want to run up and down the stairs while wearing a Snug Plug 2 or 3. (If you'd rather have traditional vibration, there are vibrating Snug Plugs available, too!)
Try a forward tilt to tickle your prostate or G-spot.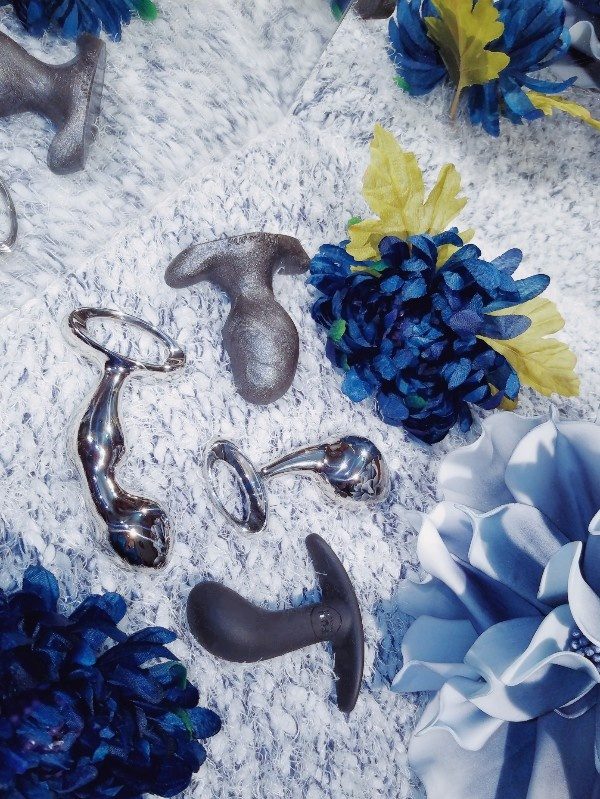 I love it when a plug's bulb is asymmetric, placing subtle but ever-present pressure on my front wall. I want to play with it by clenching and relaxing to feel the shift.
Fun Factory Bootie & Oxballs Ergo Super Soft
Such is the case with the Fun Factory Bootie. It features many of the previously mentioned characteristics I like, such as:
Easy-to-insert and slightly tapered tip
Petite but safe T-base
Full swell and tiny neck
Sizing starts at a mere 1.1″ across and ranges up to 1.6″ wide.
But its shape is what makes it stand out and its presence sweetly stimulating and noticeable to the wearer. For a similar tilt but squishier fullness to squeeze around, get an Oxballs Ergo Super Soft. The silicone's pliability conforms to your body for maximum comfort. And its size range is remarkable, from 1.3″ wide for the XS to 2.7″ XL. (The large Ergo is my favorite big plug for wearing vaginally!)

njoy Pure Plugs
As far as G-spotty plugs go, though, I don't think anything tops the intense pressure of the njoy Pure Plugs. I prefer to use njoy's plugs vaginally, but regardless of which hole my Pure Plug is in, I want to cream myself. Feeling the stainless steel heft with every movement of my lower body. It's precisely the kind of plug that would make a house dweller like me want to go out dancing at 1 am.
I reviewed the Pure Plug Large, but there are other sizes available!
Beginner anal thrusting dildos and kits I like
Let's move on to sliding toys that work well for butt stuff. I've reviewed plenty of dildos with flared or curved bases that are safe for anal insertion, but all of the following are in the small-to-medium-size range.
Dilator sets are a great way to get comfortable with anal penetration!
Or any penetration. They're designed with vaginal use in mind (think of recovery from medical conditions like vaginismus, high-tone pelvic floor dysfunction, and vaginal atrophy). But the kits with soft silicone, round tips, smooth shafts, and sizes often make affordable accessories for anal exploration, too.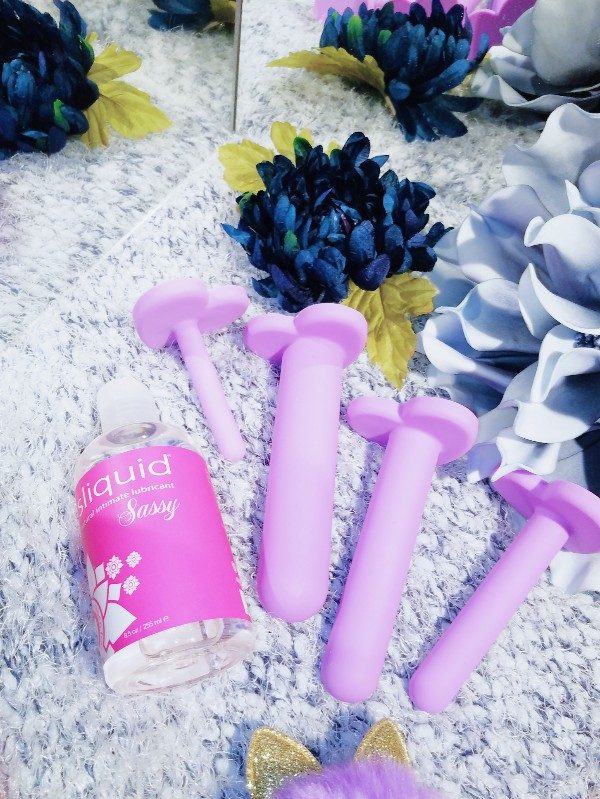 Blush Wellness dilator kit
The 4-piece Wellness kit is a great place to start, with the following sizes included:
0.5″ wide x 3.5″ long
0.75″ x 4.75″ – about the width of the average man's ring finger
1″ x 5.5″
1.25″ x 6″
Blush Novelties Temptasia Twist Kit & other beginner dildos for anal play
Blush Novelties also makes the Temptasia Twist Kit, which features three dildos (0.75″, 1″, and 1.25″ wide) with suction cup bases and gently curved, lightly textured shafts.
You can buy the dildos separately (small, medium, and large) at Betty's Toy Box. And, of course, Blush offers plenty of other pretty and affordable dildos, like the Avant Pride P1, P2, and P3. But if your goal is to level up from a finger to a penis, the Temptasia Twist bundle works well.
Before anal intercourse, consider squishy, realistic-feeling silicone dildo of moderate girth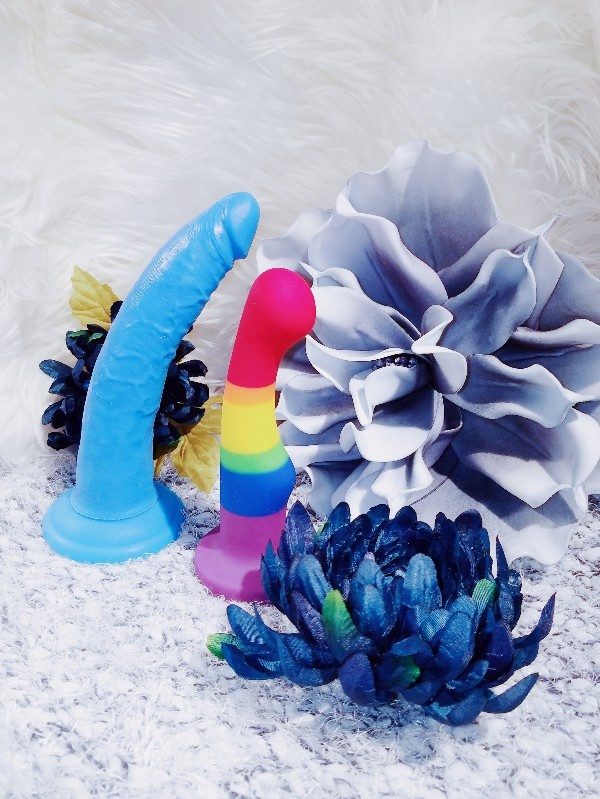 Ready to level up with a flesh-and-blood cock or a realistic dildo proxy? The average penis is 1.45″ diameter, a bit beyond what the dildo kits above have to offer. Maybe you've already gotten comfortable prepping with one the plugs around that size:
Blush Novelties Neo Elite dildos
For a thrusting dildo, I'd recommend one of the dual-density Blush Neo Elites. Shape and size aren't the only considerations here— the Neo Elite dildos are firm on the inside, for intuitive thrusting, and squishy on the outside for comfort. The contrast is not only practical but also results in a lifelike, representational feel. Squishy tip and all.
My personal favorite of the bunch is the Neo Elite 7.5″ without balls, because of that gentle taper. However, the Neo Elite 6″ and 7.5″ with balls are also within the 1.4″ to 1.5″ diameter range, so all still comparable to the average cock. The 7″ with balls is a bit thicker, at 1.75″ wide. Check out the entire Blush Neo Elite line at Betty's Toy Box.
Try bumps and textures to play with deep pressure and delicate touch.
If you're looking for sensations in a non-representational dildo, I gotchu too.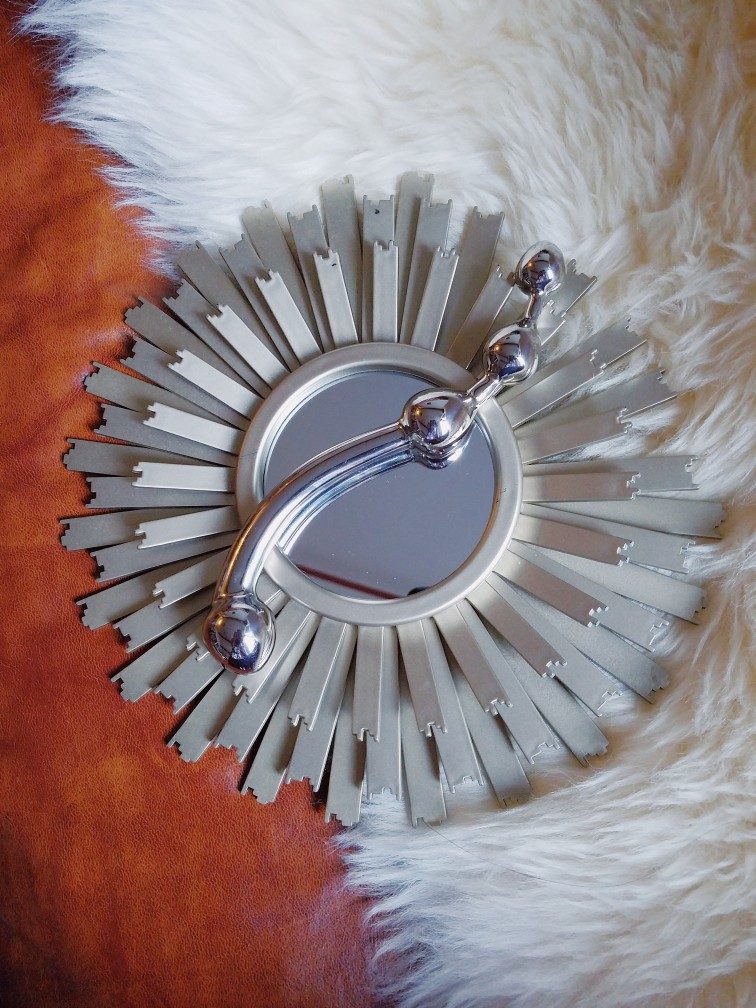 njoy Fun Wand
One of my favorite dildos to use anally is the stainless steel njoy Fun Wand. Its mirror-like finish, with some good lube, means minimal friction on insertion. One end features beads that range from 0.75″ to 1″ wide — very manageable for beginners — for rhythmic stretching-and-relaxing of the anal sphincter. The other side of the njoy Fun Wand is ball-ended but smooth-shafted for prostate or G-spot stimulation.
And yes, people with vaginas can stimulate their G-spot via anal penetration! The S-curved shaft and firm pressure of njoy's stainless steel allow for precise aiming (though not as direct as the Pure Wand's C-curve), whichever hole you insert it in.
Self Delve Fly Agaric
I also like Self Delve's Amanita muscaria butt plug as a dildo — a manageable 5″ long and 1.1″ max-width. Here's what I wrote in my mini-review of it: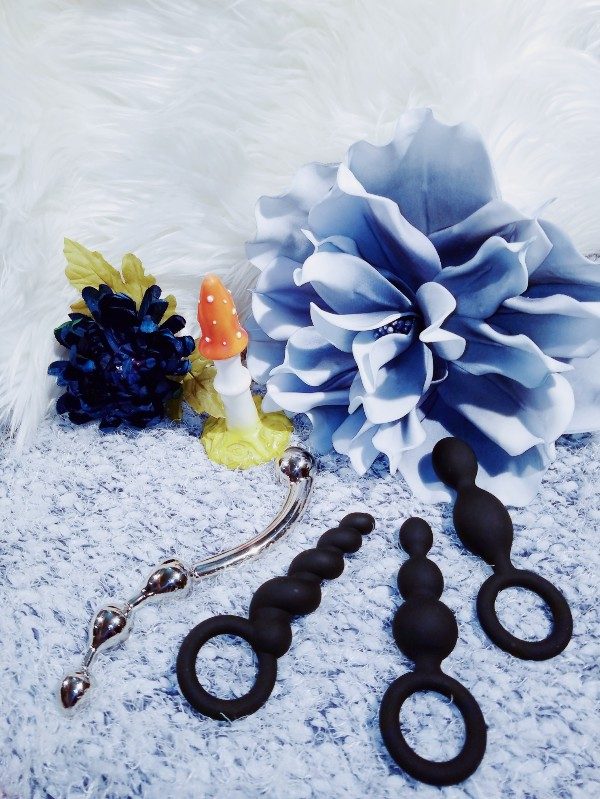 The anal opening is densely packed with Meissner's corpuscles, or fine touch receptors, making it even more responsive to the silicone's landscape.
As such, this mushroom's dots offer just the right amount of stimulation for me: discernible, but not so defined that they're irritating. If you like sharper textures, you also enjoy the subtle "pop" from the corona and ring edges.
Satisfyer Anal Training Kit
For something super affordable, consider Satisfyer's anal training kit. It includes three bumpy insertables:
Triple Bead – top ball 0.75″ max diameter, middle 1″, bottom 1.25″
Double Bead – elongated beads start wider: top 1″, bottom 1.25″ across
Twister Bead – also maxes out at 1.25″.
The silicone has some flex to it, so the retrieval loop is also comfortable when sitting. However, I wouldn't recommend wearing these anal beads long-term. There isn't much of a defined neck for the sphincter to close up around— the bulb's swelling starts practically immediately. That means that the sphincter may partly rest on the bulb and register it as something to be pushed out. For thrusting, though? They're a fun beginner basic.
My favorite lubricants for anal play
Lube is essential for butt stuff! Here are my top picks.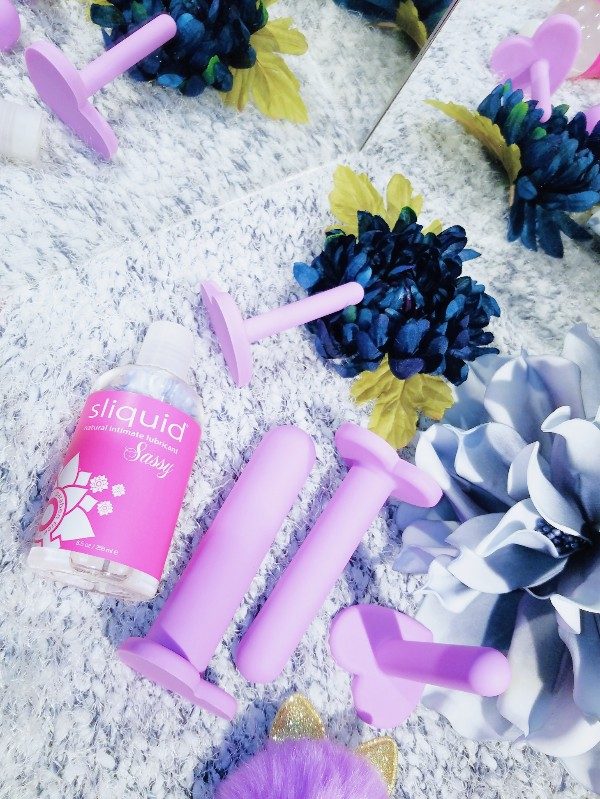 Sliquid Sassy water-based lube
As with all of Sliquid's personal lubricants, Sliquid Sassy is a water-based lube free of glycerin, propylene glycol, and parabens. And it's compatible with all types of toys and condoms. What makes Sassy different from the original formula is the thicker, gel-like consistency. It's my go-to lube for anything but works exceptionally well for anal play.
The Butters cream oil lube
The Butters is a shea butter and aloe-based lube with plant oils and apple cider vinegar for luscious, good-for-skin moisture. Oil-based lube lasts longer than water-based does, so you won't need to reapply as often. Use it for handjobs, too! Just don't use oil with latex condoms, TPE, or TPR, because it will degrade the material.
ID Millennium, Wet Platinum, & other silicone-based lubes
I'll be honest: I'm not that discerning with this category of personal lubricant. It all comes down to silicone lube is extra slippery and long-lasting, and whichever one you use, a few drops go a long way. The longevity does come with a trade-off, though: it's harder to wash away. And silicone lube generally degrades silicone toys. Reserve it for glass, steel, glazed wood, and hard plastic.
Going beyond beginner butt play
Once you're comfortable, you're free to size up and (safely) play with bigger toys!

b-Vibe Anal Training & Education Kit
Anal training isn't something you do just once, though. If it's been a while, you may want to get reacquainted with the sensations. That's why, despite b-Vibe's Anal Training and Education Kit's beginner-friendliness, it may be a good investment for even experienced players to prep with.
Squarepegtoys Blunt Plug
On the flip side, if you're going on a date and want to afterward go straight into anal, without foreplay, The Squarepegtoys Blunt Plug might be a good fit for you. Its wide-ish neck props open the sphincter while wearing the plug, so you can do all your prepping ahead of time, remove it, and be ready to go. It's a plug for intermediate-to-advanced anal players— beginners may find the constant stretch irritating.
b-Vibe Rimming Plugs & Velvet Thruster Teddy or Walter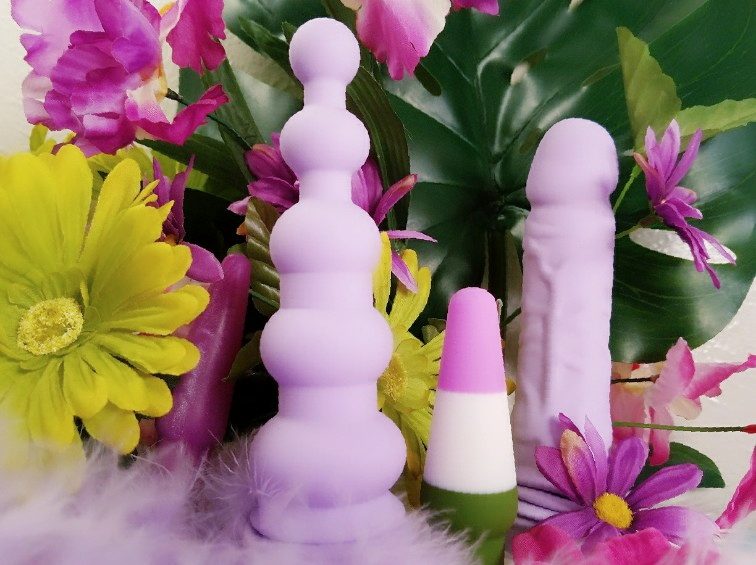 Looking for something that goes beyond vibration? Consider a b-Vibe Rimming Plug. They have circling beads in the neck of the plug, simulating the feel of a swirling tongue.
Or one of the Velvet Thrusters. They're handheld fucking machines with thrust lengths of 2.5–3″ — which feel amazing vaginally, but if you're comfortable with the insertable portions' girth, there's no reason you can't use them for anal, too!
Read my reviews of the Velvet Thruster Jackie and Teddy models or check out the entire range of Velvet Thruster designs.
Wrapping it up!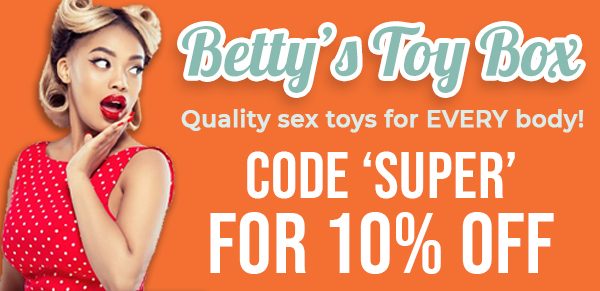 Though I rarely do butt stuff anymore, I can recognize a good quality butt toy when I see one. These are some of the best body-safe sex toys for anal play — which potentially any body can enjoy. Everyone has a butt!
---
Betty's Toy Box sponsored this post! Use coupon code SUPER for 10% off all regular-priced items when you shop.