Fun Factory Stronic Real self-thrusting pulsator review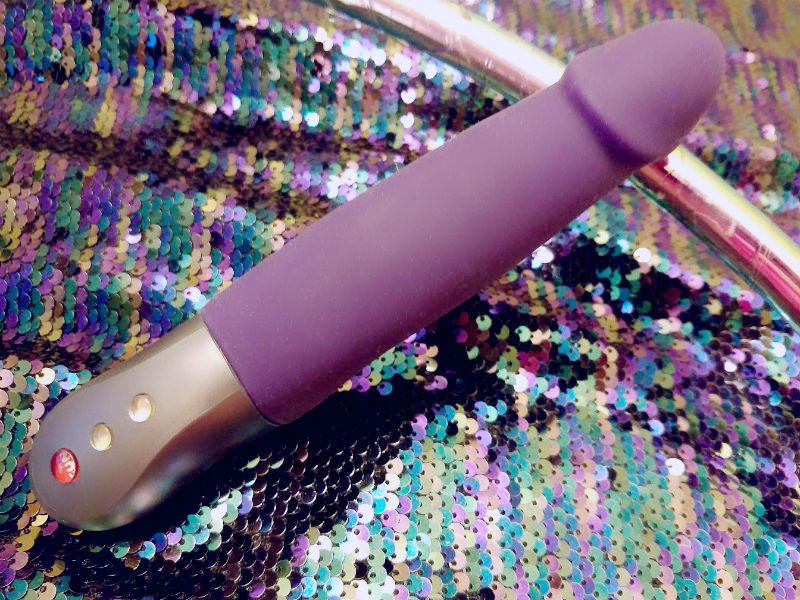 Some sex toys are so good that I struggle to write more than, "This toy is amazing. Buy it. You don't need to read beyond this point, but I need to add more words. Words words words words words." And that's pretty much where I've been with the self-thrusting Fun Factory Stronic Real pulsator.
Yes, you read that right: self-thrusting. Like all the Stronics, Fun Factory's Stronic Real features a magnetic weight that shuttles the entire dildo back and forth.
The biggest downside to the Stronic Real's penetration sensation is that my vagina totally pushes the toy out every time I come, and I have to hold it in place. Which happens a lot, repeatedly, and stupidly quickly. It just might do the same for you if you love straight penetration with fast, hard, and short thrusts.
What does the Stronic Real pulsator feel like?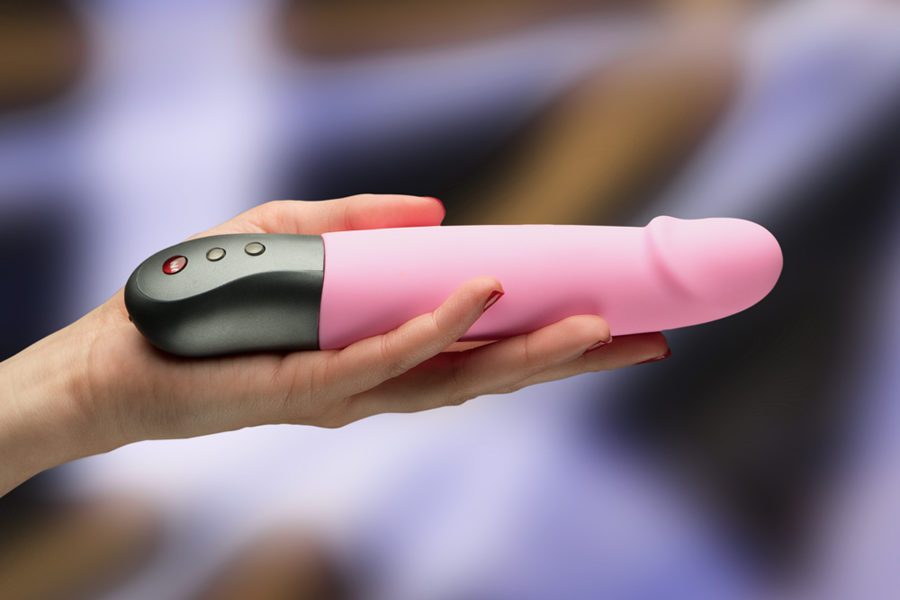 I must admit: the Stronic Real confuses my vagina in the best way possible. It can't thrust deep enough to go hard at my favorite erogenous zone, and the phallic head is only mildly to moderately G-spotty. Yet, because the.movement does most of the work the slight ridge and upward curve at the tip mesmerize my A-spot1 and internal clitoris.
The Stronic Real's orgasm build-up puts my front wall in an erotic, hypnotic trance. Its inch-long thrusts feel light and dreamy, rather than extracting orgasms from me by brute force (though I'm into that, too).

Feeling the rapid sliding and stretching in the bottom 70% of my pussy is enough to turn me into a puddle of gasping and whimpering, "fuck" over and over for seemingly endless minutes at a time. The only reason I say "whimpering" and not "screaming" is because as far as motored toys go, Fun Factory's pulsators are about as quiet as you can get; they're perfect for lazy yet discreet masturbation (and partner use).

Used externally, the Stronic Real (and any Stronic pulsator) feels like a finger rubbing my clit. One that never gets tired and always rubs with perfect consistency, unless I want to switch it up and use a pattern to ebb and flow along the orgasm waves.
Fun Factory Pulsator settings
Like most of the other Stronic dildos, the Stronic Real features 4 smooth steady speeds, 3 thuddy steady settings, and 3 patterns. Even the slowest setting (named "Perfect Start") hammers at about 2 thrusts a second.

There is a trade-off when increasing speed: the faster the Stronic Real moves, the shorter the thrust. For me, the second and third steady speeds ("Samba" and "Rumble") are the perfect balance for internal use. The 4th ("Quicky") is lovely externally, but mundane internally because it feels more like vibration than anything else.
The smooth settings can't and shouldn't be compared to being fucked with a human cock. You can watch Fun Factory's demo video here to see what I'm talking about. The motion is more flowing, more consistent, and of course, unrelenting. Both the smooth and thuddy movements keep drilling. I keep coming when I might otherwise get impatient with thrusting by hand. It's a no-brainer to have another orgasm, and another, and another.
OG Fun Factory Stronics comparison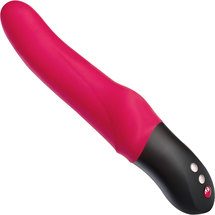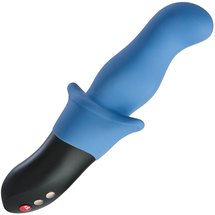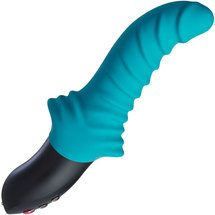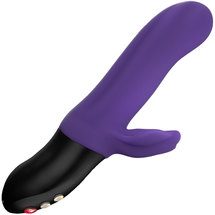 To make my quick comparison of the original Stronics quicker:
Stronic Eins – tip too slight. Didn't do shit for my G-spot. Shaft bulges awkwardly, so it didn't do well at thrusting deeper. Discontinued.
Stronic Zwei – discontinued. Shame. We could've been great friends.
Stronic Drei – thrusts were shorter. Ridges hogged lube. A little better than the Eins for G-spotting. Now discontinued.
Bi Stronic Fusion – awesome, more precise G-spotting head. Girthier than the Stronic Real. Fewer thrusting settings. Useless, buzzy clit arm.
At the time that I wrote my Bi Stronic Fusion review, it was the best G-spotting Stronic I had tried, and my favorite. That's changed with the release of the new Stronic II pulsators: the Stronic G and the Stronic Real.
Update: And the best of them, by my vagina's standards, is the Fun Factory Stronic Surf!
One key difference is that the newer, slightly slimmer models glide more easily in my vagina. The Stronic Real can go a bit deeper and use less lube than, say, the heavily textured Drei. And with Fun Factory's draggy silicone,2 lube is hardly optional for internal use. I love fat toys and all, but range of motion is far more critical with an expensive self-thrusting sex toy.
What about the Stronic G vs. Stronic Real?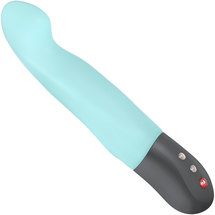 Fun Factory's Stronic G and Stronic Real are pretty different toys, despite having the same motor. There are pros and cons to both.
If you want intense, G-spot stimulation with one big bump, maybe get a Stronic G (after reading the rest of this section). If you want less direct stimulation on your front wall with a slight ridge and curved head, you probably already had the hunch that the Stronic Real is for you.
Do flat dildo heads get along with your G-spot?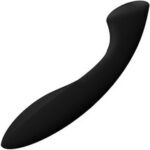 Without having ever tried the Stronic G, I can't say for certain which one I would like more. However, I do know that the Stronic G has a flat head, a shape that historically hasn't gotten along with my G-spot well. Severely hooked sex toys with flat heads tend to lock in place a bit deeper than where my G-spot is and totally miss it.
That's not to say that I would certainly not like the Stronic G. It does look a little more rounded than the flat heads I've tried before. However, I wouldn't blow $170 on a Stronic G just to see whether I would like it. Update: I tried the Fun Factory Stronic G and I didn't like it.
If you're considering a Stronic G, I'd say to try a LELO Ella or Picobong Moka first and see how you like that G-spot head shape. Otherwise, if you get a Stronic G and you don't like it, you're stuck with a far more expensive paperweight.
Stronic Real: worth every fucking penny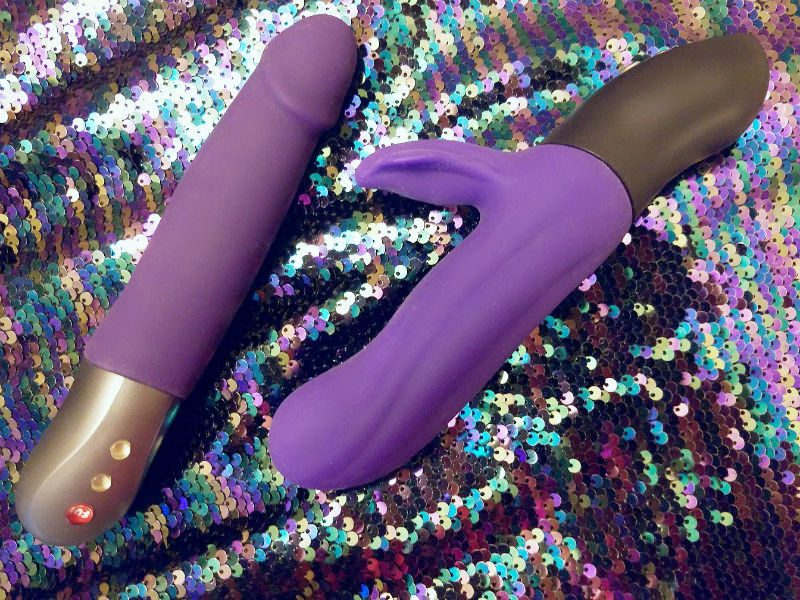 Fun Factory's Stronic technology is one of the few true innovations in the sex toy world. Yes, other rad thrusting toys with different mechanisms have come out, but none of these self-contained fucking machine designs come cheap.
If anything, Fun Factory tragically undersold the Stronic Real. As claimed, Stronic Real does stimulate the internal clitoris,3 but that's the understatement of the decade. The real appeal is that you can't hand-thrust a dildo (or ride or thrust a human cock) with such a precise and perfect rhythm for an hour and a half.
Fun Factory's Stronics can give you that. The way the Stronic Real does it just melts me into a puddle of heart-eyes emojis. Sure, it can't go in deep and hard, but as someone who prefers short strokes (about an inch long) and doesn't need deep penetration, I would happily buy another one. The Stronic Real works with my body better than any other Stronic has before.
Update: At the time, that was true, but my current favorite is the Fun Factory Stronic Surf!
The Stronic Real's shape is subtle, but combined with the motor's movement, it's plenty intense. If you're someone who needs a very pronounced coronal ridge or curved shaft, the Stronic Real isn't for you. But if you love straight tip drilling, a subtle ridge, or fast jiggling inside of you, the Stronic Real would probably be love at first thrust. It certainly was for me.
---
Get 10% off a Stronic Real!
If you get a Stronic Real from Peepshow Toys, you can save 10% off with coupon code SUPERSMASHCACHE …or any Stronic of your choice.
Thank you, Peepshow Toys, for sending me a Stronic Real in exchange for my honest and freely-given review! In my blog, I only say what I understand as the truth. If I think a toy is awfully designed, or pretty but boring, or good but overrated, I'll definitely tell you. And, if anything, you save money by using my links.

Footnotes
The friction is so real that I've given up on removing lint from the silicone's surface before taking pictures.