Rechargeable Wand Vibrator Comparison & Mini-Reviews: find the best cordless & compact wands
Magic Wand Rechargeable, BMS Swan Wand Classic, We-Vibe Wand, PalmPower Extreme, Pillow Talk Cheeky, Blush Nöje W4, and more to come!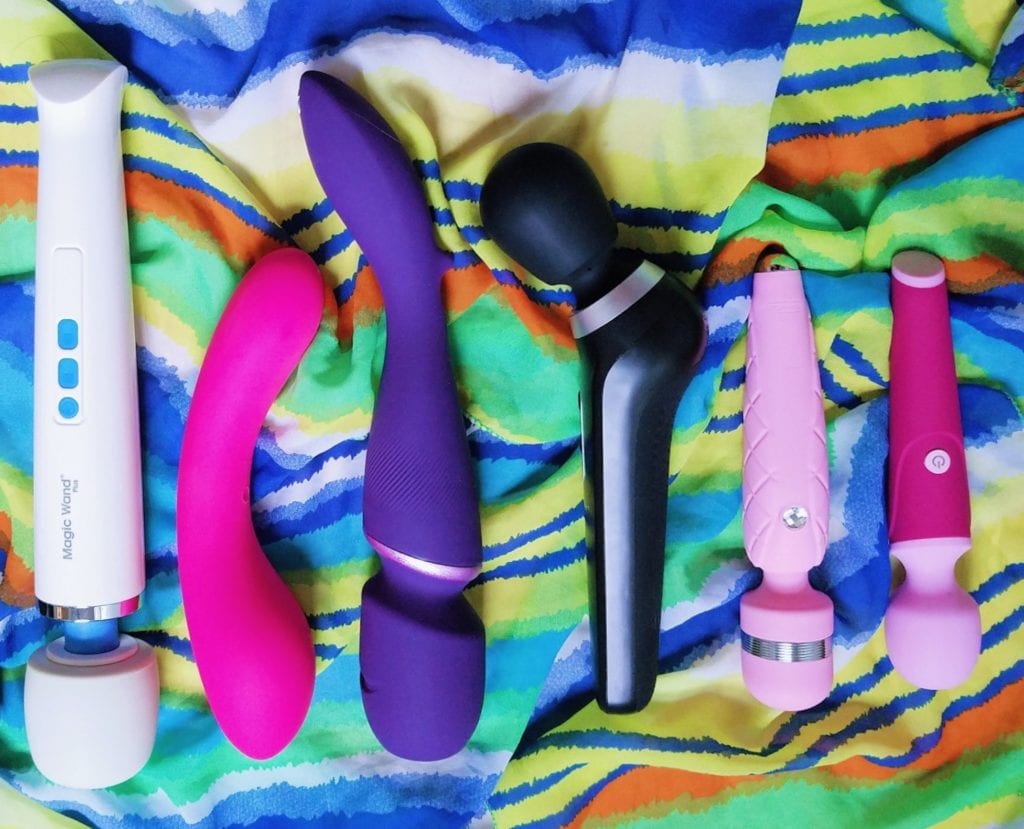 I love long and filling insertable pervertables, but sometimes, I want an intense wank without taking my pants off. Wand vibrators are perfect for that.
It's ironic: less than two years ago, I wrote a blog post on why I enjoy the Eroscillator more than the Magic Wand Original. It cited reasons like the Eroscillator's lower pitch, pinpoint stimulation, and the distinctly swiveling oscillation.
Wands have started to grow on me since then, but I'm still not a fan of the Magic Wand Original. Instead, my love goes to its successors, the Magic Wand Plus and Magic Wand Rechargeable. They're superior to the Original, and among the best wand vibrators
Update: …after the Doxy Die Cast. It's the rumbliest mains-powered wand I've ever tried. Not even the Magic Wand Plus tops it.
These features are the reasons why:
Many speed options to suit different moods
Rumbly amplitude
The lowest setting is a deep purr
An easy-to-clean and body-safe silicone head
Read on for a fast blast comparison to other rechargeable wands — some great, some "meh." It rates them by the above criteria, along with price, settings, control panel, water-resistance, and head size.
Rumbly vs. buzzy vibrations
Most people know that the right vibration speed is essential when shopping for a vibrator. However, it's not the only thing that affects how a vibrator feels. That's where the word "rumbly" comes in. Think of a 2012 Excision show where the booming bass rattles the inside of your nose. Now think of a mosquito buzzing in your ear. That's the difference in vibration quality.
That's the difference between the Doxy Die Cast and most other mains-powered wands.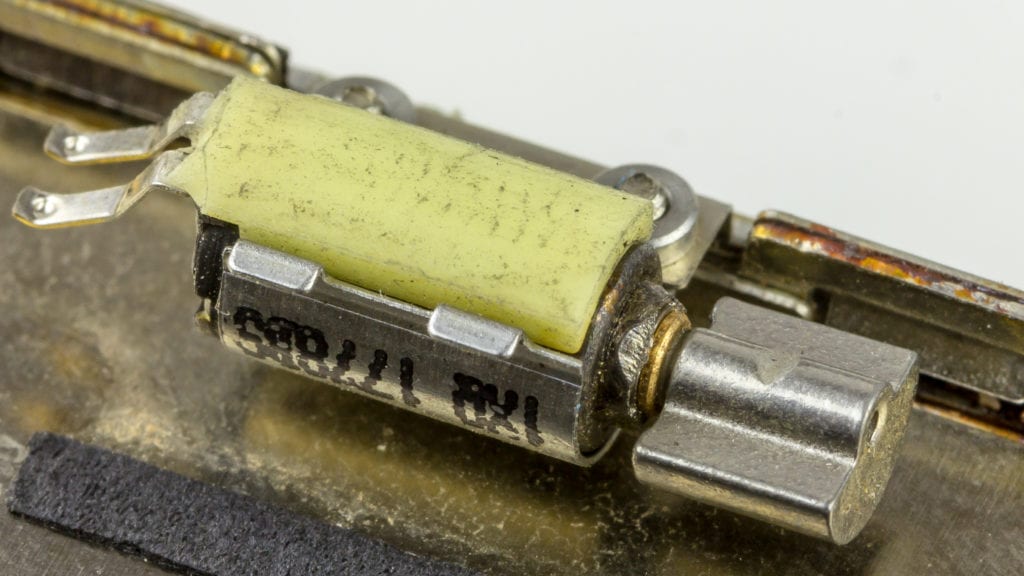 To me, the rumbliest vibrators are big on amplitude, or range of motion, and have a rich, low timbre on lower settings — some of which are sub-bass.
It's more intense because the spinning weight inside is heavier and bigger. And the bigger a vibrator is, the more room there is for other components too, like the battery. Shown here is a (tiny and buzzy!) iPhone vibration motor.
When you dip rumbly vibrators in water, they form big waves and splash. In use, they shake more of the internal clitoris. Shown in the picture is the BMS Factory Pillow Talk Sassy, a.k.a. the best G-spot vibrator.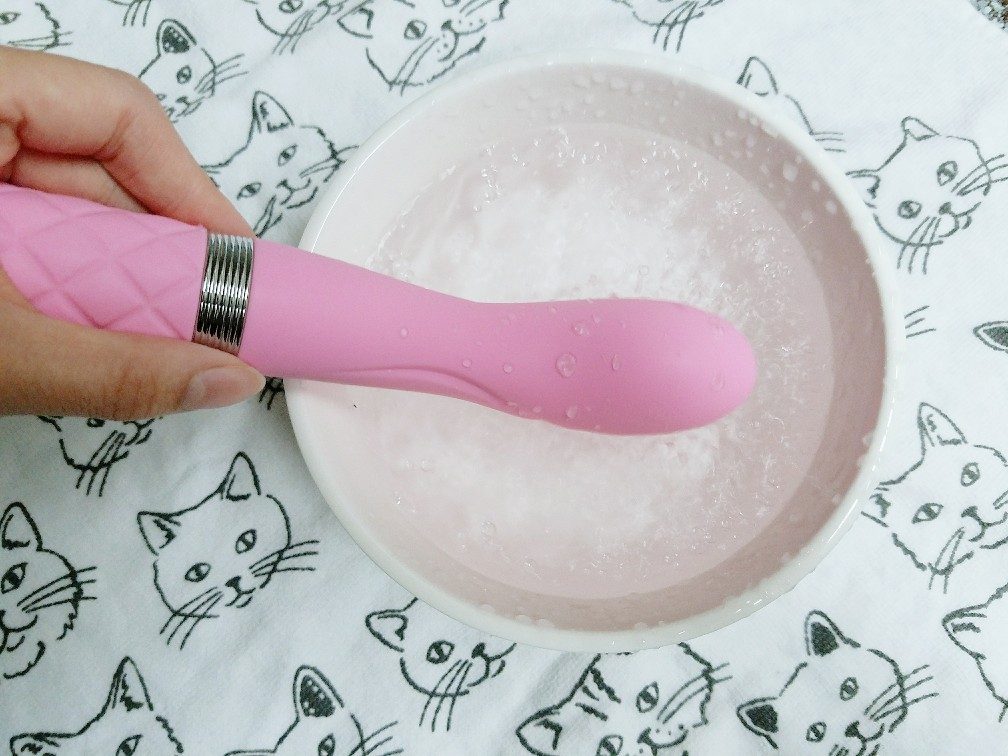 On the opposite end of the spectrum, buzzy vibrators are surface-level and rely more on speed for their power. Their quivering yields tiny ripples spaced closely together.
Where sex toy reviewers draw the line between the buzzy and rumbly is subjective, though.
Some might describe a vibrator with moderate amplitude and low frequency as rumbly, and others would call it feeble. Examples of that include the Fun Factory Laya, Dame Pom, and Iroha Zen.
Conversely, if a fast RPM veils a vibe's range of motion, like with the Magic Wand Original, Mystic Wand, or Bodywand, I'd probably call that buzzy. If you've felt itchy or temporarily numb while using a vibrator, your body might have filtered out the overstimulating, high pitch.
Generally speaking, bone-rattlingly rumbly vibrators don't need super high speeds to showcase their power. However…
It's tough to talk about vibration intensity in objective terms.
…at least, if you don't take the vibrator apart. For now, it suffices to say that I can feel when a vibrator has a relatively heavy weight inside, like in the marvelously engineered Doxy Die Cast.
UPDATE! I have dissected some bullet vibrators to show you what rumbly vs. buzzy motors look like from the inside!
In this mini-review round-up of rechargeable wands, I've included information about vibration quality, frequency, and speed range.
Rechargeable wand vibrator comparison and ranking table
Some things to keep in mind when reading the table
You can scroll horizontally to see more columns, if on a narrow screen
This table indicates prices at PeepShow Toys when you use my coupon code, SUPERSMASHCACHE
Hertz (Hz) represents oscillations per second, while RPM stands for revolutions per minute.

To get RPM from Hz, multiply by 60.
Full-sized and midi-wands
Let's start with the bona fide wands that people think of when they hear "powerful vibrator."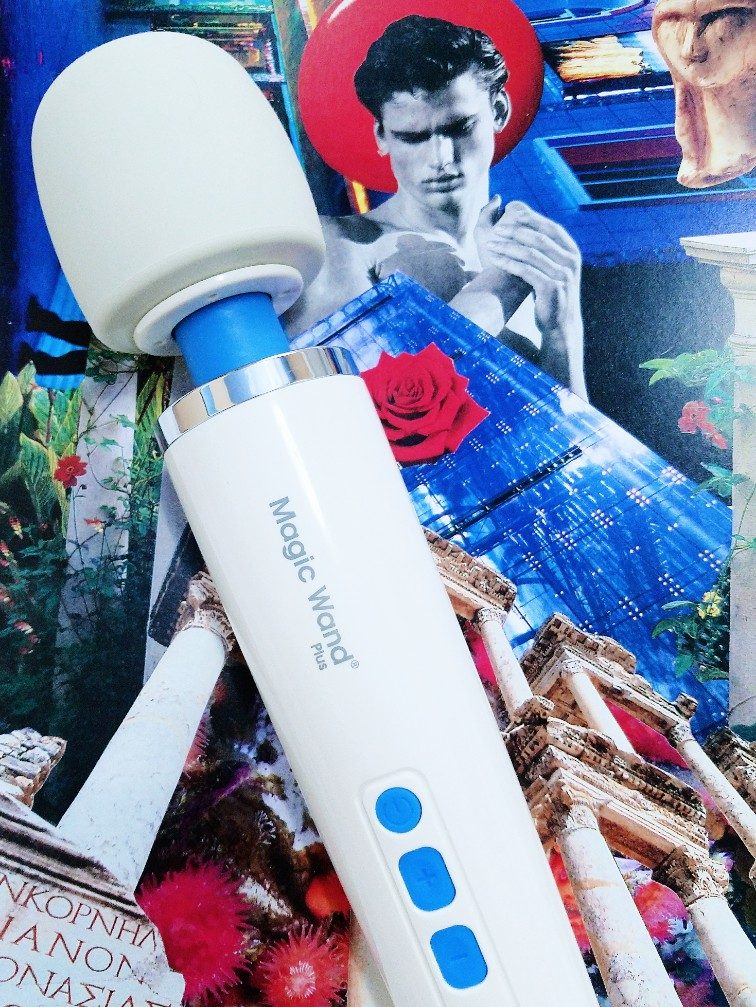 Hitachi Magic Wand Rechargeable by Vibratex
The Magic Wand Rechargeable has the same shell and motor as the Magic Wand Plus, so be sure to read my full review of that. The Plus and Rechargeable versions start at about 45 Hz (or 2700 RPM), allowing me to savor the thuddy weight.
Their shared three-button control panel increases and decreases speed quickly. Even the second speed, at around 63 Hz (3800 RPM), is still rumbly and not especially loud.
I say "around" because the Magic Wand Rechargeable is a little heavier to accommodate the battery. Thus, its vibrations don't feel exactly as sharp as the Magic Wand Plus's.1
Comparison to other rechargeable wands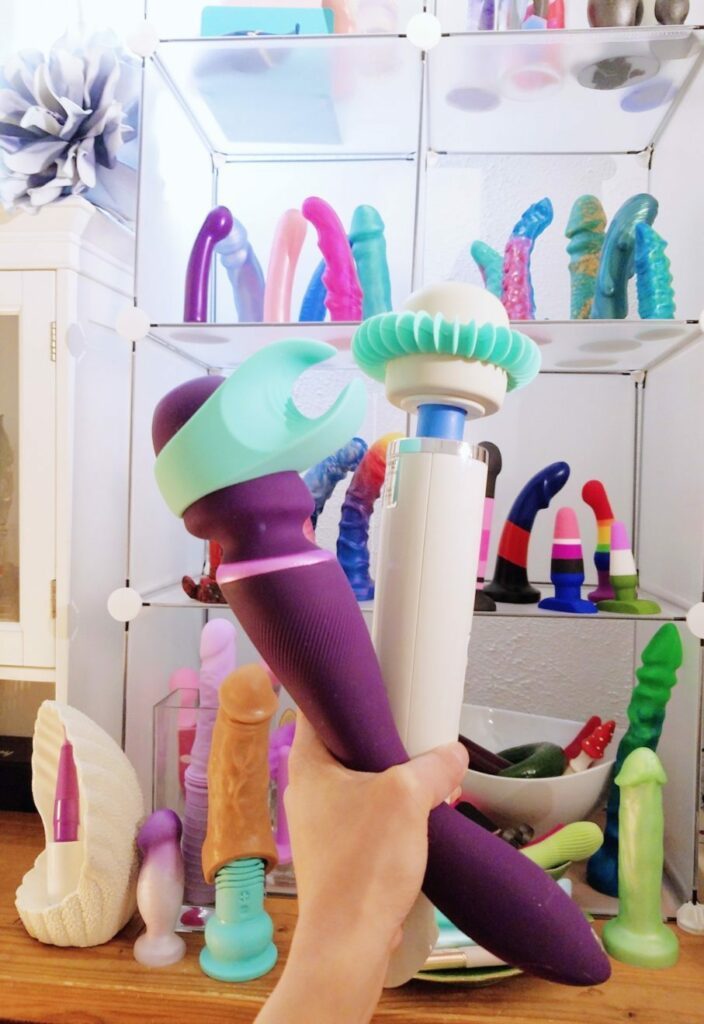 The Doxy Die Cast is the rumbliest mains-powered vibrator.
However, it's hard to top the Magic Wand Rechargeable when it comes to rumbliest rechargeable vibrators.
Update: the Doxy 3 Rechargeable and Le Wand Rechargeable are now in my queue. Stay tuned for results.
In terms of power, the BMS Swan Wand Classic's top speed is between the Magic Wand Rechargeable's second and third settings. The PalmPower Extreme also comes close to that, but it doesn't achieve the same level of thuddiness.
And We-Vibe's wand features a lower-pitched purr with more precise speed control than the Magic Wand, but it's not nearly as powerful. Its highest speed is somewhere between the upgraded Magic Wands' first and second speed in strength.
As a bonus, since the Magic Wands are the most well-known "back massagers," more attachments are made to accommodate them. That means you can combine powerful vibration with fluttering, G-spotting, textures, penis stroking, and more, without breaking the bank.
Downsides of the Magic Wand Rechargeable Massager
Most obviously, Magic Wands are power tools, and that's okay— there's no such thing as a perfect sex toy for everybody on every occasion. Sometimes, it's too much for me, even with the new settings added. And there are big jumps in between, especially with the second and third speeds.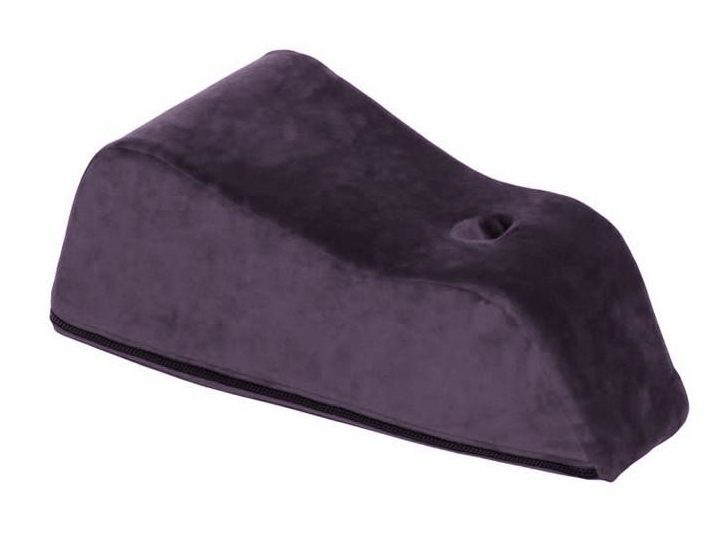 The Magic Wand Rechargeable is also bulky and heavy. If you have mobility issues, other wands may be more comfortable to hold. You could also consider getting a wand mount to straddle.
Other factors that might get in the way include its automatic shut-off and lack of water-resistance. Yeah, it turns off by itself after 20 consecutive minutes of use. It's annoying, but you can immediately turn it back on.
Last but not least, it's expensive, at around $125 regular price. If you're on a budget, get the Magic Wand Plus. The Plus version is corded and doesn't have pattern settings, but the price is $70, which is substantially lower than the Rechargeable.
Le Wand Rechargeable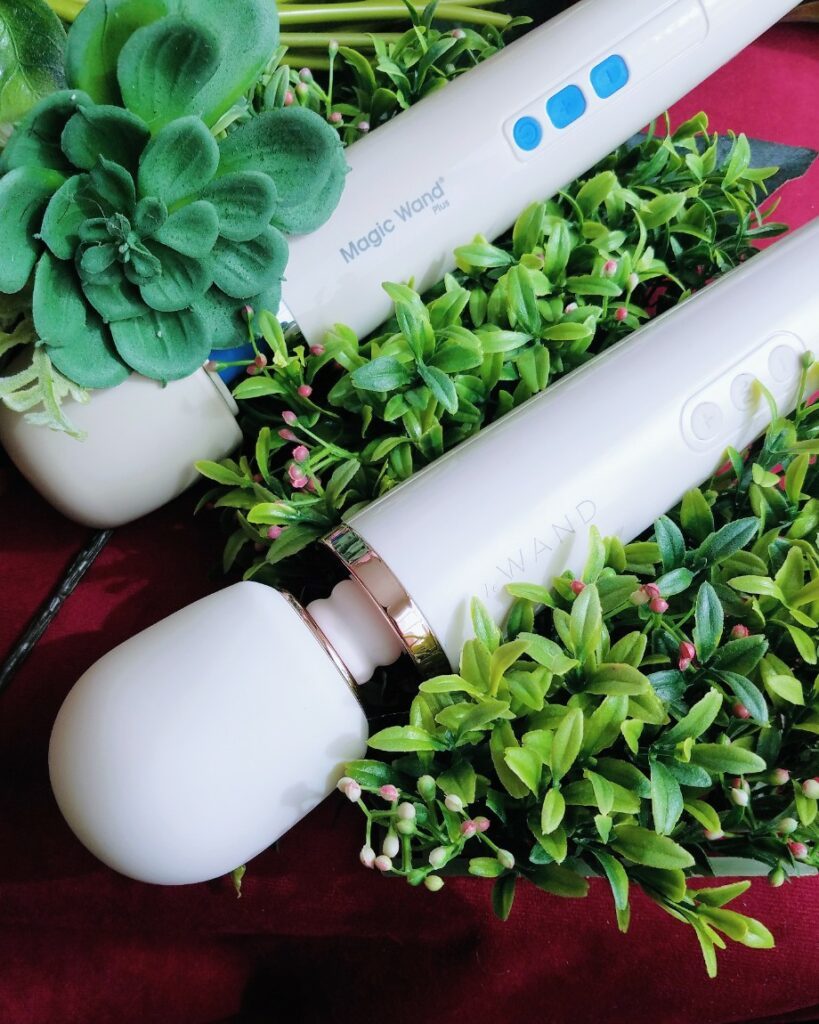 If I had never used the Magic Wand Rechargeable before, then Le Wand's version would probably be my favorite full-sized rechargeable wand. But if the queen had balls, she'd be the king.
Contrary to the Le Wand Rechargeable's accolades, it's not the most powerful sex toy. It's not even the most powerful cordless wand — but it is up there, after the Magic Wand Rechargeable. And it's about about tied with the Doxy 3 Rechargeable (not to be confused with my ride-or-die, the corded Doxy Die Cast).
I just wish the Le Wand Rechargeable's designers had put more thought into designing its control panel. What a mess!
Read my full Le Wand Rechargeable review or check out the product info page.
Jump back to the rechargeable wand comparison table.
Swan Wand Classic by BMS Factory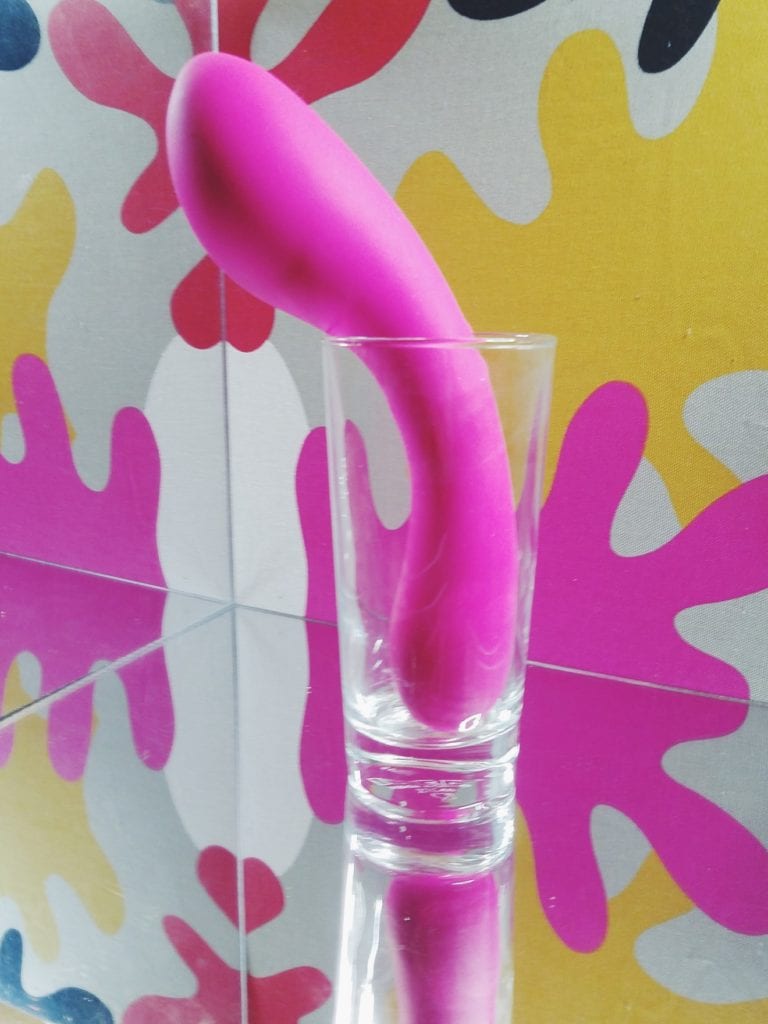 For those who crave a waterproof and G-spotty version of the Magic Wand to insert, the BMS Factory Swan Wand Classic is it. The vibrations start at a barely-audible 25 Hz (1500 RPM). It's 2″ thick on its bigger end and 1.5″ on the other side.
Both heads have motors that you can independently control. And unlike the other wands on this list, the Swan Wand is explicitly designed for penetration. Its big head is tapered, with a front-loaded swell for kneading the front wall. It's firm, filling, and leaves me starry-eyed and blissed-out. (Read my old BMS Swan Wand Classic review.)
Even when insertion isn't involved, I love the two-button control on this thing. Press one button to cycle through three steady speeds, up to 70 Hz (4200 RPM), and 4 patterns. Or for more in-between intensities, hold the button down while it slowly ramps up. You can turn on just one end, both, or (of course) neither. To turn the unit off, quickly press both buttons at the same time.
The BMS Swan Wand combines the fine-tuning of the Pillow Talk Sassy with Hitachi Magic Wand-like vibrations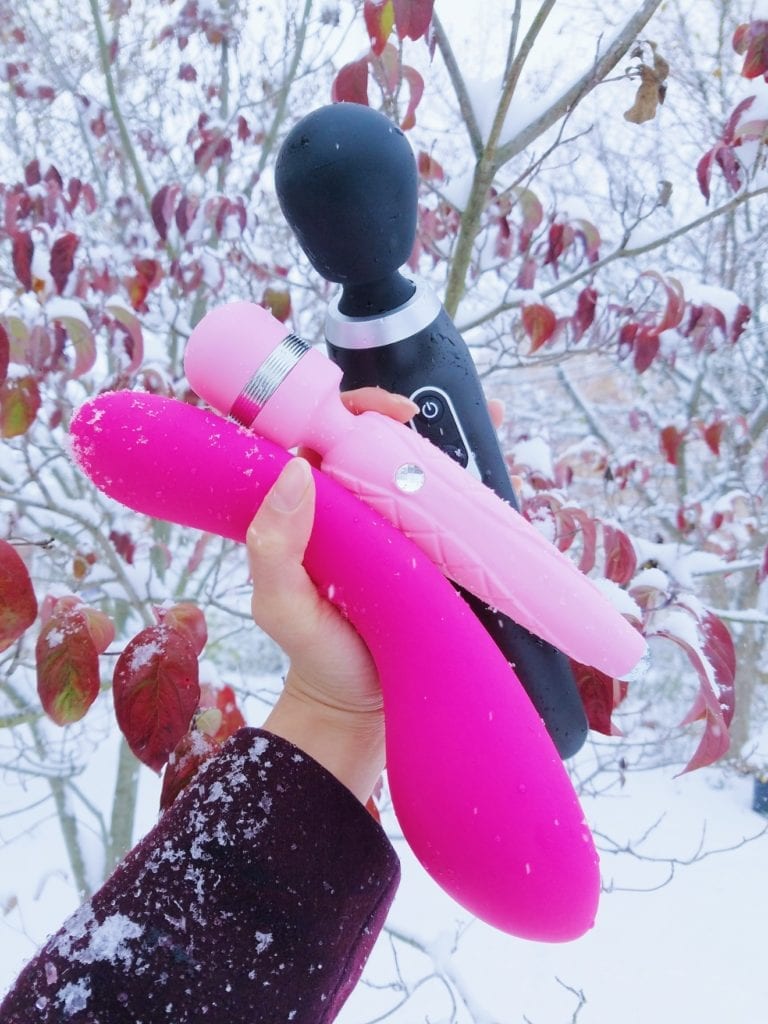 Again, its maximum intensity (70hz or 4200 RPM) is between the upgraded Magic Wand's second (63 Hz or 3800 RPM) and third (90hz or 5400 RPM) speeds. But what makes the Swan Wand Classic stand out is that the weight inside — and therefore the rumble — is almost par with the Magic Wand Plus or Rechargeable. Its vibration quality is deeper than the PalmPower Extreme's, and its wide range starts with a beautiful, sub-bass purr.
The main thing that would make the Swan Wand even better is a way to decrease speed after orgasm, without turning it off entirely. I'd also love to see color options beyond pink. But setting those gripes aside, the Swan Wand Classic's PowerBullet™ vibrations are nice and thuddy, and its speed range is almost perfect for me.
We-Vibe Wand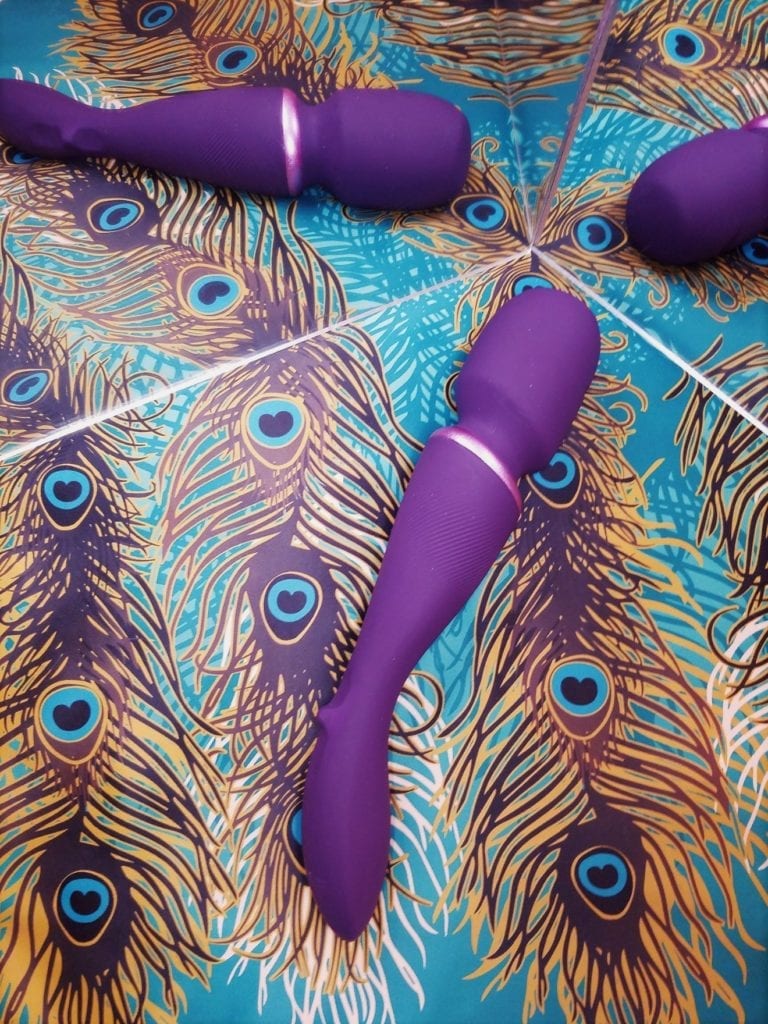 Like the BMS Factory Swan Wand, the We-Vibe Wand massager starts purring at 25 Hz (1500 RPM). It does go up a little higher in pitch, to 75 Hz (4500 RPM), but its weight isn't as thuddy/intense. The We-Vibe Wand's vibrations also aren't neatly sinusoidal. There's a tapping flutter to them, like a wobbling bass. If you've enjoyed Je Joue or Fun Factory's vibrations, you'll love the We-Vibe Wand.
Key features also include a lightweight and ergonomic handle, buttons and a joystick for speed control, and customization via Bluetooth app. (Read about the We-Connect app in my We-Vibe Nova rabbit vibrator review). Its head is oblong and only a little thinner than the Magic Wand's, meaning that accessories compatible with one also fit the other.
Additionally, the We-Vibe Wand has Smart Silence™ technology for quick on/off. It vibrates when you press its head against your body, and stops when you back it away or let go of the handle. And it's fully waterproof. If you have roommates or nosy parents, both of these features could be useful!
BUT IT'S SO EXPENSIVE, WTF!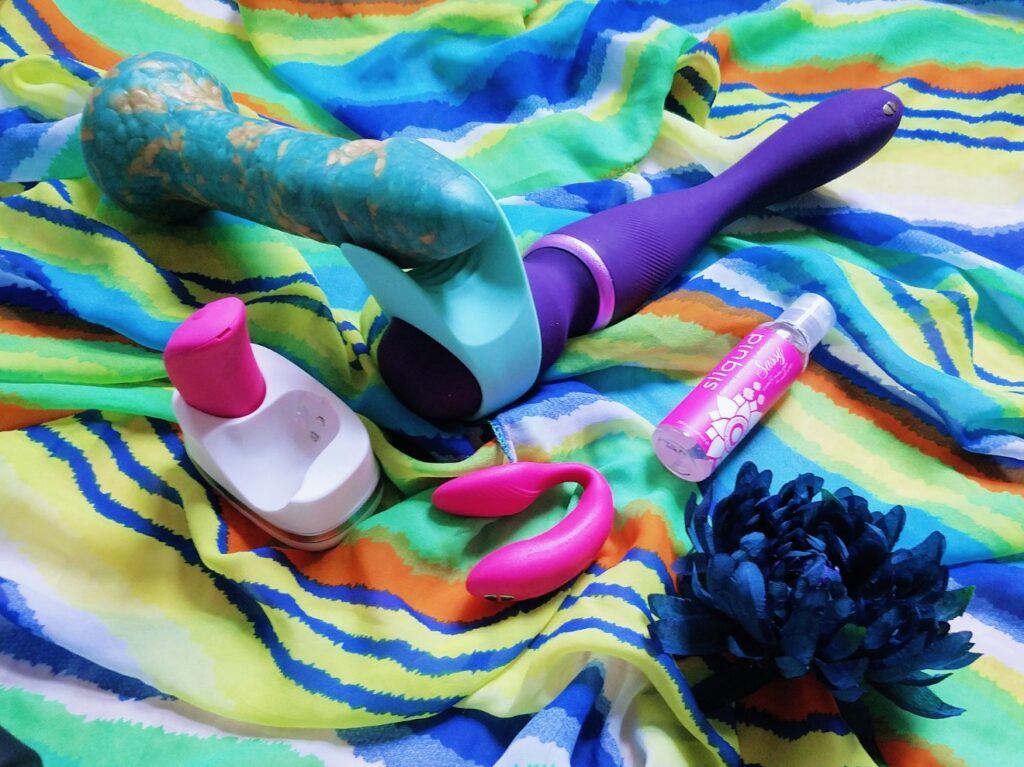 I get it: We-Vibe wanted to make a unique, innovative, and better wand. But for $179 at regular price, it's substantially more costly than anything else on this list. Only you can decide whether the luxury features are worth it for you.
I do like that the We-Vibe Wand's controls are the absolute most comprehensive of any wand on this list. Hitachi Vibratex's Magic Wands have drastic jumps between speeds, especially the second and third. And the BMS Swan Wand has no "down" button; when using it, I can't execute all of my tricks for longer and stronger orgasms. With the We-Vibe Wand, I can.
I don't like that the We-Vibe Wand has to come with attachments, which probably drives up the cost of the kit. However, I happen to like the Stroker and Flutter. Your mileage may vary— many reviewers have WTFed at the Flutter attachment.
The penis stroker transfers the rumble well while reinforcing that vibrators aren't just for single ciswomen (hence We-Vibe). It might be useful if you were already about to buy a penis vibrator like the Fun Factory Manta. And while the Flutter attachment won't replace my Fun Factory Volta, it's a fun way to add light pinpoint stimulation and versatility.
Get the We-Vibe Wand and take 10% off with coupon code SUPERSMASHCACHE.
PalmPower Extreme by BMS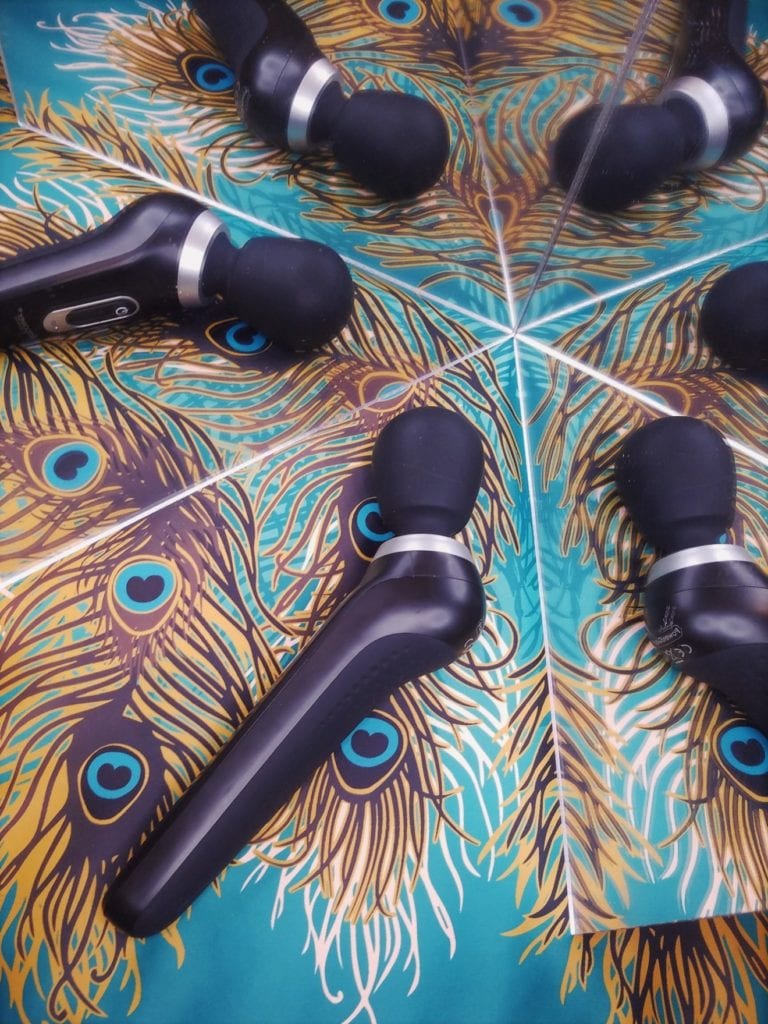 The BMS Factory PalmPower Extreme is another vibrator that uses PowerBullet™ technology. Of the PalmPower line, it is the strongest vibrator. When compared to the previous, bigger wands on this list, though, there's a noticeable tradeoff. The PalmPower Extreme is lightweight, compact, and angled for easy positioning — and its motor is less robust than the Swan Wand Classic.
It's still ridiculously strong by most sex toy reviewers' standards, but it doesn't have the same "VOOM." Whereas the PalmPower Extreme's speed range is 20–85 Hz, the full-sized Swan Wand's is 20–70 Hz. I'm under the impression that the former's higher speeds are compensatory. And understandably so. The PalmPower Extreme's motor has to be smaller to fit in the 1.8″ diameter head, whereas the Swan Wand Classic is 2″ across.
If I tried the PalmPower Extreme in isolation, I probably would have praised it for many of the same things as the Swan Wand. They're both intense, and their controls are similar:
Quickly press a button to cycle through the settings
Press-and-hold to gradually increase speed
Press the other button to turn the vibrator off
These parallels make sense— they are made by the same company, after all. If there were more of a cost difference, I'd recommend the PalmPower Extreme in a heartbeat. But the Swan Wand Classic's price is a mere $10 more.
Compact mini-wand vibrators
Reasons to use a mini-wand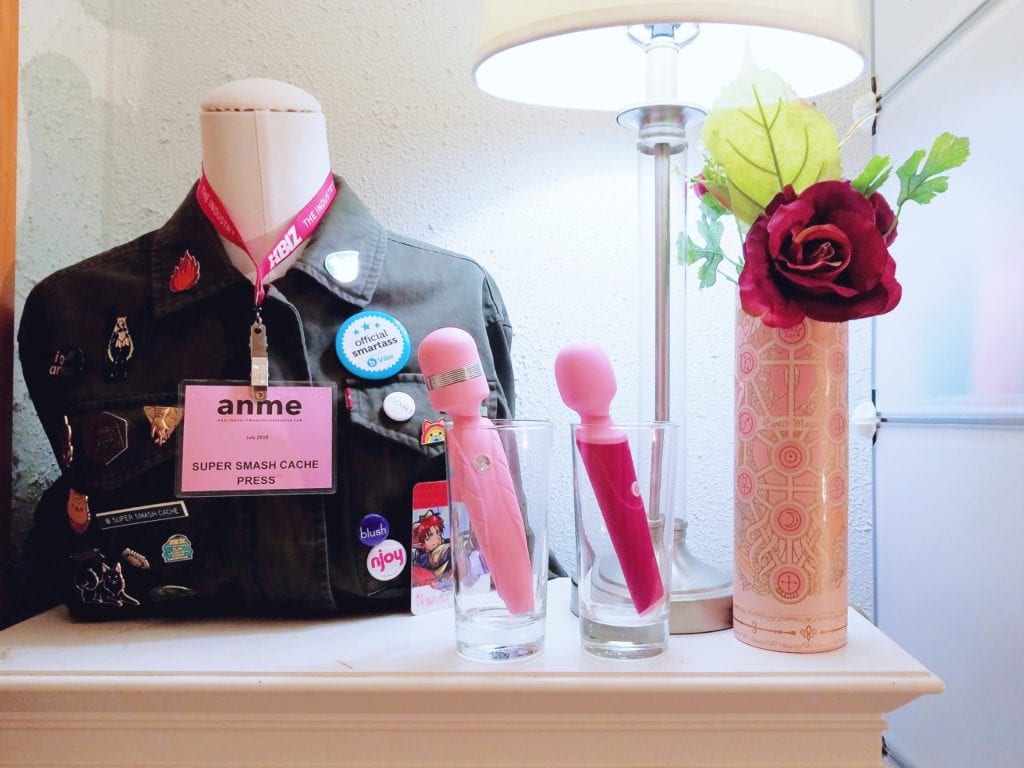 So if bigger vibrator heads deliver deeper vibrations, that must mean they're always better, right? Not necessarily— everybody is different and has different needs and priorities. For starters, not everyone enjoys broad stimulation. Some prefer pinpoint vibrations concentrated in a smaller surface area, hence my love for bullets like the Hot Octopuss Digit and We-Vibe Tango. Mini-wands also tend to be quiet, lightweight, travel-friendly, and affordable.
In use, they take up less space and don't hog the vulva. That's something to keep in mind when preparing to consume a massive dildo like the Tantus Bishop XL, Vixen Randy, or VixSkin Gambler. Powerful vibrators help me relax my pelvic floor. But girthy insertables pull my clit closer to the vaginal opening, leaving little room for a bulky wand to access it.
Mini-wands often aren't as strong as the wands mentioned above, but it's powerful enough to matter.
Doxy 3 Rechargeable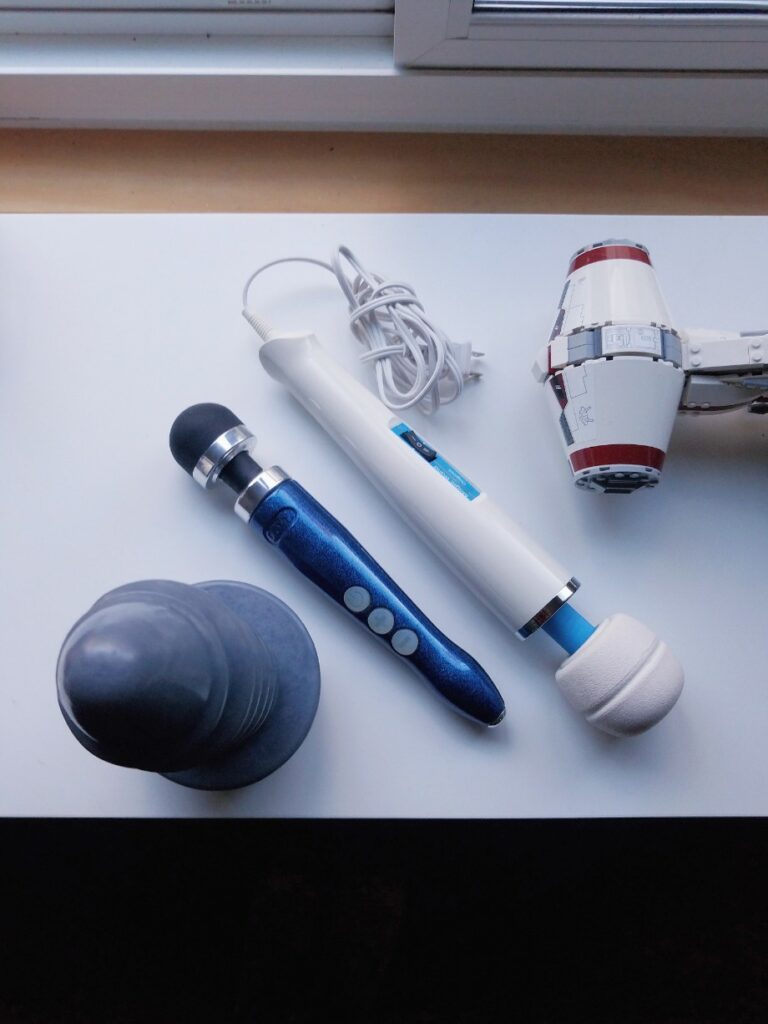 As far as compact rechargeable wands go, I've yet to encounter one that tops the Doxy 3 R (A. K. A. Doxy Smol). It's not as powerful as the Doxy Die Cast (A. K. A. Doxy Lorge), but it's as close as you can get in such a small package, and about tied with the Le Wand Rechargeable.
Just make sure you read my comparison between the Doxy 3 R and Doxy Die Cast to set realistic expectations. The Doxy Smol's more targeted head cannot shake nearly as much of my internal clitoris.
But thanks to its heavy internal weight, it retains a fantastically thuddy vibration quality for how petite it is — even with such a wide range of speeds. Plus! Big buttons that glow blue for breezy use in the dark.
My boyfriend and I adore using the Doxy 3 R on both of us at the same time while I'm on top, straddling him. And its size makes it a delightful addition to intercourse. Expensive? Yes. But I've reached for it again and again, eschewing other mini-vibes. We'd choose the Doxy 3 Rechargeable over so-called "couples' toys" any day.
Shop the Doxy 3 Rechargeable now.
Jump back to the rechargeable wand comparison table.
Pillow Talk Cheeky by BMS Factory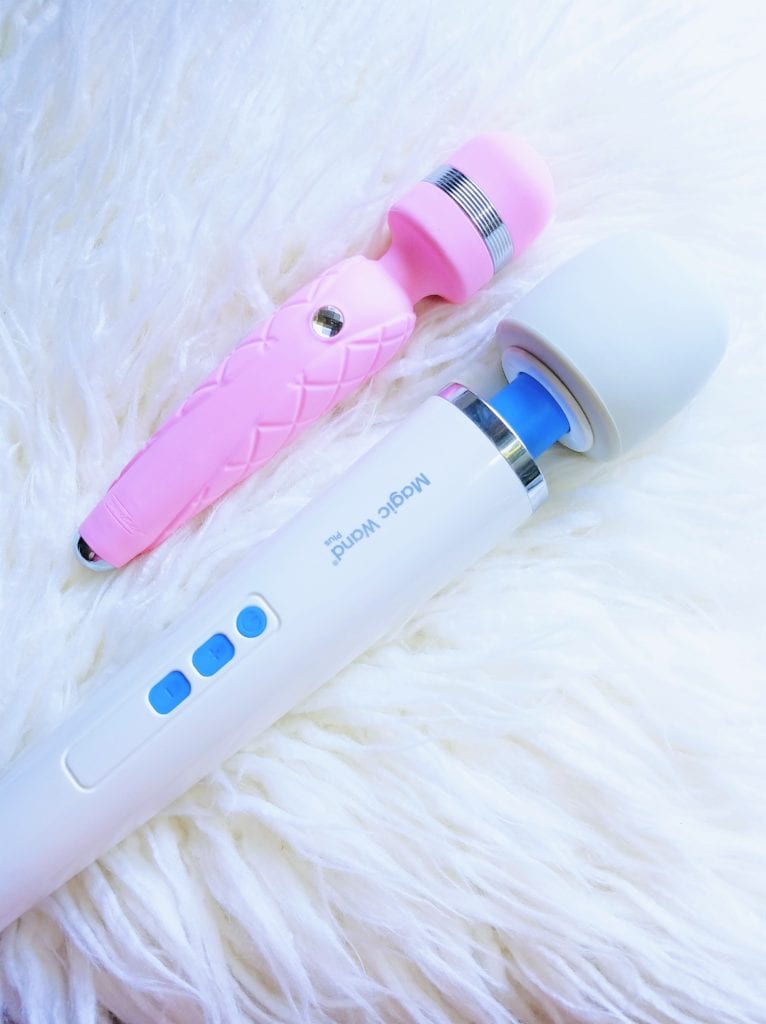 The Pillow Talk Cheeky is the bigger sibling of the best G-spot vibrator: the Pillow Talk Sassy. Both are about 1.5″ maximum width, under $60, and boast phenomenal vibrations for their size. It wouldn't be fair to compare them to full-sized wands. Still, the Pillow Talk Cheeky and Sassy's rumble outperforms comparably-sized luxury vibrators like the $169 LELO Mona 2. Times are changing; amazing, affordable sex toys are the future.
As with the previously-mentioned BMS Factory wand massagers, the Pillow Talk Cheeky has a continuous speed range. The intensity increases when you press and hold the button. The difference is that one button controls everything. As such, a quick press turns the vibrator on and off. It's more bare-bones and less intuitive, but at its price, I can't complain.
I described the Pillow Talk Cheeky's lowest speed as "purring" in the full review. It's not as low-pitched as the previous vibrators in this list, but still thoroughly respectable. For me, the Pillow Talk Cheeky and Sassy are at a sweet spot. Small and focused enough to get me off quickly. Amply rumbly for the size. And certainly worth every penny.
Pssst! If you want to take 20% off the Pillow Talk Sassy, use my exclusive discount code, SUPERSASSY20 at Peepshow Toys. The SUPERSMASHCACHE code works for practically everything else, including the Cheeky.
Nöje W4 Wand by Blush Novelties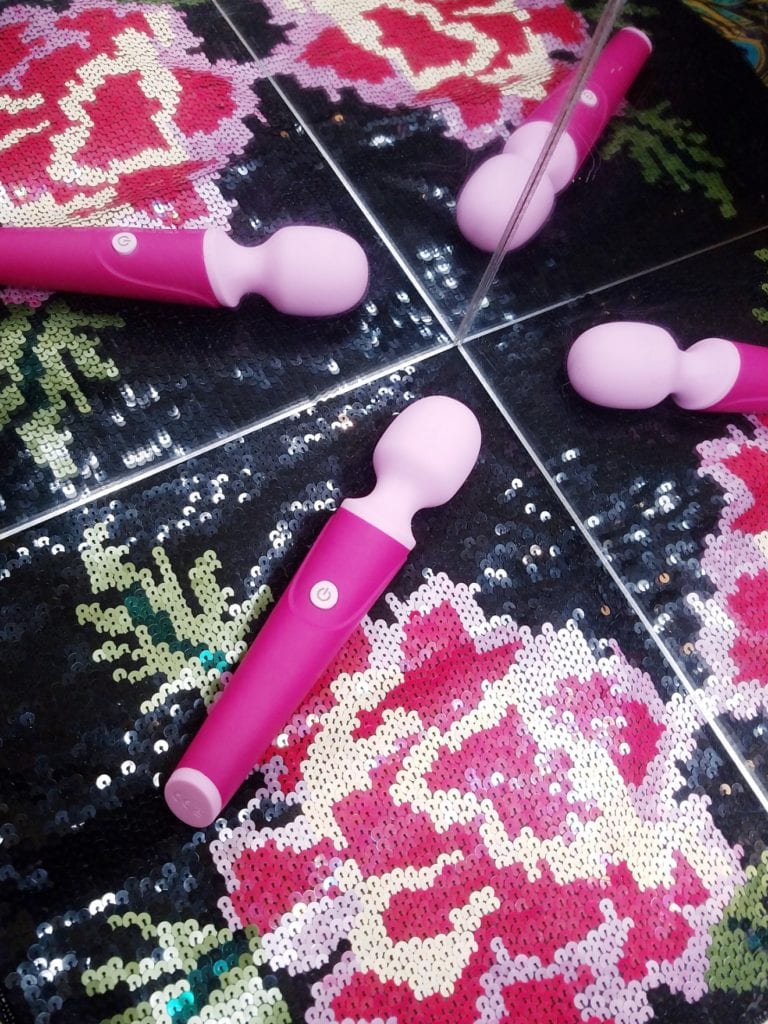 Last up is the Nöje W4 Wand. I called it "zingy" because it's not weak nor surface-level for me, but it is higher-pitched than the others on the list. The Blush Nöje W4's frequency range is between 70 and 90. Its vibrations feel sharper, with less buzzy bite than the LELO Mona 2, but less rumbly than the Pillow Talk Sassy. For $50, it's a little wand with a tiny price tag and big impact. I just wish it had more speed settings. 2 speeds and 8 patterns? No. Just no. The Blush Novelties Nöje W4 Wand could have been so much more user-friendly.
Conclusion
My thoughts on rechargeable wand massagers by Vibratex, BMS Factory, We-Vibe, & Blush Novelties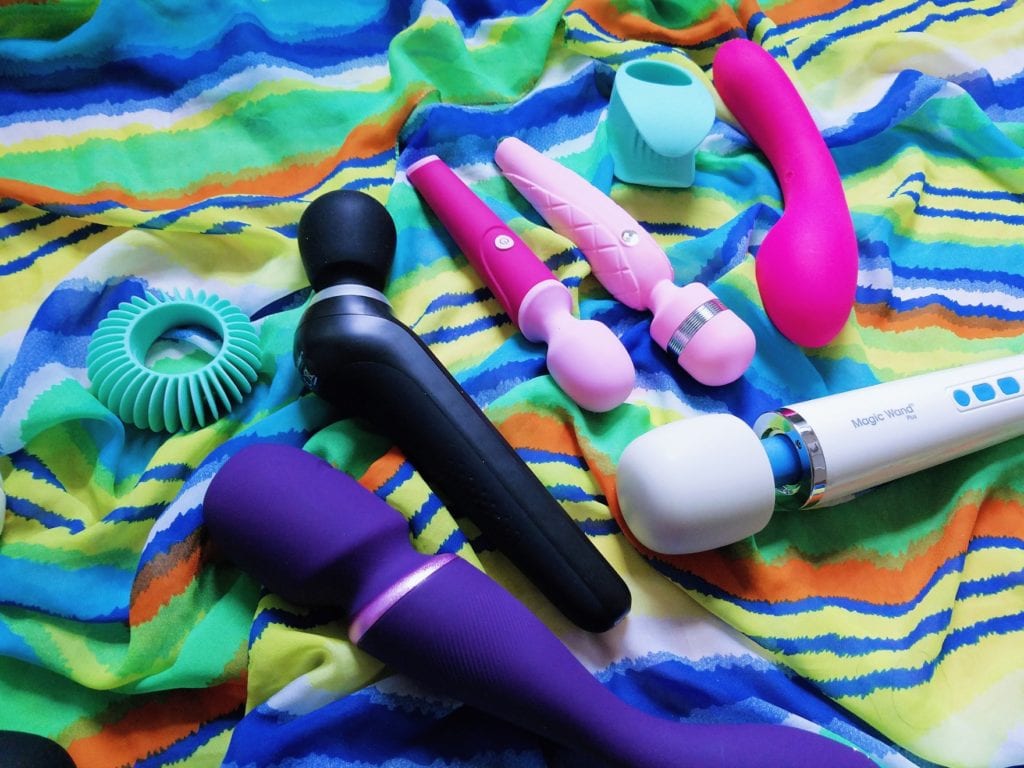 Overall, the upgraded Hitachi Magic Wands have the rumbliest strength-to-price ratio. Vibratex's Rechargeable version is the strongest cordless vibrator, with more rumble and speed settings than the Original. That first setting? OOooOOhh, it was love at first touch.
The BMS Factory Swan Wand Classic is about as rumbly as the Hitachi Magic Wand. Where it excels beyond is its controls and water-resistance. Plus, unlike the others on this list, the BMS Swan Wand was made for insertion. It's the best big insertable vibrator.
We-Vibe's Wand is less powerful, but its pitch is delightfully deep. Using the joystick or We-Connect app allows users to turn the vibration speed up and down a continuous range— a feature sorely lacking in other vibrators. But it's expensive, so a critical consideration is whether you'll use the silicone wand attachments that come with it.
Finally, as far as compact, convenient, and affordable mini-wands go, the BMS Factory Pillow Talk Cheeky is my top pick.
Use my discount codes for 10% off
Get these powerful wand vibrators — or anything else — for 10% off at PeepShow Toys with coupon code SUPERSMASHCACHE
You can also use discount code SUPERSMASH10 at Spectrum Boutique, which will also give you 10% off!
I've used the Rechargeable, but I don't own it. So I took photos of the Plus for this post because visually, the only difference is the subheader under the Magic Wand logo.