Magic Wand OG vs. Rechargeable vs. Plus vs. Mini Review & Comparison
Is there any sex toy more iconic than the Magic Wand?
Hitachi called it a back massager back in 1968. Nowadays, we know it as the Magic Wand Original by Vibratex. It's like the "cool grandma" figure for all the wand massagers now — successors have arrived on the scene, but we still respect the OG.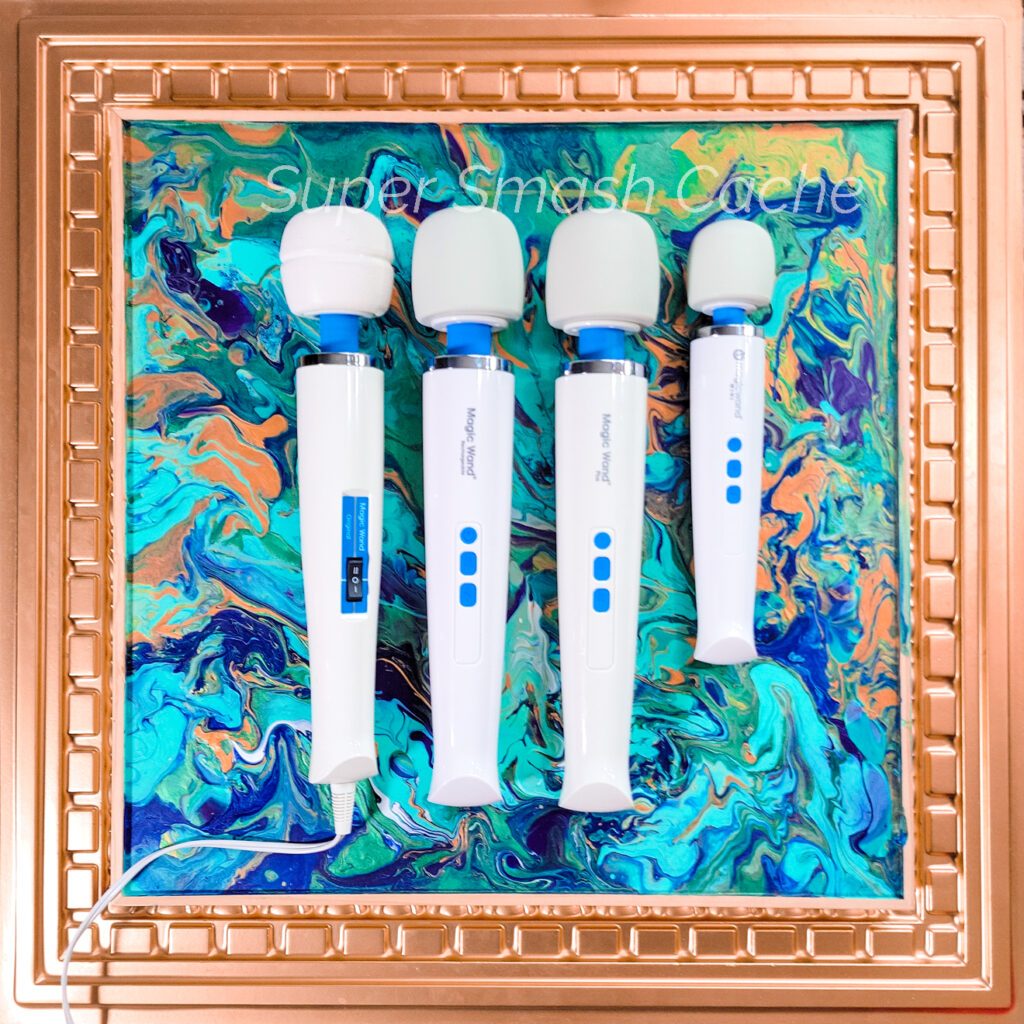 (Except for Hitachi. They don't want their image to be all but synonymous with orgasms.)
What is the Magic Wand used for?
Broad vibrators like the Hitachi Magic Wand and its offshoots are known for delivering strong vibrations across the entire vulva. Rather than focusing on the clitoral glans alone, they also massage the labia and shake the internal parts of the clitoris.
When were the Magic Wand Rechargeable, Plus, and Mini released?
Since Vibratex acquired the Magic Wand, they have launched three new versions. Joining the Magic Wand Original, we now have the following:
This post gives you the 411 on what changes each iteration introduced, and I'll compare them. Yes, they have different settings and control panels. But, more notably to me, they each have a distinct vibration quality and feel.
Read on to find out the differences among the Magic Wand Original, Rechargeable, Plus, and Mini — and which one is the most powerful, best Magic Wand.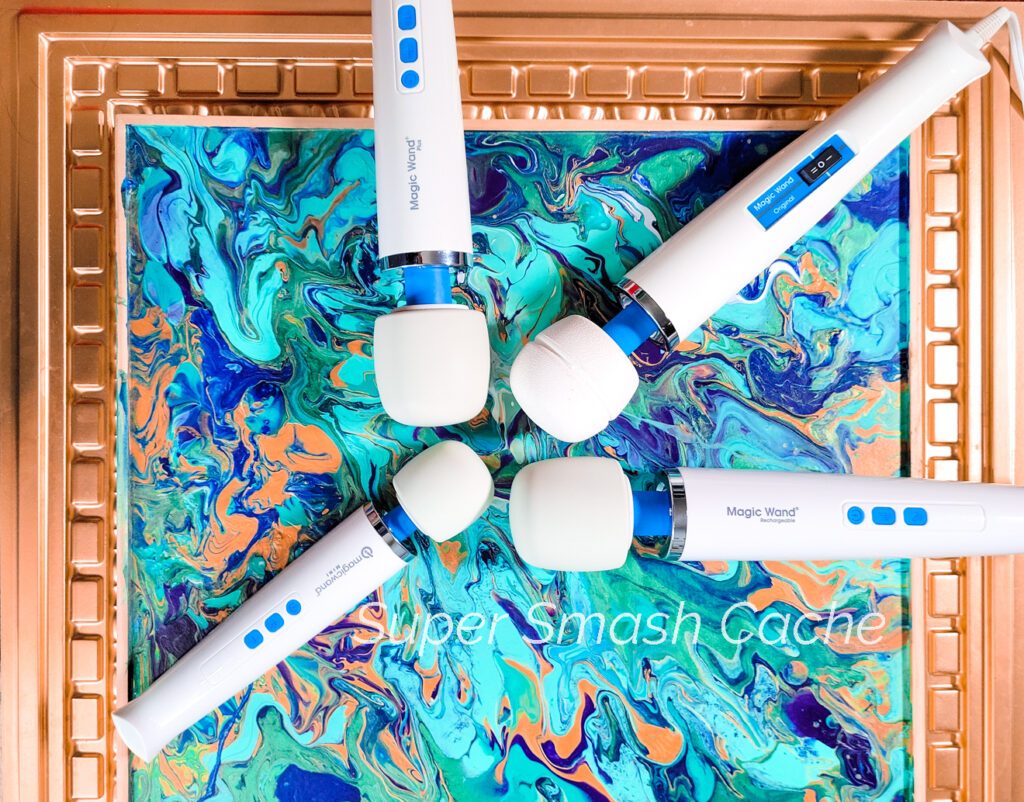 Magic Wand Rechargeable and Plus vs. Original
The Magic Wand Rechargeable was nothing short of game-changing when released in 2015.
And it wasn't just because you could use it cordless. (Though yes, you can use the Magic Wand Rechargeable while it's plugged in.)
Compared to the Hitachi Magic Wand Original, the Rechargeable boasted:
A more comprehensive range of speed settings
A rumblier motor
Way more hygienic silicone comprising the head
An LED indicator to show which speed you're on
The Magic Wand Plus, released in 2019, is like a middle ground between the Original and Rechargeable.
Where is the Plus model similar to the Original Magic Wand?
It's mains-powered
It doesn't have any pattern settings.
And it's still quite affordable for all the power you get!
Otherwise, the Magic Wand Plus has much overlap with the Rechargeable:
Similar motor and speed range
Silicone head
LED speed indicator
Same port for plugging in

Though the Magic Wand Plus must be plugged in during use, you can detach the cord for more compact storage.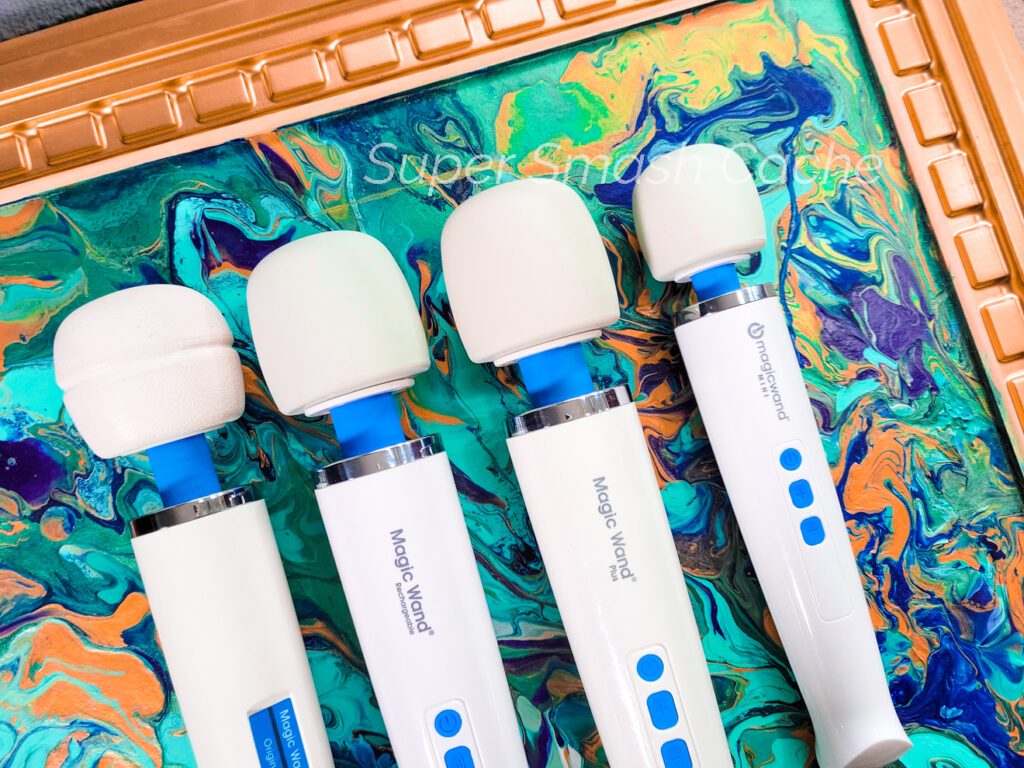 How do the Magic Wand Rechargeable and Plus feel?
Those revisions addressed many criticisms I had of the Magic Wand Original. Despite its reputation as the "Cadillac of vibrators," the Magic Wand Original is not for everyone. Its two speeds (EARTHQUAKE and DEVASTATION) are too powerful for some and not the optimal type of intensity for others.
I found that, with older wands, like the Original, I either came instantly, or I'd feel quite numb and pinchy and take forever to finish the session. Insta-cum or insta-numb.
The newer Magic Wand Rechargeable and Plus, in contrast, have two additional settings on the lighter end. These lower intensities are about half the strength of the Original's two options.
And they're deep in pitch, thuddingly reverberating with my internal and external clitoris. I find the Magic Wand Rechargeable and Plus more satisfying. They suit a broader range of moods and rarely numb me. Less steamrolling and more sensual. And that means more time for multiple orgasms.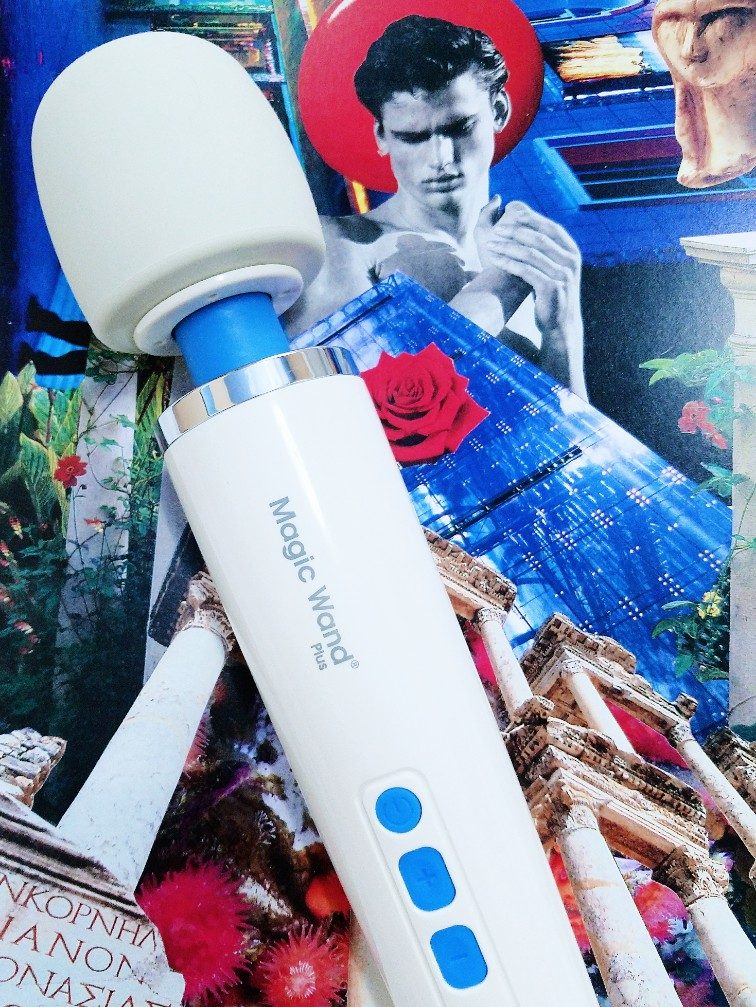 Tl;dr, the upgraded Magic Wand massagers are a big deal!
In short, Vibratex expanded the Magic Wand's audience beyond the hardcore and power-hungry. The Magic Wand Rechargeable and Plus are almost as strong, but they also have options for people who:
Want to warm up to the experience
Simply don't want to choose between OMG and OMFG strength
Sometimes, "omg' and "omg!" are enough.
It used to be that if someone wanted lower settings on the Hitachi Magic Wand Original, they'd get a light dimmer. We're in the twenty-first century now, and we've moved past that.
Thank you, Vibratex, for upgrading the Magic Wand and further deifying its legacy. Whatever it was before, it's practically god-tier now.
I would suggest you read my guide to the best cordless wand massagers, buuuut the Magic Wand Rechargeable is hands down my favorite.
Magic Wand Mini: a mini-review of the newest Magic Wand
Three years later, the Magic Wand Mini has a lot to live up to. It's rechargeable, but the control panel looks like someone shrank down the Magic Wand Plus.
How does this cutie patootie measure up to the others?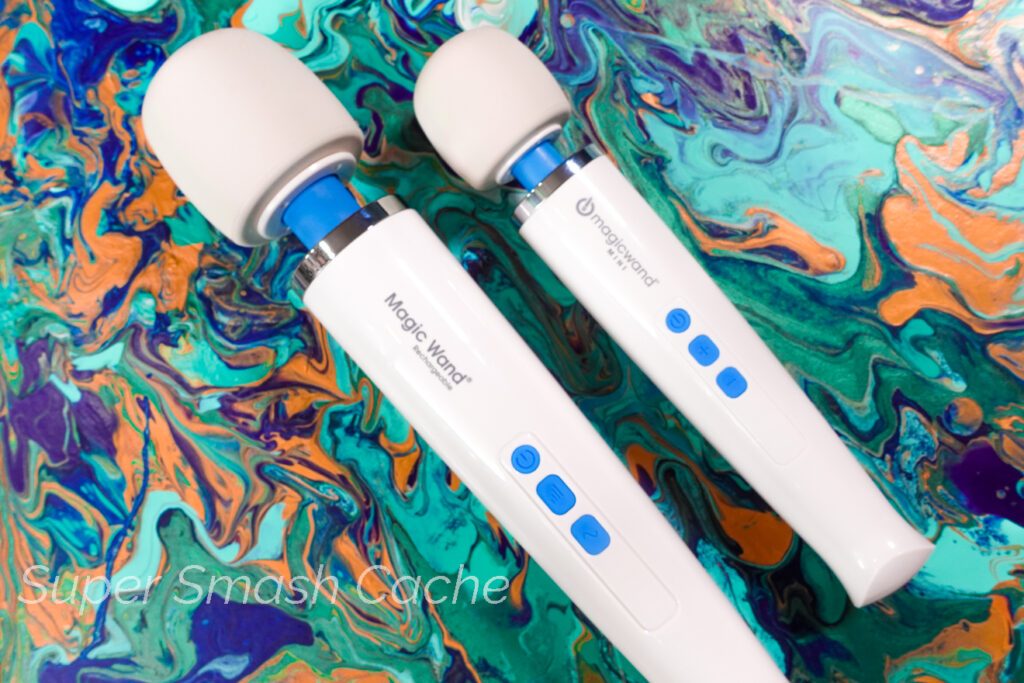 Let's start with the disclaimer: at 9.7 oz, less than half the weight of the Magic Wand Rechargeable, we have to be realistic with our expectations for the Magic Wand Mini. It can't be the seismic marvel that its ancestors were.
Mini-wands certainly have their merits, though:
Travel-friendly
Easier to hold
They take up less vulva real estate during penetration
How does the Magic Wand Mini feel in use?
The Magic Wand Mini has three settings on the rumbly side for the size. Its highest intensity is about par with the Plus and Rechargeable's second speed. (Which means it doesn't even graze the Original's lower setting.)
If I had merely felt the Magic Wand Mini in my hand, I'd tick off the boxes: "powerful for the size" and "rumbly for the price." No complaints.
Using it against my clit, though, is another story. In other words, I deeply respect what the Mini does, but it's just not for me.
It awkwardly straddles the grey zone between a broad powerhouse wand and a traditional mini-vibe. The Magic Wand Mini isn't strong or rumbly enough for me to say it's excellent for a wand, but it's also not focused enough for me to appreciate its compact frame.
It works, but I'll seldom reach for it for recreational orgasms. If I want broad stimulation, I'll go with the Magic Wand Plus or Rechargeable. If I desire a dynamite-level power-to-size ratio, I'll grab a bullet like the Amo or Tango X. This particular mini-wand feels noncommittal, like it tried to do both things simultaneously but didn't do either one that well.
Which mini-wand massager should you get?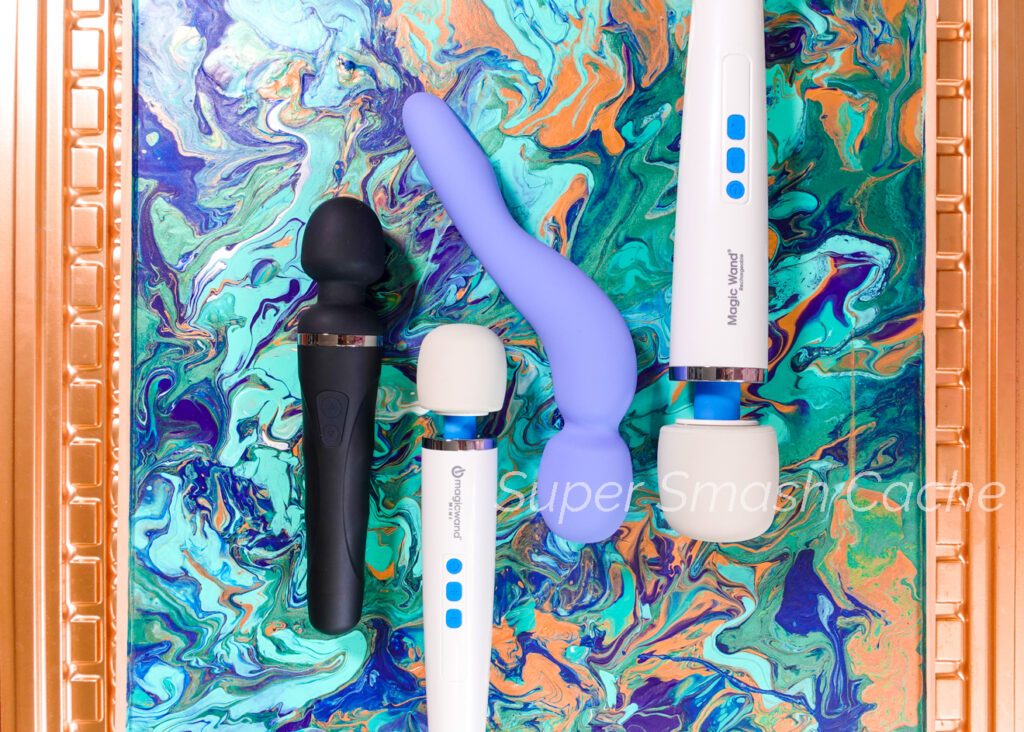 Despite my reservations, I think that the Magic Wand Mini's quality-to-cost ratio is well worth it.
My top choices for a compact mini-wand massager would be the Lovense Domi 2 and Doxy 3 Rechargeable. They're a lot of fun. The downside, though? They're expensive and have relatively high defect rates.
I'll likely love the Lovense Domi 2 to death and, once it inevitably dies from overuse, happily splurge $119 on a replacement. Not everyone is comfortable with that, though.
Would you rather compromise some strength for a more robust quality product that will last longer? What if it meant paying $43 less?
The Magic Wand Mini isn't perfect, nor does it live up to the hype of its predecessors. It's also bare-bones, but it's strong enough to matter. And it works. While I'm ambivalent, my final verdict is that it's well worth $76 (or $69 with code SUPERSMASHCACHE at Peepshow Toys).
Get the Magic Wand Mini. Or see my guide to rechargeable wand vibrators and decide which one best matches your needs!
What do the numbers and specs say? A comparison
Magic Wand vibrator strength comparison
Let's zoom out and look at the bigger picture: how do the different Magic Wands' intensities compare? Here's a rough outline.
The Doxy Die Cast (B A E !!!) at about 80% power is comparable to the Magic Wand Original at 100%.
The Original's top speed is about the same strength as — but a lot buzzier than — the Plus and Rechargeable's.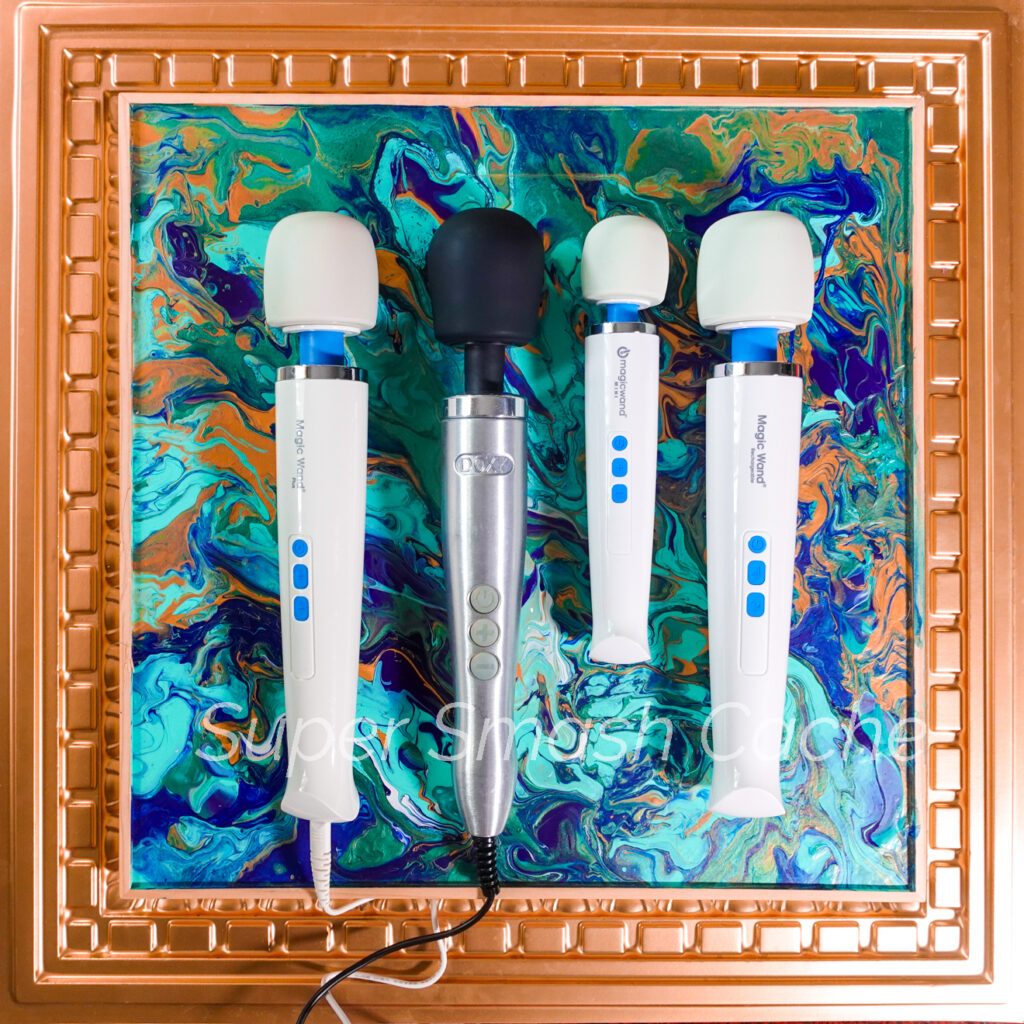 Overall, the Magic Wand Rechargeable is a tad rumblier than the Plus, and that difference is more apparent the more you turn the speed up. In other words, the Magic Wand Plus's vibration quality is sharper than the rechargeable's, but only by a little. Meanwhile, both the Rechargeable and Plus are way rumblier than the Original.
The Magic Wand Mini's highest intensity is about as strong as the Rechargeable and Plus's second. And the Mini's second speed about measures up to their bottom one.
Magic Wand vibration quality comparison table
Below is a table of roughly how the different Magic Wand models' intensity settings line up.
The numbers in each cell represent the number of oscillations per second (or RPM divided by 60). The lower the number, the lower the pitch.
| Original | Rechargeable | MW Plus | MW Mini |
| --- | --- | --- | --- |
| | | | 62 |
| | 44 | 47 | 82 |
| | 56 | 64 | 97 |
| 91 | 79 | 91 | |
| 108 | 97 | 108 | |
To recap one example: the Magic Wand Rechargeable is heavier than the Plus since its internal components also accommodate a self-contained battery. The overall force is about the same, but the Rechargeable moves more slowly and with more weight. (For those who took classical mechanics… force = mass * acceleration.)
Other wand massager features: a comparison table
Beyond how the vibrations feel, you might want to know how these wand massagers compare in other respects. Here's a table summarizing:
Price
Magic Wand weight

An important consideration when you have grip issues

Head width – how diffuse or focused are the vibrations?

Magic Wand's cord length

Short cords are a pain in the ass when you have a lofted bed

Settings
Control panel
| | Original | Rechargeable | MW Plus | MW Mini |
| --- | --- | --- | --- | --- |
| Price | $70 | $130 | $80 | $76 |
| Weight | 24 oz | 21 oz | 16 oz | 9.7 oz |
| Head Width | 2.3" | 2.3" | 2.3" | 1.9" |
| Cord Length | 6 feet | n/a | 6 feet | n/a |
| Settings | 2 speeds | 4 speeds + 4 patterns | 4 speeds | 3 speeds |
| Control Panel | Switch | On / speeds / patterns | On / speed up / down | On / speed up / down |
A closer look at the Magic Wand massagers' control panels
Also notable: I'm partial to the Magic Wand Plus's control panel. You can turn the speed up and down, unlike with the Rechargeable. And I looooove stimulation, decreasing intensity after orgasm and ramping it back up for nearly back-to-back multiple orgasms.
Since the Magic Wand Rechargeable has patterns, Vibratex incorporated a button to cycle through the rhythms. Only one button controls the intensity.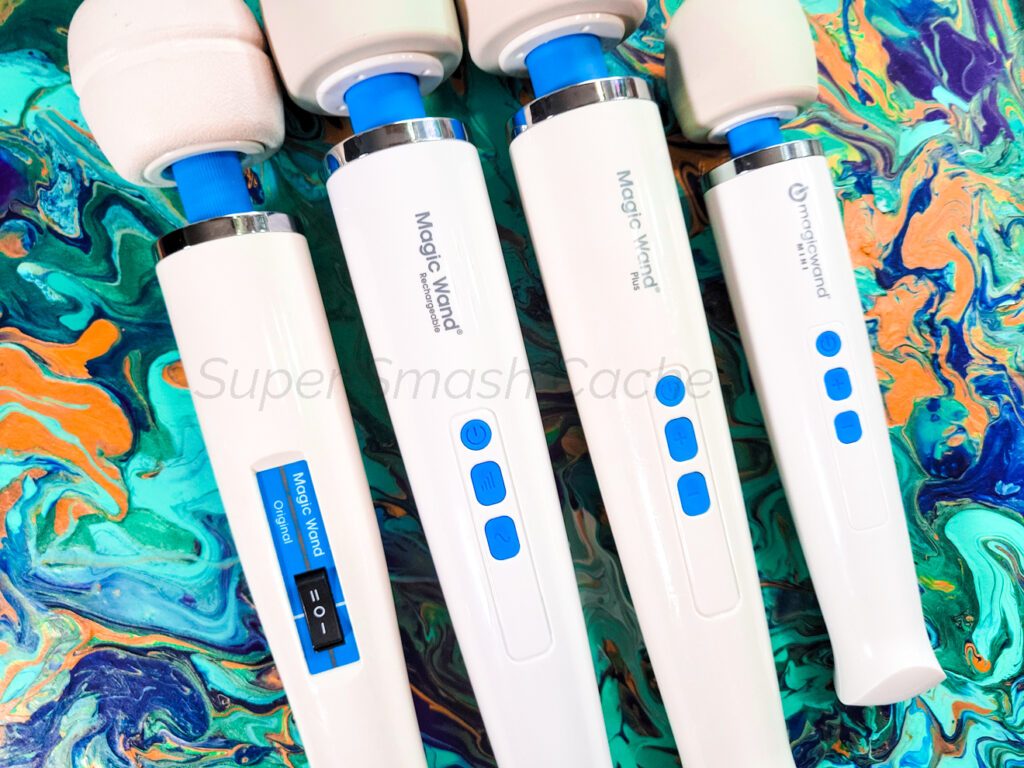 I understand that they wanted to keep the interface simple, so I can't fault them for that. However, given a choice between:
POWER / UP / DOWN and no patterns
POWER / CYCLE INTENSITY / CYCLE PATTERNS
I prefer to use the former. To hell with rhythm settings. Another example of a well-done wand control panel? The We-Vibe Wand offers easy access to the power button and up/down joystick  — whiiiile the pattern button is quarantined farther down on the handle.
The Magic Wand Mini's control panel is like the Plus's: power/up/down. No complaints there. And, of course, the Original has a switch to choose between its two settings.
Can the Hitachi Magic Wand be used in the shower?
Unfortunately, these iconic Magic Wand models by Vibratex (and formerly Hitachi) are not waterproof. Vibratex's wand massager safety manuals are aggressively filled with warnings like:
Do not use an hour before or after eating
Do not use while smoking
Do not drop or insert into any opening
Do not sit on top of this product

Full disclosure: I'll probably disregard this contraindication
…and, of course, do not put them in water, beyond what's necessary to clean the wand massager heads.
There are, however, plenty of wands that are totally waterproof for shower use! See my rechargeable and cordless wand comparison for more details.
Best places to buy a Magic Wand massager
I suggest buying wand vibrators from a reputable retailer that you can trust to label their products accurately. Some of the best online sex shops include:
Read more about why I love these shops so much. In short, these independent shops are run by really sweet people who give a shit about consumer education, health, and safety. They got your back.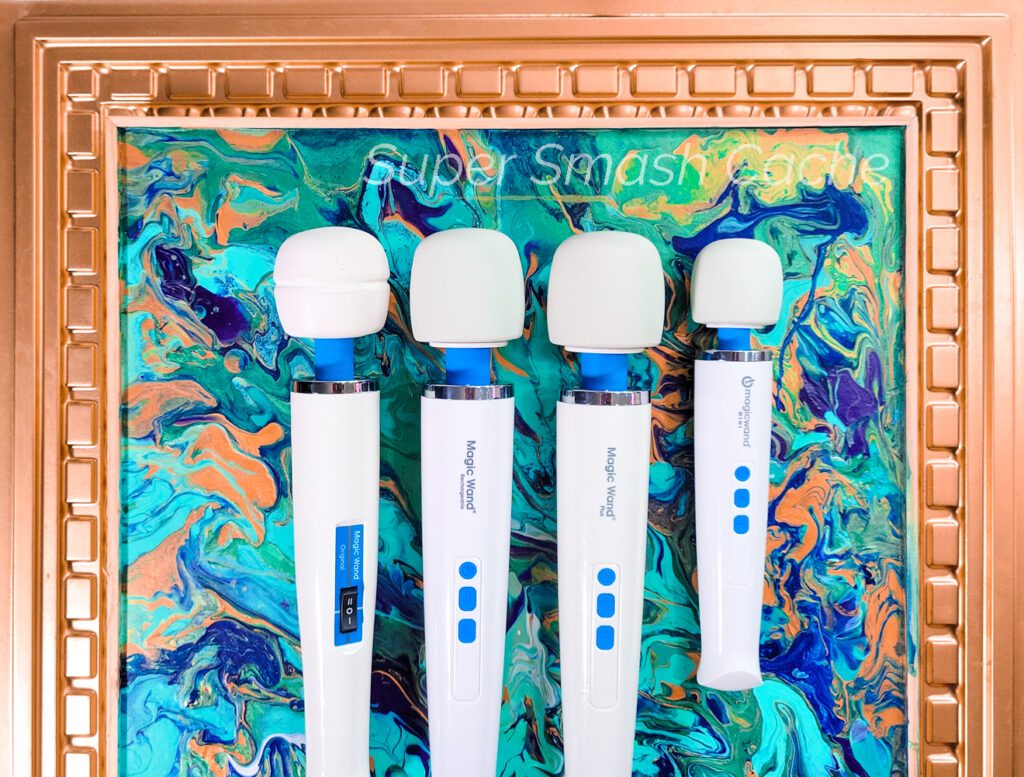 Is the Magic Wand on Amazon real?
It might be, and it might not be. Unfortunately, buying wand massagers from Amazon is a gamble, for a few reasons:
You might run into counterfeit items made with lower quality standards.
If your product breaks, the brand-name manufacturer won't replace or fix an item that they didn't make in the first place.
It's not easy to tell whether a third-party seller is sending you a used or returned toy.

This scenario isn't common, but it does happen.
There's practically no regulation regarding material safety or protecting consumers from used sex toys — and definitely not on Amazon. Buying from a trustworthy and ethical online sex shop is your main defense.
Final thoughts: which Magic Wand is the best?
If I had to recommend one official Magic Wand brand massager, it would hands-down be the Magic Wand Plus. Its settings are forcefully fabulous, its controls are fantastic for boom-boom-boom multiple orgasms, and the price makes it a fucking steal.
The Magic Wand Plus combines the best features of the other models:
It's close to the thuddiness of the Magic Wand Rechargeable
A similar price to the Magic Wand Original
The Magic Wand Mini's easy-to-use buttons
As far as cordless wands go, the Hitachi Magic Wand Rechargeable is undefeated. It comes with all the bells and whistles and fulfills a vibrator's reason for being: a robust motor in a raging machine.
---
Disclosure
I use affiliate links throughout this post. When you shop using them, they bring me a commission at no extra cost to you. All of the shops I link are great places to get a Magic Wand massager, but I generally link to whichever shop sent me the product to try out and review.