9 Ways to Use a Wand Massager with a Partner
Here's the thing: sex toys aren't just for single women! For one, there are endless ways to incorporate toys into partner play. What's more…
Your options expand when you fully appreciate that a penis is a lot like a big clitoris!
But because there's more surface area to stimulate on a penis, I think broad-headed wands are an exceptionally underrated category of sex toys for men. One of my readers said using one is the closest he came (hah) to experiencing the intensity of the female orgasm.
It doesn't matter much what sets of genitals you have — if you want to use sex toys with a partner, there's something on this list for you.
(NOTE: I'm a woman in a relationship with a man. Probably not everything here applies to your situation, but I wrote this post under the assumption that everyone has holes and external erogenous zones!)
1

Tease your partner while they're reading and watch them squirm

Books are always potentially sexy to a nerd, but even more so when incorporating them into foreplay. I love seeing my partner struggle to keep a straight face and steady voice while I use my wand on his penis. My favorite part? His utter shock when I turn up the wand's speed, and he didn't expect it. Bring on the pause, the pleasured shudder, and an unintentionally seductive voice (and evil laughter on my end).
2

Give a next-level blowjob by holding the wand against your cheek

Combine deep, thuddy vibrations with your mouth's wetness and suction. You can use any vibrator for this purpose, but the Magic Wand Plus or Doxy Die Cast's power is ideal. Alternatively, you could hold a vibrator against your partner's balls while sucking and stroking.

(The testes are sensitive, though. So if you move the wand down to them, maybe do that part through your partner's underwear or pants to reduce the intensity. Or pair your Hitachi Magic Wand with a light dimmer.)
3

Add penis stroker attachments for a surround sound experience

Using a wand massager directly on a penis feels fantastic. If you want variety, though, there's a significant advantage to using a stroker wand attachment: you get to play around with a range of textures and fluttery sensations!

That could include squishy pocket pussy-style sleeves, but you also don't have to limit yourself to loop attachments or vibrators that wrap around the penis. The bumps and waves on Le Wand's silicone texture covers add tactile stimulation — uniquely sensual for the fine touch receptors in the frenulum and foreskin.
4

Straddle with the wand in between; massage both partners!

I wish people would stop seeing wand vibrators as "getting in the way" of a penis during partner play. Sometimes for my boyfriend and me, the wand is the partner play.

Looking into each other's eyes while the intense, otherworldly stimulus syncs up for both of us? Watching your partner gasp and shake? What's not to love?

(On a serious note, maybe you struggle with holding yourself up while kneeling. If that's the case, consider a sex positioning pillow to support you.)
5

Combine a compact mini-wand vibrator with penetration

I understand: when people think of "couples' toys," they think of something

petite and "non-intrusive."

A traditional

Magic Wand

head can be a vulva hog and leave little room for a penis or

big dildo

.

But you don't have to sacrifice wand-level power when having PIV sex. The Doxy Number 3 and 3 Rechargeable pack the strength of the Le Wand Rechargeable into a smaller head and more lightweight body.
6

Tie the magic wand to your partner for orgasm torture

Why stop at teasing? If your partner's into being forced to orgasm, again and again, strap a wand vibrator to their crotch. Watch them whimper and beg for permission to stop (or to come).

Crash Restraint has an excellent tutorial for that — and all you need is a wand and some (preferably comfortable) rope. The title says "Hitachi Magic Wand," but you can, of course, apply the principles to any standard size wand massager. My Doxy Die Cast is my favorite and most powerful wand, so at least consider it. 😉
7

Insert a wand vibrator head as a warmup to fisting

If you love

big insertions

and wanted to put a wand vibrator inside you, that's an option! For safety reasons, it's best to pick a waterproof wand.

The BMS Factory Swan Wand combines a girthy, G-spotty swell with Hitachi-level vibrations. And if you already have a We-Vibe Wand, you know that its head is more elongated and gradual than the Magic Wand's — making We-Vibe's version a great candidate to insert vaginally.
8

Connect the wand to a remote control app for long-distance play

Even if you're social distancing or in a long-distance relationship, you can still have fun with wand vibrators. The We-Vibe Wand and Lovense Domi both connect to smartphones via Bluetooth and can be controlled by a partner from afar. (As can many other We-Vibe toys — I'm partial to the Melt air pulse toy's strength.)
9

Combine a wand with butt attachments for extra-rumbly vibrations!

Since everyone has a butt, they could potentially enjoy penetration with a vibrating dildo. With the right attachment, you can convert your wand into one!

There are pre-made insertable wand accessories, but for even more versatility, get a Strap Cap — a silicone wand cap but with three holes (1″, 1.25″, 1.5″ diameter) to hold your favorite harnessable dildos.

Consider some of the slim and squishy dildos from my beginner butt stuff guide, such as the following from Blush Novelties:
Let's wrap it up!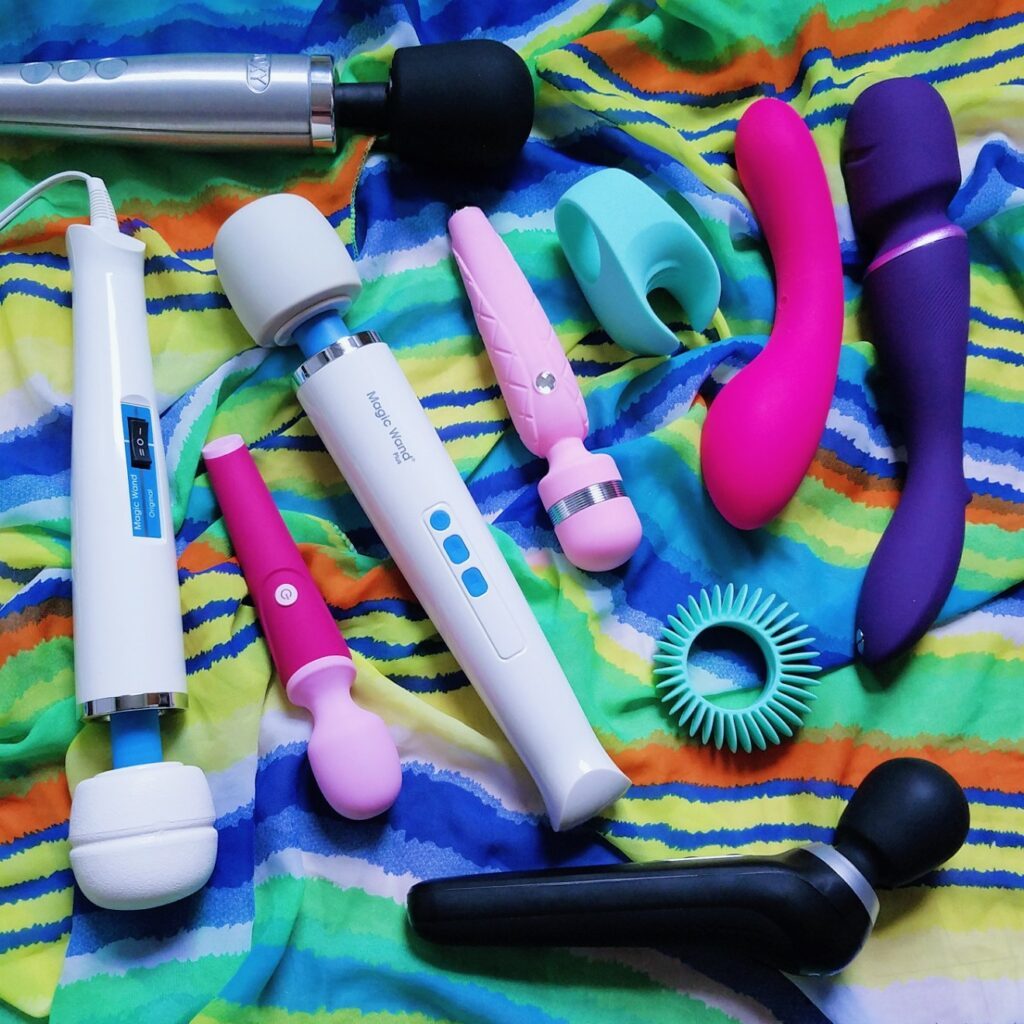 Wands are way more versatile than people give them credit for. Whether you have a penis or a vulva, getting a massager like the Doxy Die Cast or Magic Wand Plus is a solid investment for solo play and partner play.
What are your favorite ways to use a wand with a partner?
---
Heads up! This post was sponsored. Opinions expressed are my own, as always.
Want to sponsor a post? Get in touch via the contact form on my policies page or email supersmashcache [at] gmail [dot] com
"I'm jealous! Women get so many sex toys to choose from," lamented some guys in my life. But when I ask whether they've used a vibrator with a partner or for penile masturbation, crickets chirp.