Pris Toys Sentinel review: HUGE dildo bigger than soda can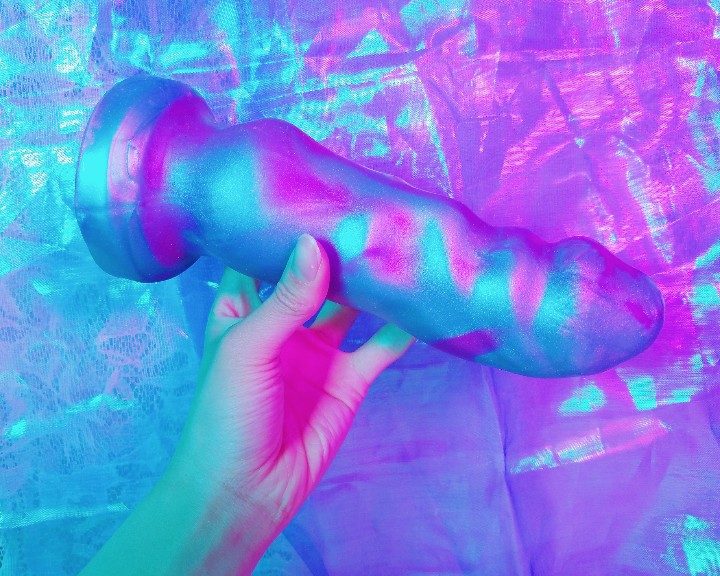 Stack two [soda cans], and that's about the size of the Pris Toys Sentinel.
Yep, I've made it my job to stick large objects in my vagina and tell you how amazing it feels. Today's big and bold dildo is the Sentinel, a nearly 2-pound, 2.75″ diameter monstrosity by Pris Toys.
The Pris Toys Sentinel is one of those dildos where I have practically no refractory period. It's a matter of seconds of thrusting before I have another orgasm and another, and another, and another. My vagina goes into a primitive "CRUSH OBJECT INSIDE" mode — a self-perpetuating loop, where squeezing around the undulating head is in itself stimulating, even with the most minimal thrusts.
I'll be upfront about how I feel: it's no mystery that I like big toys. The eye-popping palettes by Pris Toys are just a bonus.
As long as I have the Sentinel inside me, the oxytocin keeps flooding. The Sentinel by Pris Toys is certainly NOT a quickie dildo — not just because it's huge, but also because you'll want to hover in the afterglow and maybe snuggle with it afterward.
---
---
Pris Toys first and second impressions
First things first: I LOVE how attentive the maker is! Pris Toys saw my negative review of their Basilisk, and they immediately got to work on improving it. I got the Sentinel as part of a package that included prototypes for another toy, a Basilisk 2.0, and tiny stress-relieving squishies. Support an indie dildo artisan with fantastic service!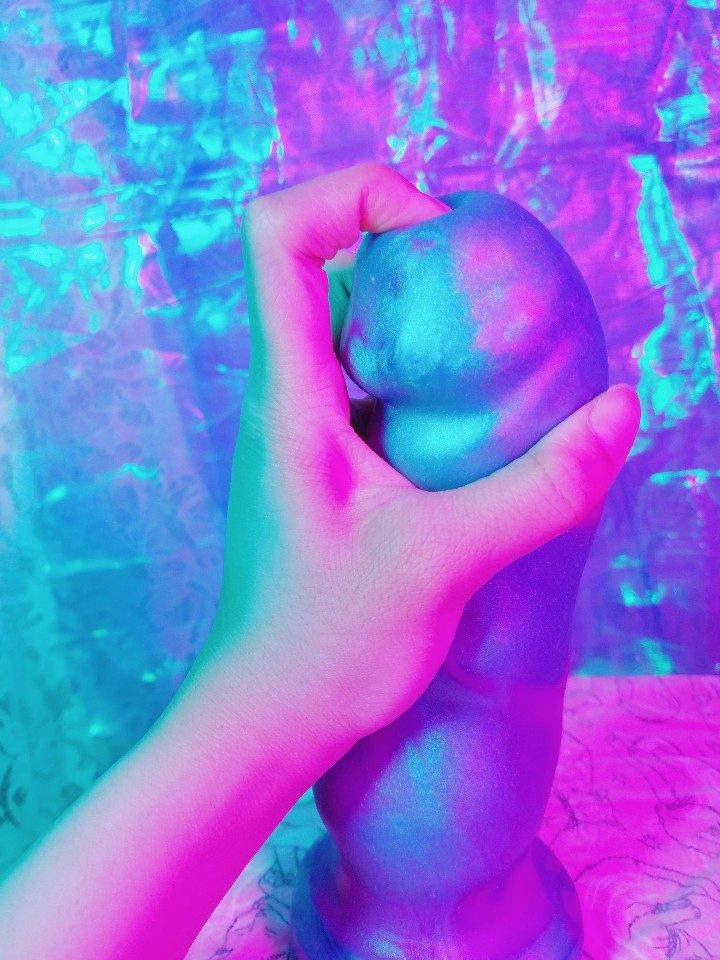 I mentioned before that they must have paid attention to other spicy silicone sculptors, based on the Basilisk's striking resemblance to VixSkin dual-density silicone — and I was half right. It turns out that they intended to go a bit firmer and less realistic than VixSkin, but more realistic than Uberrime, not quite crossing over into the fantasy realm.
The Pris Toys Sentinel's head is all gummy candy-like squish, but under that, the firm shaft goes plenty high up. There's greater contrast in the silicone densities compared to other brands I've tried. And I appreciate Pris Toys' choices here since they make the base easy to grip and the insertable portion effortless to aim.
---
Pris Toys Sentinel measurements
This dildo isn't my biggest, but it's up there — a step in between the Vixen Creations Randy and dual-density VixSkin Gambler. The Pris Toys Sentinel is a notable 8.5″ total length, with a maximum shaft diameter of 2.75″ minimum of 2″ across.
For reference, a soda can is about 2.13″ across the top and 2.6″ across the middle. Stack two of them, and that's about the size of the Pris Toys Sentinel. It's probably a bit heavy to harness, but the 3.75″ diameter flared base makes it anal-safe.
The Pris Toys Sentinel's size also makes it a good toy for warming up to fisting. At the end of this review, I'll link to more of my past reviews about big toys and must-read guides if you want to level up your girth game.
For now, though, it's not hard to see why someone commented, "Well, that's going to make giving birth easy." (It killed me when someone else responded, "Sure, if you shove it in your cervix……….")
This thing is INTENSE not just on paper but also in practice.
---
What's to love about the Pris Toys Sentinel dual-density dildo
1

See how the Sentinel's shaft swoops backward before it tilts forward?

Its curvature sounds unassuming, but it's actually helpful in going behind my cervix!

Your mileage may vary, though. Some people's cervical fornices might not have enough room to accommodate such a big toy. In contrast, even straight-shafted dildos tend to go behind my cervix by default anyway. Every body is a little different. However, the Pris Toys Sentinel's squishy, rounded tip and slightly off-center core make it easier to reach the deep erogenous zones.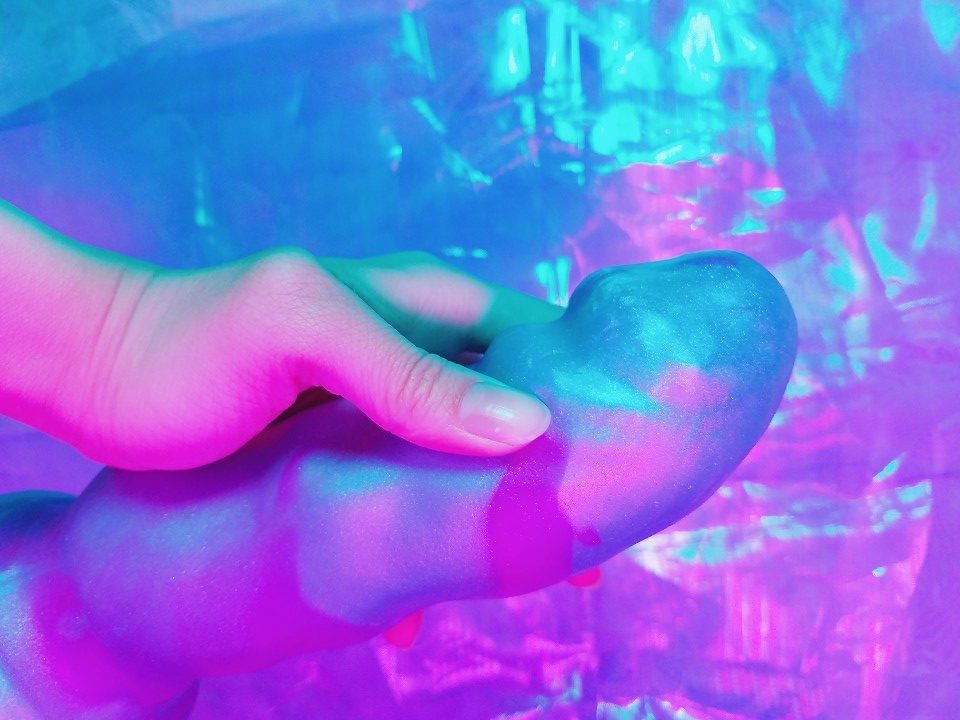 2

Its head is also more pronounced than what I had tried with the Basilisk.

The glans swoops out, protruding suuuper far forward. There's nearly half-inch of difference in the diameters of the corona and the sulcus beneath. And, on top of that, the head is double-crowned with an abstracted, retracted foreskin design. My G-spot had a lot of fun feeling my pelvic floor muscles grip around the ridges.
3

There's also a lot of length to work with — about 7.5″ insertable.

For me, that's just right. It's easy to aim, and I don't feel like the handle is unnecessarily long. 8.5″ total length may not sound excessive for advanced anal players, but my vagina can't consume a lot of length and girth. (Maybe it did with the Uberrime A-Spot Avenger, but the Sentinel is another league!) There's the slight knot-like swell near the bottom that can serve as a prostate tickler, if that extent of depth play is your thing.
4

Finally, I appreciate the glossy surface for smooth entry.

Just make sure to use ample water-based lube. The only thing I'd add is an orientation marker or some asymmetry in the base so that users can more easily discern which way is forward. Big toys can be unwieldy and rotate a little while inside.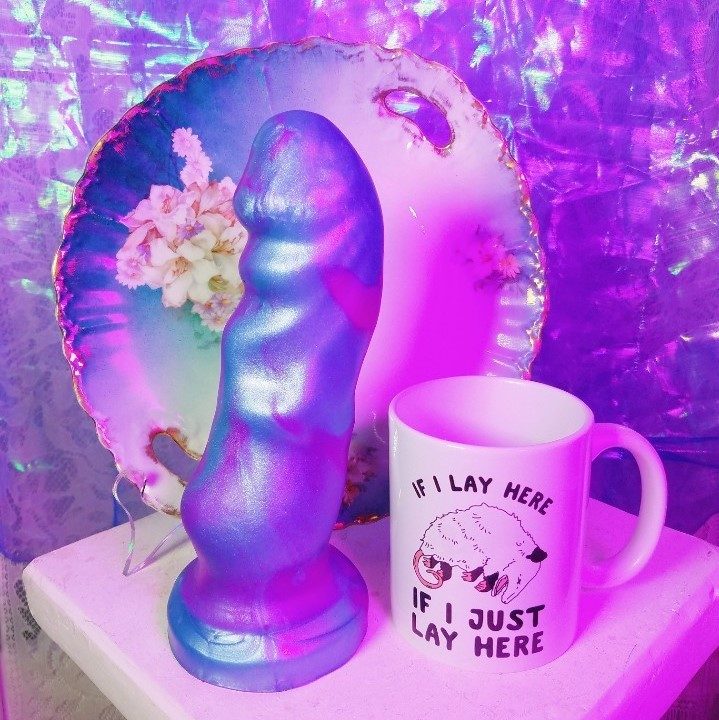 ---
My verdict on the Pris Toys Sentinel — and where to get it
If it's big ridges and gargantuan girth you crave, it's hard to go wrong with the Sentinel. Just make sure you're actually ready for it.
The Pris Toys Sentinel is available in 2 color schemes at Early to Bed:
Cosmic – teal, purple, and hot pink with glitter
Green Slime – neon green and yellow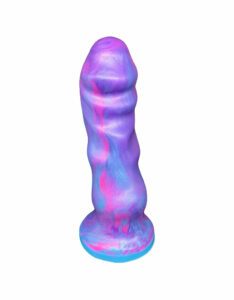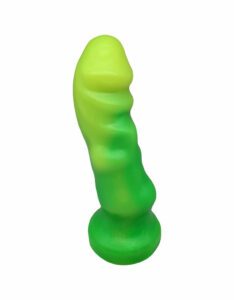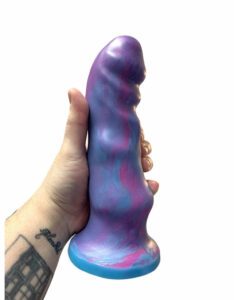 My version of the Sentinel isn't one of their usual color palettes, but there's a chance you could get something similar directly from the maker via their Mystery Color option.
---
Further reading & big toys for fisting preparation