Review: Lora DiCarlo Osé 2 CES Award-Winning Robotic Massager
I'm waiting for the imminent Netflix original documentary about the Lora DiCarlo Osé.
Nobody's announced any plans for such a feature, but I figure it's only a matter of time, given this robotic massager's notoriety.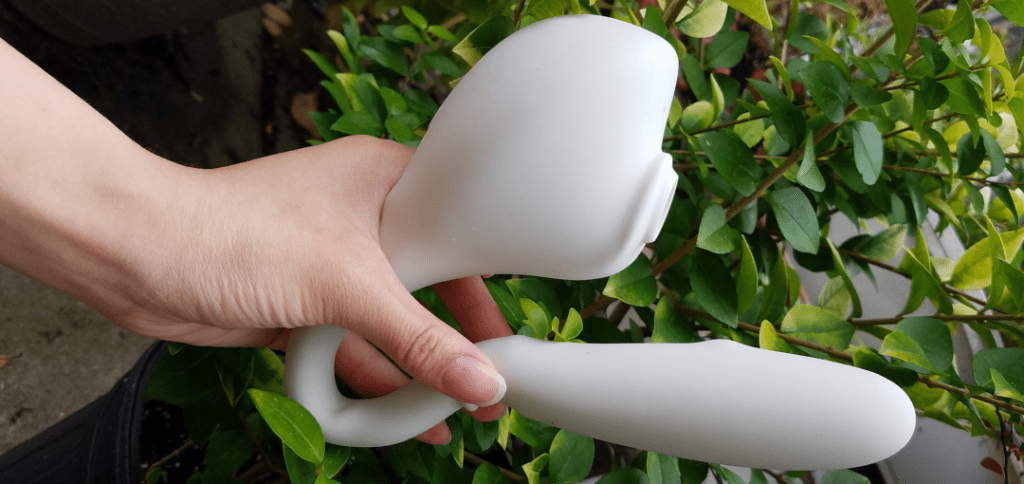 The backstory: Lora DiCarlo's Osé is that sex toy
In 2018, the original Osé won a Robotics Innovation Award at Consumer Electronics Show (CES).
Then the Consumer Technology Association revoked the title, disqualifying the design for profanity and obscenity. They were okay with VR porn and robotic sex dolls for penile use, though.
Major media outlets called out the double-standard, the public spoke, and CES listened; they returned the design award to Lora DiCarlo and revised their policies.
Headlines sensationalized the dual-stimulator:
UNLIKE ANYTHING YOU'VE FELT BEFORE
FEELS SO MUCH LIKE THE REAL THING
GROUNDBREAKING
IMPRESSIVE […] THAT IT DOESN'T ACTUALLY VIBRATE 1
There were claims that the toy in question could mimic human touch: mouth, tongue, and fingers. Yet, more than one news outlet was useless at explaining what this gadget precisely entailed.
It was shrouded in secrecy even at the Lora DiCarlo booth at Adult Novelty Manufacturers Expo when I went in 2019. There were no photos of the Osé — just a yellow background and text-based slideshow.
This Lora DiCarlo Osé 2 review will tell you what you need to know before buying one.
Take it from me, someone who's critiqued over 200 sex toys: I haven't been afraid to snub other so-called "innovative" or award-winning toys in the past.
You can trust me to give an honest review of the Lora DiCarlo Osé — and tell you whether it's worth the hype.
---
Lora DiCarlo Osé 2 review table of contents
---
Lora DiCarlo Osé 2 robotic massager features
The Osé is a dual-stimulating sex toy for blended orgasms.
Its external clitoral portion pulses air, while the silky robotic insertable massager's bead rubs the G-spot. A flexible "neck" bends to adjust to different users' anatomy and clamp for hands-free stimulation.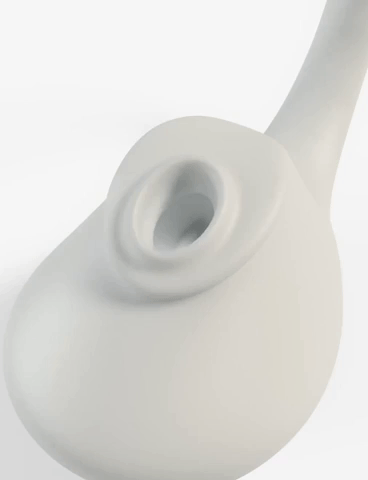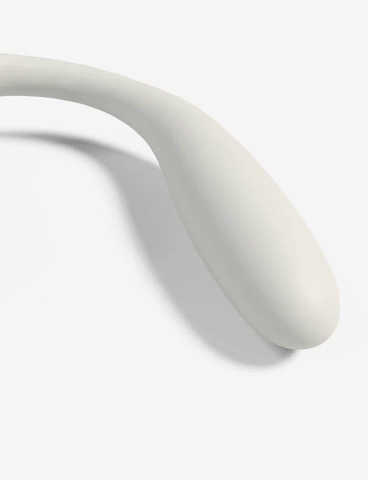 Familiar fixtures
On paper, none of these individual traits stood out to me — let alone seemed worth freaking out over. I've seen all of them in varying forms before:
To say that the Osé is unlike anything else I have ever felt would be a lie.
However, the Lora DiCarlo line doesn't have to be the first to be the best at some things it does.
Osé 2's unique combination of features isn't here to reinvent the wheel.
Its external motor has some serious VROOM, and the massaging bead is far more pronounced than in toys I've seen before. The same goes for the Lora DiCarlo Filare vs. the LELO Ora 3, as well.
And the Osé 2's wire core for an adjustable fit? Well done!
It's all in the execution.
---
Lora DiCarlo Osé Measurements
0.6″ by 0.8″ clitoral opening
1.35″ maximum insertable diameter
0.4″ wide bead massager
5.5″ firm insertable portion
6-inch "neck" between the internal and external units
The unfolded unit is 16″ long total
Osé Functions
2.5″ internal massager stroke length
Up to 104 strokes per minute
6-button control panel

9 air pulse settings
9 internal massage speeds

LEDs indicate battery charge level
---
How does each part of the Osé 2 massager perform?
I loved some parts of the Lora DiCarlo Osé 2 and loathed others. If I sound harsh, it's because I have high expectations of what it can do.
What's actually mind-blowing about the Lora DiCarlo line
First, let's start with the Lora DiCarlo Osé vs. other clitoral air pulse toys.
These external massagers all work the same way: sealing over the clitoris while the thrumming motor pushes air back-and-forth. It's like shaking the stimulation site without actually touching it. My finicky clit is a fan of that!
Osé's pressure waves are on a whole other level. It's like comparing a mid-sized G-spot vibrator to a full-sized Hitachi Magic Wand.
Yeah, it's clunky-looking for a rabbit-style toy, and it's on the moderately loud side, but this motor's no joke.
The Osé's most powerful clitoral air pulses aren't solely because of the speed — they also maintain their thuddiness as you increase the intensity.
It's a 9 out of 14 in power compared to the Womanizer Premium 2.
Also consider the Lora DiCarlo Baci!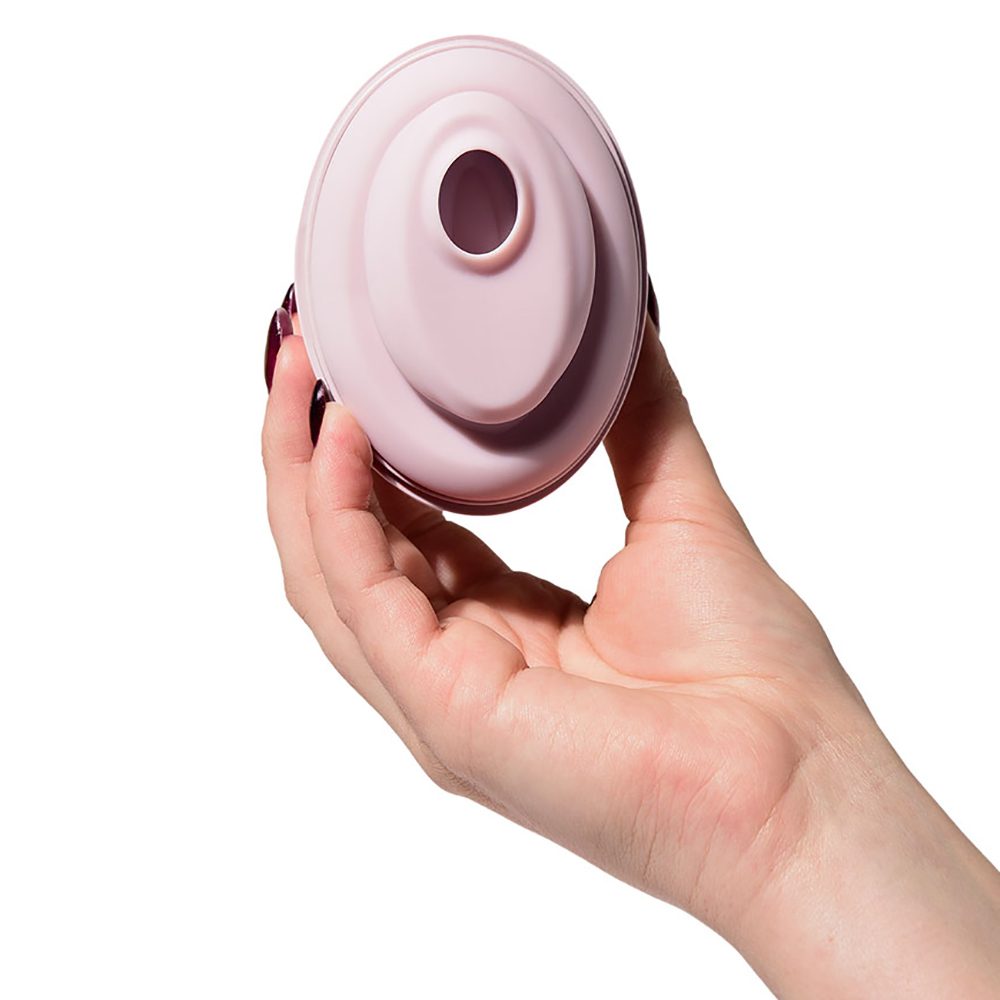 Even if you find the Osé's other features off-putting, you can get the same technology in an external-only unit: the Lora DiCarlo Baci.
---
Where the Lora DiCarlo Osé 2 deserves a nod of respect
Its flexible and adjustable "neck"
Let's discuss a problem inherent to dual-stimulation massagers: they're highly anatomy-specific. The more things a sex toy tries to do at once, the more likely it is to fail the user. With a $290 price tag, the Lora DiCarlo Osé is not a small gamble.
Its engineers tackled the issue by incorporating an adjustable core, akin to the Fun Factory Limba Flex posable dildo. The Osé 2's instruction pamphlet shows some common shapes the massager can take.
If you're curious what matches with my body, it's something like this bend:
View this post on Instagram
My clit-vag gap is about 1 inch, and my G-spot is shallow — about an inch-and-a-half inside. You can expand it waaaaay beyond that, though.
The wire in the Lora DiCarlo Osé 2 happily maintains its curves during play, without actually being rigid. There's some springy hinging to it, so you can open it just a little without straightening out the actual core.
To recap, you can adjust the Lora DiCarlo Osé' 2s
Penetration depth
Clit-vag distance
"Clamping" tightness or looseness
Pressure wave stimulator angle
If you want it to blow air directly at the clitoral glans, that's an option. If you prefer it over the hood, you can do that, too.
It's a thumbs-up from me.
I also actually don't hate the Osé 2's measurements?
Insertable length
"I'm sure it'd be great if you have a mile-long vagina, but otherwise, it's up in your ovaries," sex shop friend texted me, showing me the Osé.
"That's me! Sounds like I'm the perfect candidate for it."
It looks ridiculously long, in part due to its extending neck. I could insert 7 inches, but the Lora DiCarlo Osé 2's designated insertable portion is average.
It measures 5.5″ long by 1.35″ diameter, and you don't have to use all of it. I'll explain further in a bit.
Osé's G-spotting shape
Our other concern was about Osé's sloooowly-tapering G-spot "head." See, the best G-spot vibrators tend to have shorter and more generously-swelling tips with curved shafts.
That way, it nestles the pubic bone's dip and presses against the front wall while thrusting. Such a feature was conspicuously absent in the Osé
Why these features make sense
You have to remember: the Lora DiCarlo Osé 2 is not a traditional thrusting toy. Position and adjust it once, turn it on, and let the motors do their thing, hands-free.
And you don't have to insert the phallic part all the way. Consider it a vessel for the rolling bead's back-and-forth motion against your G-spot. Depending on your anatomy, you may only put 3 or 4 inches inside. It's all about the machinery!
---
Where the daydream comes to a screeching halt
Oh, dear. Let's talk about why someone might not like Lora DiCarlo Osé's motors.
I'll start with the benign before moving to the potentially orgasm-ruining "What the fuck?"
For one, the air pulses are loud (duh), and OH GOSH, the rolly bead sounds BLATANTLY robotic. I wouldn't call it the Pixar lamp with a jackhammer like my friend did, but you get the idea. Think of a remote control toy car's revving.
But that pales in comparison to the Lora DiCarlo Osé's motor stalling at the critical moment.
I'm someone who easily orgasms via penetration alone. If the Osé's internal motor could get me off, with just the microrobotic movement inside, it would genuinely be noteworthy. And it almost can, if it's clamped tightly enough. Almost.
I get to that peak. I clench. And the internal ball's back-and-forth stops entirely.
I've lost count of how many times I asked my boyfriend, "YOU HEAR THAT SHIT?" when the loud motor slowed. And I grumbled and grimaced as I neared and lost yet another orgasm. Yes, even when the battery's fully charged.
Fuck that.
I get that most people haven't done vaginal weightlifting and don't clench as hard as I do.
If you want me to be generous, I could consider that the Lora DiCarlo Osé is meant to be a dual-stimulator and not an insertion-only toy. Surely the external motor's intensity could compensate for a relatively small hindrance, right?
Ah, but no.
The Lora DiCarlo Baci. is $160. The Osé 2 is $290.
That price difference isn't small.
Osé's external motor is the showstopper, and the internal G-spotting bead stops. Could I call the result "blended orgasms" anymore?
No. I cannot recommend an extra $130 for that.
---
My verdict on the Lora DiCarlo Osé 2
I ignored the Osé at first. Surely, it's just hype from the uninitiated. Then I held an Osé review sample and was all-around impressed. The external motor's wand-like power in pressure wave form gave me hope.
Then I inserted it and remembered why I've historically been salty about dual-stimulation massagers. I wonder if Lora DiCarlo's engineers plan on giving the Osé and Onda's internal motor MORE! More juice, more definition, more MORE MORE MORE MORE!
Even without the design flaw, the rolly ball would still feel good — just not worth $130 for me. My internal clitoris needs deeper pressure than what the Osé's automation can offer.
Their external-only, tongue-simulating adaptation of the beads has my attention, though.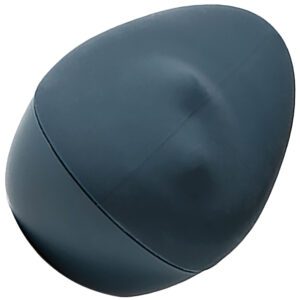 The Osé is glitz and glam for the shows. The newer Lora DiCarlo toys are for the consumers.
Rather than push for more all-in-one toys, Lora DiCarlo's Baci, Filare, and Onda focus on one zone at a time. It's more practical for most users to mix-and-match what works for them.
For the average-sized clit, it's hard to go wrong with the Baci's wand-level-powerful air pulses. It's not the most fat-friendly or discreet option, but its strength blows its competition out of the water. Not anymore. See my air pulse massager comparison for updates on the best suction vibe.
For now, I'd like to pretend that the Osé and Onda don't exist.
This Lora DiCarlo Osé 2 review is a reminder that the most high-end and innovative sex toys aren't for everybody — no matter how versatile they claim to be.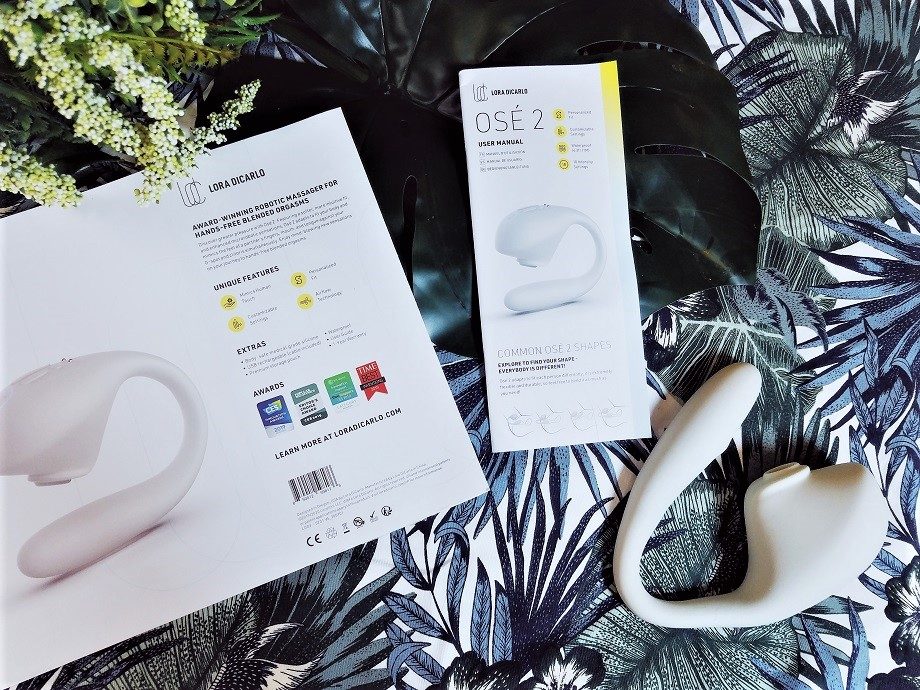 ---
Take 10% off a Lora DiCarlo Osé or Baci robotic massager
…or literally anything else. Use coupon code supersmashcache at Peepshow Toys. The discount applies sitewide, so knock yourself out!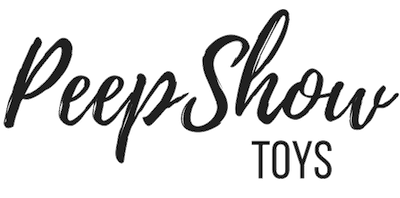 ---
Disclosure
I do use affiliate links in this Lora DiCarlo Osé review. That means I receive a commission at no extra cost to you when you shop sex toys via my links.
However, that doesn't sway my opinion of the Osé 2 robotic massager — I'm honest about what I love and what I loathe.
This blog is how I pay my bills, so I'm eternally grateful for the shops I work with and for my readers!
Did you appreciate this post? Consider leaving me a tip!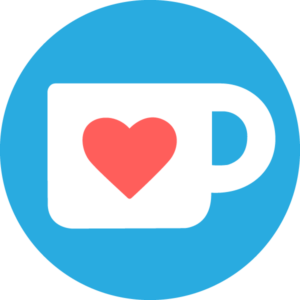 Footnotes
That publication also called the Le Wand Massager the most powerful sex toy. I called bullshit.