Review: Satisfyer Curvy 1+ 2+ & 3+ long-distance air pulse vibe

Unheard of — the Satisfyer Curvy 2+ is a clitoral air pulse vibrator that:
Costs under $35 (!!!)
Is capable of full smartphone control via Bluetooth
Has a wide "mouth" for a variety of clit sizes
Actually has decently powerful pressure waves?!
---
Let's break that down in more detail.
Affordable
The Satisfyer Curvy line is part of a family of sex toys that, instead of vibrating, rapidly pulse air back and forth via a focused nozzle. Among the affordable ones, I might actually start recommending the Satisfyer Curvy 2+ over the others pretty often. Its air pulses aren't as rumbly as, say, ROMP Toys', but the vibrations, remote control, and large opening make it far more versatile for the right user.
Bluetooth app-controlled
While app control isn't a big deal to me, I'm sure plenty of couples who are socially distancing would appreciate the Satisfyer Curvy line's long-distance play option. We-Vibe has offered the We-Connect smartphone app for many of their toys, but their prices are definitely in the luxury range. The We-Vibe Melt pressure wave and suction stimulator costs more than FOUR TIMES as much as the Satisfyer Curvy air pulse vibrators.
It's such a shame that long-distance partner play via the Satisfyer app-compatible vibrators doesn't work for me. More on that later.
What would I personally buy?
As a reviewer, I can pay my respect to the We-Vibe Melt for being one of the most suction-intensive pressure wave toys. I also don't love Satisfyer as a company. As a consumer, though, I'd consider buying a Satisfyer Curvy 2+ if I weren't so lucky to receive review samples; that price tag is hard to resist.
That there's a Satisfyer Curvy 1+ and Curvy 3+, too, but the Curvy 2+ is the only one worth a damn for my anatomy. However, there are legitimate reasons why others might prefer the Curvy 1+ or Curvy 3+ (or ditch Satisfyer entirely and get a We-Vibe Melt).
I'll help you find the right one for you.
---
In this Satisfyer Curvy air pulse vibrator review
---
Satisfyer Curvy pressure wave stimulator packaging
I didn't want to like the Satisfyer Curvy air pulse vibrators. Satisfyer has a long history of:
So I was still skeptical, despite their new bright and bold packaging. The Satisfyer Curvy boxes feature a bold sans-serif font and stylized line drawings that clarify the product without being too risqué. They know what they're doing with their front-end marketing.
There's lots of yellow and teal and some light pink — nothing too garishly gendered here. (Not naming their product, "Womanizer," to begin with was a good choice, too.)
But I wanted to be sure their development wasn't exclusive to exteriors.
---
First impressions of their shape and size
Superficially, Satisfyer's Curvy 1+, 2+, and 3+ look similar on the outside. The Satisfyer Curvy 1+ has the biggest "mouth" and "lips," while the Curvy 3+ is small with a thin and firm rim. The Curvy 2+ is somewhere in between.
It's easy to think that the only differences are color, handle shape, and nozzle size, but the seemingly small variations made a big difference in use.
Satisfyer Curvy measurements
These tunnels are huuuge compared to other pressure wave toys', making them a great option for those with clits on the bigger side. For transmasculine people with bottom growth, the Satisfyer Curvy line may be just the thing they're looking for.  My clit is on the small side, yet I still prefer the big-mouthed Satisfyer Curvy 2+ over the narrow Curvy 3+
Update: While the Satisfyer Curvy tunnels are very long, they're not the widest. If you're looking for the best clitoral air pulse toys with wide openings, check out my comparison mega-guide to 20+ clitoral pressure wave massagers.
---
Satisfyer Curvy air pulse vibrator motor quality
My first thought upon turning the Satisfyer Curvy 3+'s vibrations: Dismal. Paltry. About as buzzy as the VeDO Bam Mini. "Y tho?" And, of course, "Was I really expecting much from Satisfyer, given their history of shitty vibrator motors?"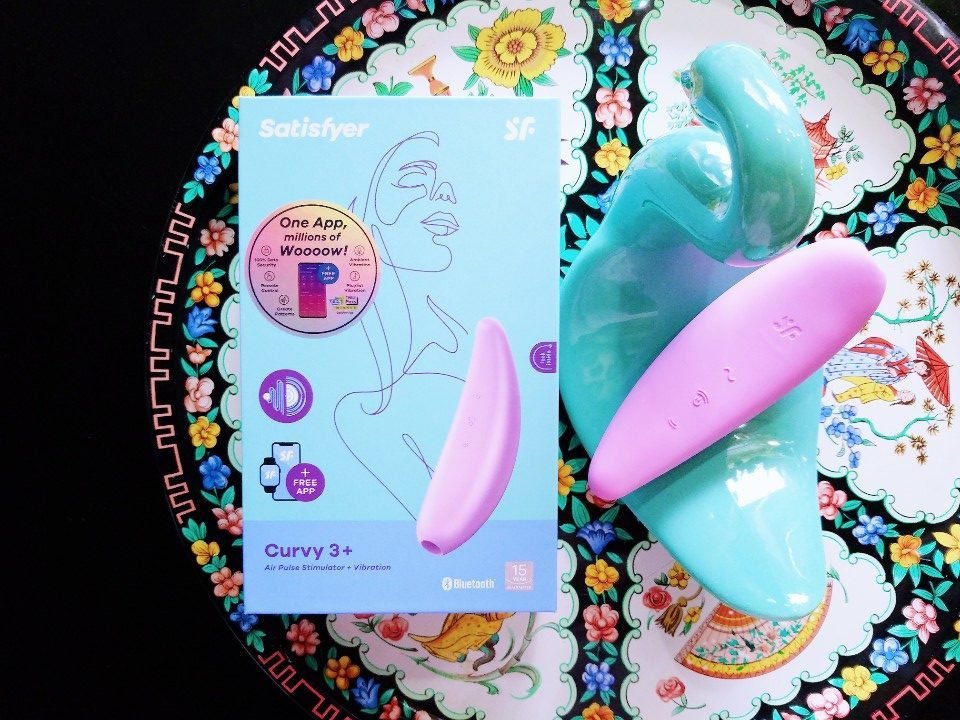 I kept an open mind about their air pulses, though, since the ones on the Satisfyer Pro 1+ Vibration were only a little buzzier than Womanizer's. Unfortunately, the Curvy 3+'s pressure waves fell flat. They're alright, especially for the price, but if it's rumbly air pulses you're after, you'd be better served with a Womanizer.
Your best affordable clitoral pressure wave options are ROMP Toys and the Curvy 2+.
The Satisfyer Curvy 2+'s air pulses are stronger, and the vibrations are a liiiittle rumblier than the other Satisfyer Curvy models'. In other words, not the absolute best, but the best for the price, and a steal at $32. Plus, since the vibrator's focus is at the tip, where the rim is relative to my clitoral glans matters, and this one matches my body the best.
Remember: air pulse nozzles wrap around the external clitoris without actually touching it.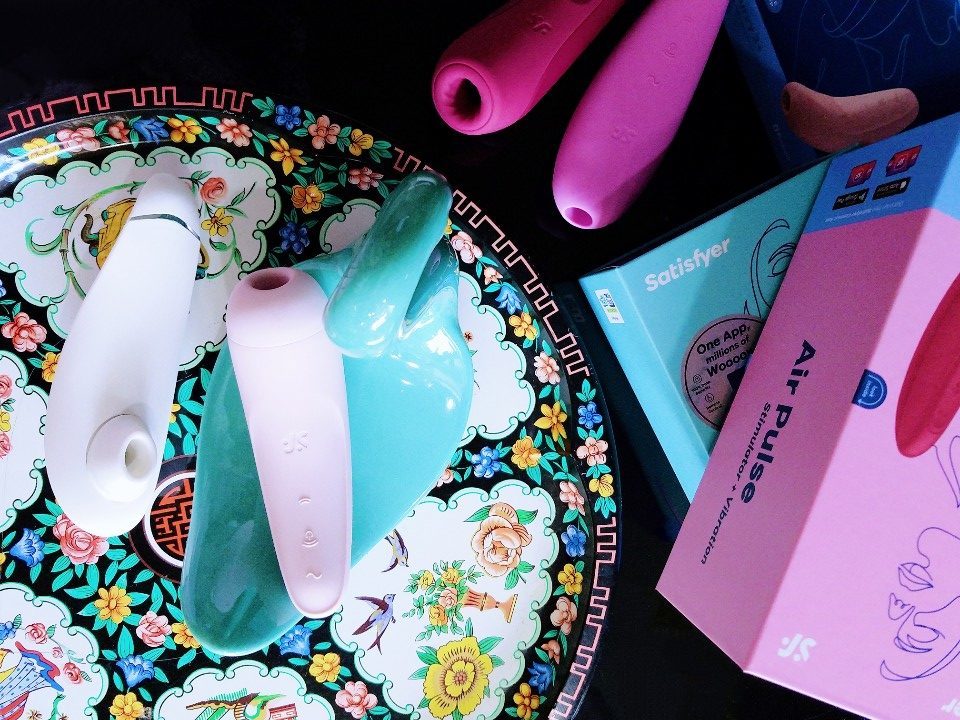 So while the Satisfyer Curvy 3+ does encompass my pearl, the vibrations do diddly squat because they're not pressed up against any sensitive tissue. That might not be a big deal to you, especially if your main concern is using an air pulse toy during penetration. The Curvy 3+'s smaller opening means it takes up less vulvar real estate, allowing room for insertion.
The Curvy 2+'s nozzle, in contrast, lines up with where my internal clitoris's legs wrap along either side. The air pulse latches on easily, while the surface area effectively vibrates the sensitive parts of my labia majora. The more I use the Satisfyer Curvy 2+, the more I like it for solo play.
---
Satisfyer Curvy controls and Bluetooth app
You can control a Satisfyer Curvy's pressure waves and vibrations independently of one another. There are three steady vibration speeds and eleven air pulse intensities.
If you'd rather use the control panel on the handle, there are three buttons:
Cycle vibrations
Turn air pulses on or up.

You can also long-press this button to pair your Satisfyer Curvy to the app.

Turn air pulses down.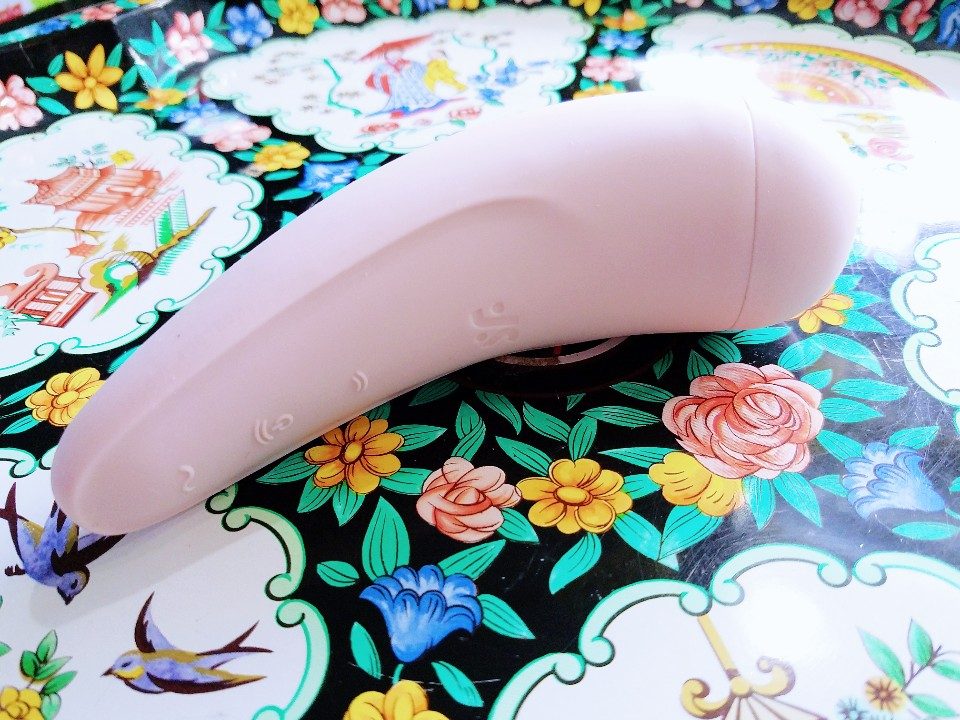 The Satisfyer Bluetooth app unlocks even more options. Again, you can take independent control of the motors, but you can also:
Make and save patterns.
Sync the movement speed to sound around you
Play with patterns based on songs on your phone
Video chat with a partner and let them control your toy.
Pairing for solo play was quick. I also appreciate that you can add multiple partners; that's not a common feature in other sex toy remote control apps.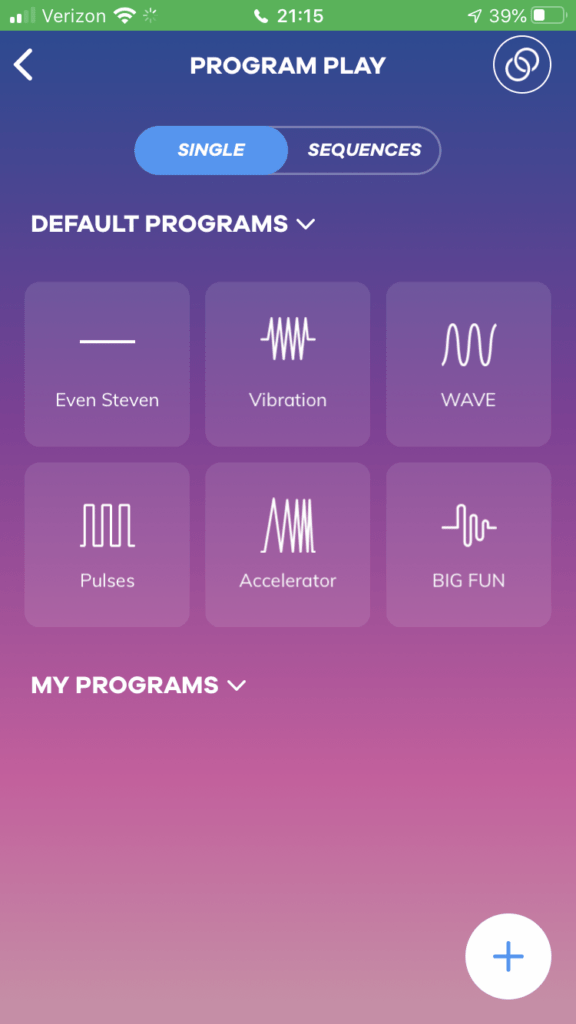 ---
Issues connecting to the Satisfyer app
I ran into problems with pairing for long-distance partner play, though. Though the Satisfyer website says that any phone with iOS 11 or Android 6.0 (Marshmallow) or newer should work, that claim wasn't the case for me.
For reference, here are the phones I tested. All four operating systems were hypothetically more than up-to-date enough:
Mine: Samsung Galaxy S7 with Android 8/Oreo
Partner 1: iPhone 8 with iOS 13.2
Partner 2: iPhone SE2, originally with iOS 13.4
Partner 3: iPhone 6 with iOS 12.4.1
Satisfyer app for android wouldn't work for me.
When using my Samsung Galaxy S7 with Android 8, I couldn't connect to any of my partners on the Satisfyer app (beyond texting). When I tried to start the chat function and let them control my device, the screen would say, "CONNECTING" and then abruptly stop.
At that point, I contacted Satisfyer's app tech support. Their first response said that the problem was because the device code was stored on my "previous" device; to connect it to my "new" mobile phone, the Satisfyer would have to be reset.
But uh… I had never used the Satisfyer app before, on any device, so that didn't quite check out. And again, I had paired the app just fine with my Satisfyer Curvy for solo remote control play. Their tip was useful for helping me test with other phones, but it didn't solve the original problem.
In Satisfyer's second reply, they listed off what the app was supposed to be able to do for long-distance partner play — which wasn't helpful, either. In their third reply, they finally asked what types of phones and OS we were using. Their fourth reply was again telling me to reset my Satisfyer Curvy. I ALREADY DID RESET IT. I ALREADY TOLD THEM that the short-range connection is not the problem!
UPDATE 2: Satisfyer saw my disgruntled tweets and review. They apologized for the miscommunication with their support representative and set up a meeting with a developer and me to discuss potential bug fixes for their app. There's an update coming out this week (I'm typing this on February 3rd, 2021) that will hopefully solve the problem!
UPDATE 3: (February 24th, 2021) I tried the update; the app still has yet to work for me. I'm sure the Satisfyer app works for more people now than it did before, but something's still up. For what it's worth, Satisfyer reached out to set up another meeting. I'll keep an eye out for further app updates.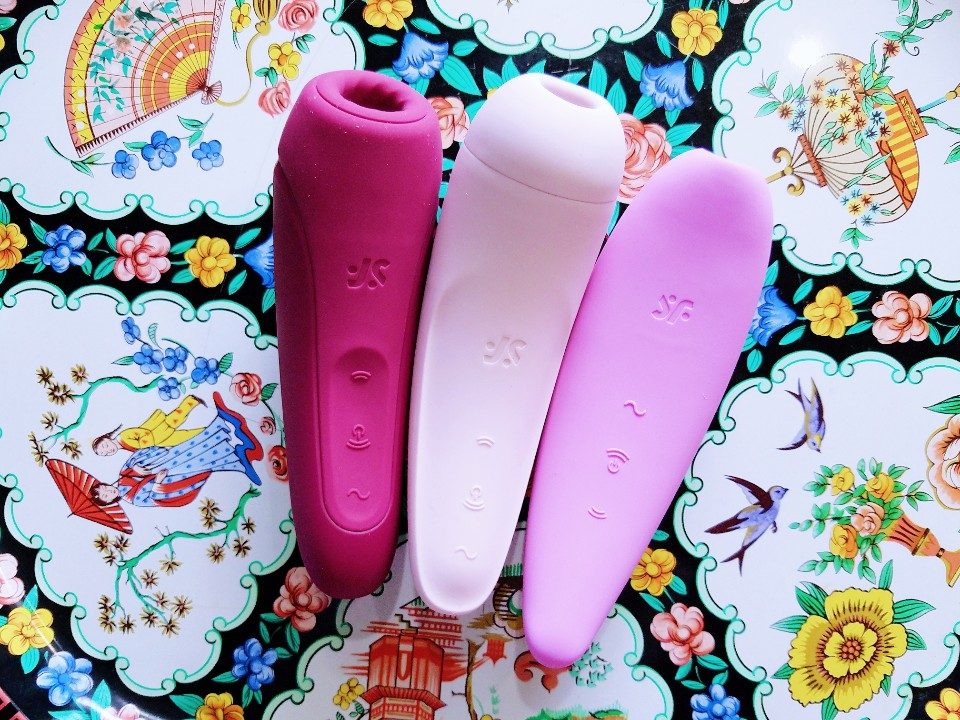 Testing the Satisfyer app on iPhone
I reset my Satisfyer Curvy 2+ and tried the app on my boyfriend's iPhone 8 with iOS 13.
It didn't work with Partner 2's iPhone SE2. When we tried adding each other as partners on the app, the invites never showed up, and our usernames disappeared from each other's search results. No user found, it said.
Finally, I got the Satisfyer long-distance call to work between my boyfriend's iPhone 8 and Partner 3's iPhone 6. Ironically, the latter's phone had the oldest operating system out of all four of us. At least we got it to work.
From there, I could control a partner's Satisfyer sex toy or let them take control. Here are the receipts: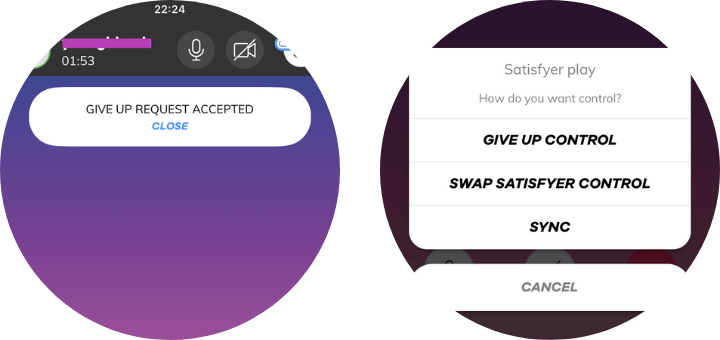 (Weirdly enough, you can take Satisfyer app screenshots on iPhone but not easily on Android due to security restrictions.)
---
My verdict on the Satisfyer Curvy 2+
I'll begrudgingly say I like the Satisfyer Curvy 2+. $32 for a moderately strong suction vibrator with remote controls? Unprecedented!
The vibrations are nothing to write home about, but the air pulses are plenty rumbly; Satisfyer's Curvy 2+ doesn't sacrifice quality too much.
Just keep your expectations realistic.
It's a yes from me for the price, but not a "WOW" quite yet. Their app is hit-and-miss for long-distance partner play and seems half-baked, and their tech support didn't acknowledge what I was saying at all. If you're planning on using just the toy's buttons or one phone to connect via Bluetooth, though, it should be fine.
The Satisfyer Curvy air pulse line is a perfect fit for users who:
Are just starting to explore air pulsation and vibration
Don't think they'll need intense and direct clitoral stimulation.
I'll continue to suggest the We-Vibe Melt for those who want a suction toy to use with a partner in a remote location. The only downside is that its air pulse "mouth" is on the small end of the spectrum.
Satisfyer's new toys can fit a wider range of anatomies, which is another big win. However, they have serious work to do before they can even think about taking over the app-compatible sex toy market.
Update: I still think the Satisfyer Curvy 3+'s minimal head makes it great for pairing with intercourse. Find out how it compares to other pressure wave stimulators to decide which one is right for your body.
---