Dame Products Pom review: quiet & low-pitched clitoral vibrator
The Dame Pom comes in jade green and looks like a flattened marshmallow Peep. How could I say no?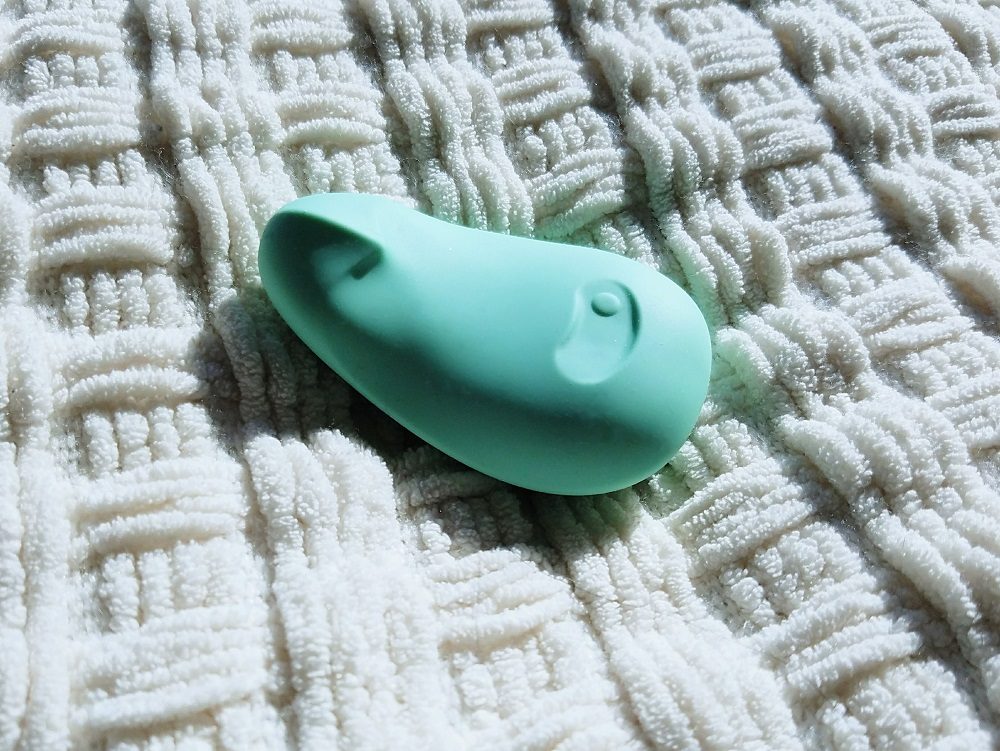 Though it doesn't feel quite marshmallow-soft, it's bendy to nestle effortlessly atop the external pubic bone. Plus, the Pom's vibrations have low-pitched, rumbly quality.
The shape of the Pom external vibrator by Dame Products
I adore this darling vibe's versatile shape. It's got a flat surface on the back, defined edges on the side, and smaller edges on the front that converge into a beak-like peak. You can turn it to the side and play with the edges, but being the pinpoint princess that I am, I always go back to that defined point on the front when I want to come.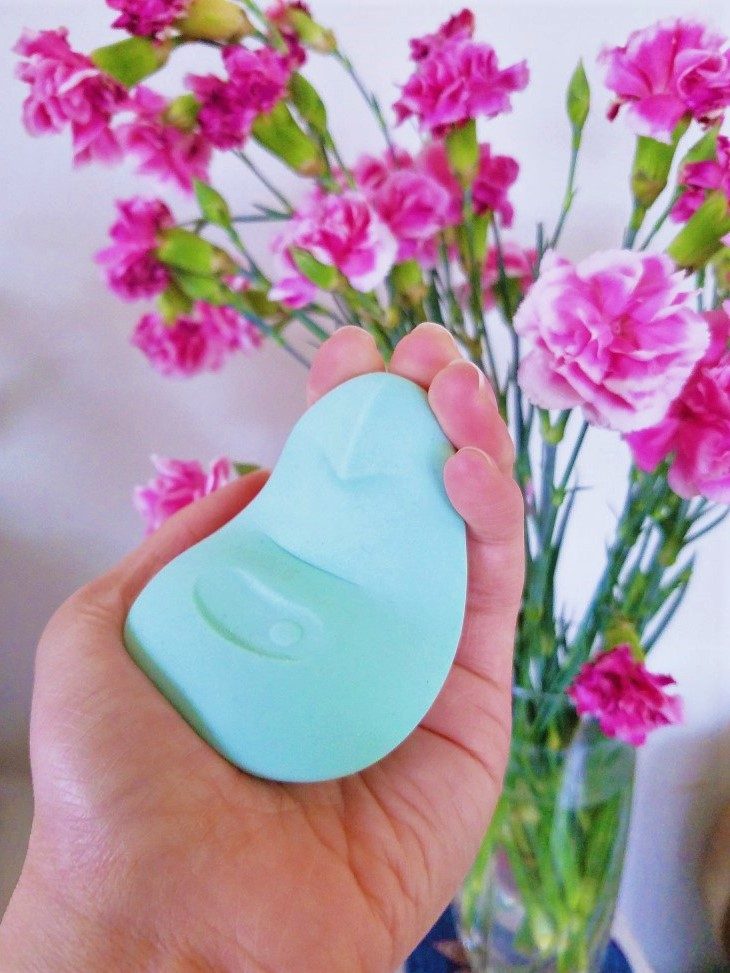 An intuitive vibrator for use during penis-in-vag intercourse
I don't necessarily have to hold the Dame Pom when I'm lying on my back or sitting down. Its curved form rests on my clit and mons. In those positions, I apply pressure on the pointed end like a doorbell. That's all it takes.
The design makes it an elegant, unobtrusive vibrator for use during intercourse. In positions like doggy-style where I'm face-down, it flexes and sandwiches intuitively between my vulva and my hand, demanding little maneuvering or angling. The Dame Pom's pinpoint peak is right where I want it.
The Dame Pom's button placement and control panel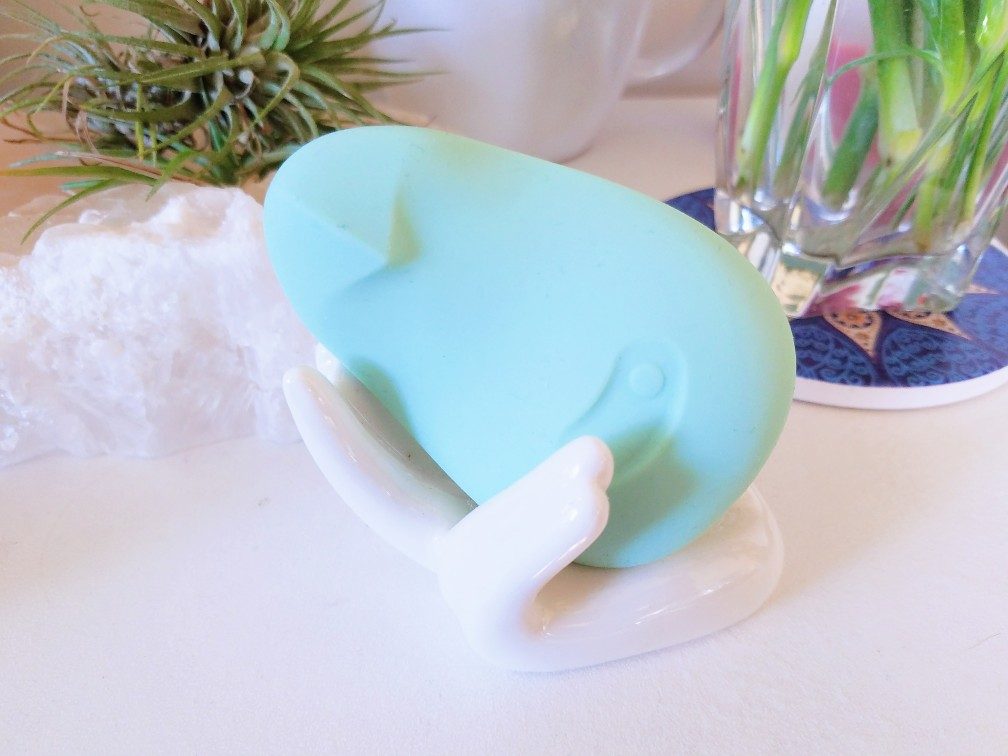 Its up/down buttons are also a no-brainer for my thumb to hit and adjust speed. On the vibrator's opposite face, there's a button to turn it on/off and cycle through the patterns. All of the buttons are slightly recessed, so no fear of turning it off accidentally during ventro-ventro intercourse.
Overall: in love with the shape of you
I wouldn't change a single thing about the Dame Pom's shape. It's highly practical, and unlike its predecessor, the Eva, it doesn't rely on gimmicks to fit a narrow range of anatomies. Is the Dame Pom a hands-free couples' vibrator? No, but its shape comes closer to that than classic bullets do. And unlike vibrating cock rings and We-Vibes, the Pom doesn't come with the downsides of anatomy-specific dual stimulators.
The Dame Pom's vibrations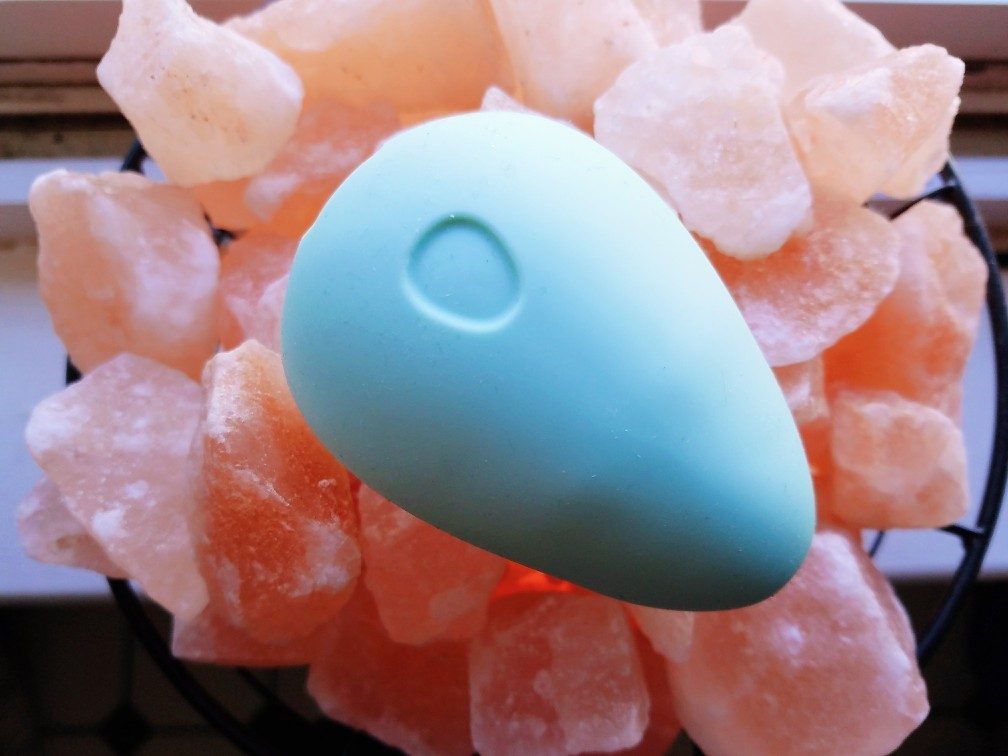 As for the Dame Pom's vibrations, I enjoy them, but talking about them takes nuance. Dame Products claims that the Pom is their most powerful vibrator yet. Pom's low hum reminds me a lot of the Iroha Zen— a vibrator many reviewers have called "useless." But the Iroha Zen isn't buzzy, exactly.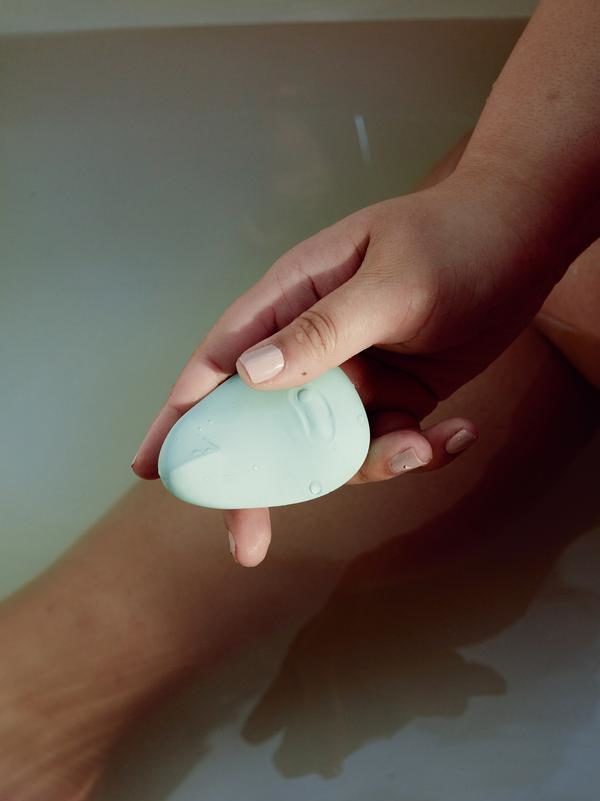 Instead of bees or wasps or mosquitos, the Zen is more reminiscent of fluttering butterflies or a purring cat. Gentle, with a moderate amplitude that's not particularly penetrating, but low-pitched. It's refined. Less irritating than most toys with separate batteries or cheap rechargeable bullets. Nevertheless, the Zen's second and third speeds are enough for me.
And Dame Products' Pom is a more powerful and luxurious version of that; its first speed out of five is like the Zen's highest speed. The timbre is delightfully rich, with just the slightest hint of bass wobble (which, in more massive doses, I associate with Fun Factory).
Users who are similarly sensitive to me will find plenty of options for different moods in the Pom's speed range, and can quickly turn the speed up and down as needed. I know that sounds basic, but not all clit vibes have a "decrease speed" control!
Comparing the Dame Pom to more powerful alternatives
The Pom by Dame Products indeed isn't for everyone. If you want to splurge on a versatile and compact clit vibe with firecracker-like power, get a We-Vibe Touch instead. Its range of motion is huge, especially for a tiny bullet. But it won't give you a low-frequency purr if that's what you crave.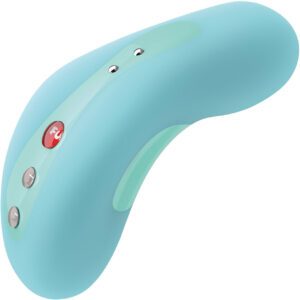 The Fun Factory Laya II is another option that will give you that elusive low hum, and with more power than the Pom. Or, if you're trying to save cash, get a $50 Cal Ex Marvelous Flicker.
The Pom's highest speed is comparable in strength to somewhere between the Marvelous Flicker's first and second speeds. Its main downside, though, is the limited control panel.
That's not bad, considering I raved about the Marvelous Flicker giving me long and intense orgasms. Not to mention a fellow reviewer had orgasms so great with the Marvelous Flicker that they induced an asthma attack. But the Marvelous Flicker is only $50. And $95 is a lot to spend on the outie-only Pom vibrator if you're not its target audience.
Myself? I'm pretty dang close to being the Dame Pom's ideal buyer.
For one, I can quickly get off with fingers. With many vibrators, I'm sensitive after orgasm and prefer having an option to turn down the speed, quickly recover, and orgasm again. The Tango and Touch are often too much for me, and the one-button control is a significant drawback. With the Zumio, speed control is breezy, and I use a light touch. Likewise for the Eroscillator, which is rumbly AF and powerful but can be toned down and wonderfully subtle, too.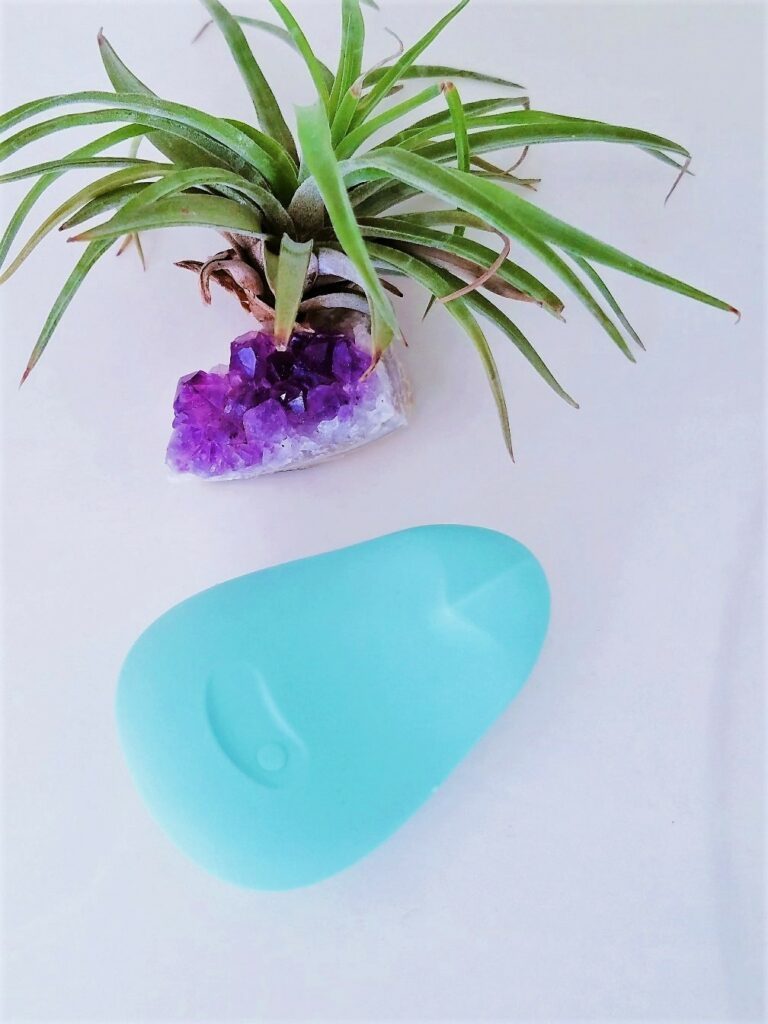 The Dame Pom is a discreet, quiet clitoral vibrator
Plus, being the quintessential Millennial, I often have roommates. When I don't, I'm staying at my parents' house. No longer do I live with my boyfriend or have the luxury of displaying my sex toy collection on shelves; discretion is a must. And while I can appreciate the rumble of my Eroscillator, it's not the most practical toy to travel with or use when sharing housing with others.
Under a blanket and a pair of sweatpants, I can barely hear the Pom's vibrations on the highest speed. And if I can barely discern the sound, whoever else is at home definitely can't. Play some white noise in the background if you're still really self-conscious at night, but when Dame Products says that the Pom is "whisper-quiet," they mean it. It's not just a readily marketable buzzword (no pun intended) to them.
The Dame Pom's packaging and long-term storage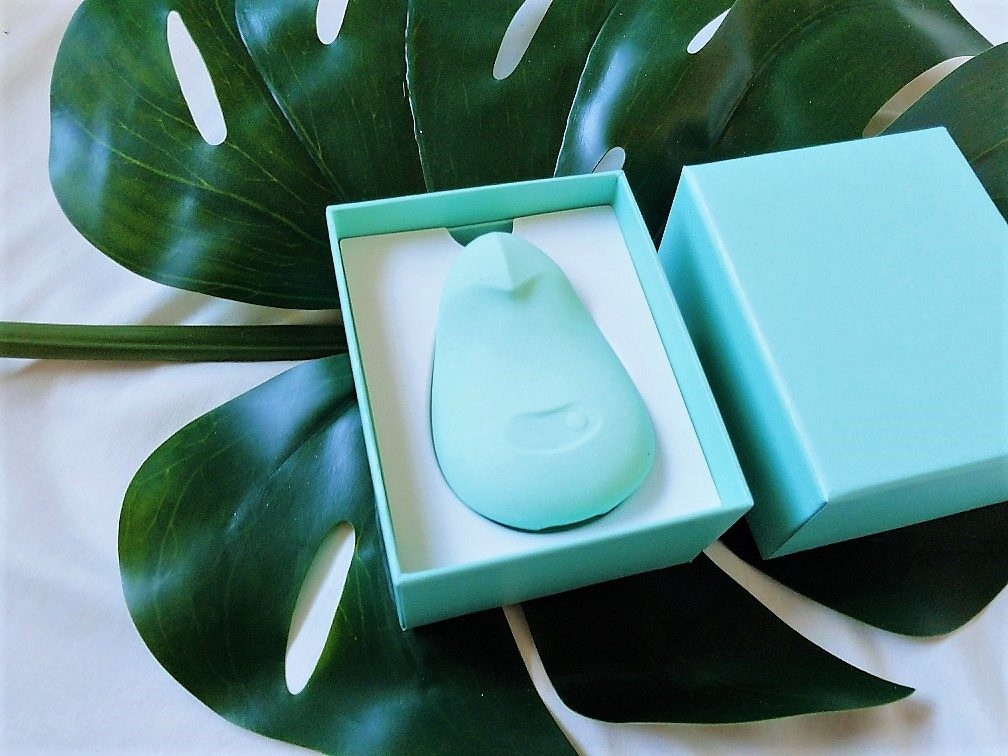 The sturdy box that the Pom comes in is also inconspicuous: a solid color that matches the vibe and a transparent, glossy text that says "Dame" and "Pom." Nothing else. It's barely visible, but cover it up with some washi tape or stickers if you wish, and you're golden. Marie Kondo would be proud.
Does the Dame Pom spark joy? Fuck yeah!
Dame Products' Pom sparks joy in my heart on so many levels. This adorable vibrator looks like a piece of marshmallow candy ("CHING!"), it takes my mind off distracting thoughts of how much sound I'm making ("CHING!"), it's ergonomic ("CHING!"), and its speed range is versatile for my needs (CHING!).
A vibrator for those picky about pitch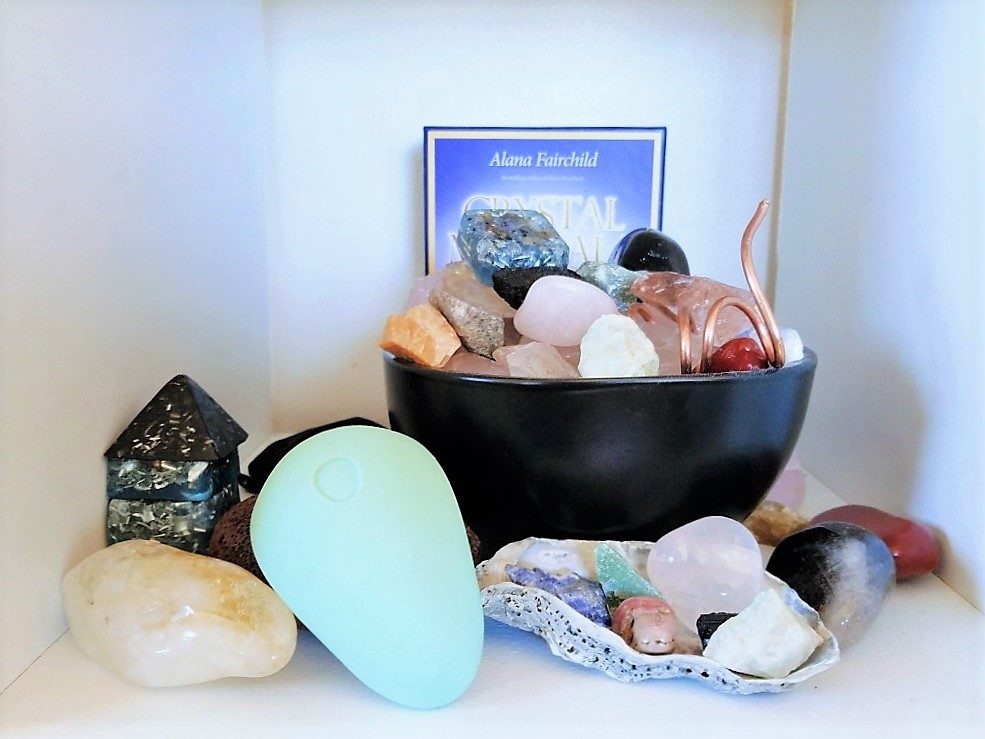 Is the Pom by Dame Products everyone's cup of tea? No, but that's fine— the renowned Tango and Touch aren't either. And not everyone wants the absolute most power they can get in a bullet or even anything close. It's true: I've grown tolerant to strong vibrators. I can test them, but that's because I know how lightly I'd need to press and can adjust pressure as my sensitivity fluctuates.
When it comes to power, what matters to me is that the Pom has a rich, purring timbre. Its moderate amplitude and low pitch give me more than enough power, with less tenderness than other vibes. Between the pitch, the controls, and the pointy peak, this vibrator provides me with everything I need. And for that, it earns the privilege of staying on my nightstand.
One final recommendation for rumbly vibrations
If you want more a more powerful, bass-like "voom voom voom voom," I highly recommend a Fun Factory Laya Spot II. It only costs a $5 more than the Pom 1 and similarly nestles along the pubic bone's curve. The main tradeoffs are that the Laya isn't flexible, and its the tip isn't as pinpoint as the Pom's "beak."
Verdict: the Dame Pom is an absolute delight to hold and use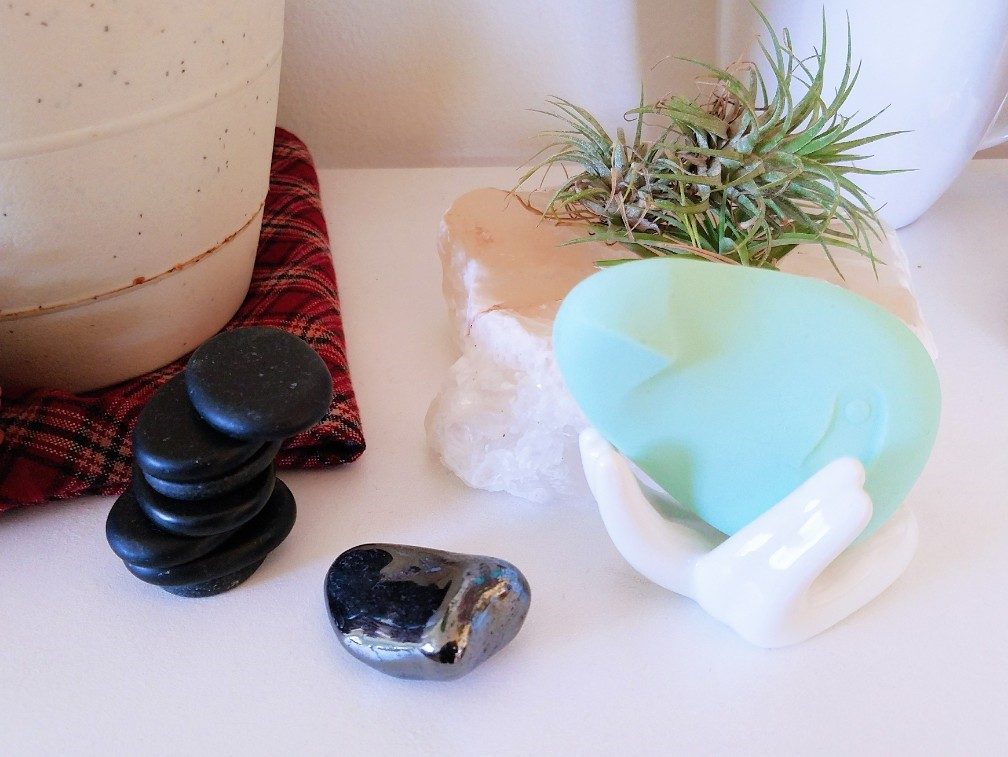 In 2019, I'm trying to return to my roots as a cervical orgasm aficionado and review more dildos. A clitoral orgasm without penetration can only satisfy me for so long. However, I made an exception for the Pom by Dame. When inundated by a sea of bullets I could be reviewing, the Pom's refreshingly unique shape stands out. It's not just cute, but also one of the most ergonomic vibrators I have had the pleasure of trying. If it had a more powerful motor, it would be flawless.
Take 10% off at Spectrum Boutique with coupon code SUPERSMASH10
This coupon code applies sitewide, so whether you're getting a Pom by Dame Products or something else, I gotchu covered! You can also find at Spectrum Boutique the other vibes I've mentioned in this review:
Thank you to Spectrum Boutique for sending me the Pom by Dame Products for a review!
Footnotes