Womanizer Classic vs. Premium vs. We-Vibe Melt Comparison & Review
If you're overwhelmed by the air pulse/clitoral suction toy options on the market, I don't blame you!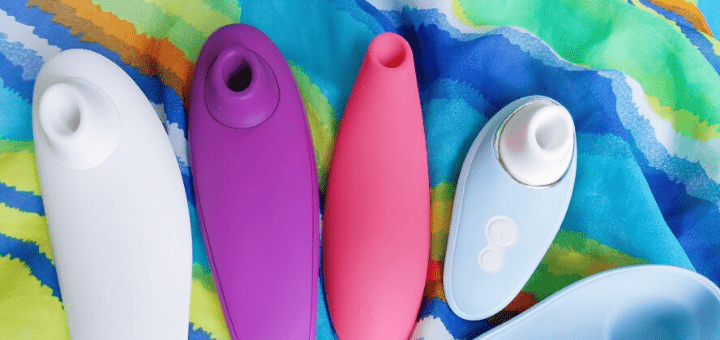 Womanizer is the pioneer and most well-known, but many other companies have hopped on the bandwagon. The options are endless!
Today, we're focusing on the Womanizer models and We-Vibe Melt. Why? Because these two brands (along with ROMP Toys) all come from the same parent company — the merger that is now Wow-Tech. As such, the sensation among them is similar.
If you like one model from them, you'll probably like the others.
It's just that the more expensive ones come with more features, such as:
More speed settings
Buttons and controls
Longer battery life
Longer handle
A sleeker appearance
It's up to you where you draw the regarding what's worth it and what's not.
---
In this clitoral air pulse comparison review:
---
What you can expect from any Womanizer, We-Vibe Melt, or ROMP pressure wave toy
These clitoral air pulsators work by rapidly alternating between sucking and blowing.
Think of someone going, "puh-puh-puh-puh-puh" on your clitoris or nipple, but super fast. Simply, it's a touch-free air vibration sensation that I adore. Can it replicate oral sex? No, but it's focused and localized power that gives you ample of VOOM — even when truly whisper-quiet.
Two further notes on anatomy
First, your junk has to fit inside the suction nozzle for these air pulse toys to form a seal and work. If your clitoral glans is more prominent than, say, a pistachio, I'd suggest you stay away.
However, if your clitoral hood is lippy like mine is, it won't affect the feeling much. You may want to splay your labia a bit more, but it's not necessary. The sensation is more than powerful enough, even over my hood.
Update: I've compiled a guide to 20+ air pulse stimulators, which addresses all of the above factors and more
---
Womanizer Classic vs. Womanizer Premium
There's a whopping $70 difference between the Womanizer Classic and Womanizer Premium, and for what? I like the Womanizer Premium's additional features a lot, but I wouldn't pay that much extra for them. You might care about the upgrades more, though.
First impressions of the Womanizer Premium clitoral air pulse suction toy
The superficial features
One that might particularly interest you is the Womanizer Premium's longer handle (7.5″ vs. 7″) and more ergonomic curve. If you need more room to maneuver — say, you're positioning toys on a big body — you may care more about that than I do.
The Premium model's seamless silicone body is more grippy to hold but also easier to clean. You can use a small cleaning brush to clean the Womanizer Classic's nooks and crannies, but I understand if that's too much extra effort for you.
Other surface-level differences between the Womanizer Classic and Womanizer Premium include:
More color options with the Premium

The Classic comes in just purple.

Metallic accents on the handle
LED indicators
But that's not what you came here for, right? On to the stuff that matters!
Functional differences between the Womanizer Classic and Womanizer Premium
More speed range (12 levels vs. 8) on both ends
Better battery life (4 hours vs. 3)
Smart Silence mode
Autopilot
What does Smart Silence mean with the Womanizer Premium?
Smart Silence means it automatically stops thrumming if you pull it away from your skin. That way, you don't have to panic about turning it off quickly and discreetly because OMG OMG OH NO, SOMEONE'S APPROACHING! It's super useful if you share your building or room with others.
To deactivate Smart Silence, long-press the up and down buttons at the same time. Also! If you're looking for a traditional massager with such a feature, the We-Vibe Wand has a Smart Silence mode as well!
Autopilot mode and 4-button control panel
Instead of 3 buttons (on/off, decrease, increase) like on the Womanizer Classic, the Premium model has 4 on its control panel. The additional switch is to activate Autopilot mode. It takes control and decides when to ramp up the speed for you.
Maybe you'd like it, but unless I'm taking my time to enjoy porn, I'm impatient AF. I don't use Autopilot or Smart Silence often, so I'd prefer to stick to a Womanizer Classic or Womanizer Liberty.
---
How does the Womanizer Liberty measure up to the Classic model?
The Womanizer Liberty, a.k.a. the "Womanizer smol," is about the size of an avocado. It costs $30 less than the Classic and $100 less (!!!) than the Premium. That's not a difference to scoff at.
Overall, the Womanizer Liberty is just as intense.
You do, however, get only 6 settings instead of 8 (or 12), and its lowest speed isn't as gentle as the Womanizer Premium's.
It also has a shorter battery life of 2 hours (instead of 3 or 4), and the handle is smaller. And another little difference is that the Womanizer Liberty's buttons are on the nozzle side instead of the opposite.
The Womanizer Classic or Premium will better serve you if you:
Have mobility issues
Need more to grab on to
Would rather press buttons with your thumb than index and middle fingers
Have a suuuper picky clit and need the speed range
Plus, it's cheaper, it's cuter, it has a travel case, and it comes in more colors. What's not to love?
Update: Find out how these models compare to the new Womanizer Classic 2, Premium 2, and Starlet 3.
---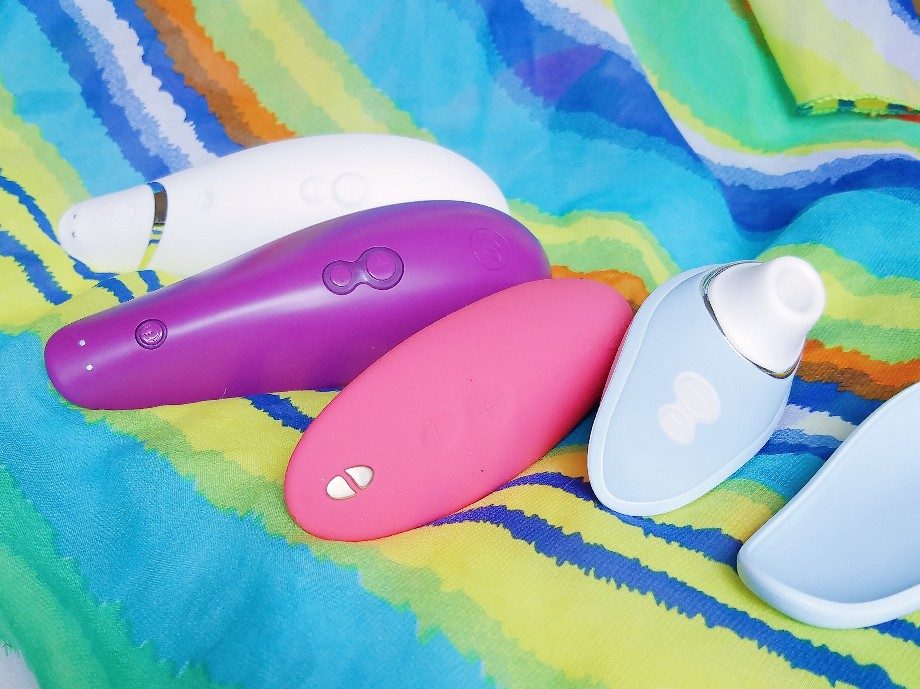 We-Vibe Melt vs. Womanizer
If you're going to splurge, I'd recommend the We-Vibe Melt over the Womanizer Premium in most cases. The only time I wouldn't is if your clit is on the bigger side since the Womanizers come with a broader nozzle option.
As the name would suggest, We-Vibe's pressure wave toy focuses more on partner play:
Slender build for enhanced intercourse
Smartphone app-compatible

INCLUDING long-distance control!
Great for staying in touch during quarantine

Continuous speed range
Slightly offset nozzle that makes it less of a vulva hog
Overall, I enjoy the We-Vibe Melt's bells and whistles way more. It's easier to control and fits between bodies more harmoniously during intercourse. And it actually has more powerful suction and costs less than the Womanizer Premium.
Update: It might not be the best air pulse toy for intercourse for you or for the price, though. Find out why in my new guide to clitoral air pulse toys.
---
Summary and clitoral suction/pressure toy comparison table
Name
Price*
Speeds
Patterns?
Controls
Battery
Best for...
Womanizer Premium
$199
12
3 "Autopilot" settings gradually ramp up


4 buttons
Touch-sensitive Smart Silence

4 h
A luxurious feel
We-Vibe Melt
$150
Fully customizable

2 buttons
Bluetooth app
Long-distance chat option

1.5 h
Maximum versatility (MY TOP PICK!)
Womanizer Classic
$129
8
None
3 buttons
3 h
A solid in-between that doesn't sacrifice much
Womanizer Liberty
$99
6
None
2 buttons
2 h
Packing a punch at an affordable price
*Regular prices shown!
Where to get a Womanizer or We-Vibe Melt
Shop directly from the manufacturer:
---
Further reading:
Find out why you should avoid the LELO Sona 2 and Sona 2 Cruise — and why I didn't say much about them in this round-up!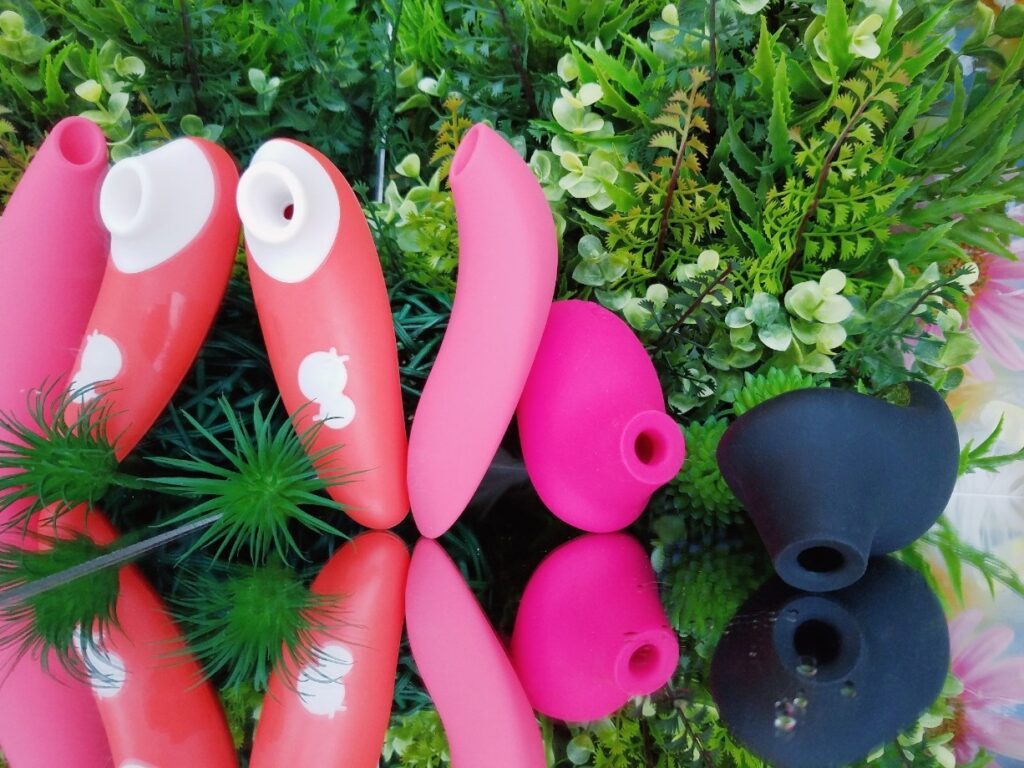 See how these toys measure up to 20+ others in my guide to clitoral air pulse toys.