Review: Sohimi Clitoral Suction & Pulsing Rabbit Vibrator
This toy sounds like a dream on paper, with a pulsing, penetrative portion and an external pressure wave motor — why wouldn't you want more, more, moar, MOAR, MOAR sensation?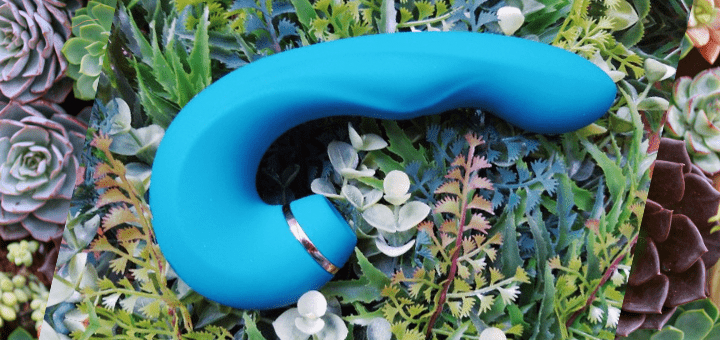 Pressure wave stimulators used to be lavishly priced, only available to the most profuse spenders. Nowadays, you can find a wide range of affordable and body-safe air pulse toys, including rabbit vibrators.
Vibration, licking, and tapping, all for under $30?!
The Sohimi clitoral suction vibrator offers three independently controlled motors:
The air pulses on the outside, with a flicking  "tongue" inside the nozzle
A hump on the shaft that juts and thumps in-and-out for a tapping sensation
Conventional vibrations on the tip of the phallus
Consider it the slightly-swankier kin of the Honey Play Box Jubilee.
In practice, though, I still mostly consider pressure wave rabbit vibrators to be abominations.
In a nutshell, air pulse nozzles need to maintain contact near the clitoris (or whatever's being stimulated), while insertable toys shine best when thrust. It's hard to do both simultaneously, but there are ways to get around that.
Use a motor that thrusts, pulses, or gyrates itself while the external portion stays in place.
Add a flexible "neck" between the inner and outer prongs for mobility.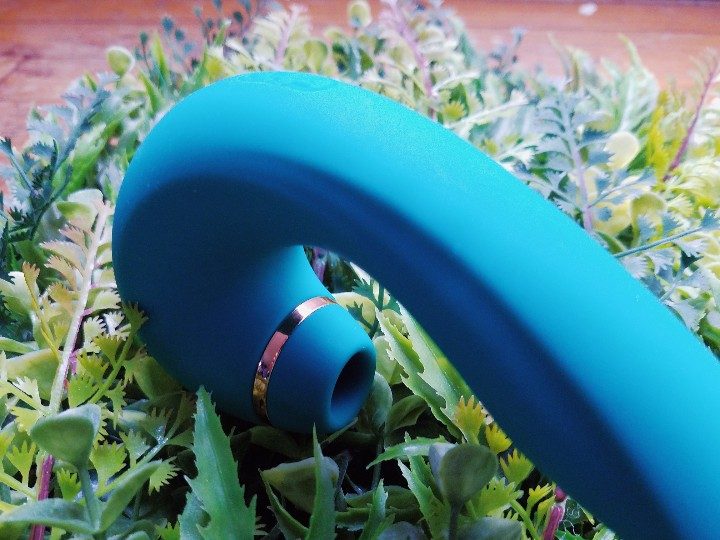 Sohimi's clitoral suction vibrator incorporates both ideas into its design, making it highly versatile. It's also modestly sized, with an insertable length of 5″ and a maximum diameter of 1.25″.
It can feel really (like, REALLY) good, but it's not for everybody. There are some big yellow and orange flags I'd like to point out.
---
---
Clitoral air pulse stimulator safety concerns
For starters, intense pressure wave toys come with a big trade-off.
Yes, the overwhelming sensations can take you to the moon… and the strong suction and pulsing can cause injury. See my LELO Sona 2 Cruise and Biird Obii reviews for horror stories involving bleeding and bruising. Those two toys' features made them especially likely to hurt users:
The tunnel inside the nozzle was super short. That means the pulsing membrane can repeatedly bump up against the user's clitoris, especially if it's big.
Strong suction makes the toy latch on and pull the user's junk inward, which can exacerbate issue #1, even with an average-sized clitoral glans.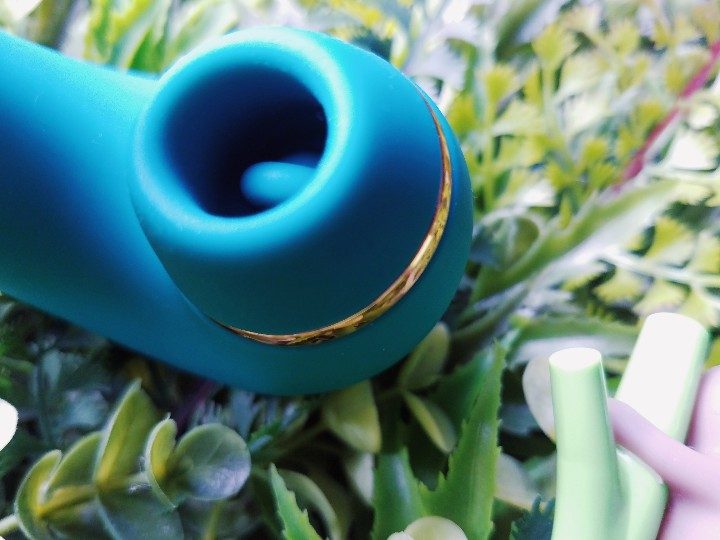 Yet, you see people praising the likes of the LELO Sona and Biird Obii.
What's up with that?
In short, sex toy users have varying levels of risk tolerance. Some don't mind risking discomfort if it means getting big VA-VA-vooooomm.
If that's you, listen to your body — be very careful and ready to pry the nozzle off you at the first sign of discomfort or pain. I also suggest not directing the pulsations directly at the clitoral glans. Instead, use the toy over the hood.
---
How do the Sohimi clitoral suction vibrator motors feel?
In short:
Internal vibrations? Meh. Not quite dismal, but forgettably buzzy.
Mid-shaft thrumming? Ooooooooooohh, give me that vrooooming rumble.
The clitoral air pulses? WoooOOOWWWwwww!?!
Bountiful orgasms come easily with this toy.
Even the second pressure wave setting out of five felt like a lot to me! It's not that that motor is exceptional — it's about par with other cheap clitoral air pulse toys, like the Satisfyer Curvy 2+ and ROMP Switch. And there's a little suction, not quite as intense as the We-Vibe Melt or LELO Sona 2.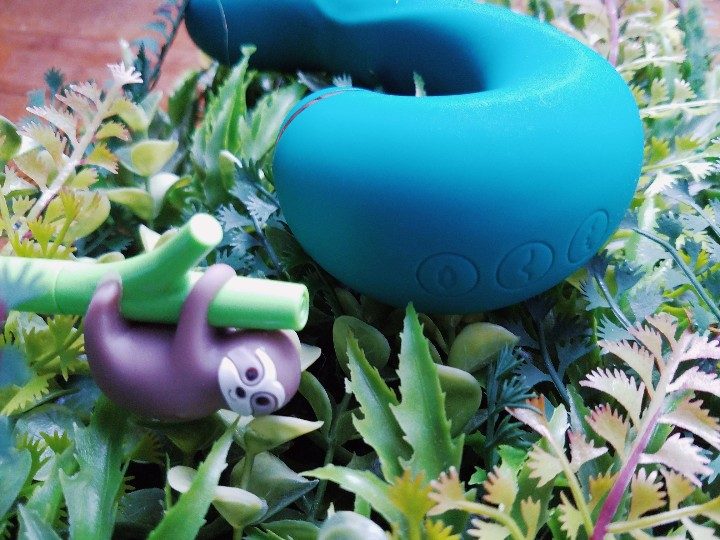 The star of the Sohimi clitoral suction vibrator?
It's the hybrid of touch-free pressure waves and contact from the pulsing "tongue." While the former shakes more of my internal clitoris, the latter provides yummy, thuddy, and pinpoint stimulation.
And that's all while I'm using it over my clitoral hood. The "tongue" protrudes a lot, and the air pulse tunnel is a mere centimeter long. As such, you'll want to take safety precautions. If your clitoral glans is on the big side or needs direct touch, the Sohimi clitoral suction vibrator probably isn't for you.
If you need a pressure wave stimulator that can accommodate a big clit, get a Satisfyer Curvy 1+ or 2+.
Consider also the flexible "neck"!
It bends enough for my glans to savor the mid-shaft percussion. It's like the Cal Exotics Surf City Centerfold, but a lot more focused and quiet. Think of it as the "lite" version of the Lora DiCarlo Carezza. Overall, though, it's the external air pulse stimulator that left me gasping and breathless.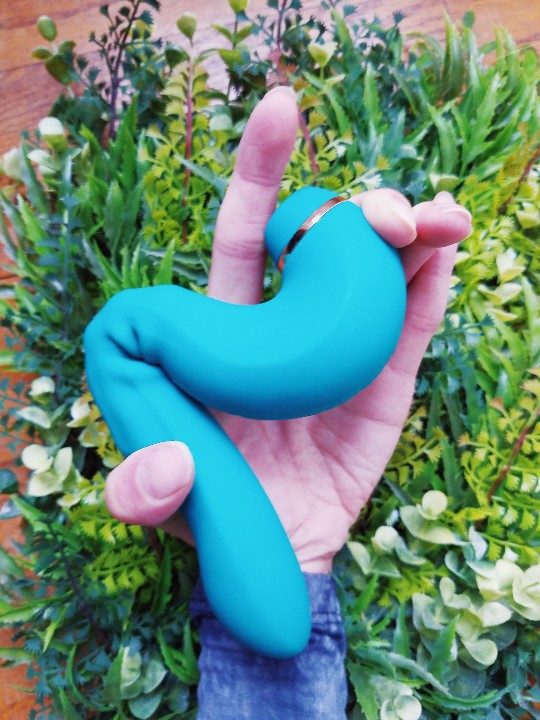 ---
Anatomy and fit concerns inherent to rabbit vibrators
There's no way the Sohimi clitoral suction vibrator can fit every body.
No dual stimulator can! I'm lucky that rabbit vibrators usually fit my (very average) 1-inch clit-vag gap, but your mileage may vary.
The flexible neck allows for some adjustability. Don't expect vigorous G-spot thrusting and clitoral sucking, though. Instead, consider the Sohimi clitoral suction vibrator a mostly-stationary jiggling toy.
Hold it in place, savor the external air pulses, and let the mid-shaft thud and tap against your front wall. Don't use broad strokes unless you're not using the outer motor at all. That's okay, too!
Who would enjoy the Sohimi clitoral suction vibrator the most?
The mid-shaft motor is best for those with shallow G-spots and short pubic bones. For example, my G-spot is maybe an inch-and-a-half inside. Those with deeper G-spots may find the pulsing against their pubic bone uncomfortable.
(You can also use this rabbit vibrator anally. The curvature serves as a stopper, preventing the toy from getting lost inside.)
---
Closing thoughts about the Sohimi clitoral suction vibrator
Look, I'm not going to pretend that rabbit vibrators with clitoral air pulses are revolutionary at all. The cheap ones are mostly repackaged white-label products from China — and the weak-ass vibrations on this dual stimulator reflected that.
(See also the word choice on the product info page: "Tongue licking, real tongue feeling. Strong vibration, give you more sexual feeling options," it boasts.)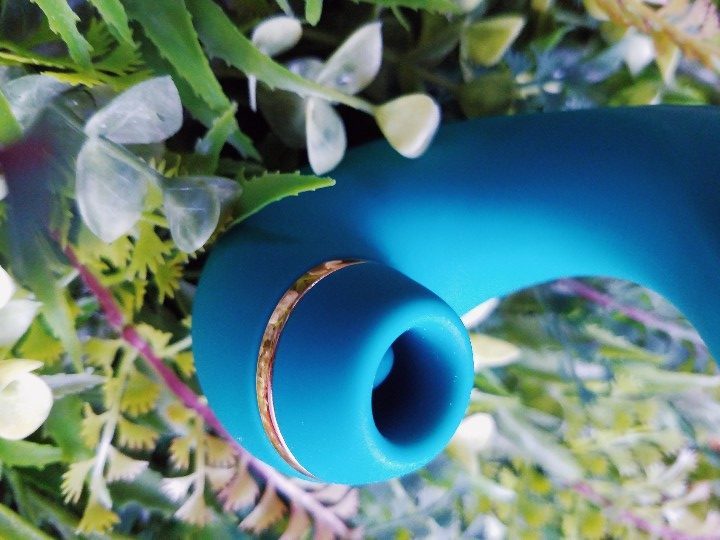 However, the pulsing pleasantly surprised me. It's quite rumbly for the price!
At $30, of course, not all three motors were going to be top-notch. It also probably won't last especially long before breaking. And that's fine by me — even if they removed the conventional vibrations altogether, the other two motors still would have been worth it.
It's hard to beat the price for what you get! Let this vibe blow you away.
Get the Sohimi clitoral suction vibrator.