Lush Iris review: thrusting, gyrating, pressure wave rabbit by Blush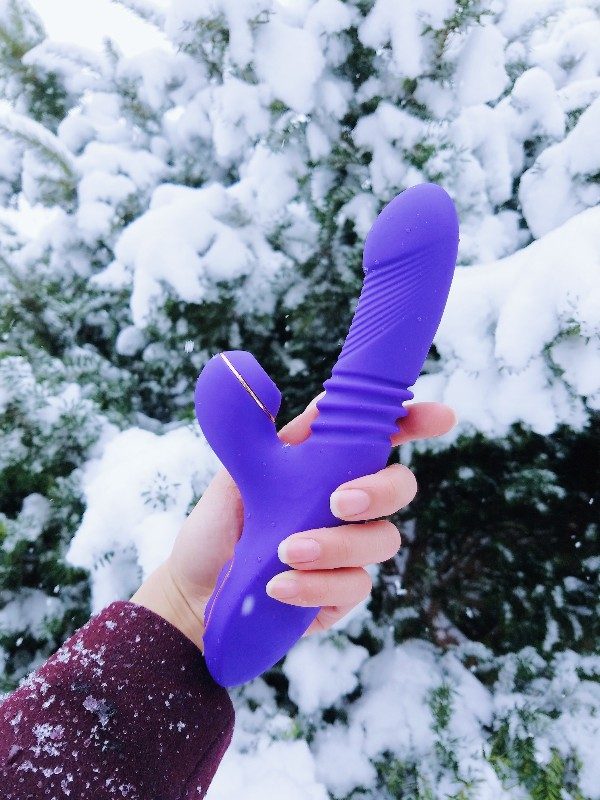 "What a fucking abomination!" I scrunched my nose the first time I saw a clit-sucking rabbit vibrator. First came the Womanizer Inside Out, then the Satisfyer Pro G Rabbit, then the rumblier Womanizer Duo. I declined to review all three.
"G-spot air pulsation dual stimulator" sounded like a big oxymoron. G-spot toys work best with thrusting, while pressure wave stimulators mandate staying put and sealing around the clitoris. The OG designs meant having to choose between one or the other. And there's no way I'd recommend $219 for one product with such glaring limitations.
The concept didn't seem promising until Blush Novelties released the Lush Iris— a clitoral air pulse rabbit with a self-thrusting and revolving shaft.
The movement allows for internal and external stimulation. Which, you know, is what rabbit vibrators are for. SELF-THRUSTING ? DUAL STIMULATORS ? MAKE ? SENSE. ?
What's more, this toy's twirling is what drew me in. I love a partner's fingers behind my cervix, swiveling or "come hither"-ing. I have dildos I can thrust and mount and ride, and handheld fucking machines, and vibes that flicker and lick and suck. But my dainty digits can't replicate how someone else's fingers feel inside me. Until the Lush Iris, I didn't have a toy for that.
At its fastest, it thrusts about 90 times per minute, but the gyration is even faster. Cue heart-eyes emojis.
Observe the Blush Novelties Lush Iris's movement below.
(Both clips are of the lower of the two speeds.)
Oh and it doesn't just thrust and suck and blow— it spins, too! ? My front wall is pleased. pic.twitter.com/26kwfgllaU

— Super Smash Cache (@supersmashcache) November 22, 2019
The Blush Hop Cottontail is another potent rabbit vibe I've tried that spins, but I don't think its range of motion compares to the Lush Iris. Likewise for the BMS Factory Naked Addiction rotating and vibrating dildo.
Blush Lush Iris general specs and measurements
The Lush Iris's insertable portion features 4.5″ of length and 1.4″ max diameter. Neither dimension is huge, but when combined with the firmness and methodical motion, the size is enough to hit my favorite internal hot spots. It's a bit long to be G-spotty for me (at least, while using the clitoral prong), but that's fantastic news for my A-spot and cervix.
It doesn't have to be super long, but a longer cock allows more versatility when it comes to positioning and still being able to hit the right spot for me.

Fingers work really well and it's not a size thing as much as a precision thing.

— Super Smash Cache (@supersmashcache) June 21, 2019

As with other pressure wave rabbits, the Lush Iris's external arm is rigid. However, its dual stimulator aligns well against my average clit-vag gap of 1 inch. And the suction "mouth" is about 0.5″ wide and 0.7″ deep. That's pleasantly bigger than most pressure wave stimulators', allowing a wider variety of clit sizes to fit inside. The silicone "lip" is also detachable for easy cleaning. Yay!
The clitoral suction & pressure wave stimulator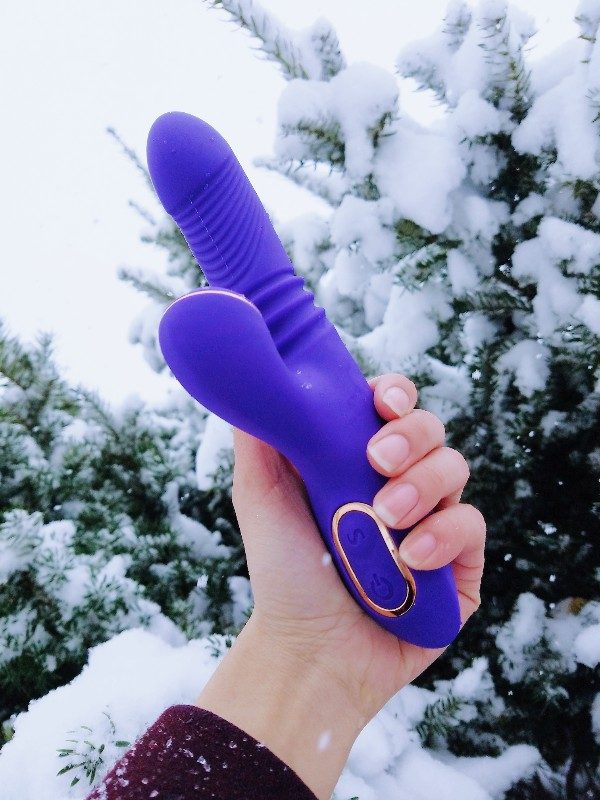 Usually, when turning on an air pulse toy like the Womanizer Classic or Liberty, it sounds like a soft and low thrum. On the low-to-moderate speed settings, I can hear discrete, individual oscillations as it alternates between sucking and blowing. On the higher speeds, the tone blurs together. In contrast, even the lowest options on the Lush Iris are indistinct. Think of the sound of a cat purring. The tonal fluttering is there, but it's barely discernible, and with a buzzier quality.
That's not to say that the Lush Iris's external motor is weak— the bottom two settings out of seven can get me off quickly. However, don't expect the pressure waves to overtake the wiggling shaft as the star of the show.
I wish there were more settings on the inner motor. Both speeds are powerful and satisfying, but I'd appreciate some warm-up options that don't overpower the external pressure waves. If you want something more powerful clitorally, check out my guide to the best clitoral air pulse stimulators. consider one of the Womanizers or Satisfyers. Or, for the highest intensity, get a LELO Sona 2 or We-Vibe Melt. (Plus! The original LELO Sona is currently on clearance.)
Putting it all together: cacophony or symphony?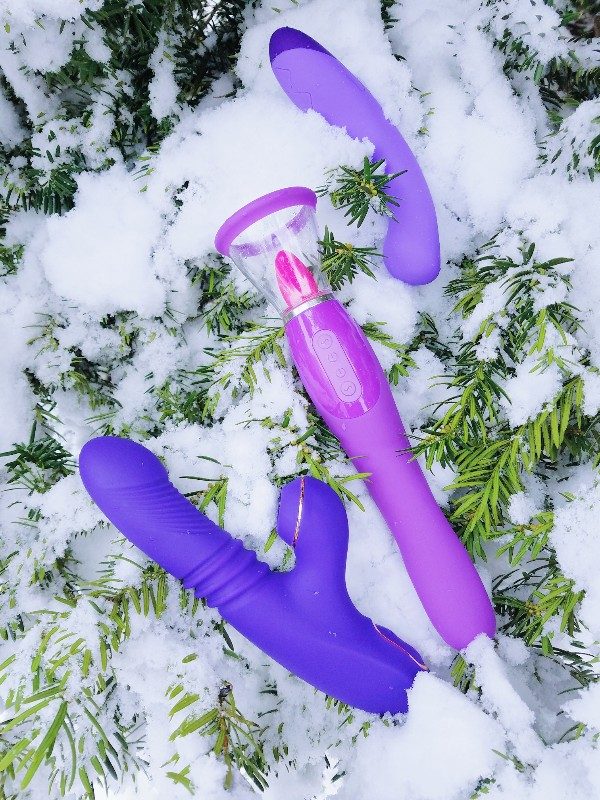 Whoever decided to combine self-thrusting with air pulsation in a rabbit vibe is a genius. If it weren't for that, I would have dismissed the entire category and said, "Nobody fucking asked for this." A clit arm that limits me to stationary G-spot vibration? Meh. But automated, rotating A-spot pressure and thrusting? Oh, hell, yes!
That's coming from someone who usually hates dual stimulators. Some are too bendy to press my clit in any meaningful way. Some have too wide of a gap between the prongs. And some are too pokey. As with other rabbit vibrators, the Lush Iris inherently has limitations to whose anatomy it can fit. However, its design suits my clit-vag gap, while mitigating many of my recurring complaints.
Its thrusting mechanism isn't a case of being extra for the sake of being extra. It allows for internal macro-movements without breaking clitoral contact, which helps significantly if the external arm isn't flexible. I'll repeat it: SELF-PROPELLING RABBIT VIBES MAKE SENSE.
My verdict on the Blush Novelties Lush Iris self-thrusting and air-pulsing vibrator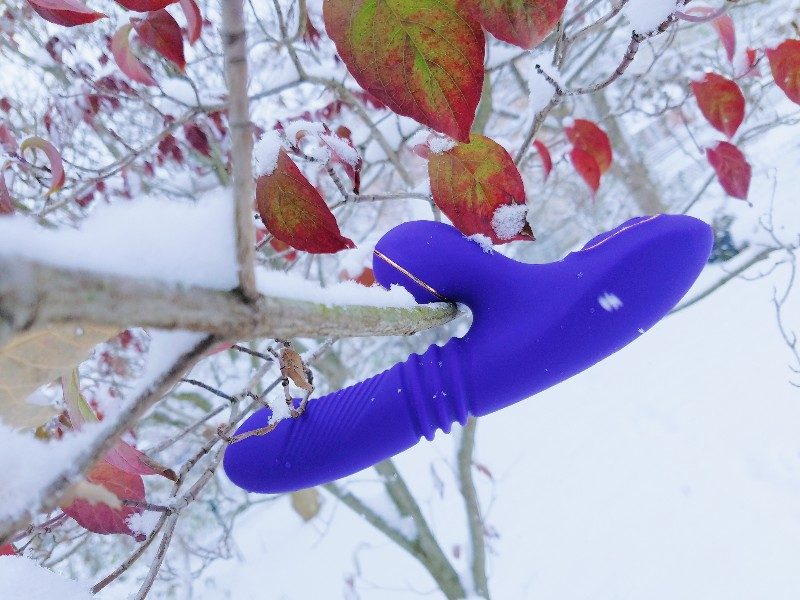 Overall, the Lush Iris by Blush Novelties is my second-favorite rabbit vibrator I've tried, only preceded by the We-Vibe Nova. Yes, there are other dual stimulators with spinning heads, but their external appendages almost always have the pokey rabbit "ears." No. To hell with that.
My clitoris every time I see a rabbit vibrator with a pointy, two-eared external stimulator pic.twitter.com/DHWSv2iSDQ

— Super Smash Cache (@supersmashcache) November 22, 2019
Big dildos and bottoming out are still my favorite forms of stimulation, but I often miss the gyration of two or three fingers. The Blush Novelties Lush Iris beautifully fulfills that niche in my collection— the hero I didn't know I needed. My front wall and my cervix are effortlessly pleased.
Get the Blush Lush Iris at Peepshow Toys and take 10% off with my coupon code, SUPERSMASHCACHE