Mini-reviews: Womanizer Liberty, Satisfyer Partner Multifun, Pro 3 Vibration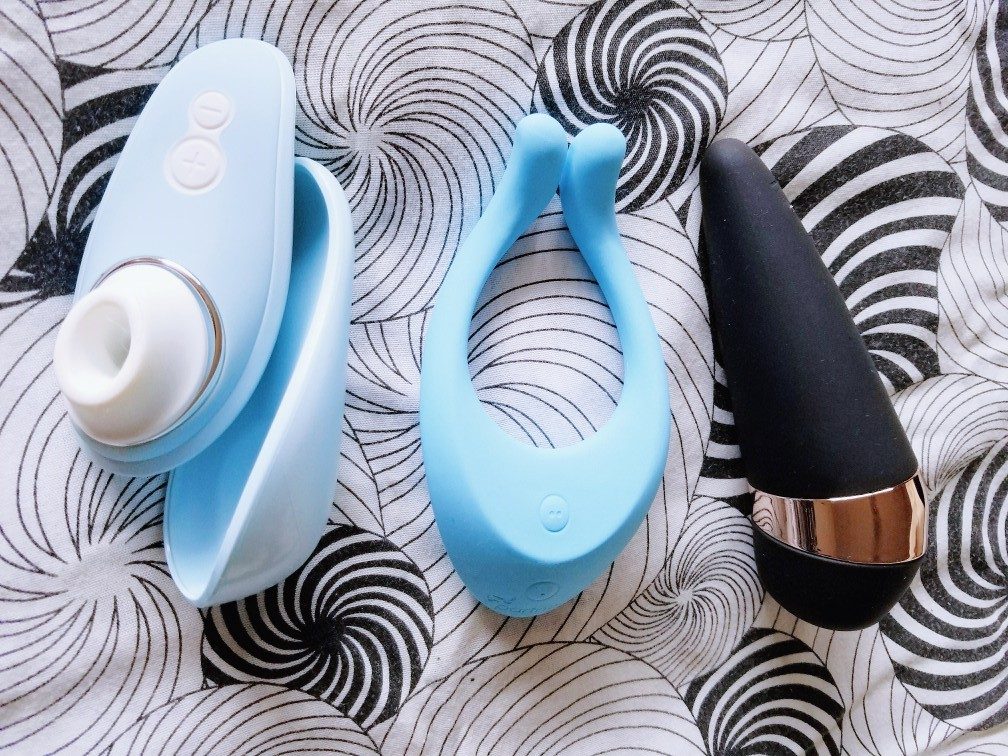 By the time I've finished typing this post, Womanizer and Satisfyer will probably have released ten new products. I can't keep up, so here's a fast blast of 3 new-ish clit toys from these companies.
---
Jump to a section:
---
Womanizer Liberty: a miniature, travel-friendly clitoral suction toy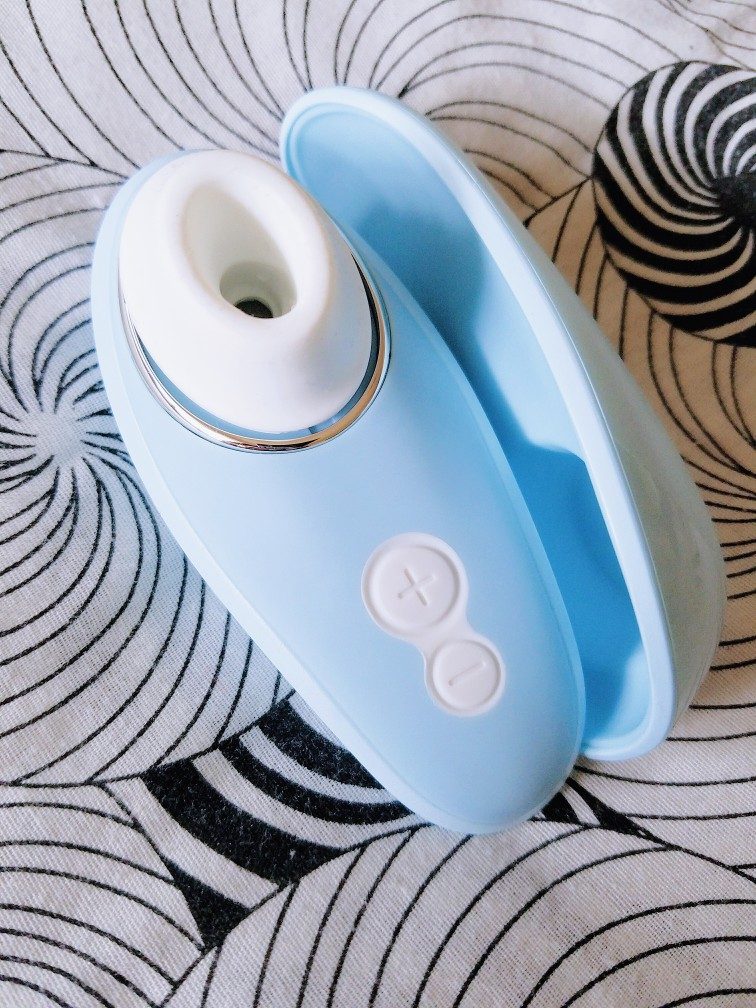 Let's start with my favorite of the bunch: the Womanizer Liberty. It's durable, compact, and reminds me of an avocado. How adorable. But just like its Classic older sibling, the Womanizer Liberty packs a punch.
Both the Womanizer Classic and Womanizer Liberty are pressure wave toys. That means that the silicone head seals around the clitoris and rapidly pulses, alternating between sucking and blowing. It's gentle but focused. Instead of something solid vibrating against the user, the air around their clitoris vibrates.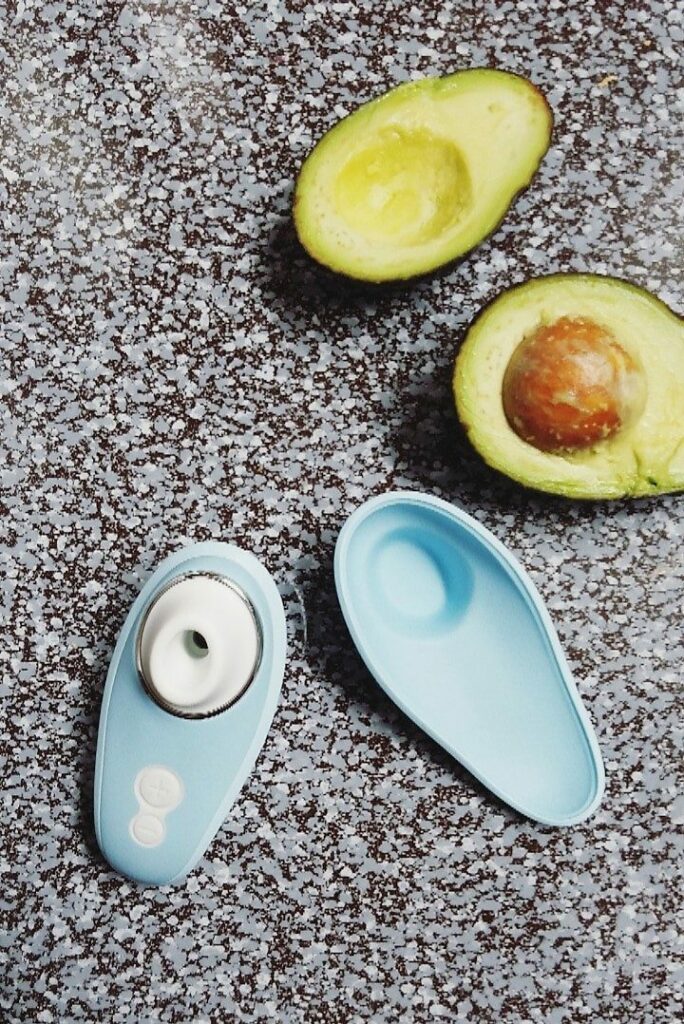 Almost all of the Classic's positives still apply to the Liberty. It's an efficient orgasm extractor where I turn the speed until I insta-come. Making it past the fourth setting out of six without feeling too overwhelmed to continue is a challenge. As a result of that intensity, I've had emotional crygasms and yelled at my partner ordering him to fill me with cum. But it is entirely possible for me to use the top speed.
It's not just that the Womanizers (both the Womanizer Classic and the travel-sized Womanizer Liberty) are intense— they're the rawest mindfuck I could get from clitoral stimulation alone. And considering how vital deep penetration is to me, that's saying something.
The downside of the Womanizer Liberty is that, of course, the handle is shorter than the Classic's. Its travel-friendliness is worth it to me, but it might not be for someone who struggles with reach. Possible reasons include not being physically flexible and having a full figure to reach around.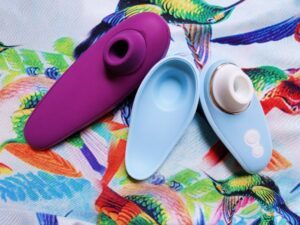 As well, the Womanizer Liberty comes with six speeds instead of eight like the Classic does. But you know what? It's also $40 less expensive than the Womanizer Classic, comes with a durable travel cover, is more compact to fit in my purse, and it's discreet AF. As a consumer, I'd certainly buy a Womanizer Liberty instead of a Womanizer Classic, with the knowledge that they feel almost identical.
Update: I've written two follow-up guides involving the Womanizer Liberty!
And yes, I know the company's name has shitty connotations.
Unfortunately, in my experience, Womanizer's products are more durable and well-constructed than those of their competitor, Satisfyer. But I get it: if you want a cheaper travel-friendly pressure wave toy, try a Satisfyer Pro Traveler for $36 if you use my coupon code SUPERSMASHCACHE at Peepshow Toys.
Satisfyer Partner Multifun 1 vibrator "for couples" (vomit emoji)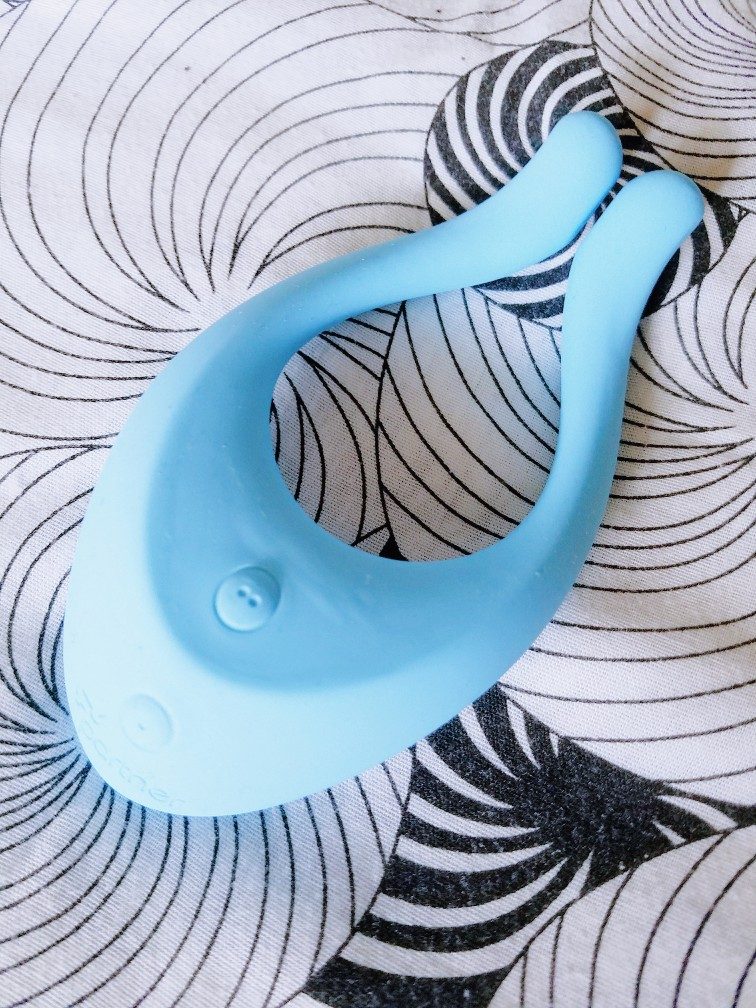 I want to rid my review queue of this piece of shit. I can barely scrape together the fucks to write anything beyond, "No. Just no," let alone be funny about it. The Satisfyer Partner Multifun vibrators are ostensibly versatile for "women, men, and couples," with three motors and 14 ways to use them. But they couldn't be farther from universal sex toys for all bodies.
As I've said in my MysteryVibe Crescendo review, if a vibrator's motor is mosquito shit, nothing can save it. I absolutely cannot orgasm with the Satisfyer Partner Multifun. Either my clitoris can't feel the surface-level vibrations at all (especially in the round end), or they're grating and itchy. Think of pins-and-needles in your feet, but on a micro-level. Or like you are embedding your clitoris with fine sand and glitter. That's what it reminds me of.
All three of the Satisfyer Partner Multifun's motors are buzzier and weaker than the $24 VeDO Bam Mini. Yeah. Think about that. I respect that some people enjoy buzzy vibrations, but there's no reason to be spending $50 for the Multifun. You could get a Gaia Eco slimline vibe for $11 and get better results using it on any external erogenous zones you would have used the Multifun on. (No, G-spot stimulation with the rigid Multifun is NOT happening!)
And fuck, there are so many awesome toys you could get for under $50. A powerful Exposed Nocturnal. Or an Aria bullet, which isn't as powerful as the Exposed Nocturnal but also not as shrill in pitch. For some moderate rumble, consider a full-sized VeDO Bam. Or a similarly-powered but bent and bulbous VeDO Gee Plus. Bullets are a tried and true shape for compact and pinpoint external stimulation. The Satisfyer Multifun will not dethrone their legacy.
Satisfyer Pro 3 Vibration pressure wave stimulator with vibration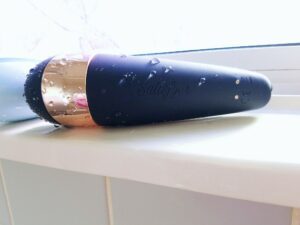 Most striking about the Satisfyer Pro 3 Vibration is how different its shape looks from other pressure wave stimulators. Its sleek, tapered horn and rose gold accent are far more elegant than predecessors that resembled thermometers and pore cleaners.
The nozzle is also more open, which would hypothetically fit a broader range of anatomies. That doesn't, however, make it work better.
Quizzically, the Satisfyer Pro 3 Vibration owes its nozzle's softness to the fact that it's a hollow shell of silicone. Past pressure wave toys I've tried had nozzles made of either pure silicone or a layer of silicone covering hard plastic. In those cases, the silicone was detachable for cleaning, unlike with the Satisfyer Pro 3 Vibration.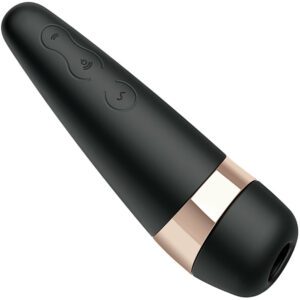 The other, more egregious downside of the nozzle is that it's hit-or-miss. I can briefly latch it on around my clitoris. But it doesn't take long before the seal breaks, and I can't feel the pressure waves anymore. Raspberry sounds galore against my labia make it hard to get back in the mood. Once the seal breaks, it's substantially harder to return the Satisfyer Pro 3 Vibration to a stimulating spot.
Simply put, whatever's up with the new head, it's not reliable.
And no, the vibrations don't make this toy a safer investment. They're enough that I CAN get off with the highest setting, but too buzzy and buried to be worth the effort. Wherever the motor is, transferring its movements through that hollow silicone is highly inefficient.
Tl;dr other than the appearance, there is nothing about the Satisfyer Pro 3 Vibration that's better than the older Pro Plus Vibration. The Pro 3 Vibration's nozzle might be able to fit more clits, but if it can't sustain the seal, what's the point?
Disclaimers and thank-yous
Thank you to Peepshow Toys for sending me the Womanizer Liberty and Satisfyer Pro 3 Vibration. As always, you can use coupon code SUPERSMASHCACHE to take 10% off your order from Peepshow Toys' selection of body-safe sexual health goodies.
And thank you to Satisfyer for sending me the Satisfyer Partner Multifun. My opinions are honest and freely given. Receiving the product in exchange for a review doesn't make me hate this fucking thing any less.