7 AMAZING Glow-in-the-Dark Dildos to Try!
Stuck in a sex toy sea of pink, purple, and cadaver beige? Fuck that.
Nix the gendered marketing and stroll through my sex toy collection: the lush dildo forest where teals, greens, and powder blues are abundant. We'll make it festive and spooky by focusing on some of my favorite glow-in-the-dark dildos!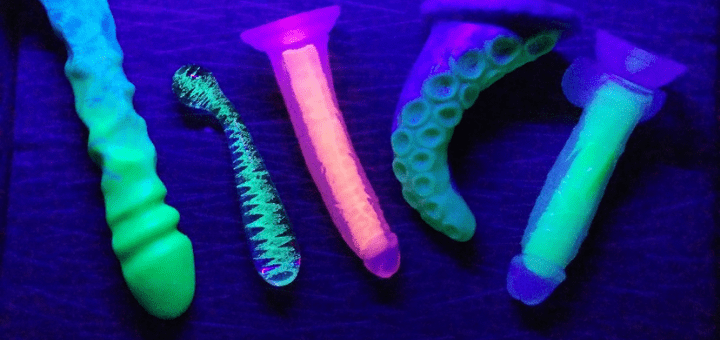 You can "charge" them by leaving them in sunlight or using a blacklight. Also consider "drawing" on glow-in-the-dark objects with a UV laser pointer — the other parts of the pigment will stay relatively dark.
For the brightest overall glow, though, leave a big blacklight turned on! It will make your fluorescent dildos glow, too. Remember: all glow-in-the-dark dildos shine in UV light, but not all fluorescent dildos glow in the dark.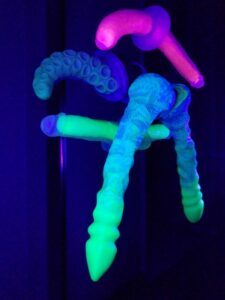 And another great thing?
Glow-in-the-dark dildos come in a wide range of shapes, sizes, and prices.
Let's start with the luxe and then talk about the most affordable. Just remember that price is not a measure of how good they feel — the cheapest toy on this list is actually one of the most intense!
BONUS: the Clone-A-Willy kit, which isn't really a glow-in-the-dark dildo, but a fun way to make one!
---
1

Uberrime Deep Diver: a glow-in-the-dark remix of Whipspider's Tentacle dildo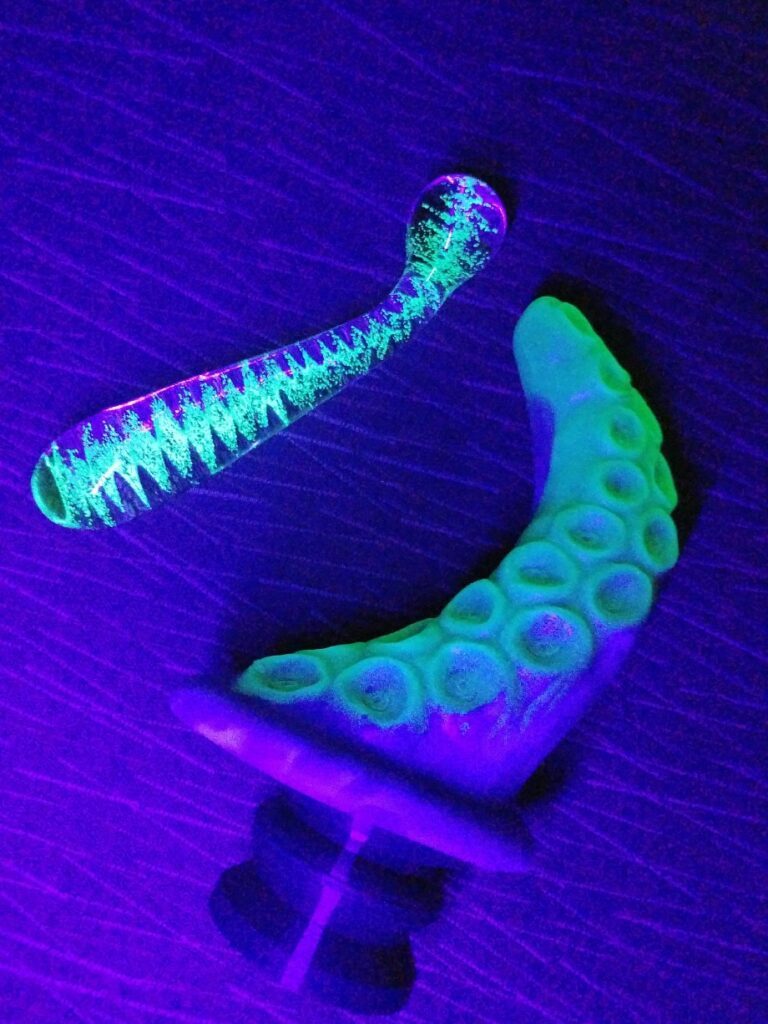 Measurements
6.25 inches total length
5.5 inches insertable
~1.3 inch head diameter
~2.1 inches across the shaft
~2.6 inches near the bottom
Shore 5A Silicone
How does the Uberrime Deep Diver tentacle dildo feel?
Ooooh, the Uberrime Deep Diver is one of my favorites for fisting warm-up. I may be a size queen, but that doesn't mean I'm always in the mood for a blunt insertion with the soda can-sized Vixen Randy.
If you want a dildo that starts slender and gauges up to a whopping 2.6″, the Deep Diver is for you!
Its curve is also useful for swooping behind the pubic bone and digging into the G-spot, while the tentacle suckers are intense but not especially in-the-way. You can choose to twist the textures against your front wall or point them in a different direction.
The gradual ramping up in girth kinda-sorta resembles the end of a duck-billed hand — but it's gentle enough for me to use from a cold start. For comparison, the Tantus Fist Trainer XL does what it says, but it's by no means a warm-up toy.
Many long-time sex geeks grieved the Whipspider Tentacle's loss, but Uberrime felt inspired to create something even better.
Features SheVibe exclusive colors!
The Uberrime Deep Diver features a beautiful teal along the suction cups. It glows green in the dark, accenting the rest of the dildo's red and electric violet.
Read my full review of the Uberrime Deep Diver tentacle dildo or get one from SheVibe.
---
Measurements
12″ long (11″ insertable)
1.75″ head diameter
1.59" across the shaft
Choice of squishy (Shore 0050) or medium (Shore 8) density silicone
How does the Uberrime Alien Probe Thing dildo feel?
When I first asked Marco Uberrime for the Alien Probe Thing, he responded, "Really? It's like, 12 inches long." Then, after a pause, he added, "Wait, no, never mind. I forgot who I was talking with."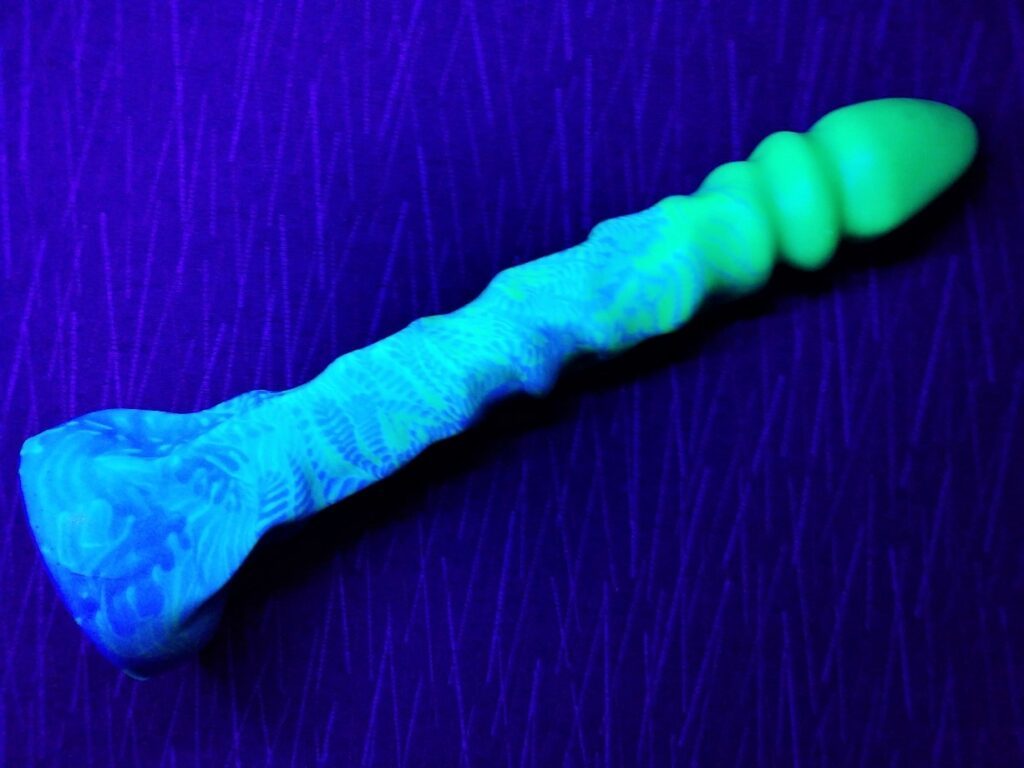 The Uberrime Alien Probe Thing is quite the monstrosity, ideal for depth play. However, during vaginal use, the ample textures along the shaft also serve as indirect clitoral stimulation if you enjoy angling your dildos for grinding during penetration. And, of course, it can reach into the fornices to massage the cervix.
Its contours aren't as pronounced as, say, the Uberrime Night King, but that may be a plus for you. Both the Night King and Alien Probe Thing have loooong shafts, allowing you a great deal of control when thrusting and a lot of room for clitoral sliding.
Another big difference is that the former has a rounded corona and diagonal ridges, while the latter features sharper and more consistent sawtooth jags. Think of a smaller Uberrime Aqua-King with more pizzazz on the shaft.
Consider the Night King for short strokes and the Uberrime Alien Probe Thing for prolonged pounding. There's no such thing as a bad Uberrime dildo — just some that will fit your body better than others.
3 glow-in-the-dark and fluorescent color schemes available
Alien green all over
Yellow tip with a green shaft
Green tip with a blue shaft
Shop the Uberrime Alien Probe Thing glow-in-the-dark dildo.
---
3

Evolved Luminous Stud Large dildo

Now we're getting into way more budget-friendly territory! This 10.5″ long glow-in-the-dark dildo has some seeeerious length and girth. The flared tip measures 2″ wide, is on the medium-firm side, and juts out to dig into my G-spot. All for under $47? Oh heck, yes!

The only downside is that that the blue doesn't fluoresce as brightly as the other colors in UV light — but it's still super pretty in the dark!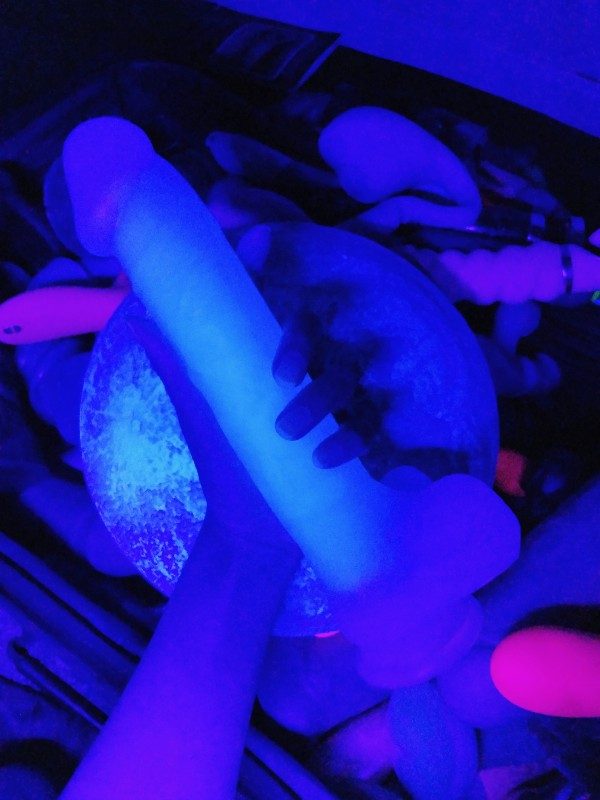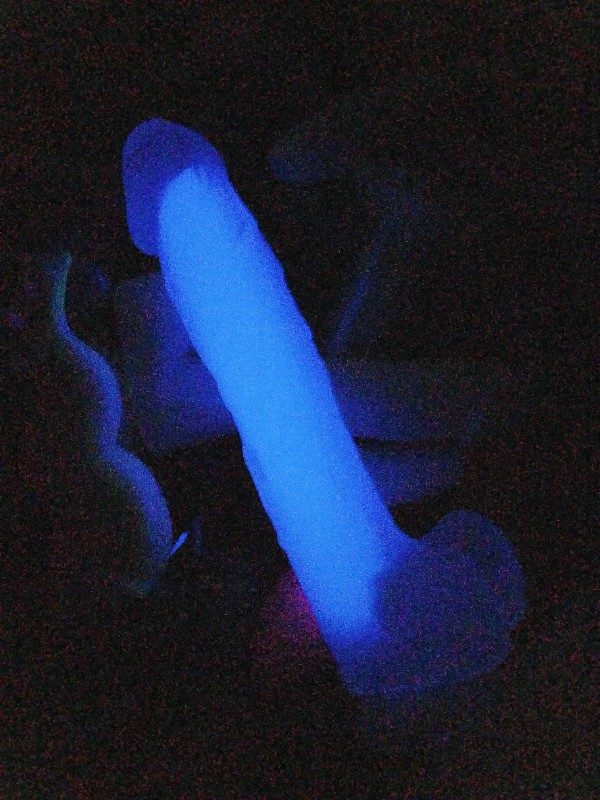 Shop the Evolved Novelties Luminous Stud Large. There are also medium and mini size options, but their heads aren't as pronounced.
---
4&5

Blush Neo Elite GLOW: translucent dual-density silicone dildo
4 glow-in-the-dark colors available
Orange and blue in the 7.5″ Neo Elite without balls
Pink and green in the 7.5″ Neo Elite with balls
You may have noticed that the Neo Elite GLOW dildos look A LOT like the original Neo Elites. That's because they're different colors, cast from the same molds!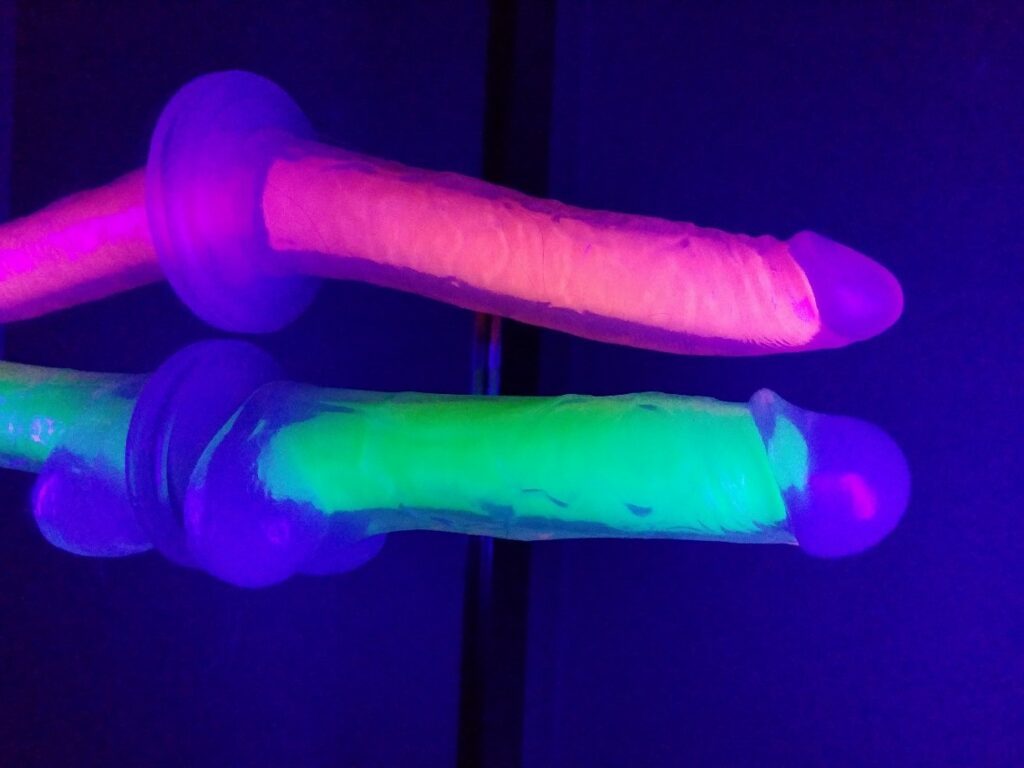 If you like the look of clear jelly but want nonporous silicone at an affordable price, consider these translucent dildos. (Make sure to include ELITE in the name! Otherwise, you may find the porous line that Blush also makes.)
Measurements
7.5 inches total length
7 inches insertable
Slender tip with a gradual taper
1.5 inch maximum width at the bottom
Neo Elite With Balls
7.5″ total length
5.5 inch insertable length
Pronounced mushroom tip
Shaft bulges out even more under corona
Slightly narrows down again near the balls
Both Blush Neo Elite GLOW designs have a flared, butt-safe, harnessable suction cup base!
How do the Blush Neo Elite GLOW-in-the-dark dildos feel?
These dual-density dildos feature a firm core (the part that glows!) and softer outer layer to simulate the dimensional feel of an erect cock.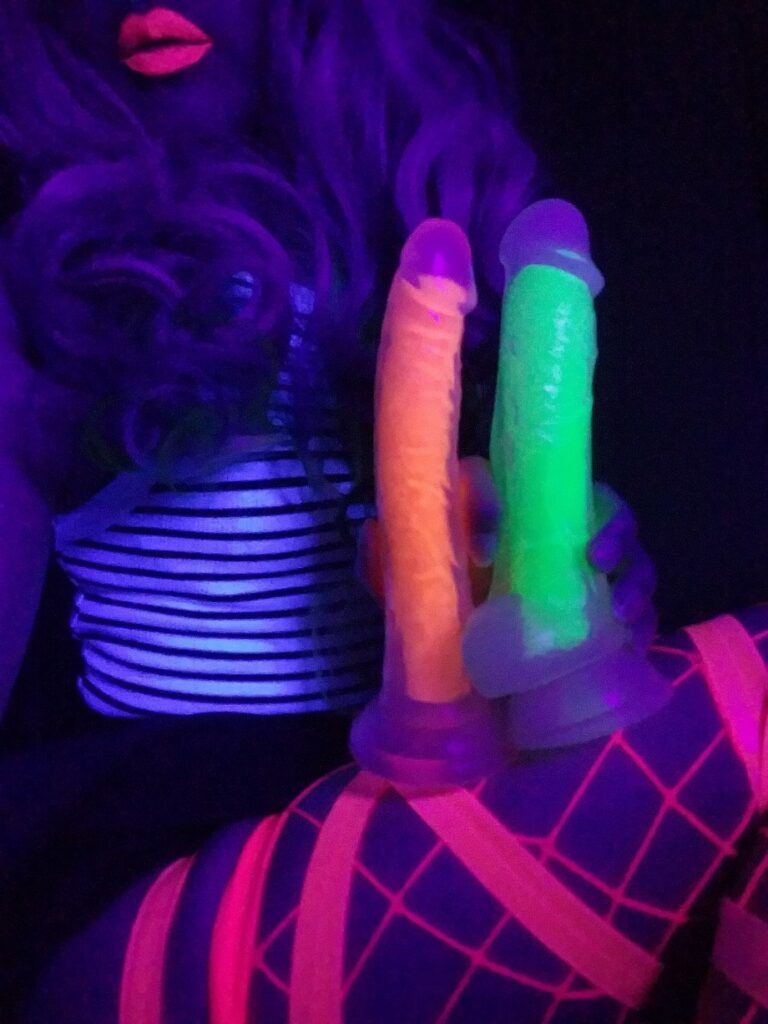 It's not quite as realistic as VixSkin — the outer layer in the GLOW dildos is a little firmer and slightly less tacky than the previous Blush Neo Elites. However, there's still very much a noticeable difference in density between the core and the "skin."
In short, they're a twist on a classic realistic dildo shape. The Neo Elite GLOW with balls is fun for a slight stretch with its about-average diameter. It's also more G-spotty, so consider it if you prefer shallow penetration.
The long and lean one without balls goes in deeper. If girth isn't important to you, you may prefer the latter option for a few reasons:
The Neo Elite GLOW without balls' shape, combined with its squish, make it a great dildo for pegging and beginner butt stuff. Mount the suction cup bases and ride for a semi-realistic masturbation experience.
---
One glow-in-the-dark color available:
Clear glass with off-white (in light)/green glow-in-the-dark speckles. There are other not-glowing color options for this glass dildo, too: black, pink, and clear with nothing added.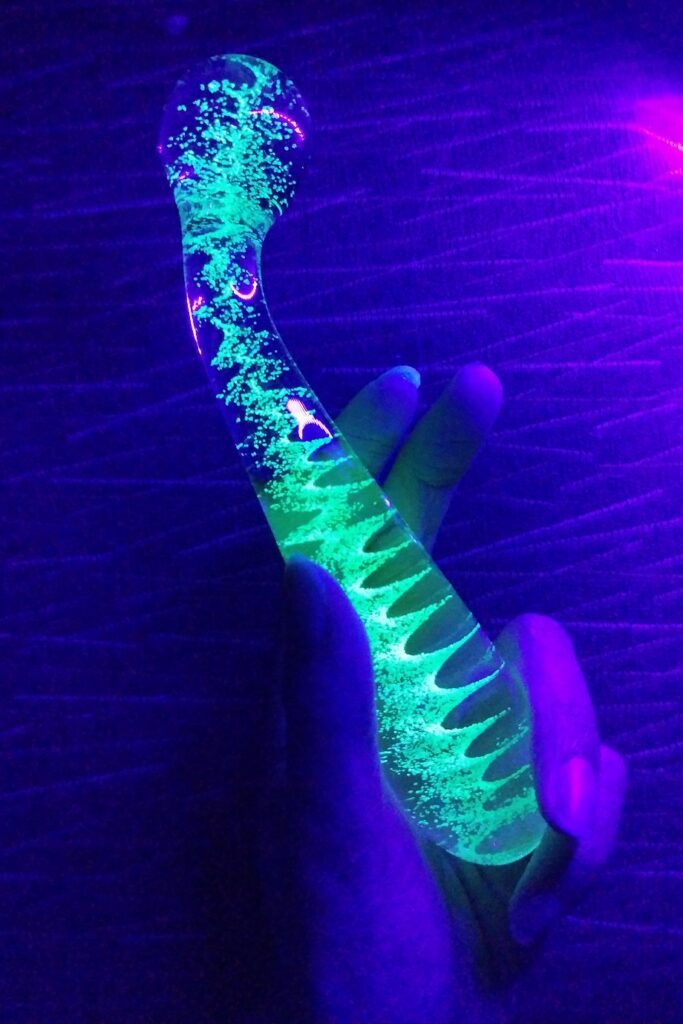 Measurements
6.5″ total length
1.5″ maximum diameter
0.75″ wide neck
How does the NS Novelties Firefly Glass G-Spot Wand feel?
OOOOH, it's one of the most intense A-spot dildos I've ever used, after (of course) the bludgeon-like njoy Eleven and Le Wand Contour. It's a fucking missile for firm pressure in front of my cervix. All it takes is a few thrusts before I'm gasping and screaming (if I have the house to myself, anyway)!
"How could something make me cry so much?" I thought to myself in the afterglow of using it.

Its penchant for firm force is inescapable. It's my go-to for when I want deep penetration with the precision of fingers. Thrust it, rock it, swivel it. Whatever motions I use, it's the insertable analog to an "instant orgasm" button.
It doesn't work for my G-spot, but my A-spot couldn't ask for much more.
Learn more about the A-spot/anterior fornix or shop the NS Novelties Firefly Glass G-Spot Wand. They have other glow-in-the-dark toys in the Firefly line, but this dildo's my favorite of them.
---
7

Clone-A-Willy at-home silicone dildo casting kit

The name is self-explanatory: you can make your own glow-in-the-dark dildo for under $40! This kit contains everything you need. Here are the results from when I did it with my boyfriend: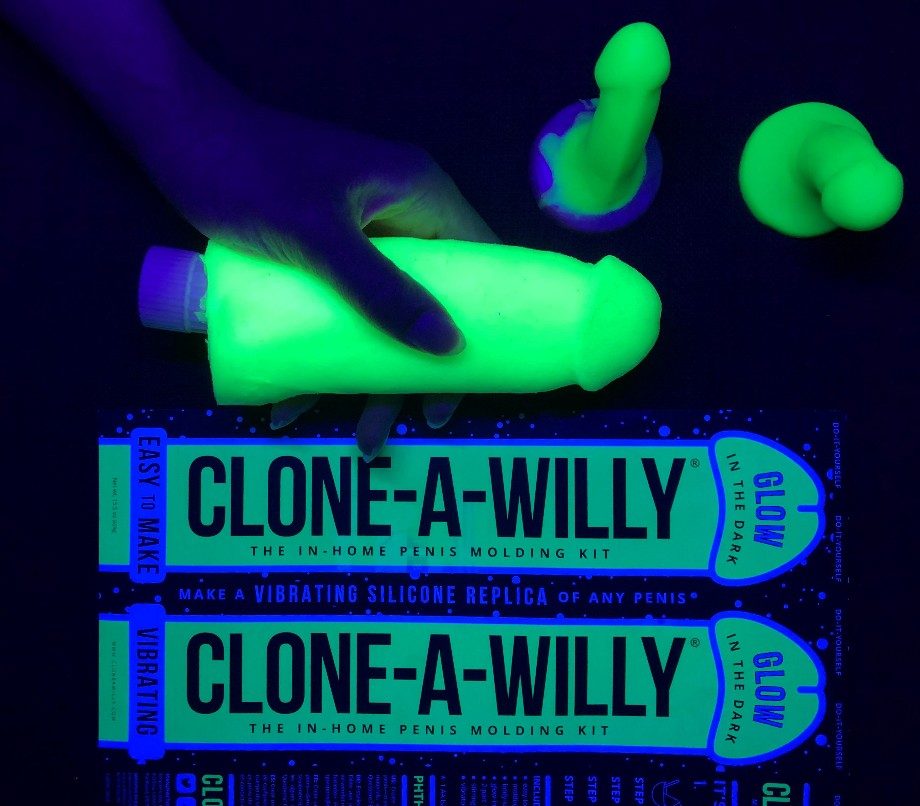 Read my full Clone-A-Willy kit review and guide.
---
Wrapping it up!
It's not just niche artisans making glow-in-the-dark dildos anymore! Mainstream manufacturers are catching on, too. What would be your dream glow-in-the-dark sex toy?