How to Cast a DIY Silicone Dildo at Home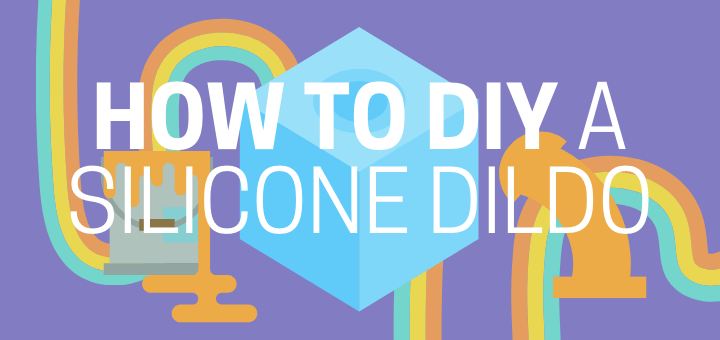 If you're a regular reader of my blog, you probably already agree that dildos can be highly collectible pieces of art. They're functional tools, but it sure as hell helps me get excited when I find a dildo aesthetically pleasing. That's why I am the njoy Eleven's biggest fangirl, I appreciate a tightly swirled marbling by Uberrime, and I'm always on the lookout for quirky silicone fuckables.
A dildo shaped like a THICC nun. Or one with a sword handle. A calla lily vibrator. Vegetable dildos. A Neapolitan-colored Ass Cram Cone butt plug. An Australia-shaped base. The creativity demonstrated in non-representational pervertables is delightful.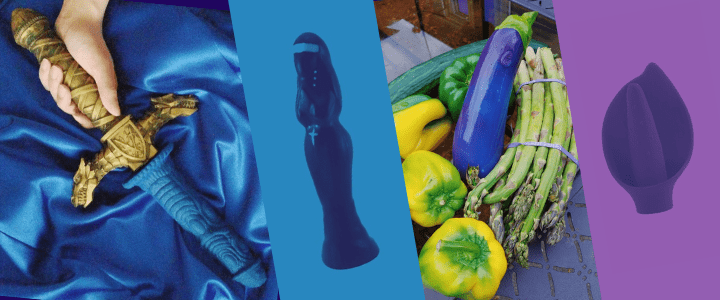 Sometimes, customizing a dildo can be as simple as heating and squeezing a Dodil or trying out a Clone-A-Willy kit. But if you've ever wanted to make your own silicone dildos from scratch, Mermaid Brandie and the Sex Toy Collective made a fantastic free video course on it! To save you some time, I've assembled a quick list of resources and tips for the beginning stages of making a dildo.
1

Making the Dildo Model

You have some options here, like 3D printing your model or sculpting one out of clay.
3D Printing Dildo Designs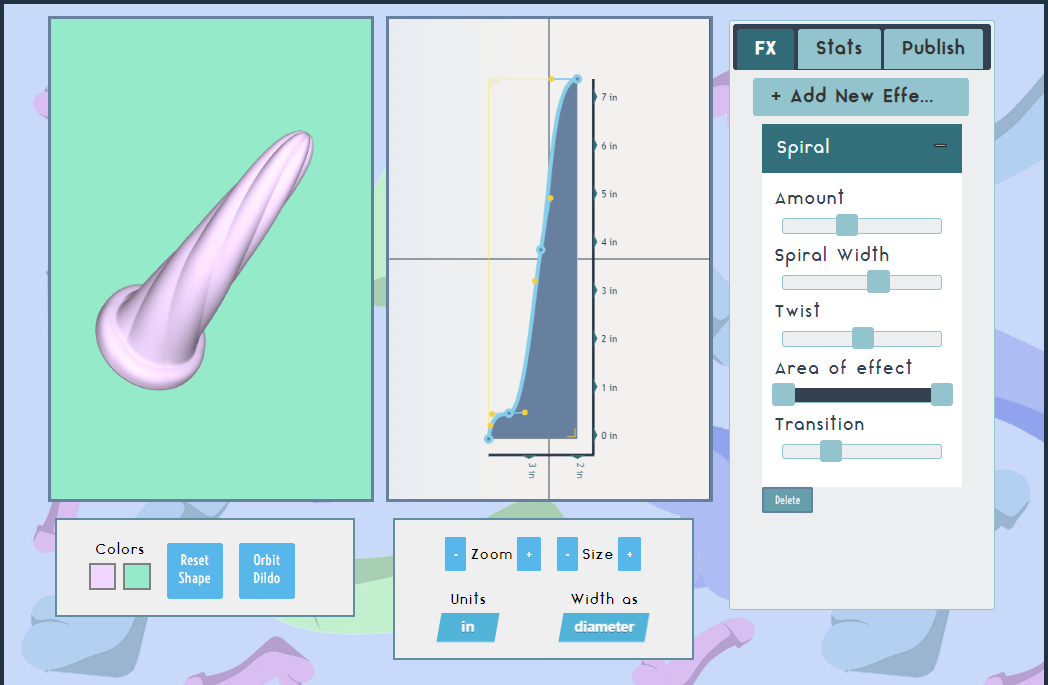 Here are some CAD programs you can use to export designs as .stl files. If you have a 3D printer, use that, and if you don't, you can upload the file to a website like 3D Hubs. They'll print one for you! I suggest getting an ABS plastic model. Sand down the finish to smooth it, and you're good to go on to the next phase!
If you're looking to make something simple, this Dildo-Sculptor is the place to start. It's best for quickly making solids of revolution with options for adding basic bumps, bulges, swirls, and — of course — a C-curve for P-spotting or G-spotting.
Maybe you want to design a dildo more complex than what the Dildo-Sculptor can do. In that case, consider TinkerCAD or Ultimaker Cura. They're free, open-source, beginner-friendly 3D printing software that the uninitiated can quickly figure out.
Sculpting a Dildo Model Out of Clay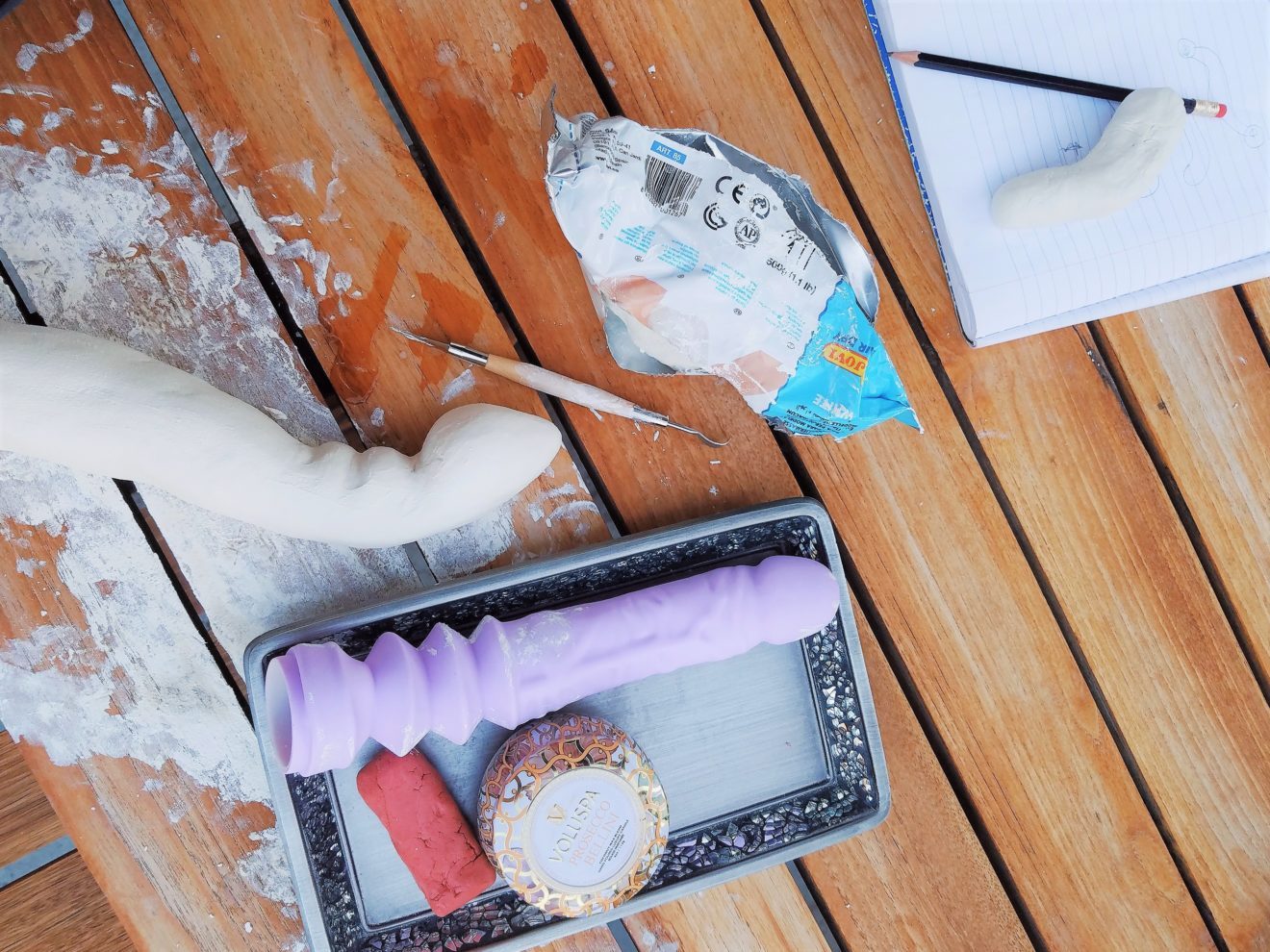 Casting a DIY dildo starts with the right equipment and materials. If you're making a silicone mold, that means using a sulfur-free sculpting compound, like Monster Makers' Clay or PRIMA Plastilina. Sulfur interferes with the silicone curing process, and we don't want that.
A clean and smooth work surface is preferred, of course. To soften the clay and make it more pliable, a microwave (use low heat for short periods!) or blow dryer may help.
You could model entirely with your hands, but sculpting spatulas and wire loops maximize the possibilities. Mermaid Brandie also suggested using a rolling pin and cookie cutter to make a crisp and level base for your dildo to stand on. When you're ready to attach the dildo to it, spread some warm clay and use it as "glue" between them. Then smooth out the juncture.
Finally, for a smooth finish, you can brush some isopropyl alcohol on your model. Use a high-quality brush, so that it won't shed bristles.
2

Making the Silicone Mold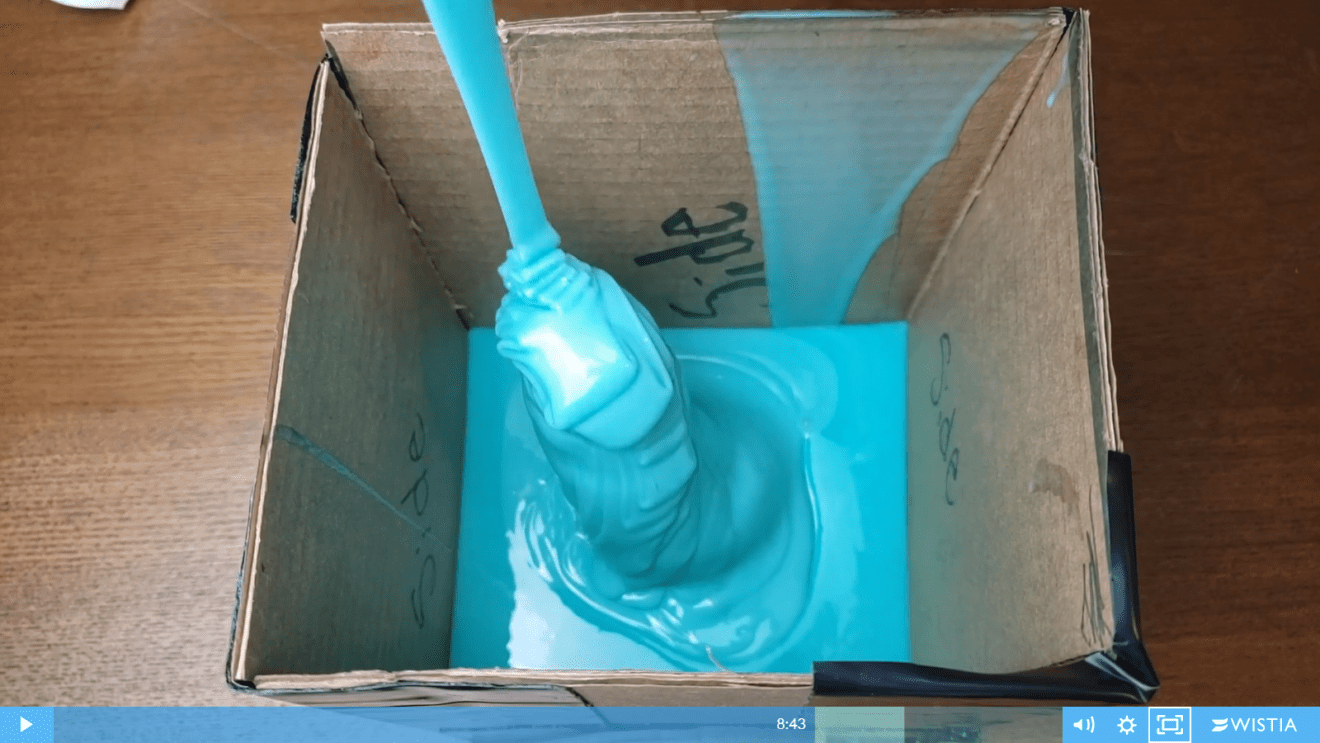 There are many different kinds of molds, but we'll focus on silicone block molds and glove molds here. Mermaid Brandy demonstrated these two techniques using Mold Star™ 15 SLOW and Ecoflex 00-35 FAST, respectively.
If you're making a block mold, you'll need a box to contain your model. It should be big enough that the dildo doesn't touch the sides or go over the top. Sturdy tape seals off the edges and possible gaps so that the silicone doesn't leak. We also don't want air bubbles, so slowly drizzle the silicone to submerge the model. Then, while the mold solidifies, using a pressure pot or vacuum chamber further reduces air bubbles.
For a glove mold, you would still carefully envelop the model, in a layer of silicone about 1/2 inch thick. Plaster bandages wrap around it and serve as the "container."
In either case, make sure to thoroughly clean any leftover clay out of the mold before casting the final product!
3

The Silicone Casting Process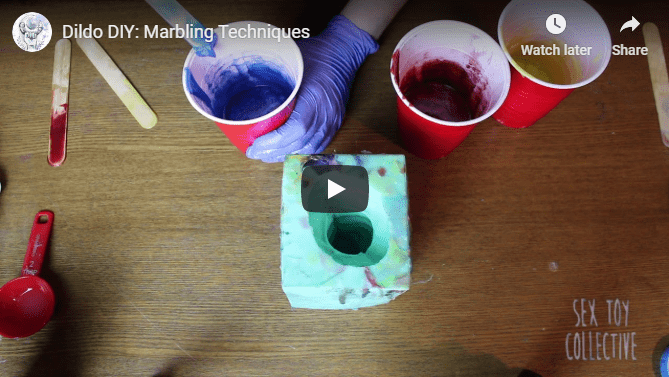 The fourth video in the series focuses on making your own dual-density dildo. This process involves two molds— one for the firm inner core, and one for the plush outer layer. Brandie used Ecoflex 30 and 20 silicone, respectively. Pigments and glitter are optional but way more fun!
Regardless of whether you decide to make a single or dual-density dildo, spraying the mold with a release agent keeps the cast separate. You don't want them to stick! You would, however, want the center to stick to the "skin." Dish soap washes the release off the core before casting the second layer.
A block mold can stand up on its own, but with glove mold, you'll need an outer container supporting it. Just like with the previous step, mix the silicone, pour it in, and let it cure. Then, peel the base and pull the insertable portion. Voila! All that's left to do is wash it. Then it's ready for display and play!
Further reading
Also check out my review and guide to making the most of a Clone-A-Willy kit. I used it to make a glow-in-the-dark silicone copy of my boyfriend's penis — but it wasn't all smooth sailing. Learn from our mistakes!
What would you cast into a silicone sex toy?
What shape, features, and colors would it include? How squishy would you like it? Would there be glitter? Tell me in the comments!