Review: 321 (Blast Off) & Seahorse slender S-curve dildos
Looking for your G-spot or A-spot? Exploring your cervical fornices and deep spot for the first time?
The 321 (Blast Off) and Seahorse acrylic dildos by Lovey Productions are perfect for that! They are exactly what my vagina needed when I was younger.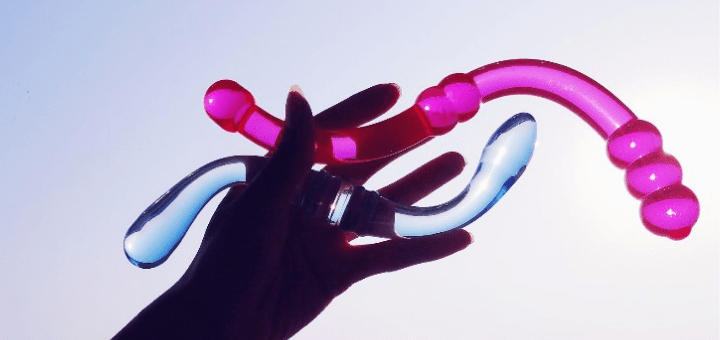 I made some unconventional choices for my first sex toys: two glass dildos.
One had a straight shaft and flared mushroom tip, while the other was a beaded and angled G-spotter. They taught me bits and pieces about my bits and pieces, allowing me to:
I wouldn't change much about my sexual journey.
However, a versatile S-curved dildo like Lovey Productions' 321 Blastoff could have accelerated my understanding of my body. It's hard to top their unyielding intensity against my A-spot, especially. Think of them as njoy Pure Wand or Fun Wand Lite.
---
Features of the 321 (Blast Off) and Seahorse acrylic dildos by Lovey Productions
Shape & Size
If you love the targeted stimulation of a bent finger, listen up. These dildos reach into all of my hot spots and deliver a smorgasbord of big sensations with a small price tag: a mere $33.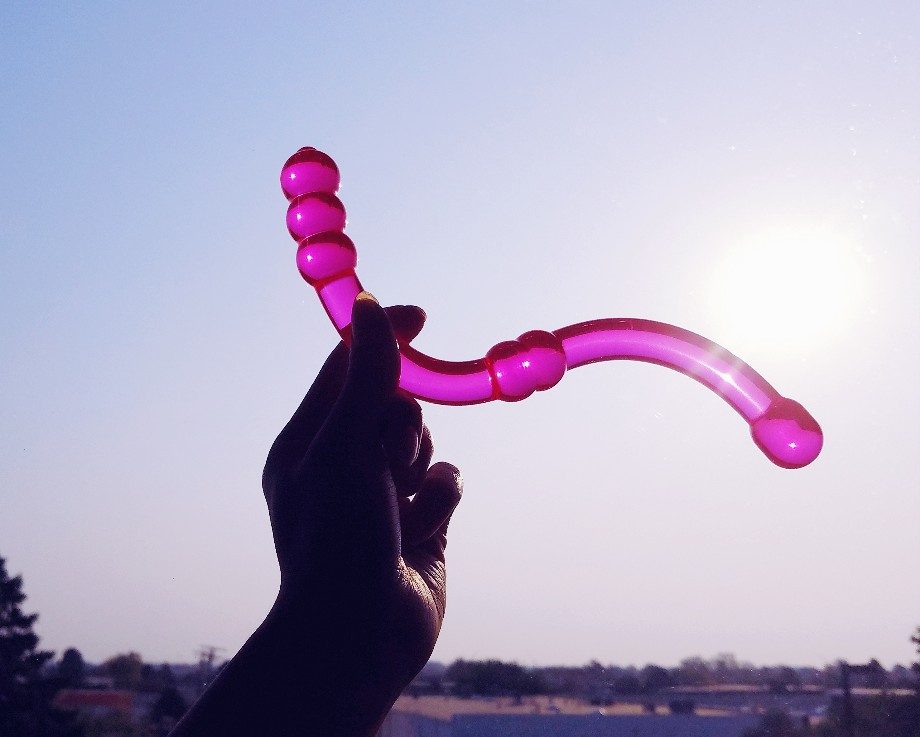 321 (Blast Off)
This acrylic dildo is totally rigid and measures 10″ from end to end. Though that may sound like a lot for vaginal use, remember: the point isn't to insert all of that, but to use the "extra" as a handle for precise aiming.
It's 0.7″ wide along the shaft and 1″ across the beads. One end of the 321 (Blast Off) dildo has three bulbs, the middle has two, and the other end has one — hence the name, 321.
The side with one bead features a far shallower curve suitable for deeper penetration and mind-bending cervical orgasms. You could go in about 7.25″ and still comfortably swivel around the cervical os.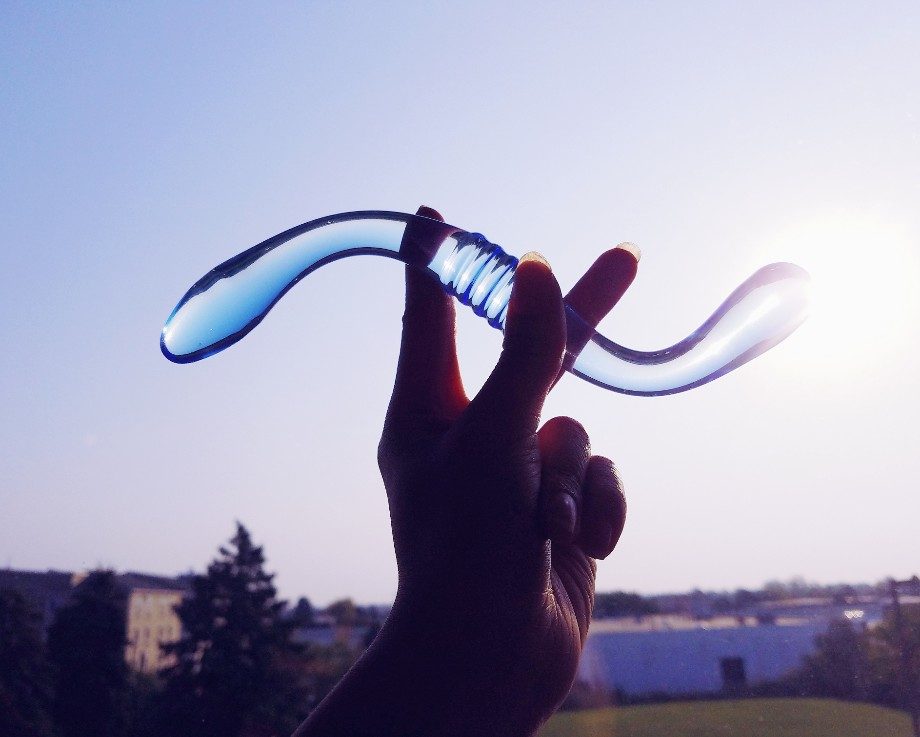 Seahorse
The Seahorse dildo is similar to the 321 (Blast Off), but its curve is far more steeply compacted. From tip to tip, it measures 9.2″.
One end is more pointed and tapered, while the other is relatively round. The middle features five small "bands" for surface-level sensation along the clitoris during thrusting.
I wish it didn't remind me so much of an earthworm. The dual stimulation — simultaneous G-spotting and clitoral grinding from penetration alone —happens to fit my very average anatomy nicely.
---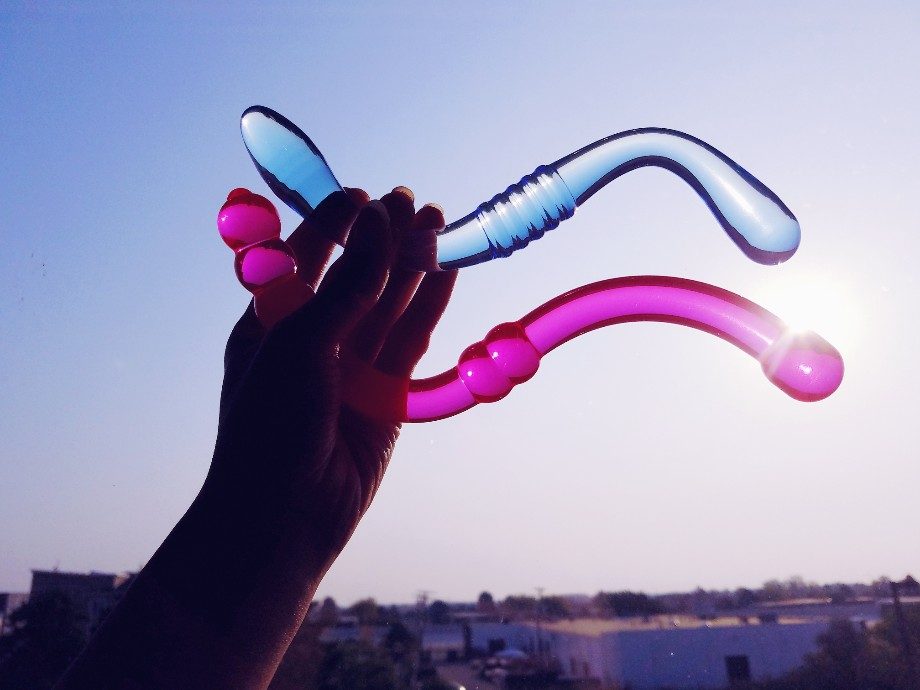 Acrylic Dildos 101
This review is my first featuring acrylic dildos, so you may have your reservations. Here are the main things you need to know about acrylic sex toys.
They are body-safe and easy to clean.
I only review insertables that are non-toxic and non-porous. As with other hard plastics, acrylic is only slightly more porous than say, glass or metal or silicone, but still far more hygienic than TPE and TPR. Clean it properly, and you won't have issues with microbes growing.
Acrylic dildos are sturdy will last a loooong time with care. For everyday washing, gentle soap and water suffice. They do scratch more easily than glass toys do, though.
For a more hardcore clean, spray, or wipe your acrylic dildo with a mild hydrogen peroxide solution. Don't use rubbing alcohol — that can cause the acrylic to crack! Let the peroxide sit for 5 minutes before washing again.
Acrylic dildos are rigid but lightweight.
You get the focus of a glass sex toy without the heft. While I enjoy the delicious feeling of my 4-pound Le Wand Contour steel dildo, I understand that it's a lot for some people's arms. Acrylic dildos are a great compromise: you get to push really fucking hard if you want, without as much stress.
And if you'd prefer gentle stimulation, you can always make small rocking motions. The targeted massage and minimal width also make these acrylic dildos a fantastic fit for helping those with pelvic floor tension relax.
---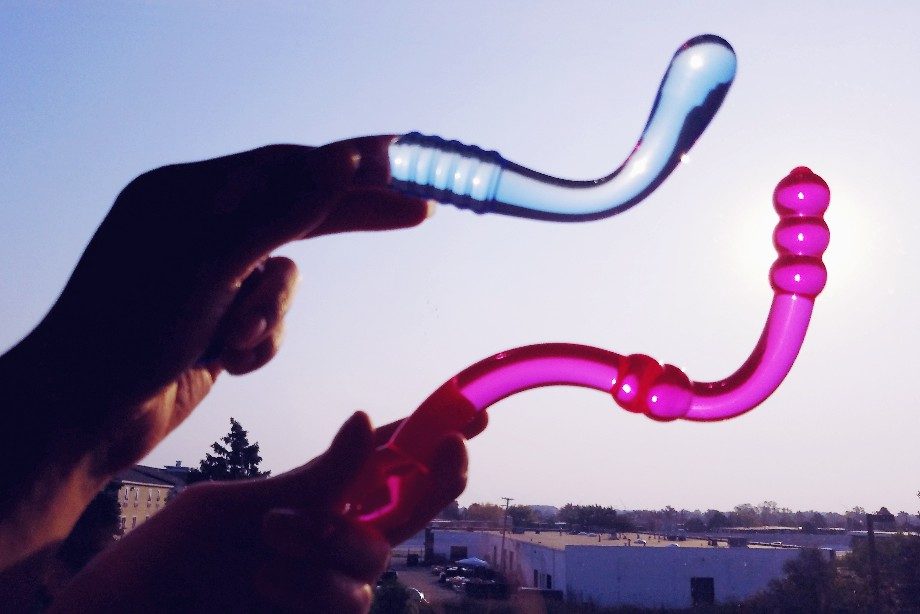 How the Lovey Productions 321 (Blast Off) and Seahorse dildos feel in use
I'll say upfront that I like the 321 (Blast Off) dildo way more than the Seahorse. The bulbed ends do a bit extra to grab on to my pubic bone's dip and lock in place, like a more lightweight version of the njoy Fun Wand or Pure Wand's small end.
If you've read my review of the latter, you know that's one of the highest compliments a G-spot dildo can get. If you haven't, just lay out a towel and be prepared for ejaculation, even if you think you can't squirt. That's how intense the orgasms are.
The Lovey Productions Seahorse dildo's more drastic curve limits its versatility — it's highly A-spotty but harder to control behind my cervix. As well, the Seahorse's pointy end doesn't do much for my G-spot. Its tip aims a bit too far past the sensitive area, unfortunately dodging my internal clitoris and urethral sponge.
---
How to use the S-curved dildo design to target your deep spots
I highly recommend reading my guides to cervical orgasms and the anterior fornix.
If you haven't already, I'll quickly summarize the A-spot and deep spot.
The cervix isn't just the vagina's end, but a structure that hangs down at the top. There are pockets around it that expand; the area behind the cervix is the posterior fornix (or PFE zone or deep spot), while the anterior fornix (or A-spot or AFE zone) is in front.
Exact erogenous spots vary from body to body. I find that reaching into the PFE zone is nice for massaging the actual cervical os, while the AFE is on the front wall and close to but separate from the cervix.
View this post on Instagram
Also, not everybody will enjoy playing with these spots. Consider them part of a buffet that you can choose to gorge on or taste just a little.
How to stimulate the A-spot and posterior fornix erogenous zones
You won't need much of my help to find your A-spot with these S-curved dildos. Push them all the way in while firmly pressed against the front wall — use the handle to get some leverage. Once you near the end of the vaginal canal, do some jiggling or twisting, and BAM, the A-spot is right there. Thrust harder, if you want. You can't avoid that hot spot with this dildo.
Playing with your cervix takes slightly more skilled hands. That's because we're trying not to jab too hard into it. As such, I suggest using the end with the shallower curve. Tilt the tip toward your back wall as the shaft goes in. Once you can't go any farther, do tiny rocking motions and thrusts, so you don't lose contact with the cervical os.
If that's a bit difficult, another option you can try is to turn the S-curve facing slightly to the side. Then, once you're behind the cervix, swivel the dildo's head by turning and rotating or revolving the handle in tiny circles. Say hello to the feeling of fluttery heart-eyes-emojis all over your body.
---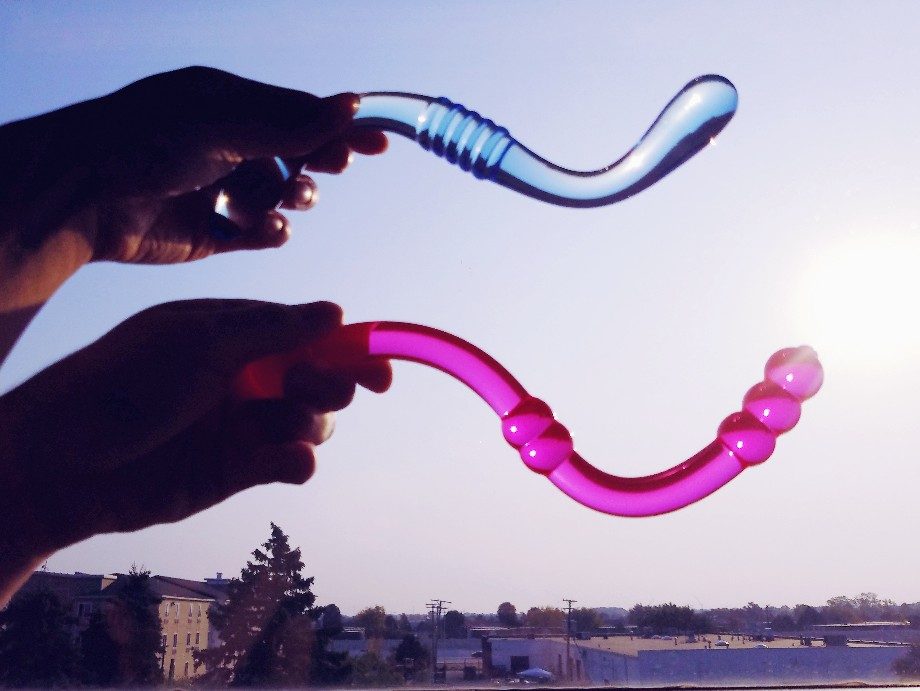 My verdict on the 321 (Blast Off) and Seahorse S-curved acrylic dildos
YES, the 321 (Blast Off) dildo is perfect for beginners to vaginal penetration. For $32, the G-spot, A-spot, and cervical sensations it offers are an absolute steal! The Lovey Productions 321 (Blast Off) does it all.
If you don't care that much for G-spot stimulation and want somewhat more of a deep penetration specialist, consider the Lovey Productions Dios Mío (available in 7/8″ and 1″) instead. It's about the same price.
Pair any of these dildos with a cheap but rumbly bullet like the Blush Gaia Eco, Maia Jessi, or BMS Essential. Voilà, you get deep spot stimulation, and blended orgasms for under $55.
It's a beautiful, budget-friendly start to a new sex toy collection.
---
This post was sponsored!
All words written here were my own. If you have a sex-positive business and want to collaborate, feel free to look at my past sponsored posts and get in touch!