Clone-A-Willy Kit review: how to life cast a penis in silicone!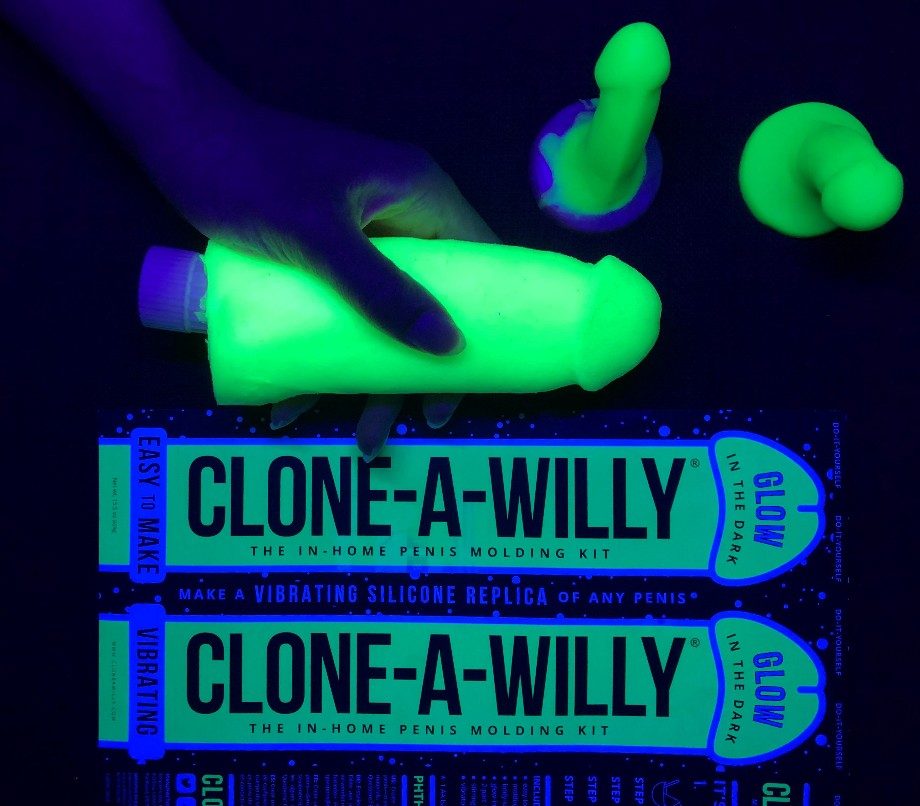 Imagine encountering (or creating) your dream cock, and how lovely it would be to customize a copy of it.
You pick a partner shape, cast it in body-safe and glow-in-the-dark silicone, and you make it vibrate! That's all potentially within reach for under $40, with the Clone-A-Willy kit by Empire Labs.
It contains everything you need to clone a cock of average size in the comfort of your own home. It's an idyllic concept for a partners' night in, and it's not too good to be true — if you learn from my boyfriend's and my mistakes when life casting his penis into a dildo.
We made FOUR ATTEMPTS before we got a functional mold. Our troubles were partly because his penis is well above average girth, so we had to modify the instructions.
Find out what went wrong for us, what went right, and actionable tips for a successful silicone penis lifecast and DIY dildo at home.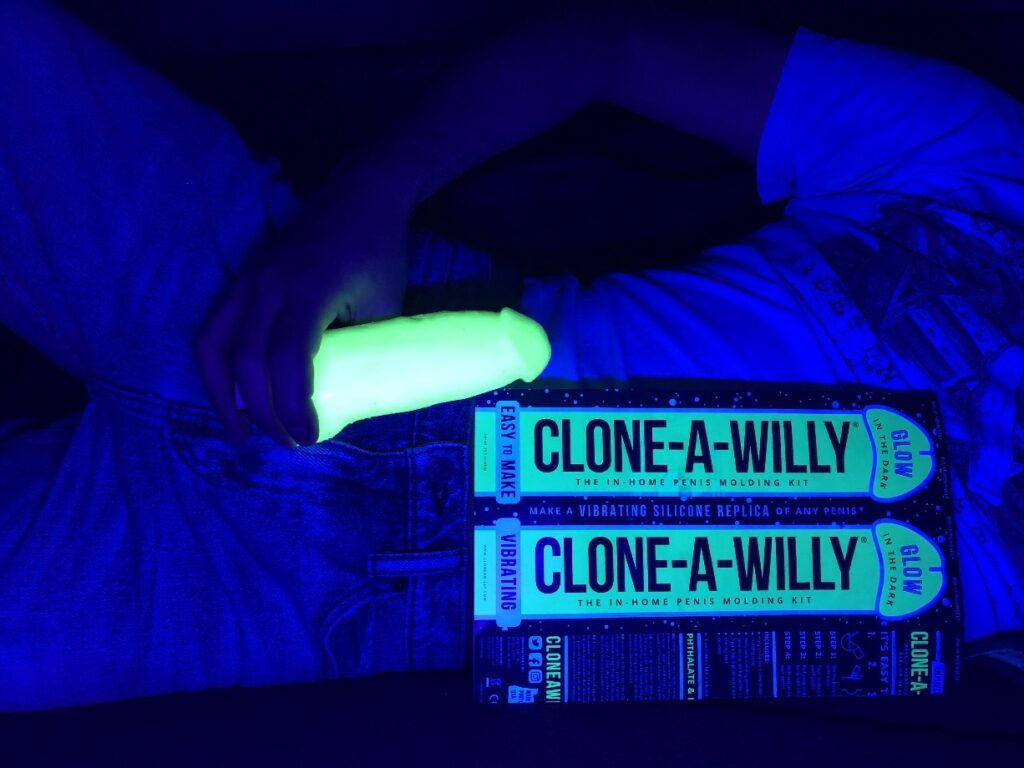 ---
In this Clone-A-Willy Kit review and troubleshooting guide
Click to jump to a section — I know it's a super long post!
---
What comes with the Clone-A-Willy Kit by Empire Labs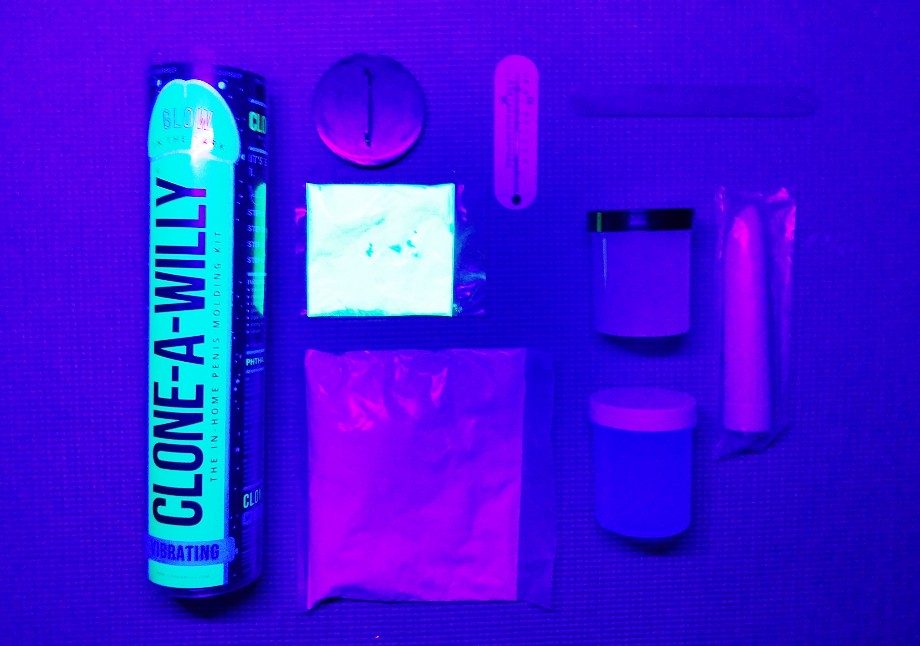 Clear packaging tube
The default container for the Clone-A-Willy kit components stands about 11 inches tall and 2.5 inches wide. Most penis-owners will have enough room in the tube to make a mold of their penis.
Unfortunately, my boyfriend's penis was too big for the included Clone-A-Willy kit tube. Remember: we needed some extra room for the molding compound to form "walls" and maintain its shape around the thing we cast. If the penis (or whatever else you're "cloning") is wider than 1.75″, you may need to find a bigger container.
Penis casting instructions
Mold making sounds simple, but it's not necessarily easy — so many things can go wrong. The kit includes basic instructions and troubleshooting tips. This Clone-A-Willy review will go into where they could have elaborated more.
Alginate powder
This algae-based mold compound is squishy, non-toxic, and flexible. There's just enough for one Clone-A-Willy attempt, so you may want to consider buying more — especially with a penis too big for the Clone-A-Willy kit's included tube. I'll elaborate on that later.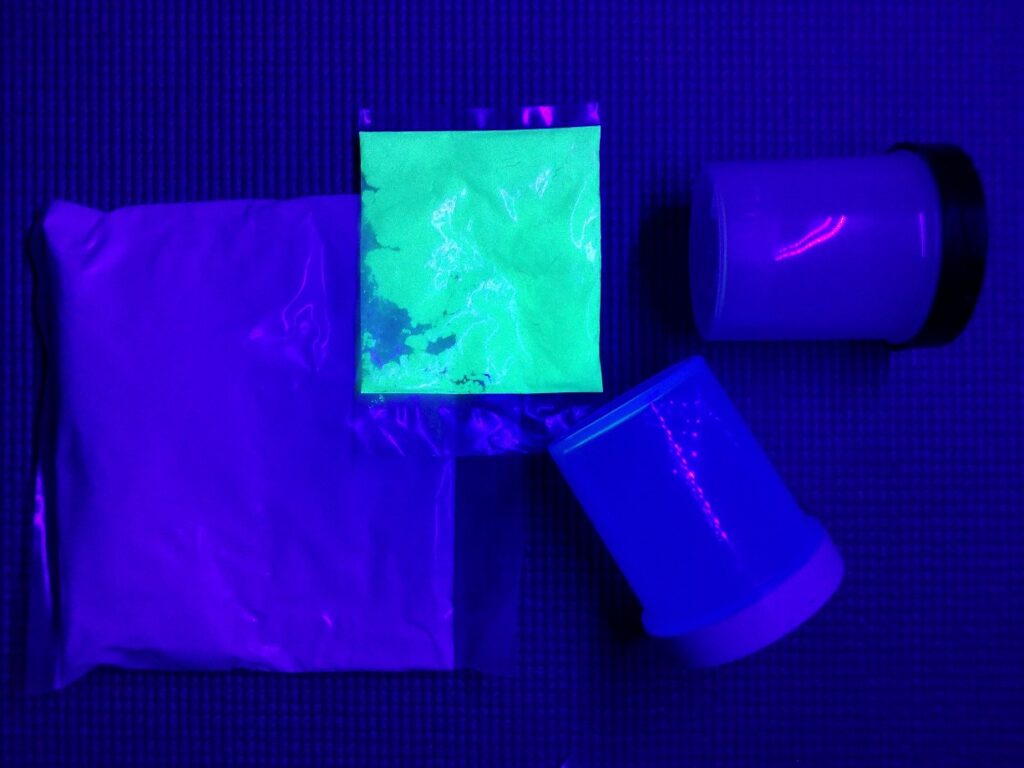 Thermometer
Cold alginate takes a longer time to set, while warmer alginate solidifies quickly. You want a nice balance between working time and, well, how long you have to keep a penis erect in goo.
Liquid silicone
Silicone is body-safe, easy-to-clean, and practically non-porous — all the good stuff.
Catalyst for curing
Self-explanatory. The silicone included in the Clone-A-Willy kit won't start solidifying until you mix the two liquids.
Pigment powder
This phosphorescent pigment is included if you got the glow-in-the-dark Clone-A-Willy kit as I did.
Popsicle stick
Super useful for scooping out every last bit of liquid from the jars.
Battery-powered bullet
Make your silicone penis life-cast vibrate. It's definitely buzzy and old-school, though.
---
What else you'll definitely need to make a silicone penis cast
Mixing bowl and cup
You'll be making two mixtures:
The molding compound
The liquid silicone
For the former, I recommend a smooth, wide bowl or cup. A pouring spout would be a bonus. For the latter, something smaller and disposable, like a stereotypical American red solo cup, is ideal.
We're working with a viscous fluid that sticks to the cup's sides, so I don't want to waste silicone. (We barely had enough to make a copy of my boyfriend's penis!)
Something to stir with
For the alginate molding compound, I highly recommend a whisk for smooth mixing. For the silicone, use the included popsicle stick.
Measuring cup
You'll need to measure about 1 3/4 cups of water to mix with the alginate molding powder included.
Scissors
For trimming down the tube and cutting a cardboard "base" for aligning the bullet.
A timer
You're reading this blog post online, so presumably, you know how to find a timer.
---
[Browsing on a desktop? Click to jump back up and see additional recommended materials!]
---
Optional things to have handy for best Clone-A-Willy results
Something (or someone) to keep you hard
Sex with lumpy mashed potatoes probably doesn't sound sexy, does it? Remember: the penis has still to stay hard and stationary while the alginate sets.
It should be erect and ready-to-go as soon as the molding gel is mixed. Your best bet is to start something sexy, jack off while someone (or something) else stirs, then GO TIME.
Additional alginate for second (or third, or fourth…) attempts
You could get single-use packets containing just enough for one more mold from the Clone-A-Willy brand, or shop elsewhere entirely and get A LOT more powder for not much more money. I opted for the latter.
Smooth, hard work surface
Mold making and casting are MESSY. You most likely WILL spill some gooey liquid alginate, which is hard to get out of clothes and carpet.
Marker or some masking tape
If you're trimming down the tube, it helps to mark where you're going to cut. Ideally, it would be level so you can angle the bullet properly.
Small piece of cardboard
It holds the bullet in place at the top of the mold while the silicone cures.
Fine-grit sandpaper
If you have air bubbles in the alginate mold mix, that may result in unsightly bumps on your cloned willy. For purely cosmetic reasons, you may want to sand out some of the blemishes.
---
---
Basic instructions for making a silicone cast of a penis
The guide included in the Clone-A-Willy kit makes it sound deceptively simple. The makers have a whole-ass demo video about that, so this section will be more about my boyfriend's and my personal experience.
Making an alginate mold of a penis
Get some water that's just under 90 degrees Fahrenheit.

The instructions say to go just over, but I prefer to go a little under for a longer working time.
Mix the water and alginate in less than 30 seconds.

The instructions say lumps are okay — and they are, to an extent, but it's best to use a whisk and stir well.

Pour it into the tube. Go fast, but be careful not to get air bubbles in.
Stick the hard penis or model in there ASAP, and let it sit for 2 minutes.

THE WORST PART. My boyfriend was SO HAPPY when we finally got a functional mold!

Slowly pull the cock or model out once the gel has solidified

Going flaccid helps a lot. Unfortunately, the process of pulling out of the alginate caused suction, which got him harder again. I quickly thought of an unsexy face twitch and dinosaur dance to do.
You can wait for two hours for the mold to dry a little bit and get more detail.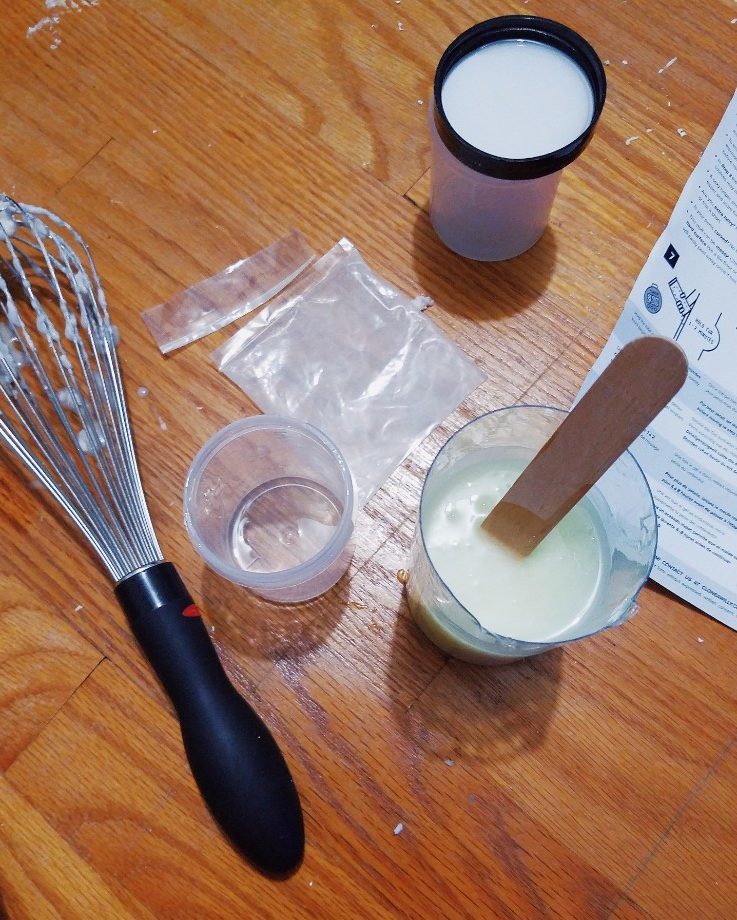 DIY casting a dildo in silicone
Mix the silicone and catalyst (and pigment, if applicable).
Pour slowly into the mold.
Wait 24 hours for the silicone to fully cure.
Unmold your creation!
---
What to do if your Clone-A-Willy mold doesn't set properly or isn't up to your standards
That's a genuine possibility. Again, my boyfriend and I went through the molding process FOUR times before we got one we liked. Here's a run-down of how we fucked up.
Clone-a-willy mistake #1: the water was way too warm
My boyfriend went way over 90 degrees, which made the alginate set way too fast before we could even get his penis in the tube. It also didn't help that he wasn't jacking off while I was stirring, so we had to get him hard.
If you messed up with your Clone-A-Willy kit, and you don't have any molding powder left, don't fret! You can easily order another bag of alginate.
I'm not partial to any particular brand. You could buy some from Clone-A-Willy, but I chose a cheaper and fast-setting one that's typically used for making dental molds. It cost me about $15.
Mistake #2: penis too big for clone-a-willy kit?
From that point on, I was the one to check the temperature and make sure it was slightly below 90 F. And still, we experienced an issue that neither of us anticipated.
It's not that it didn't fit, but the alginate mold left behind was so thin and flimsy that it wouldn't hold up as he pulled out. Ope. Back to Square 1.
Mistake #3: air bubbles and lumpiness
We did the math, weighed our alginate with a food scale, mixed it, and filled up a reusable water bottle instead of the default Clone-A-Willy tube.
At the time, though, I didn't yet know that Failure #1 was due to warm water, so I was super paranoid about not having enough working time. I was hasty AF with the mixing.
And like, yes, the instructions say that some lumps in your alginate are fine, but there are limitations to that. Having some unmixed powder means that there's trapped air that may arise, and there was a biiiiig air bubble near the tip of the mold. No bueno.
---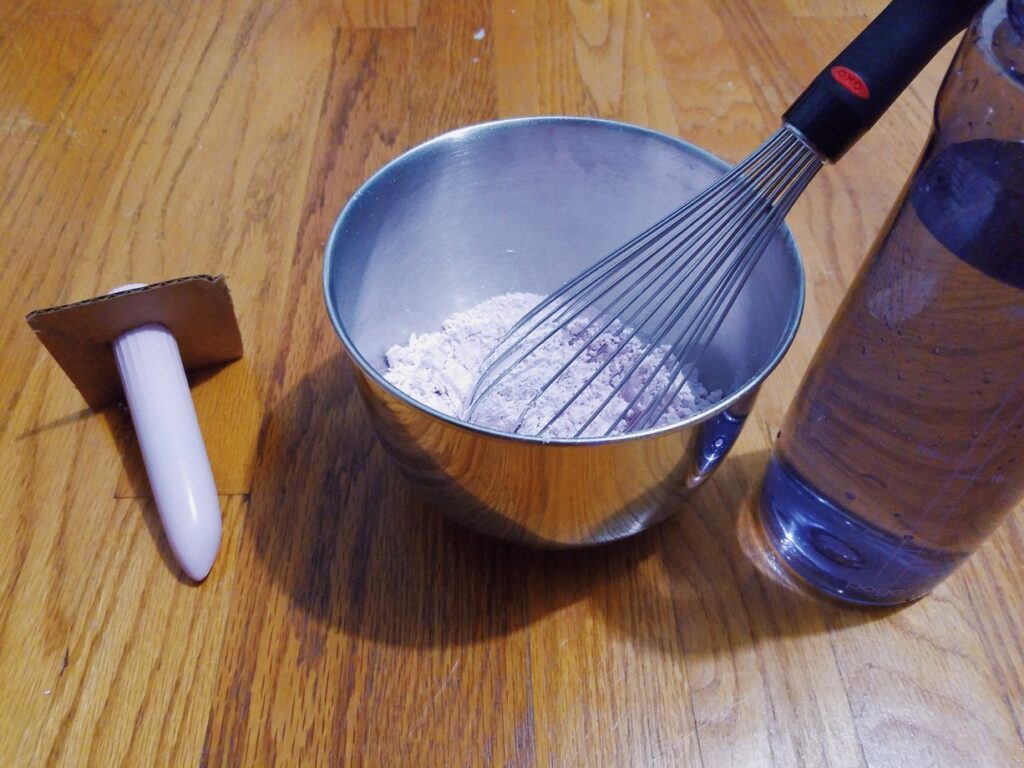 ---
Clone-A-Willy penis casting kit attempt #4: SUCCESS!
We learned from our mistakes. Here's a recap of what we did differently to have a successful Clone-A-Willy penis alginate mold:
Use water slightly below 90 F
Have the hard cock ready to go right away
Use a water bottle to make the mold.
Stir with a whisk instead of a fork

Just keep your motions horizontal and do not mix in any additional air!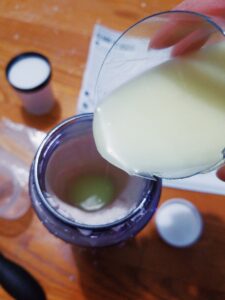 The rest of it was mostly smooth sailing. I mixed the silicone, poured it in a small stream, and waited 24 hours before pulling.
The only problem with it was that the bullet migrated a little and angled itself. If I were to do another Clone-A-Willy attempt, I would omit the vibrator. I'm not big on vibrating dildos anyway. The bullet's alignment adds another layer of potential problems, especially if someone put their penis in at an angle.
---
And here's the result of using the Clone-A-Willy kit with my boyfriend!
During the day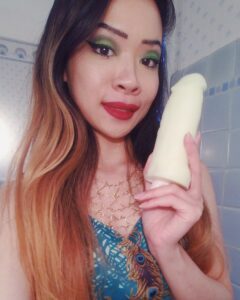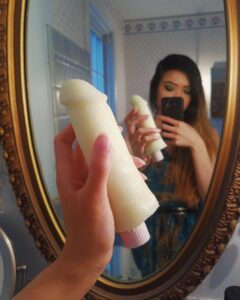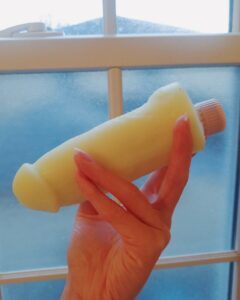 While glowing
Overall, the silicone cast itself is beautiful! We got lots of skin-like detailing at the tip, and the phosphorescent pigment is SUPER bright and concentrated!
Here's a picture of the glow-in-the-dark Clone-A-Willy kit result next to some other glowing dildos and minis.
---
My verdict on the Clone-A-Willy kit by Empire Labs
On paper, the Clone-A-Willy kit can be an affordable and quirky couples' night in. In practice, it's totally normal not to get it right the first time. Keep that in mind, when budgeting costs and time; be liberal with your estimate about how long it will take.
And this project was not my first time making an alginate mold! I had enough experience to know that sculpture is often much more difficult than it sounds, but not enough to know all the ways that would manifest.
While you don't need extra alginate on hand, remember that you have options if you mess up your Clone-A-Willy mold. This pint-sized package of a package contains just enough to be an affordable dildo casting starter kit, but it's not comprehensive.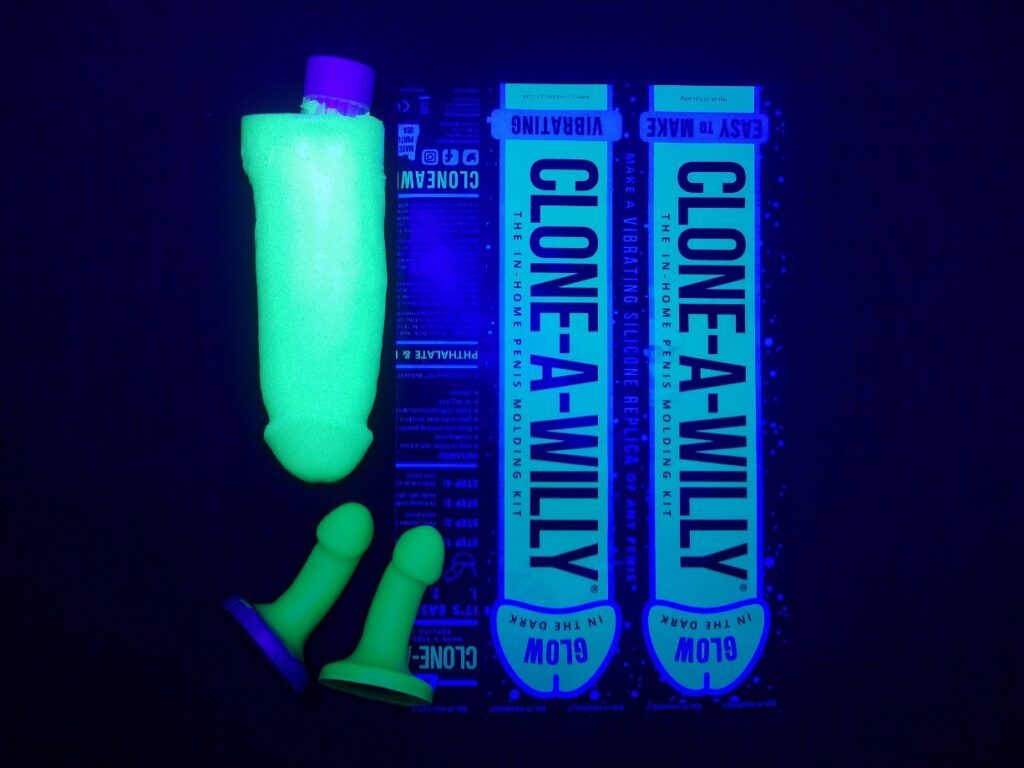 The fun doesn't stop there! Consider fists, vulvas, and dream dicks sculpted out of clay, too.
If learning how to DIY cast a silicone dildo at home seriously interests you, consider investing. As tedious as the Clone-A-Willy molding and casting process was, it was also fulfilling. I'm looking forward to cloning a vulva and fist, too. With the amount of materials I'd need, it may be cheaper in total to shop for materials outside of what's available in the kits.
For a one-off DIY custom vibrating silicone dildo, though?
Check out all the Clone-A-Willy colors available:
Hot pink
Neon purple
Flat black
Deep skin tone
Medium skin tone
Light skin tone
Glow pink
Glow green
Glow blue
Light skin tone with balls
Alginate molding powder refill
---