Vixen Creations VixSkin Gambler review: HUGE dildo fatter than soda can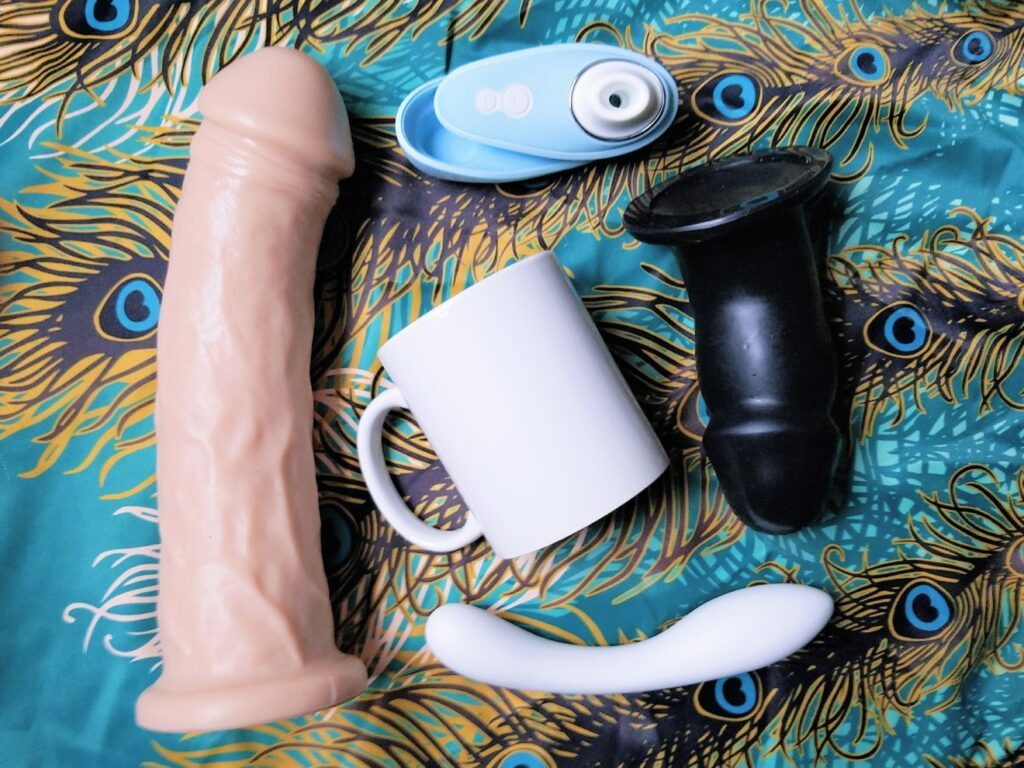 I've compared the stout and labor-like-scream-inducing Vixen Creations Randy to a soda can. But its girth is "only" comparable to a soda can's top. The Gambler takes it a step farther, just shy of 3 inches wide.
It's bigger than a soda can's widest cross-section, and certainly fatter than I've ever gone before. Instead of a soda can for size comparison in photos, I brought out a ceramic mug.
This behemoth's girth is like my Randy with an added layer of squishier silicone, making it surprisingly comfortable to transition in size. My cervix also appreciates that the Gambler's head is nothing but squish. And while I initially thought of the length as excessive, it comes in handy during partner play. In short, the VixSkin Gambler combines practically everything I love about the Randy and the VixSkin Outlaw.
But how do you feel about the VixSkin Gambler?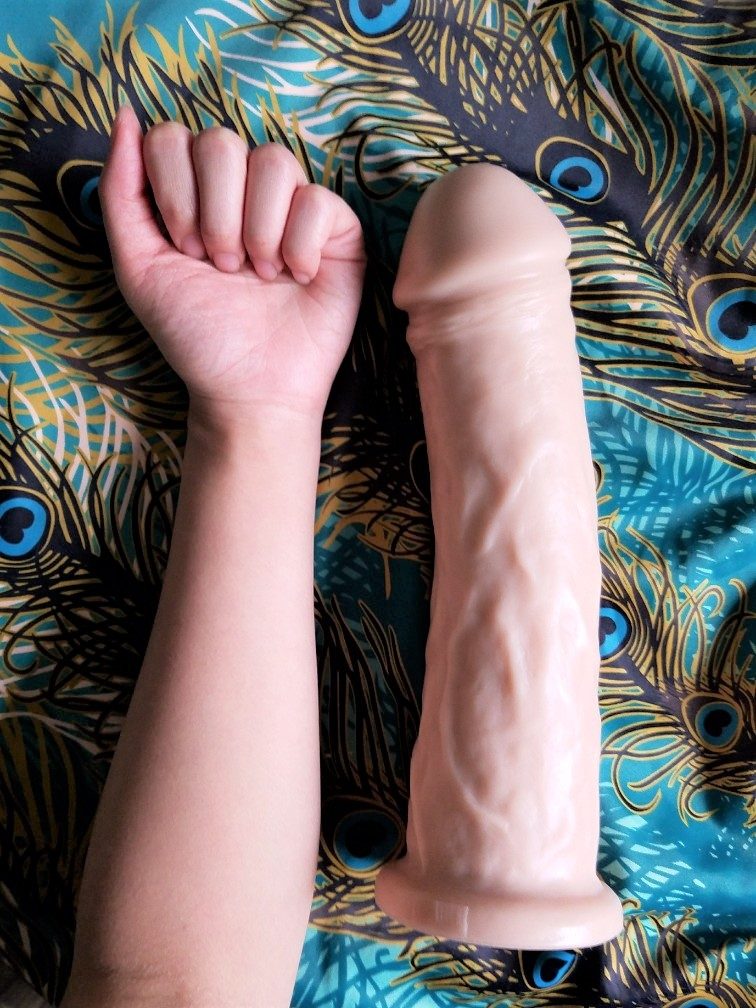 Facts and figures are useful for shock value, but they don't do justice to how the Gambler feels. Buying a VixSkin Gambler is like paying once for a lifetime of access to altered states of consciousness. It's euphoria that people spend good money for, except unlike consumable psychoactives, you don't have to replace it.
The Gambler deserves an hour or more set aside just for it. "One more orgasm" and some light thrusting quickly turns into ten more minutes straight of screaming and shaking. And another ten minutes. And another. The average American spends 6 months of their life waiting at red traffic lights; I'll probably spend more time than that coming on the Gambler.
They're the kind of orgasms where a mere sliver of my subconscious fires, "Oh fuck, I'm going to be stuck like this forever. If this is how I die, then so be it." My conscious mind, meanwhile, is barely active. The only words in its vocabulary are "fuck" and "God."
This experience demands a full-on ritualistic setup, complete with hydration, snacks, soothing music, and an extra pillow to scream into during (or snuggle after) the session. I afterward reached for a glass of water on our nightstand to soothe my throat, dry from all the gasping. It felt like every cell in my body was airy and fluttery, like I was barely a physical form after using the Gambler.
"I can't tell whether you like that toy," my boyfriend said in sarcasm.
Stimulating my internal erogenous zones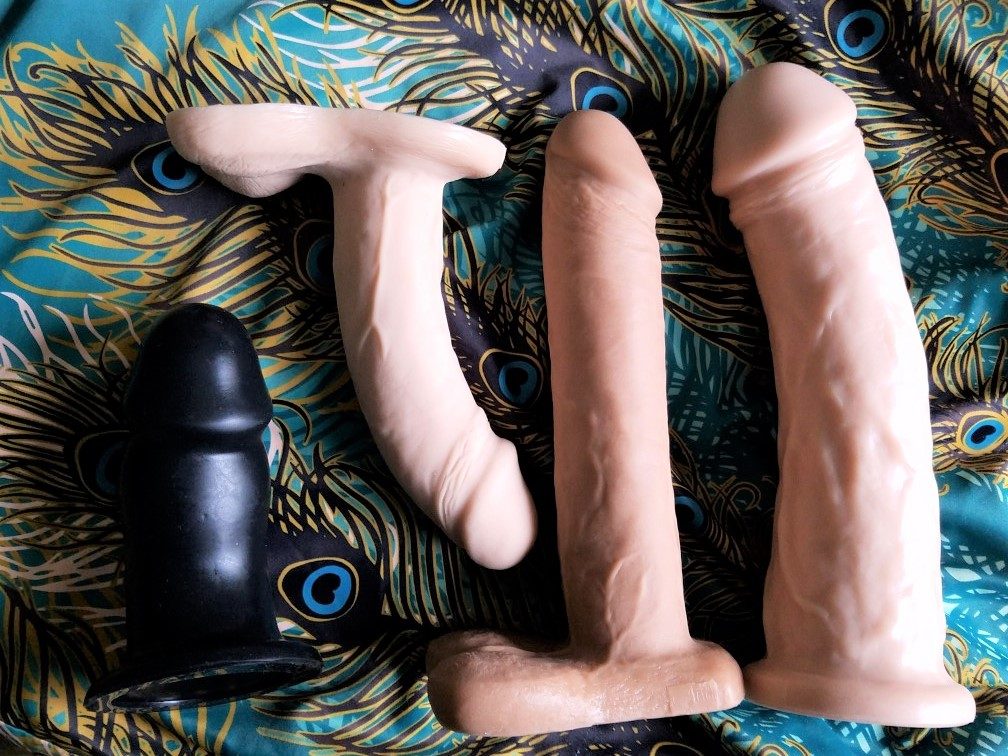 Thickness is not the only feature I credit for the VixSkin Gambler's intensity. Its firm core also has a subtle curve for effortlessly rocking my front wall, while the head's silicone is squishy enough to massage my cervix without pain.
For comparison, I do not want to push the single-density Randy all the way in and near my cervix. A dildo head that fat, centered, and unyielding has no sense of subtlety. With the Randy, I chose to sacrifice cervix stimulation for the sake of firm G-spot pressure. The VixSkin Gambler, however, shows that I don't have to make any trade-offs.
Pressing the VixSkin Gambler against my front wall
Its even more extreme girth means that the protruding corona has nowhere else to go but dig into my front wall. The head and foreskin textures mercilessly grab and pull on my G-spot. When my boyfriend tilts the Gambler's head forward, I notice a stark difference in orgasm intensity. I immediately have to grab on to something to maintain a shred of composure. My boyfriend shoves a pillow in my face.
Even though I enjoy it all, I can barely separate the broad G-spot and A-spot pressure from the general "LSJDFKLSDJFLSKGH OMFG?!?!" of being stretched. Everything orchestrates and melts together— there's so much happening at once.
Behind my cervix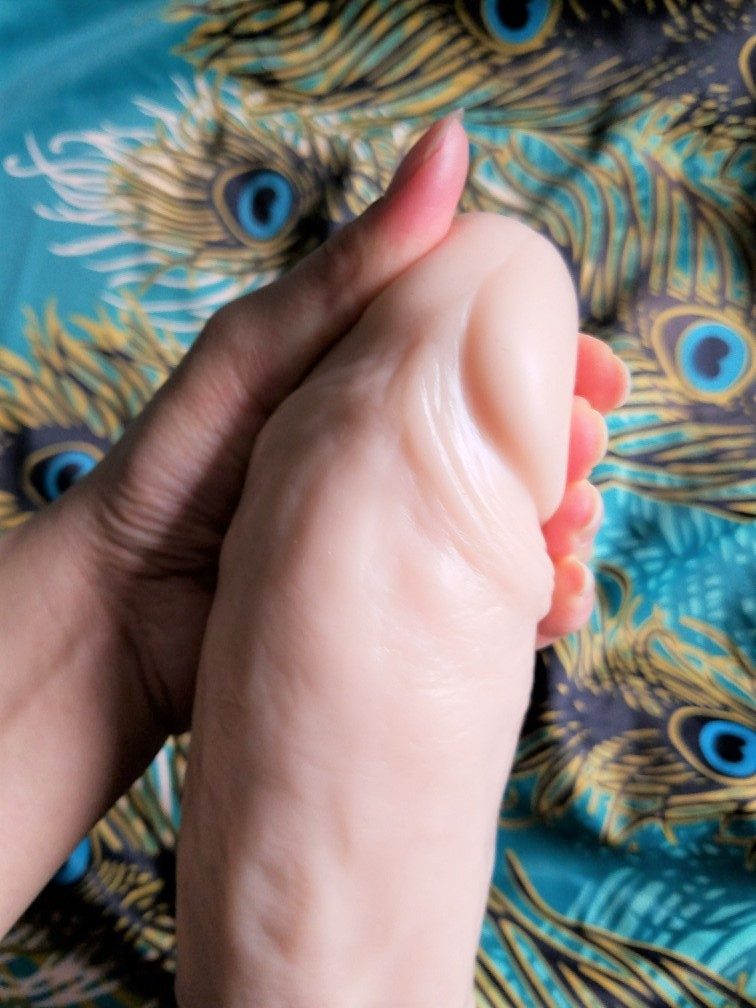 My cervix is more discerning of the Gambler's presence. Because it's so big, it doesn't bash all the way into my posterior fornix the way other toys do. I prefer to nudge and finesse with smoother thrusts. Nudge, nudge. Come. Hold the Gambler in place all the way in. Come some more. Repeat the never-ending cycle of ecstasy.
Boom, boom, boom. With the thickness, curve, and dual-density squish, it's not hard to see why the Vixen Creations VixSkin Gambler is such a trip to plan for. This massive package is the full package. It offers serious pressure against my internal clitoris and A-spot but is also just right for coaxing my cervix into flooding my whole body with heart-eyes emojis. I wouldn't change anything about this dildo.
A good length for partner use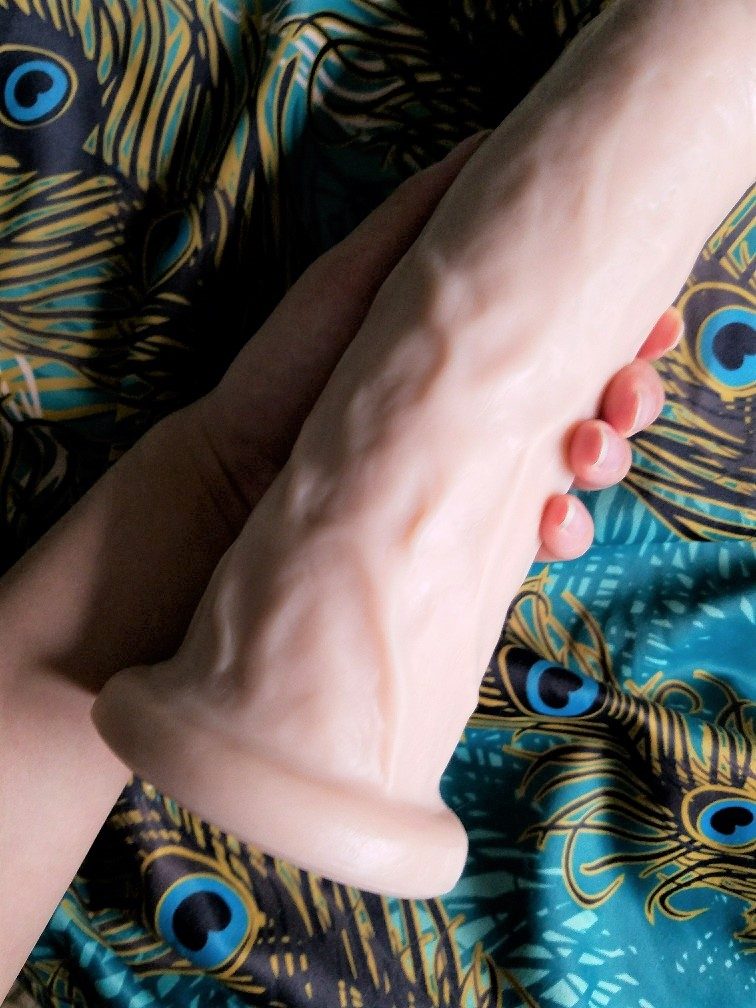 I'm usually big on opportunities to cut costs for the manufacturer and consumer. It makes sense that, if a dildo is short, it takes less silicone to make, and would cost less.
So to me, 10 1/2 inches sounded like a bit much. After all, the VixSkin Gambler is so fat that my vagina would take AT MOST 6 inches of length, right? And I'm sure some people would love doing deep butt stuff with this toy, but that's not me.
Here's the thing, though: not inserting all of the Gambler's shaft doesn't mean that I'm not using it. When angling a dildo this thick, there's much resistance from my walls. And there needs to be some "extra" length to control the tip's tilt. If the VixSkin Gambler were much shorter— like, shorter than the Outlaw— it would be substantially more difficult to control, especially during partner play.
During solo play, you might want to take advantage of the suction cup. My favorite place to prop and ride the Gambler is along the perimeter of a bathtub.
Final thoughts on the VixSkin Gambler dual-density dildo by Vixen Creations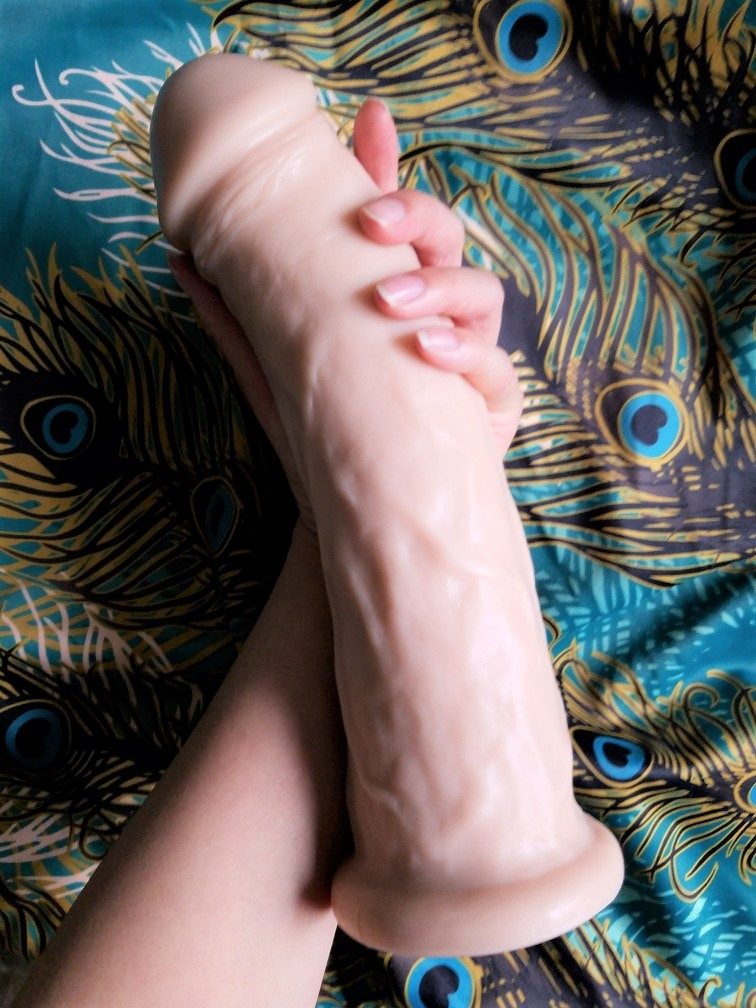 As far as ridiculously intense orgasms go, no other toy I own beats the Gambler.
1
I've certainly had partners who would have felt threatened by its size, but my boyfriend has outright told me, "Every toy for you is a toy for us."
If I enjoy using a sex toy, he enjoys watching me enjoy it, too. So, of course, the Gambler is his favorite to use on me. The one he requested I play with most often. It's potent and all-consuming, making him jealous of me for having a vagina. And then we have penis-in-vag sex afterward.
If you already know that you can envelop the single-density Vixen Creations Randy, then the dual-density Gambler isn't that drastic of a jump. Remember: the Gambler's firm core is about the same thickness as the Randy, and the head and ~3/4″ thick outer layer is made of very forgiving squish.
My experiences with the many large sex toys in my collection have been overwhelmingly positive. And while the VixSkin Gambler isn't the most practical toy to take with me when traveling, it's the kind of toy that deserves a shrine. If my love for this dildo doesn't motivate me to settle down and own a home, I don't know what will.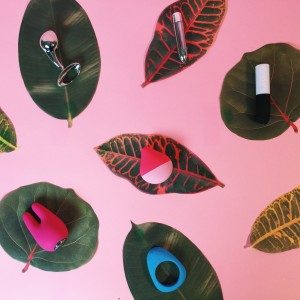 The coupon applies sitewide, so use it for anything else you want from Spectrum. If a Gambler is way too big for you, consider Vixen Creations' other products.
In case you couldn't tell, I'm a big fan of the Randy, Outlaw, and Johnny. And the Mustang is a more average-sized VixSkin option.
If you buy via my links, I earn a commission at no extra cost to you. Your support is what makes this sex toy review blog possible!
Also, check me out on Instagram. Sometimes I'm extra, and sometimes I'm funny on my social media.
Footnotes
The Eroscillator is up there, though.