Uberrime Xenuphora tentacle fantasy dildo review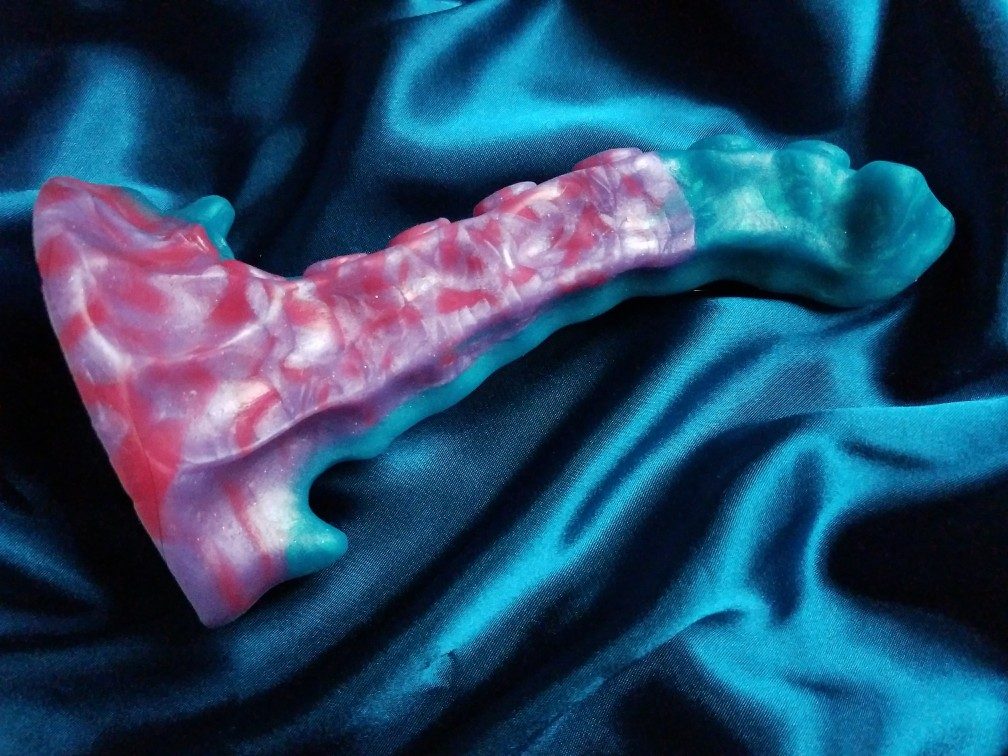 It's one thing to say that I enjoy vertical textures. It's another to come via the twisting motion alone or to feel like I'd go insane if I stopped twisting the Uberrime Xenuphora's addictive angles left-and-right inside me. What's more, I want to squish its deliciously textured shaft against my clit while thrusting.
The Uberrime Xenuphora tentacle dildo is a looker for sure (just like everything else Uberrime makes). But its design isn't ENTIRELY decorative. Its vertical edges and pronounced suction cups give me sensations I didn't even realize I was craving.
What makes the Uberrime Xenuphora unique?
A sharp, angular build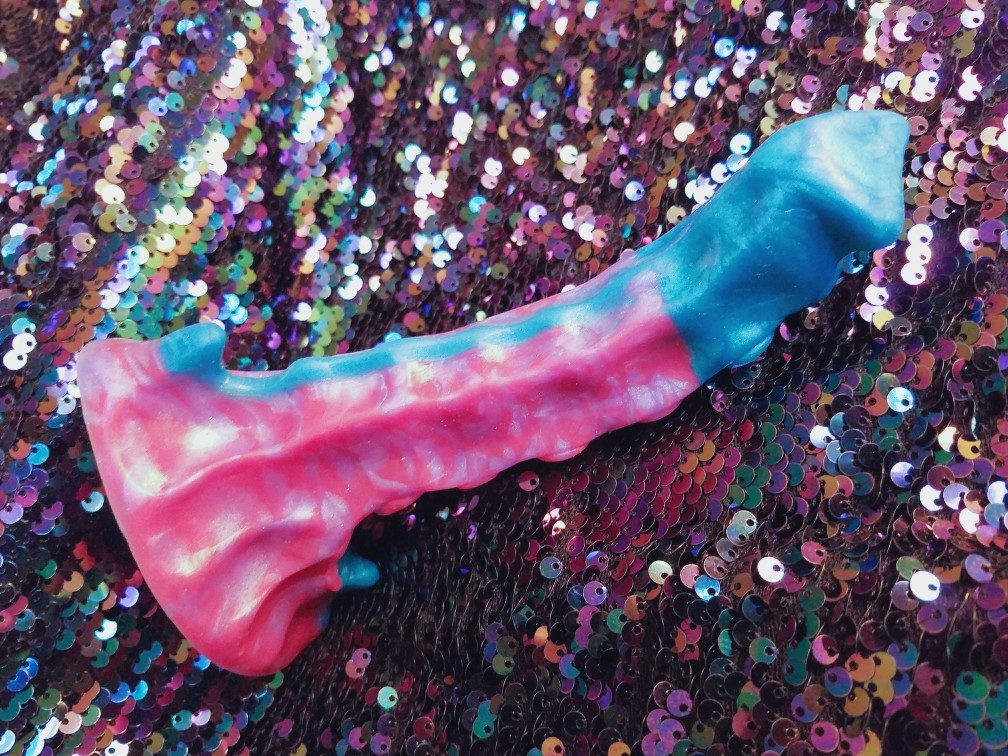 There isn't exactly a shortage of tentacle dildos on the market. But if you sliced them into cross-sections, the overwhelming majority of them would be ellipses or ovoid, with some surface texture. Not the Xenuphora— its slices would be more like pentagons with one angle squished. In other words, this dildo's very structure begins with novel sensations in mind, instead of having some suction cups slapped onto an otherwise basic form.
Imagine someone tightly flexing their bony fingers so that the pads met the bases. And the middle segment pressed and swiveled against the shallowest part of your front wall. Feeling one of the Xenuphora's more intense edges is kind of like that, but sharper. More crisp and targeted. With some undulating waves and a tiny hint of the higher-resolution suction cups. As you turn the suction-cupped side away, the edges get less pronounced, giving you options for your level of intensity.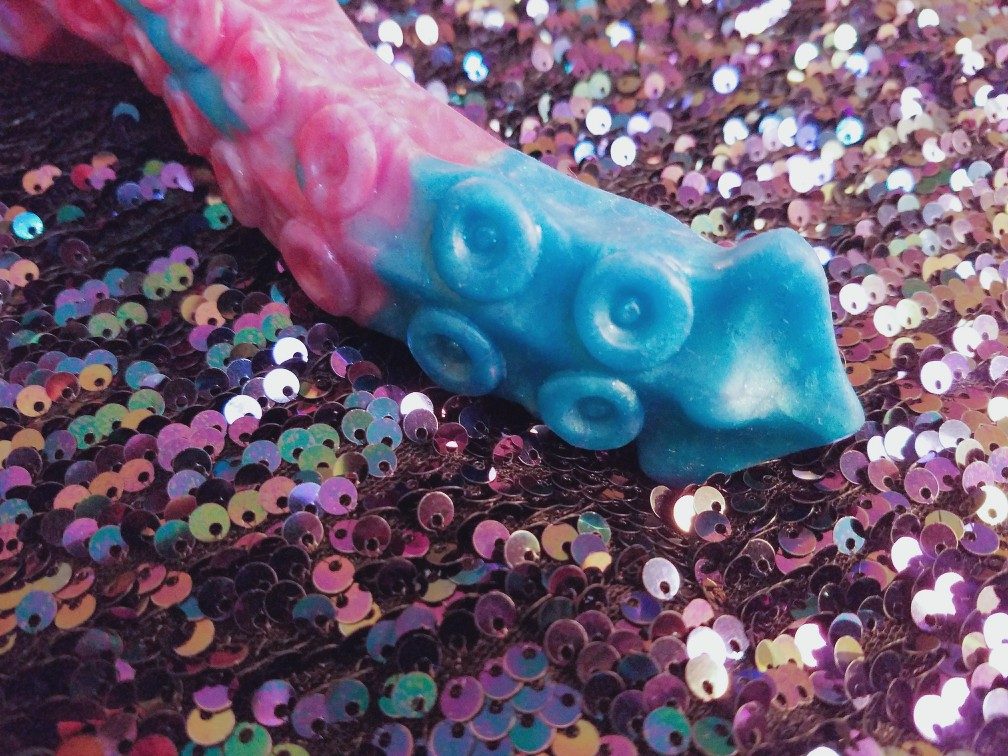 And that flared head? Oof. Fuck me sideways. Literally. If I'm holding on to the middle of the shaft to tip drill, turning the Xenuphora sideways gives me some gentle but precise G-spot stimulation. This head shape is less about pounding (the shaft is too flexible for that, anyway) and more about tracing circles on my internal clitoris. Its subtle stimulation is controlled and enough to make me come.
But why would I want to stop when there are so many angles, dips, and bumps to play with?
An unintimidating size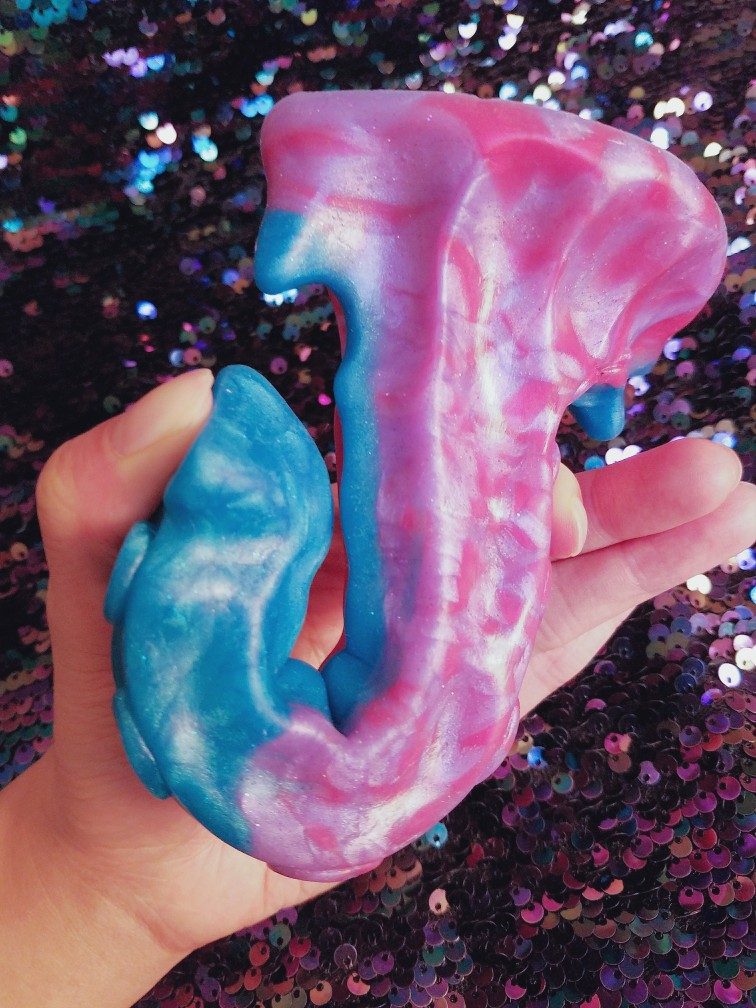 The Uberrime Xenuphora's design also caters to an unfortunately underserved audience. Its very average 5.5″ insertable length and 1.4″ diameter are for those who have previously only drooled at photos of fantasy dildos— feeling intimidated by most of their gargantuan measurements.

I'm not one of those people anymore. But I remember a time when even a 1.75″ thick dildo seemed humongous to me. The Uberrime Xenuphora's size feels substantially more approachable for the average user. Not everyone is comfortable with a firm dildo as thick (or thicker than) a soda can, and I respect that.
Even if I could request a bigger Xenuphora, I probably wouldn't, unless I could get a squishier one. The one I have was cast in 10A Shore (springy but not squishy) hardness silicone. In this size, I think the firmness is perfect for bringing out plenty of delicious, targeted pressure from the head's points, along with some generalized but consistent "OMFG" from the rows of suction cups.
The Xenuphora's quizzical suction cup placement
I don't completely understand why the suction cups are on the outside of the ostensible G-spot curve. Not when surface-level back wall stimulation doesn't do much for me. But I dig using the curve for deep pressure against my back wall.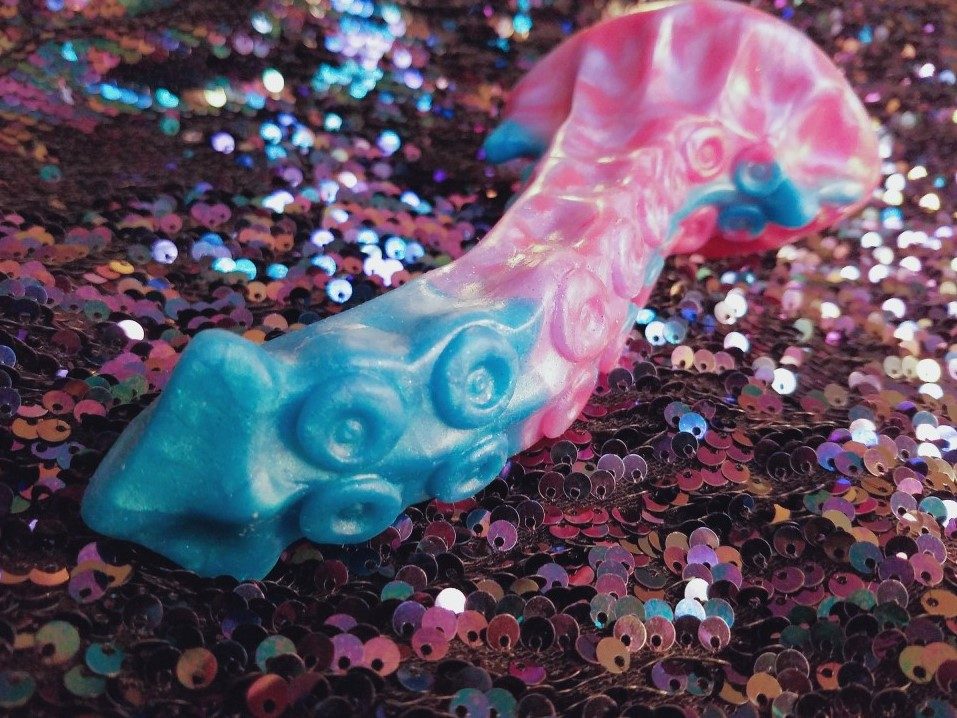 You might remember me talking about the perineal sponge way back in my Chrystalino Champ review. Perineal sponge (PS-spot) stimulation is like massaging my butthole through my back vaginal wall. And the technique is akin to targeting the G-spot but on the opposite side of the vagina— highly intuitive with the Uberrime Xenuphora's gentle curve. (Side note: pressing a more severely curved G-spot dildo against my back wall feels a bit like I need to poo.)
To be clear, PS-spot massage merely feels pleasant to me. Alone, it's not enough to make me come. But when I angle the Xenuphora so that the curve targets that spot on my back wall, the tentacle suction cups also slide along my front wall and clitoris. And that is a harmonious symphony.
Shallow vs. deep penetration with the Xenuphora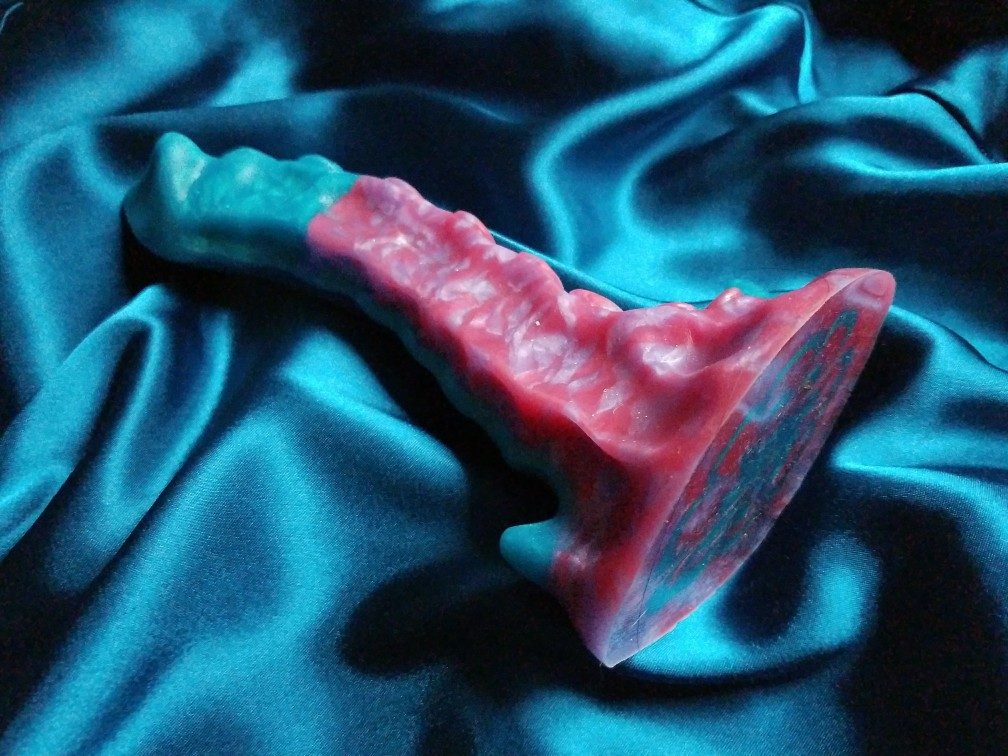 Most of the Uberrime Xenuphora's strengths, like the suction cups and spear-like head, shine their brightest during shallow insertion. Once you go deeper, there are two main attractions: the sharper edges, and the bumps on the base.
The closer you get to the base, the sharper the edges get. At their sharpest, we're talking the thickness of a sheet of cardboard. But that doesn't mean they feel harsh by my standards. Quite the contrary— because they're so thin, they're flexible and yielding.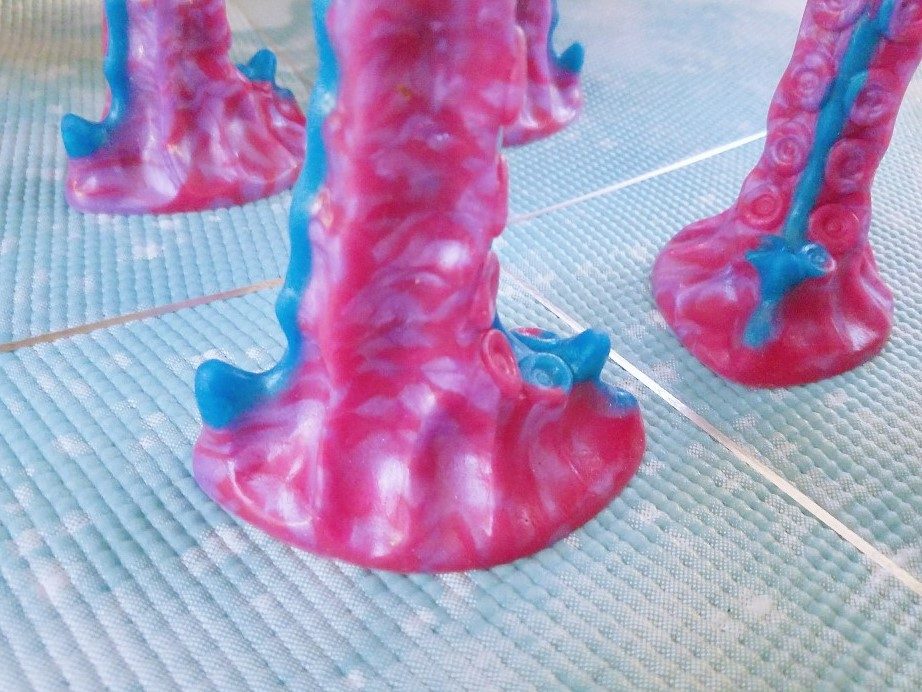 It's also hard to miss the raised bumps on the base. I have a very average clit-vag gap of one inch, which lines up perfectly with the bump on the suction cup side for nudging and twisting. And even if the Xenuphora doesn't align with your anatomy as neatly as mine, its shaft is bendy enough that you could finesse it to fit your external junk.
Most times I'm using the Xenuphora, though, I'm not thrusting it all the way. Twisting, maybe. But pushing it against my "go hard or go home" deep spots doesn't do justice to the Xenuphora's contours.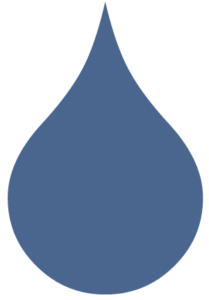 Cleaning the Uberrime Xenuphora
It's true: the surface's intricacies hide much vag gunk. I recommend getting a soft-bristled toothbrush for cleaning the nooks and crannies. A pain in the ass? Maybe a bit, but the suction cups are only on one face of the dildo's shaft. It doesn't take much time to scrub them.
If you're more scrupulous, though, you could also boil the silicone for 5-10 minutes to kill germs.
Final thoughts on the Uberrime Xenuphora tentacle dildo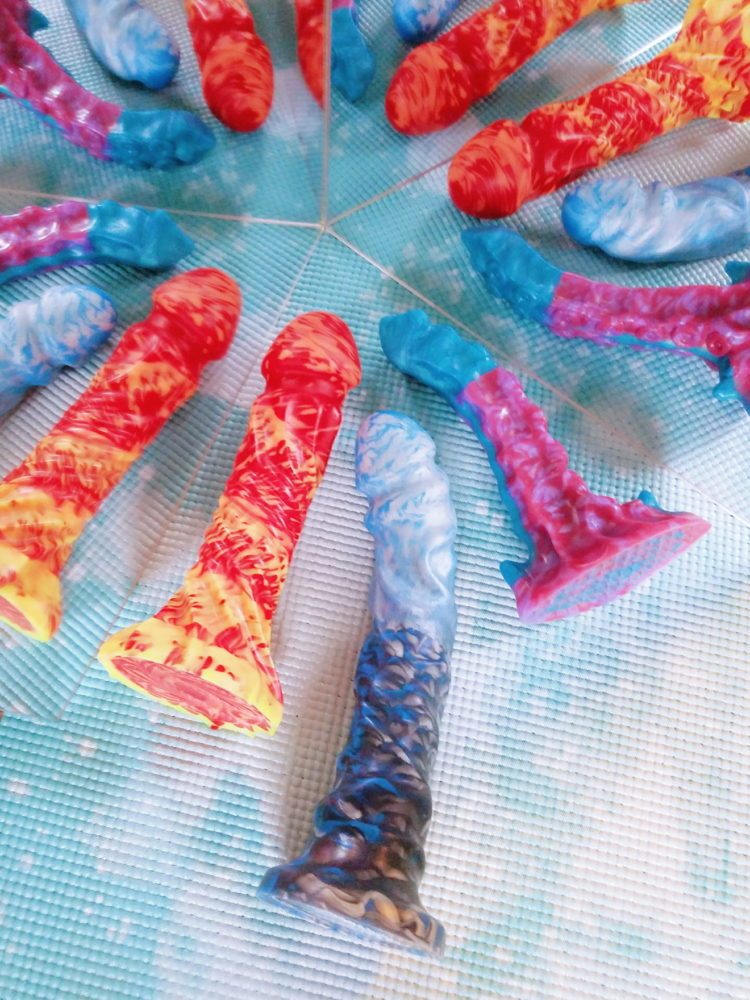 I liked this dildo way more than I expected to. Usually, I reach for more massive, firmer, and smoother dildos, but the Xenuphora is crisp and balanced. I've seldom encountered dildos with such defined verticals as the Xenuphora's before.
Though the pressure is very focused, many of the more pronounced landmarks are well-spaced, giving me fine-tuned control of the sensation against my front wall. If you like twisting and circling textures, this dildo's angles are for you.
The waves on the flattened sides also feel very and flowing to my fingers. I've made molds and poured casts before in undergrad, and I can imagine how meditative it was for Marco to press and drag his fingers along the modeling material to form the dips.
Everything about the Uberrime Xenuphora screams, "Play with me!" It's playful for the eyes, fun for the hands to play with, and sure to bring playful explorations to those who love big, structural variations in their sex toys.
Get the Uberrime Xenuphora at Peepshow Toys for 10% off with coupon code SUPERSMASHCACHE or read more of my Uberrime dildo reviews.
I recommend the Uberrime Xenuphora to those who…
enjoy sharp and defined textures internally
like squishing off their external bits on textured silicone
prefer shallow penetration
want a modestly-sized fantasy dildo
I would not recommend the Xenuphora to those who…
Thank you, Peepshow Toys!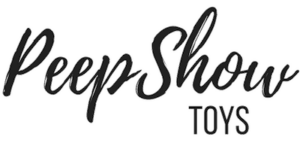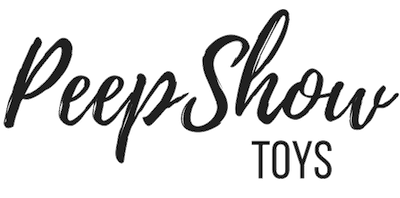 Peepshow Toys sent me the Uberrime Xenuphora tentacle dildo in exchange for my honest and freely-given review. There are plenty of pretty dils I wanted to love but felt "meh" about. The Xenuphora, though? Nothing but love for it.