Shots Chrystalino Champ review: cobalt blue glass G-spot dildo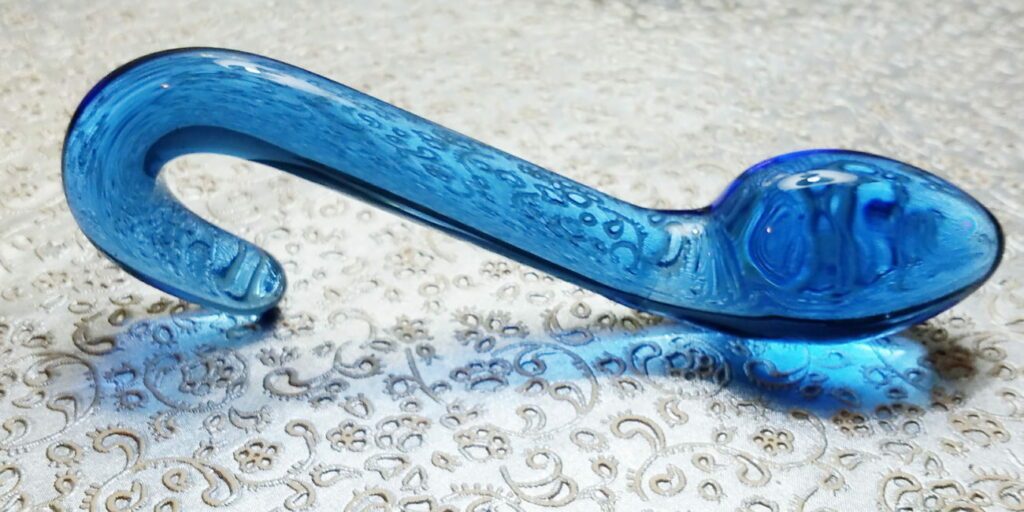 The Chrystalino Champ is the Jack-of-All-Trades sex toy I wish I had when I was younger. Especially now that I love penetration, I can truly appreciate this sex toy's ability to hit so many internal hot spots.
This glass dildo, part of Shots' Chrystalino line, is a sleek, S-curved, cobalt blue beauty. At the end of its 7″ length, the tapered 1.4″ diameter head features an intermediate between two common G-spot dildo designs: the flat hook, and the asymmetric egg-on-a-stick.
The moderate girth and shape make it a versatile beginners' toy for a variety of internal erogenous zones, without being extremely specific to any particular one. You can use the Chrystalino Champ for exploring your G-spot, PS-spot (perineal sponge), and cervical orgasms via the PFE zone (posterior fornix). As well, its hooked end makes it safe for anal use.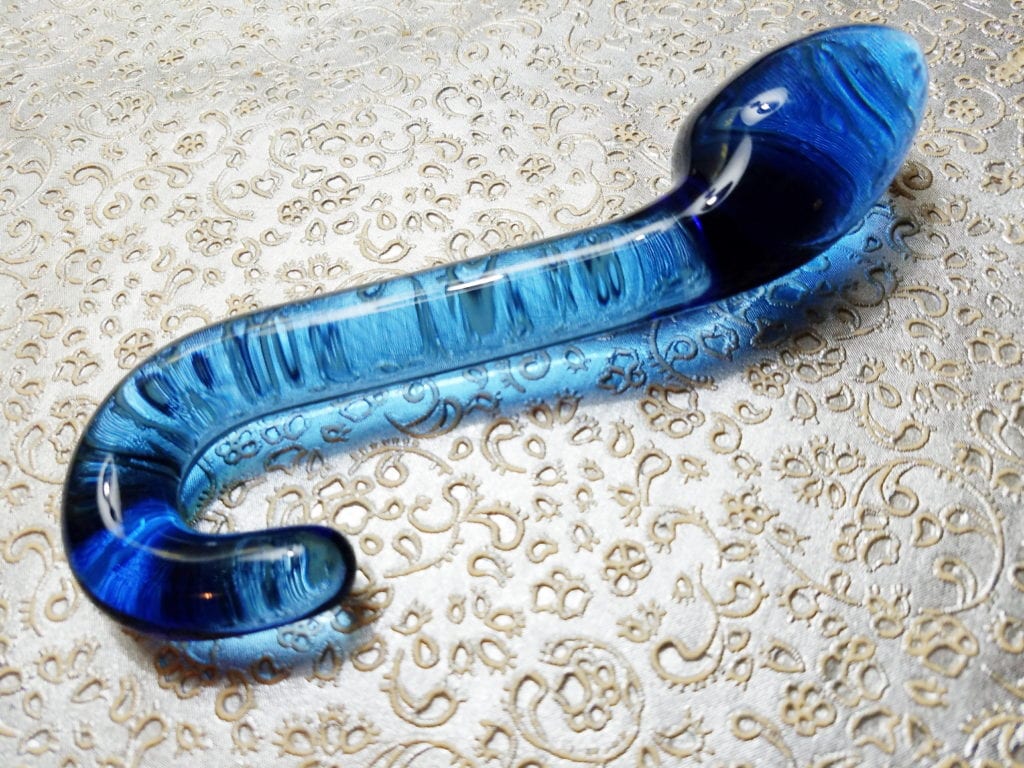 Chrystalino Champ for G-spot sensation
The Chrystalino Champ's head resembles an elongated egg resting on a straight shaft. The long but bulbous design puts it at the middle of a spectrum between flat hooked G-spot toys, and the very common egg-on-a-stick design on G-spot exploration toys. I find that this combines the benefits of the extremes.
It's precise enough that using it would have helped me find my G-spot when I was younger. I insert, pull until the head meets some resistance just past the pubic bone, and jiggle in place while clenching my pelvic floor muscles. That's all there is to it.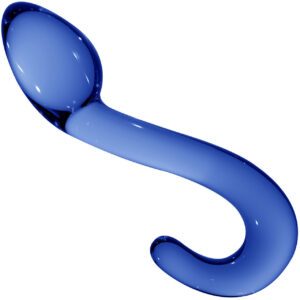 There are plenty of toys that can stimulate my G-spot now that I know where it is, but toys helpful for finding one's G-spot are fewer.1
G-spot stimulation with the Chrystalino Champ is easy and straightforward, but not direct or intense. It's not a toy I can easily tilt to push into my G-spot. If the njoy Pure Wand or Jopen Comet Wand were a 10 for G-spot intensity, I'd probably give the Chrystalino Champ a 4. It's not a single-purpose, master G-spotting assailant, but it's much more versatile. That's decidedly part of its charm.
Comparison with other G-spotting heads
Flat hooked G-spot dildo heads, like the LELO Ella and Picobong Moka, knead the front wall of the vagina, past the pubic bone. For many people with vaginas, this is where they can most easily access their G-spot and internal clitoris. However, this design focuses its stimulation too far past my pubic bone to work for me.
The Chrystalino Champ also kneads the front wall of the vagina, but its rounded profile offers more "oomph" where flat hooked toys usually miss. It also pulls on the urethral sponge with every out-stroke. Further, even if you like flat hooked toys, this dildo is still worth a try because it kneads more surface area.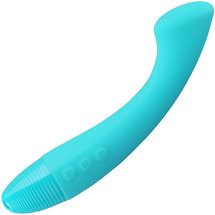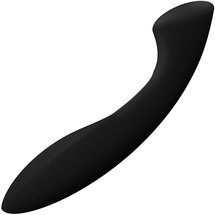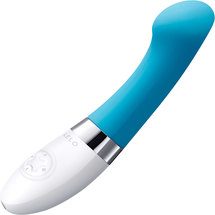 And because it's bulbous, it's more intuitive than some more gently tapered G-spot toys. For example, I enjoy the Je Joue Uma for G-spot stimulation, especially with the vibrations on. However, my vagina tends to suck the vibrator in so that the narrowest part of its neck rests at the tightest portion, where the pubic bone protrudes more.
The Uma's G-spotting tip tends to go in deeper than my G-spot and there's a little more resistance trying to aim it at the right depth. The Chrystalino Champ's neck has an easier time staying where I want it.
Targeting other erogenous zones
There are so many ways to use the Chrystalino Champ, with its ability to focus on different internal erogenous zones. These areas include my cervical fornices and my perineal sponge (PS-spot). The design can be especially helpful for someone just exploring their vagina (though it has the potential for prostate stimulation too).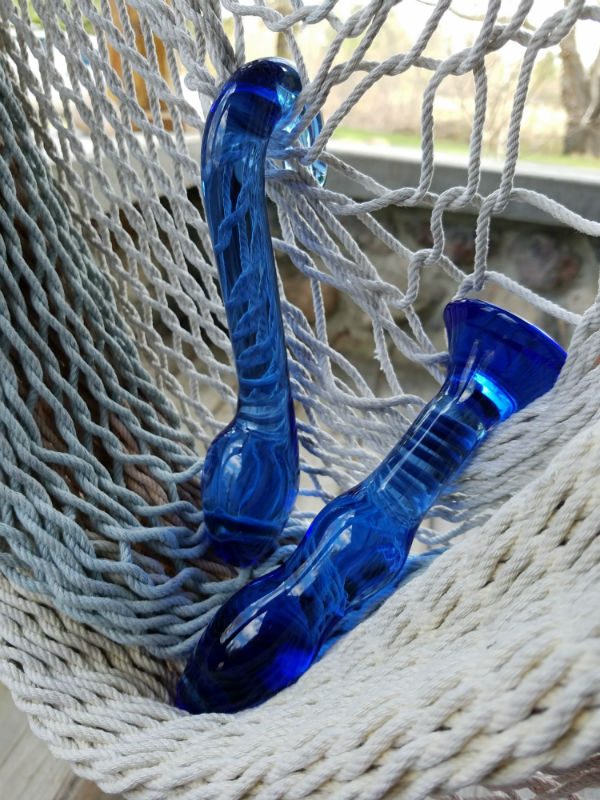 The 7″ total length makes it long enough to stimulate the areas around my cervix. The Champ's bulbous but tapered profile makes cervix stimulation both easy and comfortable. Combined with the slick surface and rigid material, the Champ is my go-to if I want cervix stimulation.
I can also slide it against my A-spot. While there are plenty of toys and penises that I love sliding behind my cervix, where there's more room, they just can't easily fit or aim in front. With the bulbous tip facing my belly button side, it's a no-brainer.
---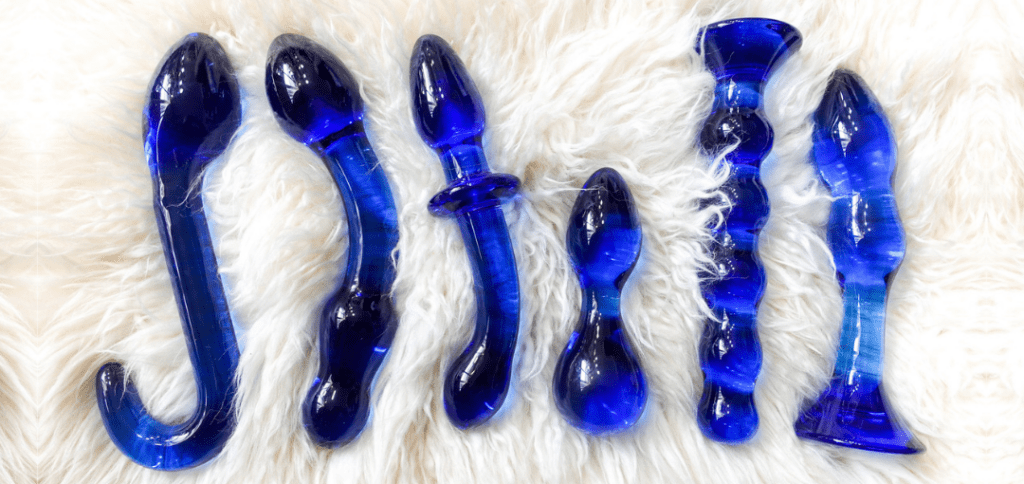 ---
Verdict on the Chrystalino Champ glass dildo
This glass dildo is not only beautiful but also versatile AF. It might not be the queen of G-spotting, but it is the Jack of All Trades that I wish I had when I was younger and exploring my sexuality.
The one complaint is that I'm not super fond of the handle; it's far from ergonomic, and some may find it hard to grip. I understand that it's designed more for anal-safe usage, but for vaginal penetration, I'd rather have a more gently curved handle. A thicker handle would also make it easier to hold on to it.
My favorite use for the Champ is deep penetration, but during shallow penetration, the bulbousness makes for a satisfying "pop" as the head's entry abruptly transitions to the neck.
More Chrystalino glass dildos
See also my comparison guide to a buuuunch of other Chrystalino dildos!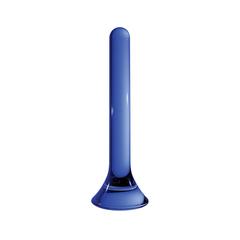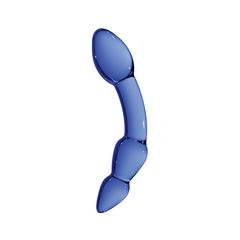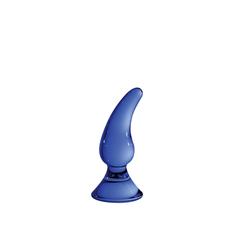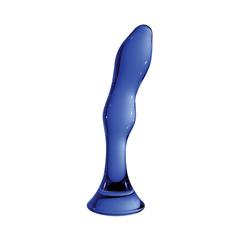 I used affiliate links in this post. They bring me a commission at no extra cost to you. All opinions expressed are honest and my own.
Footnotes
If you don't know where your G-spot is, don't think of it as being any set number of inches inside the vagina. That advice did nothing to help find my G-spot. Instead, think of it as where the rippled, bulbous structure behind your pubic bone dips in and meets the deeper, smooth rest of the front wall. If you feel around where the two meet, that's the general area where you can access the most sensitive part of your internal clitoris.