5 Ways to Make Kegels More Fun (LIKE VAGINAL WEIGHTLIFTING!)
Vaginal weightlifting is so much more than just a fetish party trick!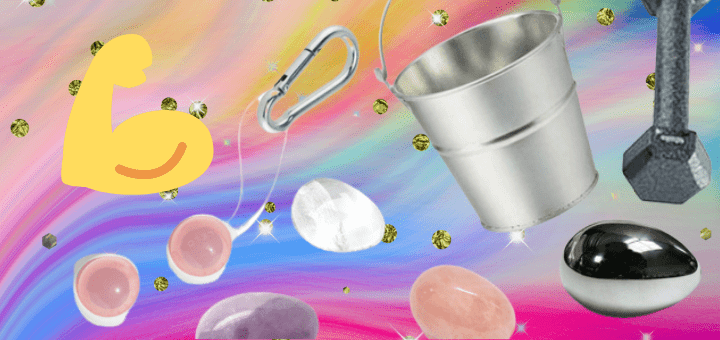 It's also one of many fun ways to cultivate increased sexual sensitivity or stronger, longer orgasms. Orgasms aren't everything, but who wouldn't want to maximize their enjoyment?
For people with penises, that could include multiple orgasms or harder erections that last longer. For someone with a vagina, that could mean ease in reaching orgasm, a strong enough grip to crack a friend's finger, and enough relaxation to take a dildo the size of the top of a soda can.
But the standard kegel workout doesn't exactly sound exciting. Squeeze. Relax. Squeeze. Relax. If that works for you, that's cool, but there's so much more variety you can add than switching up the length of the squeezes:
---
1

Play games with the minna kGoal

Too often, the people who would benefit most from kegels can't tell whether they're squeezing the correct muscles. To combat this issue, the minna Life kGoal (heh, get it? Like kegel?) gives precise, real-time feedback about how hard the user is squeezing.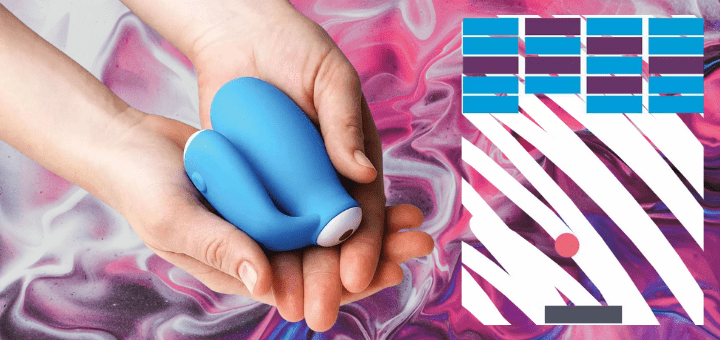 It can give you feedback by vibrating faster the harder you squeeze it, but that's far from the coolest thing about it: The kGoal is a controller for games on your smartphone!
You know Atari's Pong variation, Breakout? Well, that's one of the three games you can play by squeezing your vagina around the kGoal. The harder you squeeze, the more the paddle moves to the right, and the more you relax, the more it moves to the left.
The games give you scores across 3 categories: strength, endurance, and control, and you can track your improvement over time. The workouts and scoring system are best for someone who's rehabilitating a weak or tight pelvic floor. Another kegel biofeedback toy to consider is the Elvie, which is a bit slimmer.
---
2

Engage your pelvic floor with belly dance

That's right! Belly dancing isn't just a fun ab workout, but also engages and relaxes pelvic floor muscles.
It makes sense when you think of the core as a network with:
the diaphragm at the top
the abs in front
obliques on the side
back muscles and glutes
the pelvic floor at the bottom
A belly dancer's precise movements are all thanks to conscious control and isolation of these muscles. During any move, specific muscles contract and, just as importantly, the opposing ones relax. Swaying, tilting, and dropping the hips while keeping the belly button stable especially targets the pelvic floor.
Belly dance also brings the benefits of exercising in general, and it's a lot more fun than sitting and clenching!
---
3

Vaginal weightlifting with external, customizable weights

Back in my fetish party days, I've taken part in (and won) a vaginal weightlifting contest. The graphic above pretty neatly sums it up:

Contestants inserted their kegel ball(s). A member of the House clipped the kegel balls' retrieval cord to a bucket handle with a carabiner. Pennies were added one by one to the bucket until the contestants couldn't hold on to the ball anymore.

We dumped the pennies on the ground and compared contestants' piles. The loser had to pick up the pennies. We were at a BDSM House party, after all.

There's a dumbbell in the graphic to show that you can put whatever you want in the bucket, really. It doesn't have to be coins, though they are convenient for adding and removing small increments of weight. The owner of the House has even put 2L soda bottles in someone's bucket at another party, but don't worry: the vaginal weightlifter was prepared!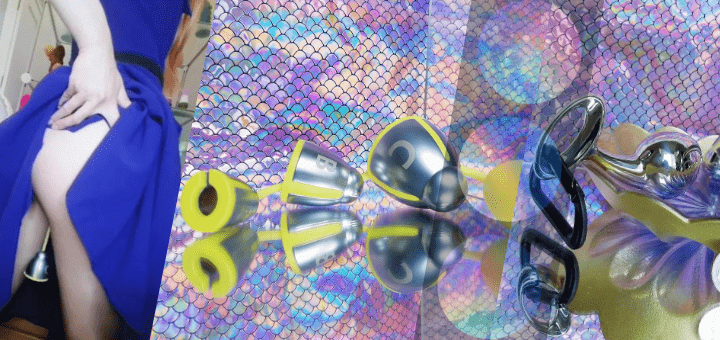 UPDATE: I have written a more in-depth guide to vaginal weights, which discusses:
Beginner Kegel exercisers
The Kegelbell "vaginal gym"
Full-on weightlifting with dumbbells
Smaller steel vaginal weights you could also use
If you don't feel like getting dumbbells or coins to fill a bucket, I totally get it. You could still experiment with seeing how long you can hold a weighted steel dildo like the njoy Pure Wand if you already have one. Any bulbous glass dildo would also do if you're looking for something lighter and more affordable.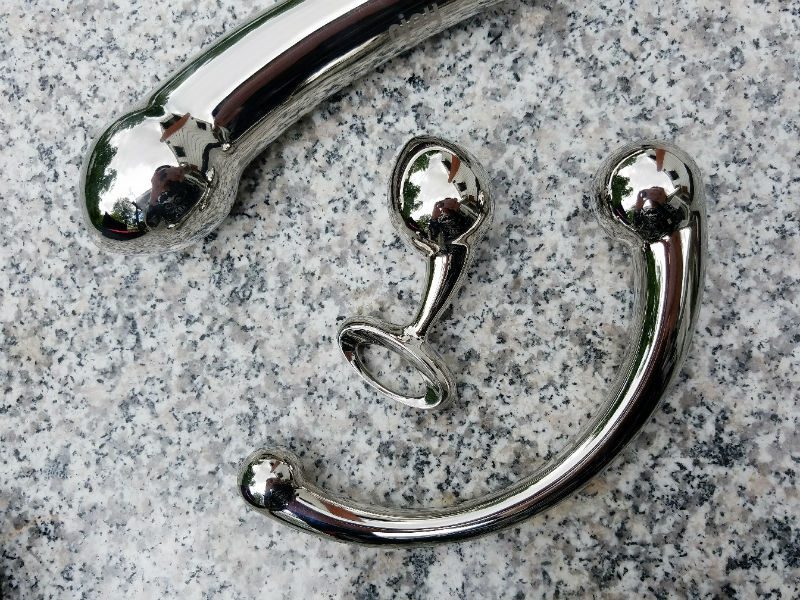 As for weighted balls, my favorite to walk around with were once the half-pound Fifty Shades of Grey Inner Goddess Silver Pleasure Ball set. However, I deleted my old review because I just felt too weird about promoting something in the FSOG line.
I really like the weight of the njoy Pure Plug and can clip more weight to it, but its neck is short. That's fine for snuggling against my short (maybe an inch and a half) pubic bone, but if you have a deep G-spot, it'd be painful for you. Finally, Stockroom.com also has a chromed steel egg that's 1.75″ wide and weighs 1 pound. The hole inside does rust, so put it inside a condom before using.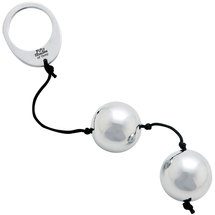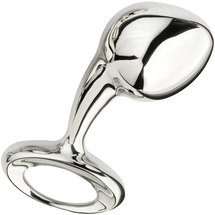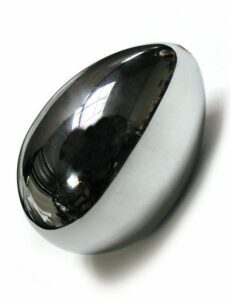 And remember: don't hold these in all day, every— learning to relax the pelvic floor muscles is just as important as strengthening them!
---
4

Movements beyond squeezing the PC muscles

Intensive pompoir isn't for everybody, but you can certainly adopt some of the basics in the bedroom. It's basically squeezing and manipulating the muscles in the vagina in a way that can stroke a penis (but is fun to do for its own sake).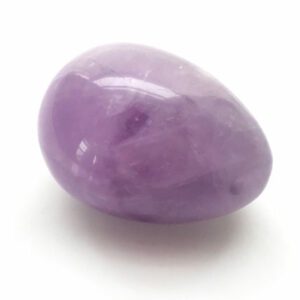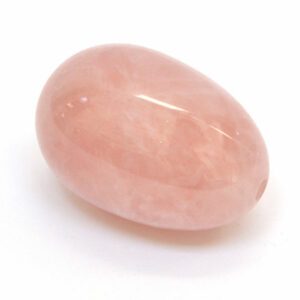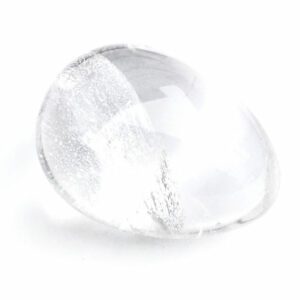 Lube up a kegel ball or yoni egg (shown above). Place it against the vaginal entrance. Push out with your vagina to "reach," clench around the ball, and contract to "suck" the ball in. Do the reverse, pushing it out instead, and maybe see how far or forcefully you can do it. Repeat.
And try it on a well-lubed, basic dildo or vibe, seeing how far you can pull it in and push it out, and varying the speed. You can also try isolating different parts of your pelvic floor and seeing how they move the toy differently. Like with the kGoal, it's a lot of fun getting visual feedback and seeing your pelvic floor muscles doing work.
If you're skeptical, I totally understand. I've done it on the tip of a partner's penis before, and even his own words were, "HOW are you doing that???!"
---
5

Squeeze your way to breath and energy orgasms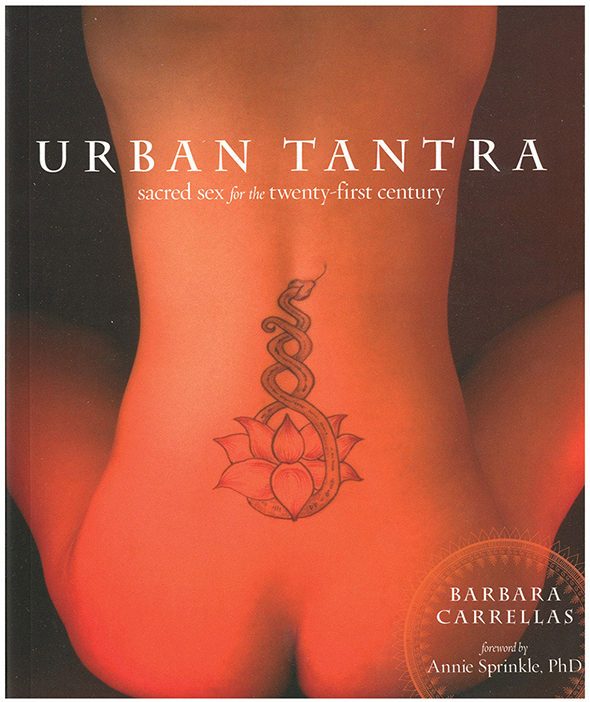 Yes, it's a thing to orgasm by breathing, clenching, and visualizing energy moving up your body. It does take time (I had months of practice), but even if you don't get all the way there, it's still good to meditate and increase your bodily awareness.
The energy feels less isolated to the genitals and more of a dispersed bodily flood than a genital orgasm. It's even more spread out than a cervical orgasm's womb-centered feeling… which totally makes sense.
You can read about having breath and energy orgasms here, but the Urban Tantra book has more detailed info and instructions. It has awesome sex advice in general if you can look past the woo-woo.
Sex isn't all about orgasms, but everyone who wants them should feel free to explore. Breath and energy orgasms give some (like those with spinal cord injuries) an alternative route entirely while making others more receptive.
---
Above all, remember to enjoy the ride!
This post wasn't to say that you should aspire to do all of this. If you're happy with where your pelvic floor and orgasms are, that's totally cool.
I'm just someone who's gotten bored with standard Kegel exercises and wanted to go explore beyond. I wanted to show people some of the possibilities. If you've read this far, maybe you're the same way, and I hope you've found your new "ooh, shiny!"
---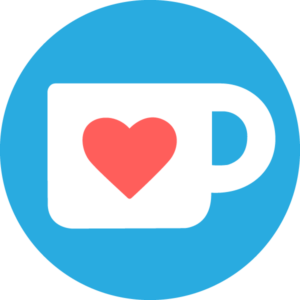 Did you enjoy reading this post?
I use affiliate links throughout this post for my favorite sex shops: SheVibe, Spectrum Boutique, and Peepshow Toys. This means that buying stuff through my links brings me a commission at no extra cost to you! You'd actually save 10% off your whole order by using my coupon code SUPERSMASHCACHE at Peepshow Toys.
If you enjoyed this post and want to support me, you can also feel free to buy me a coffee.
Disclaimer
I'm not a medical professional. I'm only talking about ways to have more fun with pelvic floor strengthening if you're already familiar with Kegels. If you're seeking help for something like incontinence or prolapse, that is beyond my scope of expertise, and I am not a replacement for a doctor.