Review: Love Spun & Tilt-O-Whirl spinning "tongue" rabbit vibrators by Evolved Novelties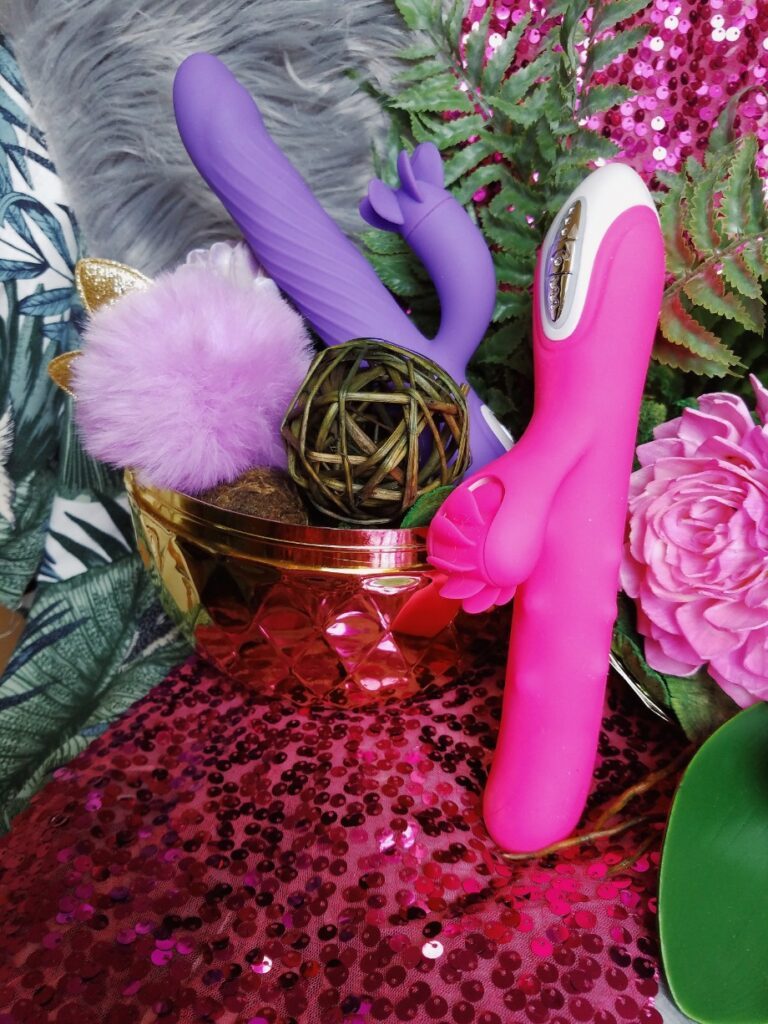 Receiving oral while getting penetrated is among the most enjoyable of past-times. I'm no stranger to using sex toys with a partner! So what happens when a vibrator combines both? Evolved Novelties' Love Spun and Tilt-O-Whirl dual stimulation vibrators do just that. These rabbit vibrators each feature three separate motors:
Tongue-like flaps that spin as "fans" on the clitoral arm for oral sex simulation
Moving textures in the shaft— think beads and spiraling waves
Traditional vibrations in the slightly curved and flexible tip
Despite the apparent unfamiliarity of these designs, the technology is nothing new. The LoveHoney Sqweel Classic, a clunkier external-only unit with rotating "tongue" tabs, originated around 2009. (Yep, over a decade ago.) You can get its successors, the Sqweel 2 and the miniature Sqweel Go, from SheVibe. Fun fact: the Sqweel Go was my first powered sex toy ever, back in 2014.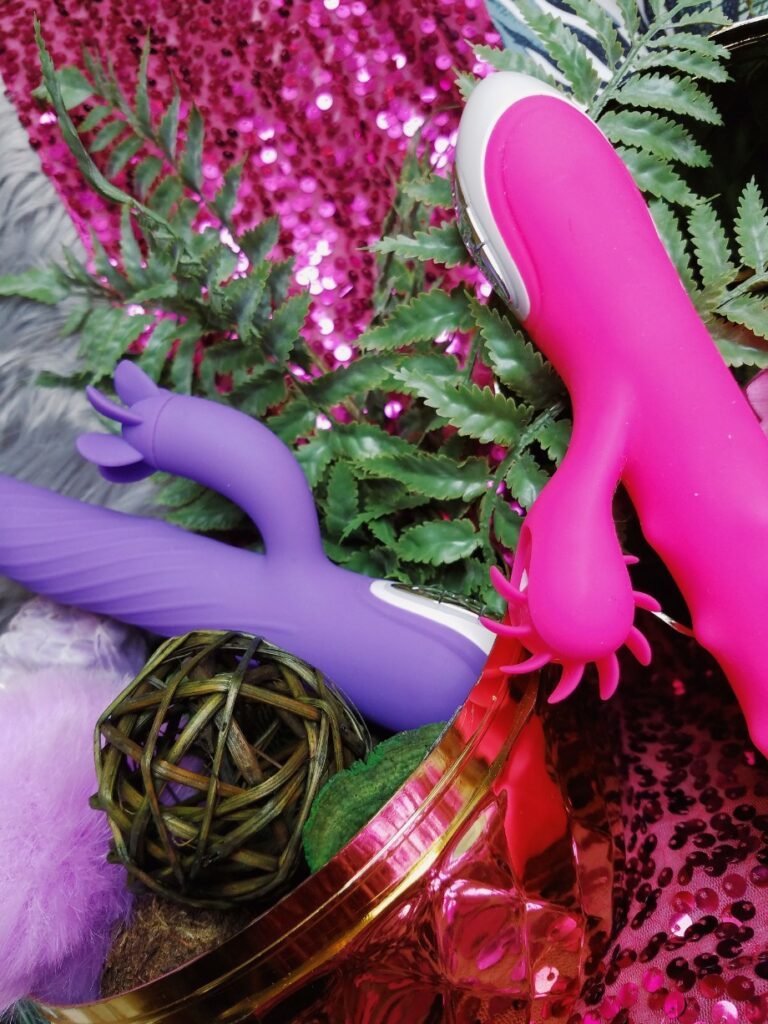 I don't know precisely when the Evolved Novelties Love Spun came out, but I've seen it around since 2015. Both the Love Spun's and Tilt-O-Whirl's clitoral stimulators are quite compact, most closely resembling the Sqweel Go's size.
Their wheels' flaps are about a centimeter long and slightly curved to slide over the skin (with some good lube, of course). One spins parallel to the clitoris, and the other perpendicular to it. Both orientations have peculiarities and drawbacks.
That raises a question: how usable are any of these rabbit vibrators' function combinations? The Evolved Novelties Love Spun boasts 8 vibration settings, 3 bead speeds, and 3 spinning functions, for 72 configurations. Its sibling, the Tilt-O-Whirl, has 8, 5, and 5, respectively, for a product of 200. And that's not including the option of turning a motor off!
These figures sound impressive until you realize that they're opportunities to please and to disappoint— a risk inherent to rabbit vibrators. Find out which combinations I liked and which ones I loathed.
In this post
Love Spun and Tilt-O-Whirl anatomy alignment
The good news is that the clitoral arms on the Love Spun and Tilt-O-Whirl are highly flexible. You can push them back all the way and (BOING!) they'll spring to their resting positions. That means that your clit-vag gap is mostly irrelevant to whether the tongue wheels will reach the right spot. Alternatively, a person with a penis can insert one (or more, I guess) of these vibrators anally while their balls get "licked."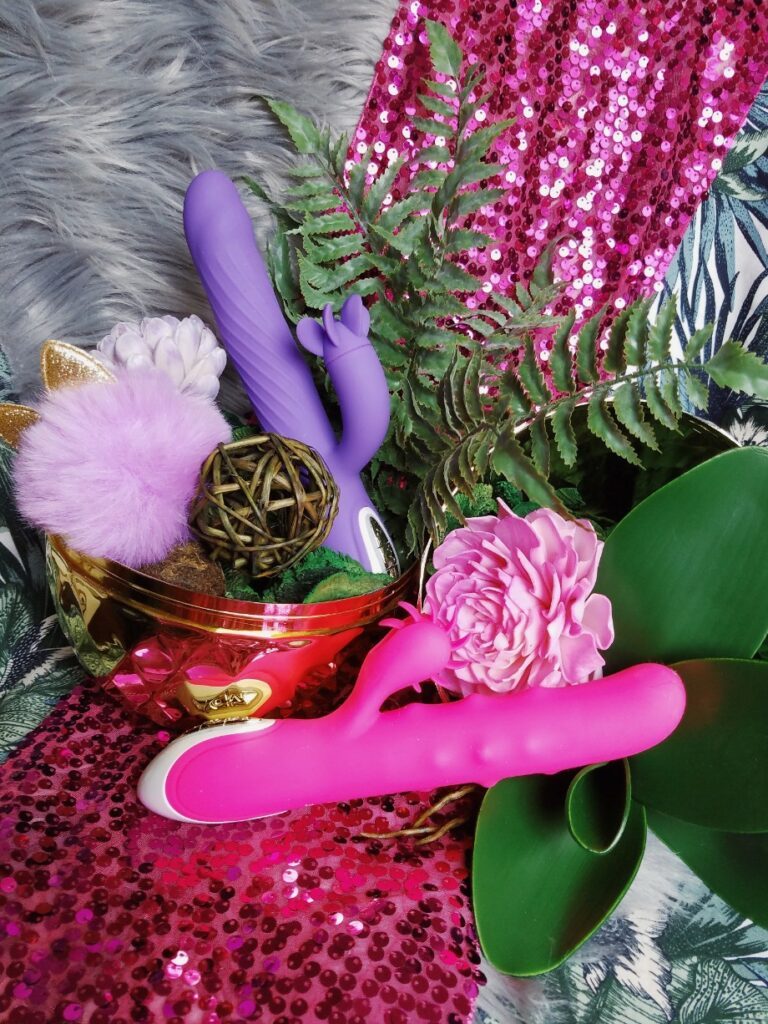 However, for me to get proper pressure and positioning, I have to hold the clitoral stimulator in place. As such, my hand isn't in the most comfortable position to thrust. That's not a significant drawback to me, but it's not effortless the way the We-Vibe Nova's tight-but-adjustable clamping is.
What does matter, though, is how deep you insert. My G-spot is on the shallow side— we're talking about 1.5 or 2 inches inside. While I can use the Love Spun or Tilt-O-Whirl's slightly hooked head in my G-spot, the 5-inch insertable length works best with deeper penetration in my A-spot. Otherwise, the wheel doesn't make contact with my clit for dual stimulation. Depending on your anatomy, though, your mileage may vary.
Consider in contrast the Nova's shaft, which is shorter and more steeply curved. It tessellates more neatly against my G-spot while still pressing firmly against my clit.
Evolved Novelties Love Spun vibrator functions
So let's say I'm using the Evolved Novelties Love Spun as a dual stimulator, inserted all the way in. In such scenarios, G-spot or shallow vaginal sensation comes not from the head but from the 8mm beads on the shaft. Again, rabbit vibrators with beads aren't a new concept— as anyone who has watched Sex and the City could tell you.
A unique dual stimulation vibrator with beads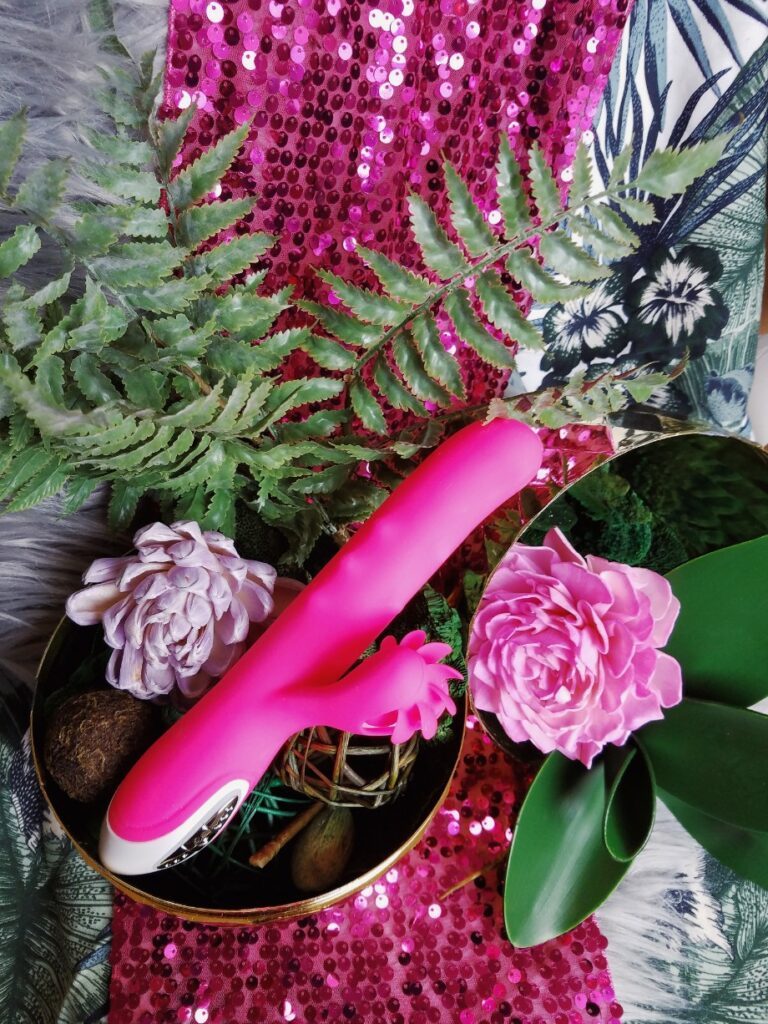 What's different about the Evolved Novelties Love Spun is that the studs under the silicone slide up-and-down the shaft, rather than spinning. It's like the Blush Wellness G Ball's flickering ball on steroids. What's more, the Love Spun's beads protrude farther and stimulate a far broader surface area than the G Ball and the b-Vibe Rimming Plug 2, whose beads are confined to the neck.
There are twelve beads total on the Love Spun, divided into four columns of three. The center studs? They don't move much beyond in-and-out pulsation in their sockets. The top and bottom rows alternate moving toward and away from the center. This motor spans a good 2.5″ of the shaft, for a smorgasbord of internal stimulation.
You can, of course, adjust the Love Spun's angle to target the sensations. Tilt the handle:
Backward to stimulate the perineal sponge
Forward to rub the internal clitoris and G-spot via the front wall
In small twisting motions to get a combination of both
And yes, as with the Wellness G Ball, you can use the Love Spun's shaft externally for a clitoral massage! Overall, the linear bead motions are delightful. I wish more toys had something like it. If it's the studded sensations that you seek, I'd recommend the Love Spun over the G Ball.
As for the Love Spun's vibrations and clitoral stimulator? Well…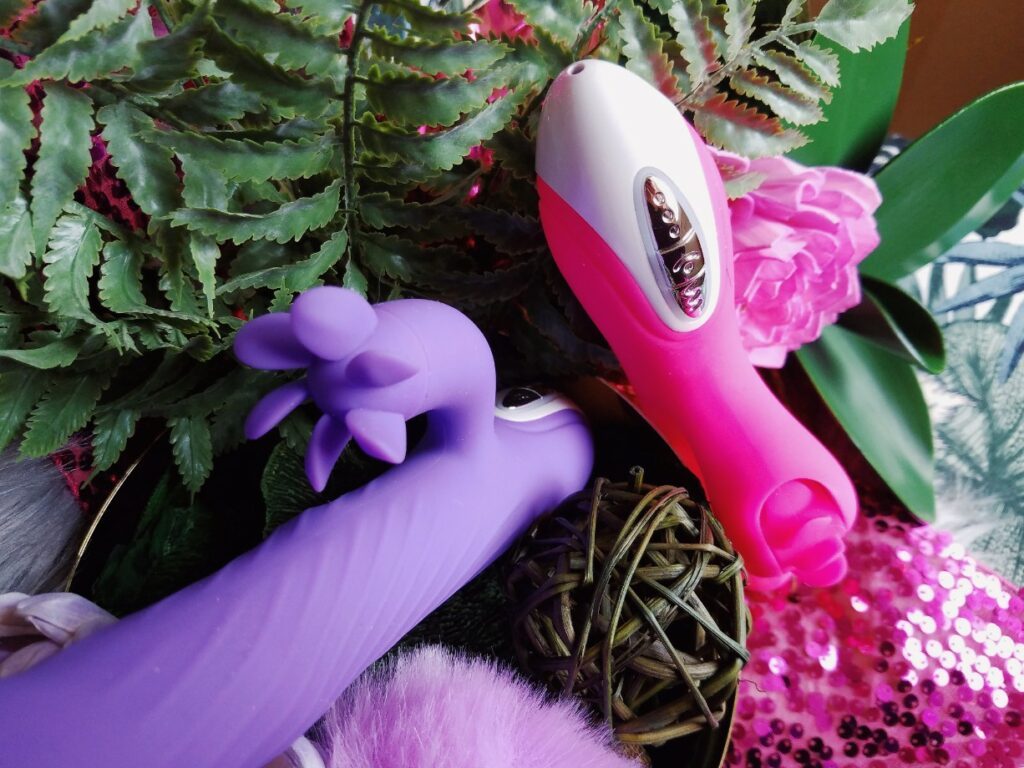 I like the first setting on the Love Spun's clit-licking wheel a lot, but it's the only one (out of three!) that I find usable. For me, going under my clitoral hood is a cardinal sin; there's too much friction.
When the wheel spins down on my clit, it stays over the hood— as it should. When it spins in the other direction and pushes up, it lifts the veil. I'm overstimulated. It feels scratchy for me, even with lube. The first setting only goes in the "correct" direction, the second only the "wrong" one, and the third switches back-and-forth.
No, thanks. If you crave the flapping sensations of tiny tongues against your clitoris, I suggest you stick with the external-only Sqweel Go or NU Sensuelle Trinitii. That way, you can control the orientation and direction. They have more steady speeds and some patterns, giving you more ways to play effectively.
It's also a good thing that the Love Spun's motors are independently controlled, because the vibrations are useless. There's buzzy, and then there's "Is this thing on?" Or worse, "Is someone's phone going off in the distance?" They wouldn't make a difference when turned on, but I like conserving the battery for what matters, thank you. And the Evolved Novelties Love Spun's strength is decidedly in its linear-moving beads.
Evolved Novelties Tilt-O-Whirl dual stimulator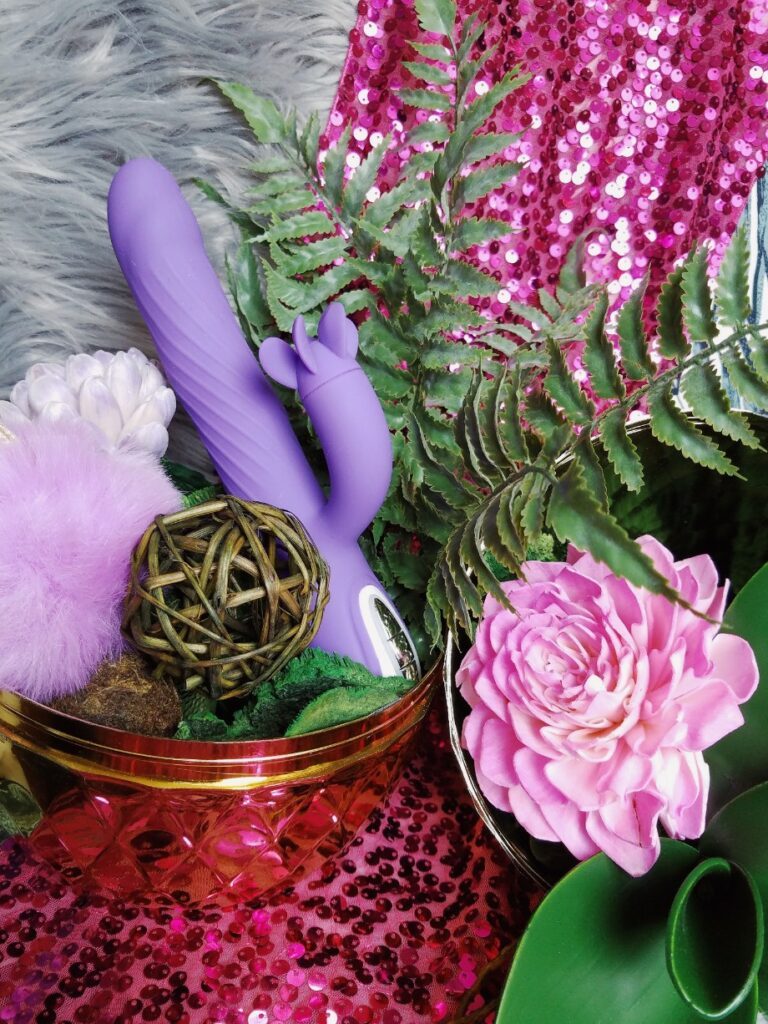 Rotation direction also matters on the Tilt-O-Whirl, but for a different reason. Remember: it spins side-to-side instead of up-or-down. So when I turn it on, it tends to migrate over my labia majora, like a tiny toy car traversing. On a steady speed setting, it's merely a moderate bother— if the wheel tends to roll toward my left labia, I can consistently push it to the right to center it on my clit.
But the third option (out of five) spins back-and-forth. Slowwwwly towards the left. Sloooowly towards the right. Baaaack. And fooooorth. Two words: Y THO. It's useless. And the fourth is a pattern with too long of a pause between movements to get me off. Yawn.
The Evolved Novelties Tilt-O-Whirl's vibrations are as useless as sibling's. Worse, its undulating shaft's motions just get… lost. It's like my vagina grabs on to it, keeps that part still, and the spinning transfers to the handle. And the waves don't provide any meaningful sensation since they lack the definition that the Love Spun's shaft beads have.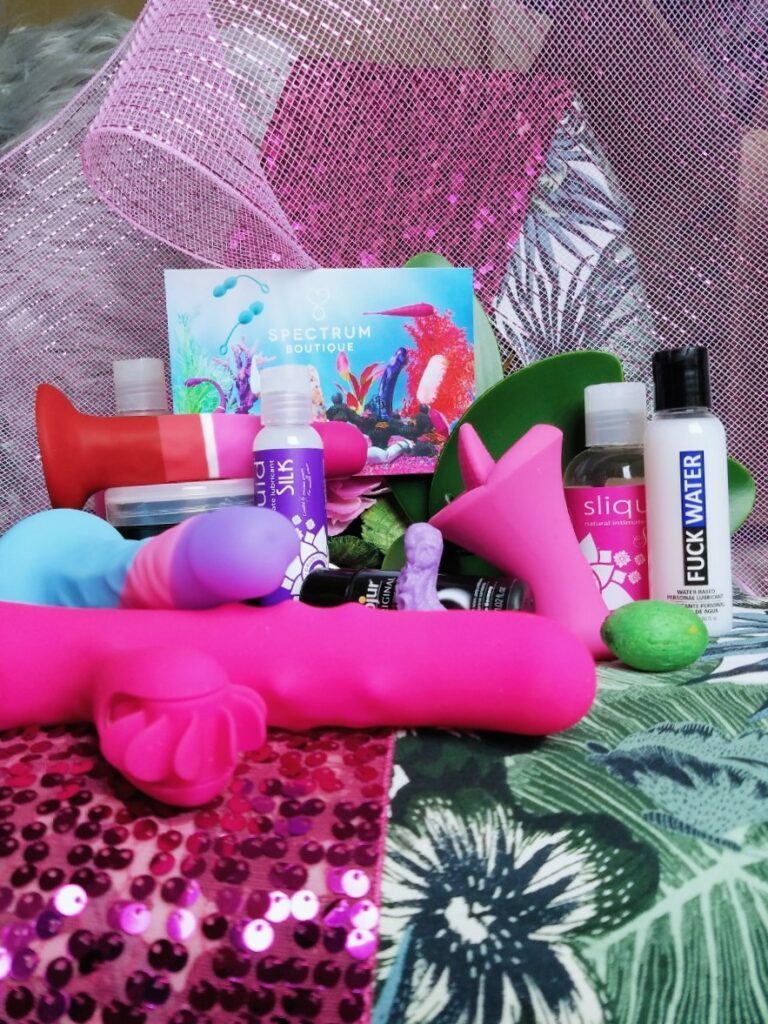 My verdict on the Evolved Novelties Love Spun and Tilt-O-Whirl
The Evolved Novelties Tilt-O-Whirl is useless. I don't even have the energy to construct a sick burn about it.
As for the Love Spun, I'd more readily recommend it, but not necessarily in a heartbeat. If it's the little tongues' licking you want, get a Sqweel Go or NU Sensuelle Trinitii for freer positioning, more settings, and a smaller price tag. If you want a robust G-spot vibrator, there are so many superior options, like the BMS Factory Pillow Talk Sassy.
Maybe pair the Sassy with the Sqweel Go. It would cost more than the Love Spun, and you'd have to use two hands, but it would give a far more pleasurable all-around "surround sound" experience.
If you know your body well and seek the beads' pinpoint pressure, though, then fuck yes. Get the Evolved Novelties Love Spun at SheVibe.