Bswish Bwild Deluxe Bunny review: why I don't like rabbit vibrators
Every time I hear the question, "Have you tried The Rabbit Vibrator?" a tiny part of me eyerolls. A bigger part of me thinks, "Hey, be nice. Just explain why it's not your thing."
For one, when people say, "THE Rabbit," they're usually talking about the one infamously featured on Sex and the City. It uses porous materials with a rotating beaded shaft and rabbit-shaped clitoral stimulation arm. It's ostensibly addicting (a term which I dislike being used to describe vibrators) and mind-blowing. However, rabbits include so much more than that.
Rabbit vibrators as a group of sex toys have much advanced and diversified since Carrie Bradshaw's Rabbit was featured. Body-safe silicone exteriors and rechargeable motors are common in rabbits nowadays.
On paper, rabbits offer clitoral vibrations and vaginal penetration with one hand, making them sound like the ultimate sex toy.
In practice, it's hard to write a meaningful review about rabbit vibes because they're so extremely specific to the dimensions of the user's anatomy. Most notably, vulvas vary in the distance between the clitoris and the vagina, meaning that if a rabbit vibrator's dual stimulator doesn't align with your clit-vag gap, there's no point; you're better off using two separate toys.
I have a relatively average clit-vag gap of one inch, or what Marie Bonaparte would have called "mesoclitoridienne." This averageness makes it relatively easy for me to find proper alignment. For other users looking for a dual stimulating vibrator, I suggest the We-Vibe Nova, which flexes with you as you use it.
About the Bswish Bwild Deluxe Bunny
The Bswish Bwild Deluxe Bunny is covered in silicone, takes 2 AAA batteries, and features a flexible clitoral arm, a distance away from the insertable portion that I would call average or slightly shorter than average.
On paper, everything checked out. Its C-V gap fits mine quite well. I like clitoral stimulation. I love penetration. I'm not particularly demanding of vibration strength. However, in practice, I never find myself reaching for this toy.
Why the shape didn't work for my clitoris
It's one thing to like external and internal stimulation at the same time, but it's another thing to want the same stroke length and rhythm for both.
For one, I have to be careful with how I thrust the Bwild Deluxe Bunny because the "rabbit ears" on the clitoral prong are a painfully incompatible design for my clitoris. They're the perfect shape for poking under the clitoral hood, stabbing alongside my clitoris, and touching it directly, resulting in sharp pain.
Many clits like direct stimulation, but that isn't me. I find it irritating and, even with lube, it's not something I want in a vibrator. Further, the bunny shape and length of the arm doesn't lend well to double (anal and vaginal) penetration.
Why the shape didn't work for me internally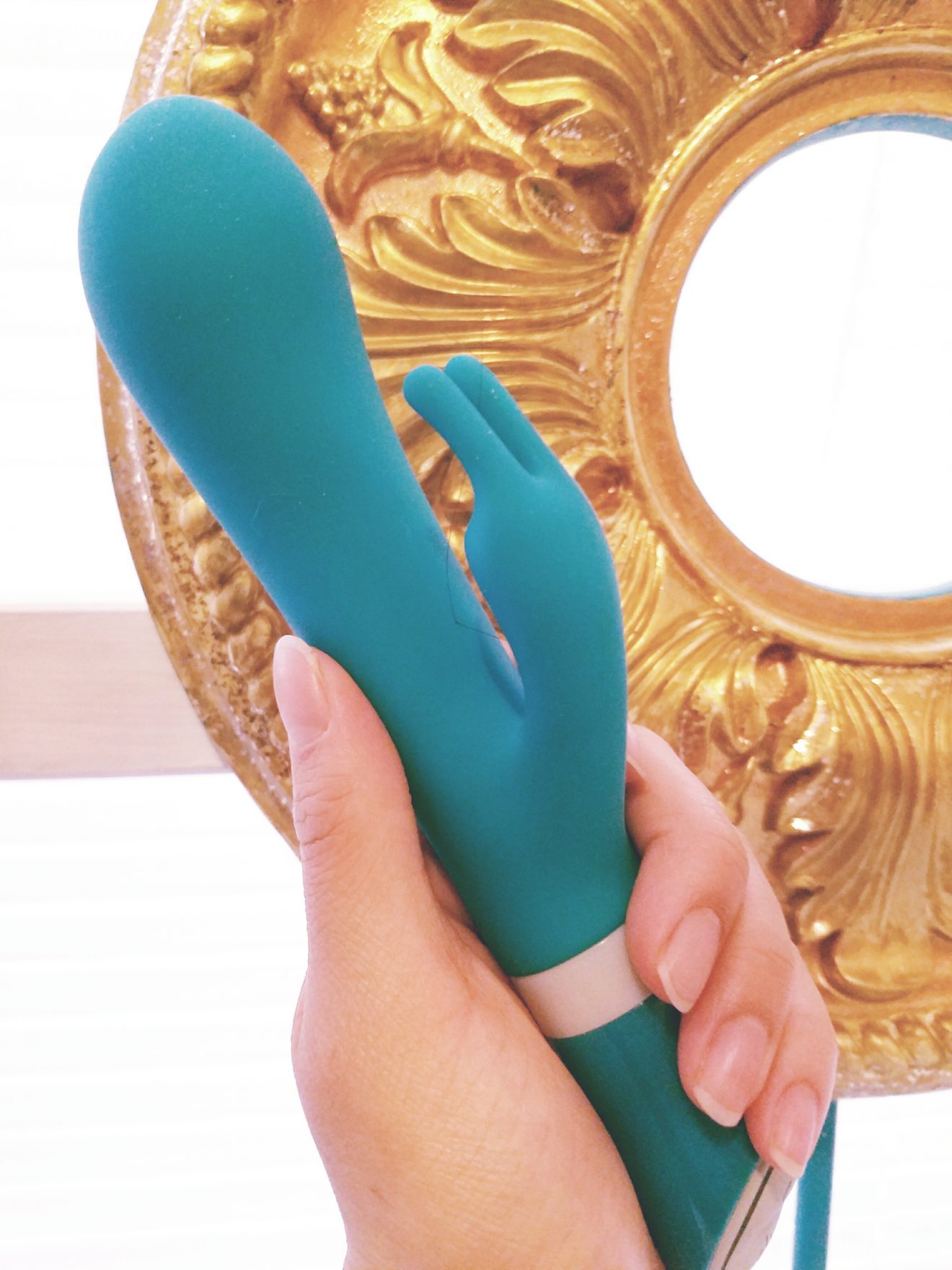 It's tough for this toy to do anything for my G-spot. The bulge's slope is gradual, and the ABS plastic core is rigid. In the cases where I do finagle G-spot stimulation, my clit gets irritated.
For A-spot stimulation, the curve and bulge are good, but the clitoral arm is a distracting hassle. When I thrust the way I like for deep penetration, the clitoral stimulation is ho-hum. One upside is that the prong fits tightly enough to stimulate my clitoris, but is flexible enough to push out of the way. However, when I have a multitude of other toys I could be using on my clit and vag, I'm can't think of something this toy does for me that other toys can't do better.
Why the vibrations didn't work for me
My taste in vibrations has become more refined over the years. I think this toy's vibrations, at best, are just "okay" and buzzy (shallow and surface-level) in sensation. At worst, it's obnoxious in noise. The volume isn't remarkably awful… usually. You'd be able to hear it a little bit through a thick blanket at the lower speeds. If you turn it up to the higher settings when it's not inserted, the clit prong's rabbit ears bump into each other. This movement triples the noise. You can pinch the ears to stop this from happening, but it's something to keep in mind.
Recommendations
Overall, thinking of someone to recommend this rabbit vibrator to is a real Catch-22. Someone new to sex toys wouldn't be disappointed by the mediocrity, but may not know their preferences well enough to decide whether this toy is a good fit. Someone experienced with sex toys would be more adept at making that decision but probably wouldn't want to buy it.
The bottom line is that either way, you deserve a toy that fits you.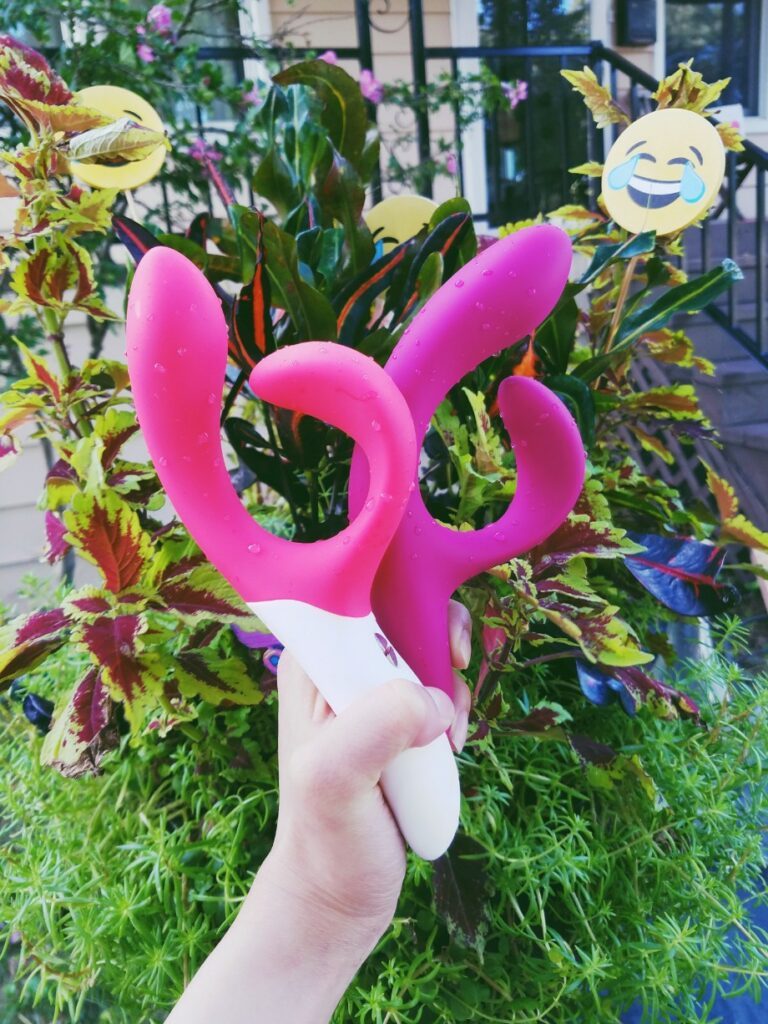 The We-Vibe Nova is a different rabbit that works around the issues of fit by having a flexible arm that stays in contact with the user's clitoris.
I certainly wouldn't recommend the Bswish Bwild Deluxe Bunny. If you like fluttering vibrations directly on your clitoris, a gentle G-spot bulge, mild vibrations, and know your clit-vag gap is about an inch, it might work for you. That's a big "if," though. You can find this rabbit vibrator on SheVibe for $44 in jade green, blue, fuschia, and rose pink.
---
Disclaimer
I received this toy in exchange for my honest, unbiased opinion. All views expressed in this review are entirely my own.