How to Have Clean Anal Sex: 4 Considerations
Shit happens. We all know that the anus's primary purpose is that of an exit.
Understandably, cleanliness is among the biggest concerns about anal sex. It's only second to perhaps picking the best beginner butt toys for comfort. When doing anal play, encountering poop specks might happen, but there are steps you can take to minimize the chances, as well as make cleanup a breeze.
In this post: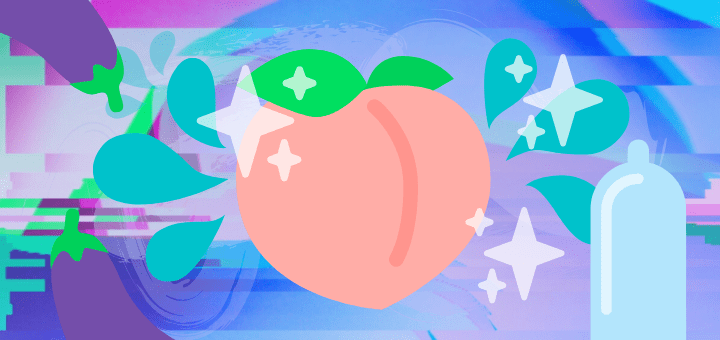 1

Adjusting your diet for better digestion before anal play

For starters, that could include increasing intake of fiber and live cultures and decreasing fat. That means eat plenty of plant-based foods, yogurt, and if you wish, inulin or psyllium supplements. Of course, you know your own body and digestion better than I do, so listen to your doctor and your judgment.

It is worth noting, though, that some fruits and veggies are harder to digest — and therefore might be messier when exiting — than others. Examples include raw kale, broccoli, brussels sprouts, and other cruciferous vegetables. You'll probably want to ferment them or cook them without using much fat. Dairy, artificial sweeteners, wheat, and quinoa can also be hard on the gut.

Among easier-to-digest veggies are cucumbers, celery, summer squash, pumpkin, and not-green bell peppers.
2

What about cleaning your butt with laxatives and enemas?

I've never used either one to prepare for butt stuff — I can usually feel when there's debris present and avoid anal play during those times.

Otherwise, proper diet and washing the outside is adequate for me (and most people) to have clean anal sex. Just go to the bathroom and wash the area 30-60 minutes before doing butt play. Elaborate rituals are not necessary.

Unless you're already constipated (in which case, please refer to the previous section), I'd give a fervent "NO!" to laxatives for anal sex. If it's runnier, it might not exit as neatly. And that might make things more… well, messy.

If you want to flush out your bowels for peace of mind, though, I understand. Watch this video of sex educator Zoë Ligon's first experience with anal douching. It'll tell you everything you need to know. The Big Gay Review's douche guide is also a highly informative resource to check out.
Don't feel like watching right now? Here's a quick summary of anal douching:
Bulb-style enemas are often the easiest to use. b-Vibe (a fantastic company for butt toys in general!) has a reusable, body-safe anal douche with a removable nozzle. You can buy it alone or in their anal exploration and education kit, which comes with an adorable 51-page-long guide booklet. And the douche nozzle, the part you actually insert, is made of hard ABS plastic that you can sterilize or boil— which is great, for obvious hygiene reasons!
The best time to clean out your butt before anal sex is 1–2 hours ahead of playtime. Though, if you're not experienced with enemas, you might want to give yourself even more time to prepare. Right before a date is an awful time to anal douche for the first time.
Use warm-ish water— check the temperature against your arm to see if it's comfortable before filling the bulb. And, of course, please be near a toilet.
Lubricate the nozzle before inserting it. Squeeze the enema bulb, and don't let go of it until you've pulled the tip out. Hold the water in for 15 seconds and release. You can repeat if you'd like to until the water runs clear. Wash the nozzle and bulb immediately with soap and water.
You don't have to do an enema to have clean anal sex, though. Overall, it depends on how aware you are of your digestion.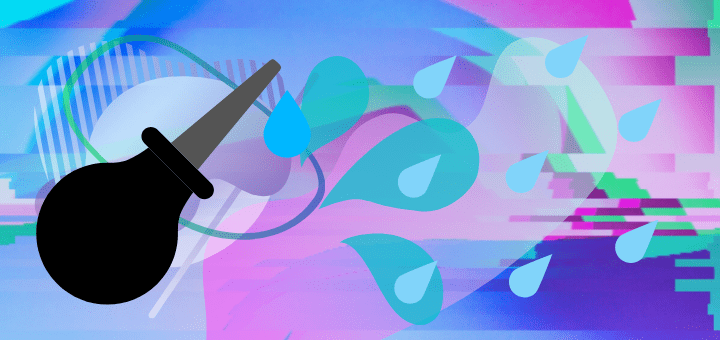 3

Keep these materials on hand for optimal cleanliness!

With the grossest part out of the way, we can talk about other ways to stay clean during anal play. Not all of these items are essential, but if you're squeamish, they can take away potential distractions.
Towel or sex blanket
It's better to have too much anal lube than too little, so I suggest laying out a towel or washable sex blanket, like the Liberator Fascinator Throe, to absorb the excess.
Paper towels and wet wipes
Self-explanatory.
Personal lubricant dispenser
If your lube doesn't already come with a pump, consider putting it in a (thoroughly cleaned) soap dispenser. To make it even easier and hands-free, try an automated soap pump or Experience WARM Touch. That way, you can get additional lube and reapply without your fingers contaminating the outside of the bottle.
Dental dams, condoms, gloves
Barriers come in many forms, all helpful for staying clean during playtime:
External condoms for penises and toys
Internal condoms (a.k.a. "female condoms") for vaginas and anuses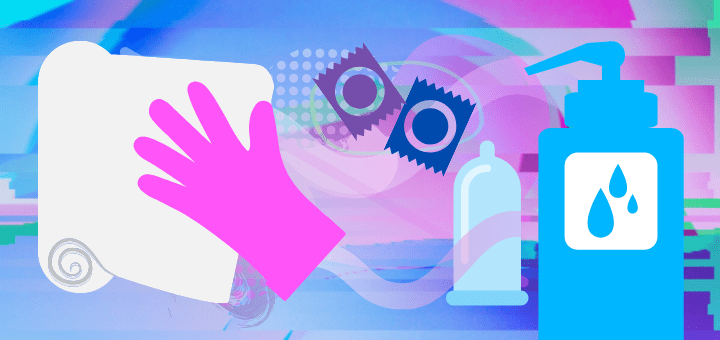 Tips when using barriers for butt stuff
1. First, note the compatibility of different lubes and materials. Oil-based lubricant dissolves latex, so you might want to use nitrile gloves. (Also note that silicone-based lube degrades silicone toys.)
2. If you stuff a glove's fingertips with cotton balls, you can safely finger someone without having to trim your nails!
3. Barriers feel best with lube, and dental dams are no exception! A water-based lube with extra gel-like "padding," like Sliquid Sassy, helps the material can glide against the receiver's skin.
4. If you don't have a dental dam but want to "make" one in a pinch, you can cut across the tip of a condom and down the side. Unroll it, and voilà, you have a dental dam! Or use kitchen cling wrap. Use it to toss the salad, if you wish.
5. Finally, if you want to switch penetration from ass to vag without cleaning up first, there is a way to do it without major risk of infection. And that is to use an internal condom (or two). The prophylactic might look weird to some and decrease sensitivity. But to others, internal condoms are worth it because they're a convenient way to have clean anal sex or quickly switch holes.
4

Have a backup plan before starting playtime

If you decided to stop doing butt stuff mid-session, for any reason, how would the rest of the playtime look? Have this conversation with your partner beforehand.

Using a towel and barriers aplenty (as mentioned in the previous section) can make it super easy to clean up and switch to a different activity. In such cases, you quickly take the condom and gloves off, roll up the towel, and go to oral or vaginal sex, without getting up to wash off.

Or maybe you would rather raw dog it and possibly take a shower break if something messy happens. It's totally up to your comfort level and your partner's! In any case, it's good to be open about it and make sure you're on the same page.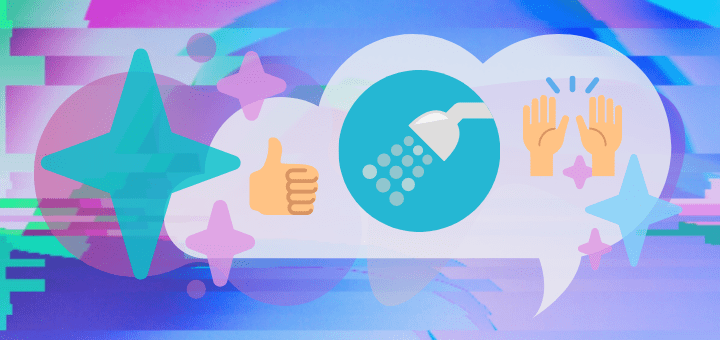 Wrapping it up
I think, while people's fears about messy butt play are real, it's often easy to work around them. Having clean anal sex could be as simple as eating right, knowing your schedule, and taking a shower. For many people, it is! Everything else in this article, though, is for peace of mind, so that you can focus on the important thing: having fun.