Types of Dildo Bases ⁠— and 6 things you could do with them
Play with penetration beyond lying on your back and hand-thrusting dildos, missionary-style. The non-insertable portion of a dildo can make a more considerable difference than you'd think.
I've previously written about making masturbation feel more realistic, which encompassed a wide range of toys and tricks — from Fleshlight mounts to VR porn. Think of this dildo base guide as a companion piece to that article.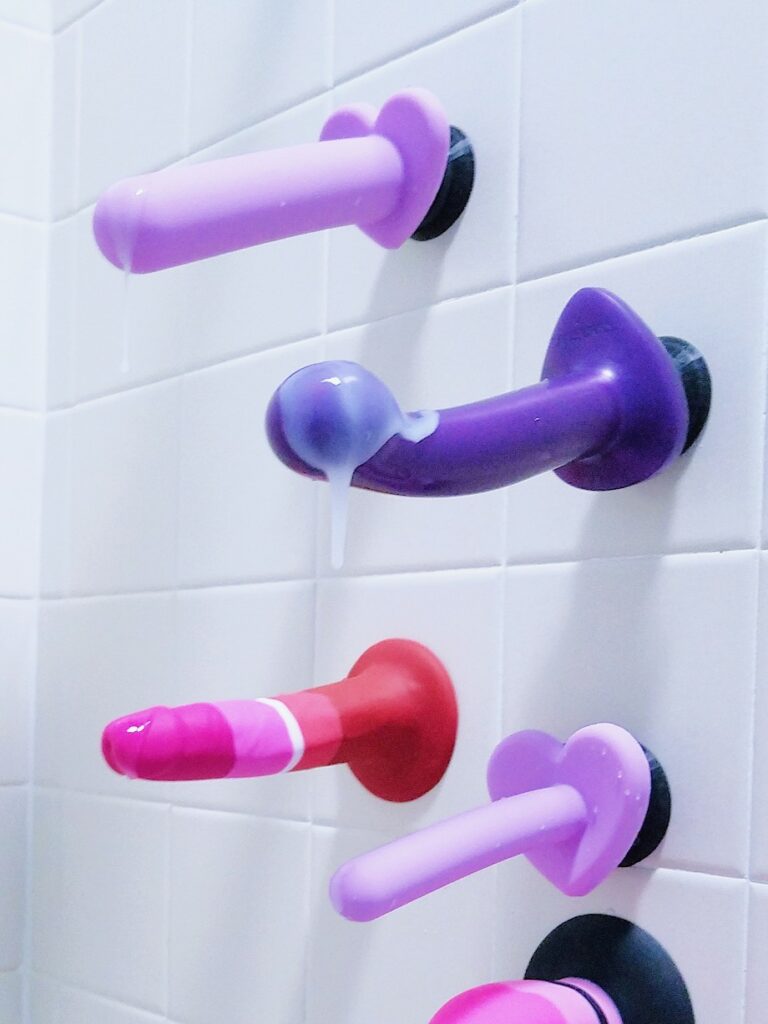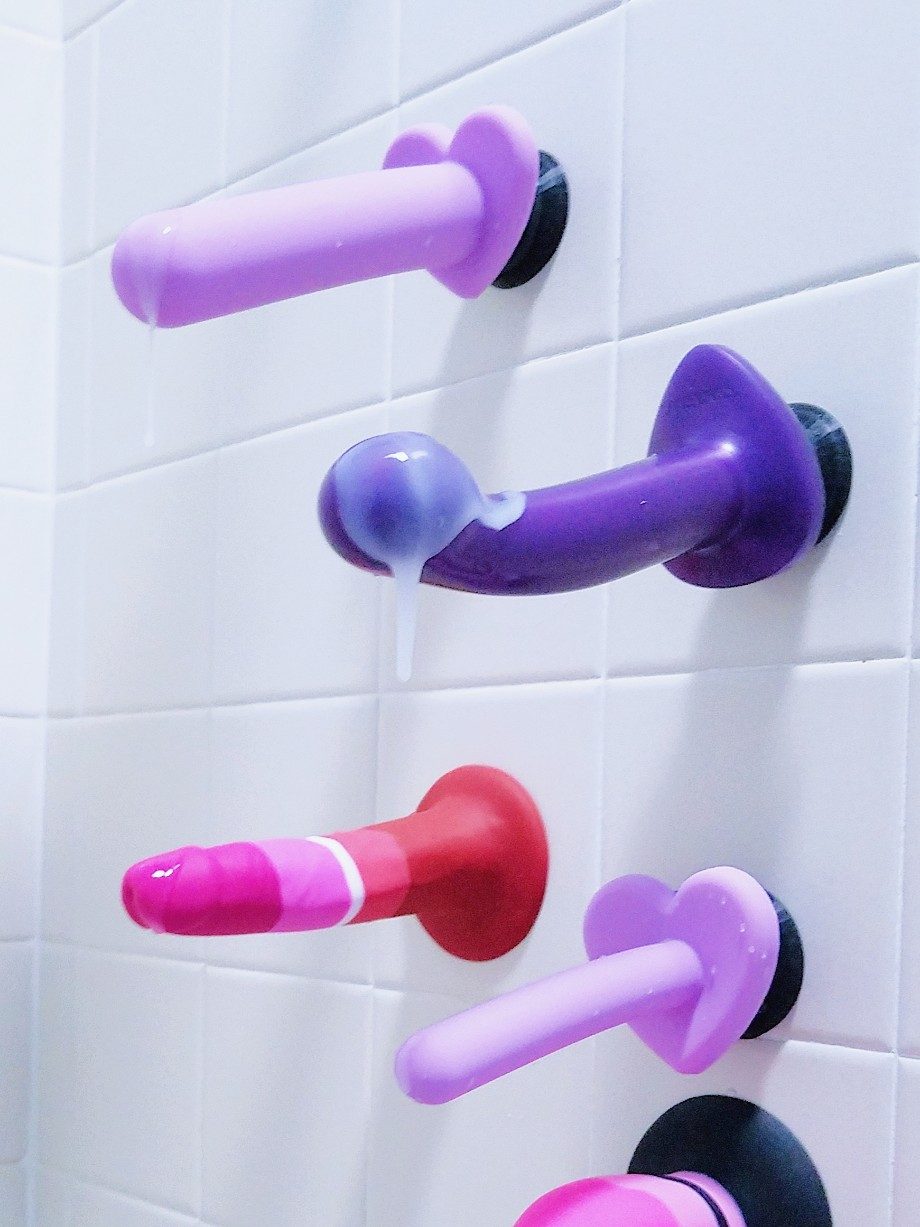 Flat base dildos vs. suction cup bases
If your dildo already comes with a suction base, rejoice! If it doesn't, don't think of dildos with flat bases as merely lacking features — they're versatile because you can attach so many add-ons to them.
Double-sided suction cup adapter
Expand your dildo selection beyond those with built-in suction cups
You can convert a flat-based dildo into a suction cup dildo with a double-sided suction cup. Attach one side to a dildo base and the other to a smooth, clean surface. Try a mirror or floor tile.
Double-sided suction cups come in a wide range of sizes. That's a big deal if you're attaching a huge and heavy dildo to the wall.
As well, some glass dildos come with detachable silicone suction cups. Ride on!
Add a silicone cushion or grinder to the base
Squishy humping toys can be fun alone, but you can also attach some of them to flat dildo bases for added stimulation during harness play!
While you're penetrating a partner with a strap-on, your vulva has something to grind up against (or provide soft cushioning).
There's a range of grinders made by indie silicone artisans like Vixen Creations and Bananapants. Some stick to flat dildo bases, while others wrap around them or are held in place by a harness.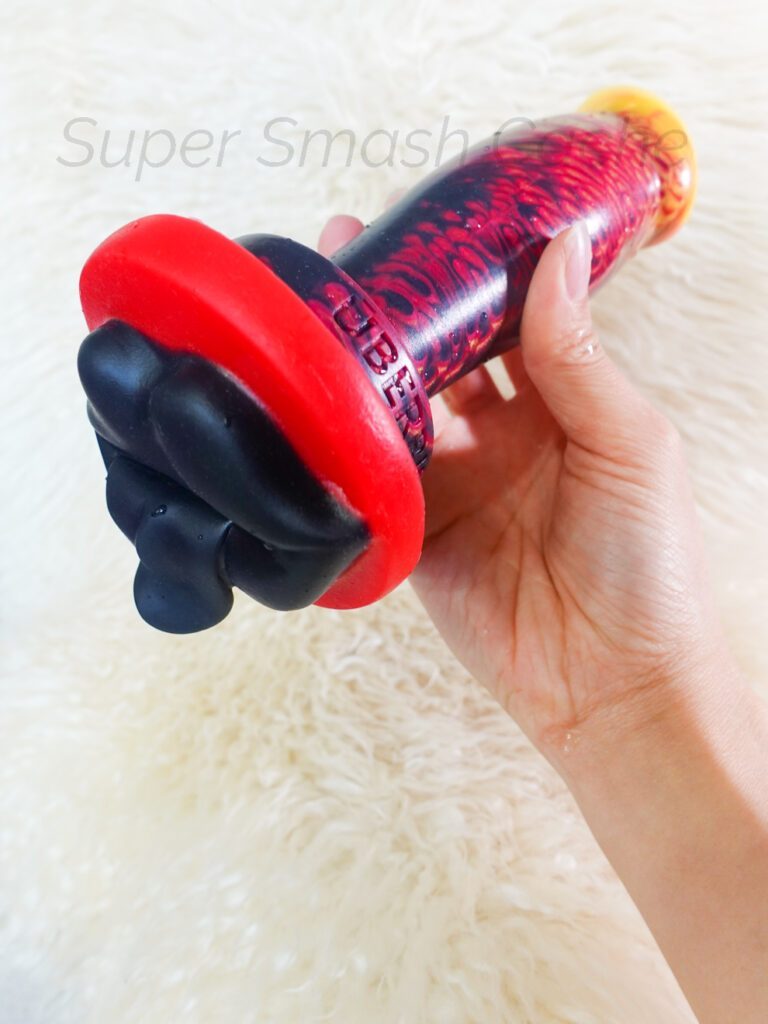 Harnessing or mounting dildos
Flat base dildos can be easy to harness and mount under a few conditions:
The base is laterally flared but not too thick
The phallic part of the dildo can adequately fit inside an O-ring
Dildos with suction cup bases also tend to be harnessable, but they're sometimes slightly less stable. Such is the case if the dildo is heavy, and the suction cup is on the thinner side.
For mounting certain suction cups and flat base dildos while solo, try putting a thigh harness over a pillow.
I like also the Liberator Wing a lot. It has slots for both cowgirl/cowboy/cowpoke and doggy-style positions. There's a size limit, though. The following specs are ideal for fitting through the Liberator Wing's holes:
Dildo diameter under 2"
Base diameter under 3"
OR, if the base is bigger, a somewhat flexible one that folds down easily

Dildo bases with broad, rigid balls probably wouldn't be the best fit
Why do some dildos have holes in the base?
Bullet holes, Vac-U Lock, and suction dildos
Some dildos have holes in the bases with varying sizes and functions. Some are great for slipping bullet vibrators inside, while others are better for even more ways to mount!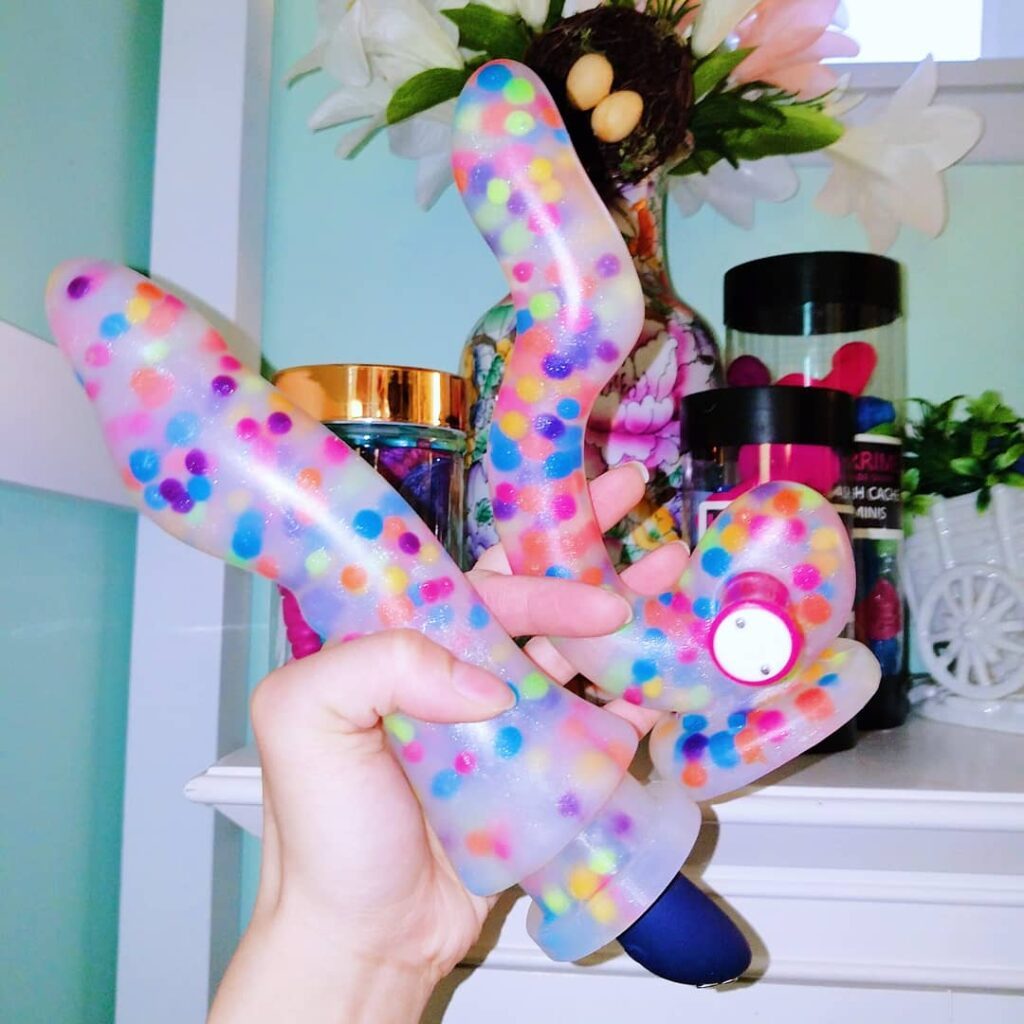 0.8" wide bullet cavity base dildos
Best for standard size bullets but seldom suction cup adapters
The most versatile bullet vibrators have hard plastic shells in the 0.75" to 0.85" diameter range. They transfer vibrations well and fit inside a wide array of vibrating dildos, from the well-known Tantus and Vixen Creations to newer companies like Cute Little Fuckers.
Sex toy reviewers tend to call the We-Vibe Tango X the gold standard — it's unbeatably rumbly. I highly recommend saving up for the Tango. You do have plenty of more affordable options, though:
If you want a suction cup adapter for a dildo bullet hole of this size, try the silicone one made by Tantus.
Fits a limited range of bullets, but you get way more mounting options
Vac-U-Lock fucking machines
Many fucking machines come with Vac-U-Lock style dongles, including the full-on Kink Power Banger. For a more compact sex machine, the miniature Velvet Thruster Universal connects to dildos with lock-on holes, though the stroke length is relatively short at 1.5".
Bullets for Vac-U-Lock Holes
I also have two main bullet recommendations for vibrating dildos with Vac-U-Lock or Lock-On style holes:
Think of them as complementary.
The Exposed Nocturnal is possibly the strongest bullet in existence, but hella high-pitched and buzzy. It's more for putting in biiiiig dildos with thicc silicone to travel through.
The Silver Bullet is a little rumblier but weaker. You'll likely get more enjoyment out of using it externally, though.
If you want the most massive vibrating dildo combination I've ever tried, put the Exposed Nocturnal inside the Hankey's Toys Topher Michels. You're welcome.
Accessibility attachments: handles and suction cups
Some users struggle with reach or angling, in which case a dildo handle might help.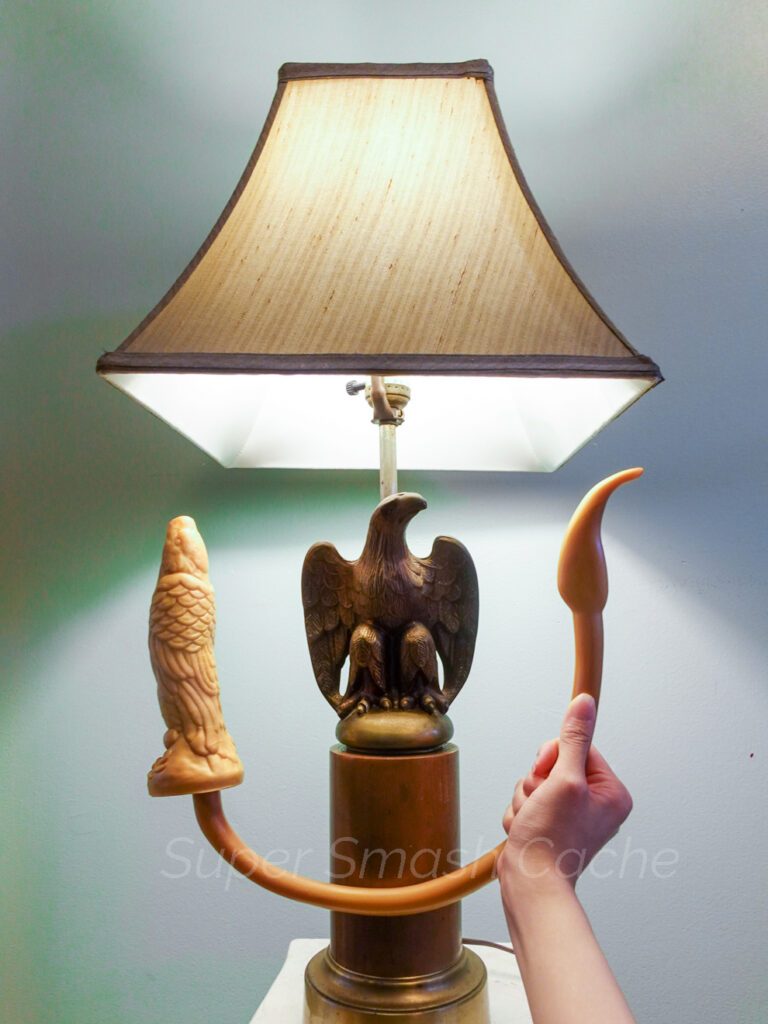 A straight hilt like the Realm Drago "sword" suffices for partner play. For solo play, a U-shaped handle like the SilcArts Silc Touch might better fit the bill.
Finally, there's a suction cup adapter for this size Lock-On hole, too, made by Blush Novelties. Or try a Vac-U-Lock/Lock-On harness.
BJ dildo by Number One Laboratory
These dildos have hollow canals on the inside, allowing BJs to transfer suction to the wearer's clit or T-dick. So if you're a vulva-owner who loves the look of strap-on blowjobs and wants to feel them, the BJ dildo is fantastic for that.
An important note about fit: this hollow dildo is for folks whose junk is under 2" long by 1" diameter.
Double-ended dildos
The perk of double-ended dildos: more options for penetration sensation in one toy! njoy's Eleven and Le Wand's Contour, for example, have one big end and one small end.
However, the downside is that your positioning options aren't as plentiful. Still, the Liberator Wing's dense foam slots can hold dildos without bases! This way of mounting toys is best for hard material dildos like the Le Wand Arch, njoy Eleven, and Desirables Dalia.
Velvet Thruster Prime screw ports and attachments
Last but not least: the new Velvet Prime models have accessibility and positioning accessory options!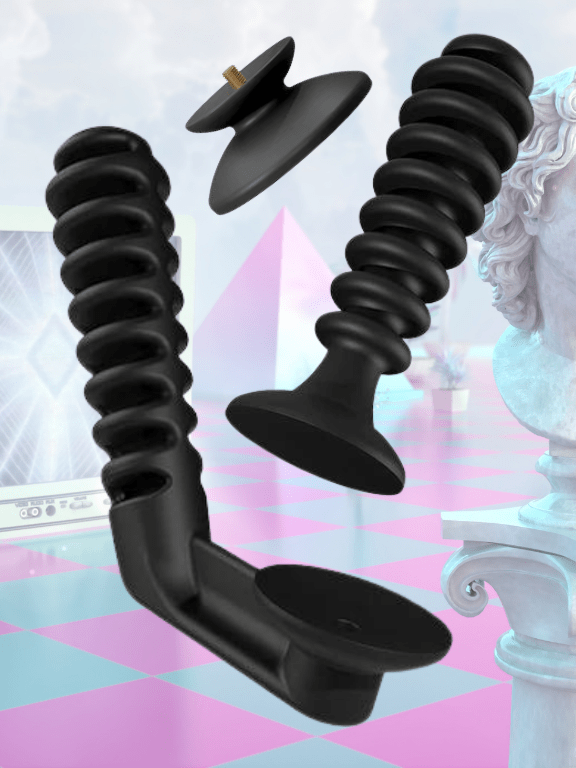 The tweaks I mentioned above can apply to the Velvet Thrusters too:
You can also swap the Velvet Thruster Prime head out for a different dildo attachment. Or put a Vac-U-Lock dildo on the Thruster Universal. And harness that.
Hell, yeah. The future is now.
Further reading: 7 Ways to Create a More Realistic Masturbation Experience
And yes, you can watch VR porn on a PSVR headset. Lol.