Pris Toys Basilisk review: dual-density dildo with soda can width
Galactic glitter, girth, glow, and gloss
The Pris Toys Basilisk packs it all into a wildly eye-catching semi-realistic dildo. Its dual-density silicone is just the cherry on top.
Oh, and did I mention that it's 2.3″ across — about the same width as the top of a soda can?
If you've never felt a dual-density dildo before, I'll sum it in one word: meaty. These special members feel fleshlike, with their firm inner cores and squeezable outer layers. The combination of silicone densities yields stability for thrusting and a comfortably soft, somewhat realistic feel. All that, and it's body-safe and BIFL.
---
Pris Toys dual-density silicone vs. Vixen Creations' VixSkin
Pris Toys might be a new indie maker on the scene, but something about their Basilisk dildo tells me they've paid close attention. Their dual-density silicone feels familiar — uncannily similar to Vixen Creations' VixSkin. And that could only be a good thing … right?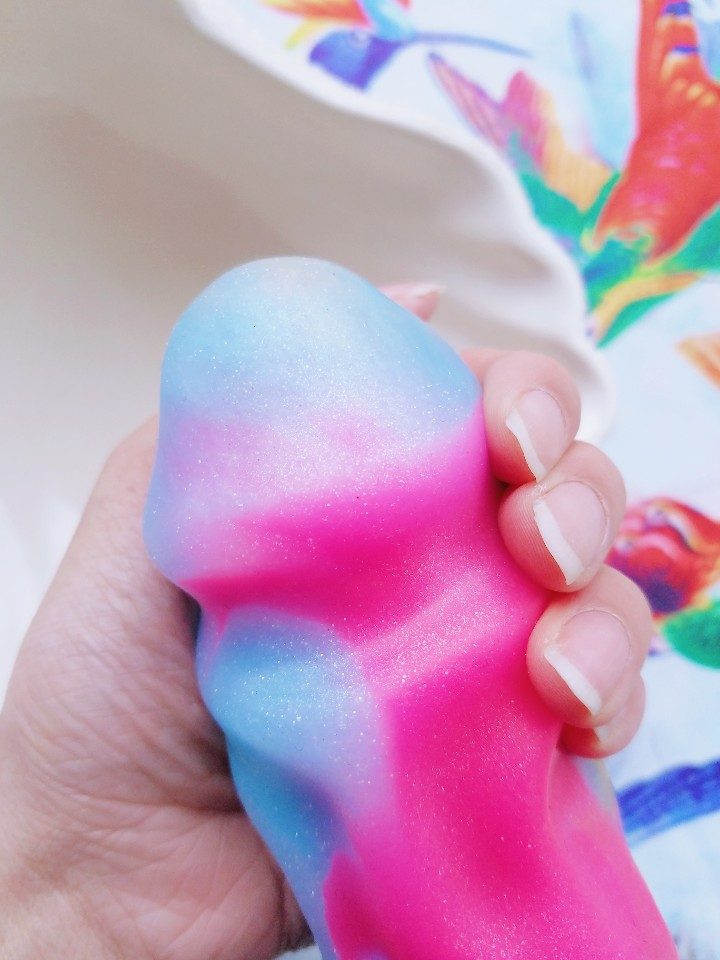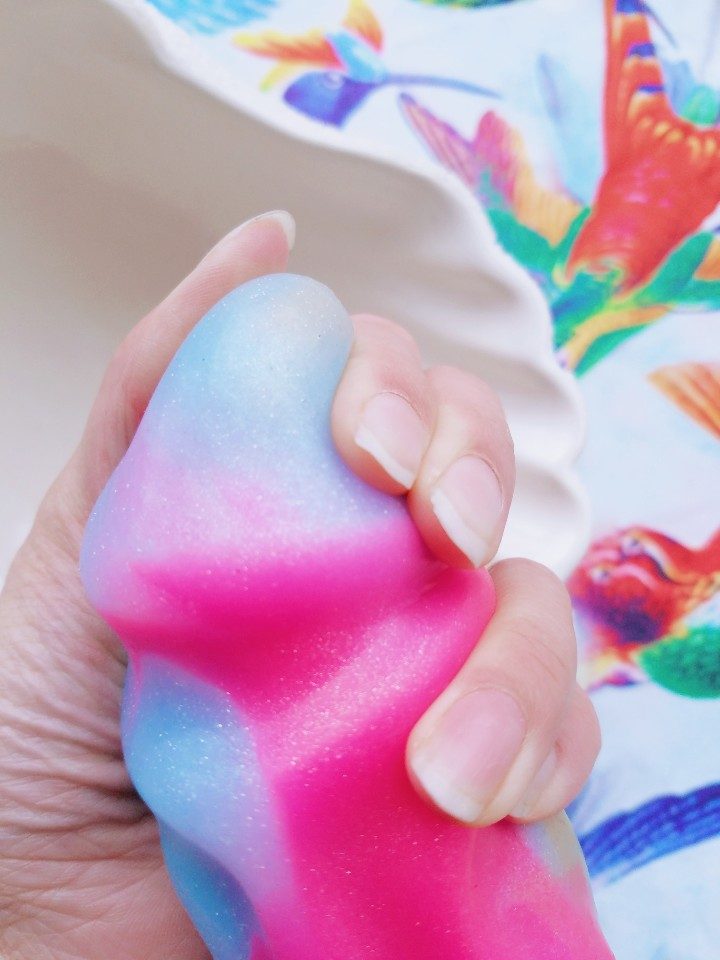 VixSkin dildos were among the first body-safe dual-density dildos done well. Most shops I work with simply don't send Vixen Creations out for review anymore because they're already highly acclaimed cult classics for the dildo connoisseur. Vixen is to realistic dildos what njoy is to stainless steel: maybe a little pretentious, but deservingly so.
The outer layer of the Pris Toys Basilisk is on the same tier. It is a chef's kiss emoji. It has the same squish level as the tip of an actual penis or a relaxed muscle, with a glossy surface for minimal drag.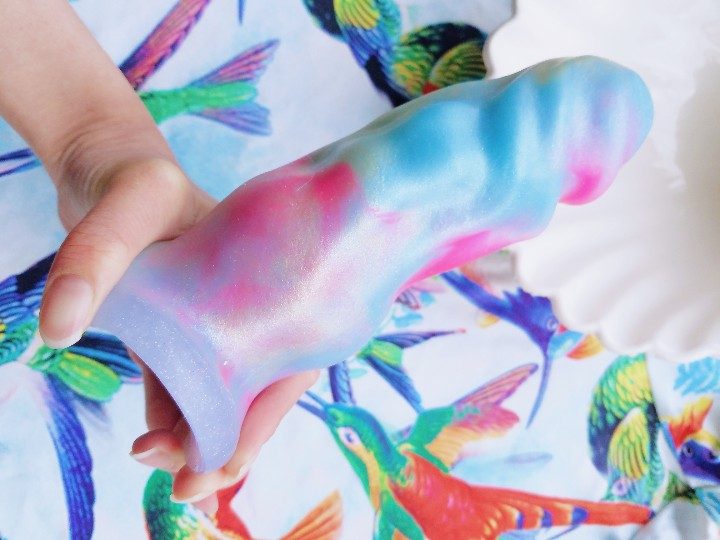 Where Pris Toys' dual-density diverges from other makers is the inner core. It is fucking HARD. Literally hardcore. The base also has minimal flexibility. For me, that translates to a super easy time gripping on the Basilisk and aiming it. Another difference is that the core goes higher up — there's less to squish at the tip than with Vixen Creations' VixSkin.
---
How the Pris Toys Basilisk looks and feels in use
Nothing is boring about the visual presentation. The Pris Toys Basilisk has textures galore, including a slightly abstracted frenulum and foreskin and corpus spongiosum. On paper, it offers horizontal ridges to pop against your G-spot or verticals and diagonals to twist.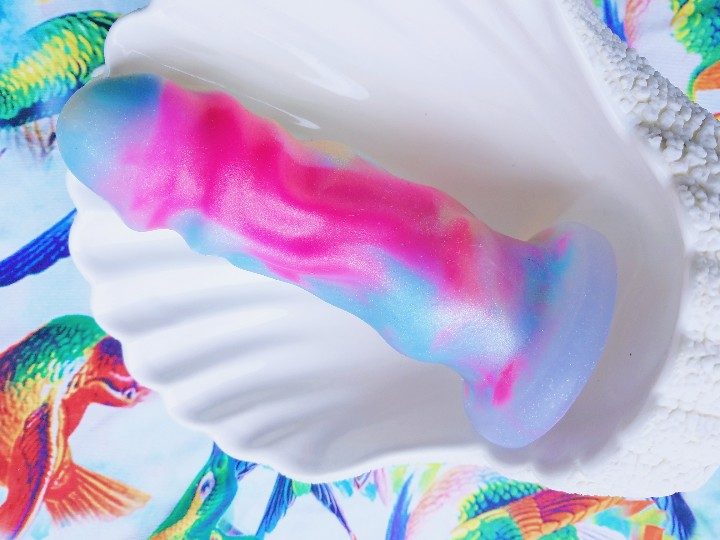 In practice, wish the Pris Toys Basilisk felt as good as its undulating shaft looked. Though it seemed promising on the outside, there's not much that it specializes in.
Yes, its outer silicone is the same density as VixSkin but doesn't pad the tip nearly as much as, say, the VixSkin Outlaw. So it doesn't yield or conform easily behind my cervix during deep penetration as the VixSkin Johnny or Gambler does.
Shape-wise, the Pris Toys Basilisk's head lacks definition. It feels like I'm fucking my G-spot with nothing. Further down the shaft, the silicone is too soft for me to feel much of the textures unless I'm reeeaaally focusing on them.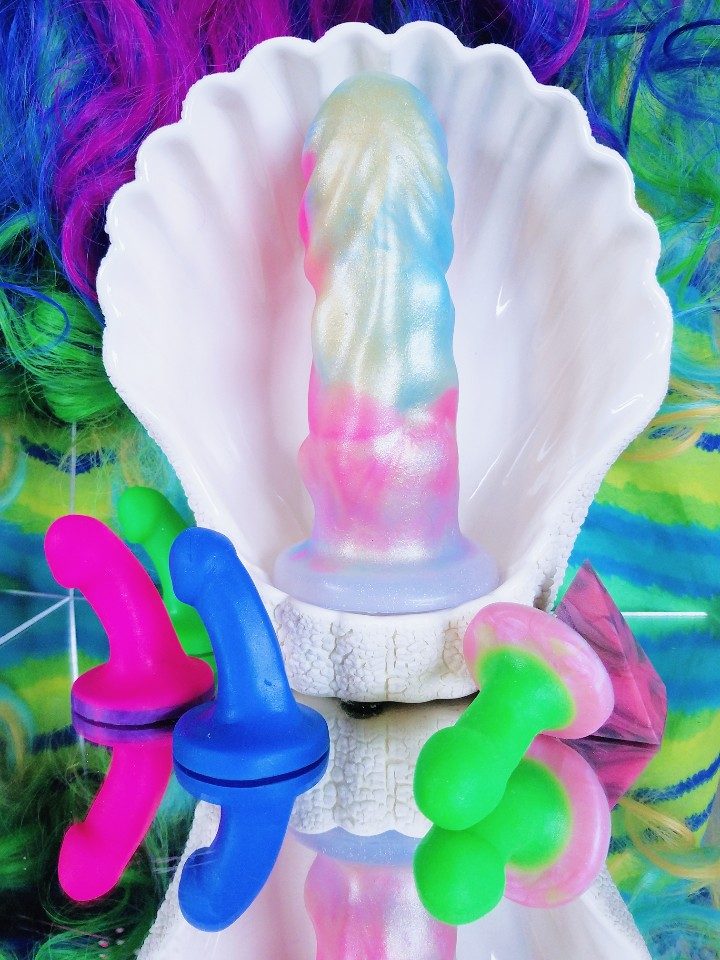 Though the Pris Toys Basilisk is super filling, its firmness and squish aren't distributed in the right places for me.
---
What I'd recommend instead of the Dual-Density Pris Toys Basilisk
I need the Dual-Density Pris Toys Basilisk to shout its intentions with its chest. If it wants to be a G-spot dildo, it needs more curvature and a thicker mushroom head to reflect that, as the scream-inducing Vixen Randy does. The Basilisk's soft textures also lack the va-va-voom of the Uberrime Night King.
In its current form, the dual-density silicone doesn't add much to the Pris Toys Basilisk. It fills a void but also feels too shy and non-committal, not knowing what it wants. It's potential and nothing more. I may be more fond of the bolder and firmer single-density Basilisk if I gave it a chance, but the dual-density version I have in front of me is far from a "fuck yes" — which makes it a "no."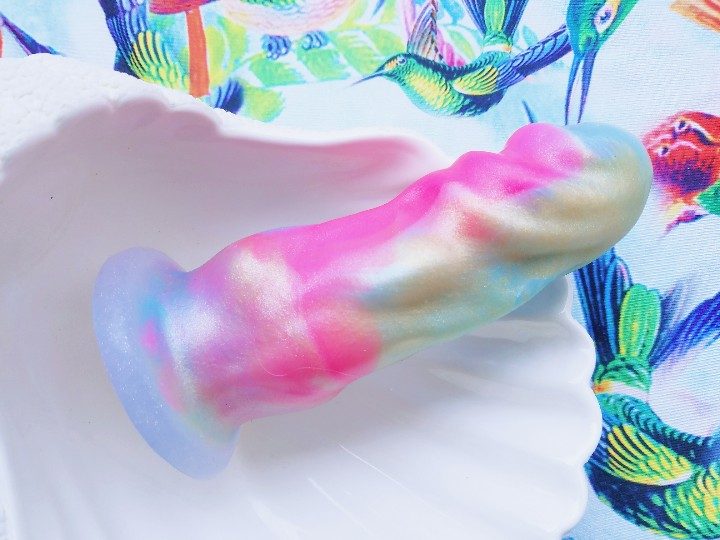 ---
Think the Pris Toys Basilisk would be a "fuck yeah" for you?
Get one from SheVibe! Or browse the rest of their Pris Toys selection.