Uberrime Praesto, Tantus Sport, & Silc Arts Renaissance dildo reviews
Today, I'm reviewing three basic but be-a-Uu-tiful G-spot dildos!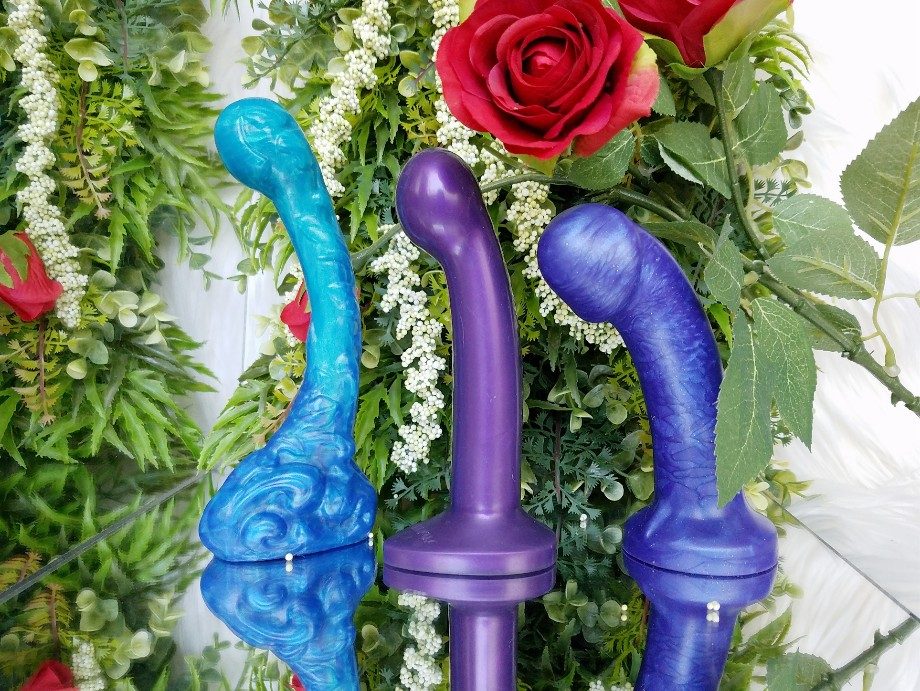 In this fast-blast round-up, there's a little something-something old (the Tantus Sport), something new (the Silc Arts Renaissance), nothing borrowed (I wouldn't be comfortable with that), and something blue (the Uberrime Praesto).
Click to jump to a mini-review:
(The most filling of these three G-spot dildos. Plus! Glitter!)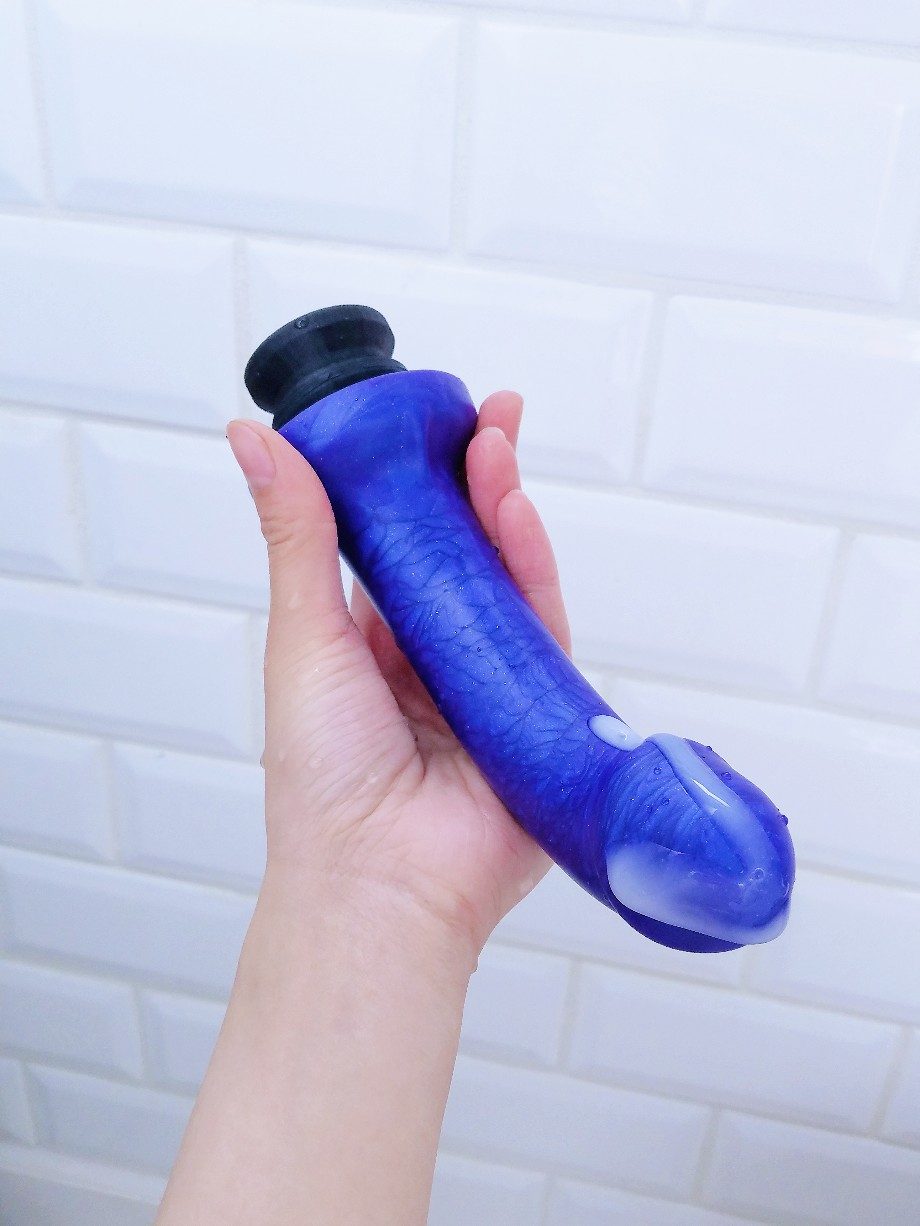 From the Uberrime Praesto product page:
In Latin, Praesto is both a verb and adverb meaning, "I am ready, at your service" or "On the spot." A proper name, as the Praesto was designed specifically for G-spot and prostate stimulation.
Whether for solo vaginal play or strap-on play, the Uberrime Praesto is a potential all-arounder for those wanting a dildo with slightly above-average girth. Its low-profile flared base is both butt-safe and harnessable.
Like the Uberrime A-Spot Avenger, the Praesto's base includes an orientation bump. That way, you can always tell which side faces anteriorly, even when playing in the dark.
Fast facts about the Uberrime Praesto:
Length: 6″ total (5.5″ insertable)
Maximum head diameter: 1.59″
Shaft diameter: 1.27″
Firmness: Shore 12A (medium-firm)
Available colors: orchid blue/indigo, mermaid blue/teal at SheVibe; other options available at Uberrime.com
How the Uberrime Praesto feels in use
With any G-spot toy, head shape is one of the essential features. The Uberrime Praesto features a rounded tip and semi-representational corona. It's more diffuse than direct; the curvature massages my front wall in general, while its flared mushroom tip digs in a little bit shallower on my G-spot.
This dildo's coronal ridge makes an excellent fit for those who enjoy stimulation at the mouth of the vagina.
The Praesto's slight bulbousness and arc also work well for cervix massage and A-spotting — if your vagina is of short-to-medium height. It's one of those weird examples where I can aim precisely enough in my posterior fornix that length doesn't matter, much.
(A partner's bent fingers or the Blush Lush Iris, for example, can provide sufficient pressure for me.)
The Uberrime Praesto might be for you if you:
Enjoy mushroom heads
Prefer otherwise minimal texture
Have a G-spot sensitive on the pubic bone — sometimes, G-spot dildos aim too far past it for me. That's not the case with the Praesto.
Enjoy the slightly-above-average 1.6″ diameter
Are exploring your internal erogenous zones in general
Consider the following, in addition to the Uberrime Praesto:
(Most bulbous and affordable of these three.)
The Tantus Sport is another G-spot/prostate dildo with a rounded tip, but suuuuper front-loaded. The egg-on-a-stick head is akin to the njoy Pure Wand but on a relatively straight and flexible shaft. It has a teardrop-shaped base, which is another way of knowing which side faces your (or your partner's) front wall.
Fast facts about the Tantus Sport:
Length: 6.2″ total (5.5″ insertable)
Maximum diameter: 1.25″
Shaft diameter: 1″
Firmness: Shore 20 (OG firm formula)
Available colors: black, midnight purple
How the Tantus Sport feels in use
There's a distinct "pop" between the Tantus Sport's head and neck, making it direct and focused. This toy that locks into place and works best with small movements.
I want to be clear: it's not a substitute for the njoy Pure Wand since there's no steep curve to aim at your G-spot for you. The Tantus Sport is also a little bendier at the shaft than I'd prefer. Consider, in contrast, the Chrystalino Champ's firm glass body or the Cloud 9 G-Spot Slim 7", which is mostly firm, except for at the neck.
Because aiming has to be more precise with the Tantus Sport's head shape, I suggest proceeding with caution if you have short arms or ample belly fat. Its limited length means you don't have much of a handle to work with.
Otherwise, if you already know where your G-spot is, and want a starter toy, the Tantus Sport is intense enough to help you become BFFs with it. I would have loved to use it as a first dildo.
The Tantus Sport might be for you if you:
Are eyeing the njoy Pure Wand's front-loaded head but want something less hardcore
Don't want any texture at all — just pure, glossy curves, please!
Mostly want to target your G-spot  — and it is slightly past your pubic bone.
Are intimidated by hard materials
Are new to toys and want something budget-friendly but effective
Keep in mind:
Tantus has flash sales every month, so you might sometimes even be able to get this silicone dildo for under $20! Check the manufacturer's website often.
The prettiest and most customizable of these three G-spot dildos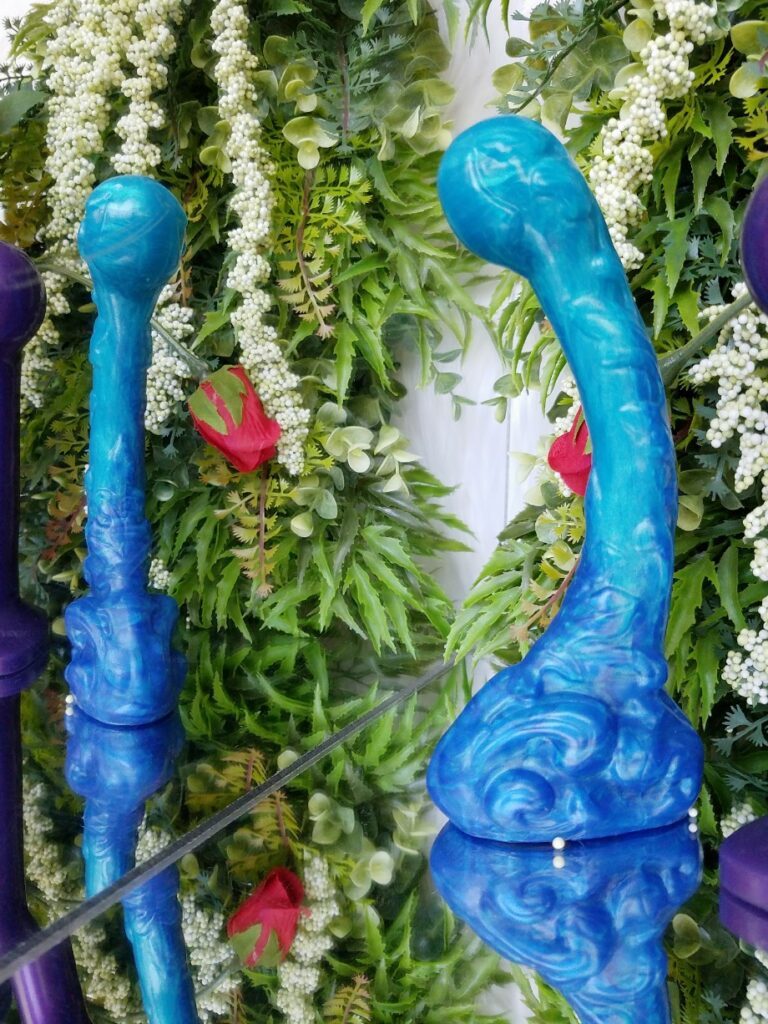 This gorgeous artisan dildo by Silc Arts features twists and turns and fine filigree textures inspired by Victorian scrollwork. From the Silc Arts Renaissance product page:
The twist of leaf. The petal's curve. The grace of it all. I love how the leaves nestle, grow bold from the same bud. They arch forward in grace.
(I requested to have mine in blue because it reminds me of water waves.)
Like the previously-mentioned dildos, the Silc Arts Renaissance also has a bulbous head but with a more gradual teardrop-shaped swell and a thinner shaft. It also has an asymmetric base for easy orientation.
Fast facts about the Silc Arts Renaissance:
Length: 6.75″ total (5.5″ insertable)
Maximum diameter: 1.25″
Shaft diameter: 0.8″
Firmness: Shore 32 (in this size, it's hard but springy), 20, 10
Available colors: Your choice! Buy one ready-made or get a custom 2-color gradient.
How the Silc Arts Renaissance G-Spot dildo feels in use
I'm a fiend for fat silicone dildos, but with 1.25″ diameter and such a bendy shaft, the Silc Arts Renaissance suits users who prefer gentle insertions. This dildo isn't one that I use for hard thrusting, but slow pulling and clenching to savor its textures. Its bendier shaft and less sudden swell make the stimulation way less direct.
To an extent (usually until the first orgasm), I can use it for cervix stimulation, until my vagina tents/expands. Though its base is a bit bulky for harnessing, I like how the slightly raised middle can grind up against my clitoris when thrusting.
Overall, the Silc Arts Renaissance isn't for me. I like the textures, and would highly recommend it for butt stuff, but the Sparrow is much more my speed.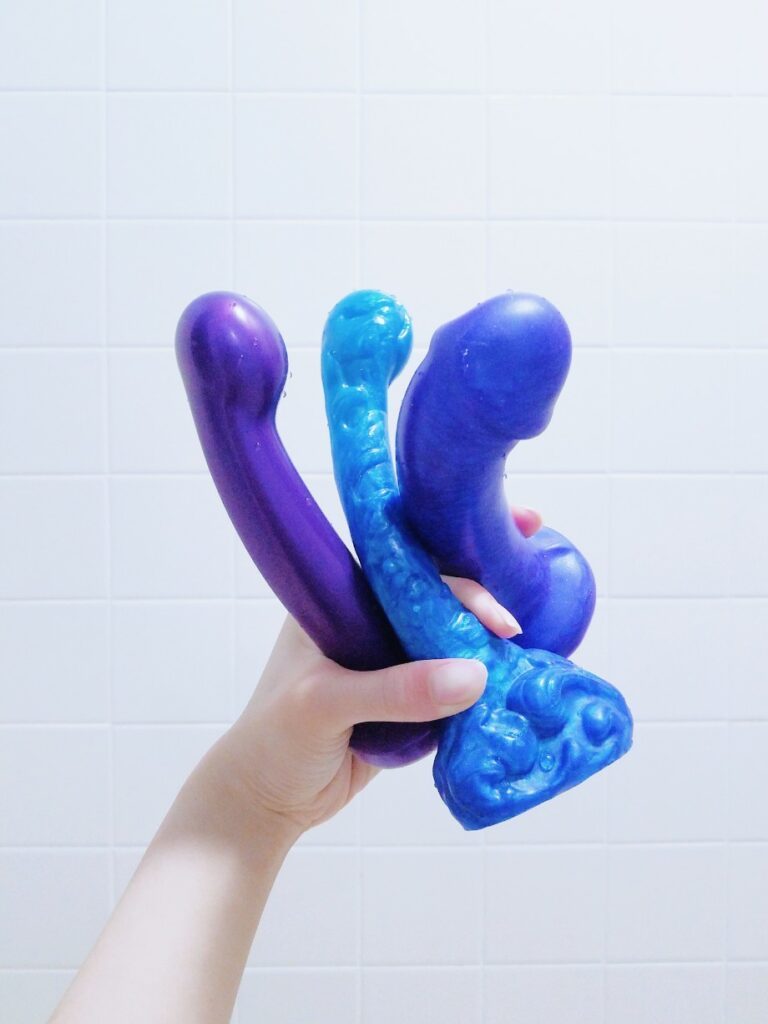 The Silc Arts Renaissance might be for you if you:
Are drooling over the aesthetic!
Want built-in clitoral grinding
Enjoy tactile textures
Seek a beginner dildo for butt stuff
Usually otherwise have pain with penetration
Recap of these basic G-spot dildos
Of these three G-spot dildos, my favorite is the Uberrime Praesto. It's no mystery that I'm a size queen and prefer something a little girthier.
However, as far as focused stimulation goes, the Tantus Sport takes the cake. And the Silc Arts Renaissance's main appeal to me is the leafy textures — without them, it would feel too much like I'm fucking myself with nothing.