Review: Cloud 9 Novelties G-Spot Slim 7 Inch flexible A-spot vibrator UNDER $35
I wish I had this vibrator when I started exploring sex toys!
It would have saved me so much time — and money — finding and massaging all the erogenous zones that matter to me. My G-spot, anterior fornix, cervix, and clitoris are all pleased! And the price tag? $34.99!
The Cloud 9 Novelties G-Spot Slim 7 Inch rechargeable vibrator features two insertable ends with independently controlled motors. Both heads voluptuously swell with a slightly forward tilt to massage the front wall.
The rounder G-spotty end especially has a steep curve for dipping behind the pubic bone and pressing against the internal clitoris and urethral sponge.
TL;DR If you're looking for a versatile beginners' G-spot and A-spot vibrator, look no further than the Cloud 9 G-Spot Slim 7 Inch.
(I know, its name is super generic, like the NS Novelties Firefly G-Spot Glass Wand, but it does everything it needs to do!)
In this review of the Cloud 9 Novelties Slim 7 Inch flexible silicone vibrator:
Shop Cloud 9 Novelties sex toys
About the Cloud 9 G-Spot Slim 7 Inch's head shape and neck
My G-spot has been picky in the past, but it gets along well with the
Cloud 9 G-Spot Slim 7 Inch
's flexible neck. Affordable G-spot toys are often rigid and short, meaning that for some users, they may not be super easy to aim.
Pubic bone shape and G-spot sensitivity vary a lot. Maybe, for example, your G-spot is shallower and on your pubic bone instead of just slightly past it. That's somewhat the case with me. My G-spot gets nothing from toys that are rigid and too steep, like the NS Novelties Glass G-Spot Wand. It's better suited as an A-spot dildo for me.
In contrast, the Cloud 9 G-Spot Slim 7 Inch silicone vibrator's flexibility can bend or straighten out a little. It fits a broader range of bodies and erogenous zones.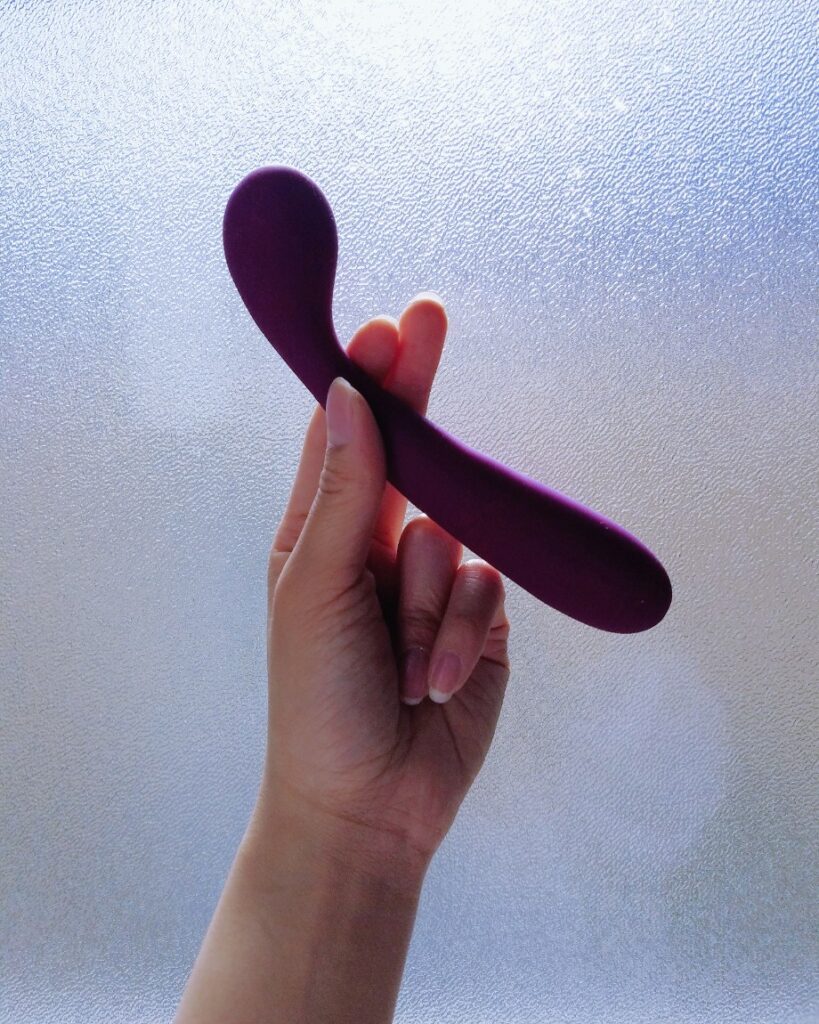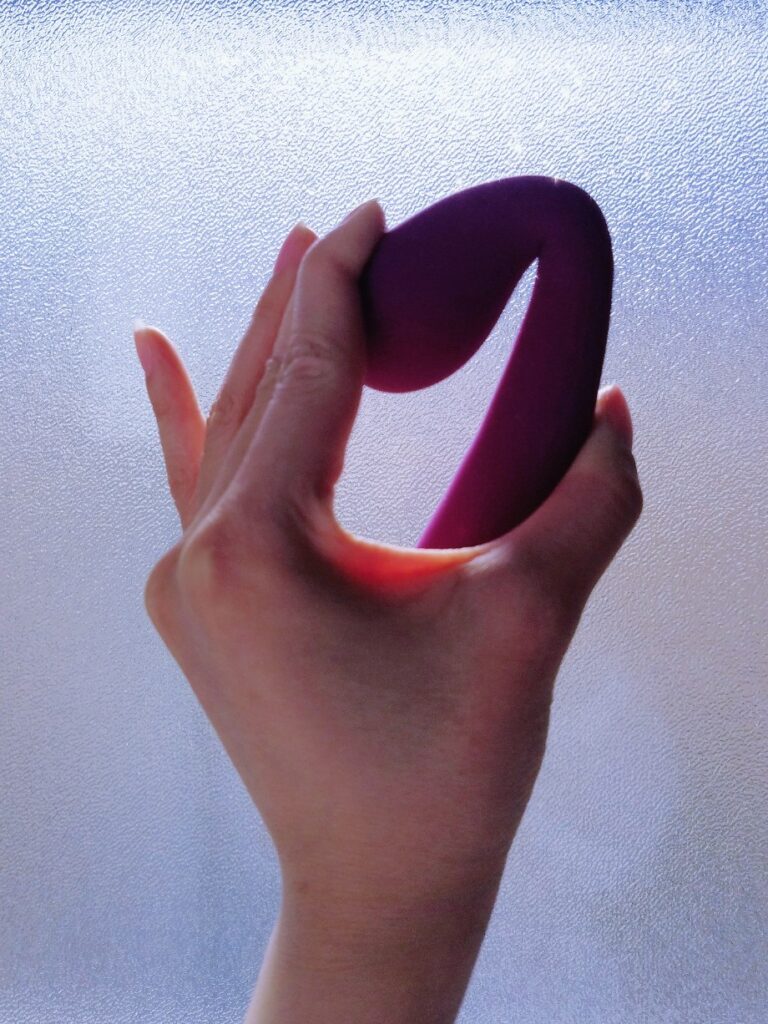 Using a G-spot vibrator for deep penetration — as an A-spot vibrator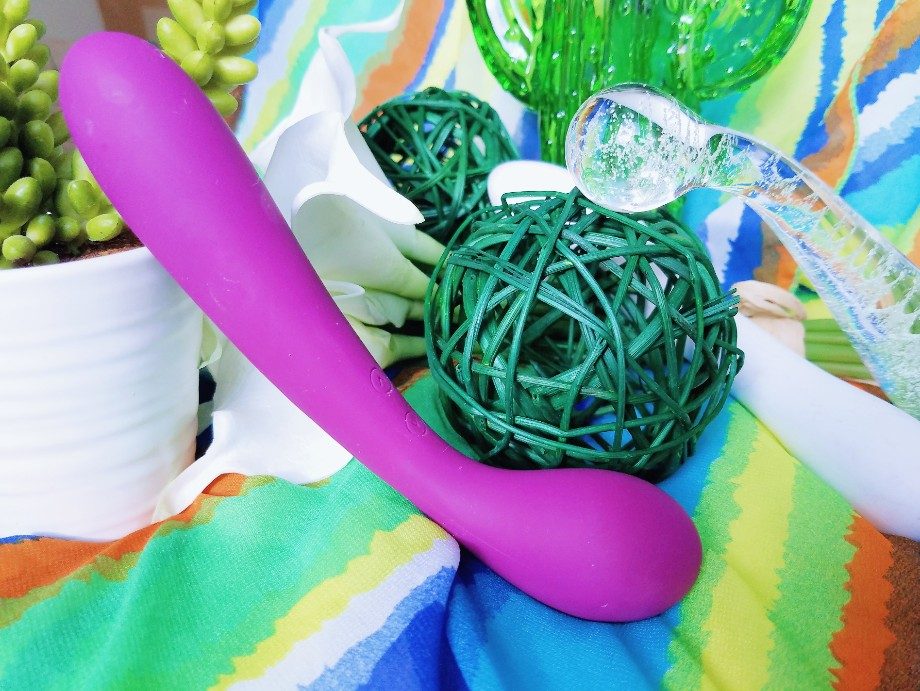 It's not often that I see bulbous insertable vibrators with ample insertable length — usually, the silicone stops at the delineated handle. That's not the case with this toy.
Because you can insert the Cloud 9 G-Spot Slim 7 Inch farther in than many other G-spot vibrators, it makes a delicious A-spot vibrator, too.
If you want to dive deep, you can use the front-loaded end to press on the front wall in front of the cervix — an erogenous zone called the A-Spot.
The other, more tapered end, in contrast, is better suited for sliding behind the cervix to massage it. Pressure in this space, called the posterior fornix, gives me some of the most intense orgasms. Many reviewers have emailed me, saying that deep penetration has elevated their sexual satisfaction.
Versatility for exploration: especially great for beginners!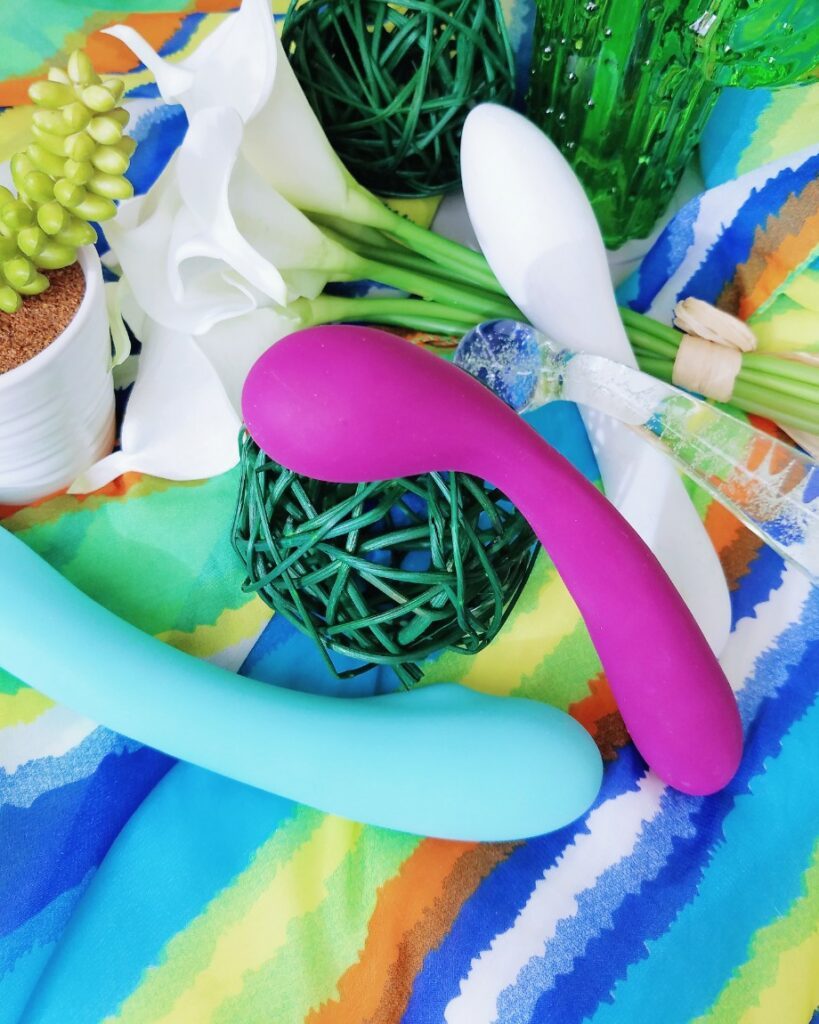 If you're someone new to sex toys, you can start with something affordable, general, and versatile to explore your anatomy first. Then upgrade later, when you're familiar with your preferences.
As far as affordable but rumbly vibrators for external and shallow G-spot stimulation, my top pick is still the BMS Factory Pillow Talk Sassy. If you want deeper penetration for your A-spot, consider the Cloud 9 G-Spot Slim 7 Inch rechargeable vibrator. It's moderate in size, at 1.25″ maximum diameter, but expertly curved.
Cloud 9 G-Spot Slim 7 Inch vibrations and controls
A vibrator is, of course, incomplete without its vibrations! The Cloud 9 G-Spot Slim can't parallel the BMS Pillow Talk Sassy's deep purr, but I still have nothing negative to say about its bulbous end. Yes, it's on the high-pitched side, somewhere between the VeDO Bam Mini and full-sized BAM in vibration quality, but again, it's $35 and insertable.
In terms of power, it comes close to the LELO Mona 2.
There's plenty of jumping and clacking and tapping when I set the Cloud 9 G-Spot Slim 7 Inch against a hard surface. And when I dip its head in water, it splashes a little and makes waves almost as big as the Mona does. If the LELO Mona 2's highest speed were a 10, the Cloud 9 G-Spot Slim 7 Inch's would probably be a 7.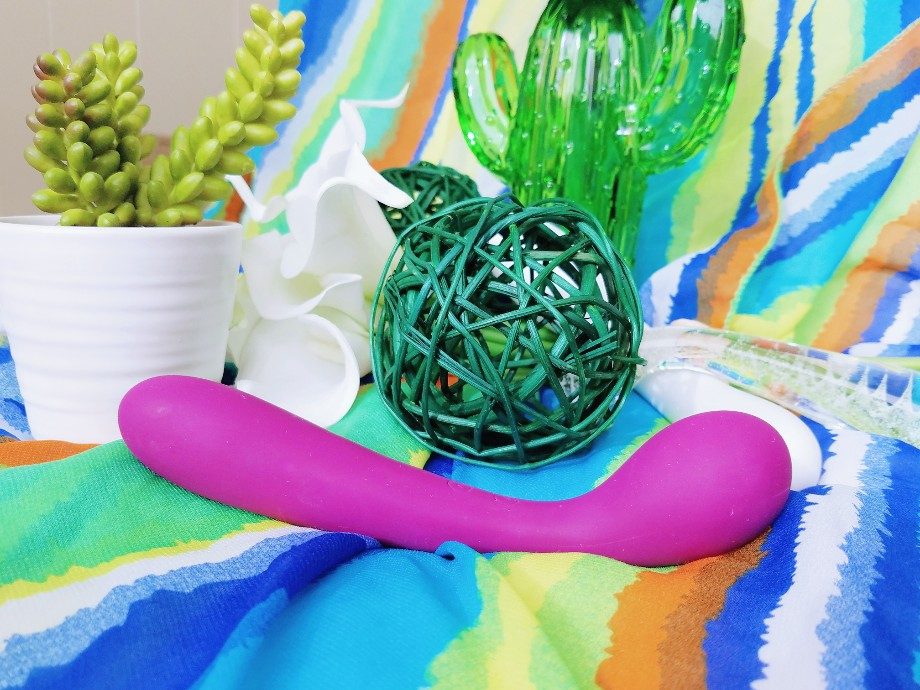 There are three steady speeds and five patterns in each motor, independently controlled by the buttons on the shaft. The vibrations in the tapered end suck, but that's alright — if I'm using that side, it's for deep pressure and cervix massage.
If you don't mind a little buzz — and many people don't, especially for G-spot and A-spot stimulation — the vibrator's more voluptuous end is perfect for you. I've felt plenty of "luxury" toys with weaker vibration motors (I'm looking at you, Le Wand Chrome Point. And anything b-Vibe.)
My verdict: a fantastic rechargeable G-spot and A-spot vibrator for under $35
For less than a quarter of the LELO Mona 2's price, the Cloud 9 G-Spot Slim is thoroughly respectable.
It combines the A-spot shape of the NS Novelties G-Spot Glass Glow Wand with some flexibility and moderately zingy vibrations. It's not super powerful, but it's fair.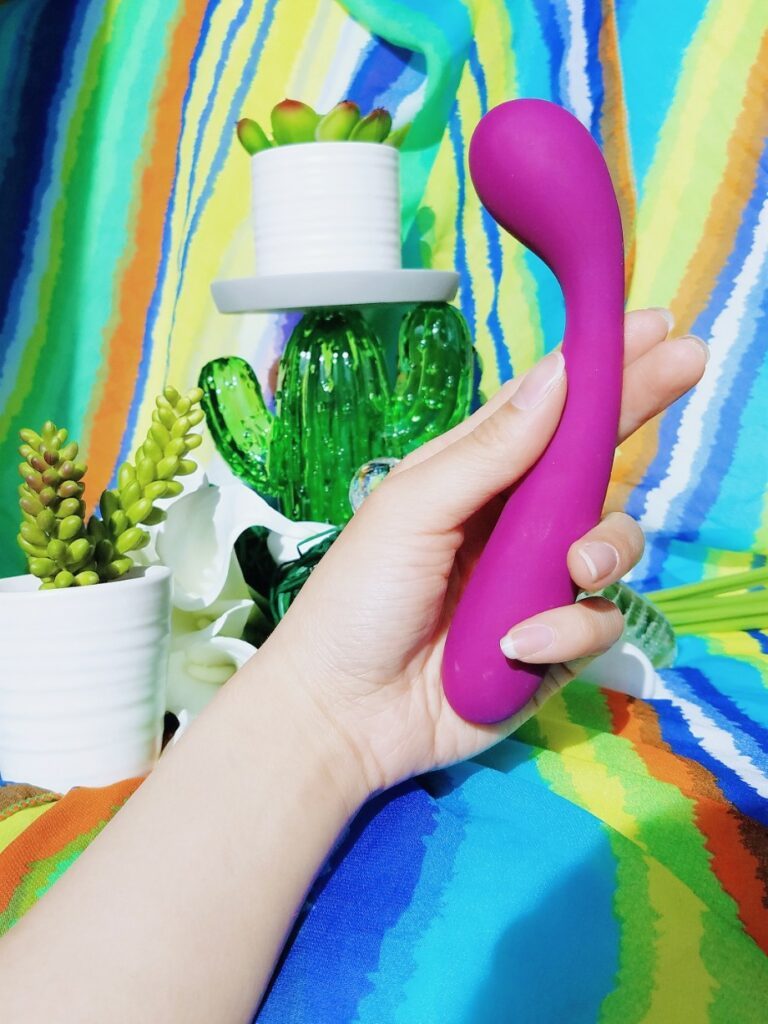 The sex toy industry has changed a lot since I posted my list of best budget-friendly sex toys in 2015. Nowadays, quality sex toys under $50 are easy to come by, but under $35 is a whole other story. As soon as I start my updated 2020 edition, you know the Cloud 9 G-Spot Slim 7 is topping the list.
With price and versatility in mind, this rechargeable vibrator is an ideal first sex toy for those who enjoy or want to try vaginal penetration.
Or maybe you're BFFs with straight-shafted insertables, but want to find your G-spot or A-spot. It's one of my favorite recommendations for that, too.
$35 could show you the light and convert you.
Feel firsthand what I mean when I say that deep penetration and A-spot orgasms seemingly answer every question I've had about love. The Cloud 9 G-Spot Slim could make you come violently.
At the least, it would likely add to clitoral orgasms and take them to the next level. Either way, it's a small price for more profound spelunking of one's body.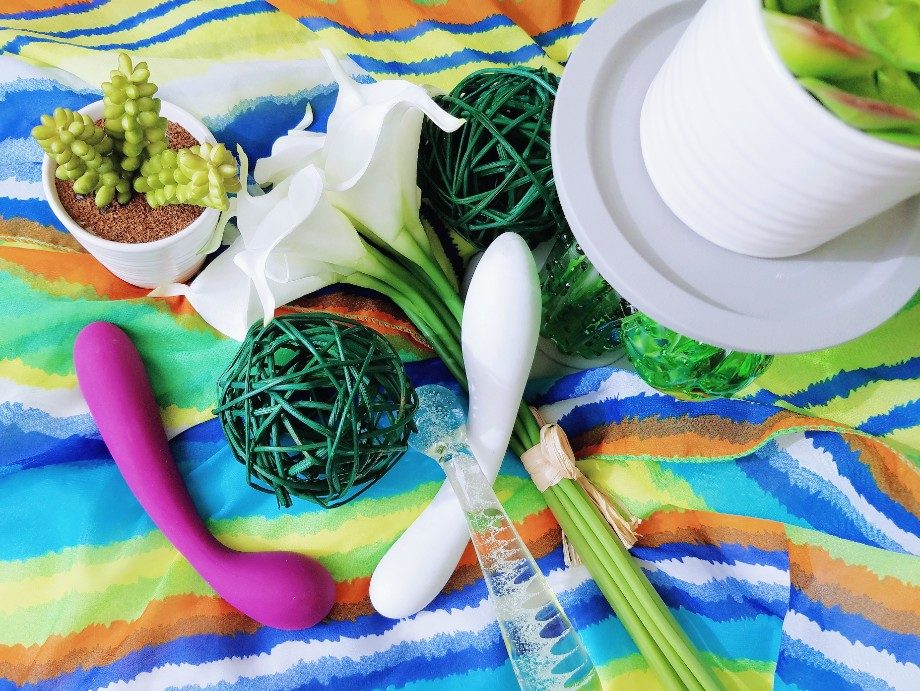 Shop Cloud 9 Novelties sex toys
Find their affordable vibrators and more via the Cloud 9 website or at SheVibe.
Get the Cloud 9 Novelties G-Spot Slim 7 Inch flexible rechargeable A-spot vibrator in teal or plum!
---
Thank you to Cloud 9 Novelties for sending me this vibrator for the review!