3 of my first sex toys and better alternatives (includes noje G Slim & Silicone Willy's 8 inch review sampler)
"Health care gadgets," read the customs label when I ordered my first dildos. $16 for two, shipped from China, paid with a Visa gift card I loaded up because I was too young to have a credit card.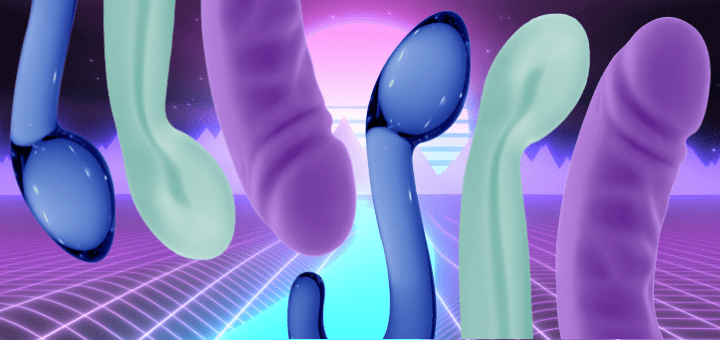 Imagine the mini-heart attack when my mom not only insisted on coming with me to pick up the parcel but also asked the post office clerk what was in it.
Luckily, he misread the sloppy handwriting and read aloud, "health care goods." I told my mom it was fancy vitamins and skin care because that would explain the contents' cylindrical shape.
It's been 8 years since I got my first two dildos. I was almost lucky enough to evade toxic jelly toys from the start, but I sure have come a long way since then! And I know to check for whether a shop ships sex toys discreetly.
These weren't all my first three sex toys ever, but they were pivotal to my sexuality.
1

Generic mushroom-tipped glass dildo: how I discovered cervical orgasms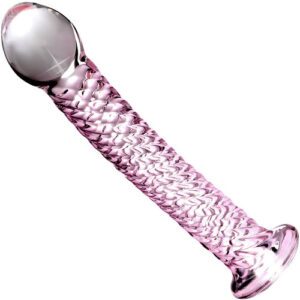 This was the dildo that started it all. The "health care gadget." You might be wondering, "Why glass dildos for your first sex toy? Doesn't that hurt?"
For one, glass is a very affordable, body-safe material— perfect for health-conscious teen's budget. It's pretty hard to fuck up the body-safe quality of glass, even if you buy it super, super cheap. In contrast, shitty and porous products are often mislabeled as silicone, so I found cheap "silicone" harder to trust.
And no, the glass didn't hurt. At 1.5″ wide, it was big for a first-timer, but the glass is slippery, and I found it more comfortable than the drag of silicone.
My favorite part was the mushroom-shaped tip. While I didn't know much about my G-spot back then, I followed what made me feel good: thrusting the dildo all the way in, sliding behind my cervix.
I felt a combination of pleasurable pulsating and almost like I had blacked out for a split second, and I knew without a question that it was my first cervical orgasm.

What I'd recommend now: Icicles No. 53 or Chrystalino Champ
The Icicles No. 53 glass dildo is a good option. It's not exactly the same as the dildo I had, but its length, width, and head shape are a close match. And the texture is mild enough that I probably could have used it as my first toy.
If you want something smoother and flatter to more easily slide behind the cervix, consider a Chrystalino Champ instead.
I don't advocate going all-in with a dildo before trying a clitoral vibrator, but I was happy with using just fingers on my clit at the time, and that was the route I took.
2

Blush Novelties Scarlet G: how I started appreciating vibrators clitorally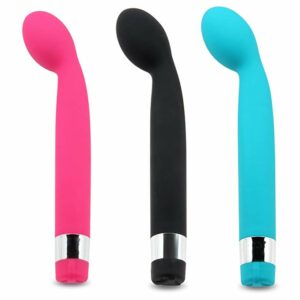 At age 19, I still had some weird AF hang-ups about my sexual response. Deep down, I believed that vibrators would desensitize my clitoris, and I avoided them externally.
I was, however, on a mission to squirt,1 and okay with using a vibrator against my G-spot. It sounds so illogical when looking back, but it demonstrates how much I believed that orgasms via penetration were superior.
Frankly, the Scarlet G's shape frustrated me when I first tried it. I didn't understand that G-spot toys don't necessarily do all of the work for you. Even if you already know where your G-spot is, there's still a learning curve as you figure out the best way to aim a toy.
And, frustrated, I went ahead and used the vibrator externally anyway. I'd feel weird about it afterwards and worry about my sensitivity (which inevitably took my mind off of pleasure). And then I'd still use it on my clit! It eventually got to the point where I was like, "You know what? This feels great. And if I eventually get to the point where I need a vibrator to orgasm, so be it. I can always buy another one."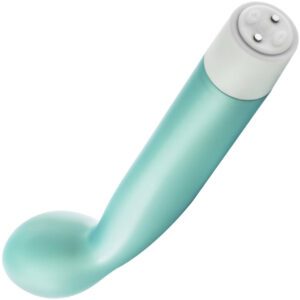 What I'd recommend now: Blush Novelties Noje G Slim
It's much harder to find a Scarlet G now, but it's not because its shape sucked for G-spotting. In fact, Blush Novelties recently released a rechargeable, more powerful vibrator made from the same mold: the Noje G Slim.
Noje G Slim vibrations
The power increase is a very welcome upgrade! It's more rumbly, meaning that the vibrations are deeper. You know that pinchy surface-level irritation from cheap vibrators sometimes bring? Yeah, the Blush Noje G Slim's power doesn't do that, and it satisfies me much more quickly.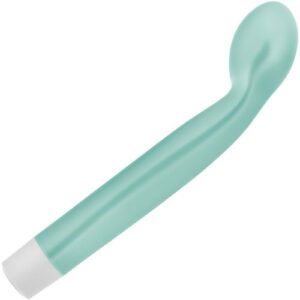 Whereas the Scarlet G was just good as a beginner vibe, the Noje G Slim is awesome. Full stop. Even after trying plenty of other vibrators. It actually reminds me of the ultra-powerful Blush Exposed Nocturnal. The G Slim has the same controls, cord, and satisfying rumble, but with a broader head and a longer handle that's more comfortable to hold.
Noje G Slim shape
With some tilting, the vibrations feel great on my G-spot. However, I now recognize that because the bulbous head is so elongated, it's not a very direct or precise G-spot toy.
Which is fine for how I was using it. The Noje G Slim best fits the bill if you want a broad, affordable, and moderately powerful external vibrator with a handle. If you're willing to spend a bit more to find your G-spot more easily, I suggest an njoy Pure Wand, Tantus Sport, or vibrating Jopen Comet Wand.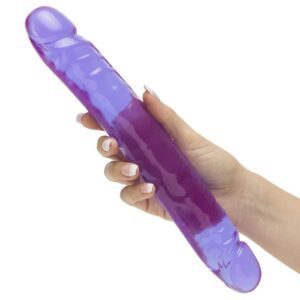 3

Fat purple jelly dong: how I discovered the sex bloggersphere

Luckily, I only used this toxic toy once before someone found it and threw it away. Basically, I had built up a HUGE following on FetLife2 and started having subby internet guys buy me gifts. I felt weird asking for expensive toys, so I put a bunch of jelly things on my wish list.

Once it arrived, I (rightfully) didn't trust it. Well, it says "phthalate-free" on the package, so it should be fine, right? (Wrong. There's no label regulation.) Well, it doesn't make my tongue go numb or tingle when lick it, so it should be fine, right? Wrong.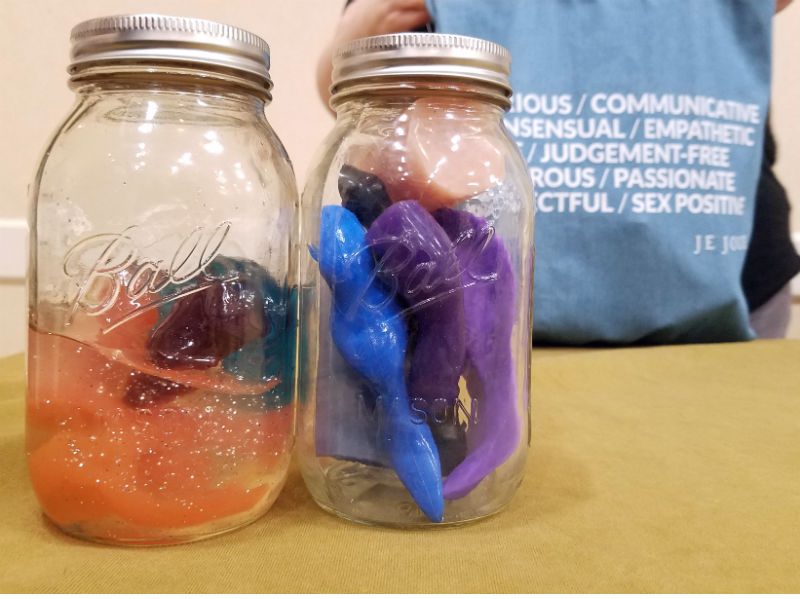 I KNOW. That's advice that I've actually seen on the internet, and I think "does not immediately cause harm or concern" such a low standard. I wondered, "what the fuck even IS jelly?" and ended up finding 374598347594835 sex bloggers telling me the truth about toxic toys.
The truth is that even if something isn't immediately apparently wrong, porous toys harbor bacteria, yeast, and mildew over time. And if that wasn't gross enough, toxic toys leech oil and plastic softener. Yep.

What I'd recommend instead:
Ruse 18 Inch Double Dildo by Blush Novelties
The Blush Novelties Ruse 18 Inch Silicone Double Dildo is made of body-safe silicone, meaning it will last a lifetime with proper care. In contrast, jelly dildos grow mildew, fall melt, and fall apart, needing to be replaced far more often.
Though the Ruse 18-inch double dildo costs more than a jelly toy, it ends up costing less in the long run. Plus, the price is entirely fair for something that won't give you chemical burns.
---
update
I've tested four different silicone double dildos for vaginal DP and compared them!
---
Blush Silicone Willy's 8″ Remote Control, or anything from the Silicone Willy's line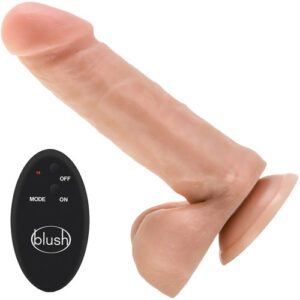 Blush Novelties has a whooole line of affordable, body-safe, representational dildos, including non-vibrating ones of different sizes for under $30! (As of the day I posted this review.)
The Silicone Willy's 8″ Remote Control's cost is comparable to big "realistic" vibrating dildos on the market. Heck, it costs less than some of the TPE, TPR, and "Cyberskin" vibrators I've seen. But it's totally body-safe and will last way longer.
AND it's thick AF (1.75″ diameter) to clench around intensely when I come, but with a forgiving outer layer. It's one of many affordable options from Blush for someone looking to level up in size. I was already pretty comfortable with penetration by the time I used sex toys, so this would have been fine for me.
The vibrations are pretty weak by my finicky standards, but you know what? For a BIG, realistic dildo, I'm okay with that. Even if you don't turn on the vibrations, $45 at the time of posting is still, in my opinion, a fair price for the Silicone Willy's 8″, considering how girthy it is.
There are plenty of more average-sized, non-vibrating options to choose from, for those who are relatively new to penetration.
---
Hey, heads up!
Some of these products were sent to me in exchange for my honest and freely-given opinion. As well, I use affiliate links throughout this post. They bring me a commission at no extra cost to you and help keep this website running! You can find a huge selection of other body-safe toys at SheVibe.


Footnotes